Appropriately enough, the Haines peninsula, a small stab of Americana in the vast Canadian wilderness, had a huge bald eagle reserve where hundreds of the birds were clearly visible from the highway. We stopped and chucked rocks toward the animals in the hopes that they would get perturbed and fly closer for a better picture, but our range and aim fell just short and the feathered beasts remained undaunted, and unwilling to provide a decent photo op.
In the town itself, we stopped by the Visitors' Center and procured some free coffee before perusing Haines' varied cultural sights. We bummed our way into a wildlife museum filled with stuffed versions of all the local critters; the employee on hand was a college kid from Georgia and had enough sympathy for our ludicrous venture to waive the $3 admission fee. He gave us a wealth of information on the area, including the best place to see bears.
We went east to Chilkut State Park in search of a wild grizzly and her cubs; we never managed to root these out (probably for the best), but the lake in itself was worth the trip. Back in town, we explored the old fort which was now just a pile of gift shops, restaurants and private homes. A salmon purveyor in the old barracks explained much of the history to us. Andie decided that we would explore a dilapidated house that was clearly inhabited by druggies and homeless; garbage and ancient appliances filled the rooms (the decapitated head of a dragon parade float hung from one doorway), and random floorboards would go missing at the most inconvenient times; fortunately, we had neglected to bring our headlamps and could not venture up the rickety stairs into the attic.
Our campground offered the first kitchen of the trip, so we prepared a feast of pasta, peas, and some canned chicken someone had left there. Despite the fact that we hadn't really had any decent sleep in some time, we went out to a local bar offering live music (all the way from Cleveland); given the cold, rainy weather of the region (though it's supposedly some of the best in Alaska), it's not surprising that a popular pastime among the residents is to hang out at one of the town's three rowdy bars til 5 in the morning. We decided to leave before midnight and were thus able to grab a few hours sleep and wake up early to make use of the free pancake mix provided by the host.
We did a small section of the Seduction Point trail which led us through thick forests before dumping us on the blustery rocks of the seashore; the trail's register suggested that we could see bears, whales and innumerable other creatures, but Andie likely scared all of these away with her intermittent "Hey Bears" yells, and we were only able to spot one solitary seal.
The Mt. Riley Trail went to the top of a small hill, but only after crossing over the tops of several smaller hills; my weary group did not care much for this and stopped to complain every 50 feet or so about how they didn't seem to be getting anywhere fast. The top afforded great views of all the surrounding fjords and nearly justified all the griping I had to put up with to get there.
We returned to Canada, facing a particularly invasive barrage of questions from the customs officer. Back in BC, we spotted a grizzly just off the road and stopped so that Andie could anxiously take a few hurried pictures through her barely cracked window. After a little more forward progress, we stopped at a shady roadhouse and camped free in their parking lot.
The next day was almost all driving, but due to the deplorable condition of the road, there was no lack of excitement. An orange flag on the side would indicate some inconsistency in the pavement, but it was never clear whether this was simply a small bump that the car could easily take at 70 or a tire-shattering foot-deep pothole that encompassed your entire lane. Matt, who drove much of the stretch, was not particularly concerned by the possibility of serious damage to my car and took the whole thing at 20 over the limit; one particularly violent ramp fell just short of ripping off my front axle but did provide some pretty decent hangtime.
We once again shifted into America and headed into Tok junction; there was really nothing of interest here, so we immediately proceeded south towards Valdez. Along this road, Andie decided that she had spotted a whale on a passing truck; I took little stock in this (since she had previously announced about a dozen bears, bison, and elk which turned out to be a mix of assorted hikers, shrubbery and rocks), but Matt was behind the wheel, so we pulled a U-turn and sped down the broken road at 40 over until we had overtaken the odd craft; it turned out to be an ultra-light plane.
Arriving at our destination around 9PM (sun just about directly overhead), we stopped at the famed Halibut House (the closest thing to fast food in town) and got several of the quintessential fish n' chips baskets. We camped at a semi-primitive tenting site near the Valdez glacier.
I managed to get the kids moving early Sunday morning for a "Church of the Sea" service departing at 8AM. This was just about the best deal anywhere; we got a free cruise into the inlet along with free coffee and we heard a great sermon about hunting wild sheep and battling vipers in Zimbabwe.
Failing to convince any of the parishioners onboard to let us use their showers, we went on a desperate search for public facilities upon returning to shore. The cheapest we found was $4 for 7 minutes and we thus decided we could probably hold out for yet another day.
We went to the Valdez museum where I chased a rabbit around the outdoor exhibits for a good ten minutes. Inside, there was an extensive array of gold mining memorabilia, info on the Exxon disaster, and a stuffed specimen of the legendary fur fish. Next we scurried up a rocky cliff and went berry picking on the overgrown ridge trail; the bears had failed to reach this section and there were plentiful blueberries and salmonberries that we nearly worked up the nerve to eat.
Attempting to find an affordable option for kayaking Prince Williams Sound, we went around to the different shops and tried to figure out whether it would be possible to set out on the chilly waters unguided in a 3-man kayak. In the end, the requisite water taxi to the sound made it a bit pricey, and so we tried a different tack and asked how to go about getting jobs as kayak guides; unfortunately they weren't hiring for 2-day stints at the time.
We hiked up the highly-touted Solomon Gulch trail which was little more than a gravel car path; it was thankfully a lot less painful than our previous hikes and ended with a large, blue lake.
Leaving town, we stopped at the amazing Thompson glacier and hiked straight up to the edge of the huge, smurf-blue ice caves at the tip. Every once and a while, a massive chunk of ice would collapse and effect a mini-avalanche onto the moraine; this was mildly disconcerting, but we managed to skirt the sheer ice cliffs for a time without being crushed or frozen. That night, we drove into Glenallen and set up camp at 11:30 with about 2 hours to go til sunset.
The crew didn't get moving til around 11 and we only made about 60 miles before stopping for lunch at an overlook for the extremely long Matanuska Glacier; we climbed up on a rock gravel wall to spell out "Go Gatorors" (there were some management issues). In another 3 hours we were arriving in the metropolis of Anchorage on the only divided highway we'd seen in the state thus far. The downtown had all the fixings of a big city with hot dog vendors, homeless people and metered parking; this was about as far from what we had perceived to be "Alaska" as you could get.
The visitor's center had never heard about the hostel identified in my guidebook; this was most likely due to the fact that it was run out of someone's house in a low-income neighborhood; I'm not entirely sure how this one got by the zoning board, but there definitely seemed to be a misdirection scheme in the works - the office was in an apartment a block from the hostel, and the camping was located a few more blocks in the other direction in another random backyard. We opted to set up tent in the city campground instead. We caught the Pirates of the Caribbean sequel, which is more a zany, aimless 2.5 hour episode than a legitimate self-contained movie, and went to sleep under the blinding midnight sun.
The following morning, we drove into downtown and parked in the free lot nearest to the bike shop which was just a quick 15 blocks away. Andie and I were equipped with road bikes while Matt, who had not biked in six years, was given some sort of freakish hybrid contraption which was great at ascending hills but was not otherwise particularly useful. The shop owner gave us a detailed set of instructions for a 34-mile route, along with a map of the city and pictures of every turn we needed to take; all this was just a clever ploy to instill a sense of confidence in us that we could actually complete the trip in a reasonable amount of time. In truth, this man had concocted the most convoluted series of paths and roads possible so as to maximize the number of hours we rented his bikes. The directions took us through a convoluted series of city paths, then along random roads on the UAA campus, then under a highway bridge, and finally by a Tastee Freeze with which the bike shop was clearly in cahoots. The whole expedition took us a little over 6 hours - only 3 of these were spent actually biking, the remaining time was used to stop at every fork to look over the map, chow down some thoroughly disgusting burgers and ice cream and try to bargain for cheap kayak rentals.
Immediately after returning to the shop and relocating our car, we set out for the coastal town of Whittier. Until 2000, this tiny settlement was only accessible by boat or train, but at that time, they opened a train tunnel to vehicular traffic; now for a $12 fare, cars can enter the town at the top of every hour or leave at the bottom via the 2.5 mile tube.
I have encountered few places in my travels to compete with the general oddness of Whittier. The harbor is ringed with kayak rentals, restaurants, cruise operators and other tourist amenities, but the rest is essentially a dump. Virtually all the residents live in one crumbling high-rise and the only hotel in town (also the only grocery, hardware store, and museum) looks far too seedy to house the cruise clientele. The most noticeable feature is a massive abandoned building on the far edge, and naturally, this is what Andie wanted to explore first.
When we arrived at the condemned structure, we met a couple who filled us in on the background of the place - it used to house the troops stationed here during the war and had 10-20 floors underground in addition to the 5 visible up top; furthermore, a vast network of tunnels ran underneath the town to allow the residents to move about during the icy winter or provide shelter in the event of a bombing. We donned our headlamps and began to explore the crumbling floors. We were most interested in the swimming pool and bowling alley on one of the lower floors, but not so much that we actually felt like venturing into the utter darkness below. It was quite a challenge to puzzle out what functions the various rooms used to serve, given that they were now all just rusting piles of garbage - we came across a kitchen, a bar, what looked to be a dentist office, and a fitness-measuring room - the main function of the place these days seemed to be the support of the area's addicts, homeless, and teens. The walls were all scrawled with disturbing graffiti (such as "this is where you die!") and in addition to the imminent dangers of collapsing floors/ceilings, rusty nails, and the undead, the ceilings were covered in asbestos stalactites and we were no doubt being gradually poisoned as we darted through the dark hallways. Initially the most gung-ho for this expedition, Andie now seemed a bit reluctant to continue, and with support from the guy we met outside, effected a full retreat.
Exploring the rest of town, we found the entrance to one of the tunnels (which we opted not to enter in the absence of local knowledge) and discovered the second residential district which consisted entirely of converted school buses. A kayak shop had recommended a free campsite behind a bunch of old oil drums; this was a gravel lot full of garbage and run-down campers which didn't look entirely conducive to safe tenting, so we caught the last tunnel opening at 11 and put some distance between us and the disturbing burg.
In the morning (more like mid-afternoon - the pace of the trip was gradually shifting our sleep schedule), we drove the last hundred miles to Seward. We hiked up to the Exit Glacier and crossed a line of "Do not Enter" signs to get some pictures on the edge of the ice. We grabbed a campsite right along the water at Miller's Landing, which offered, among other facilities, hot showers consisting of sink hoses. We hiked along the tidal pools and found crazy little shrimp-ish things that ran sideways, a few flatworms, and a couple of jellyfish.
The next day we set about trying to get out on the water; kayaks were a tad expensive and, with a promise of hypothermia within 13 minutes of falling in the water, a bit on the dangerous side. We therefore decided to rent a little skiff instead and signed our life away to take out one of the 16ft motor-powered vessels for 4 hours (the coast guard would come for us after 5). The seas were a bit choppy and our combined knowledge of boating wasn't altogether impressive, so we asked a seasoned fisherman whether he thought it was a wise idea; he convinced us to put it off til the calmer seas of late afternoon.
In the meantime, we went half an hour up the road to the trailhead for Meridian and Grayling Lakes. According to the map, we should have reached three lakes in about a mile and a half, but since the trail was under heavy construction, and a few crucial signs had been inconveniently misplaced, we managed to walk 3.5 miles before encountering the first of them, and by that time, we were too exhausted and hungry to waste any more energy swimming in the nippy waters. Returning to our car, we realized it was too windy and no one really felt like driving all the way back to the boat place, so we instead set out for Homer at the other end of the Kenai peninsula.
The main tourist drag of Homer is on a narrow spit that extends out into Kachemak Bay. This area consists of long patches of gravel strands holding hundreds of tents and RVs, alternating with boardwalks housing varied, colorful shacks selling fishing trips, plane rides, souvenirs, and ice cream. We picked out a spot on the beach which was largely populated by the town's homeless population. Just a hundred feet away, the greatly inebriated and high-spirited "Spitonians" partied all through the night with raucous cheers, bongos and guitars. We sent Andie to make them shut up, but predictably, she instead befriended them and was soon playing the bongos herself while Matt and I made fruitless efforts to fall asleep amidst the din. By Andie's account, they lived here full-time and were all gainfully employed in various businesses along the spit; they had plans to start a caviar business using the eggs they pilfered from the fish they cleaned for tourists. Various campers had called the cops on them in the past for their nightly clamor, but sadly, no one had taken the initiative on this particular evening.
Much like its namesake cartoon character, the town of Homer is a veritable vacuum of productivity; Friday morning we got up around 11 and things just went downhill from there. We ate lunch at a place renowned for its fish-on-a-stick, but besides this novel skewered approach, it really didn't have a whole lot going for it. We went to a free museum about sea critters which convinced me to pursue a career on a research vessel exploring the Aleutian chain; next, we stopped by the Pratt Museum, widely held to be one of the best of its size in the country - it offered a live bear cam and a chance to try on ocean survival suits, as well as the unique opportunity to assist Joe, the crazy fish curator, in feeding octopi, sea urchins, and other odd ocean dwellers. Having run out of Twizzlers two days before, we went on a desperate search to get our fix, and with several packs stuffed into our pockets, we caught Nacho Libre (a dark day in Jack Black's illustrious career) at the town's single-room theatre.
Despite doing next to nothing all day, we never managed to secure a campsite; we went to the city campground around 11 only to find that the one available space was shared with a group of underage kids and their pile of beer. We went out to the Spit to try our old place but the wind had strengthened and there was now no way to keep our tent from snapping into a dozen pieces and blowing down the beach; after wrestling my car out of the sand, we returned to the inland campground where the teens had conveniently already had their fun and passed out.
Our main purpose for hanging out in this particular town was to get a chance to kayak in the famed Kachemak Bay State Park. One business on the spit erroneously informed us that the bay would have six-foot seas on Saturday and so we had opted to postpone the trip til Sunday and spend our extra day renting bikes, despite evidence to suggest that there was next to no decent biking in town. We inquired at the shop about a highly-touted offroad trail out east of town, but were informed that the area was populated by militant Russian immigrants who would steal everything in our car, including the gas. We opted instead to do a few short trails within the city along with a few exceptionally hilly roads.
We were equipped with heavy duty mountain bikes with enough granny gears to climb McKinley; these were appropriate as the initial ascent was two miles at an 8% grade. Matt and Andie chose to walk their bikes up this behemoth of a hill, but I was reluctant to go road-hiking after paying $25 for the rental and did a few downhill runs after reaching the top the first time. The trail started in the backyard of a defunct farmhouse and had zero signage; the narrow double-track led down a steep slope along a ridge overlooking the bay - I don't recall the scenery personally, but Andie, who somehow made it down alive without focusing on the myriad discontinuities in the trail (I suspect she used brakes), informs me it was indeed there. When we arrived back on pavement, the group was exhausted and short on time so we skipped the three other area trails and cruised back on the highway over a few more mountains to the center.
To make up for the lax churching of the previous few weeks, we had identified both a Catholic and Lutheran Saturday service. Matt wasn't going to stand for two hours of organized religion and took the car to get dinner (Andie had slyly held onto his wallet so that he couldn't actually buy anything and had to subsist on our granola bar ration). The local Catholic church had an incredible view of the bay and mountains through two huge front windows; the priest was an entertaining Irishman who broke from the script and asked the lectors to explain the verses they had read. In the hour before the second service, we returned the bikes and cooked a pasta dinner in the garden in front of the shop; someone mentioned a local brewery and Matt took off at a sprint to get free samples - he returned, just as the noodles were reaching al dente perfection, with a Sobe bottle full of the local brew (apparently it's a pretty small-scale operation which distributes its product in recycled bottles and asks that you return them when you're done). We unfortunately arrived five minutes late to the Lutheran service which had a total attendance of 6; the minister apparently knew the entire congregation personally and made frequent apologies to us for all the personal allusions and running gags we weren't familiar with; Matt remained in the car so as to finish his beer before it got warm.
We had actually reserved a campsite for once and returned there at a reasonable hour. Matt's idea to get up at 5 and make the most of the kayak rental met with a rigorous veto, so we slept in til 9 and grabbed a water taxi over to the start point on the opposite side of the bay. We were supplied with a tank-like double kayak and an unstable, yet slow, single. The course was five miles into a cove against a strong, icy wind; our exposed appendages froze in the splash and breeze, and the fear of flipping into the frigid waters (projected time to hypothermia: 13 minutes) was ever-present. Despite arriving 3 hours prior to our arranged pickup, we resolved to spend our time building a fire rather than engaging in any further paddling. Sadly, the company with whom we'd arranged our pickup (Mako's Water Taxi) was completely incompetent and had forgotten both the time and place where they'd agreed to meet us; we made arrangements to stay with a group that had reserved a yurt nearby in the likely event that we'd be stuck there overnight. To make things worse, I was suffering from a stomach acid episode and was crippled by excruciating pain with no Rolaids within reach. A boat showed up a little after nine; he had been sent to the wrong beach and had come to our cove as an afterthought. The driver cranked up the throttle to get us back in half the conventional time and we stormed into Mako's office (well, I was preoccupied puking off the side of the dock); the manager immediately ascertained that, given that we'd likely never return to Homer, we were not potential return customers and deserved no refund for her neglect.
My friends were becoming somewhat concerned by the way in which I was repeatedly becoming violently ill and, while I wasn't looking, drove me to the emergency room. We managed to convince the staff to give me a free diagnosis along with a bucket and box of tissues, and, with some assurance that I would likely survive at least a few more hours, we drove up the road towards Kenai. We stopped at a campground where I slept in the car so that I could be sick as often as necessary without unnecessarily disturbing the others.
Having largely recovered, I drove the 150 mile stretch to Anchorage in the morning. We snuck into a campground where we had previously stayed and grabbed some free showers (it would've been much more sneaky if Andie could've gotten out of the bathroom in under an hour). We went to Costco to stock up on granola bars and get a much-needed set of new tires (the car was now quite shaky at all speeds); we picked up some 16-ounce yogurt sundaes ($1.55!!) and served as couch models in the furniture section while we waited on the repair.
In a couple more hours we were standing at the south viewpoint for Mt. McKinley - the odds of seeing the elusive mountain here were purportedly twice as good as seeing it from the park itself; we saw only an impenetrable sea of clouds where the great peak should have been. You could apparently camp in any of the parking spaces at the overlook for five bucks a night, but since the lot wasn't too full as of yet, we opted to try our luck further up. We soon discovered that all the campgrounds anywhere near the park were completely full, save for one which had tons of room; here we got a site by the river and 2-minute showers for only 75 cents.
After an invigorating 120 seconds of scalding hot water, we were off to the visitors' center to try to ascertain what Denali was all about. The unstated goal of the staff at this national park is to give you as little information as possible so that you may experience something akin to the first explorations of the area, undaunted by the burden of infrastructure or planning; there are no trails anywhere in the park and the rangers aren't allowed to recommend any places conducive to hiking, so you are left to simply pick a random spot along the road, dive into the bush and hope for the best.
To minimize the environmental impact of tourism, there is only one 80-mile road winding its way into the vast interior or the park, and three-fourths of this artery is unpaved and closed to cars. The only way to get beyond the first 17 miles is to reserve a seat on one of the rickety old school buses which have been given a second chance at life as off-road shuttles; around a hundred government tours and several times as many private ones leave each day and are typically fully booked a day in advance. To go all the way to the end takes approximately 13 hours, but the days of cruising around in the jarring yellow behemoths were still fresh enough in our minds that we decided on the 8-hour option.
Matt had determined that he would go white water rafting in Alaska, and he was not about to be deterred by the fact that neither I nor Andie really felt like shelling out the 70 bucks for a 2-hour foray down the freezing Nenana river. So we dropped him off at a little cliff-side shack where there was conveniently a trip with an empty seat leaving in the next ten minutes; he was outfitted in a full-body dry suit and piloted by a crazy bus driver (who also held jobs as a lumberjack and the guy who removes eyes from dead people) to face his fate. In the mean time, Andie and I started up a sheep path (recommended by aforementioned bus driver) where we trudged directly up a mountain against 30mph winds for some impressive views.
We drove a couple of miles into the park as part of the ongoing effort to spot the famed mountain. It was cloudy on our first pass so we stopped at Savage River to do a brief hike through the canyon. This was a fairly uneventful pseudo-trail which extended indefinitely into the wilderness; at one point we climbed to the top of a narrow rock outcropping, and it was from this precarious perch that I sighted something golden glinting in the sun - it turned out to be the legendary ring from the Tolkein movies and a slew of Golem gags instantly ensued. On the way back, the clouds had lifted just enough for us to see the top of the South Denali peak; it fell far short of the spectacular vision everyone had been relating to us and it's a bit doubtful that any of our pictures will offer compelling proof that we saw anything more than a blue triangular cloud.
Breaking with the ongoing trend, we woke up at 6:30 (following a false start at 4:30 due to my cell phone still being on mountain time), and got ourselves down to the wilderness access center to board our bus. The driver was fairly burnt out and was not really all that keen on stopping to watch every single little critter that happened to run across our path and so plowed right over a couple of snowshoe hares and a few chains of ptarmigan chicks. We did eventually stop for a moose and the rest of the bus (apparently having flown directly into Denali and never driven on a single Alaskan road) went into an uproar and snapped a few hundred pictures of the distant patch of fur; meanwhile, the three of us passed out and would not awake again until a more novel creature had crossed our path.
It was four hours into our trip, after we had quite nearly given up any hope of seeing much of anything, that we happened across the first brown bears. A mother and two cubs rooted for grubs in the tundra just three-hundred yards off; contrary to their name, their fur was a brilliant blonde. In the final few miles before the turnaround, we glimpsed three more grizzly pods and were thus able to justify the bus ride as having value beyond the opportunity for a much-needed nap. On the return trip, a wolf waltzed right past us along the highway and a few dahl sheep hopped along the treacherous cliffs up above. We decided to try our hand at the hiking-sans-trails thing and hopped off the bus at Polychrome Pass. We stumbled down a steep rockslide through thick, thorny bushes to the valley below; at the base, we forded a stream and followed the creek bed towards a set of distant mountains. Sadly, we had no understanding of distances or what we were heading towards, so we never made it to the Polychrome Glacier a few miles off, but proceeded to march through waist-high brambles (Andie, who elected to take this path, was the only one wearing pants) and returned to the highway via another epic slope. We flagged down the first bus and returned to camp.
As usual the charge for using the campground's showers was a ludicrous $4, but upon further investigation, we found that in most cases, civic-minded patrons would leave the stalls open after use, thus making them free for any vagrants who might happen along afterwards. And so, as an act of civil disobedience against an unjust institution (and as an easy way to save a few bucks), we enjoyed long, free showers and took off down the road towards Fairbanks.
As cities go, the second largest in Alaska isn't really one in which to dawdle if you have an entire continent to explore. We went to an excellent Thai restaurant downtown, and briefly considered getting an oil change (before realizing they cost over fifty bucks and deferring it for a few thousand miles), then promptly skipped town. Just down the road was the bizarre locale of North Pole where the lamp posts are candy canes, cheery Christmas tidings adorn the streets year-round, and the disproportionately large post office handles millions of missives from misdirected youths each year. We dropped by Santa Claus House, where for a modest fee, you can respond to an actual child's letter in the guise of the jolly old elf (I don't see why this is even remotely legal), or sit on Santa's lap any day of the year.
We went north from Tok along a secondary highway which was unexpectedly paved for much of its length. We started down the 66-mile road at around 11 and didn't see a single other vehicle for the entire two-hour trip; this was handy as there was no obligation to drive within our lane (the record was 2 miles English-style) and we could come to a dead stop and snap pictures of the stunning sunset or brilliant fields of wildflowers whenever a good shot presented itself.
As we approached the town of Chicken, any semblance of paving disappeared; this, the largest population center on the highway's 100-mile expanse, has a permanent population of 25, has no running water, and powers the entire downtown with a single generator (they do, however, have wireless high-speed internet). The commercial district consists of a gift shop (which leaves all of its wares on the front porch overnight - we definitely considered borrowing a few chicken-themed t-shirts as the mercury plummeted towards freezing), a saloon, a restaurant and a chicken coop. We had initially intended to stay at a campground, but after noting the $10 price tag, we opted instead to pitch our tent in the town square; this worked out fine til 8am when all the businesses opened and a pair of tour buses (we brainstormed for some time on where these might have come from) spewed a hundred elderly into the tiny dirt lot.
We drove forty more miles on loose gravel to the Canadian border; the customs official instantly identified us as potheads and offered to go easy on us if we willingly handed over the drugs; a team then proceeded to ransack my car, shuffling through our mounds of dirty clothes and garbage, and ripping the paneling from the walls (which they never bothered to repair).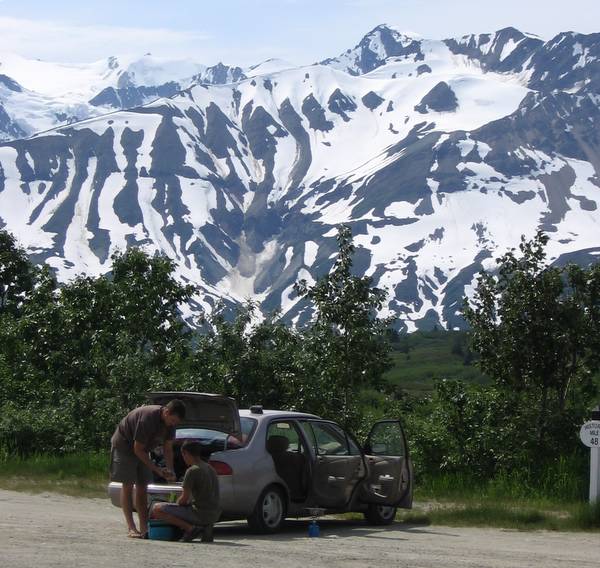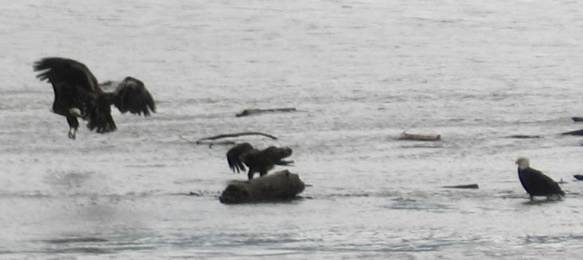 Bald Eagle Preserve

Matt laughing at Andie for her interest in old abandoned buildings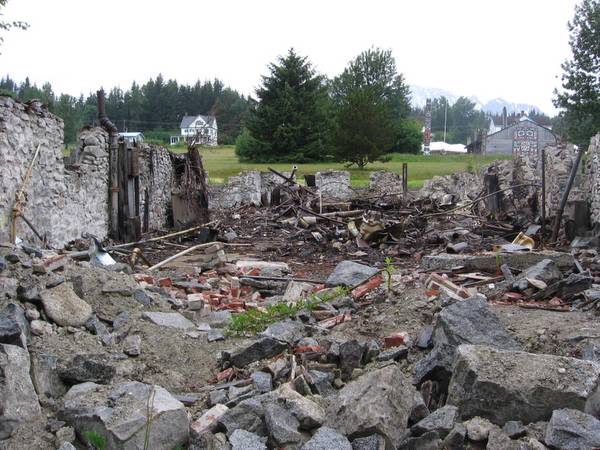 "Historical" Haines fort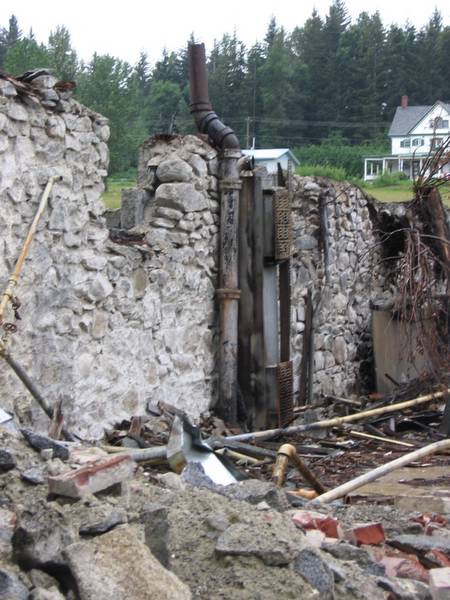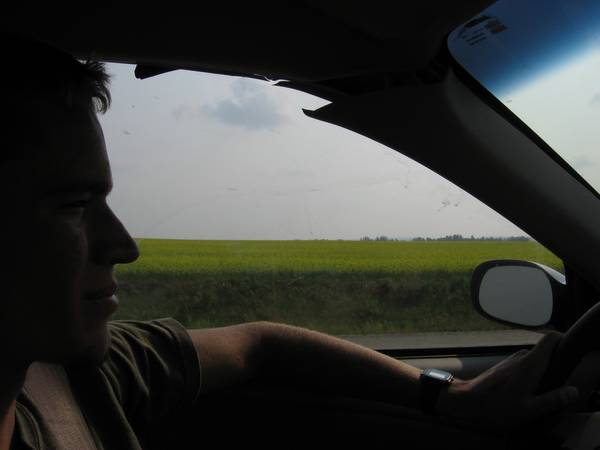 I was born a rambling man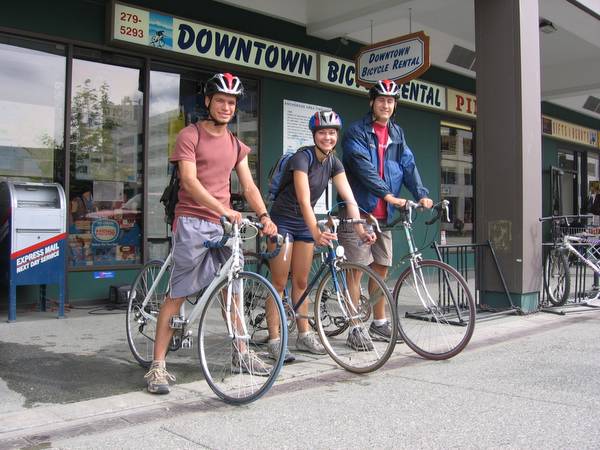 Biking Anchorage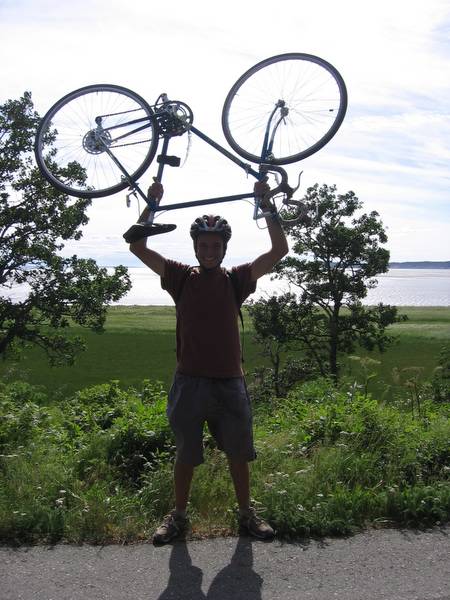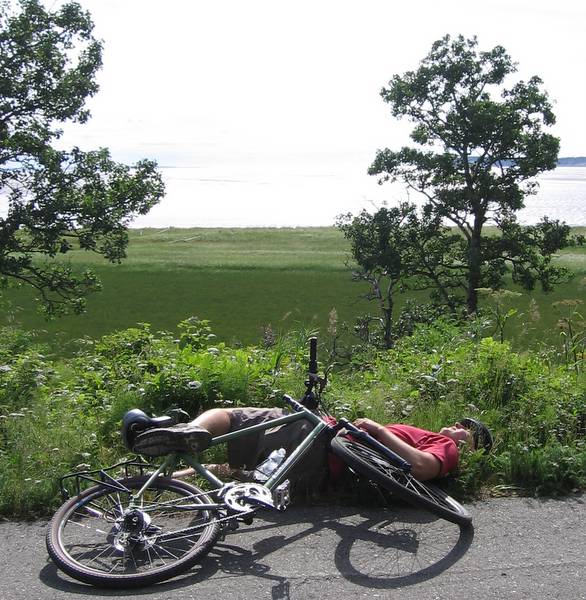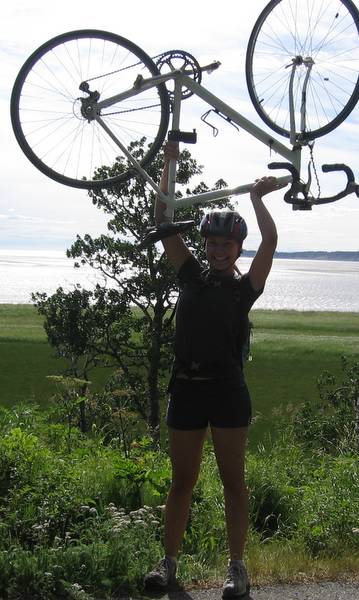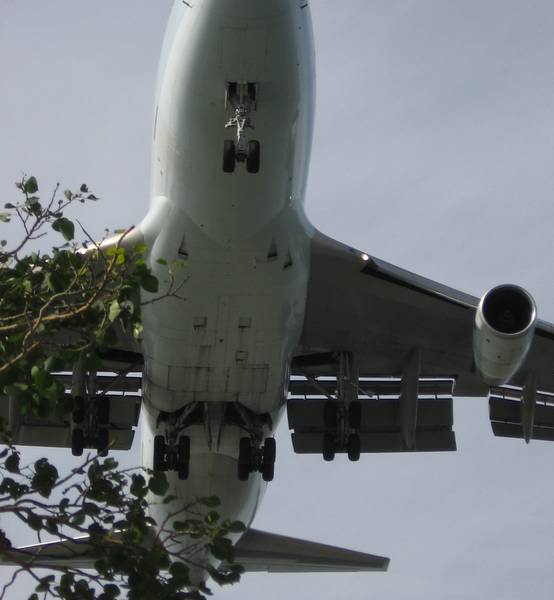 No zoom was used here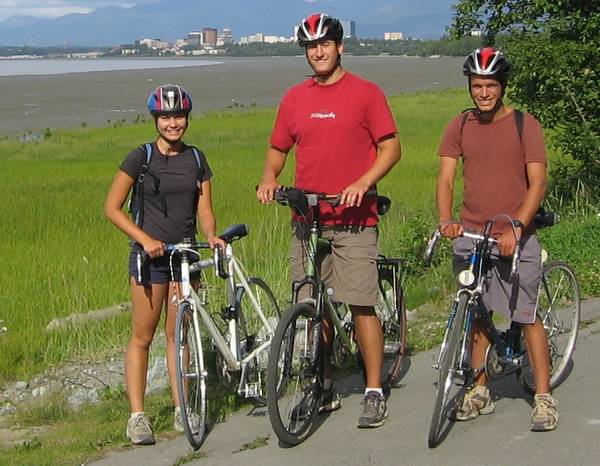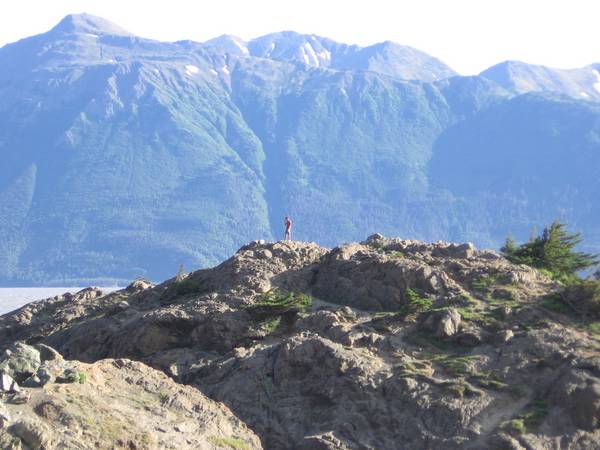 Me on a rock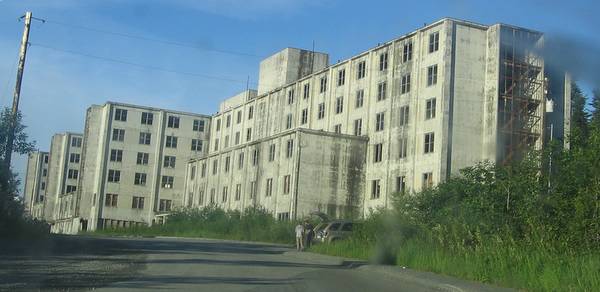 Condemned military housing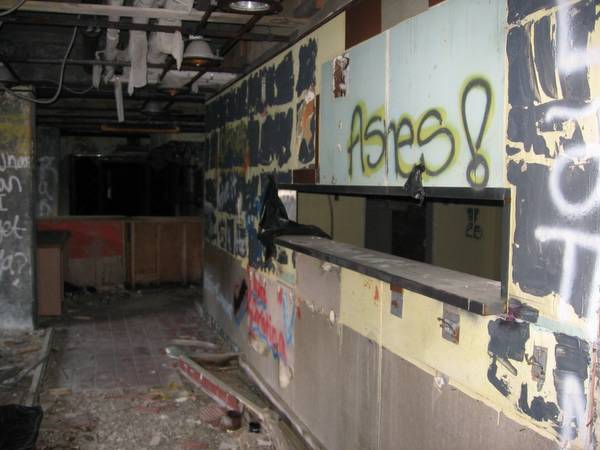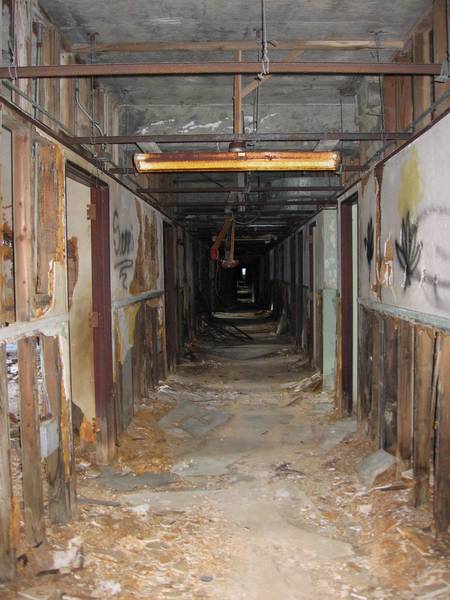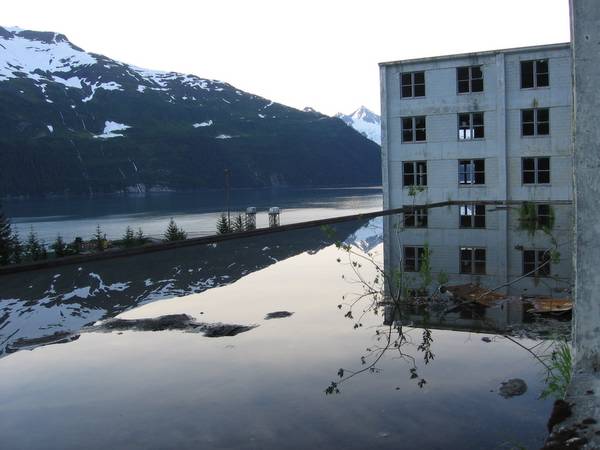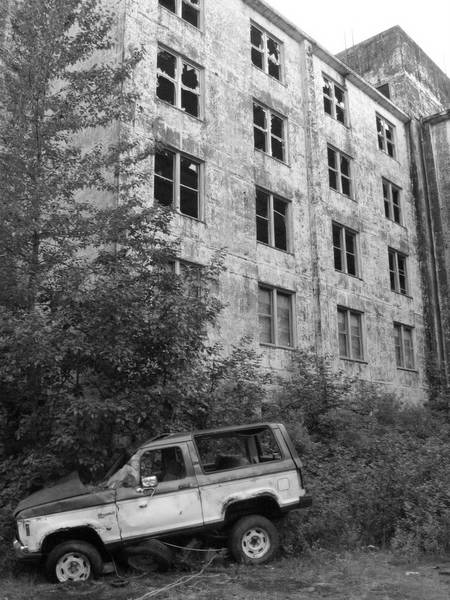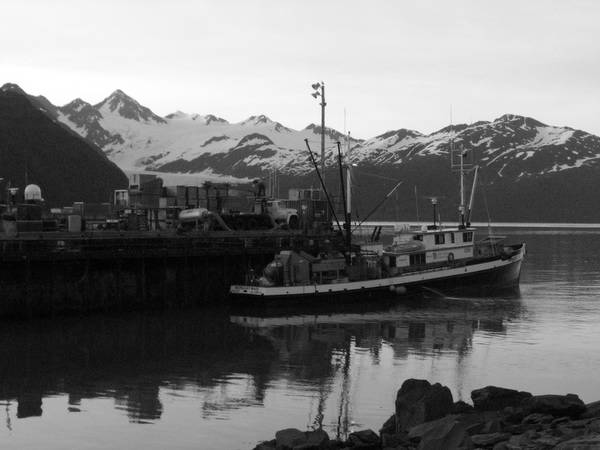 Port/junkyard of Whittier

Andie and pile of garbage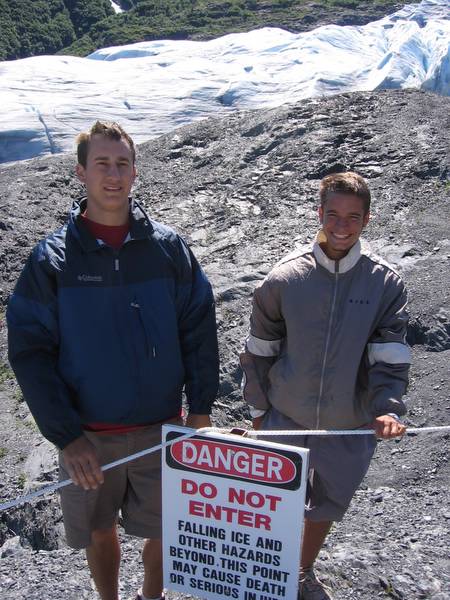 We're such rebels!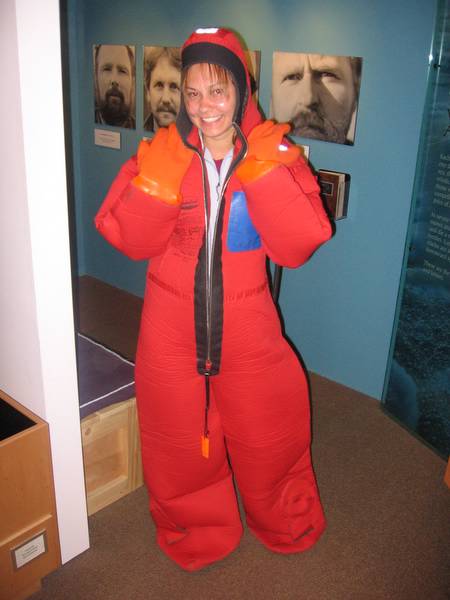 Survival suit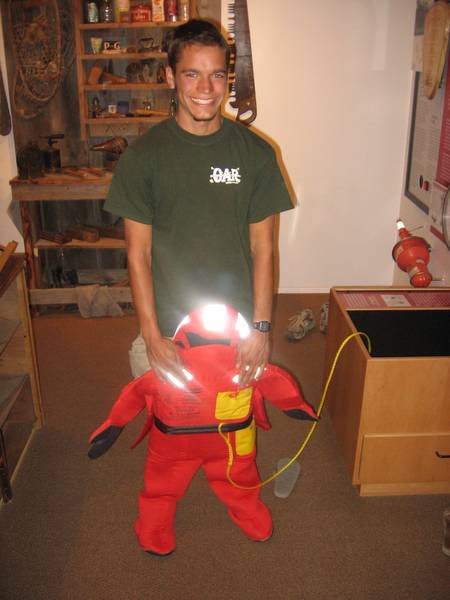 They didn't have my size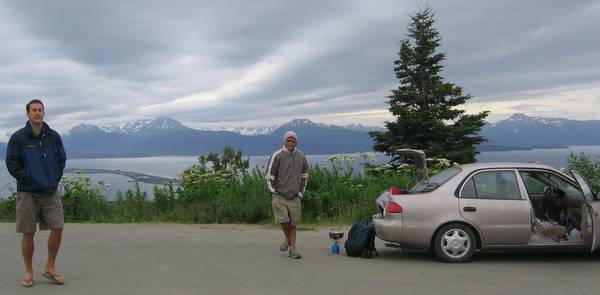 Homer viewpoint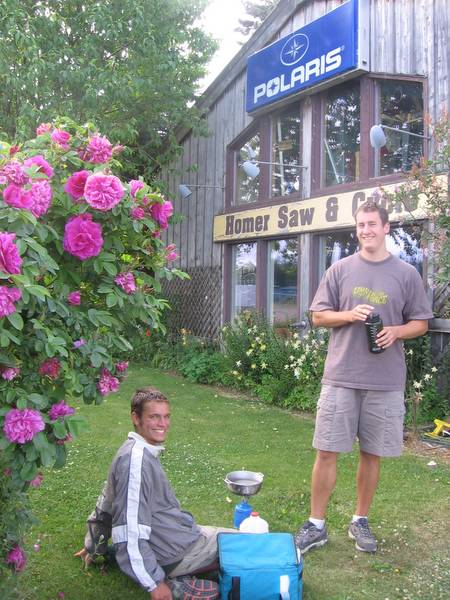 Supper time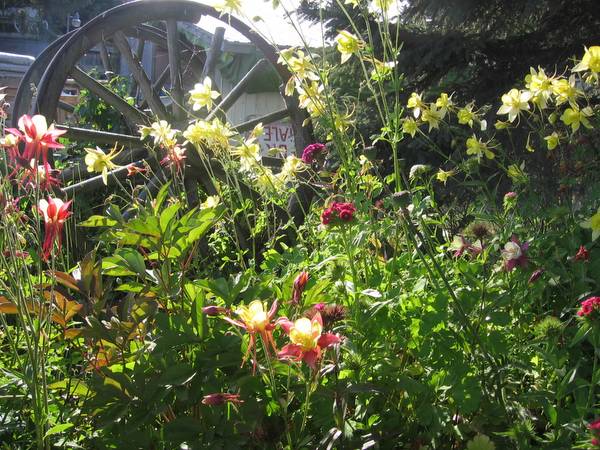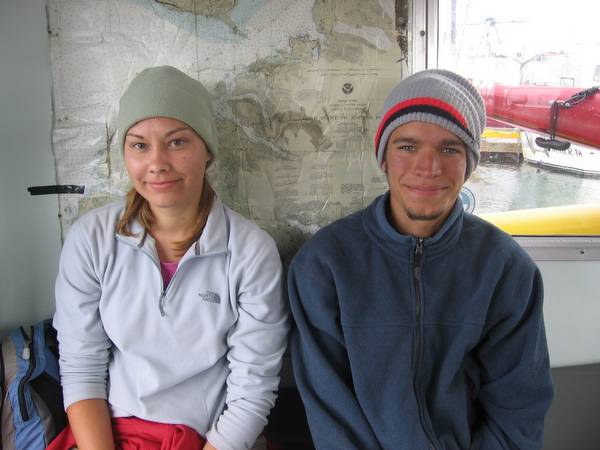 Water-taxi across Katchemak Bay

Left to fend for ourselves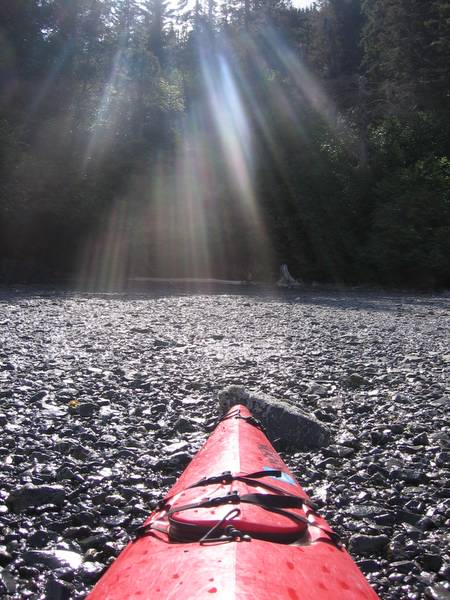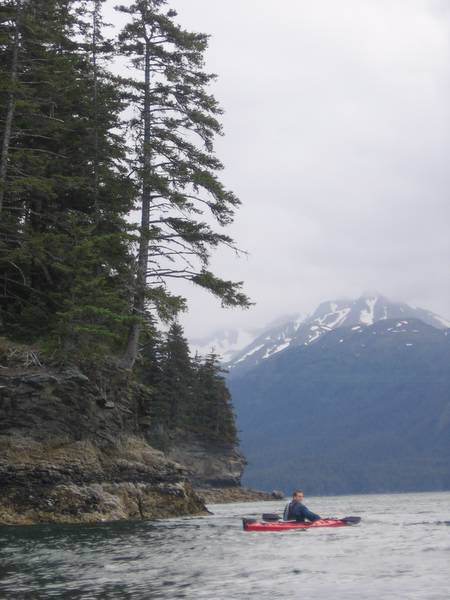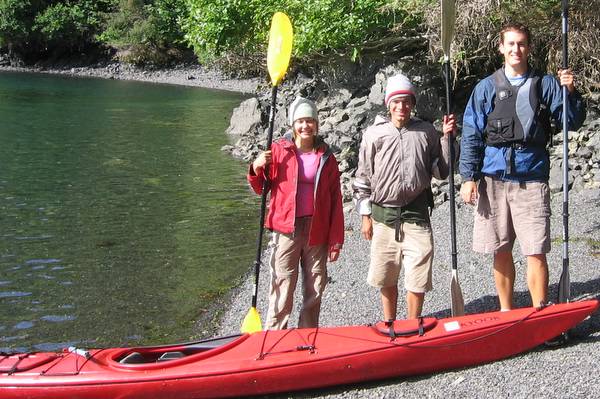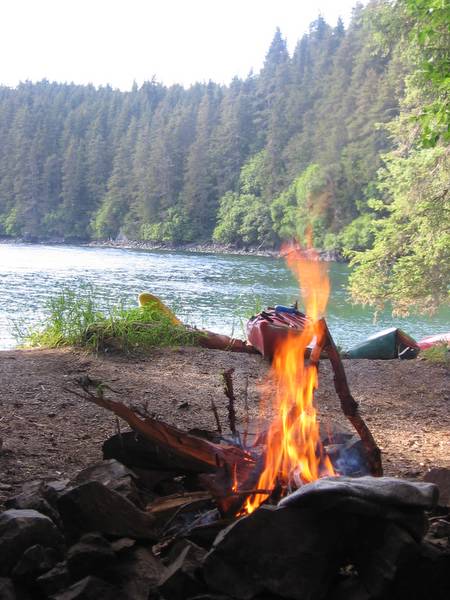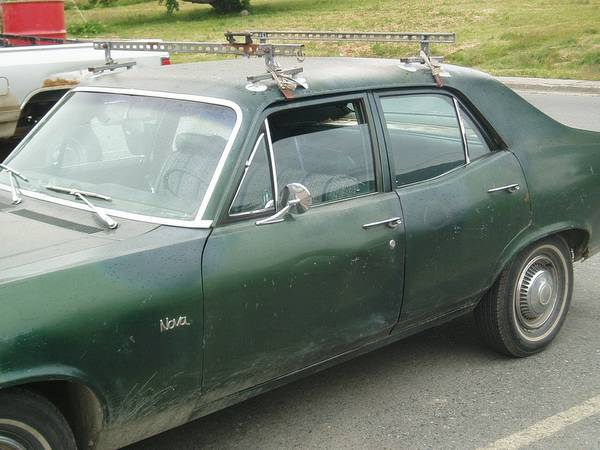 Best kayak rack ever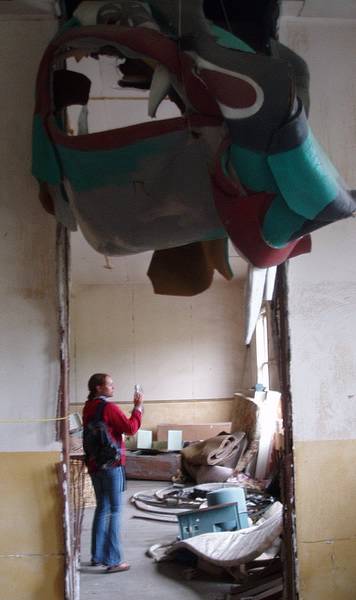 Fresh as a mountain spring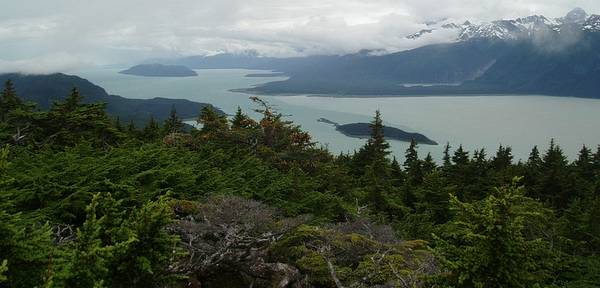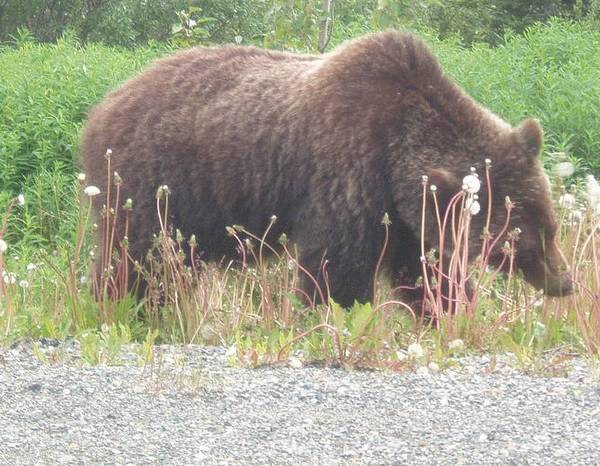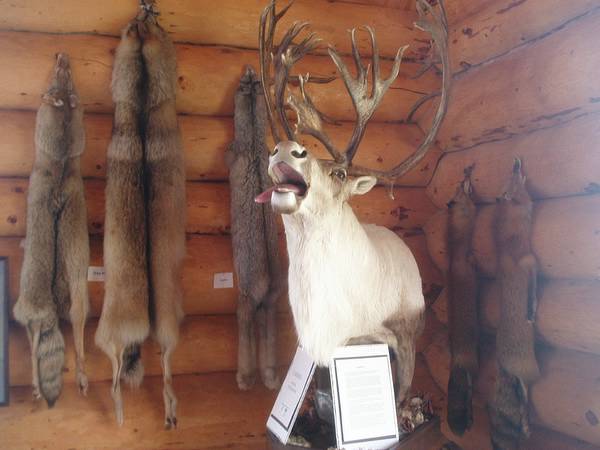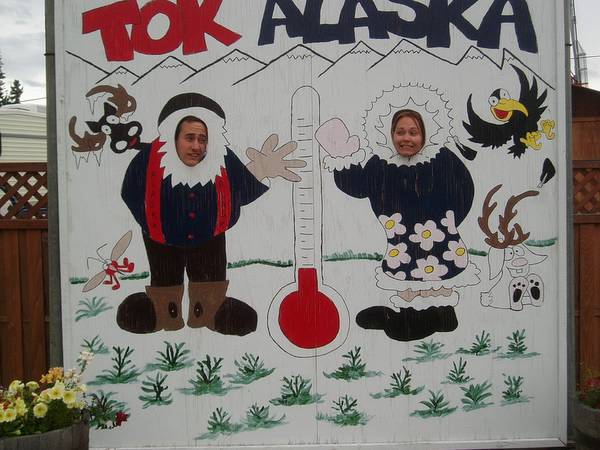 Most exciting sight in Tok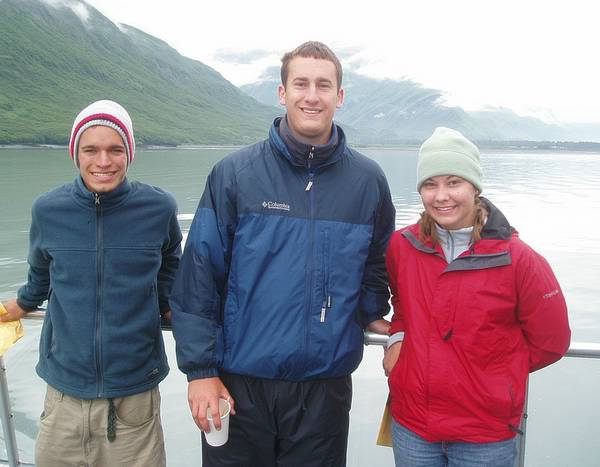 On the church boat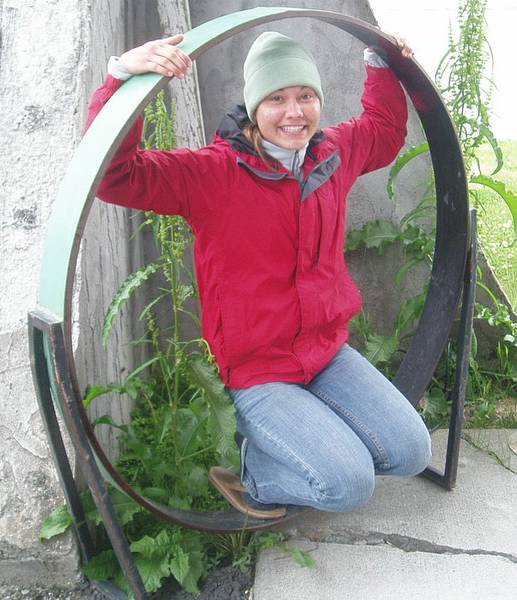 Andie in the pipeline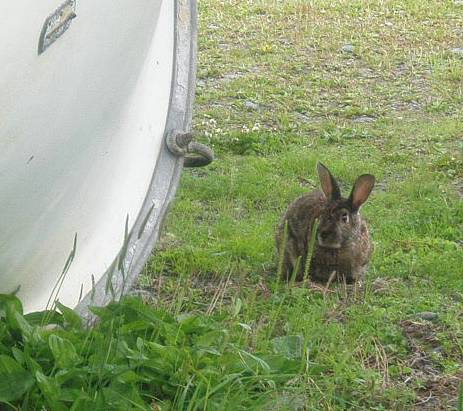 Rabbit!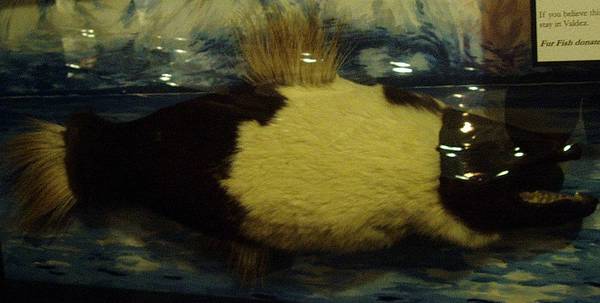 Exotic fur fish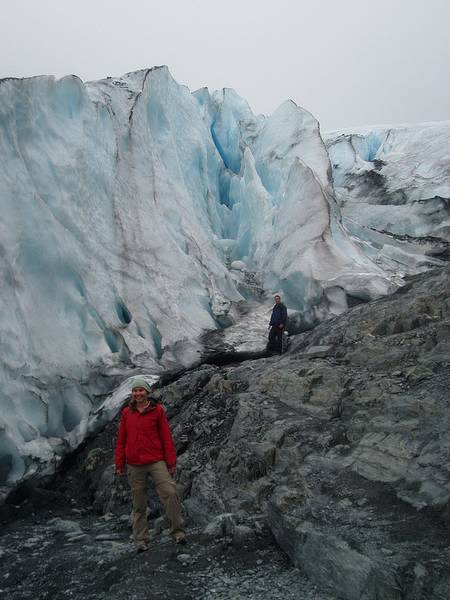 Big chunk of ice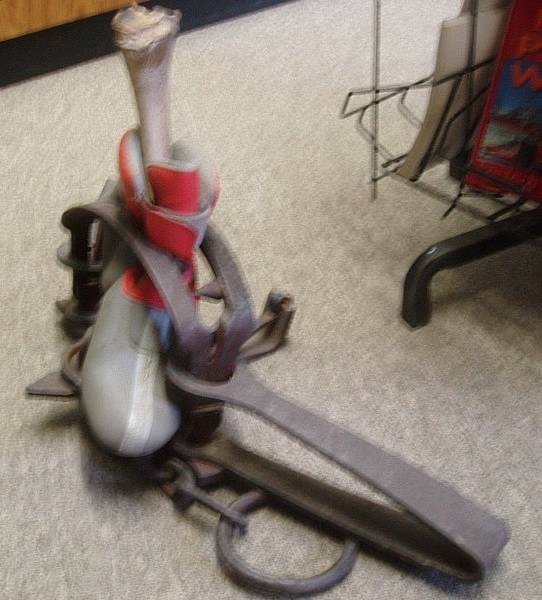 Bear trap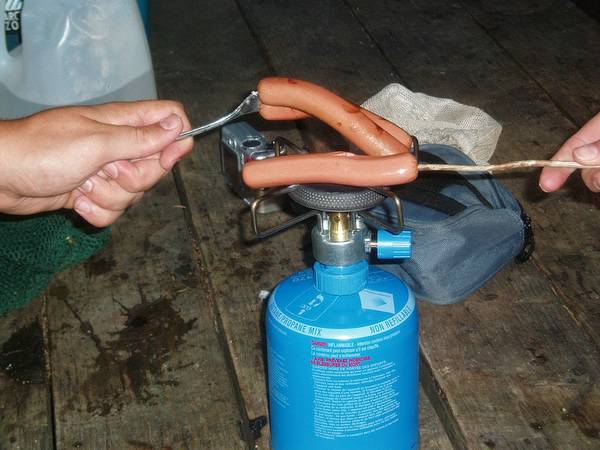 Sadly, this was our "splurge meal"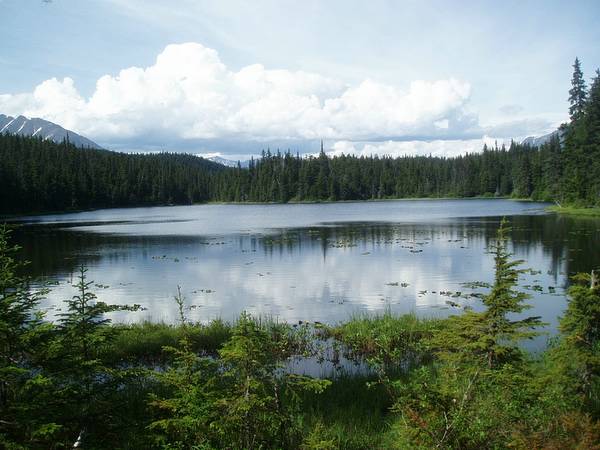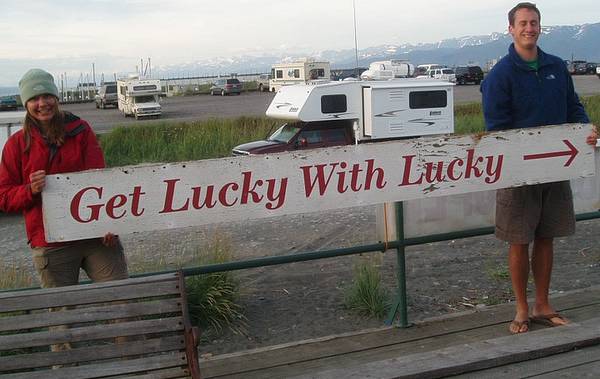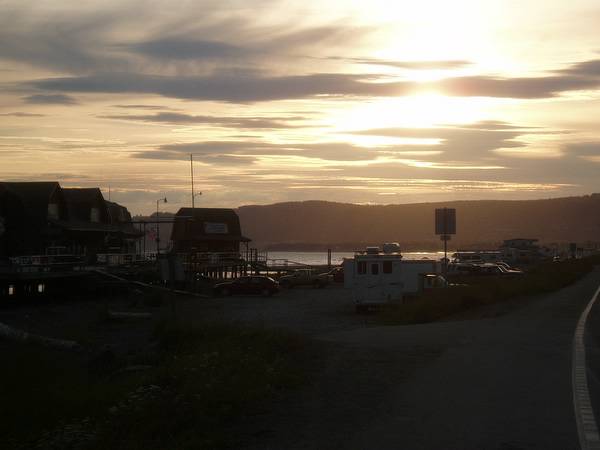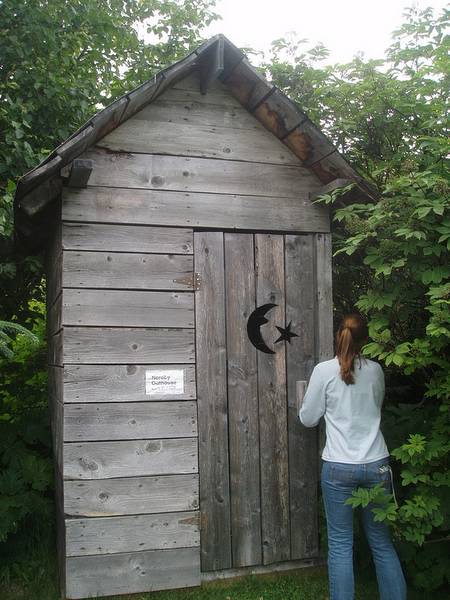 Andie using historical facilities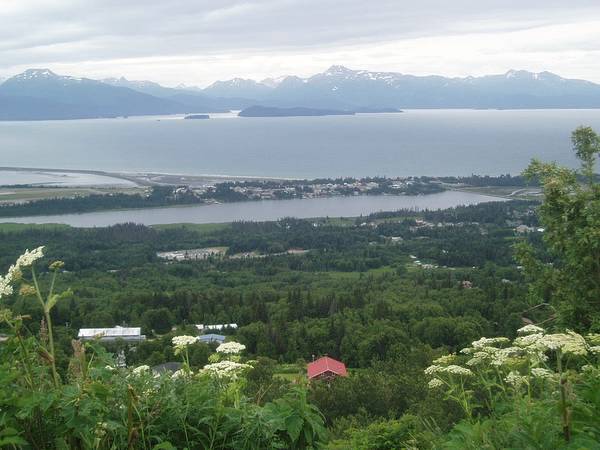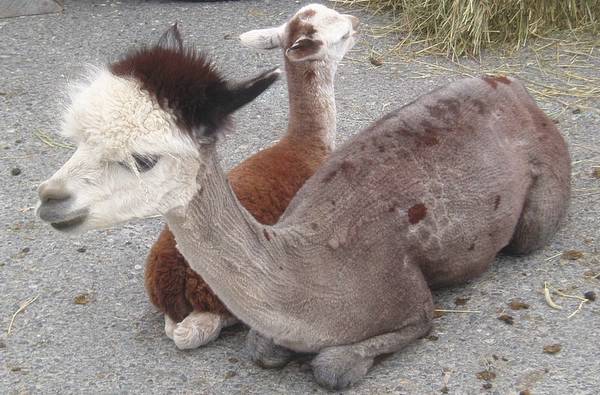 Sad, naked llama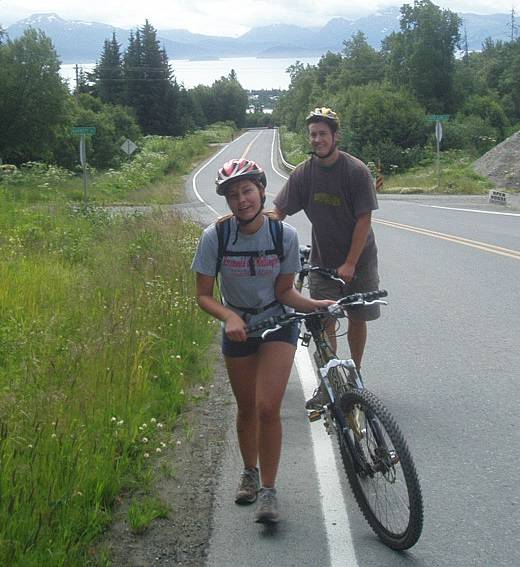 We love biking!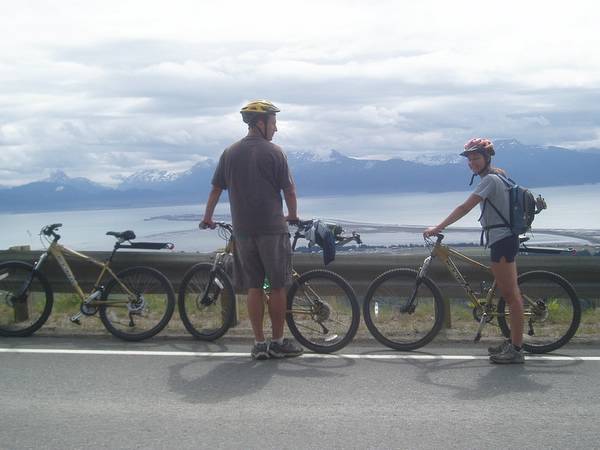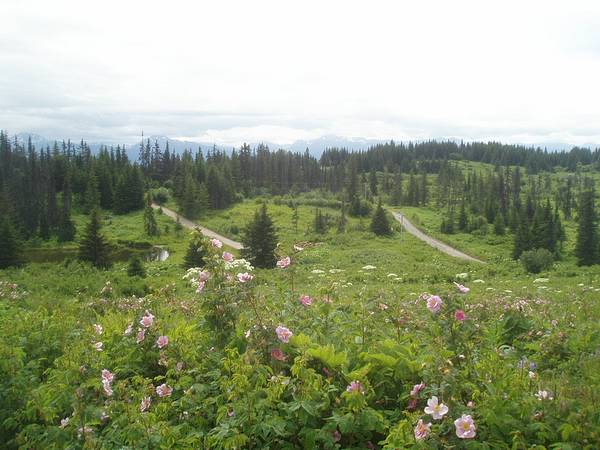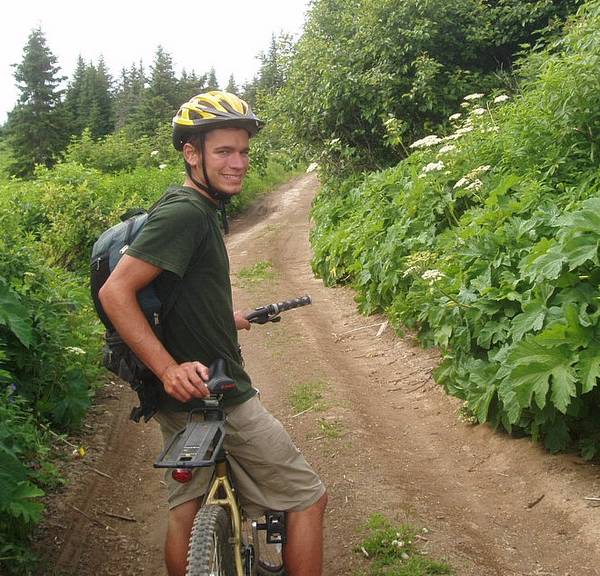 Utterly defeated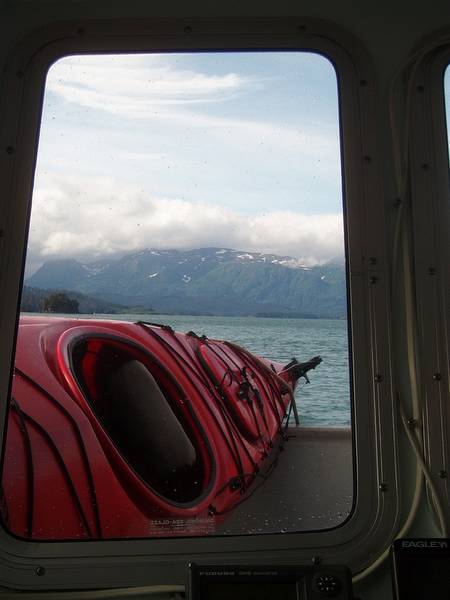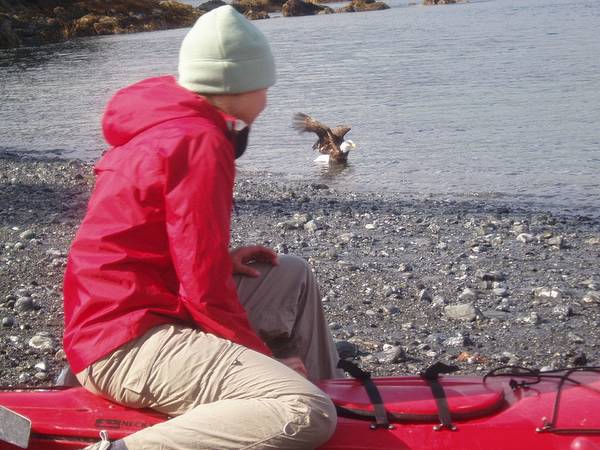 That's one big jellyfish!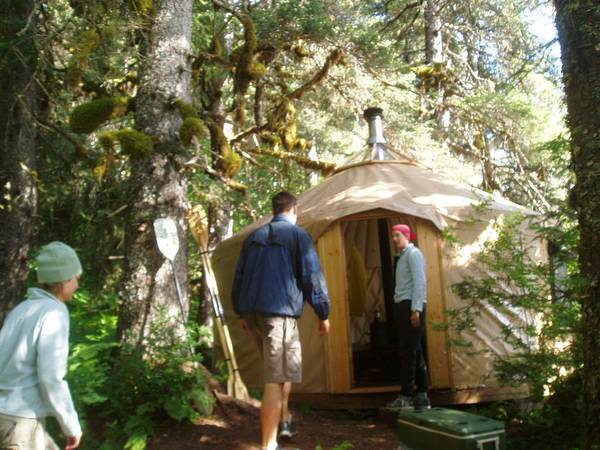 The yurt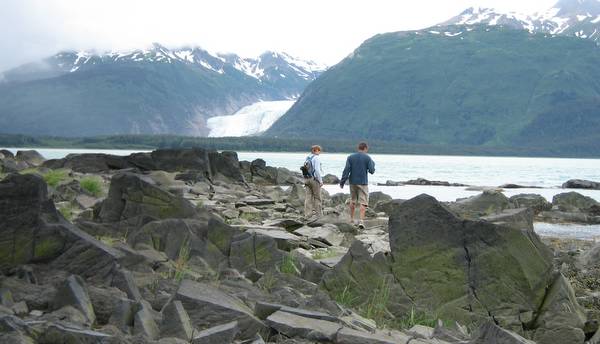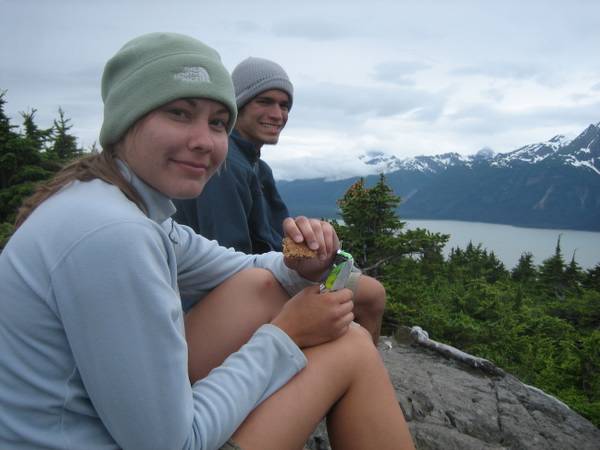 Snacktime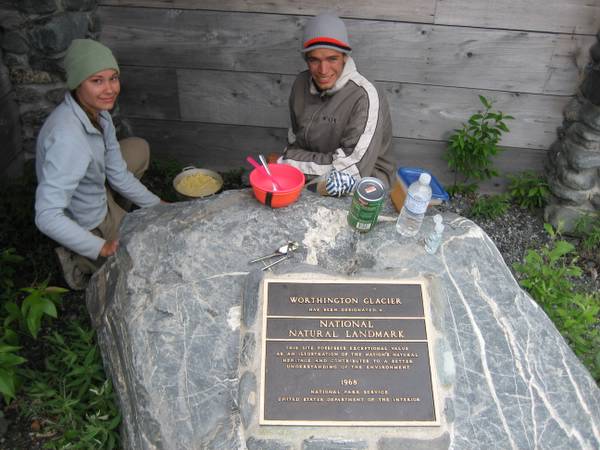 National landmark/kitchen counter

Not the most straight-forward bike-route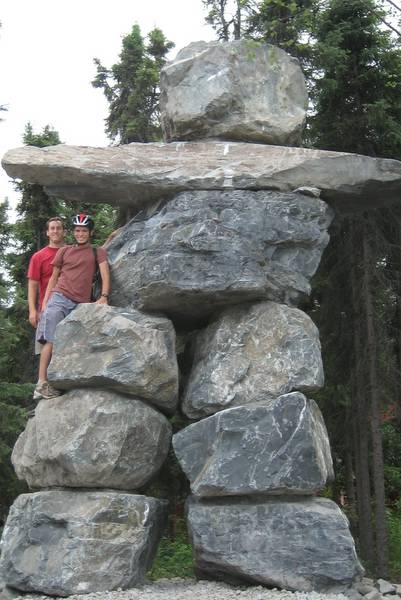 Our buddy the rock man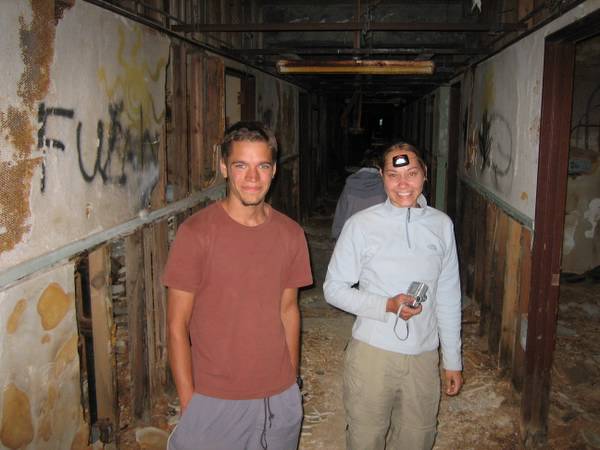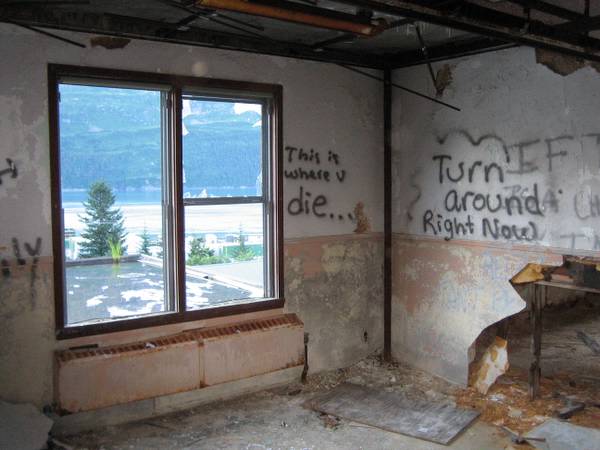 Some reassuring thoughts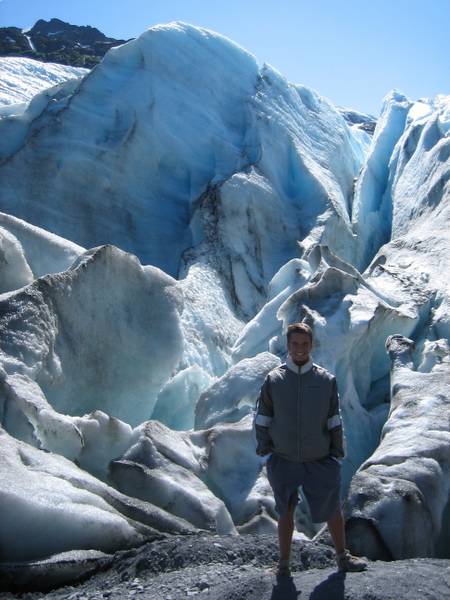 So what if we never ran up Mount Marathon, the shirts were only six bucks!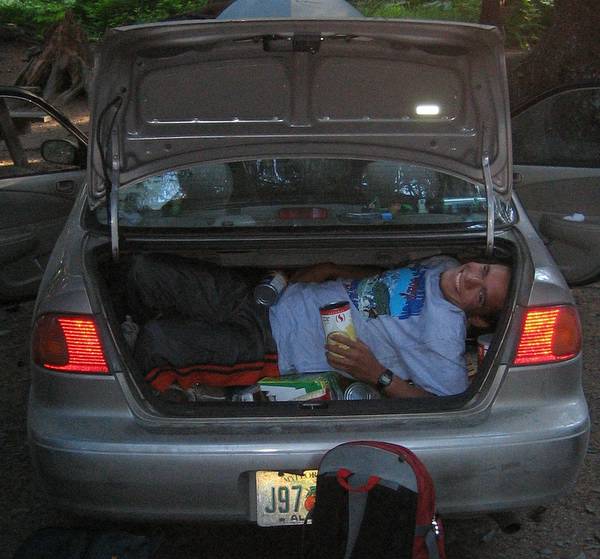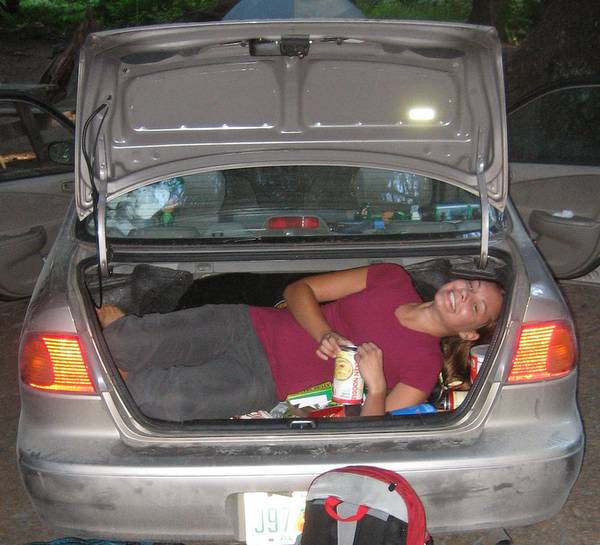 Brainstorming on how to stuff everything into the Corolla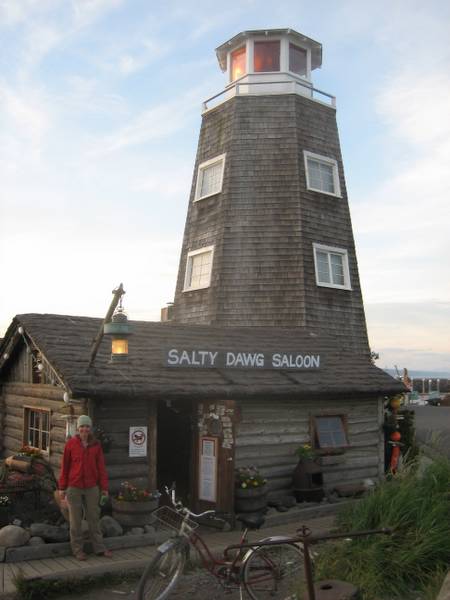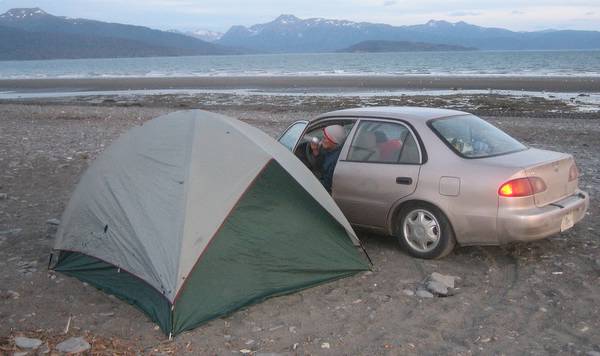 Camping on the spit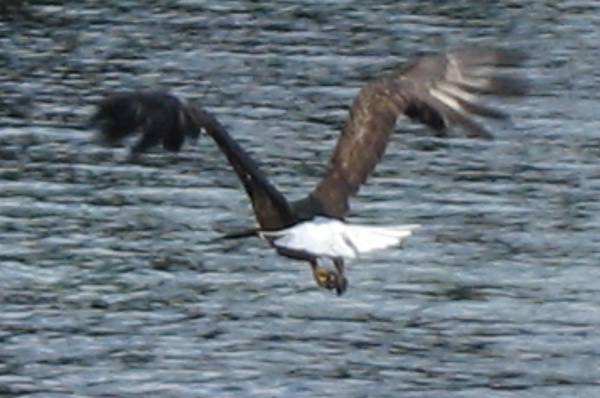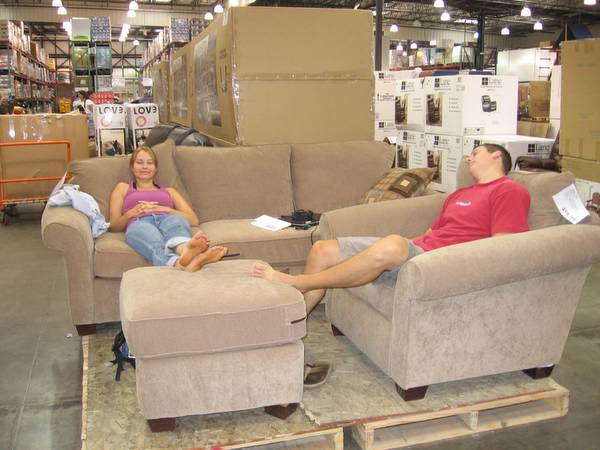 Softest thing we've been on in 4 weeks


This is odd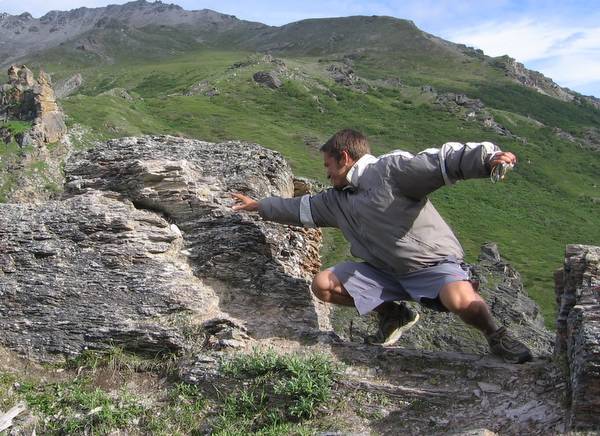 My precious... (there's a ring in this picture... somewhere)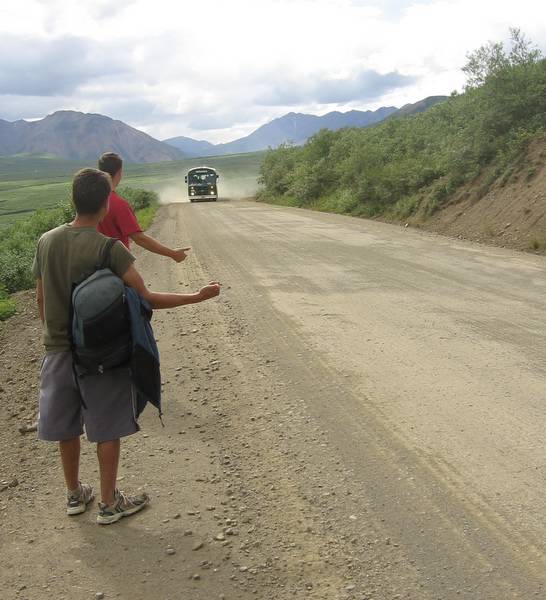 Hitchin' a ride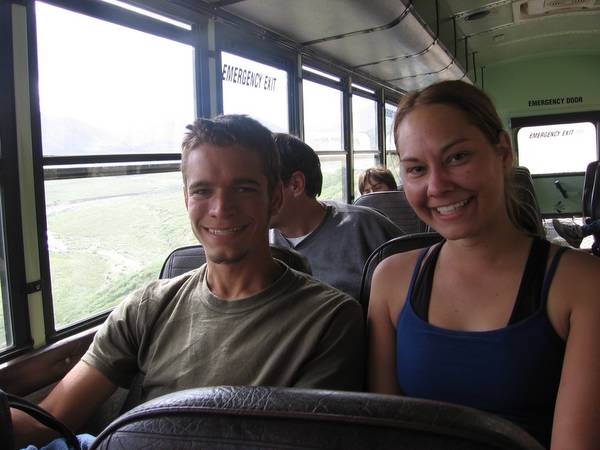 8 years and a college education later, I'm back on the school bus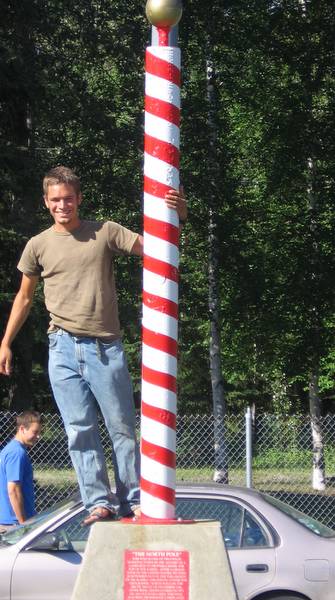 The North Pole (out of season)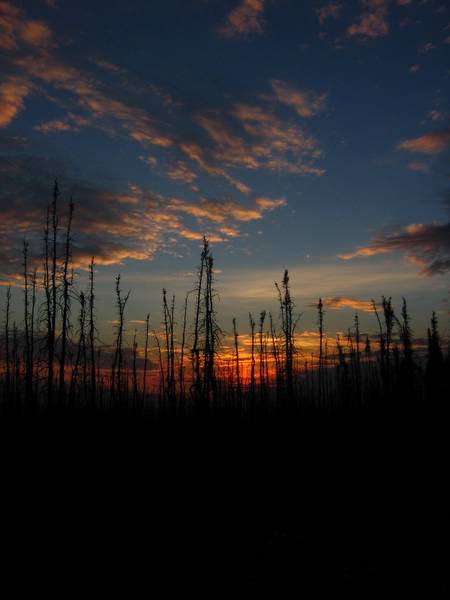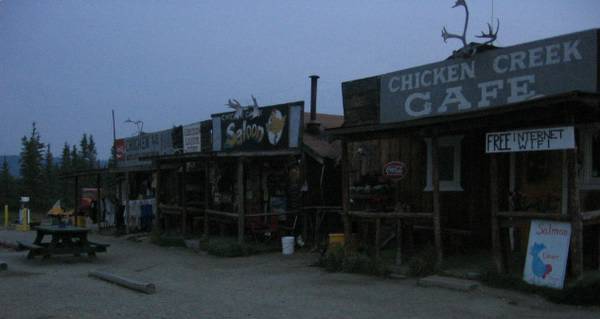 Fast-paced downtown Chicken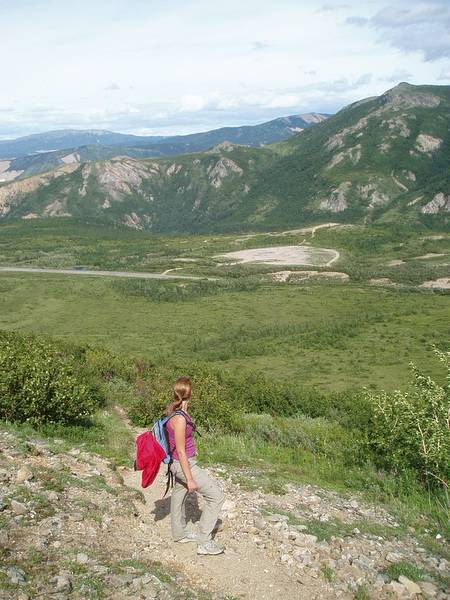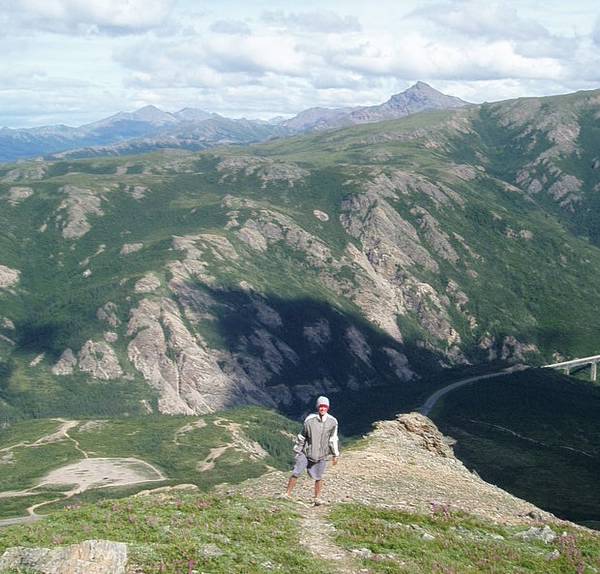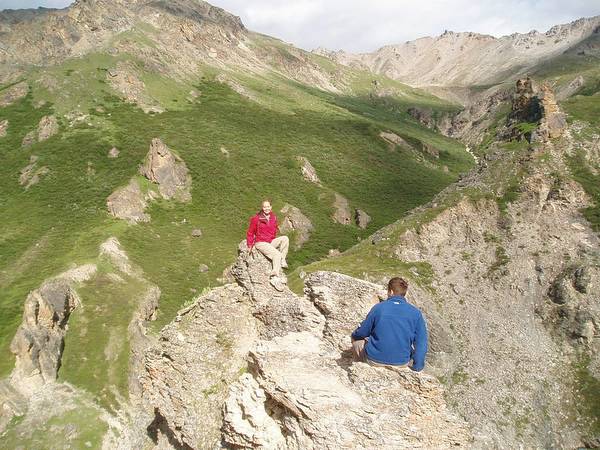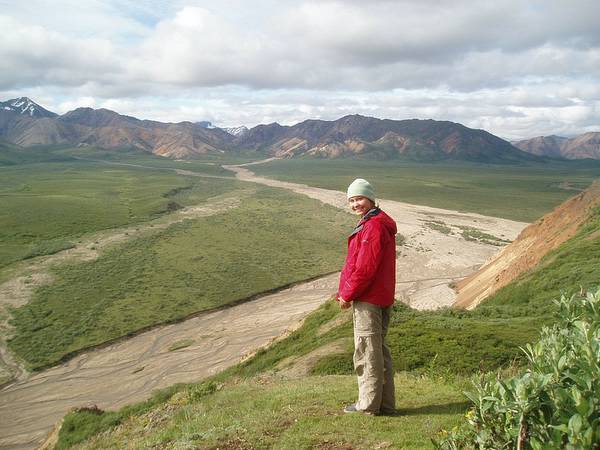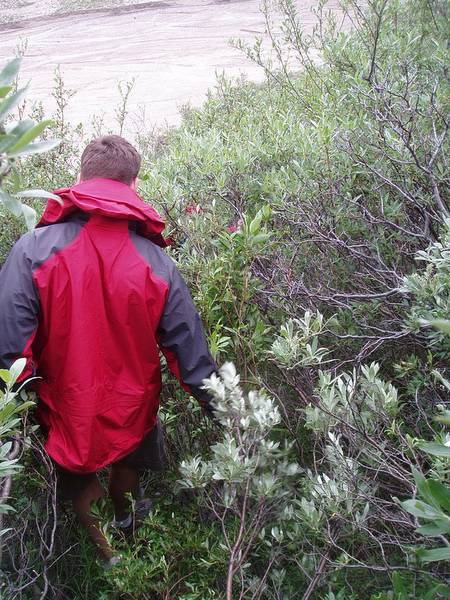 Fording the Yukon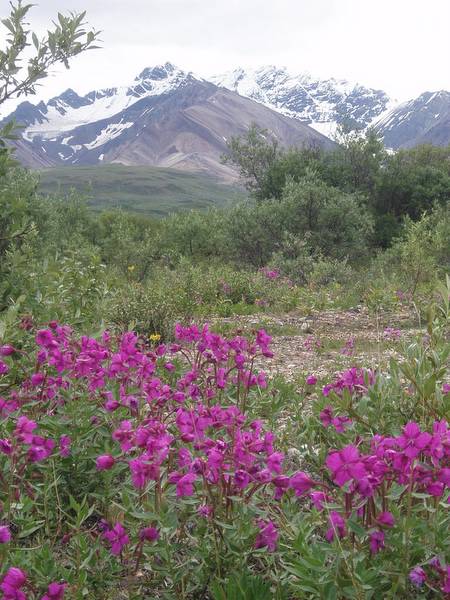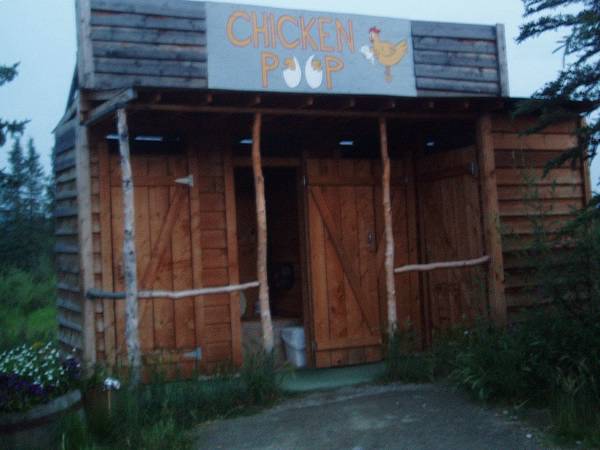 Public restrooms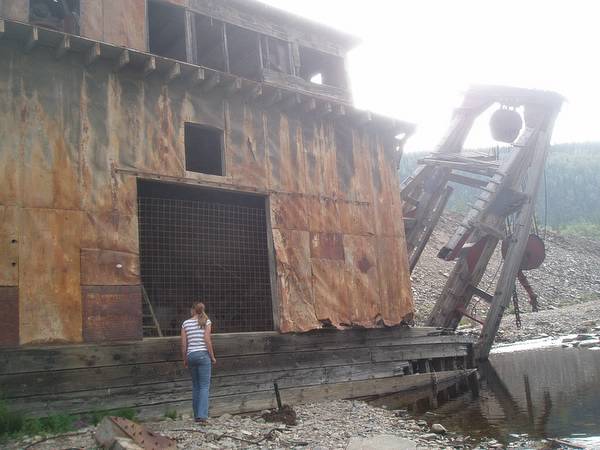 Yet another fun, abandoned, unstable structure to explore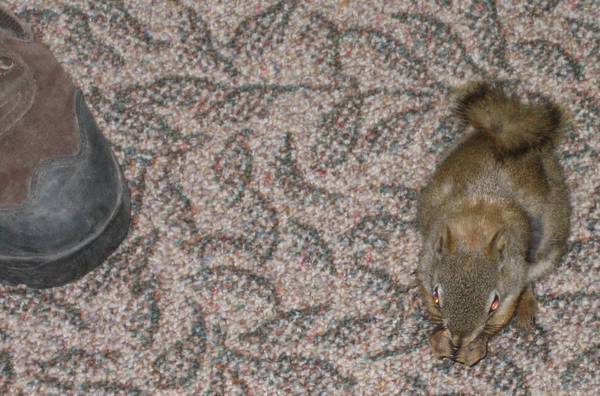 Maniacal squirrel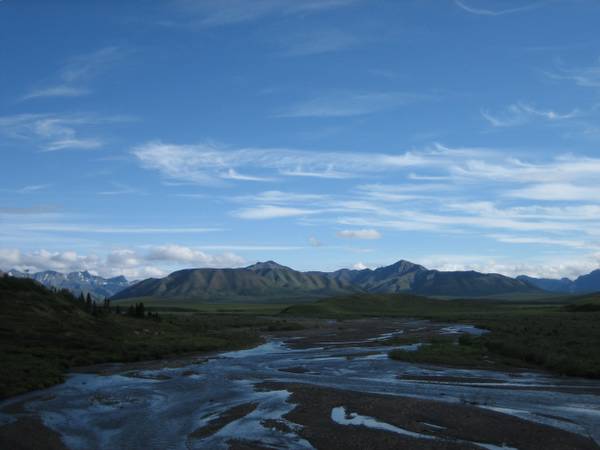 Seriously, we really did see Mt. McKinley


Mama and cub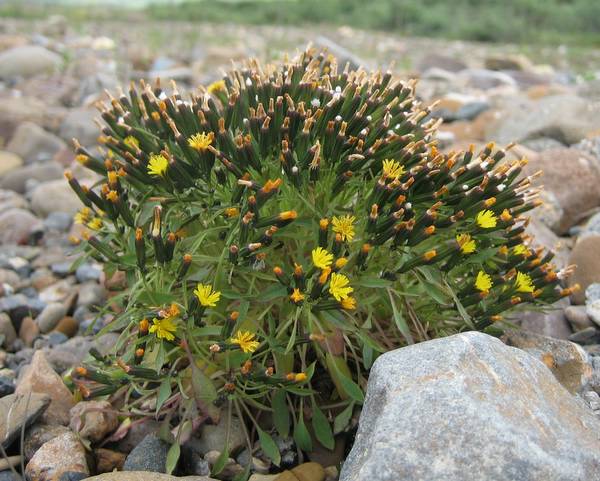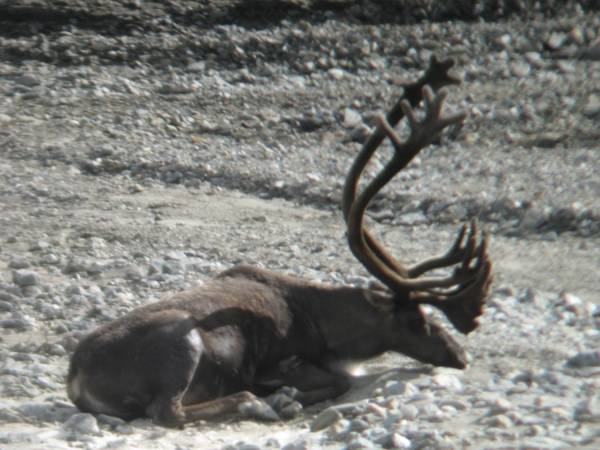 Check out the rack on that one