Entering the first summer semester of my PhD, registered for two online courses, I figured it would be a laid-back 3 months where I could travel for 4-5 days out of every week and intermittently show up for a test or spend a few hours on an assignment. With this in mind, I had jumped at the opportunity to grab round-trip tickets to Costa Rica for a dirt-cheap $230 for my week off in June. Unfortunately, the TAs for my pre-recorded classes had different plans, and I was barely able to finish my mid-term assignments and exams in time for break (which is not widely recognized by UF's graduate population). Andie, who is taking twice as many credits as me, had no official assignments and no qualms about taking off (FSU's break is a week earlier).
Since Spirit's hub is in Fort Lauderdale, our journey began with a drive to the far end of the state. We were too cheap to pay the $15 toll for the turnpike and ended up following a convoluted path over to 95 which took around 3 hours longer than Mapquest predicted. Along the way we stopped at Sanford where we procured a collection of 25-cent cassette tapes, including, among other classics, the Best of Weird Al album and a collection of Greek Zorba tunes.
We stayed with one of Andie's friends who lived in a Dutch-style house perched above West Palm Beach's downtown. The next day we toured around the homes of the rich and famous and lounged at the beach before heading to the airport for our redeye flight to San Jose. The guys ahead of us at the gate were told they weren't allowed to bring booze on the plane and therefore had to chug the remainder of their cocktails in their hands before boarding. As it turned out, these characters were seated right next to us and spent the majority of the flight trying to pick up various women in the vicinity - they were aided in this quest by multiple rounds of vodka.
We arrived at our destination around midnight Mountain Time and stepped outside to grab a bus to the nearby town of Alajuela. A wily taxi driver convinced us this bus wasn't going to arrive for another hour and took us to our desired hostel for $3 (after searching in vain for one that would give him a commission). At $25 for a double with the bathroom down the hall, this was by far the most expensive night of the trip, but such is the price of reaching a place after 99% of the businesses have closed down for the night.
Crawling across Andie's pillow was the first wildlife we observed on our trip - it was a small mollusk that propelled itself by grappling with one of two tentacles that extended out either side of its shell. We flicked this aside and had a few semi-peaceful hours of sleep (not withstanding visits by many varieties of biting insects) before being awoken by the 5am rooster. Stepping outside of our room, I found a small turtle that was in the process of taking a crap on our doorstep; judging from its speed, this creature had spent all morning moving to this spot so that it could present us with this sign of welcome.
After staring at the guidebooks for some time, I had concluded that there was absolutely nothing to do in this mid-sized suburb of San Jose, so we proceeded to wander aimlessly through the quiet streets. We sought out a bakery where Andie got a cinnamon wheel and I got something that closely resembled a block of lard. As it was a Sunday, hymns could be heard on every block; this, more than any country I've previously encountered, is conspicuously Christian, and Jesus is absolutely everywhere - I believe this point is best evidenced by the following sign I read in a bus - "Don't Smoke, Jesus is Watching You." We chose one of the monolithic Catholic churches - these are typically inordinately huge, whitewashed affairs with nothing resembling decoration. With no AC, all the doors are left open and there are frequent visits by the all matter of flying creatures; bird watching came as a welcome relief during the incomprehensible (a.k.a. Spanish) forty minute homily.
In our explorations of the town, we happened upon the last piece of Americana we would have expected to find in Latin America - a Taco Bell. We resisted the urge to pick up a couple of bean burritos and instead went to a nearby, slightly fly-infested soda (small, informal dining establishment). They spoke even less English than we did Spanish, but pooling together our collective vocabulary, with a fare share of pantomiming, we were able to get across the point that we wanted something to eat. We had an excellent fried fish dish accompanied by the staple of gallo pinto - rice and beans with various spices - all this combined with two bottles of water came to the very reasonable price of 4 bucks.
There are no street signs in this country and locations must be conveyed by lengthy sets of directions that involve various obscure landmarks like fig trees. We only ever understood the initial gesture, so we got around by asking someone, then walking to the end of the block in the indicated direction, then asking someone else. Making only five stops after the restaurant, we reached the bus for La Fortuna.
We managed to get the last two seats (next to smelly Americans with whom none of the locals wanted to associate) and, with the aisle overflowing with excess passengers, we took off down the winding mountain road through the stunning tropical mountain scenery. Despite what the guidebook had said, the bus did not take a break at the world-famous topiaries of Zacchero, but instead stopped for half an hour at a mini-mall in San Carlos. Here we made the mistake of abandoning our seats for a bit of cheap ice cream and came back to find that we were among the standers. We ended up sharing the one remaining seat next to a couple of kids from New York who had thus far failed to learn a single word of Spanish - they had me translate for an intellectual conversation with a local 9-year-old about baseball and Sammy Sosa (who was reportedly the boy's grandfather). It was only another 90 minutes until we had reached the touristy town of La Fortuna at the base of the constantly erupting Arenal Volcano.
As is typical in the rainy season, the volcano was completely obscured by the clouds and there was no chance of seeing the fiery eruption, so we grabbed a tasty casado at Mesa de Mama and retired to our guest house. Andie had somehow frightened a small bat and caused it to crash head first into the porch; it was a bit dazed after this and flew in its disoriented state on to our neighbor's bed - they promptly left, leaving their door wide open, and did not return til much later that night. This story was related to me after Andie came rushing into the room, slamming the door behind her - the bat had apparently learned to crawl quite rapidly and chased her down the hallway. We stuffed an extra blanket into the space under the door and several hours passed before we dared to venture out to the bathroom again.
Despite being only a few degrees west of Gainesville, Costa Rica is a full two hours behind us time-wise - this means that it gets dark around six and sunrise is right at 5am. The locals operate on roughly the same schedule as the rest of the world, things open around 8 and stay open well into the night, but since I was focused on outdoor pursuits, I concluded that we would turn in around 9 each night and wake up at 4:30AM. Though she went along with the first part of the plan readily enough, Andie seemed to have a sort of deeply ingrained aversion to the latter; it took some effort to get her moving as the first rays of morning light hit our window. But one whiff of my socks would awake the dead, and when opportunely placed over the nose of my living companion, they did more than any line of reasoning ever could.
We began the 8km march towards the Catarata La Fortuna around 6 and, stopping only for a tasty eggs, rice and beans dish, a chilled coconut, and a milkshake, arrived at the entrance of the park around 8:30. Like nearly every natural attraction in the country, this waterfall was privately owned and charged an outrageous admission price of $7 per person. It took about 15 minutes to walk down to the stairs to the falls, and we spent another 10 reflecting on the power of the single, 60m-high cascade and wading in the pools at the base, before making the return trip. Directly across from here was a separate park that owned a trail to a lake within a volcano and connected to another trail which brought you to the Volcan Arenal National Park; unlike the rest of the world where hiking is free, this trail costs 10 bucks.
Andie was convinced that, rather than hike the 4km direct path, she wanted to take a taxi back to La Fortuna and on to the national park, effectively circling the volcano. She believed that somehow the driving rain and supposed difficulty of the trail were enough to warrant this bizarre route, but my impeccable logic eventually prevailed, and we were soon trudging up a steep slope towards the summit.
The start of the trail was a road through a cow farm but this soon gave way to a narrow, technical path through densely canopied forest. In parts, hiking gave way to scrambling up mud flows, and we were left to grab onto whatever roots or vines presented themselves to avoid sliding into the adjacent ravine.
This being our first venture into a Latin American rainforest, we were unsure of what awaited us. Our elementary school training had cemented in our minds images of snakes that could kill ten men with a single bite, dart frogs that could kill with only a brush, and jaguars and pumas that lurked in the trees, ready to pounce and dig their teeth into our skulls before we knew what hit us. Our fears of these creatures, however, paled into comparison to those of the mighty velociraptor - these monsters had been introduced in the early 90s and have been allowed to roam these forests unchecked since the end of the Jurassic Park franchise.
Luckily, the only critters we happened upon were a few dozen brown frogs and a bird that bore a close resemblance to an archaeopteryx. After reaching the top, we descended down a nearly vertical 100m path to the edge of the lake that had formed in the volcano's crater. Rising again to the rim, we soon realized that there was no signage to indicate what path we should take next and the map supplied to us pointed down a dead-end. After following two trails that dropped to the water's edge, we found another that led away from the crater and down into the surrounding jungle. After hiking for half an hour along this path, we ran across a sign that read simply "Lodge"; we had no idea what lodge it was talking about, but it seemed less likely that we would die in the jungle.
As it turned out, most of the national park was a cow farm. We came across a few trails, one leading to a waterfall, but had no energy to follow them. We did however walk along a sidewalk to a fancy hotel which housed an observation deck and seismograph. Despite it being only a few kilometers away, the summit of Arenal and any lava that it may have been spewing at the time was completely invisible to us.
We arrived at the park entrance and found that it was an 18km walk back to town; even I was reluctant to embark on such a hike. So we instead flagged down the first truck that passed and squeezed into the cab. I am sure that the driver instantly regretted stopping, as we were both covered in mud and had an undeniable stench about us, but he made no sign of it. The truck plowed over the bumpy dirt road, forded a river, and sped back along the highway at about twice the speed limit, delivering us to downtown La Fortuna in record time.
Since our plan to hike to the nearby town of Monteverde had fallen through, we were forced to seek out an alternative in the form of a jeep/boat/jeep tour. We found a tour-monger who operated out of the guesthouse next door to ours and went by the name of Lava Lava Man. He sold us the trip for $12 bucks and then proceeded to inform us that the place we were staying at was in fact a den of thieves.
Remembering that we had in fact not been able to lock our door the previous night, we looked around town for another place to stay, but since nothing really compared with our $8/night room, we decided to take our chances with the "thieves". In the morning, we were eventually picked up by a minibus (it was 20 minutes late "because of the rain") and transported down a paved road (in fact the same one we had taken from the park the day before) to the boat dock. This didn't exactly mesh with the romantic images we had formed in our minds of driving a 4WD jeep through the jungle, but it was certainly less bumpy than it could've been. We were herded onto a tour boat with 30 other tourists and ferried across the very scenic Laguna Fortuna. On the other side, we boarded another set of very un-jeep-like minibuses and followed a series of dirt roads the rest of the way to our destination. We stopped for half an hour at a lunch counter which had made some arrangement with the drivers that provided them with unlimited free beer in exchange for unloading tourists there.
Upon reaching Santa Elena, we found a soda that supplied us with rather expensive casados (we would soon learn that this was one of the cheapest places in town). Unfortunately, at the time of our arrival, the whole town had lost power and we were unable to order the milkshakes that had begun a staple for us in our travels here (Andie was afraid to drink the water, so this was the only rational alternative). Next we sought out one of the few guesthouses in town that satisfied our strict $10/night budget; this place came with the caveat that other travelers might come along and request to share our room, so I donned my flip-flops and left my shoes and socks behind to prevent this particular eventuality.
Since like the last one, this town saw fit to charge for all of its attractions, we elected to forego the $9 rainforest hikes, and instead, hike straight up a mountain which reportedly offered excellent views of the surrounding countryside and even Arenal. The road up Cerro Amigos was so steep and muddy that if ever we turned around we had to make a concerted effort to avoid falling down and sliding to the next runaway car ramp. The summit was enveloped in clouds and it was impossible to see a point five feet away, let alone the distant volcano. We did manage to catch a glimpse of a coatis, which is apparently a sort of tree-dwelling ferret.
Back in town, we sat down to eat at a bar which seemed to be the only reasonably priced place around. There were no descriptions for anything on the menu so I ordered a fillet of something called a pechuga which I never managed to successfully identify.
At around 10 minutes to six, I convinced Andie that we had to make the six o'clock bus to the Monteverde Cloud Reserve. The reasons for this were two-fold - one, to see all the critters of the forest before the flocks of tourists scared them off, and two, to prepare ourselves for the only bus to the pacific coast on the following day, which departed at 4:45AM. After a 30-minute bumpy ride in a part-time school bus, we reached the reserve, and realized right away that we had indeed beat the crowds. Unfortunately we had also arrived before any of the park personnel and there was no one to give us breakfast or sell us a ticket for the hikes. After some deliberation, we decided we could simply walk around the bar blocking off the trails - by the time we heard someone raising an objection, we were already a hundred meters up the trail - which is practically out of earshot.
We hiked for about twenty minutes before returning to buy our tickets - the gate keeper was a bit perplexed by our arriving on the wrong side, but did not raise any objections. We paid an exorbitant fare for two breakfast casados with a tourist allotment of toast and jam to accompany the typical beans and eggs. I took one look at the prices of the bottled water and concluded that Costa Rican tap water was now safe for me to drink. We hiked through another 10km of rainforest and spotted what I have decided was one of the exceptionally rare and beautiful quetzals that inhabit that area. At the end of the trail was a viewpoint where, on a clear day, you could supposedly see both the Gulf and Pacific coasts; this was not a clear day. On the southern side of the loop, we spotted a very colorful species of pigeon. Later, we walked through the canopy on a suspension bridge which extended across a small ravine; a sign suggested that only 10 people should occupy this bridge at any one time, so I decided that we should wait and see how many tourists we could get on the thing simultaneously, but this game grew old quick and we were soon hiking the last kilometer to the park exit.
The next bus would not come for at least another hour so we decided to start walking back towards town and grab it whenever it passed us. We attempted to visit a small bat/Quaker museum but found that they too wanted money, so we continued on until we reached the cheese factory. The factory wanted 5 bucks for their 2-hour explanation of how cheese was made, so we gave up on the prospect of free learning, bought cheap ice cream, and hiked the rest of the way back to town (our bus passed us 100m from the station).
We arrived back in town around noon and concluded that we wanted nothing more from the expensive, overly-touristy town; we grabbed a few tamales wrapped in banana leaves from the local supermarket, booked tickets on the next bus to San Jose, and were soon speeding through the mountains on our 150km, 5 hour trip to the capital.
Andie had read something about muggings in the city and was perhaps a little overly pessimistic. Before we reached the terminal, she stuffed her contact solution, contacts, and glasses into her bra so that, at the very least, she'd be able to see; with various shapes sticking out at odd angles from her chest, this plan didn't seem altogether foolproof, but I opted not to beleaguer the point. The bus station was in a particularly sketchy area, so we flagged down the first cab that came by; naturally enough his meter was broken, and we got charged 4 bucks for the 2km ride to the appropriate station (the city has about 50 in total).
We jumped aboard the next bus to Turrialba and were in the peaceful mountain town around 10. Our search for a motel was briefly interrupted when we were chased down the street by some crazy beggar, but the patrons of a nearby bar defended us and we located Hotel Turrialba shortly thereafter. With a TV and bathroom ensuite, and a pool table down the hall, all for $15, this place was easily the best value of the trip. I was finally able to wash my malodorous jeans and socks and catch up on the latest soccer news.
We had heard that this city had pleasant, strollable streets, but beyond that, we had no idea what there was to actually do there. It happens to be the whitewater capital of the country, but we were a bit hesitant to shell out $80 for a 2-hour excursion. A volcano with an accessible crater lies within 24km, but no public transport or even taxis will attempt the formidable 4WD road to reach it. In the end we settled on a visit to the nearby historical site of Guayaba - purportedly the most significant in all the country.
The National Monument consisted of little more than a bunch of organized rocks and a petroglyph or two, but the arriving and departing busses were spaced four hours apart, so we had the full afternoon to wander around the jungle and surrounding town. The guy who sold us our ticket to the site had claimed that the forest was full of jaguars, ocelots, monkeys and sloths - all we saw in two hours of staring at the trees was a couple of mushrooms and one lousy toucan. We walked back towards the city, spying an odd assortment of little tourist restaurants and butterfly gardens along the way. After about 4km, we reached a junction and hopped on a bus back to town.
Like all the other places we had visited, Turrialba offered little in the way of nightlife. There were no theatres or karaoke bars, and what we suspected might be an arcade turned out to be a smoky gambling den. Returning to our hotel, we found that our neighbor was watching futbol with the volume turned to the max - after the third "GOOOOOOOOOOOOOOOOAAAAAAAAAAAAAL" we sought refuge in the lobby where I schooled Andie in many games of pool.
The next day we took an early bus to the capital. My ancient guide book had informed me that there was an excellent crime museum featuring a severed hand among other atrocities, but this had closed down years before. Our next stop was a mattress shop where I thought the Museo Nacional should be - the owner of that shop directed us the actual museum which was housed in a sort of castle that once served as the army headquarters. This place featured plenty of pre-Columbian artifacts as well as an enthralling butterfly garden where Andie spent half an hour trying to capture the giant Morpho in flight.
Next door was the Artisan's Market where we bargained for a whistle that had the shapes of six animals combined into a single ceramic piece. With this prize obtained, we spent the next few hours ambling about the city's commercial district - for a city with only a few hundred-thousand people, it was packed with shoppers, along with dozens of purveyors of stickers, logic games and churros. Unlike the rest of the country, San Jose is packed with every conceivable American chain as well as a vast array of local fried chicken stores.
We breezed by a few parks, churches, a metal building, a yellow building, and many other hardly notable attractions. Costa Rica is not known for its vegetarianism, but as is always the case in a city this size, there's a fair share of freaks about, and we were able to find a chain that provided us with a set lunch including veggie ham pizza and orange soy flan.
The city zoo offers few signs to indicate that it is still open and actively maintained. The walls are crumbling, the signs are missing, and many of the fences separating man from beast are in ill repair. Nevertheless, it did have its share of neat critters, most of which we had failed to see in the wild.
We explored a few of the labyrinthine markets and had to restrain ourselves from buying banana leaves and exotic cheeses that would never make it through customs. Since the city was generally reputed to be unsafe after dark, we came up with a plan to find a movie theatre where we could spend the evening hours. This plan was thwarted by the fact that there wasn't much in the way of movies within the city proper, and, after hours of searching, all we could find was an all-Spanish Shrek the Third and a showing of Les Miserables in French with Spanish subtitles. In the end, we opted to catch a six o'clock bus and spend the remaining six hours at the airport.
Back in America we waited at customs for an hour as a single official tried to process our entire flight. Then we got a shuttle from a foul-mouthed old guy to the tri-rail station where we waited another hour for a train to arrive before being sped back to West Palm.
Costa Rica (and I've been told Latin America in general) is not the easiest place to navigate. Transport is infrequent, tourist information is non-existent, and guide books are incomplete. But for those with time (preferably far more than a week), a decent command of the Spanish language, and perhaps a car, the country offers an endless range of adventures - some with jaguars.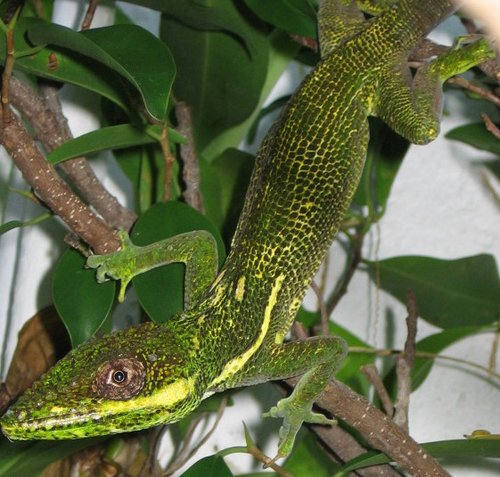 Probably the coolest creature we saw all trip - too bad it was in West Palm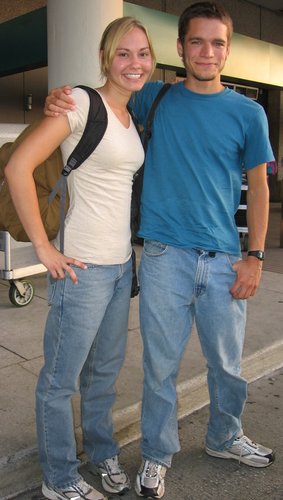 Yup, that's all of our luggage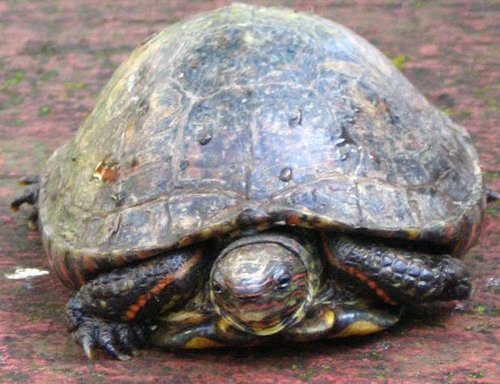 Our first Costa Rican animal - in our hotel kitchen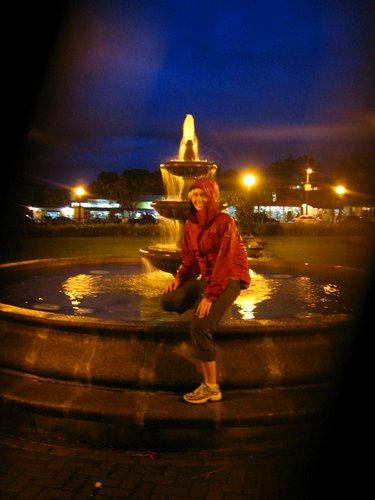 Andie going swimming in La Fortuna park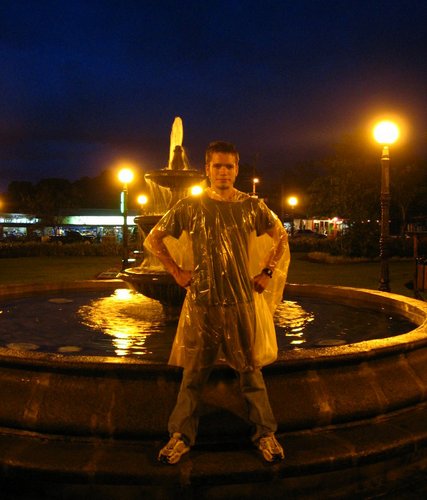 Striking a pose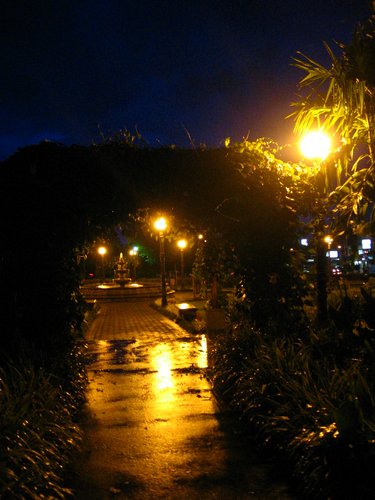 Andie trying to be artistic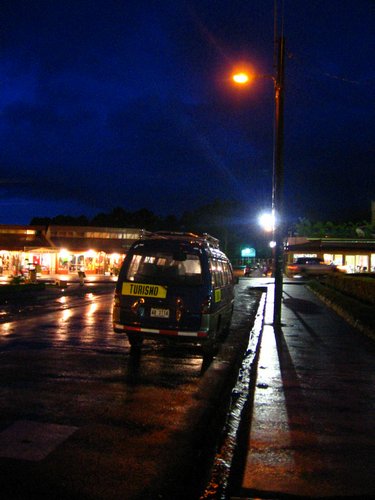 She was fascinated by these minibusses


A visitor in our hotel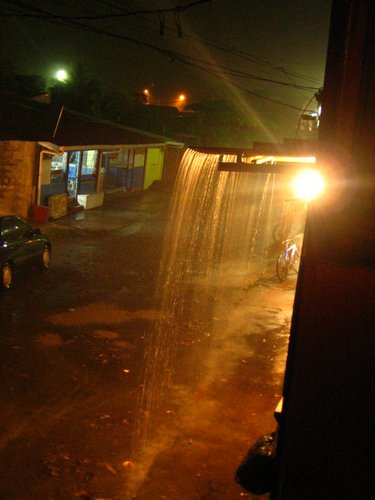 10 minutes later, it was dry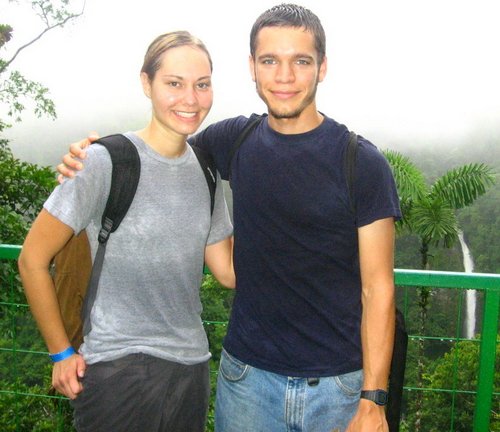 The funny thing is we were wearing ponchos when we got this soaked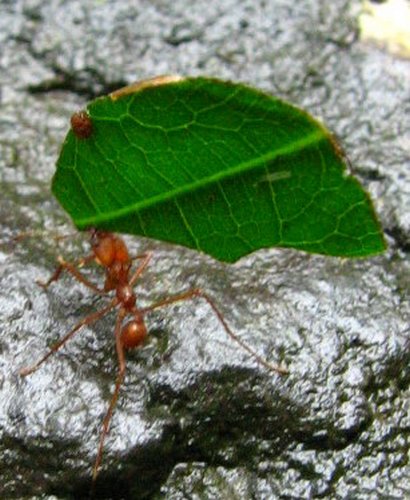 Andie loved these little guys - we had to stop every single time...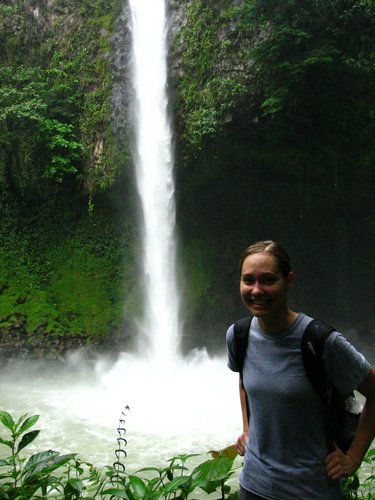 Catarata de La Fortuna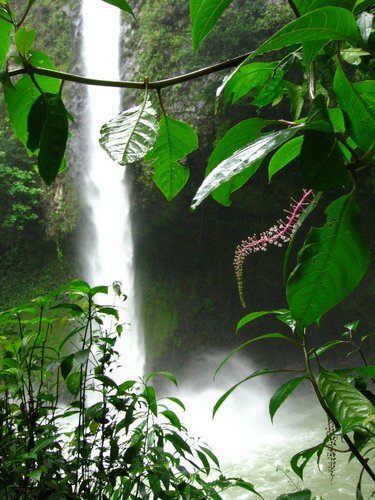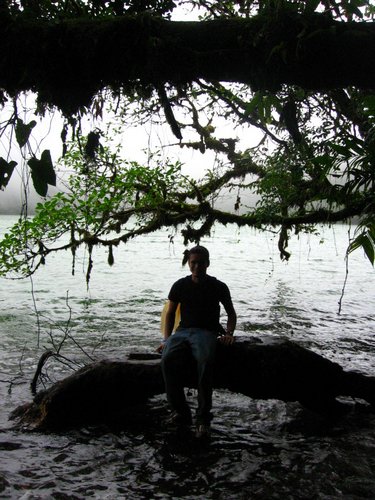 Deep within a volcanic crater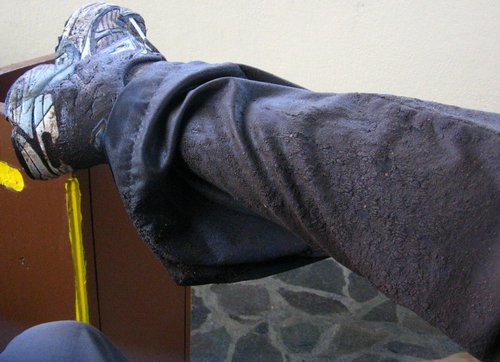 Perhaps an extra pair of pants wouldn't have been such a bad idea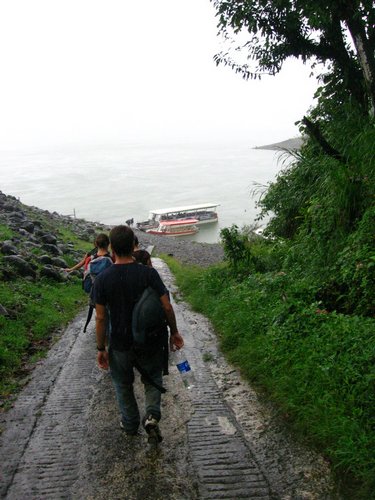 The boat across Laguna Fortuna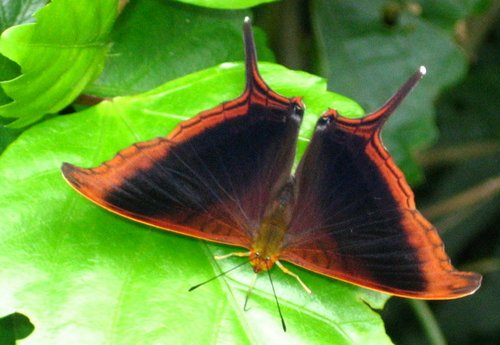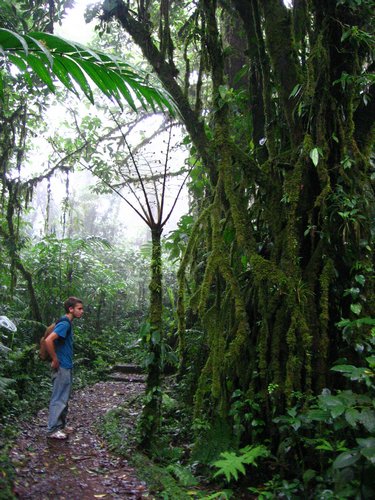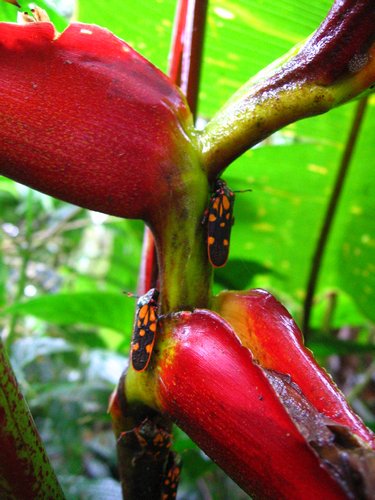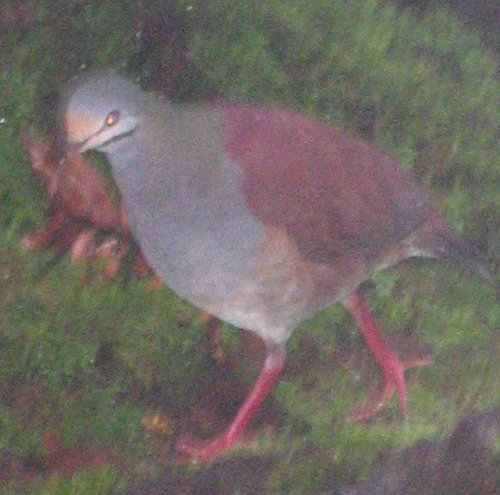 Exotic rainforest pigeon.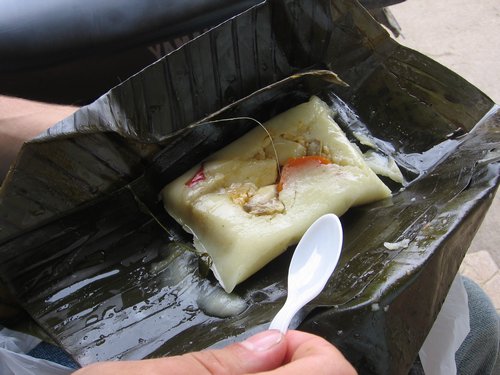 Tamale in a banana leaf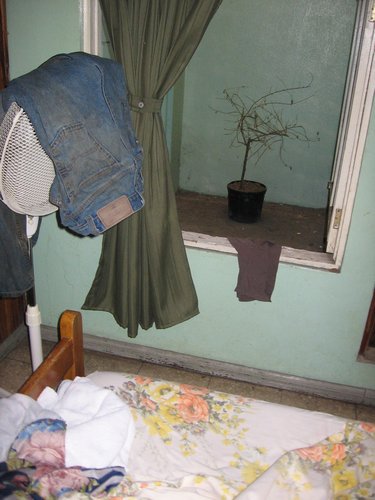 Nothing like a little cheery greenery in your hotel room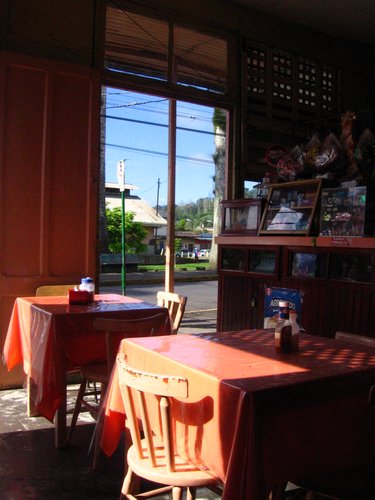 A soda - pretty much the setting for all our meals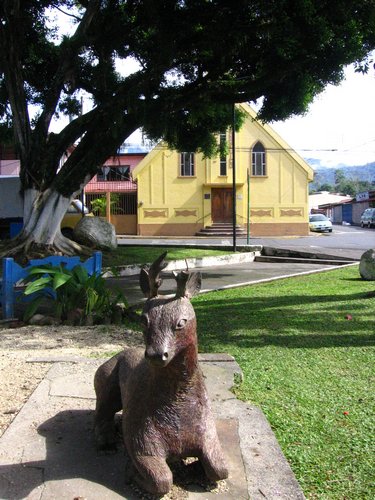 Odd deer-like creature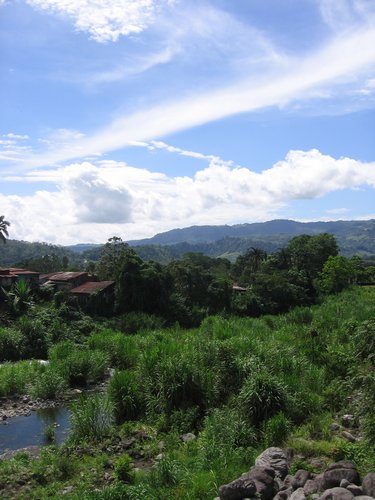 Turrialba

Sign for non-existent public library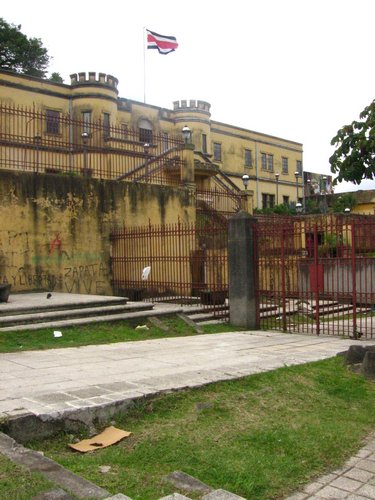 Old military headquarters turned museum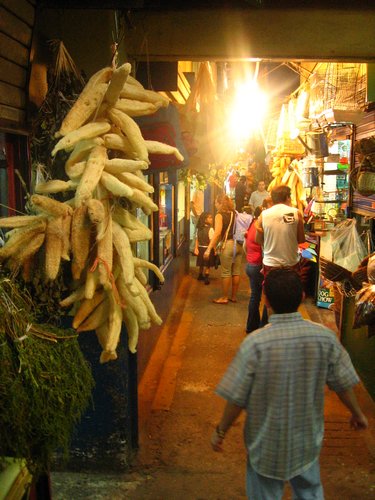 El Mercado Central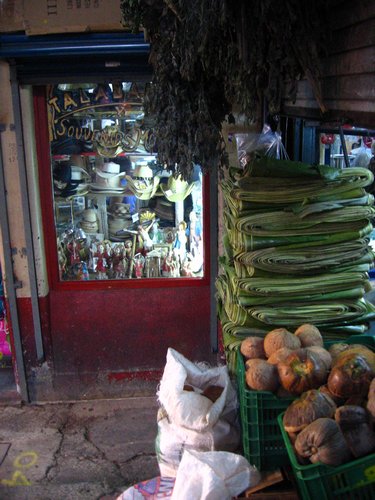 Pigeons assaulting the Plaza de la Cultura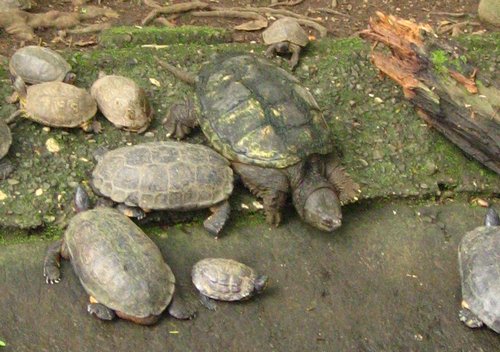 Enormous killer turtle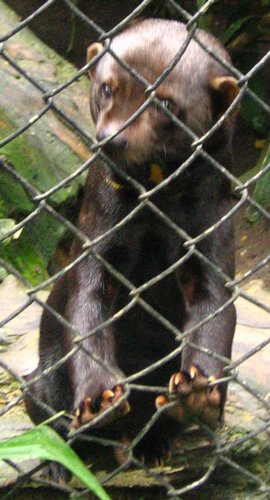 Poor little guy

Spider eating a fly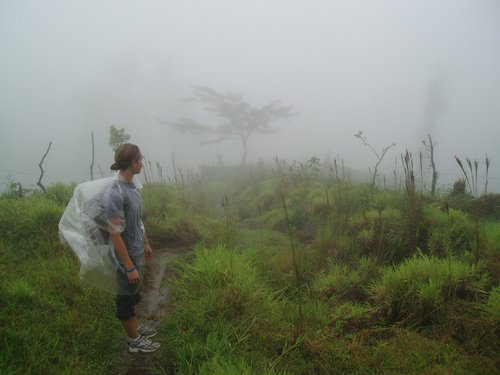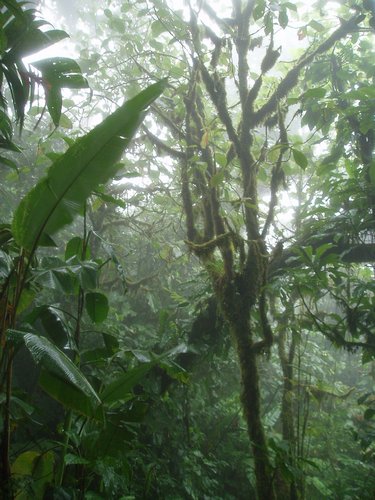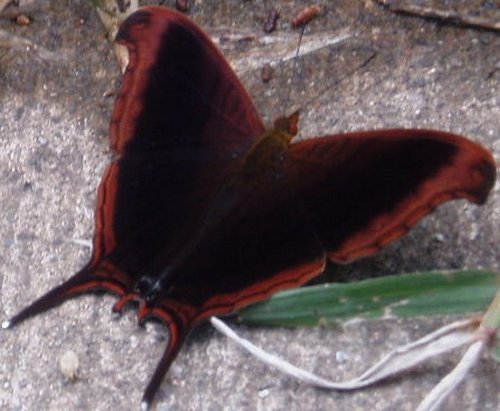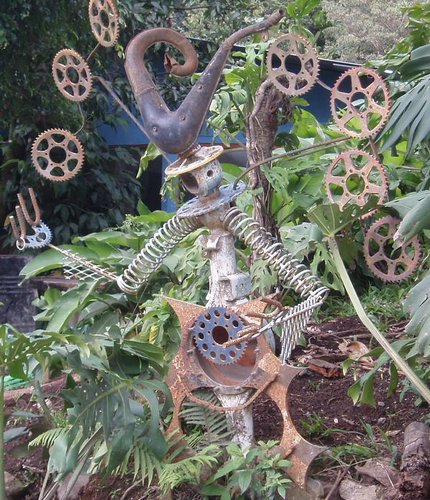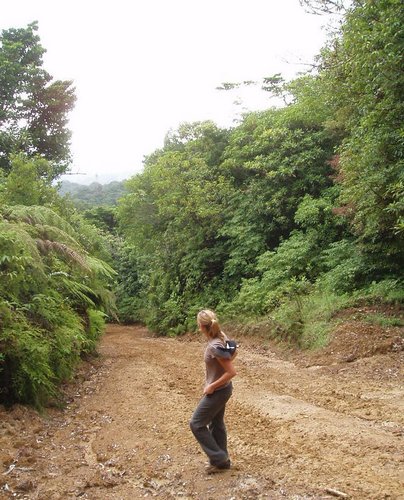 Andie complaining about the hike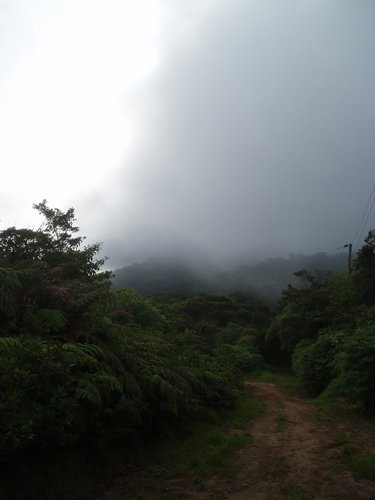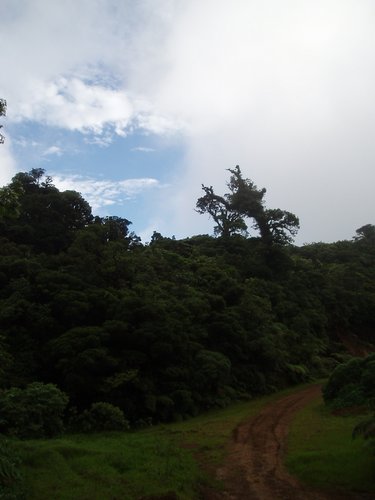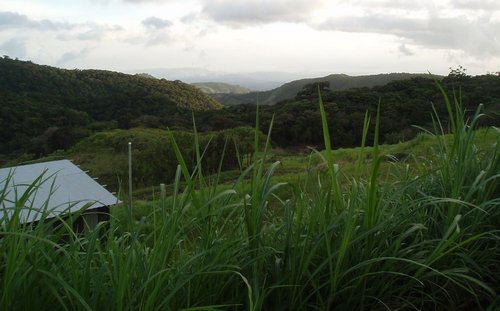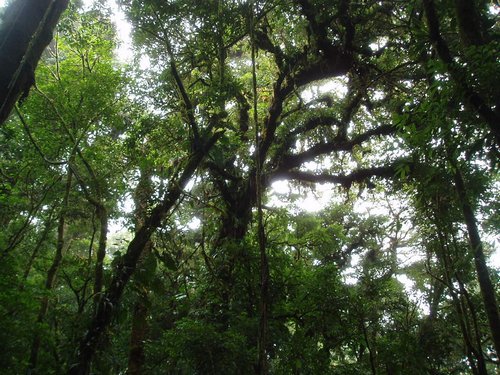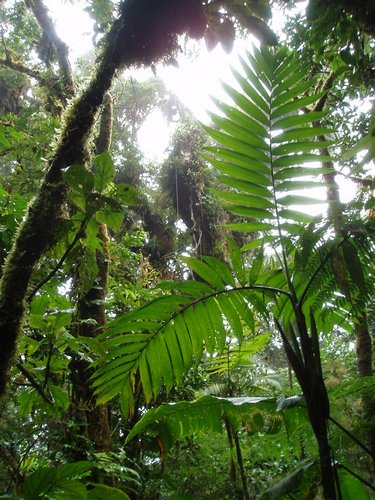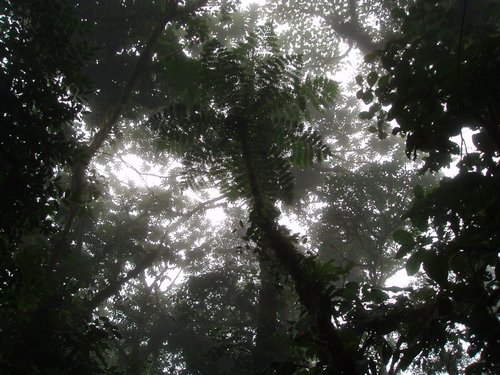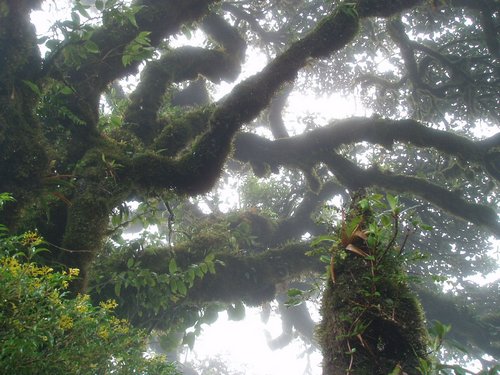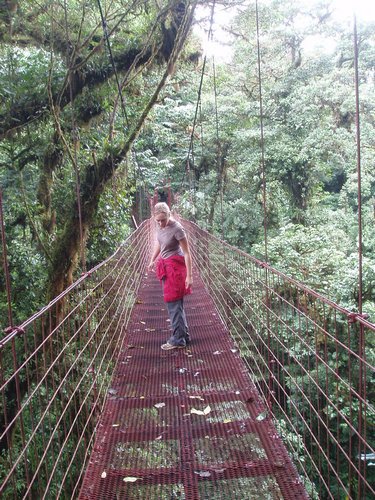 Looking down into the abyss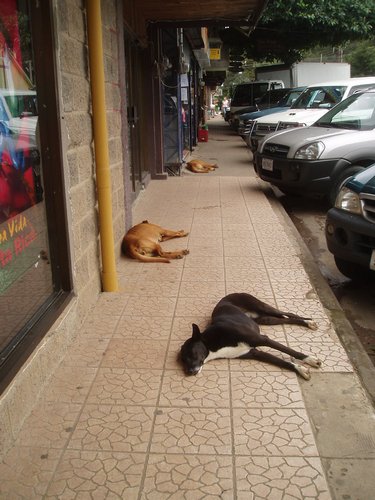 The dog days of summer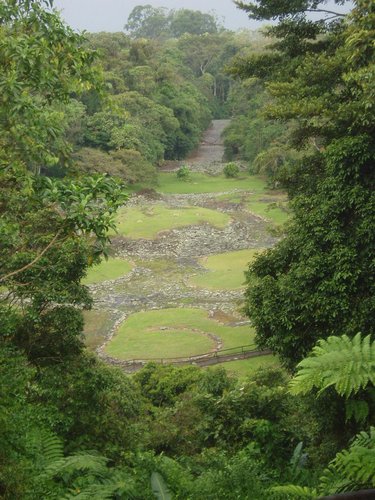 The ruins of Guayaba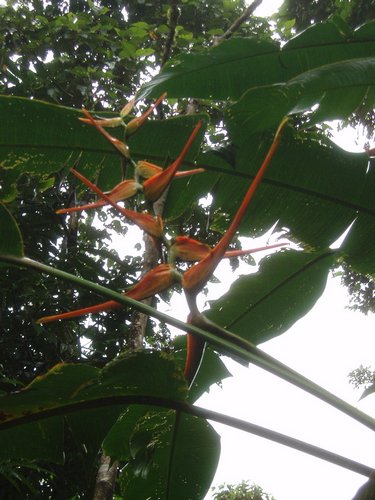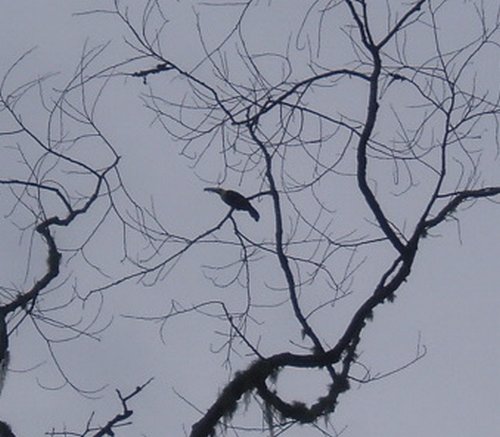 A toucan, we think...

Butterfly garden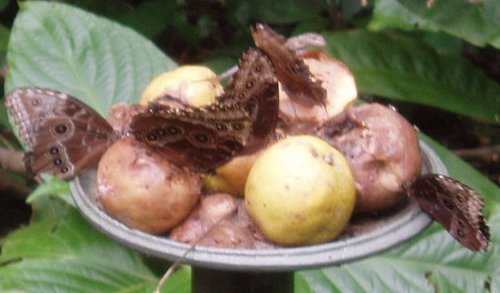 They sure love their rotten fruit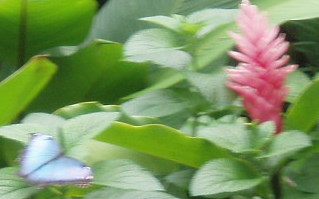 Mysterious sphere crafted by indigenous peoples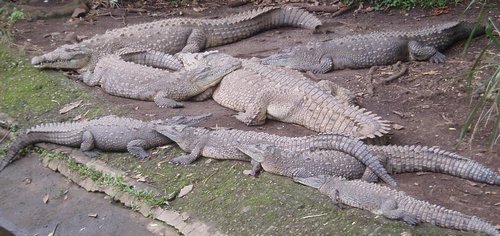 Pile o' crocodiles