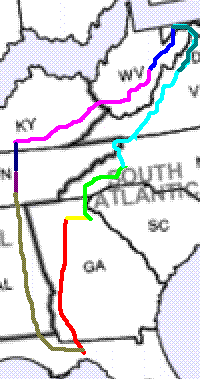 As the spring semester drew to a close, my professors started a fun game of switching up the due dates for the final projects and exams so that it was impossible to guess if and when I'd be able to skip town for the two-week semester break. We had wanted to apply our free ticket vouchers to a Peru flight, but after calling up the SpiritAir representative, we found that our vouchers were not valid for the desired dates, and furthermore, there was no way to figure out when they were valid except to call customer service and wait on hold for an indeterminate amount of time, sometimes being disconnected or put through to the Spanish-only line, after 30-some refrains of "Your call is important to us". With these factors limiting our overseas options, and gas prices, frigid weather, and a shortage of passengers cutting short the list of domestic destinations, we settled on a region where we had spent most of our lives, and yet somehow, never properly explored.

A roadtrip in the American Southeast can prove a planning nightmare. Unlike the southwest or the far north, the southeast has a thousand roads snaking off in every direction. The major attractions hardly ever come in the form of national parks with special map designations, neon signs, publications out the wazoo and 24-hour ranger support, but are more often hidden amongst hundreds of state parks, wilderness areas, wildlife management zones, and random residents' backyards. There is no tourist track, no visitor centers, and, quite frequently, no signs, no established campgrounds, and no potable water. To wage a successful campaign on the southeast, you need a GPS, a car that can negotiate most every road condition, and tons of research and local knowledge. We had my ailing Corolla, a Big Lots road atlas, and a few pages of vague internet directions; we were in for a treat.
Day 1 - Departure, Indian Mounds and Providence Canyon
We set out from Tallahassee early Saturday morning and headed north towards Providence Canyon. Lured by an unusually thorough collection of highway signs, we stopped at Kolomoki Mounds State Park, which turned out to be just an enormous mound of dirt. This non-descript pile had the largest and most energetic staff of rangers that we would encounter anywhere in Georgia, and they directed us to the canyon which had been omitted from my atlas and roadside signage.

I found Providence on a listing of "The Seven Wonders of Georgia"; advertised as "the mini Grand Canyon", Providence was formed through erosion caused by unsound farming practices some 50-100 years ago. Just three hours north of the Florida border, the canyon is reminiscent of something you would find in Utah or New Mexico, with towering spires of multi-colored rock and sand looming over atmospheric valleys and slots. The ranger seemed reluctant to tell us anything about the hiking trails winding through the park, and so we got a permit for the longest one available, the 7-mile backcountry trail. After we had ventured about 200ft down the trail, we got hopelessly lost in a dense forest, and returned to the well-marked 3-miler. Most of the trail wound through forest with no views, but as we returned to the portion that ran along the road and reached the car-accessible viewpoints, an immense, multi-branched canyon unfolded below us. The real treasure was in the canyon floor trails that followed streams into narrow slots between towering multi-hued walls.

Andie took over driving for the next leg to the north, but as we neared Columbus along the crowded, walled I-185, she began to have flashbacks of the time when we had been attacked by a ladder truck in Atlanta, and pulled off at the next exit. Here we found a Burger King more exquisite than I ever could have imagined such an establishment to be. It was built in the style of an old train station, complete with timetable, ticket window, and dining car. Andie was able to satisfy her cheeseburger craving that she had developed after nearly seven hours of having to subsist in the wilderness with only granola and peanut butter sandwiches, and we got back on the highway, bound for the far northern reaches of the state.

Fort Mountain is an exceedingly pleasant state park on top of a mountain just outside the metropolis of Chatsworth. The only campsites left were walk-in shelters about a quarter-mile from the parking lot. These shelters were perched on the edge of a ravine over a babbling brook, and, in stark contrast to the packed campground, were far apart and largely vacant. For some reason, we deemed it necessary to set up our tent inside the shelter; it barely fit within the roofed platform, and we had to perform harrowing acrobatics over a steep drop-off every time we wanted to use the bathroom or leave the site.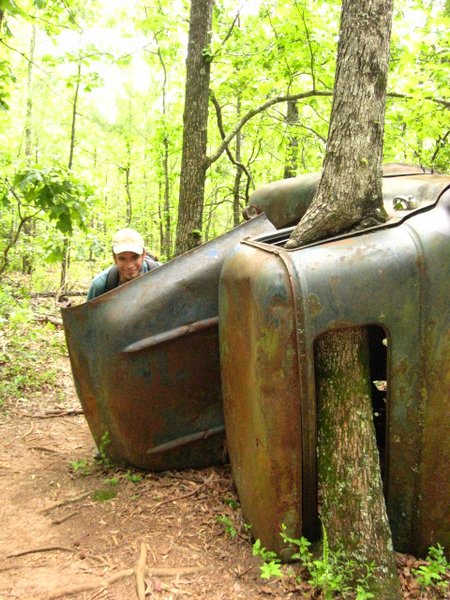 The park decided to leave these on the grounds that they provided a habitat for many species.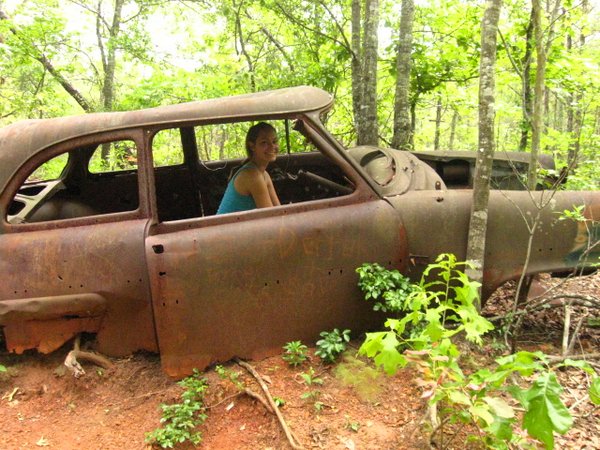 Practically the only time she was in the driver's seat the whole trip

This, and all the other artistic shots in the collection, are Andie's doing (you can see a more complete collection of her artsy shots here).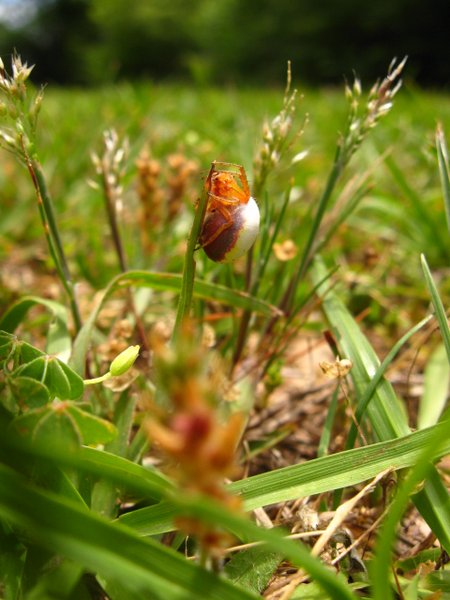 Crazy-looking spider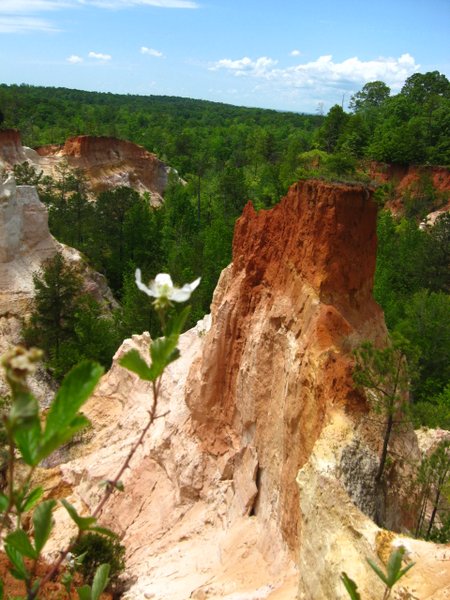 American southwest? Nope, southern Georgia.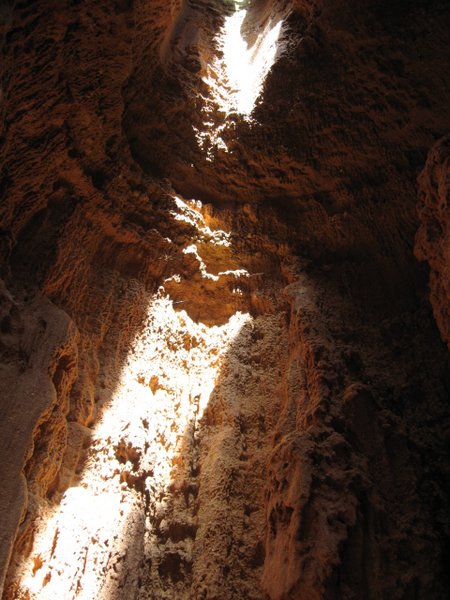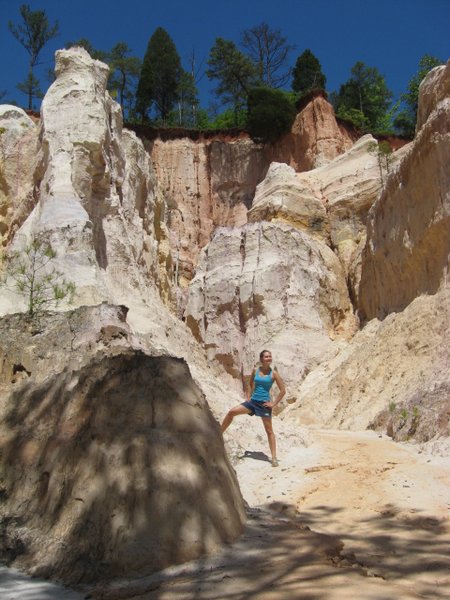 Day 2 - Fort Mountain and Amicalola Falls
This park had been hailed by the park service and bikers the world over as one of the southeast's premiere mountain biking destinations. Unfortunately, the kid at the desk didn't know squat about biking or the park's trails and sent us on a "moderate" 13-mile trip which took us down a ludicrously steep slope covered in rocks. The subsequent climbing leg was too steep in most parts for us even to mount our bikes and we were forced to hike most of the way back up the mountain. We stashed our bikes that we had just dragged through several thousand feet of elevation change and took a much more pleasant stroll up to the ruins of a wall from which the park got its name. This wall is an extensive pile of well-organized boulders that was either built by a group of Welshmen who arrived in the 12th century, or by an earlier group described in Cherokee legend as a "white-skinned, moon-eyed people".

Amicalola Falls was the next stop on the "Wonders of Georgia" tour and there we climbed several hundred stairs to the top of the falls. The cascading waters were indeed impressive, but what really piqued my interest was the decaying car resting on its nose near the base of the falls; no explanation was provided. I tried to convince Andie to hike the 11-mile roundtrip to the Hike Inn (a lodge only accessible by foot) and back along the Appalachian Approach trail, but she seemed a tad reluctant. We instead continued east to Tallulah Gorge to bring our tally of wonders to 3.

View from the top of Fort Mountain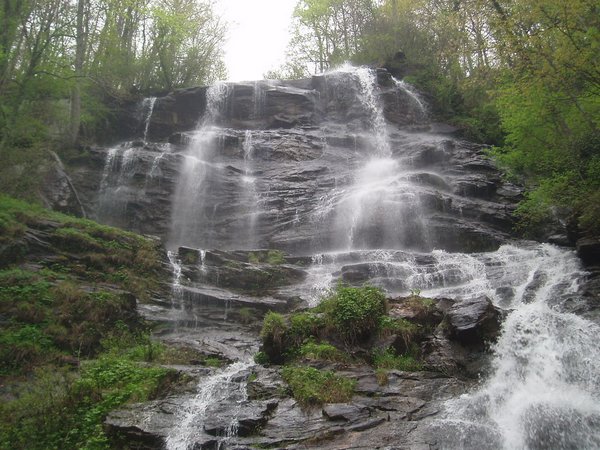 Another of the seven wonders of Georgia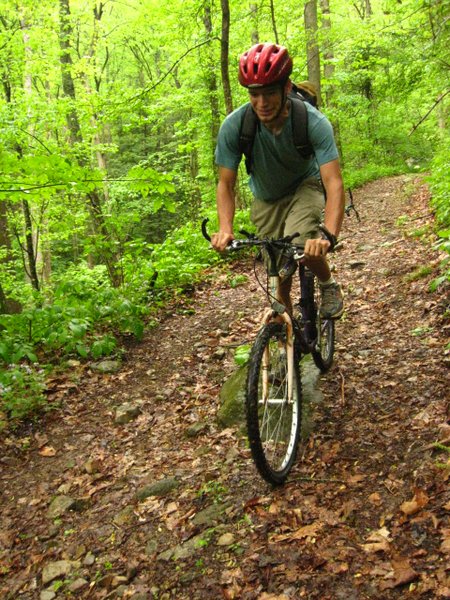 This picture might lead you to believe we actually rode our bikes at some point. We did not.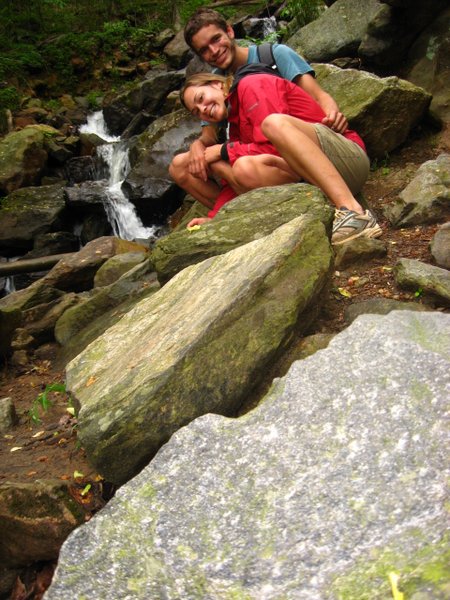 Day 3 - Tallulah Gorge and Tsali Bike Trails
Tallulah is very impressive as gorges go, with many viewpoints over the thousand foot drops and raging rapids below. When we went, the rocks were "too wet" for a hike on the gorge floor (park bureaucracy is a drag!), so we just hiked down a thousand steps, crossed the suspension bridge and returned up the other side of the gorge. The "interpretative center" had a wealth of information on the history of the gorge and even a video of the second tight-rope walker to cross the gorge.

The next stop was the Tsali mountain bike trails, a set of nearly 60 miles of single-track winding around the extremities of oddly-shaped peninsulas jutting into Fontana Lake. On the weekends, bikers drive up to a thousand miles to try these trails, and they are often packed beyond a comfortable capacity, but when we arrived there was next to no one. Still skeptical about these highland trails from our earlier experience, we chose the easy 14-mile ride. The trails had been thoroughly soaked by the rains of the previous two days, and mud and deep puddles mixed with roots, rocks, and horse poop to provide an obstacle-rich environment. The trail was highly scenic throughout, though challenging or sketchy in parts; one overlook offshoot led us down a stretch of trail that was no more than 6 inches wide with a rock wall on one side and a sheer drop into the crystal blue waters on the other.

We drove onward to Linville Gorge. Knowing nothing about the area, we arrived at several dead-ends before getting on the Blue Ridge Parkway and pulling off at an NPS-operated campground on the banks of the river. There was only one other party in the 70-site campground, a rather eccentric couple who referred to themselves as "the Raccoons", so we had our pick of sites. Somehow we still ended up with a tentpad covered in goose turds.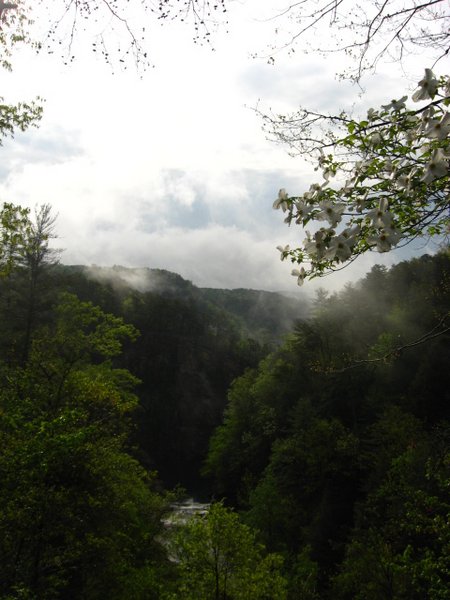 Wonder #3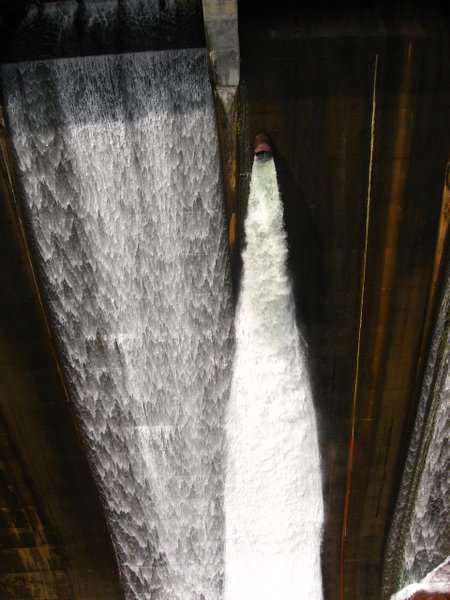 Day 4 - Linville Gorge and Whorley's Cave
Prior to leaving on the trip, all the weather people were guessing that it would never drop below 59 for the entire two-week span. It came as a bit of a shock, therefore, when we awoke to a sunny 34 degrees. We donned every piece of clothing we had packed and hiked every single trail in the visitor center area. One took us rock-hopping through rapids to get to a spot within 50ft of the lower falls; the rest led to various overlooks along the top of the gorge. We were done with the park's piddling 3 miles of trails by noon and headed north into Tennessee. We stopped at an employment center and pretended to be on a job hunt so as to satiate Andie's email addiction, and at a nearby Mickeydees to handle her revived cheeseburger craving - who could say when we would see civilization again.

Whorley's Cave is a mile down a residential street in a tiny town in the far northeastern corner of Tennessee. We deposited $10 in the owner's mailbox to cover our admission fees and prepared to go searching through the brush, but he showed up just in time to give us a map and explain how to find the cave. It was not hard to find the mighty river that flowed out of the cliffside, and right next to this lay two massive, blowing entrances. The gate on the main entrance was well-aged, and after pushing and pulling for some time with no luck, we conjectured that it might be rusted shut; it eventually opened, though, and we closed it behind us, hoping that it could be convinced to open again in a few hours' time. Nearly the entire cave was huge walking passage, and there was little in the way of climbing or crawling. Despite its high frequency of use, many of the cave's giant formations were relatively undamaged, which made it a worthwhile, though somewhat easy, trip. We eventually got lost and returned to the entrance within 3 hours of our start.

We took I-81 up through the Shenandoah Valley of western Virginia. This stretch of road must have the highest density of trucks anywhere, and I felt utterly insignificant while dodging through the endless stream of behemoths. The frequent elevation changes insure that you can never separate yourself for long, for those trailers that slowly chugged up one side of a mountain, will shortly be barreling down the other. We slept at a rest area and arrived in Paw Paw, WV around 9am the next morning.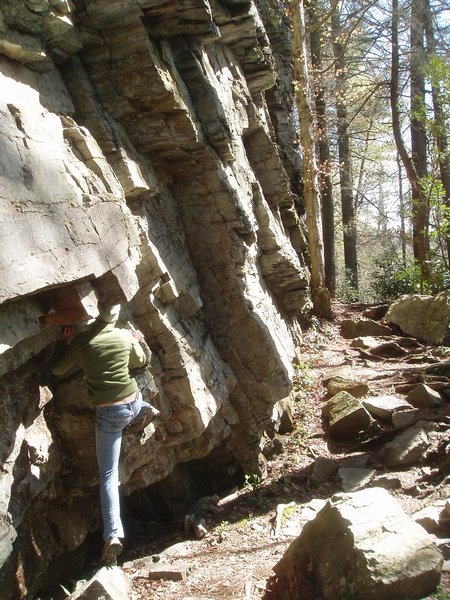 Andie showing off her moves at one of the south's premier climbing destinations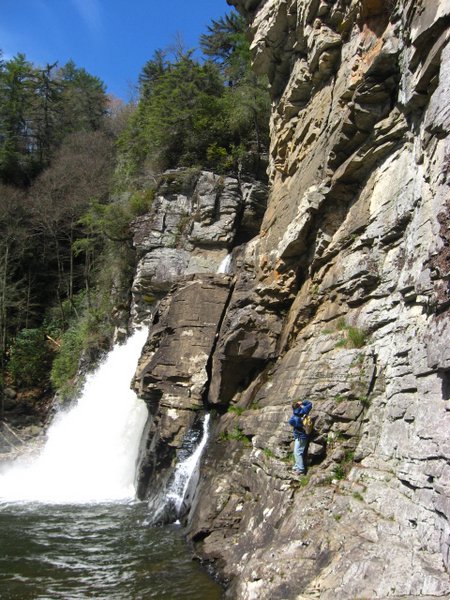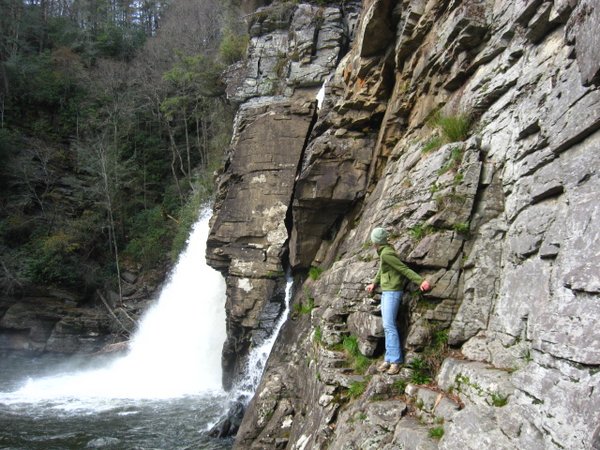 Up close and personal with the lower falls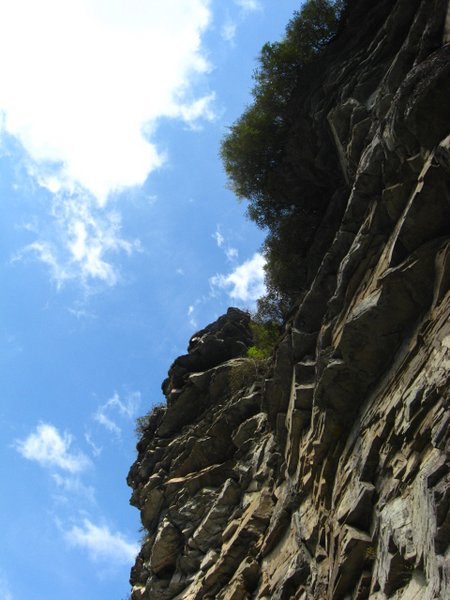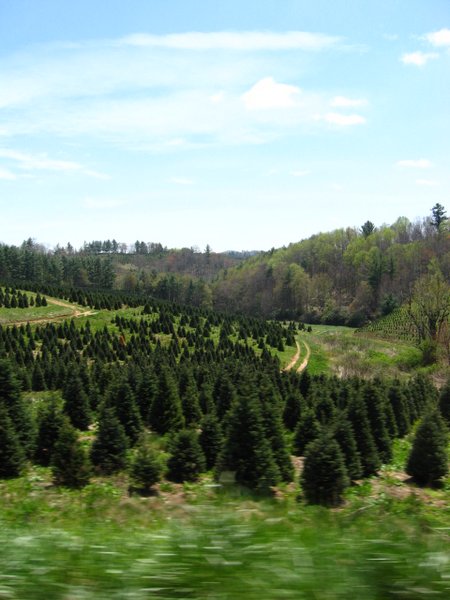 Christmas tree farm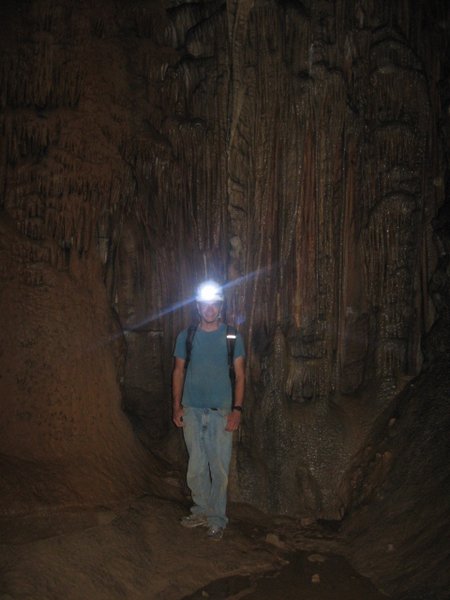 Whorley's Cave
Day 5 - C&O Canal Tow Path
There is little that stands out about the small town of Paw Paw, but the engineering marvel that is the 3000+ft Paw Paw Tunnel makes the trip quite worthwhile. The current occupant of the tunnel is the 187-mile C&O tow path which provides a very scenic bike ride from Cumberland to Washington along the remains of the canal. We decided on a 30-mile return trip to Little Orleans. There was little that was particularly rewarding about the trailer community that was our destination, but it did have a small Catholic church perched high above a hill which offered a great view of the Potomac and the countryside beyond. When we returned to the tunnel, I decided to follow a sign that led to what I believed to be a mountain biking trail above the tunnel. It turned out to be an "arduous" 2-mile hiking trail that could not, for the most part, be negotiated easily on a bicycle. To make matters worse, I got lost half-way through and ended up bushwhacking through brambles and streams until I ended up at some random road. After asking one of the locals, I rode two miles over several serious hills back to the trail where Andie was still patiently waiting.

We drove over to Cumberland, MD which turned out to be a very pleasant city, packed to the brim with history. From there, we drove south to Seneca Rocks. In the last moments of daylight, we saw an NPS sign for camping and followed a winding road for 30 minutes before deciding it wasn't going much of anywhere and returning the way we had come. We continued down the highway until we reached another government campground just before it closed for the night.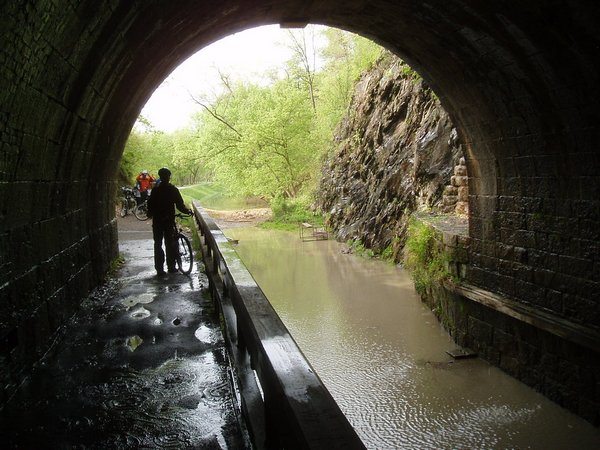 The Paw Paw Tunnel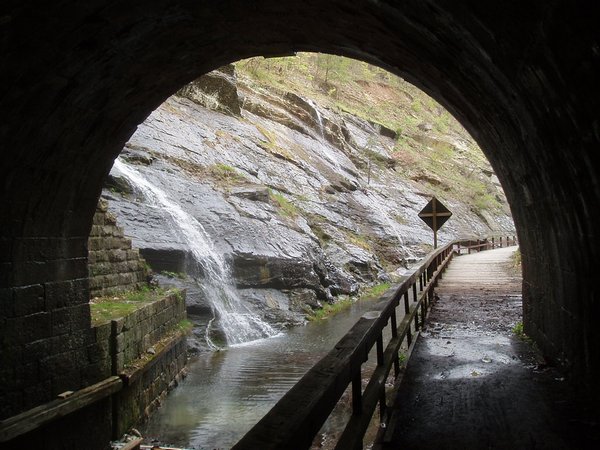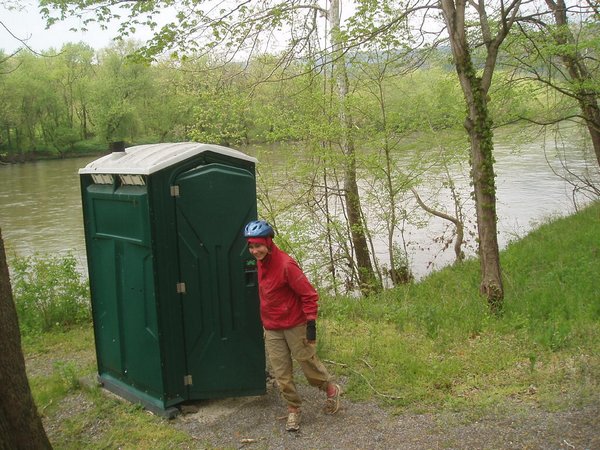 Andie enjoying the trail's fine facilities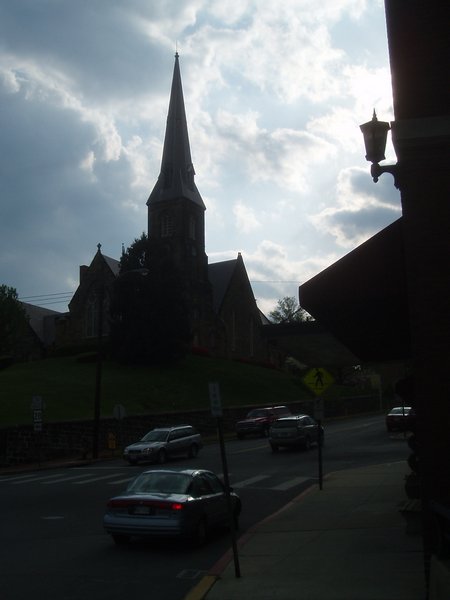 Cumberland, MD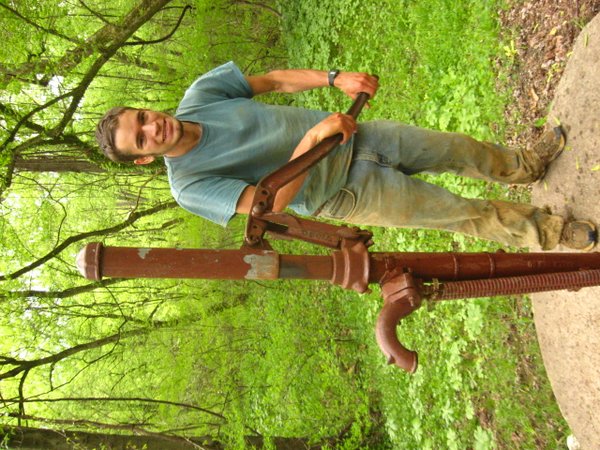 These things actually work! And if the world happens to be sideways at the time of use, you hardly have to pump at all!
Day 6 - Seneca Rocks and Dolly Sods
We awoke in the morning to find huge rock formations towering over our campground. We also found that we were practically the only campers there; there were so few of us in fact, that they hadn't even bothered to unlock the women's bathroom. We went down the street to the visitor's center and found that it was only open Friday through Sunday. With little information about the trails in the area, we headed for the Dolly Sods Wilderness Area which I had seen recommended on the net.

The managers of Dolly Sods are unusually intent on maintaining the natural state of the land, and have therefore spurned such artificial improvements as paved roads, trail markers, or World War II ordinance removal. Signs throughout the area proclaim that it is not for inexperienced hikers and that all should carry a compass and adequate supplies before venturing into the wilderness. From one of the map boards, we decided on a loop comprised of two trails; there was no scale or trail description, so we had no clue how long such a loop would take. It turned out to be an exceptionally long time, and we ended up following the GPS and bushwhacking out to the road to get back before our supplies ran out. The first part of the trail was a depressing mix of dead trees and "sods", which were grassy areas used by the settlers some time back. The second part was a vibrant forest, reminiscent of the rainforests of the Caribbean. In one of the streams we found a number of frog egg sacks and Andie spent a long interval on a photo shoot of the tiny developing tadpoles.

We decided to forego any further hiking and instead headed south towards Summersville. Along the way, we caught a glimpse of a restaurant sign that read "wild game burgers" and we came to a screeching halt. Much to our dismay, the game on offer was not squirrel or bear from the backwoods of West Virginia, but instead bison from the rocky mountains. We ordered a cheeseburger and vegetable plate, but could hardly enjoy them given our disappointment that we were not feasting on boar goulash or skunk soufflé.

We arrived at the Gauley River National Recreation Area in time to pitch a tent a mere two feet from the banks of Summersville Lake. The geese glared at our tent menacingly but held off on an assault.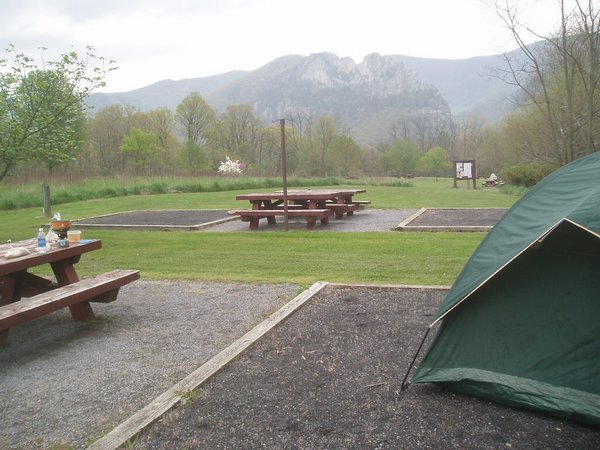 A very scenic and empty campground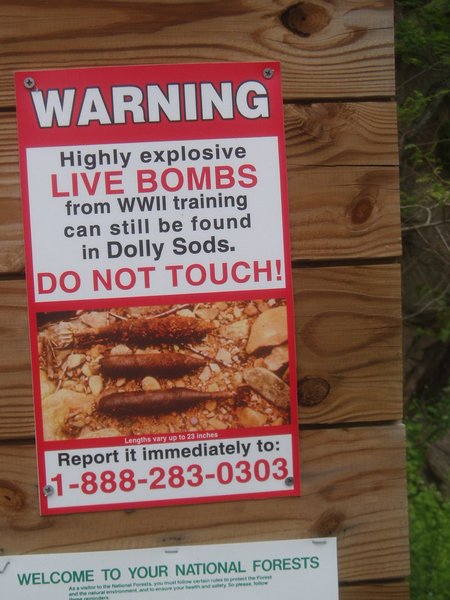 It is fortunate indeed that we did not happen upon any of these, for Andie would surely have added them to the collection of "treasures" that she accumulated in my trunk over the course of the trip.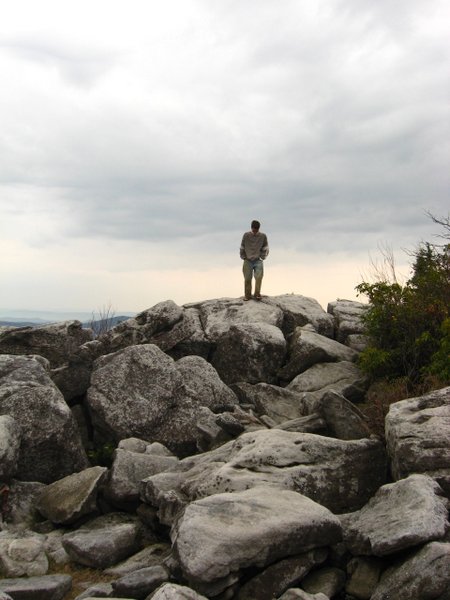 A cold, blustery morning at Dolly Sods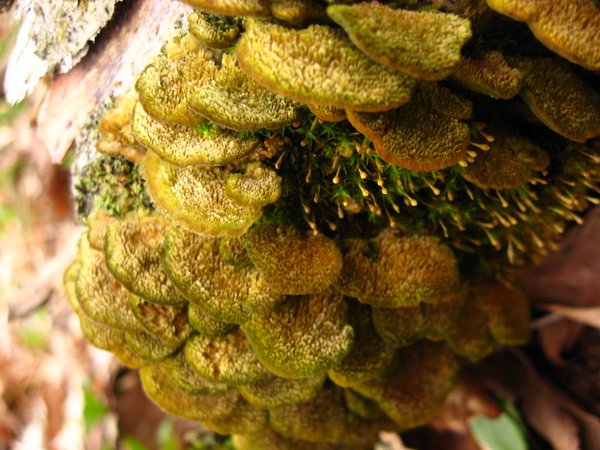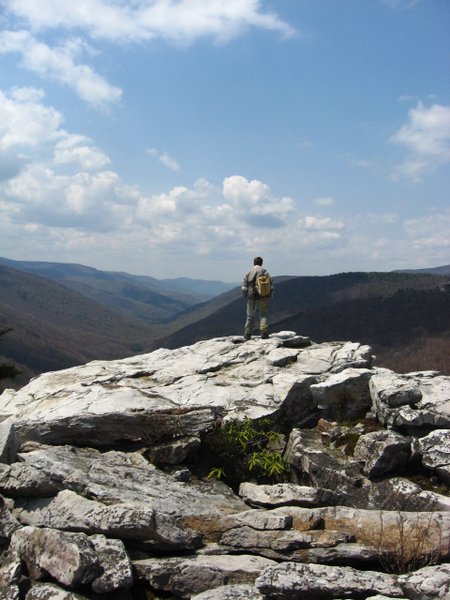 Frog egg sack

Andie and John Wayne
Day 7 - Summersville Lake and New River Gorge
Summersville Lake was once a premiere destination for cliff diving, but that was outlawed by the park service a few years back. What is still legal is deep water soloing, a form of rock climbing where you can scale a cliff without a rope with the possibility of "accidentally" falling into the deep waters below. When we arrived at the cliffs, it was too cold to do either, so we just went hiking along the cliff tops. Our parking spot, the only car in an unmarked lot known for frequent break-ins, kept us from enjoying the views too long.

The New River Gorge, just down the road from the Gauley, is the site of a bustling national park, a number of ghost towns, some of the best climbing west of the Mississippi, and the second-highest suspension bridge in the country. One day each year, hundreds of thousands of people gather to bungee jump, rappel, and base jump off the 876' bridge; sadly, we had not arrived on that day. We took the Diamond Point trail to get to a stunning gorge overlook and scrambled along the seemingly endless "Endless Wall" which was covered in chalk and hardware from the climbers who supposedly frequented the place (we saw zero). We next took 1200 steps down to Kaymour Bottom which featured an extensive abandoned mine site and the ruins of an early 20th century coal mining town.

We followed the exceedingly scenic highway 60 west towards the Kentucky border. The towns that punctuated the road looked for all the world like New England fishing villages that had been picked up and moved to the mountains. As we drove along the interstate, we noticed that every exit had a fast food restaurant we had never before encountered; the constant signs for Tudor's Biscuit World taunted us, as we were quite sure that this seemingly prolific establishment would cease to exist the moment we reached the border. We got off at the next exit and hunted it down, but found, to our profound disappointment, that it was not open for dinner. Our craving for biscuits would thus go unsatisfied.

When the government took over Mammoth Cave, an agreement was made that the three ferries that carried cars across the park's small, highly bridgeable rivers would never be removed. Thus, it was impossible to get from the park's main entrance to the research station where we were staying for the weekend restoration field camp, outside of the ferry's operating hours. It was therefore necessary that we locate the park's unmarked north entrance. After a few hours of driving down poorly signed farm roads, we arrived at the camp at 1AM.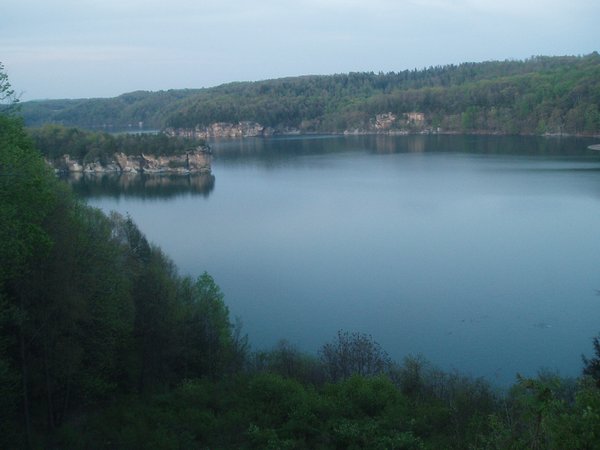 Atop the epic cliffs of Summersville.

Exploring the climbers' access at New River Gorge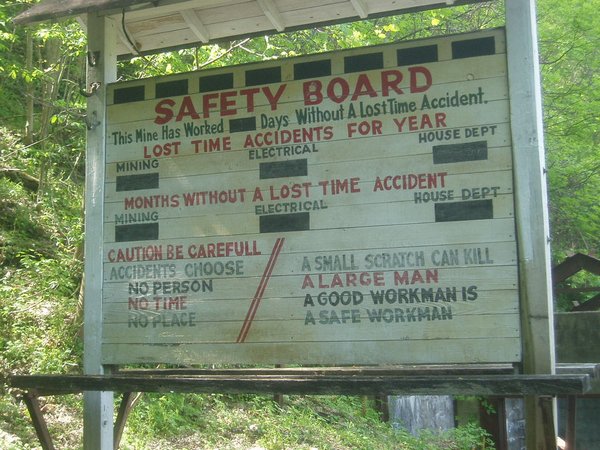 In remarkably good condition after some 90-odd years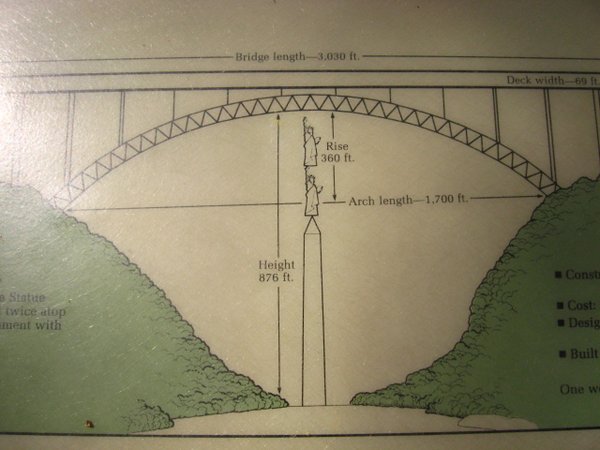 Most random comparison ever.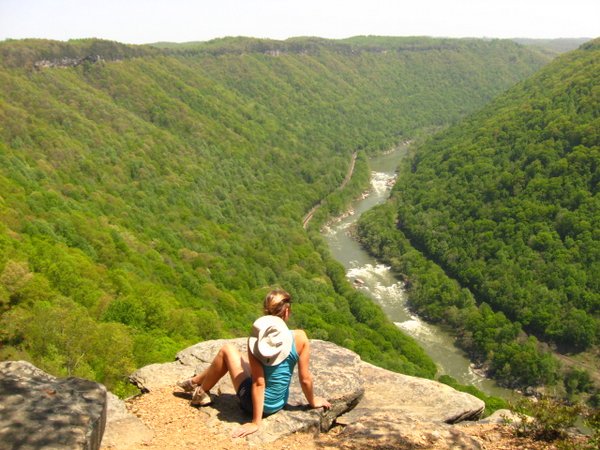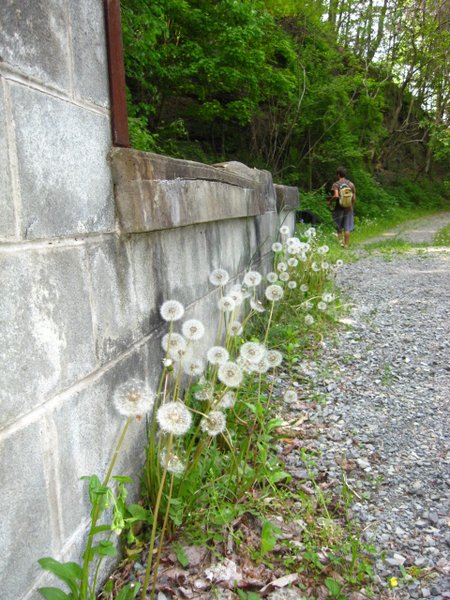 The ruins of Kaymoor.

Just a quick 1200 steps to the bottom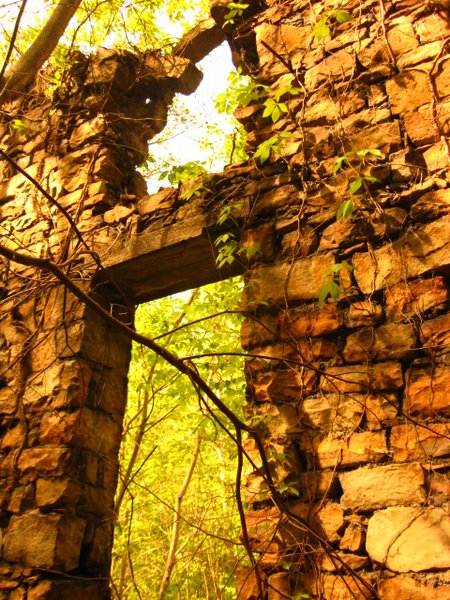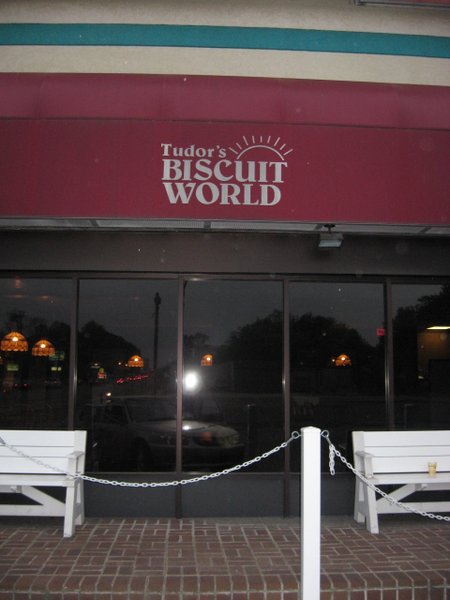 You win this time Biscuit World...
Day 8 - Mammoth Cave Restoration of Colossal Cave
After a 10 minute orientation session, the 47 restoration camp members got suited up and drove to the parking lot of the park's historic church to seek out an old show cave from the 20s known as Colossal Caverns. We followed a GPS for a full mile through thick brush before following the remains of an old road, unused for 80 years, to the mouth of the cave. Our assignment was to remove the ruins of the old stairs, which now consisted of nothing more than shards of wood and rusty nails. This had gone through a lengthy review process before it was approved and we were expressly forbidden to remove anything else, whether it be broken glass, chamber pots, or old rusty chunks of metal. We each had a 10-gallon garbage bag, and within half an hour of being unleashed on the cave, we had filled them all. We then formed a bucket brigade to get all the bags and extra planks to the surface. The restoration portion of the trip was done in an hour and the next 4 hours were spent exploring the cave. Among other notable attractions, there was a large wooden dance floor about a mile into the cave, a plethora of signatures, cairns, and other decorations from as far back as 1895, and several large waterfalls, one cascading down from a 200-ft dome. After a tiring return trek hauling the bags of wood, the group raced for the 4 showers in the camp and met up at Cave City's Mexican joint.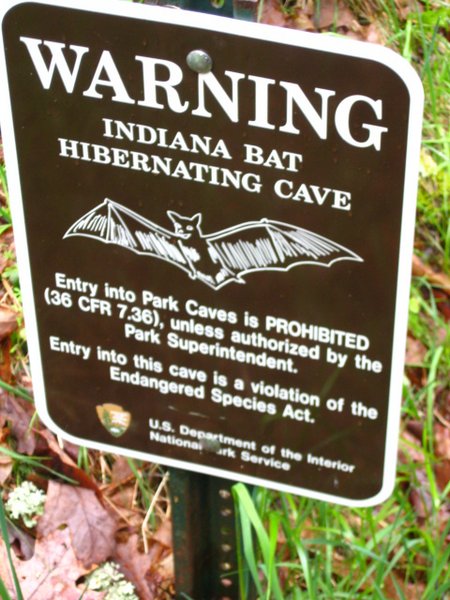 Somehow our 47-strong cleanup crew was let right in...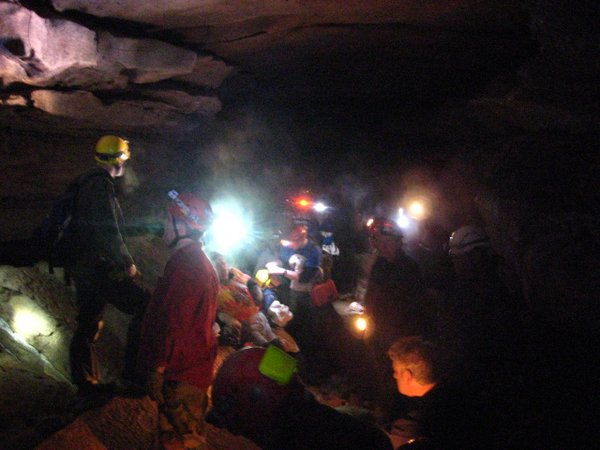 After a grueling 30 minutes of cleanup - lunchtime!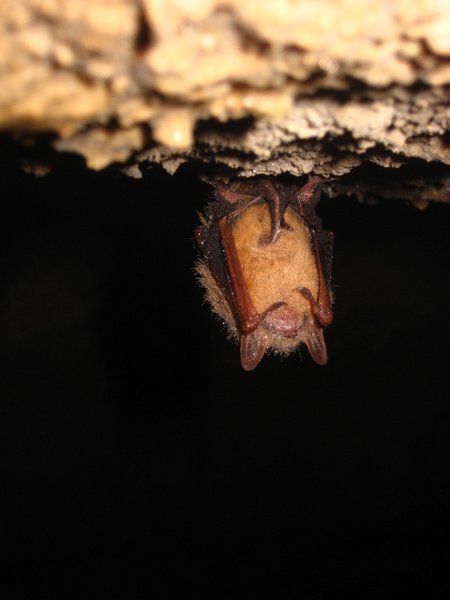 He probably thinks you're upside down too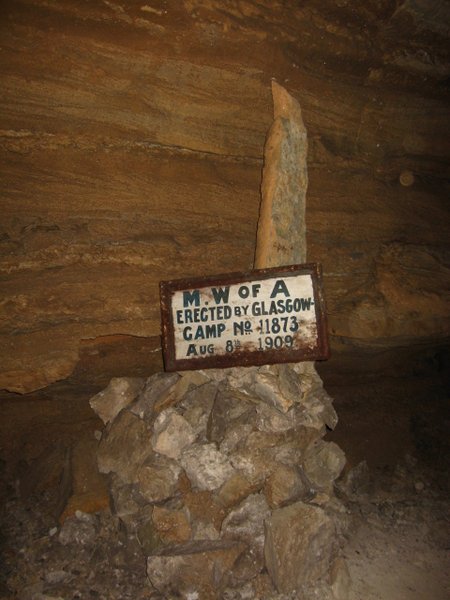 Day 9 - Fieldcamp Sinkhole Cleanup
The ranger leading our group had been ridgewalking during the previous week and had come upon a number of promising holes, one of which was filled with garbage, and decided to turn their exploration into a cleanup trip. The trash hole did not at first look like such a terrible task - there was a tire, a washing machine basin, and an assortment of bottles strewn about - but at one point it became apparent that what we had believed to be the walls and ceilings of the hole were in fact just aggregations of trash. We spent the next hour pulling all kinds of antique garbage out of the ground; most pieces were intact bottles from various alcoholic beverages, but there were also several plates, toys, and an antler of some sort. The star find was a whiskey bottle containing a live snake; a small boy in the group took it upon himself to liberate this snake. Andie collected a number of "treasures" that would find their way into my trunk and remain there for the rest of the trip.

The remaining holes yielded no serious leads. The first one went about 8 feet and abruptly ended and the second dropped into a pit which no one had a rope to rig. The third had an extremely narrow entrance and the first to attempt its exploration got stuck halfway. As one of the smallest cavers on hand, I was elected as the one to complete the survey. I barely fit through the first crevasse and reached an even narrower one within a dozen feet. With a handline and some awkward contortions, we were eventually able to extract me from the cave.

As an added bonus, the camp had arranged a free tour of Diamond Caverns for all the participants. This was a typical show cave with lights, railings, sidewalks, and an annoying teenage guide, but it was rife with interesting historical tidbits. The cave had been discovered in the mid 19th century when the land owner had lowered a slave boy down a small hole with a candle; a larger hole was later dynamited to provide easier access. In the 60s, the cave was one site of a vicious series of "cave wars", where employees of the neighboring commercial caves in the area would break into the caverns and break off many of the formations to diminish the tour's appeal. Until the 90s, the cave was also the site of regular weddings, and an elaborate altar made of formation pieces is still implanted in one of the back chambers. Behind the main show cave is a small mud pit known as backyard cave; we were granted access to this but stopped after a dozen feet because we each only had about one pair of pants.

We drove south to Sparta, Tennessee and sought out Virgin Falls Pocket Wilderness. There was no camping at the trailhead or anywhere nearby, so we lashed our sleeping bags and tent to our daypacks and hiked the two miles into the first campsite. This was a near-perfect spot next to a swiftly-flowing creek with a number of small waterfalls - we would soon find out that this was by far the least appealing of the trail's options.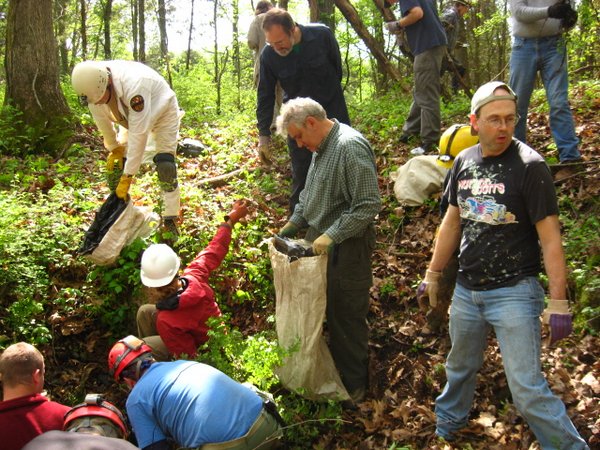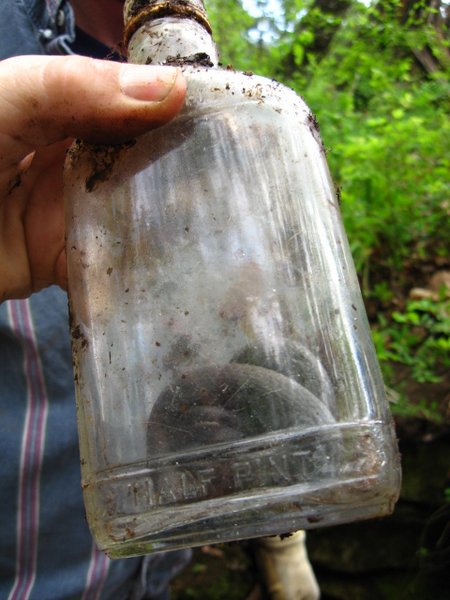 Snake in a bottle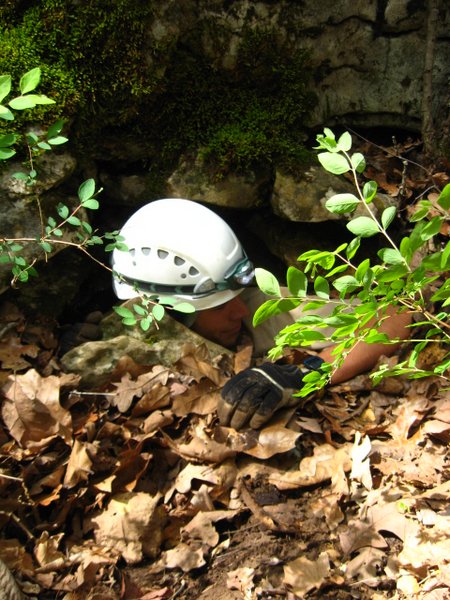 Absurdly narrow entrance into an unknown cave? Send the new guy!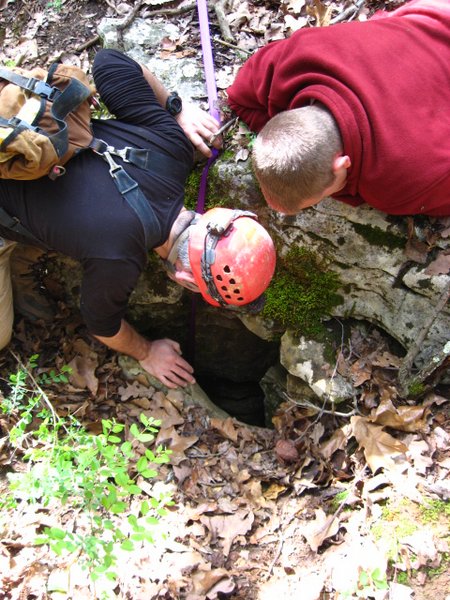 Fishing me out
Day 10 - Virgin Falls
The next day I jogged all the camping gear back to the car and we set out for the remaining 7 miles of the trail. A steep climb took us to Martha's Pretty Point where a rocky outcropping looked out over the surrounding forest. Returning to the main trail, we continued onward to Big Laurel Falls, where a waterfall crashed over the edge of a giant cave mouth and disappeared underground. A camping spot was situated inside the cave just behind the falls, and we lamented that we did not have another night to spend there. I convinced Andie that she should join the Polar Bear Club by standing underneath the frigid falls for a time; she did not clearly say "polar bear" five times as is usually required, so I will have to submit her case to the board for further review.

Further down the trail was an epic cave mouth at the bottom of a treacherous slope. Lacking a handline (which would certainly be desirable), I used a piece of string someone had secured to a tree to descend into the cave. At the mouth, a mighty waterfall descended from a channel in the rock and disappeared into the ground. Climbing to another cave entrance at the same level as the trail, we found that a waterfall there actually feeds into this upper entrance, flows through several chambers, and exits via the lower entrance. Sheep Cave is a long stream passage above the upper entrance which most likely feeds into the upper waterfall. Just to review - this is a waterfall that flows out of a cave, drops over 50 feet to a second cave, flows through this cave, and finally drops 20 feet into a third cave - I can't say for sure, but this might just be the single greatest thing ever.

The namesake attraction of the trail is an enormous waterfall that flows out of a navigable cave, descends 100+ feet, and instantly disappears into another cave. Campers have the option of setting up their tents at one of three overlooks or right over the source of the falls. We set off to explore the cave at the top of the falls but soon found it to be full of unusual-looking spiders which Andie identified as black widows, and promptly left after only a hundred feet of passage; upon closer consideration, I was fairly confident they weren't black widows, but once someone yells "deadly spider", the joy of exploration is difficult to recover.

We finished the trail and returned to Sparta where we tapped the library's wifi to figure out where we were sleeping that evening. We had made arrangements with one of the Tennessee people at the camp to sleep at the grotto campsite but had thus far received no directions. Quite unexpectedly, an email turned up that explained that our friend Tyson was currently driving up from Gainesville and would arrive in Sparta within the hour. We arranged to meet him and found GPS coordinates for our campsite.

The road to the site, which turned out to be along a stream in a farmer's backyard, was covered in large rocks and was definitely not intended for a compact car. Luckily, both my Corolla and Tyson's Civic made it in without sustaining any serious damage and we set up camp alongside a cow pasture and semi-abandoned barn. Tyson claimed to be too lazy to set up his tent and went to sleep in his car, while Andie and I grabbed a spot next to the creek. We were just settling off to sleep when at around 10PM, a cacophony of other-worldly sounds, like none we had ever heard, erupted over the pasture. A chorus of howls, of a forlorn sort that chilled us to the bone, accompanied by a bizarre yipping noise, echoed through the night sky. Andie made a mad dash for the car, and, intent not to face these demon beasts alone, I was quick to follow. It was explained to us the following day that these sounds came from a pack of coyotes that scoured the fields each night for dead cows or unguarded calves; this did reasonably little to quell our fears and we would spend the next night in our car as well, if only to avoid hearing those dreaded howls again.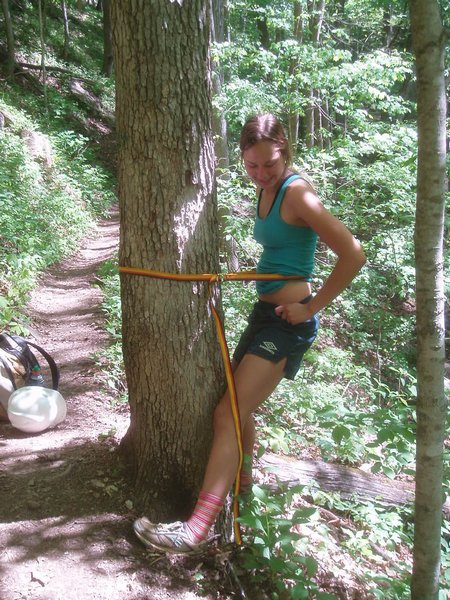 Guys have always had the upper hand when it comes to peeing off narrow ledges, but Andie quickly engineered a solution for members of the fairer sex...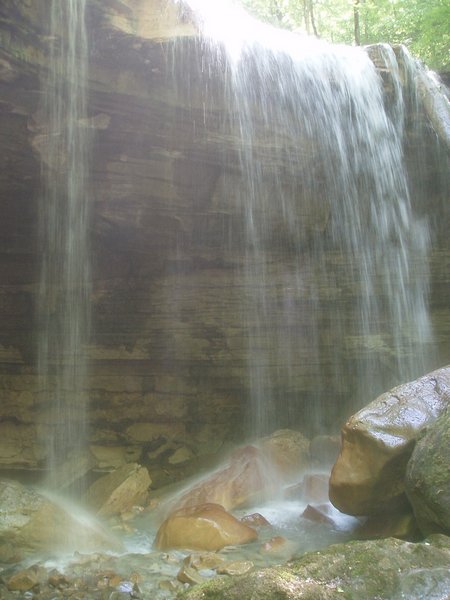 Big Laurel Falls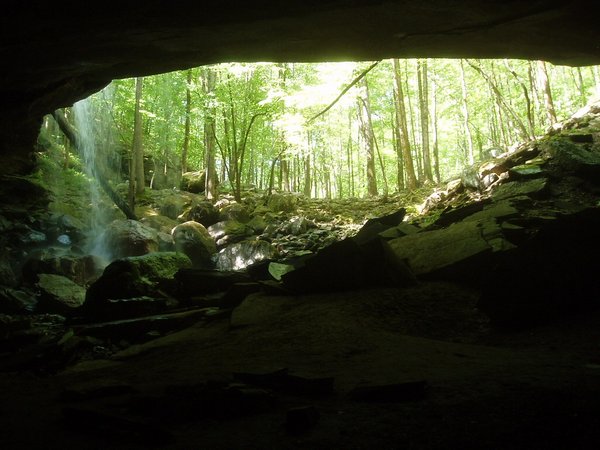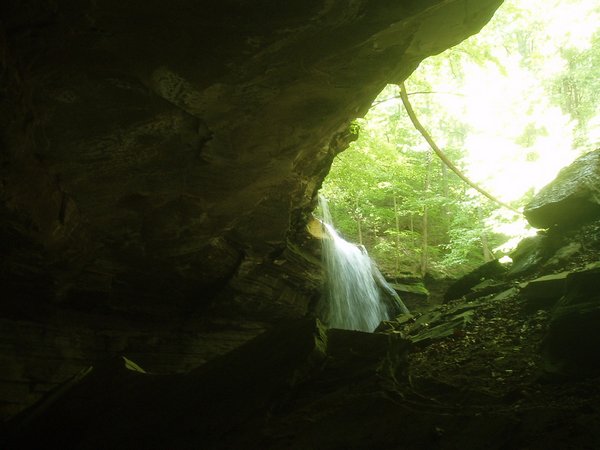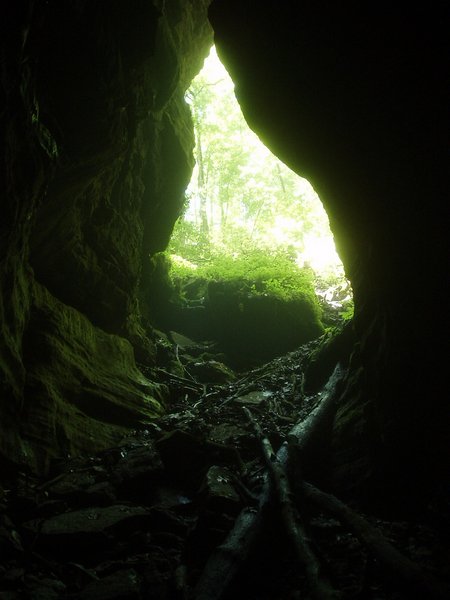 The cave between two waterfalls

Check out those socks!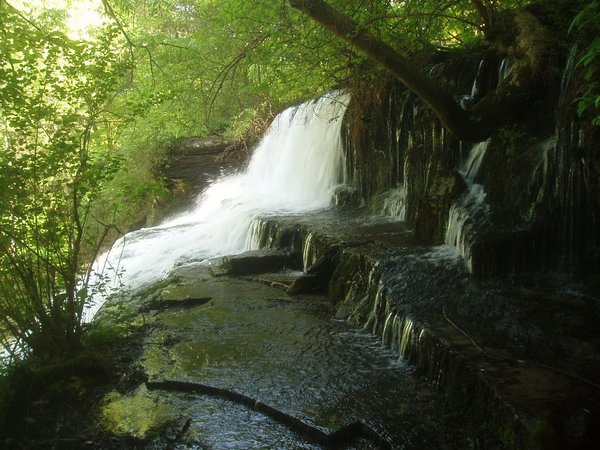 Top of Virgin Falls

No backpacks? Improvise!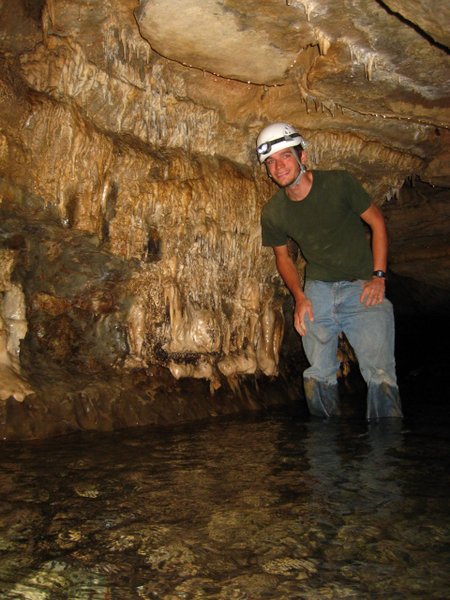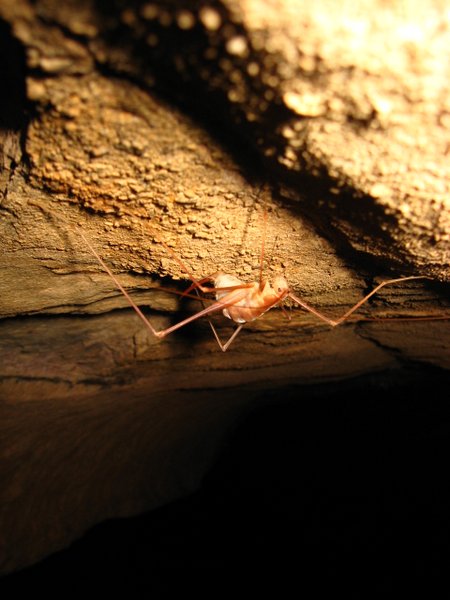 Cave cricket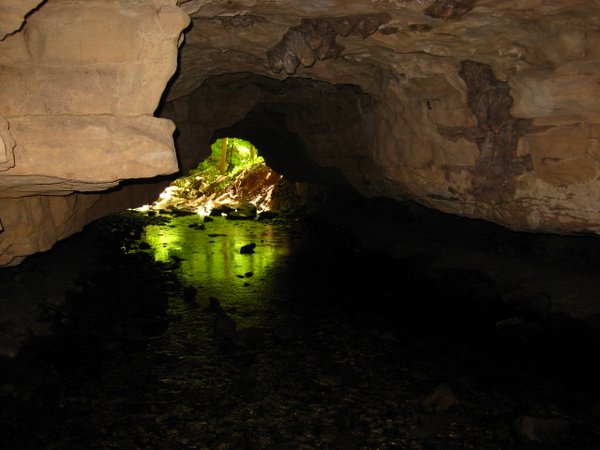 Sheep Cave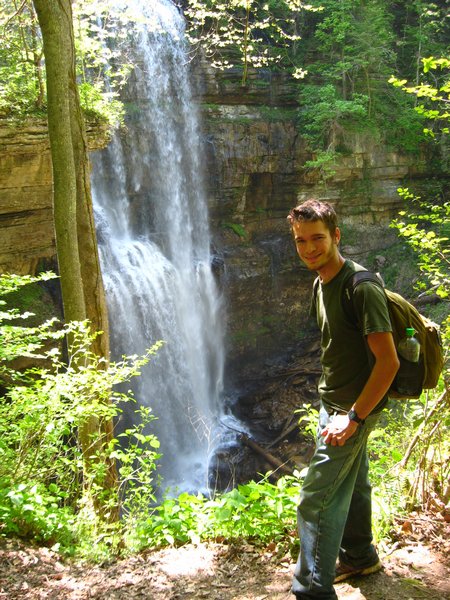 Virgin Falls Overlook

Cave Salamander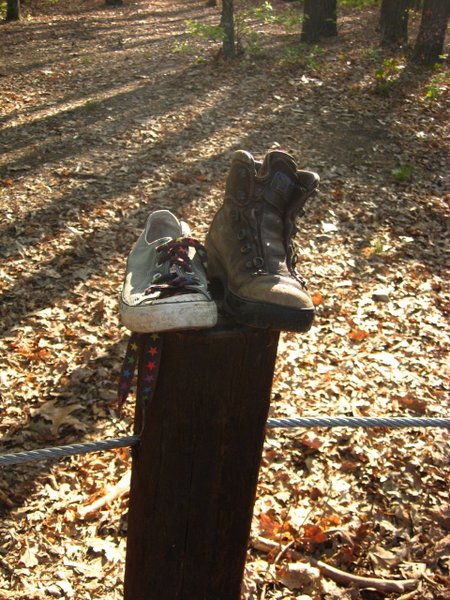 Abandoned footwear
Day 11 - Blue Spring and Lost Creek Caves
Our fellow camp participant, Anne, and two of her friends from the local grotto, accompanied us into Blue Springs Cave the next day. Even though she visited the cave once or twice a week, she gave the tour with an excitement and energy that I had never heard expressed for any cave. The cave had over 35 miles of passage, including over a mile of rough crawling; she had initially offered to take us on a 10-mile, 12-hour tour, but eventually opted for the 3-hour "tourist tour". The cave had been "improved" with the building of ladders, paths, and bridges, which detracted somewhat from the wild cave experience, but protected the many galleries of huge, pristine formations. The most interesting feature, which was in a different section than the one we visited, were a number of jaguar tracks from a cat that had become trapped in the cave thousands of years ago.

Anne's friends took us down the road to Lost Creek Cave; this was far more frequently visited than Blue Springs, but did have a huge entrance, a large waterfall, and an array of interesting "cave art". We were told that this cave was used in the filming of the movie "The Jungle Book" (not the cartoon, the other one).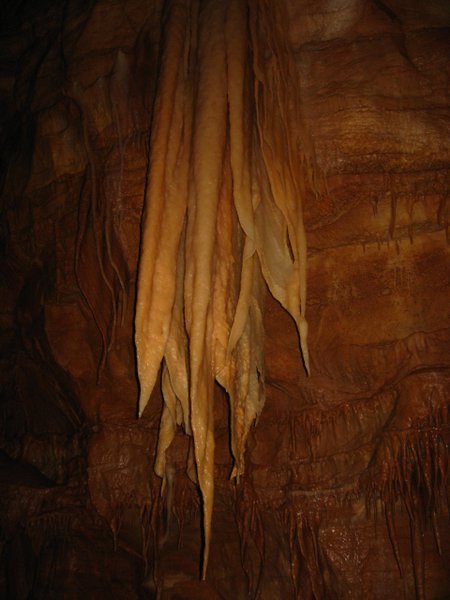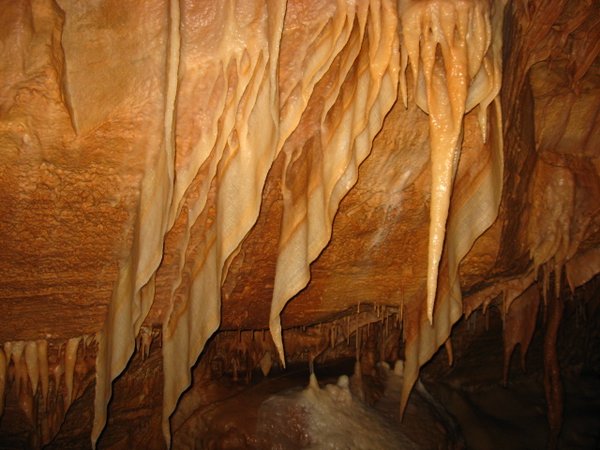 Delicious cave bacon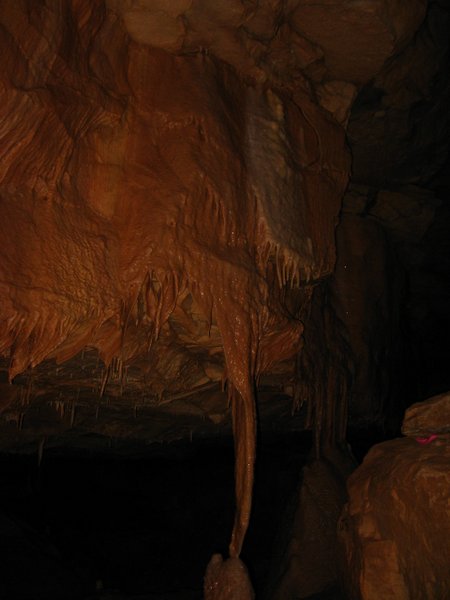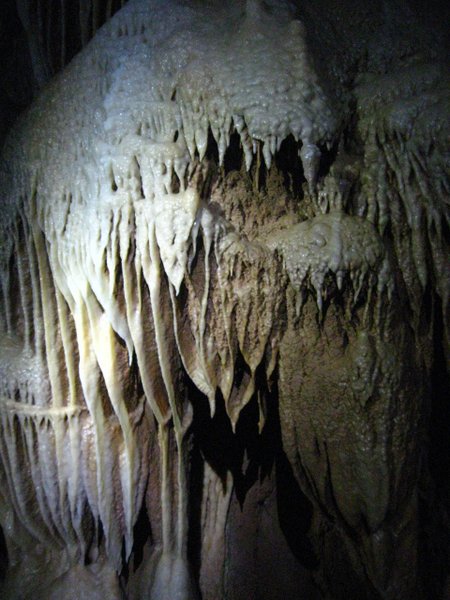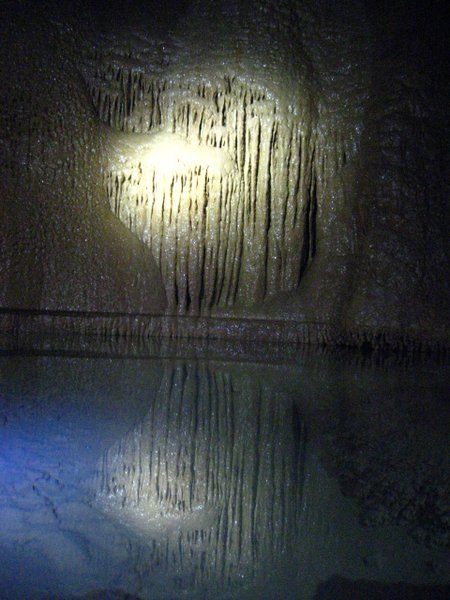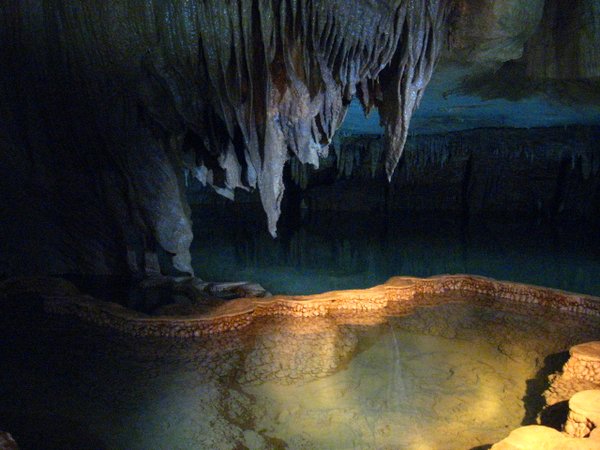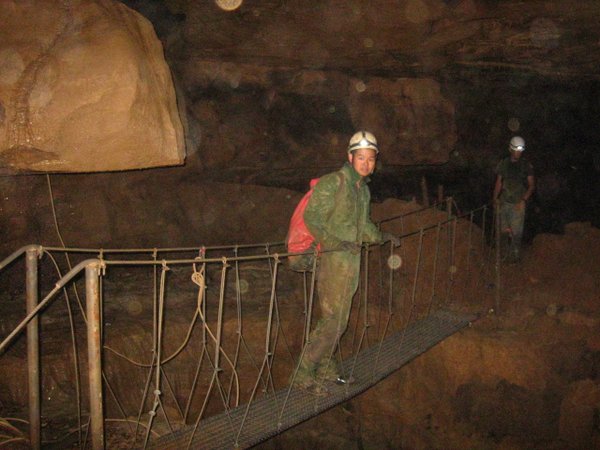 Bridge constructed over 50-foot chasm using only old tractor parts.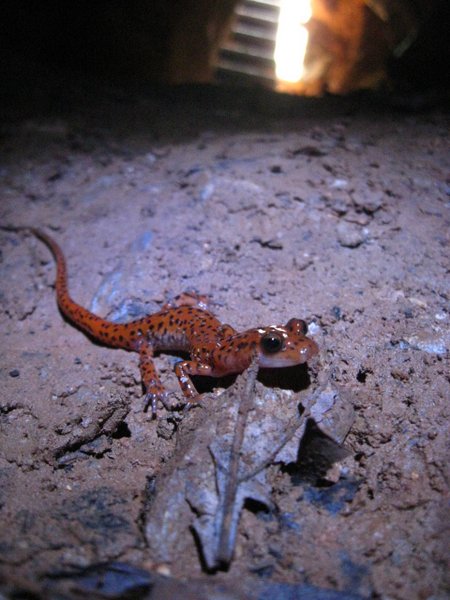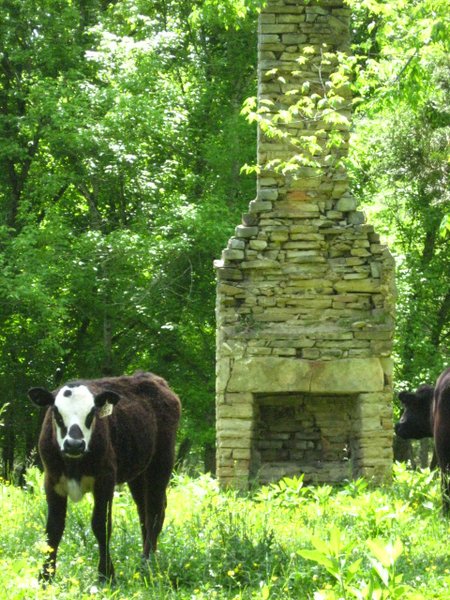 Our campsite neighbors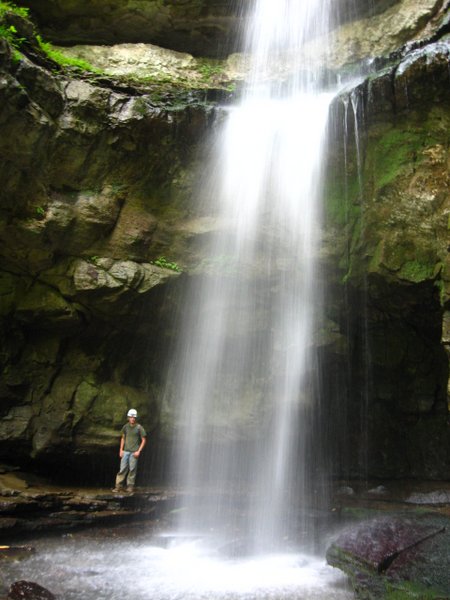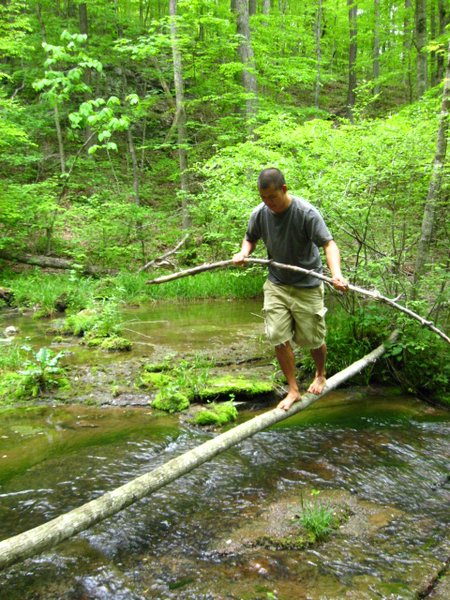 Tyson showing off his skills
Day 12 - Fiery Gizzard Trail
We set out for Foster Falls early in the morning and left one car at the Tracy City end of the 13-mile Fiery Gizzard trail. At the falls on the other end, we found that the only other car in the lot had a gator plate and soon discovered a group of UF climbers who were up for the break week. The start of the hike took us by the falls and along the cliffs of the gorge. After a few scenic dips into creek beds, the trail leveled off and went inland for about 5 miles of virtually nothing. We attempted to find a cave marked on the map at the end of a logging road, but found only a pile of dead trees and a pond full of a thousand tadpoles. The scenery resumed around the halfway point and we soon discovered an old mine; I went far enough to discover a set of old cart tracks, but the group was dissuaded from progressing further by the low ceiling, the poor reputation of mines as far as stability and air quality go, and the mysterious animal tracks leading into it.

I was leading the way up a perfectly ordinary stretch of level dirt trail, not really paying much attention to my footing, when I was abruptly transported to a classic B-movie scene. A massive scaly form slithered within inches of my feet, and in the next instant, I had leapt backward, and the eastern rattlesnake, with a body as thick as my warm, had wound itself into a tight coil and poised its head to strike. I took a moment to recover my wits and then frantically dashed back the way I had come. We discussed our options as the rattler remained in the same position, fervently rattling its tail. We concluded that it would probably be best just to wait it out, but after 5 minutes it still sat there; occasionally it would get tired of rattling and stop, but after a few seconds break, it would putter to a start again, never dropping its menacing stare. Tyson decided it would be a good idea to poke it with a stick, so he retrieved a particularly long one and prodded the snake until it moved a safe distance from the trail. We then passed and continued our hike, a little more wary than before of where we stepped.

The remainder of the hike had us scrambling over boulders and offered many interesting rock formations, waterfalls, caves, and swimming holes. We had somehow taken far longer than we anticipated and had to race through the last few miles in order to finish by dark (since night hikes were expressly forbidden).

We returned to our car and prepared dinner at the parking lot so we would not have to carry our food or stove the half mile to the campground. Halfway through our meal, a ranger showed up and closed the gates and locked the bathrooms; he seemed strangely oblivious to our presence some 20 yards away, and our obvious need to hike after dark to our campsite.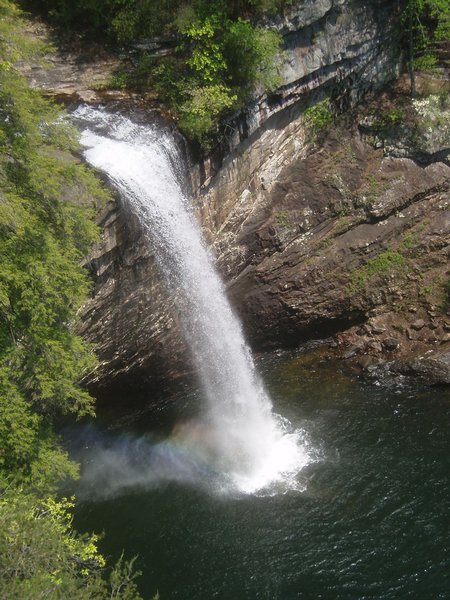 Foster Falls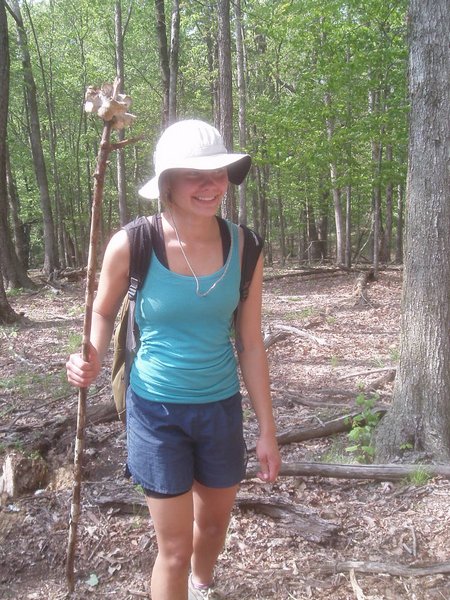 Andie the savage and her vertebrate-tipped snake stick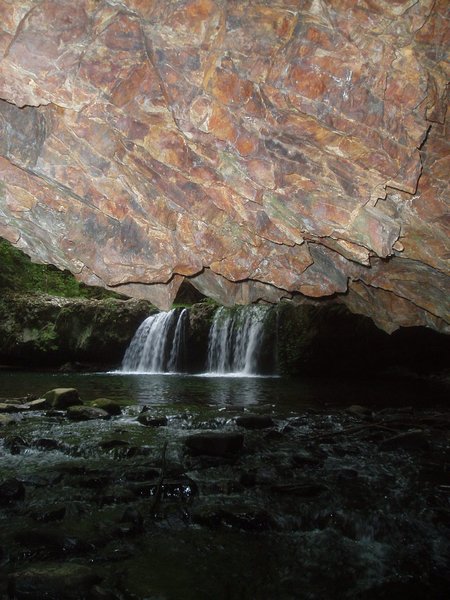 Swimming hole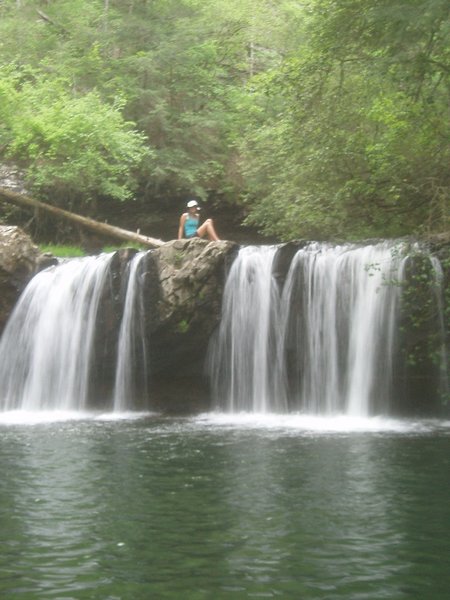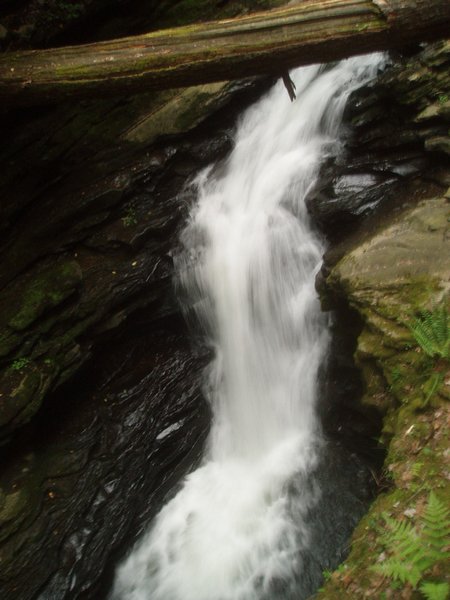 Black canyon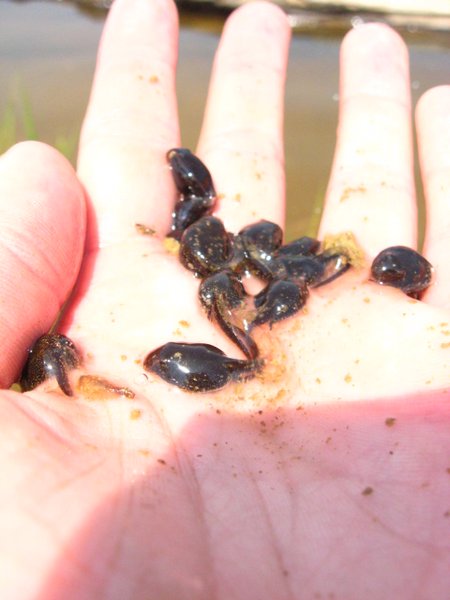 Andie's new pets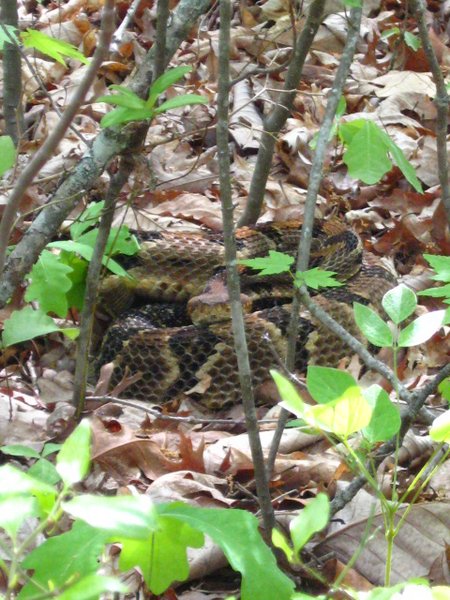 Biggest snake ever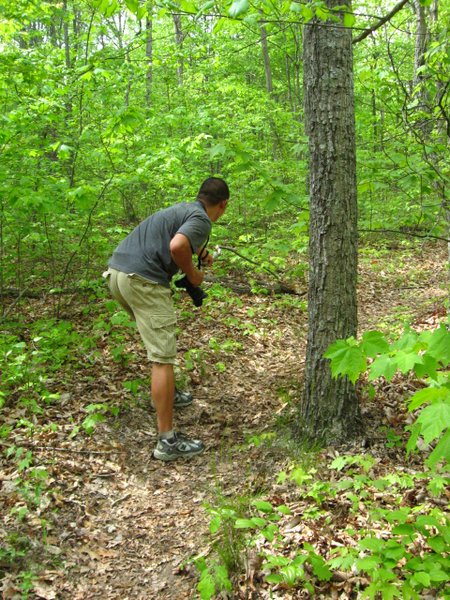 "I know", said Tyson, "Why don't we poke it with a stick!"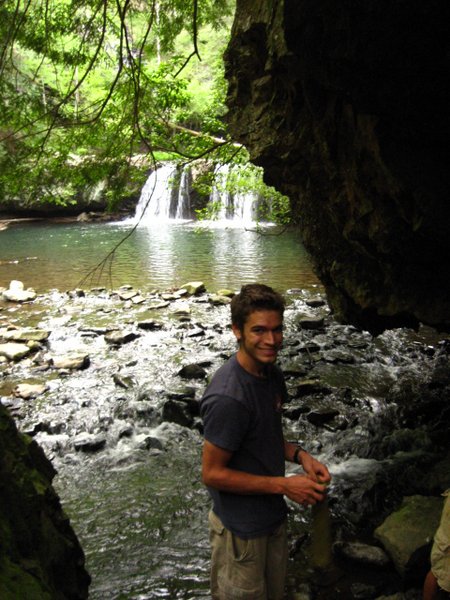 Day 13 - Carter Wilderness Area, Sand Rock and Return Home
The brochure for the Fiery Gizzard had included a map of a nearby park which featured "one of the most impressive cave mouths in Tennessee". In the morning, we sought out the Carter Cave Wilderness Area, and hiked the two miles to the BuggyTop entrance. The mouth was indeed impressive and opened up to a passage which quickly exited at another equally large entrance a few hundred feet away. We hiked several hundred feet down the stream in an effort to find the third entrance, but tired of the search before anything turned up.

We headed south into Alabama to reach the first of a few climbing areas we had planned to visit. Along the way, in the town of Sherwood, the ruins of something that looked vaguely like a castle beckoned us to explore them. Unfortunately, there were "No Trespassing" signs everywhere and Tyson was in the process of getting a government job, so we had to be satisfied with a quick photo shoot from the highway.

The climbing area at Sand Rock is not an easy place to find, and we circled the town a few times before happening upon the right road up to Cherokee Rock City. Renowned for its scores of giant, climbable boulders, Sand Rock offers a plethora of routes with an amazing view of the lowlands. Sadly, we were there the same time as a nasty front, complete with a high chance of tornadoes, and after a few attempts at scaling the soggy rocks in between showers, we aborted our camping plans, fled to the interstate and sped back to Tallahassee.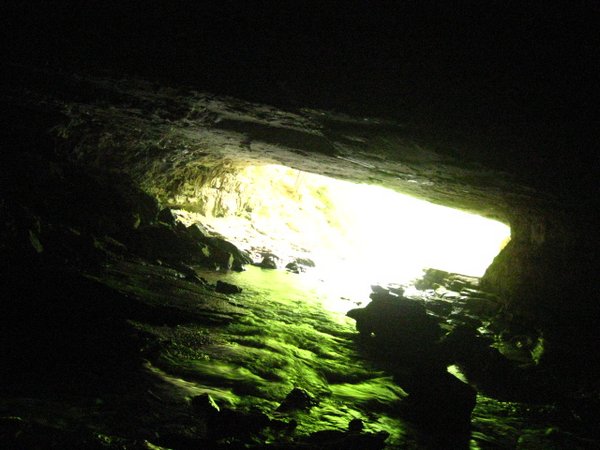 Buggytop Cave

Ruined castle?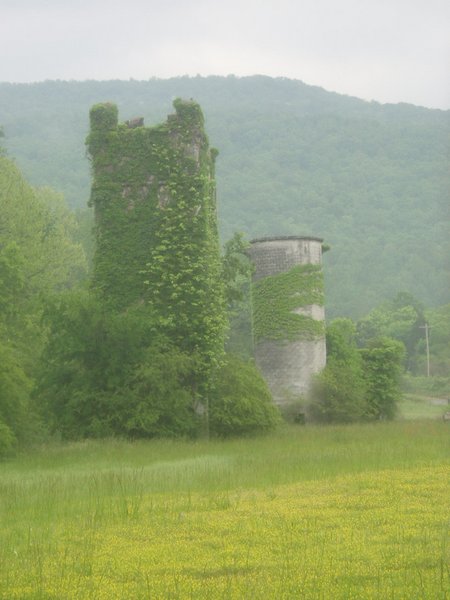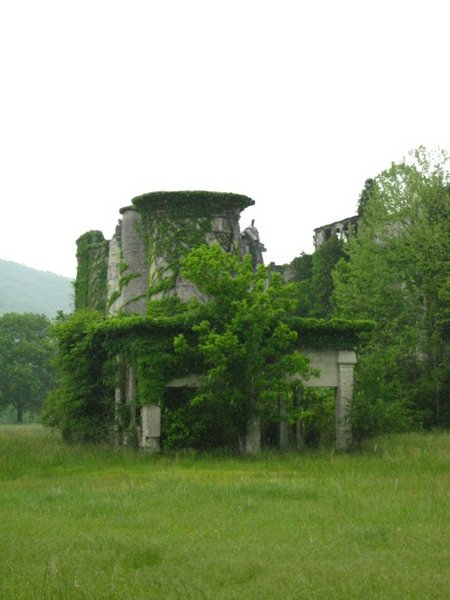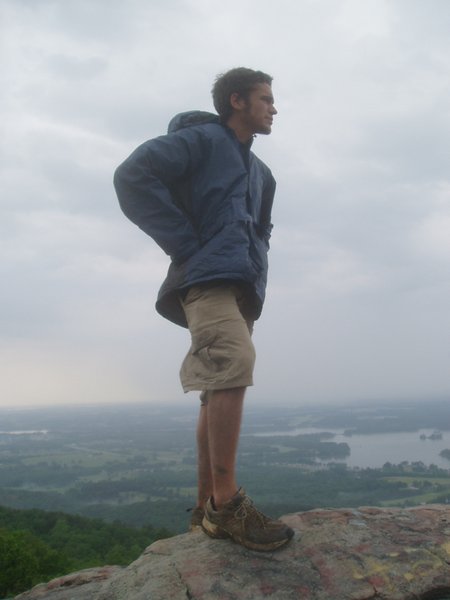 View from Sand Rock boulders