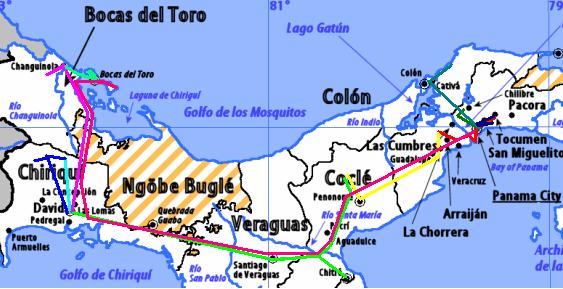 When I accepted a summer teaching assignment where I was to lecture three days a week, I was a bit worried that my extended international excursions would have to be postponed til Christmas. What I had initially failed to realize, however, was that I was in complete control of this course; I could set the schedule in such a way that the students would barely notice my absence, and I even had a highly capable TA at my disposal to cover for me whenever the need to skip town arose. Before the semester started, I identified an ideal two-week span which included both summer break and the Fourth of July, where I could take off enough time to cover a small country and only miss a few lectures.
About a month prior to the break, Spirit put up $190 tickets for the red-eye from Ft. Lauderdale to Panama City, a flight that usually ran about $500. Andie was convinced that she had to make progress towards her degree during this time, so I put out an ad on the adventure club's listserve for travel companions. As is typical for club trips, several random people replied excitedly, but then never bothered to email me again. One member named Scott, who I had met for the first time at the previous week's meeting, informed me that he wanted to go, and subsequently that he had bought a ticket. I would discover the following week that Scott was in fact Canadian, and his passport would expire shortly, making it impossible for him to take the trip without first taking a special trip to the consulate in Miami and paying $200 in fees. So, in the end, I found myself making the trip alone, even after a last minute sale that dropped the ticket's price to an unbelievable $117.
I had called up Tri-rail a few weeks prior and was told it was possible to leave a car at any of the stations for up to 30 days. This policy, however, did not apply at the FLL airport location, as the ticket office lady was so kind to inform me between fits of hysterical laughter. I drove next door to the enormous Bass Pro Shop lot and parked there, fairly confident that my car would not be there when I returned 12 days later. The Tri-rail airport shuttle was for passengers only, so I set out to walk to the airport instead. I stopped at the Hilton to ask for directions and the valet guy insisted that I take the shuttle, and escorted me to the air-conditioned lobby to wait. Over the next half hour, the two valets would update me no fewer than 11 times on the status of my shuttle. On the ride to the terminal, the driver inquired as to how I had enjoyed my stay; luckily, there were no follow-ups to this.
I arrived at the airport a full 9 hours ahead of schedule. Unlike Heathrow, Hartfield, or Changi, where you can entertain yourself for days wandering the miles of concourses and patronizing the various stores, internet cafes and movie theatres, you can complete a full tour of FLL in about 10 minutes. I found a comfy seat in the arrival and sat down to wait.
Day 1 - Casco Viejo, the Canal, and El Valle
Immigration is a little less formal in Panama than in the rest of the world; when we arrived at the counter, no one had shown up yet and several passengers just wandered right on through to the baggage claim. Having had previous experience with trying to leave a country with no entry stamp, I opted to wait. When someone did show up, it was not clear that she was an actual immigration officer and not just a minimum-wage employee playing the part; since she didn't speak any English, the interrogation was greatly simplified. The customs booth was staffed by bored high school students

I had been trying for some time to find a way to secure work as a line handler on one of the many private yachts that transit the canal. It seemed extremely fortuitous, therefore, when I met a couple on the airplane who was transitioning the canal from the Caribbean side to the Pacific. They claimed they would be happy to have me as crew, but not until their slot in October. They volunteered to drive me to the opposite coast to talk to the other yachters there, but after some thought, we concluded that it would probably be counterproductive to drop me off on the dark streets of crime-ridden Colon at 4 in the morning. I would instead wait at the airport for several hours and take an early bus into town and try to find passage from the Pacific side.

The seats in Tocumen International have been specially engineered to prevent sleeping or dozing of any kind, so I twiddled my thumbs for 3 hours and wandered out into the parking lot around 4am. I stopped at a security stand to ask for directions to the bus, and the guard said something to the effect that I shouldn't bother with the bus because the police van would be there shortly. Sure enough, in about 5 minutes the van arrived and drove me to Casco Viejo, the main tourist district of Panama City; only one in five of the cops spoke any English, but they were able to relate to me all the dangerous slums we passed through along the way. When we arrived at the station, a man explained to me that the blood on his pants was from a Californian girl who had just been robbed at knifepoint a few streets up. I opted to stay right where I was til dawn.

Casco Viejo is easily one of the neatest neighborhoods this side of Europe. The result of the second attempt by the Spanish to build a city on the Pacific side of the isthmus, it's a dramatic mix of ancient Spanish grandeur and crumbling slum. The government recently decided they wanted to preserve this section of town and threw everything they had into gentrifying it. They strategically placed both the tourist and national police headquarters here, and put a cop on every block to ensure the area's wealthier contingent never encountered any unpleasantries from the slum-dwellers that might discourage them from sticking around. Today, the odd mix of haute society, antique ruins, dilapidated slums, and the encroaching jungle makes it truly a sight to behold.

I went to 7am Mass in a church where I understood next to nothing and promptly fell asleep. Following this I tracked down a cafeteria serving up delicious bowls of cinnamon oatmeal. Panama is the first country I've visited that shares my love affair with the delectable porridge. At every supermarket, you can find a score of different flavors and consistencies of the stuff, and every breakfast joint considers it a staple alongside the boiled yucca, fried plantain, and empanada. They even sell an oat drink!

One thing that immediately strikes you about the city is its truly cosmopolitan nature. Creole restaurants sit next to Indian restaurants which sit next to Greek restaurants, and all three of these are run by the Chinese. Hispanics, those of West Indian descent, indigenous tribespeople in colorful traditional dress, and a dozen other peoples all flow down the town's main thoroughfares in one great throng of humanity. Outside the city, a given section of countryside tends to be more homogenous, but one thing that holds true even to the remotest autonomous zones of the isthmus, is that the Chinese control every single supermarket, as is readily apparent through names like "Mercado Super Hong Kong" that fill every marquee.

The next task was to find a spot on a boat. Despite what any guidebook or city resident will tell you, it's completely possible to get to the Flamenco Yacht Club on the tip of the Amador peninsula using only a 25 cent bus (as opposed to the universally accepted mode of a $7 taxi). The city's buses are an attraction in themselves. Known as "Diablos Rojos", they are mostly retired American school buses that have been pimped out beyond recognition with crazy paint jobs, armies of hood ornaments, feather boas, neon spikes, and lightning domes. Every bus has its own unique identity complete with a catchy name and patron celebrity painted on the rear. The destinations are written in elaborate fonts which are nearly impossible to decipher, so in most cases potential riders never lift their hand until after the bus has passed; this is fine with the drivers, because they love the sound of their squealing breaks even more than the tunes they blast out on their monster sound systems. A quarter will get you to any point on any of the city's routes, but with an average load of 70 people, it won't guarantee you a seat.

Arriving at the club, I found it to be virtually abandoned, but eventually found an employee who informed me that they did not offer such positions there and I would need to try up the peninsula at the Balboa club. After a long hike up the pleasant but monotonous Amador Causeway, I found that there was even less to the second club; there was simply no way to coordinate (in a non-creepy way) with the hordes of yachters parked at the entrance to the canal. So it seemed my dreams of sailing up the canal and onward to the Kuna Yala islands and Columbia would need to be postponed.

I went to grab a bus to El Valle; one appeared just as I neared the stop and even flashed its lights at me, but sadly, I failed to read its marquee until after it had pulled onto the highway onramp. Luckily this wasn't one of those twice-a-day busses and another came along in 15 minutes.

El Valle is a cool mountain town in the crater of a massive extinct volcano and is truly a hiker's paradise. An innumerable number of unmarked trails radiate out from the town's streets and climb the impressive ring of mountains. The town itself is so spread out that you either have to spend an hour hiking from one end to another or try to somehow surmise which directions the omnipresent minibuses might be going.

When I first arrived, the town was in the midst of a serious thunderstorm and all the residents were just sitting at the edges of their prospective roofs and staring remorsefully at the rain. No one seemed the least bit inclined to open an umbrella or attempt to go anywhere; they were content to just sit and wait it out. I donned a disposable poncho (which people seemed to find very amusing) and toured the covered market, found a lunch counter, and tracked down a hotel room. When I returned to the center an hour or two later, everyone was still just watching the rain.

The nearest attraction (which was about 3km away) was Old Woman Falls; the falls themselves were pretty weak, but they flowed into some very serious whitewater. A few kilometers away was another sight called "Painted Rocks", which consisted of petroglyphs of unknown origin (quite possibly drawn by some high school kids ten years back). These were nothing too exciting, but a trail behind them led up a large, multi-stage waterfall; it seemed to go on indefinitely and fork in dozens of directions, and given that my daylight was fading fast, I regretfully turned around.

My hotel room was the cheapest in town, but still, for the steep price of $15, it left a bit to be desired; the only way to flush the toilet was to reach into the tank and manually open the valve, the soccer-ball shaped TV only got the wrestling channel, and my bed was covered in flies. None of this stopped me from crashing at 8PM. I awoke 4 hours later to discover something was eating my face, but this only kept me up for the hour I required to become sufficiently tired to no longer care.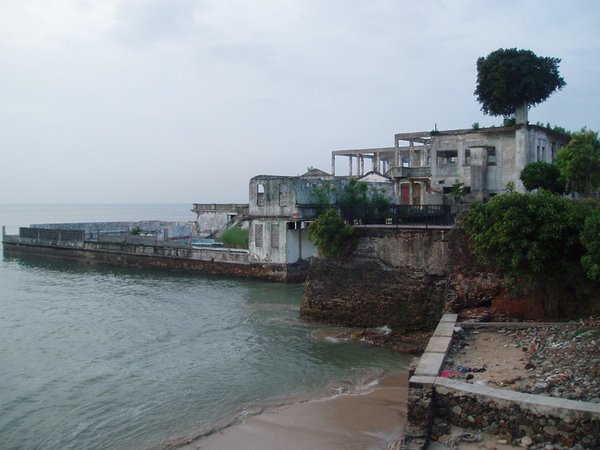 La Punta in Casco Viejo

The new city from the old

A work in progress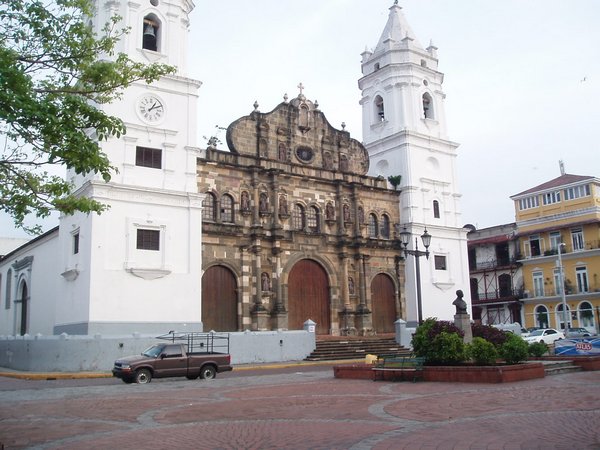 Iglesia Catedral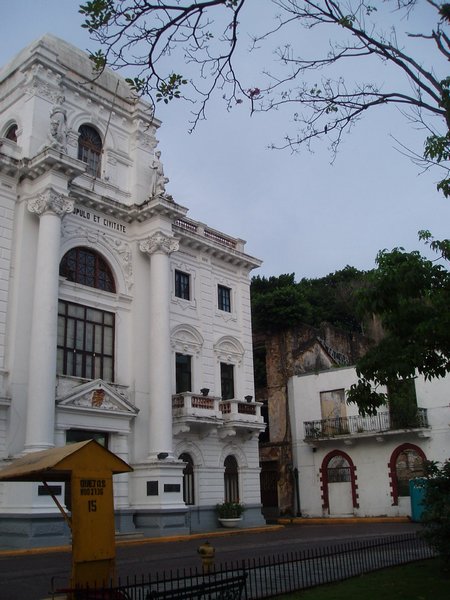 Palacio Municipal

Old and new

Iglesia de La Merced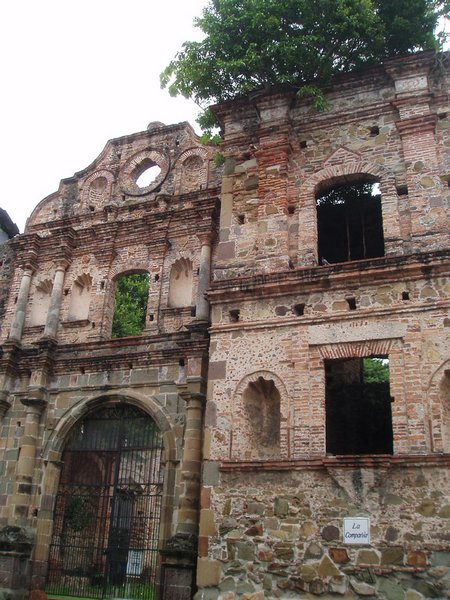 Random ruins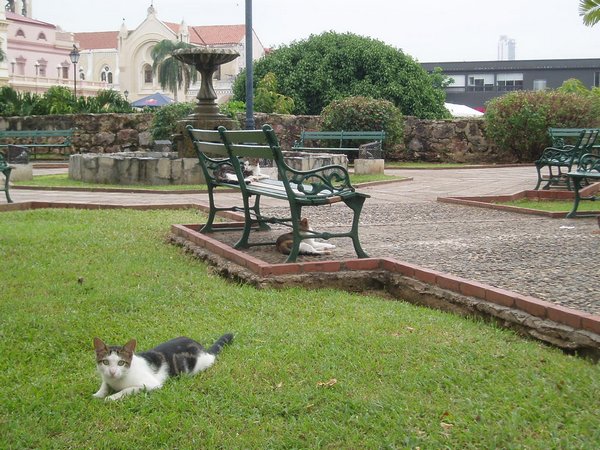 Random cats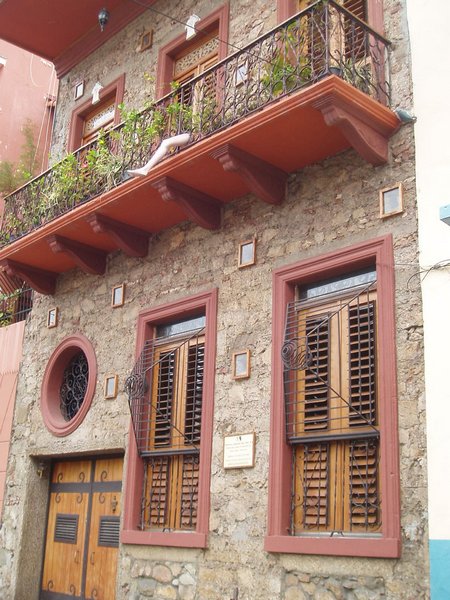 Not quite as weird as the giant iguana down the street

The infamous Diablos Rojos
Day 2 - El Valle and Omar Torrijos
In the morning, I first hiked north of town to see an attraction labeled the "square trees". In the middle of a short loop trail were two small trees which were indeed more quadrilateral then round in nature, but had it not been for the large signs pointing to each of them, I would have certainly walked right past them. After some thought, I came to the conclusion that there was really nothing altogether unusual or exciting about square trees in the first place, but it was a nice trail nonetheless.
Next, I followed the signs to the Sleeping Indian trail and eventually found myself right back at the Painted Rock trailhead. I headed all the way up the waterfall trail and after some time, ended up in someone's backyard; they kindly pointed me in the right direction and sent their son to make sure I actually found the thing. In his sockless penny loafers and school uniform, this kid was one of the speediest hikers I've ever come across; owing to the fact that he hiked this trail every day to class, he scrambled over the steep, muddy slopes as if he were on a level sidewalk. I (who previously believed myself to be a fast hiker) fell all over the place trying to keep pace with my diminutive guide. Towards the end of the trail, he pointed to a group of peaks that he declared was the namesake Sleeping Indian; this looked as much like an Indian as my foot, but the view just beyond was more than enough to make up for the deceptive naming.
Returning to the base of the trail, I took another road up to "Manly Falls"; this complex charges 3.50 (I haggled them down to 2) for a 5-minute walk to the base of a high waterfall, and is a complete and utter waste of time and money; the relatively skimpy 5 platform $52 zipline ride wasn't even worth considering.
I took buses to Penonome (famous for Panama hats) and onto El Cope. From here, I took a truck up a 4WD road to an unmarked house that offered lodging for those wishing to tackle the highly inaccessibly Omar Torrijos National Park. The owner wanted to charge me $30, including $15 for a Spanish-only guided tour, so I opted instead to take a 45-minute hike up the mountain into the park. I explained to the rangers that I was in need of food and lodging and they were happy to oblige. At first they pointed me towards a bunk bed in the gatehouse, but this stunk of gasoline and had no windows; sensing my apprehension, one ranger then led me up to an 8-bed cabin with living room, kitchen and loft, which would have been highly luxurious had it only had running water or electricity (these weren't intentionally omitted, the ranger just couldn't figure out how to turn them on). As luck would have it, I had arrived just before dinner time and was fed a delicious dish of chicken and rice.
I had about an hour of daylight remaining and opted to take a short hike through the rainforest. I had identified a circuit on a map at the ranger station and now attempted to follow it. At one point, the trail forked with no explanation of any kind. Thinking I remembered this from the map, I took the right fork and started running along the mostly downhill trail. Thirty minutes later, with only a few slivers of daylight left, I regretfully admitted to myself that I had no idea where I was going and had no choice but to turn around. I ran full speed up the muddy slope, knowing full well the implications of being on an unmarked trail through the jungle after dark - particularly one such as this where vampire bats, poisonous snakes, and man-eating cats were known to reside. As I raced through the foliage, I spotted to one side a pair of large glowing green eyes, and hoped against reason that the adage that a young Thai guide had once given, about green eyes belonging to herbivores, was indeed true. I reached the fork just as the last trickle of light dripped through the canopy; I donned my headlamp and followed the somewhat marked trails back to the cabin. In the vicinity of the cabin, there were several massive non-venomous toads, but thankfully I didn't run across any of the park's more sinister wildlife.
Shortly after I returned, a truck pulled up in front of my building, and stepping outside, I exchanged a few words of greeting with the passengers. Thinking these were to be my suitemates, I raced back inside to move all my horrid-smelling clothes a safe distance from the bunks. It seemed, however, that these newcomers had another agenda, and I would not see them again for the rest of the night.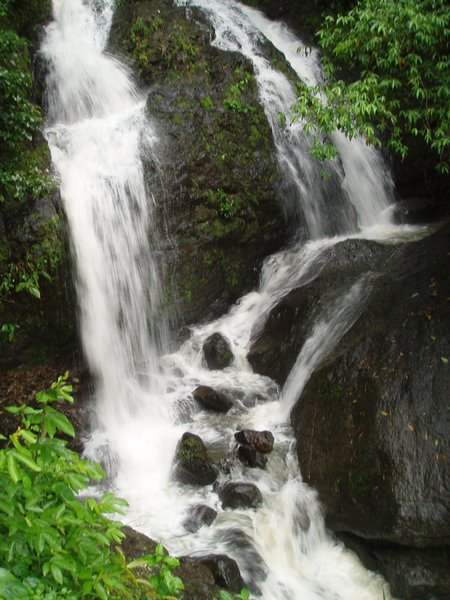 Old Woman Falls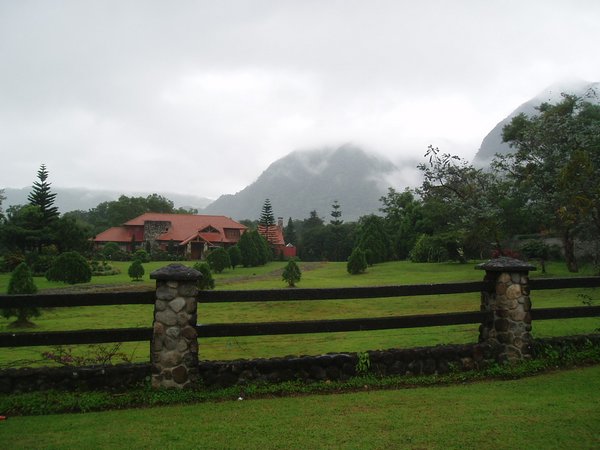 Summer homes for Panama's rich and famous (or maybe just some gringos)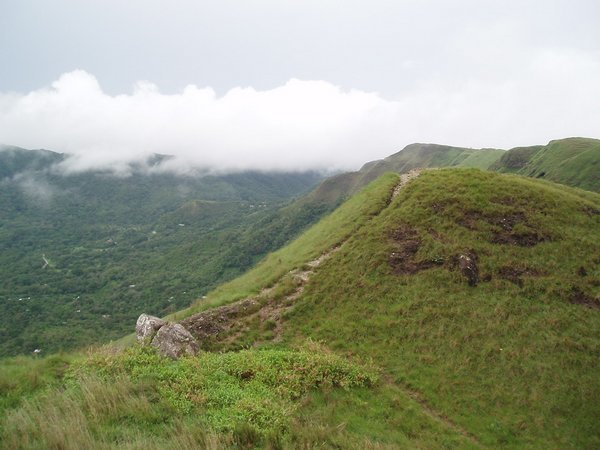 "The Sleeping Indian"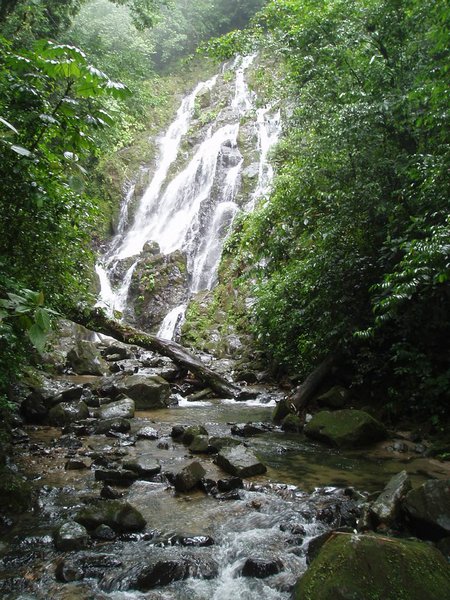 Manly Falls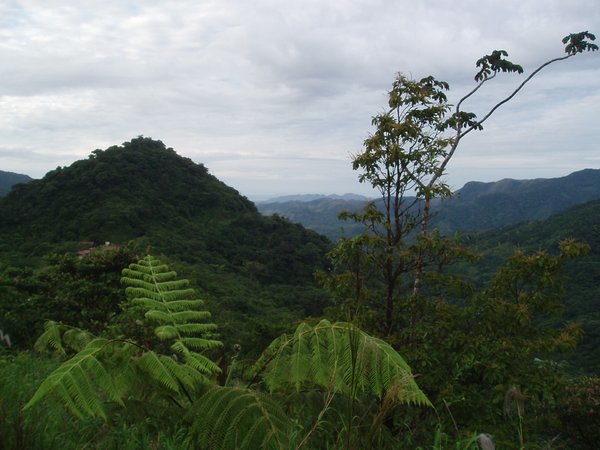 Omar Terrijos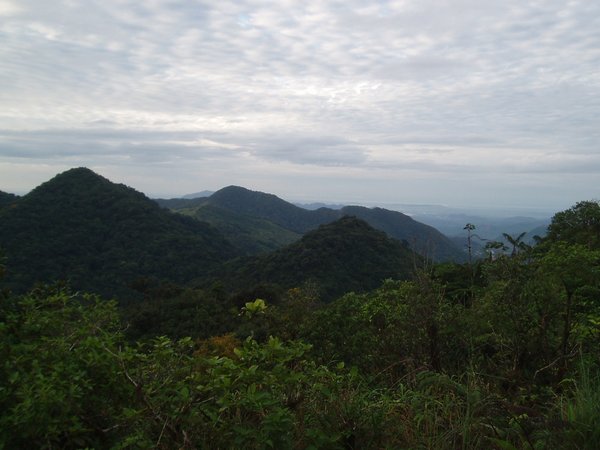 Day 3 - La Rica and Chitre
In the morning, I decided to walk to La Rica, a remote mountain village on the other side of the continental divide. There was a road leading from the park to this village, but it was in such a state that it is hard to envision a vehicle that could successfully negotiate it - perhaps an imperial chicken walker would do the trick. I constantly found myself sinking past my ankles in the all-devouring mud that covered much of the road. At one point, a boy with a machete appeared out of the bushes and started walking down the road in front of me; as luck would have it, he was going the same place I was. Though he wore galoshes, he was so sure-footed in the muddy terrain that he never got any more than the bottom inch of his boots dirty, while my jeans were covered up to my knees.

Two hours after I started we reached the village. It was very picturesque indeed, but unfortunately, it had next to no facilities (save for an auto-parts store where you could find parts for your chicken walker), and with my limited command of Spanish, I couldn't convince anyone to give me any food. All I had left from my supplies was one bag of crackers and two of what can only be described as "licorice turds" - I had picked these at random from a sweet shop the day before and had soon realized I didn't particularly care for them. After a quick circuit of the town, I was forced to make a speedy return to the park before my supplies ran out. Back at my cabin, I hosed down my clothes and, now soaking wet, headed to the park entrance. I discovered that the mysterious visitors from the night before had returned, and were in fact from the Smithsonian Institute. I asked a question in caveman Spanish to the effect of "Why Smithsonian here?" and one of them proceeded to give me a 10-minute speech in fast Spanish about the countless contributions Smithsonian has made to the area; I could only sit in silence, nodding my head at regular intervals.

Back in Barrigon, I waited for half an hour for the bus to arrive, but when it finally did, it just ignored my signals and drove on by. So I was forced to walk the 4km stretch to El Cope. In town, I caught a bus to Aquadulce, and from there, another to Chitre. One nice thing about buses in this part of the country is that no matter how big the bus, each person who boards gives a resounding "Good afternoon!", and everyone responds in kind.

In Chitre, the Fiesta de San Juan Bautista was in full swing. Random people rode horses around several city blocks, kids danced in African fern dresses, groups performed in elaborate "devil masks", and vendors sold meat-on-a-stick and snow cones. I dropped by a local restaurant and ordered the mondongo (tripe), which was actually quite tasty with a consistency similar to squid. I then bought a 5-cent ice cream cone and 30-cent snow cone. One important thing to realize when dealing with change in Panama is that vendors often count by 5s; so if someone says "cinco", it most likely means 5 nickels - unfortunately I didn't figure this out until after I had ripped off a poor ice cream salesman.

What had initially drawn me to this festival were the "bull fights" that had been listed in the Lonely Planet; however, when I inquired about this, they seemed fairly convinced that I was a nutcase. Sometimes I wonder if the guys at LP don't just throw in some of these passages for kicks.

I grabbed another few buses to Santiago and there boarded an air-conditioned, 60-seat behemoth, complete with a B-movie which was strangely in English with no subtitles. I was told prior to going to Panama by multiple people that there was no reason to know Spanish because everyone knew English. However, in my first three days in-country, out of all the people I'd spoken with, I'd only come across two who spoke any English whatsoever. Perhaps they're all just faking it.

Having missed my connection to the mountain town of Boquete by a matter of minutes, I sought out one of the cheaper options in David; for $16 my room had 80 channels of cable, hot water, and even complementary soaps!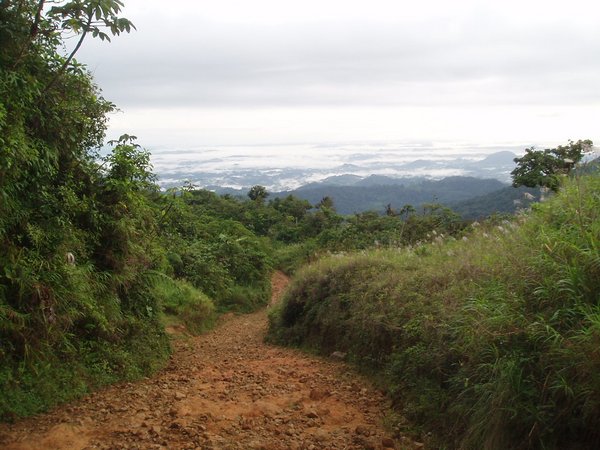 The long muddy road to La Rica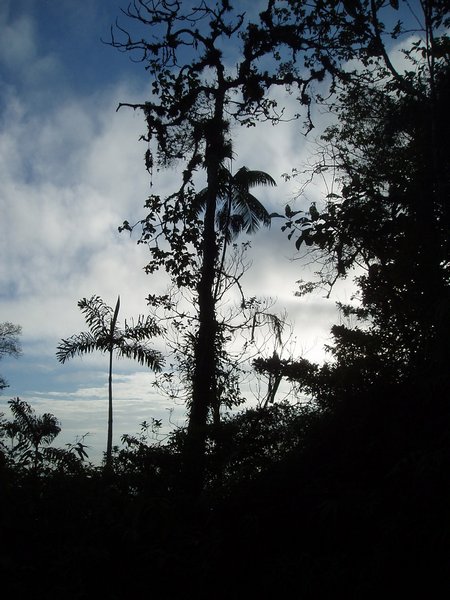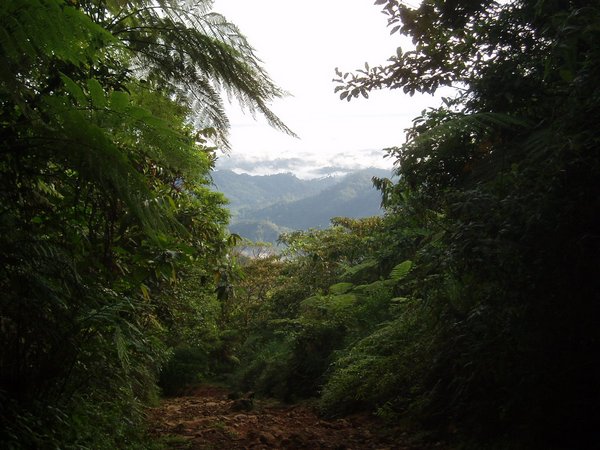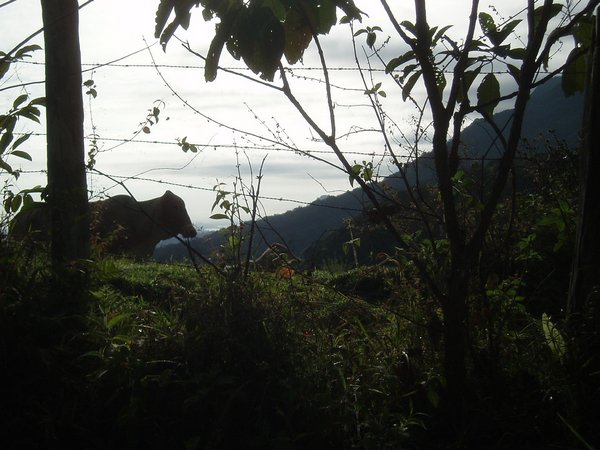 A solitary cow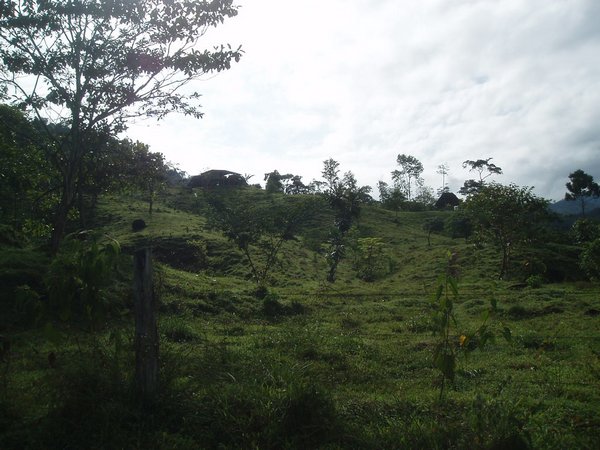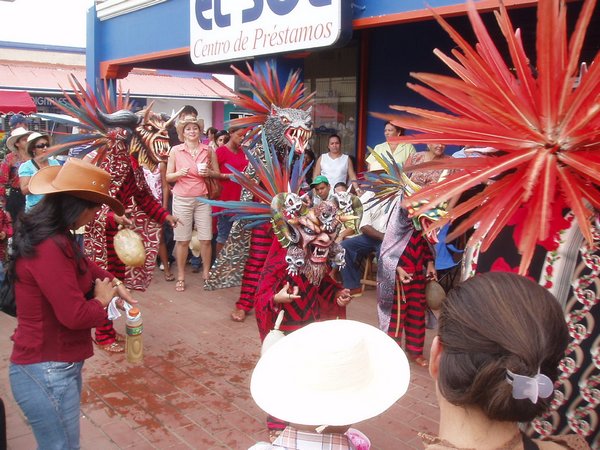 Crazy devil masks for Juan Bautista festival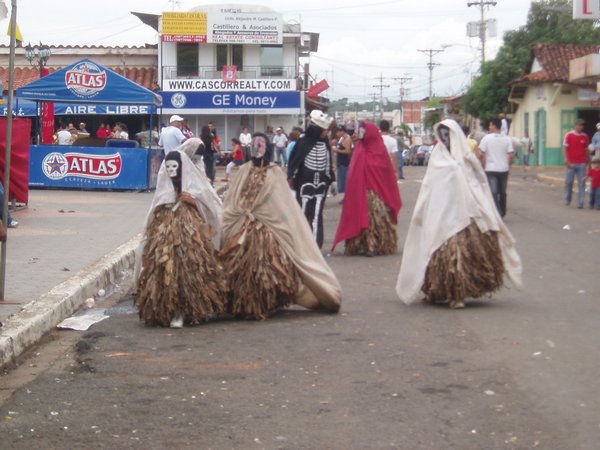 No idea

Not a clue - did I mention there was quite a lot of booze involved in this festival?
Day 4 - Boquete and Volcan Baru
Early in the morning, I grabbed a bus to Boquete and arrived just in time for the rain. After a time in the town's internet café, I sought out an attraction "Mi Jardin es Su Jardin" which was just some guy with an exceptionally elaborate garden behind his house that he let everyone wander around for free. Among the stranger things featured were several of Brussel's painted cows (all with signs reading "Please do not touch the cows"), a giant tower for viewing the place from above, and a super fun slide which had sadly been blocked off by chicken wire.

My guidebook suggested that one of the highlights of Boquete was strolling along the river. If this were ever the case, it is certainly not now; the whole of the bank is overgrown, covered in trash, and largely blocked off. With the town's repertoire of attractions exhausted, I grabbed some lunch, scarfed down some Grape Nut ice cream (which is quite delicious and has the same ubiquity here as Vanilla does in the rest of the world), and found a route taxi up to Volcan Baru National Park.

The path to the summit of Baru is another one of those super-4WD roads and is right around 15km long. I arrived with only six hours with which to complete the 30km trek before dark, so I hiked very fast. When I'd gone about 14km and 1.5km vertically, I began to feel dizzy and became convinced I was feeling the early effects of altitude sickness, but with only 1km left, I felt there was no choice but to push on to the top. The summit was covered in icy clouds and, for the most part, had zero visibility. There were times when it cleared up enough to allow views of the crater and surrounding countryside; never was it possible, however, to see both oceans. This capability is advertised for just about every mountain in the country, but they never bother to mention that these mountains are covered in clouds 99% of the time.

I descended again, and, finding no route taxi, began walking back towards town. At one point, a taxi offered me a ride, but wanted twice as much as the previous guy. I turned him down on principle, but had I known I was still about 8km from town, I might have surrendered the extra dollar. I jogged a few kilometers down the mountain in the dark until I came upon a bus stop with a family waiting. It seemed a taxi would arrive in the next half hour, so the four of us taught each other our respective languages until then.

Back in town, I found a delicious Panamanian restaurant (actually a rarity in this gringo-infested town). For the first few days, these cafeteria-style restaurants were a source of great confusion for me. There are hardly ever prices or any indication of what the different foods are or what's included in a meal. In truth, you can just order as many dishes and as much of them as you want and it will pretty much always cost between 1.50 and 2.50. It's usually best not to try to ascertain what it is you're actually eating (in many instances, you probably don't want to know), just point to whatever looks tastiest.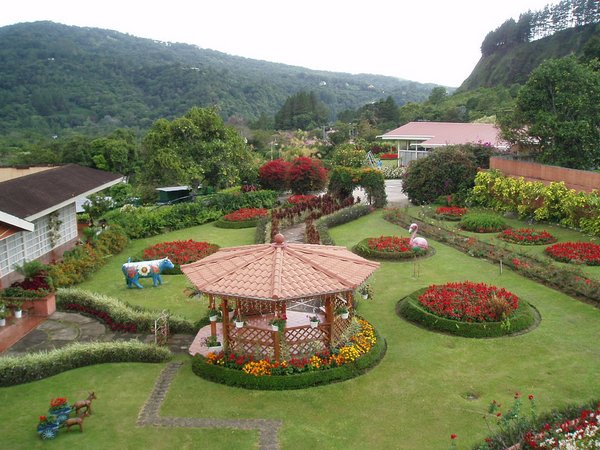 Craziest garden anywhere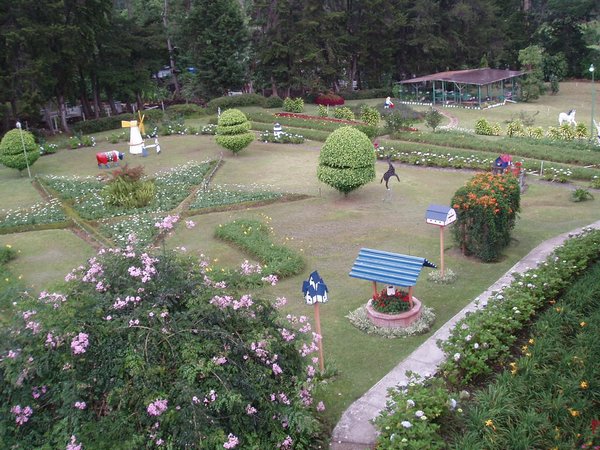 From the owner's private viewing tower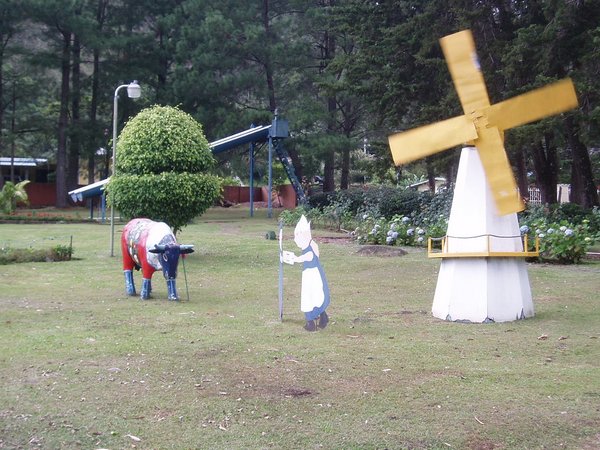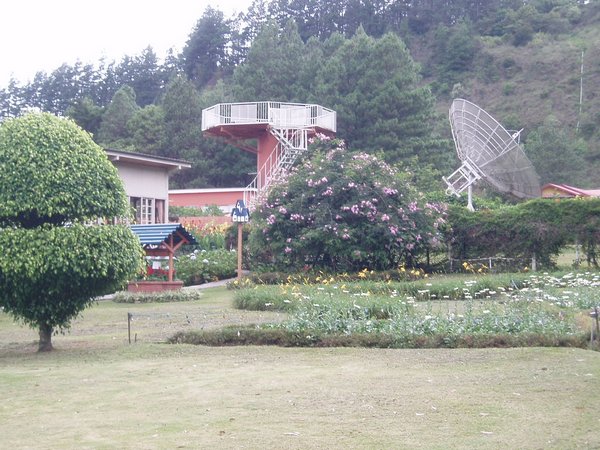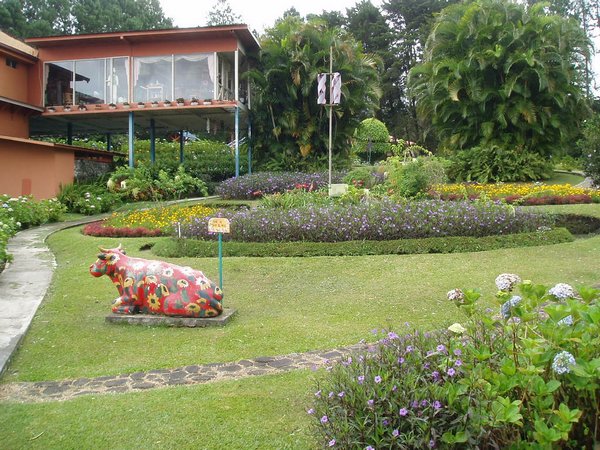 "No tocar las vacas"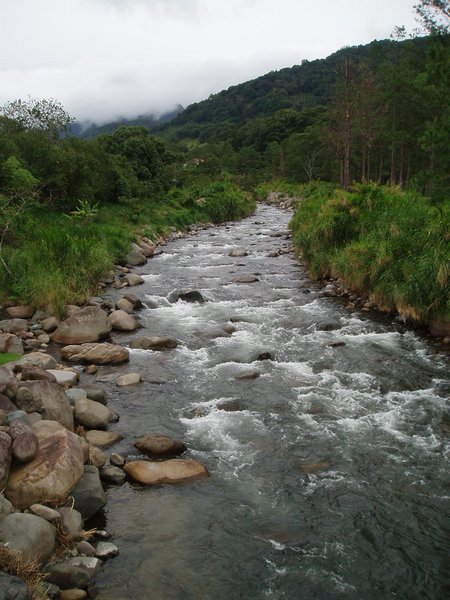 Rio Boquete

It's a long way up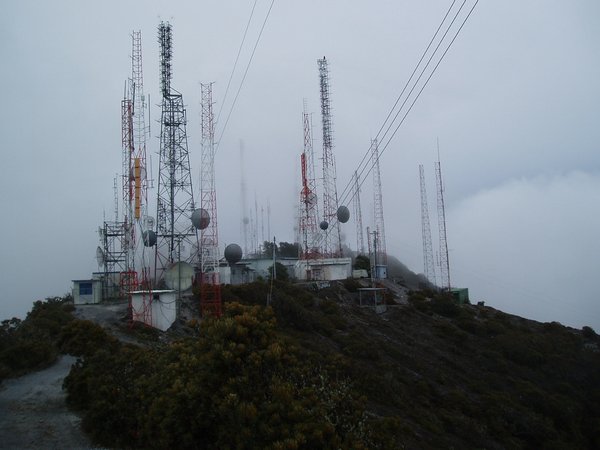 La Cima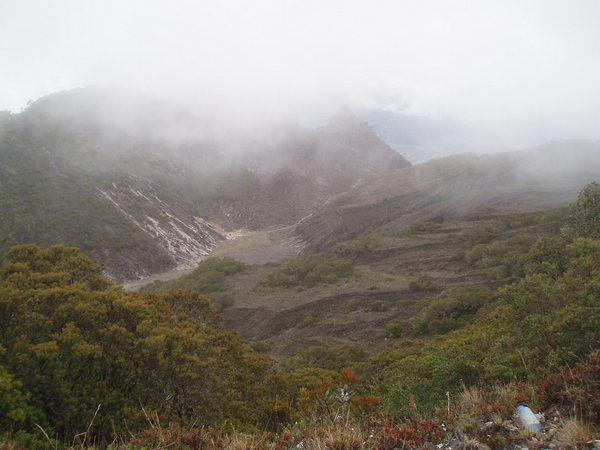 The crater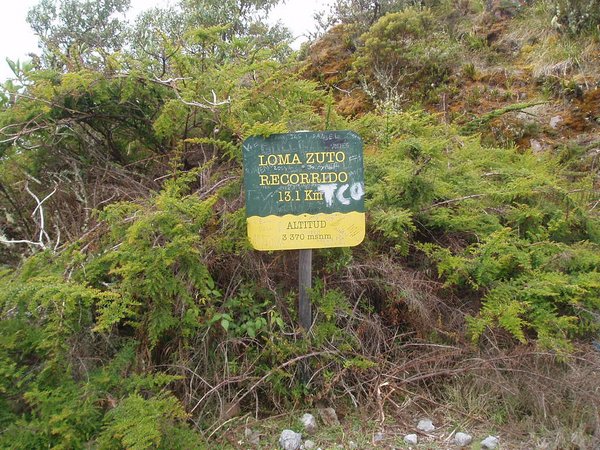 Couldn't find the sign at the top, this was the closest
Day 5 - Sendero Los Quetzales, Cerro Punta and La Amistad
I got moving relatively early and caught a bus to go halfway to the start of the Sendero de Quetzales trail. The remaining few kilometers were a brutal but scenic trudge on a paved road straight up a mountain. Beginning the trail, the first bit was on a gravel road through farmland, where I was overjoyed to encounter sheep with tails. The next stretch was a muddy stretch through the jungle where I was constantly surrounded by a swarm of mosquitoes. I had not seen a single mosquito up until then and had become convinced that they simply had no interest in me, but now I was swatting at them like a madman while trying to keep a decent pace. The final 4km was a steep, technical ascent which seemed to rise above the mosquito line. Ladders had been provided, but they were all in various stages of decay, and they invariably started a full 4 feet above the ground. Coming around one corner, I heard someone belting out the lyrics to a familiar Tenacious D song, and soon found a group of spirited Australian hikers who had already hiked the trail uphill and were now making the return trip. Crazy Australians…

The ranger station on the Cerro Punta side of the trail was by far the best part of the trek. The jungle opened up into a huge field full of flowers and a viewpoint looked out over my destination far, far below. Another trail picked up here and led through the most bird-laden jungle I'd visited thus far; though there was still no sign of the trail's namesake quetzal. When I reached the road, I found locals foraging for the wild strawberries for which the town is famous. From there, it was an easy 5km downhill.

Once in Cerro Punta proper, I grabbed some lunch and supplies, and began walking the 6km route to the Las Nubes entrance of the La Amistad International Park (it continues into Costa Rica). Thankfully, along the way, some guy who had eaten at the same place for lunch spotted me and gave me a ride to the entrance. The park's rangers were strangely absent and my plans for spending the night there were summarily crushed, but on the upside I didn't have to pay the $5 entry fee. The park's trails were pleasant though poorly maintained; one went to a sizable waterfall and another was an interpretive trail winding through various types of forest. When I went to leave, I found the gate had been closed; fortunately, it was an easy matter to hop the fence.

The hike back to town was one of the most stunning that I'd done on this or any trip, though I frequently hoped someone would stop and pick me up. Eventually a pickup pulled up and the driver let me jump in the back. I caught one of the evening's last buses to David and checked back into the same place I had stayed two nights before.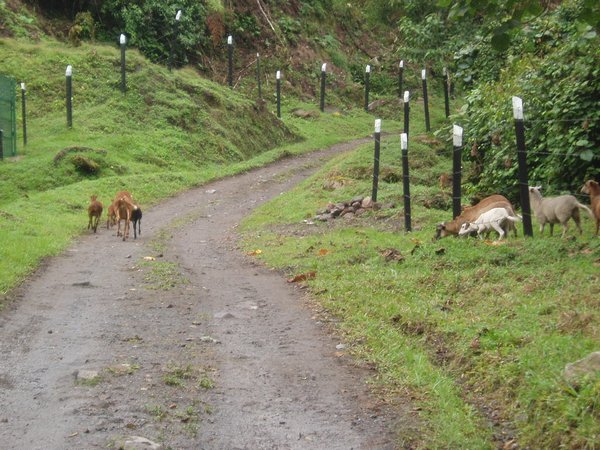 These sheep have tails!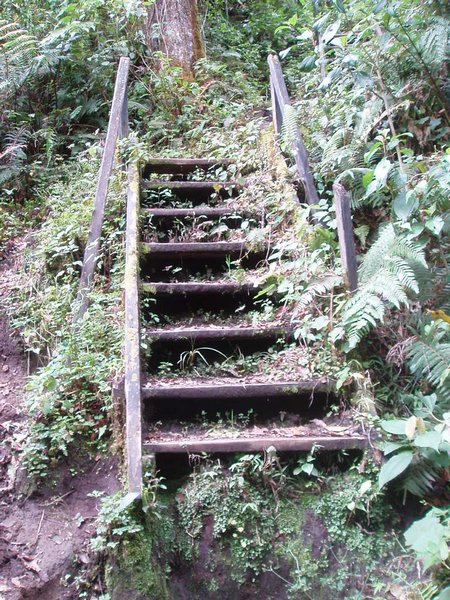 Typical Sendero staircase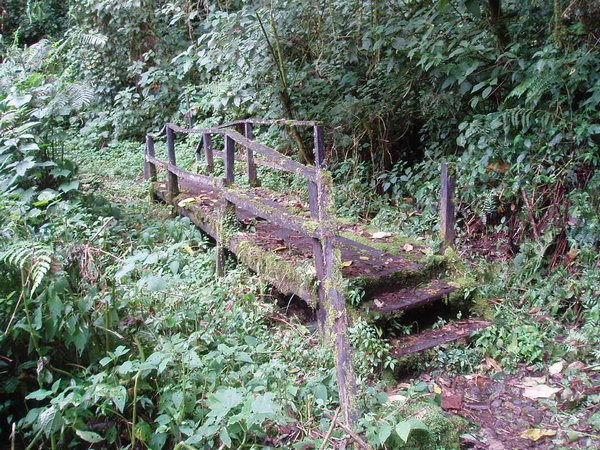 Typical bridge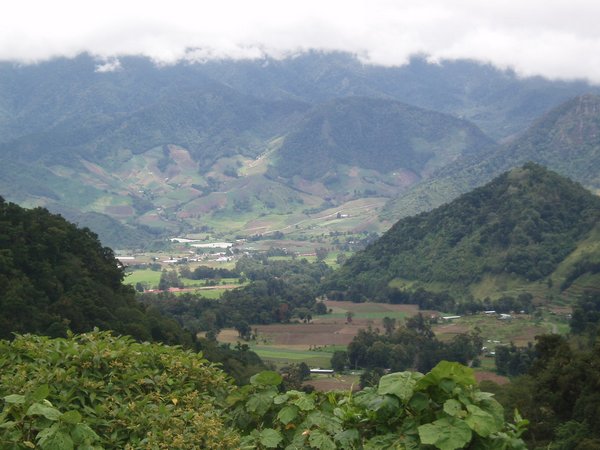 The town of Cerro Punta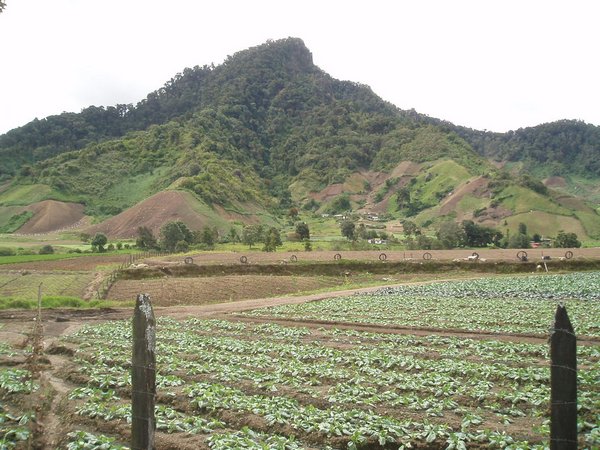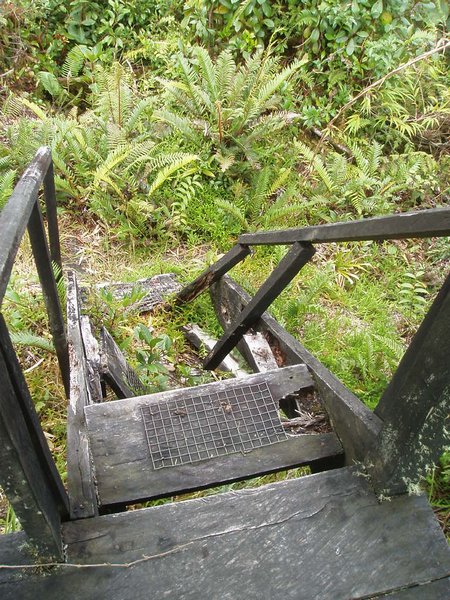 Typical La Amistad staircase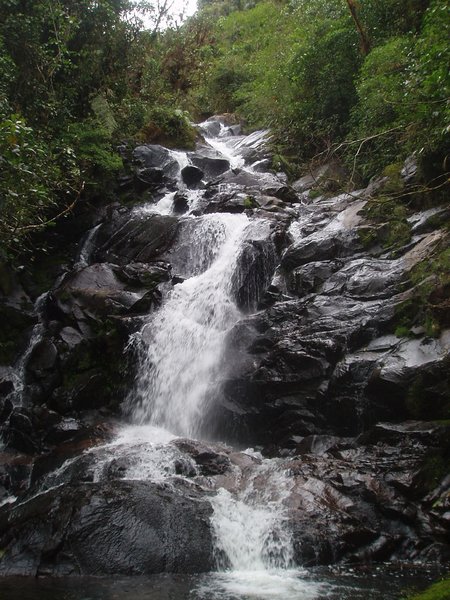 La Cascada
Day 6 - Rio Terribe and Wekso
Quite unintentionally, I got up around 4:30 and headed to the station to catch the first bus to Canguinola at 5:25. The trip across the isthmus was spectacular as it was one of the rare clear days where you can gaze out over the epic mountain range that runs the length of the country.

The section of the Caribbean Coast belonging to the Bocas del Toro province has much more of an island flavor than the rest of the country. Densely-packed thatch-roof shacks, reggae music and endless piles of bananas replaced the country-western vibe from just across the divide. Changuinola itself is a rough, busy city mostly made up of discount clothing stores. I quickly caught a bus to the small village of El Silencio where I was to catch a boat up the river. There wasn't a lot to the place besides a refreshment stand, and when I asked for a bathroom, they just laughed at me and gestured towards a patch of banana trees. I couldn't get a straight answer as to the matter of a shared boat to the village of Wekso which purportedly housed an eco-lodge. Several people told me 12, but that came and went with no sign of a driver. Many boats stopped by, but none seemed to be taking people up the river. Finally, after three hours of waiting, a boatman volunteered to take me to the lodge and back, bundling this and a room for only $12.

The trip was an interesting one because the river was shallow and full of rapids and probably should never have been attempted with a huge motor; I kept waiting the hear the metallic clank of propeller against rock, but it never came. In some particularly shallow spots, everyone had to get out and push the boat up the rapid. After about 40 minutes of fighting the vicious current, the sign proclaiming our arrival at the "Wekso EcoLodge" was in sight.

The Naso are an indigenous group that lives in a string of villages in the jungles surrounding the Terribe River. Many of them travel by motorized canoe, bamboo-pole-powered canoe, or bamboo raft, but it's also possible to hike or ride a horse along an elaborate system of trails that links all the villages together. The capital where the king resides is about 2 hours further upriver from where I stopped.

It is not clear that Wekso was ever a legitimate village. Prior to the invasion, it was a jungle training camp run by the Americans. Later, a guesthouse was built on top of the ruins of this camp, and a ranger station was installed to collect fees for the international park (La Amistad) that was a good 5 hours walk from the village. Today, one family lives in a single hut, and the guesthouse, "with running water and mosquito nets", appeared to be completely abandoned. I was given the option of staying in the semi-enclosed ranger station with no sheets or mosquito nets, as part of a package that had just gone up in price to 40 bucks. While the ranger and boatmen were debating how best to rip me off next, I escaped to explore the compound.

The ruins, including a serpentarium, were all fairly run-down. No wildlife was obvious, but a pet monkey scampered around the complex looking for handouts. I followed a trail along the river where I saw a number of tiny tree frogs, including neon green and red poison dart frogs. Returning to the station, I worked out a deal where I would only have to pay $8 if I left by foot right then. This was a bit challenging, given that the main trail was on the other side of the raging river, but one of the guys offered to take me across on his horse.

The crossing was an extremely sketchy ordeal at best. The decrepit beast really wasn't fit to cross the rapids on his own, let alone with two full-grown men on its back. As the water reached the animal's nose and its legs buckled under the force, I became relatively certain that I would soon find myself pinned underwater by a few hundred pounds of horsemeat. Somehow we made it across, and the horse's owner, who had made no mention of payment previously, immediately demanded a $5 fee. I paid him one dollar and started walking down the trail. Naturally he called out to inform me that I was going the wrong way, but he would never tell me the correct route unless I paid him the rest of his toll.

Luckily I was going the right way, and after a quick romp through farms and jungle, I arrived at a road that had recently been constructed for a hydroelectric project. Along the way, a farmer caught up to me and asked me to teach him English, so we played the time-honored game of pointing to random things on the side of the road and naming them in both languages. Once back at the river, a guy with a canoe and bamboo pole ferried us across for a quarter.

Returning to town, I found that all the boats to the islands had departed already and I would have to spend the night in Changuinola. The guidebook's description for my hotel read "Although the rooms here could inspire a horror film, it's certainly the best of the lot." That pretty much summed it up, but an air-conditioned room for $14 sure beats the pants off sleeping in a bunk in an open shack in the jungle for $40.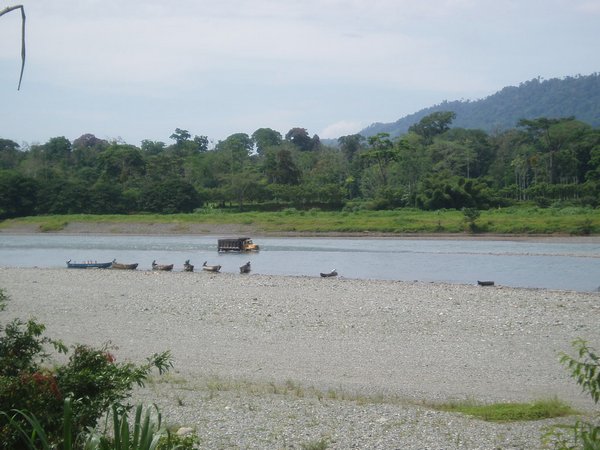 Garbage collection in the Naso villages is a little more involved than in most neighborhoods...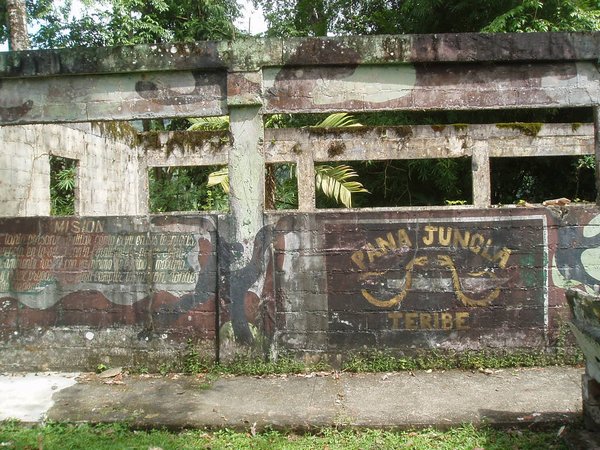 The American military's Jungle Fun Camp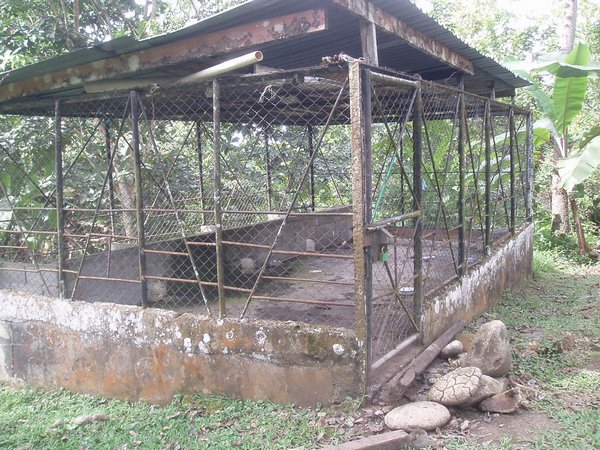 Here's where they taught the Panamanians how to deal with poisonous snakes.

It was not easy to subdue the savage beast long enough to take this photo...
Day 7 - Bocas del Toro
One of the things I had really come to appreciate about Panama was the complete absence of a desperate, pandering tourism industry. Nowhere in my travels prior to Bocas had anyone tried to overcharge me, speak English to curry my favor, chase me down the street in a taxi, or try to sell me some unneeded tour. Bocas del Toro (the province, archipelago, and town) is a different story altogether. The instant you arrive in Almirante or Changuinola, touts begin shouting through the windows of your bus about boat tours, and it continues pretty regularly from there (though it still doesn't reach the extremes of Costa Rica or Jamaica).
I started out around six in an attempt to catch the first boat, but found after taking a bus out to the old banana plantation that served as the port, that the first boat would not leave until 8:30. I have found that I greatly dislike these parts of the country served by boats, because unlike the ultra-frequent buses, the boats seem to come on a highly relaxed and unpredictable schedule, and there's no way for me to simply walk to my destination if one doesn't happen along within a reasonable timeframe.
When the boat finally arrived, it unloaded a horde of 15 gringos headed straight for the Costa Rican border with massive backpacks and surfboards in tow. I had pictured going out to the island in a colorful motorized canoe, but what pulled up was a high-powered speedboat which took us on a ride reminiscent of that one scene from Live and Let Die. Heading down the narrow canal at around 30mph, we sometimes swerved at the last moment to dodge floating debris, and sometimes just jumped it. At one point, we had to power through an enormous mass of floating vegetation - eco-friendly tourism this was not. Once on the open ocean, the driver cranked it up a few notches to blast through the chop and get us to the distant island in under 40 minutes.
Bocas might have been a typical Caribbean town, had it not been completely overrun by gringos. Tour operators, European restaurants and craftshops now account for about 75% of the businesses, and vastly outnumber the colorful shacks of the residents. Most of the accommodation is geared toward backpackers and more often than not, you have an 8-bed dorm with a bar right downstairs, even though there's no real restriction on real estate that would prevent everyone from getting their own rooms. For $8, I got a dorm bed in some random guy's house; luckily, no one showed up to claim the other 3 in my room.
Everything on the island costs about twice as much as on the mainland, and everyone is geared up to squeeze every last dollar they can out of the gringos. Even the buses have signs that indicate the "local" and "tourist" rates.
Never having had much of an inclination toward water sports, I steered clear of the plethora of dive, snorkel and surf tours and set off to find the island's one, largely undocumented hiking trail. All I was able to figure out in advance, was that the trail began at the end of the coastal road at Mimbi Timbi and continued for 6 hours around the point to El Drago beach. The road had definitely seen better days and I spent the better part of two hours sloshing through ankle-deep mud. When I arrived at what I perceived to be the start of the trail, I encountered a young boy who demanded that I pay $1 in order to pass. I remembered reading something about a toll for one of the trails, so I paid up, but as he sauntered off smiling mischievously and his younger sister laughed hysterically, I began to suspect that I had been thinking of a different trail. I walked for some time through quicksand-like mud in dense jungle before encountering a farmer who told me I was going the wrong way, so I retraced my steps and found a slightly better trail along the water's edge.
This hike is tricky because it has no signs of any kind and only a handful of locals actually know it exists. Several owners whose land the trail passes through, have no idea why random people periodically wander through their property. One family even sent their small dog to chase me off. The path snakes by several caves (all of which are filled with bats and are most likely infested with histo) and passes several good lookout points. It's an immensely difficult trail to follow, and, as much as it pains me to say it, I would not recommend that anyone attempt it without a guide. At one point, I asked two white women where the next continuation was, and not knowing a thing about it, they directed me to their driveway and down a long neighborhood road to the main highway.
So, abandoning the trek halfway through, I walked through the woodsy neighborhood and along the highway to El Drago. This beach was a bit of a disappointment as it did not have the vast multitude of starfish everyone had said it had, so I soon grabbed a bus back into town.
I went to the cathedral for a 7 o'clock Mass and found that I understood a good bit more than I had the previous week. Once at the guesthouse, I attempted to wash some of my clothes, but the power went out around 9, leaving several layers of mud firmly in place. The lights eventually returned and I was able to finish washing my jeans in preparation for getting them even dirtier the following day.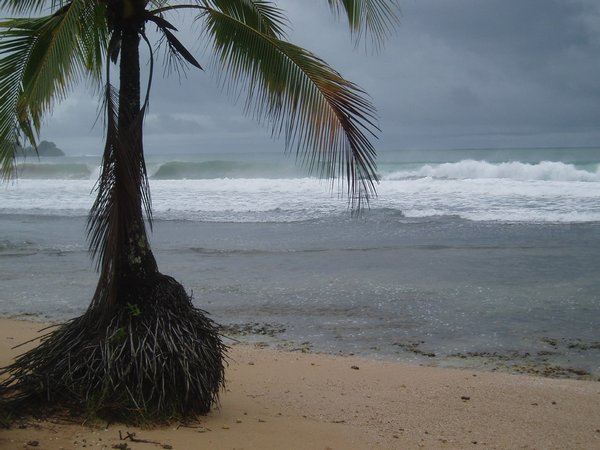 Abandoned beaches of Bocas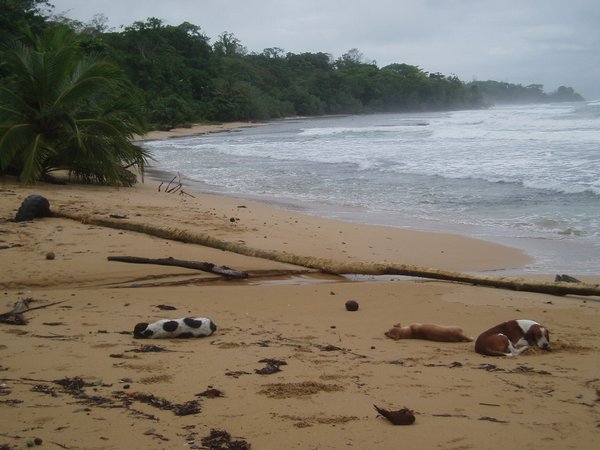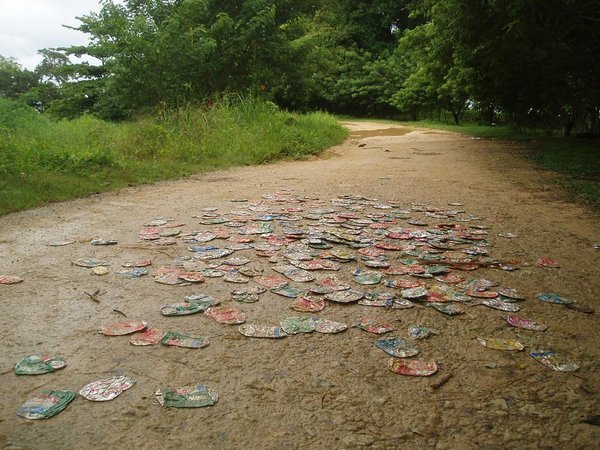 Kids are bored? Give them a box of cans and some sturdy boots!

Trail to El Drago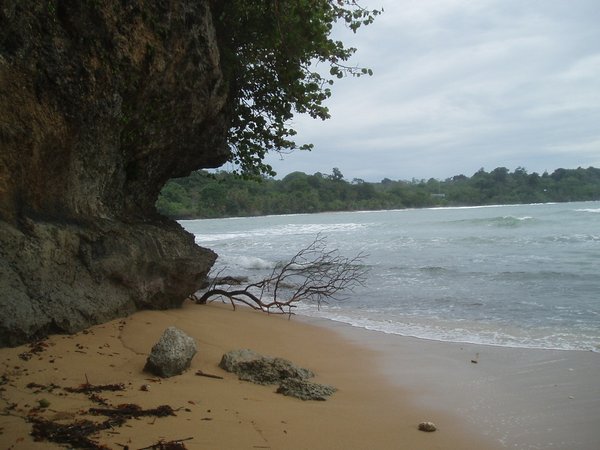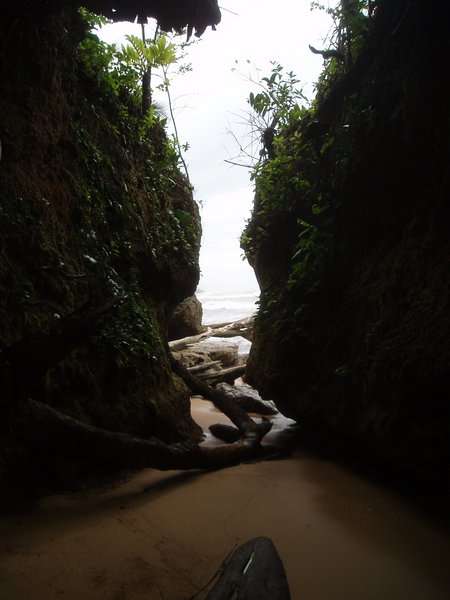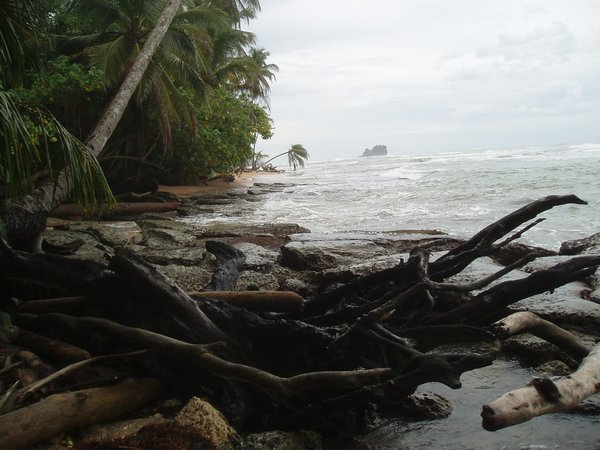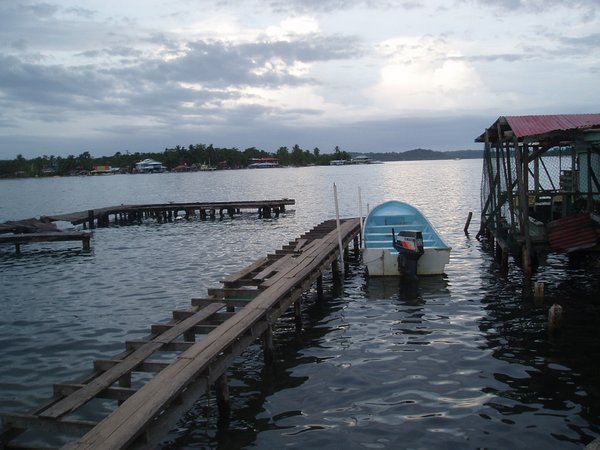 Bocas dock

Backpacker hub
Day 8 - Isla Bastimientos
In the morning, I found a ride with a local boatman over to nearby Isla Bastimientos. The largest town on the island is a very cool jumble of colorful shacks that house the better part of the island's West Indian residents. The primary language spoken here is a mix of about five other languages known as Guari-Guari, and it basically sounds like everyone has a bad stutter. The town has a single "street" which is just a concrete sidewalk that doubles as a ball field and marble court; the only other way to get around is to stand out on one of the boat docks (nearly every house has one), until a boat swings by and picks you up. Similar to in Jamaica, random people blast reggae music over their home stereos for everyone on the island to appreciate.
I followed signs up through the town's landfill and cemetery to what was supposedly the start of the trail to Wizard Beach. What I quickly found was that this trail soon diverged into a slew of steep, muddy paths - none of which seemed to go anywhere in particular. At one point, I found myself wading through knee-deep mud, holding onto a barbwire fence for support. Unlike Isla Colon (the home of Bocas town) where you see a private property sign every 20m, the better part of Isla Bastimientos seems completely undeveloped, with the only indication of human presence being unsigned paths snaking in every direction through the nameless jungle. When I finally came upon a hut, I asked a child living there where the beach was, and, without actually indicating any particular path, he just pointed in the direction of the roaring waves. So, I was reduced to bushwhacking and fought through mud, weeds, and thorns for some time before finally stumbling out onto an abandoned beach.
My goal for the day was to reach the village of Quebrada Sol on the other side of the island, which was home to a few hundred members of the Ngobe-Bugle ethnic group. One of my guidebooks said that the trail should never be attempted without a guide, while the other claimed it was easy, but both agreed that it started at the last major beach along the north coast. I followed Playa Wizard to the headland at its eastern end and then followed a reasonably good trail through the jungle to Red Frog Beach. Here I was quite surprised to run into a pair of white tourists lounging in the sun, and a little further up I came upon a tiki bar. I was able to ascertain that this was an exclusive resort called the Red Frog Beach Club but was never able to figure out how people managed to get here.
The tiki bar workers informed me that the trail I sought began at the next point. When I reached the headland, I found a trail that led quickly to a well-maintained gravel road. Following this, I reached an enormous residential complex with a large number of cookie-cutter mansions in various stages of construction. I reasoned that this road must surely lead to a port, so I followed it until, after several dead ends, I came upon a warehouse next to a private ramp. Here I found an engineer who explained that the trail I sought actually took 6 hours and was very dangerous, and he drove me in his golf cart back to Red Frog.
So I began the arduous return hike. I missed the trail that had led me around the first headland and instead clawed my way through thick jungle. I found a great number of things that bit, poke, stung and stabbed, but fortunately never perturbed a poisonous snake; I did encounter a swarm of strawberry dart frogs, but luckily never felt the urge to eat one (I'm told this can yield very bad results). When I finally returned to Wizard Beach, I found it to be infested by backpackers and so asked one of them how he came to be there. He directed me to a signed, well-maintained path with boards over the muddy parts and no particularly challenging sections whatsoever. A number of tourists in bikinis, board shorts and flip-flops passed by me and really hammered home the point of how much unnecessary work I'd done to get to the beach. In about 15 minutes, or about a fifth of the time it took me to navigate the trail I invented to get out to the beach, I reached a concrete staircase into town. I grabbed a Creole dish with coco rice and used a toilet that emptied directly into the Caribbean, and, having exhausted the town's possibilities, walked out on the nearest dock and flagged down a ride back to Bocas.
I was a little frustrated with the overpriced island, so I found a boat back to the mainland several hours before my bus was set to depart. What I failed to realize was that the town of Almirante where the boat landed had exactly zero to offer, particularly on Sundays when all the internet cafes were closed. So I sat at the bus station for several hours waiting for my overnight bus to Panama City. While there, I bought a yogurt/jello cup from the supermarket without noticing that it was only a smidgeon below room temperature, and was more or less instantly sick. This is at least the second time this has happened to me and is just about enough to put me off third-world yogurt for good. Residents of these countries just don't seem to realize the need to keep this particular food cold, and it should be avoided at all costs.
A steady stream of backpackers showed up from the dock, and strapped their enormous bags onto the roof (one even attached an animal carrier containing a sizeable dog up there), and the bus filled up and took off 10 minutes ahead of schedule. About 20 minutes into the trip, we came upon a spot where a truck had run off the road seven hours prior and workers had blocked off half the road in order to fish it out of the river. Thus the only highway within a few hundred miles had been reduced to a flagged one-way road for a time.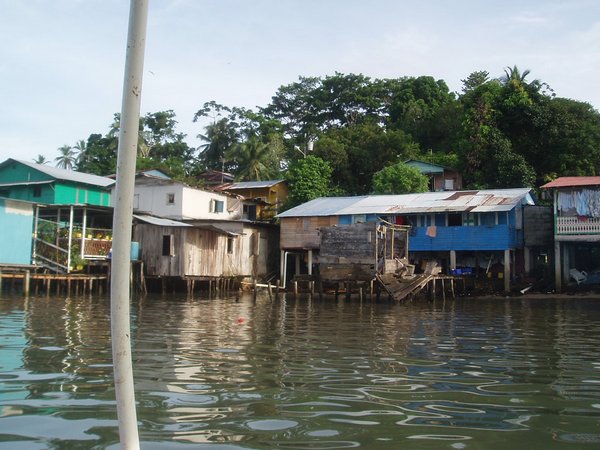 Town of Old Bank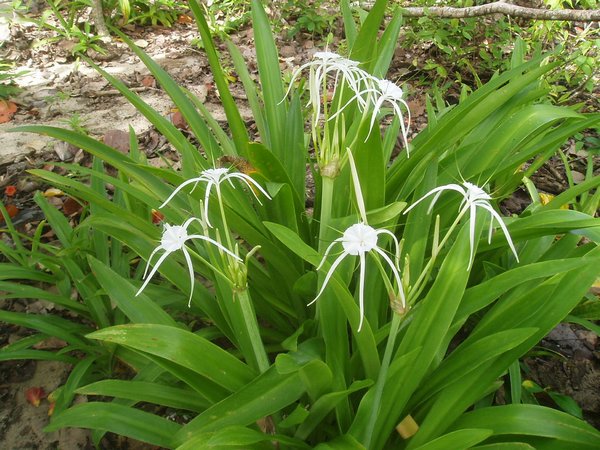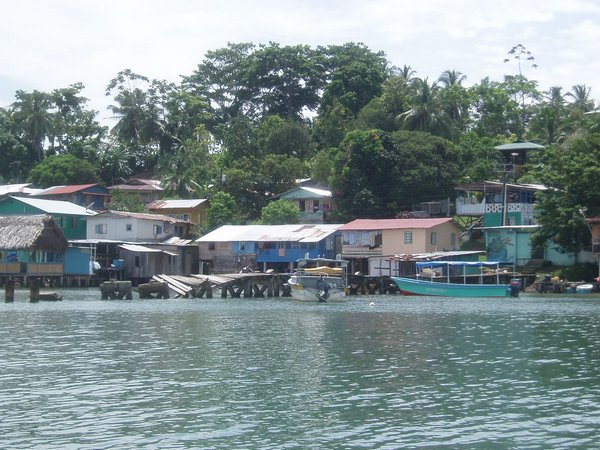 Day 9 - Camino Las Cruces
The driver was intent on getting us to our destination in the dead of night and drove at sickeningly breakneck speeds along the winding mountain roads. The shocks in the minibus were somewhat lacking, so a constant painful rattling sensation made it nearly impossible to fall asleep or even rest my head. The experience was roughly like riding a rickety old roller coaster for 8 hours straight and I was well on the way to losing my hasty bus-stop dinner by the time we arrived at 4 the next morning. I can only imagine what kind of ride that dog up top must've had.

The main bus station of the capital is enormous and it offers every possible amenity, many 24 hours a day. Sadly, the multiplex was closed when I arrived, but the Walmart-equivalent and internet terminal were both open for business. Around 5:30, I set out to do a hike in the rainforest near town. Despite the massive and often empty new terminal, most buses are caught at a jumble of stops in the middle of major intersections around town, so to catch any bus to Gamboa, I had to take a red devil from the station to a random street corner where 300 other people waited for their morning commute.

Pipeline Rd. is a world-famous birding trail where there is an excellent chance of seeing capybaras in the early morning hours. Unfortunately, there was a bit of a communication breakdown between the driver and myself, and I ended up at a .5 mile interpretive trail instead. I walked this and then headed down the road to the famed Camino de Cruces trail which was used by the Spanish to transport gold across the isthmus. Today, many of the stones that formed the trail are still there, and it's even possible to see the impressions of the mule hooves on the rocks, but for the most part, it's been reclaimed by the jungle.

Every park I had visited on this trip had issued the same mantra: "Yes, we have 5 species of big cats, many types of monkeys, agoutis, tapirs, anteaters, and sloths, but you will never see any of these." I thought that surely after hiking 150 miles of trail, my odds of seeing something would be pretty high, but here I was on my final jungle hike without a single mammal sighting (except a chipmunk) under my belt. Here though, I could feel the animals all around me; with every step, I would hear a new hoot, cackle, or squeal, and I knew they couldn't all belong to birds; every once in a while I would hear a crash in the bushes or a breaking branch - I knew that a thousand eyes were watching me, but I just couldn't pinpoint from where. Finally, in the last kilometer of the trail, I heard a barking. At first I believed it to be coming from a small dog that would soon attack me, but then I noticed a most peculiar thing; with each bark, there would be a crash high up in the canopy and a flutter of leaves would fall to earth. After observing this pattern for some time, I was finally able to make out a troupe of white-faced capuchin monkeys, including one baby clinging precariously to its mother as she bounded from treetop to treetop. After several countries, and several hundred kilometers, I had seen my first batch of furry rainforest critters in the western hemisphere.

When I exited the trail, I found myself on an obscure highway with no bus stops and walked for some time before a pickup pulled over and the driver motioned for me to hop in the back. With me clinging to the rail, he drove all the way back to the city. I attempted to catch a bus to Balboa, the capital of the Canal Zone, but ended up back in downtown. So I decided to see a bit of the city on foot and take in all the sights, sounds and delicious snacks along the way.

Panama City is nearly on par with Bangkok in regards to the level of chaos that permeates its streets. There are virtually no stop lights or signs, and drivers generally ignore the ones that have been installed, so the result is an all-out free-for-all among the monster buses, SUVs, and insignificant pedestrians. A thousand carts, bikes, and blankets offer up every manner of consumable good, be it bootleg DVDs ($1) or spiced mango (a quarter). The retail stores cover the sidewalk in their bargain-basement deals and pump their ACs out onto the steamy streets to lure people inside. A flurry of people from every ethnic group and walk of life swarm the avenues from sun-up to sundown.

The higher-end neighborhoods are considerably more boring; everyone just drives to the massive malls and supermarkets and there is no need for such street-level shenanigans. I spent a long time exploring these locales because the guidebook had listed them as the best place to find hostels. I had heard Panamanians didn't care much for backpackers, but it seemed they had completely eradicated them from this section of town; out of the five places listed, all had been closed down, and one had even reopened somewhere else and closed down again. So, after several passes, I was forced to return to the renovated slums I had visited on my first day in the country to find a place before the onset of the perilous nighttime hours.

In Casco Viejo, I quickly found a perfectly fine room in a very historic hotel with an excellent view. What I had failed to realize was that the acoustics of the surrounding buildings were such that every sound within several kilometers would be amplified and piped through my windows as clearly as if the whole neighborhood were standing on the third-floor balcony.

For dinner, I went to a Creole restaurant that was just closing down for the night. My first mistake was expecting a store run by Chinese people to deliver good Creole food; I discovered my second mistake when I bit into the ice-cold shrimp. When the server had offered me a discount, I had assumed it was just because they were about to close and didn't want the food to go to waste, but in reality, it was because the food had been sitting out unheated for several hours and would most likely poison me; chalk one up to the language barrier I suppose.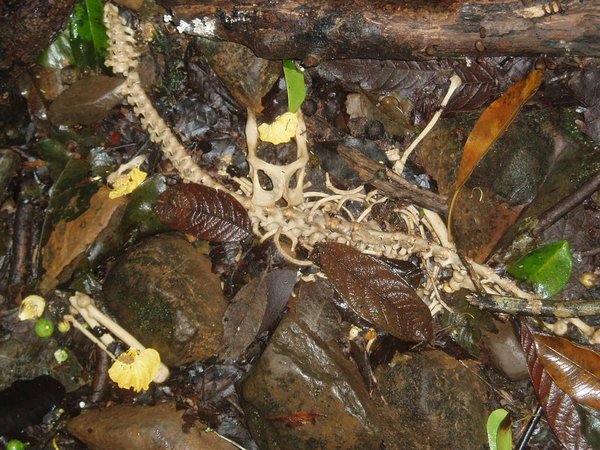 Any guesses?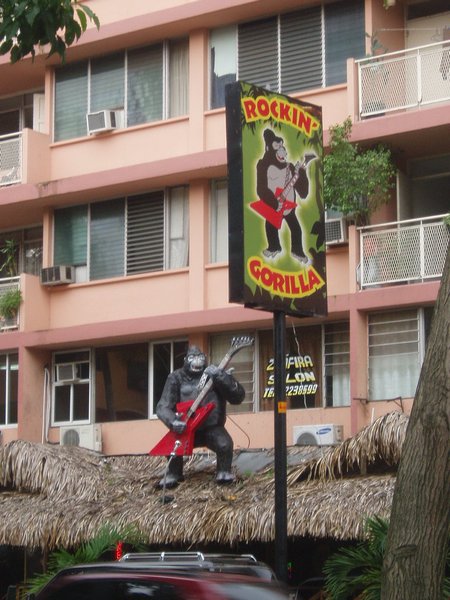 I'm pretty sure America is somehow responsible for this...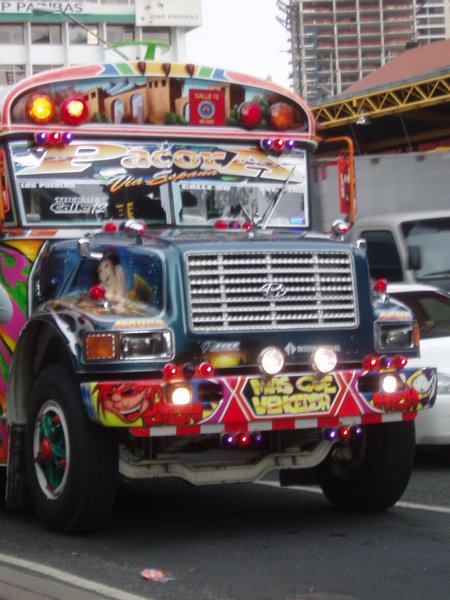 Don't you wish your school bus was this cool!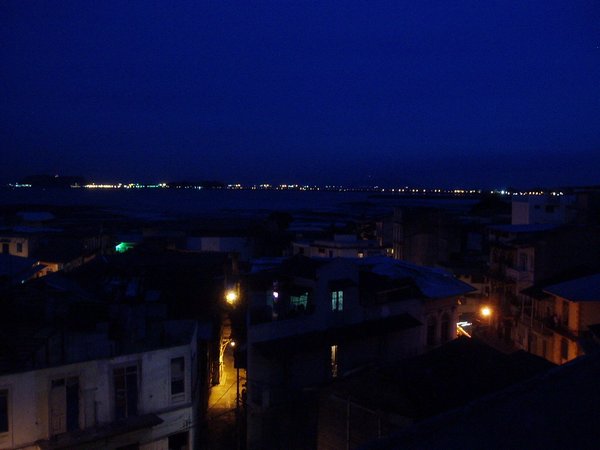 Rooftops of Casco Viejo
Day 10 - Portobello
My plan for the day was to go to the town of Portobello and visit the various Spanish forts in the vicinity. In the morning, I set out to walk to Cinco de Mayo, the city's main bus area, where I could catch a ride on a red devil to the station and get an intercity bus north. Confident in my knowledge of the area, I didn't bother looking at a map and began walking in the general direction of where I thought the plaza would be. As it turned out, I was actually one street over from where I had intended to be and had wandered into a disreputable part of town. Fortunately, the city's police force had anticipated this eventuality and had set up a tight perimeter around the tourist district. A pair of camouflaged cops scrutinized my passport and tried to ascertain my reason for being there by pantomiming smoking a joint and drawing out lines of coke. When they were reasonably certain I hadn't come to satisfy my American drug lust, they escorted me for a few blocks before handing me over to a tourist police car. This new set of cops drove me to the terminal and didn't leave until I had bought the ticket and boarded the bus to Colon. Panama City's finest had once again proven an excellent alternative to high-priced taxis and slow, frustrating public transport.
The city of Colon on Panama's northern coast is quite an interesting phenomenon; according to the guidebooks and every person I've talked to, it is basically a self-contained sore of violence and corruption in an otherwise safe part of the country. Upon entering the city limits, a tourist has about a 95% chance of being mugged, regardless of where he goes or what he does. Curiously, this is the destination for most Panama-bound cruise ships. Needless to say, I was prepared to go to considerable lengths to avoid entering the city. I got off the express bus at Sabanitas, a good 30km short of its destination, and hopped on a red devil, adorned with neon green boas and subwoofers that shook the seats nearly as much as the crummy road.
In another hour, I was in the coastal village of Portobello. Now a somewhat sad, poor little town, it was once one of the primary points of Spain's defenses on the isthmus, and was home to three separate forts which collectively, were overrun on seven different occasions. The forts and lookout point made for an interesting half-hour walking tour, and the old customs house held a few relics. The town is also home to the famous Black Christ statue which has an incredibly rich history that has led it to become the center of a massive annual festival, the focal point for thousands of devotees, and the motivation for a slew of gift shops around the church plaza.
My plan for after the forts was to head to Gatun and see the massive locks in action. As I researched this idea further, however, I discovered I would need to wait at the Colon station, or at an arbitrary stop on the periphery of the city, for up to an hour to catch the next bus. This disagreed with me on several levels, so I instead got off at Sabanitas once again. I flagged down an express bus, and for some reason, the driver actually allowed me to get on, and even gave me a stool so I could sit in the cockpit. We took the scenic route over the Madden Dam and the driver briefly turned tour guide to tell me about the engineering marvel.
Back in town, I ordered "Chow Suey" at a restaurant along the main strip. I figured that I might as well let the Chinese staff make me something they knew. One of the vegetables had what appeared to be a maggot sitting on it, but it at least seemed to be well-cooked. For desert, I grabbed a "Corn Flake" smoothie, which was pretty much what you would get if you were to leave a bowl of cereal sitting for too long, and then add a bunch of ice and sugar - it was really quite tasty!
I went souvenir shopping in one of the main artisan markets and found a lot of really awesome stuff that would never fit in my carry-on. It seems Panamians don't really care to bargain all that much; they give you a fair price up front (particularly if you're dirty and smelly) and never really back too far off of it.
Intent not to return to the noisy room from the night before, I checked out the backpacker digs in the old neighborhood. I found all beds were filled (and a number of couches as well), so I fell back on the hotel from the previous night, but convinced them to give me a tiny, quiet interior room. And at $10, it was a much better deal than the $14 I would have paid to share a room with 15 other people.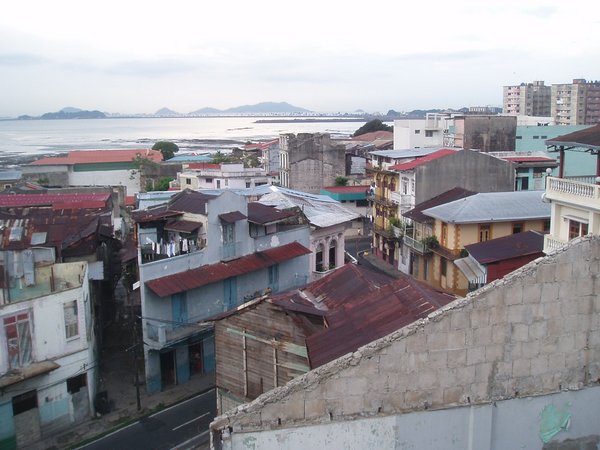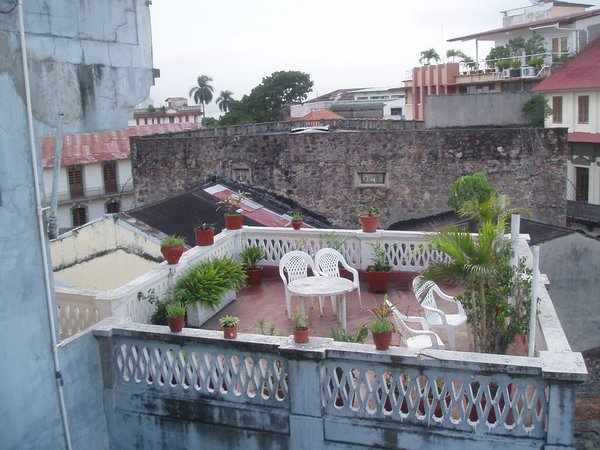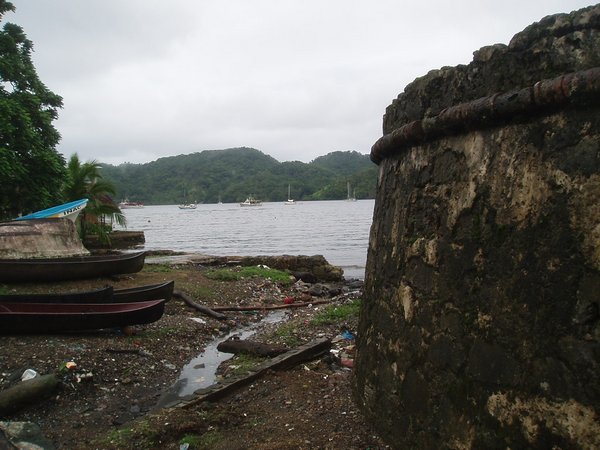 Fuerte San Jeromino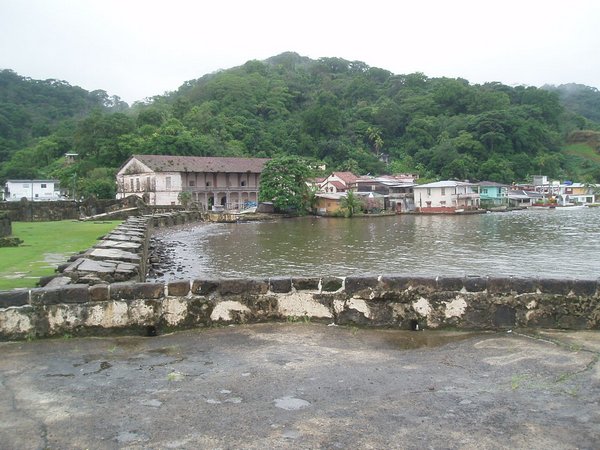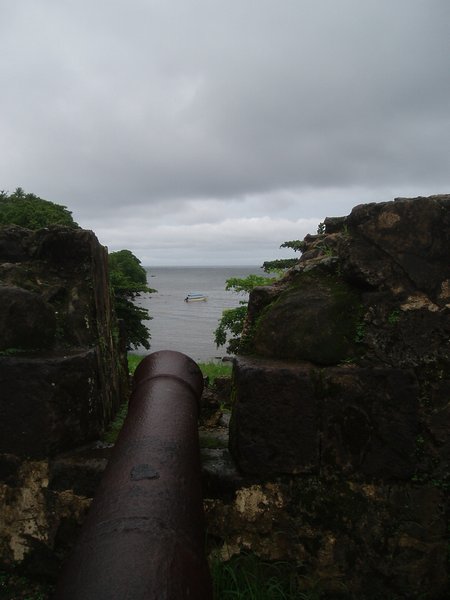 Fuerte Santiago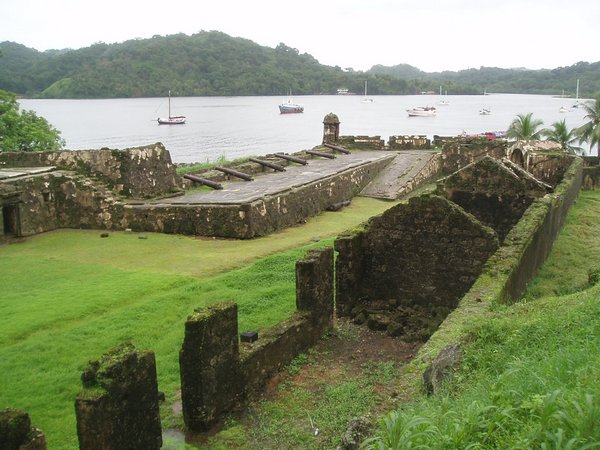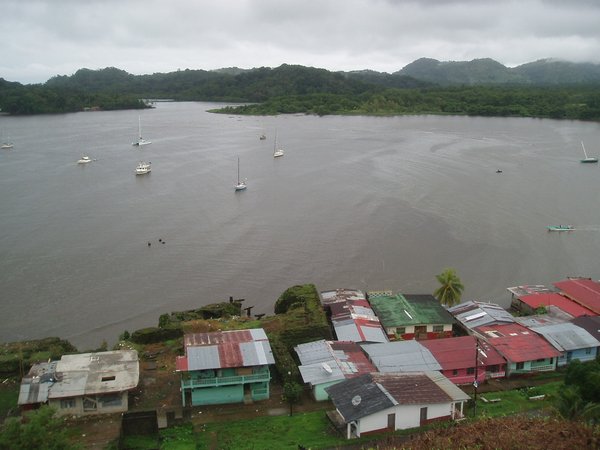 Day 11 - Panama Viejo
After dropping by my favorite breakfast joint for cinnamon oatmeal and yucca, I walked to Cinco de Mayo to catch a bus to Panama Viejo. This square is an excellent place to catch a bus, with one of the gaudy behemoths passing about every 5 seconds, but if yours happens to be one of the few infrequent ones, it's a great place to get lung cancer. When my bus pulled up after half an hour, I had inhaled so many diesel fumes that I was about ready to cough up a lung.

It would stand to reason that a bus bound for Panama Viejo would actually terminate its run in that place, but my bus passed right through it and stopped at a non-descript shopping mall a mile up, making for a rather non-scenic walk back to the ruins. Panama Viejo still had extensive Spanish buildings remaining as late as the 50s, but no one got around to protecting it until decades later, after the surrounding residents decided it would be a great source for scrap. Now there are only scattered remnants of walls, a reasonably complete church, and a well-restored 4-story tower. Three bucks buys you permission to wander around the ruins, climb the tower, and visit a small museum where they've translated parts of many of the signs. To give me the energy to complete this arduous learning experience, I found a shop selling 40oz banana smoothies for a buck - not a bad deal when you consider the typical smoothie shop in America charges $4.50 for a pint!

Continuing with the museum theme, I headed back to the old town to visit the excellent Canal Museum. Though its hundreds of detailed descriptions are in an often indecipherable foreign language, it has a plethora of exhibits on the history and current operation of the canal and of Panama as a whole, and is most likely the finest museum by a long shot in the whole of the country. The highlight was definitely the fast-motion video of a canal transit, but there were many valuable lessons to be uncovered, including a fascinating article on how camels were once used for transport across the isthmus until it was discovered that they were poorly suited for the tropical climate. I found it hard to pull myself away to go check out of my hotel (Panamanian hotels usually take into account the afternoon siesta and provide a 2PM checkout time).

After grabbing my souvenir-laden bag, I made my way to the natural sciences museum. This had all the dead stuffed version of all the animals I had failed to see in the wild. In the exotic animal collection, I was excited to see a creature called a "Florida Duck" from the American southeast.

I headed back to the upscale Cangrejo district and found a theatre running new releases for $2. The only two offered in English were Get Smart and Sex in the City; somehow I sided with the spy flick.

I had taken a small reprieve from my vegetarian tendencies so that I could enjoy the many traditional dishes on offer and not confuse/annoy every restaurant worker I came across, but now that I was in the one neighborhood in Panama that offered a ton of varied dining options, I decided to try a vegetarian take on the traditional cafeteria. I was one of the shop's final customers for the evening and the owner was truly elated see me. As I ordered one item after another, he thanked me repeatedly - apparently quite grateful that I was finishing off all the delicacies he would otherwise have to throw away. There were a few small fireballs that streaked across the ceilings of the kitchen and dining area while I was eating; the owner made a few comments in Spanish but did not seem overly concerned by this.

After dinner, I crossed to a quickie mart and asked for directions to the airport bus; a troop of 5 college girls found that they couldn't provide adequate directions given my limited understanding of the language, so they proceeded to drag me several blocks through the dark streets, introducing me to all their friends along the way. A bus showed up the instant we arrived at the stop and I became the 27th standee in a vastly overcrowded aisle. One thing I never figured out on the 1-hour run to the Tocumen suburb was how anyone had any idea when they had reached their stop, given that they had no way of shifting themselves in the mass of bodies to look out a window. When I heard the roar of a jet engine, I found we had passed my stop some time ago. And so my trip ended, as these things often do, with a short hike down a dark highway toward the distant lights of the departure lounge...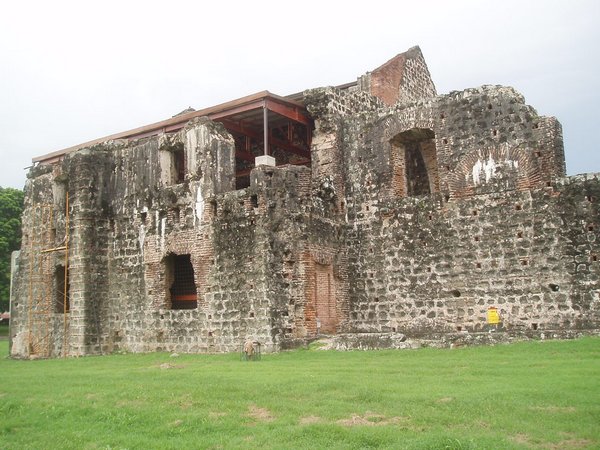 Old church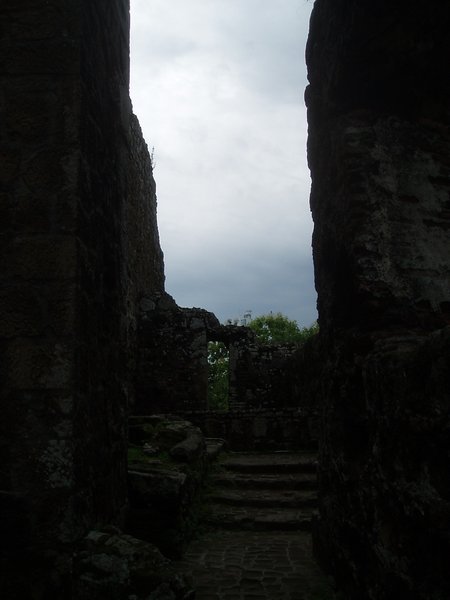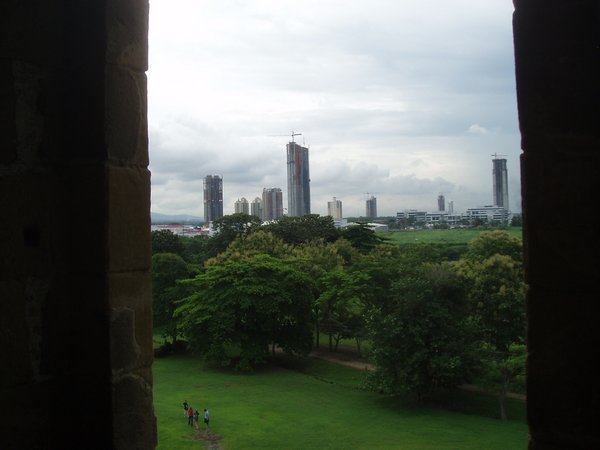 View from the tower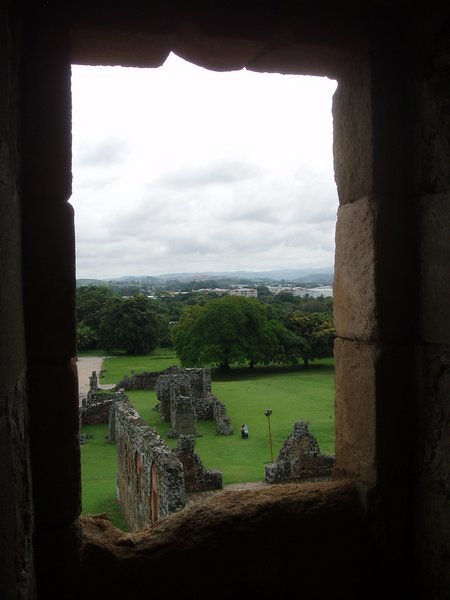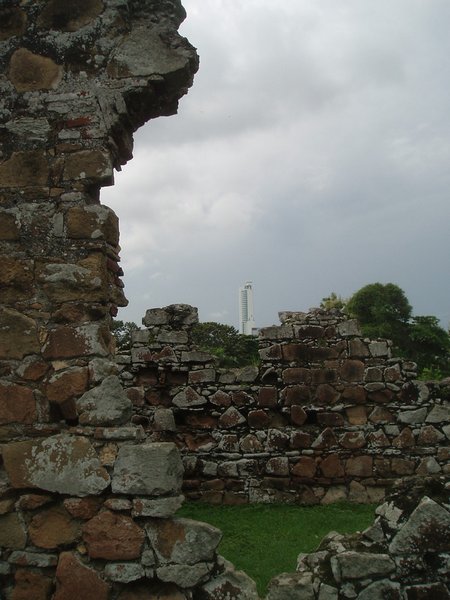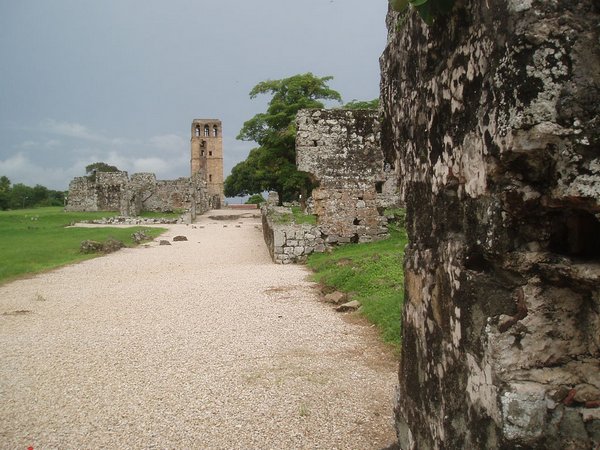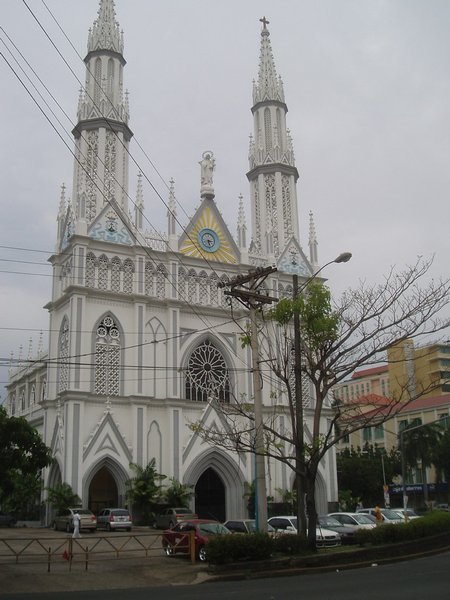 Cinderella's Roman Catholic Church