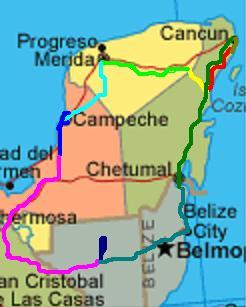 I have never pretended to understand the intricacies of the semester scheduling system. Even though the spring semester starts at approximately the same time each year, the length of Christmas break swings wildly between two and four weeks, so that in some years there's plenty of time for a multi-week vacation, while in others you're lucky if you can finish your exams in time to hit up the last-minute sales at Walgreens to pick up your family's Christmas gifts. This year was of the latter variety, with the last final falling on December 18th. As luck would have it, the professors in two of my classes were leaving the country in the first week of the month and would therefore not be giving finals; I dropped the third class following the discussion of the syllabus when it was revealed that we would be using the appointed final period on the 17th.
Day 1 - Arrival
We headed to Ft. Lauderdale the day before my term paper was due (I'm hoping my early submission came across as studious). Unwilling to once again park my car in a random retail lot for weeks at a time, we arranged to get a ride from Andie's friend's dad. He was remarkably chipper at 7 in the morning, but, having departed from Naples two hours earlier, we were noticeably less so.

It took a little over an hour to make the hop across the Gulf, and we woke to find ourselves soaring over a long, uninterrupted expanse of impenetrable jungle. As the plane dropped to just a few meters above the canopy and we braced ourselves for a crash landing, concrete abruptly materialized in time for our wheels to touch down. An ice-cold tunnel deposited us into a state-of-the-art facility that, leveraging the hefty pocketbooks of millions of tourists, had defied the sweltering wilds that surrounded it. This was Cancun, a grand experiment by the Mexican government, begun less than 4 decades ago, to extract, via any means necessary, every dollar possible from the wealthy residents of the temperate climes, who could not help but be drawn to this perfect combination of white sand and blue water.

The airport had been designed in such a way as to make it almost impossible to leave it without employing some sort of ridiculously overpriced shuttle bus or taxi, but we were determined to try regardless. We started walking down the side of the four kilometers of road separating us from the main highway. About every other car honked at us to offer a ride, but we had not yet learned the subtleties of the local hitch-hiking protocol, and managed to secure a ride with none of them. Finally, someone broke with protocol and pulled over; it was a reasonably sketchy-looking car, but had an old granny sitting in back, whose presence sufficiently detracted from the vehicle's sketchiness to make it an appealing alternative to walking 40km down an unshaded highway to the next town. We agreed to pitch in $4 for a ride to Playa del Carmen.

Arriving on the outskirts of town, we failed to realize that our guidebook had a comprehensive map of the area, and hiked down an interminably long commercial road in search of the bus station. It was only until we had walked for over an hour that we discovered a parallel beachfront pedestrian walkway which led directly to the terminal. We were a bit too tired to peruse the town after that, and, at any rate, it came across as something of a soulless tourist trap, so we sat and waited for the next bus to Tulum.

We arrived at our destination an hour after its famed seaside ruins closed, so we found a hotel and set out again to wander aimlessly for a while. For dinner, we found a vendor selling hotdogs wrapped in bacon and smothered with mayo and peppers (Andie's favorite!), and another selling cheese crepes. Having heard rumors of a nighttime-viewing of the ruins, we walked north of town in search of them, but finding no safe straight-forward path, eventually returned to our room in defeat.

One thing that becomes immediately apparent when visiting Mexico in December is that Christmas is kind of a big deal. Massive light displays adorn every government building, sleds with eight tiny reindeer dangle from every balcony, robot-santas dance in the streets, and glowing metal trees tower over even the highest structures in town. Every shop has piles of lights, each strand playing its own classic tune, as well as all sorts of manger accessories. A surprising aspect of Mexican manger scenes is that they often feature animals that would never have lived on a farm or even roamed within a thousand miles of Bethlehem; some of the more intriguing options included the giraffe, the three-legged turtle, and the Abominable Snowman.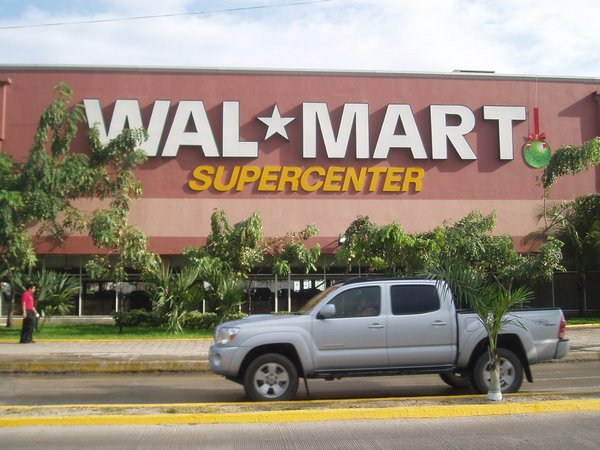 I knew that 80-minute flight was too short!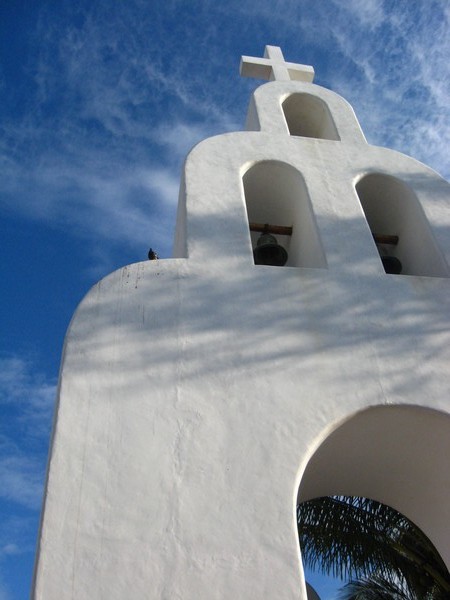 Playa del Carmen

The spoon is such a versatile instrument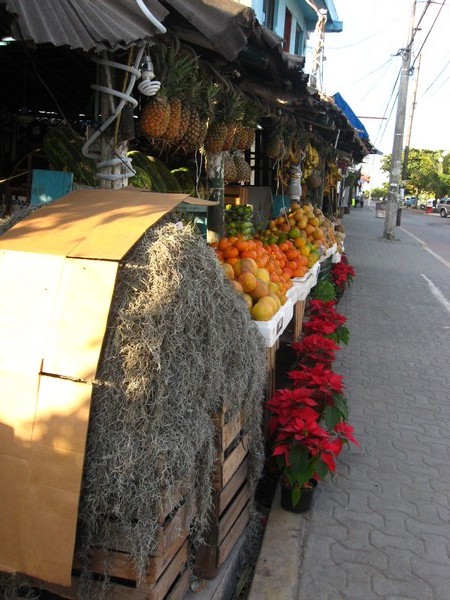 Mangers are a huge business in Mexico, and so too are Spanish moss and plastic farm animals
Day 2 - Tulum, Cenotes, Coba and Valladolid
I woke up before the crack of dawn to scour the streets for some breakfast-like food, but found nothing beyond pork tacos. Raising Andie, we began the long trek towards the ruins; after several kilometers along a brutally hot bike path, we hailed a cab and got to the site just as the ticket-taker was reporting for duty. There wasn't much to the Tulum complex, but it did have a nice view of the sea and some fun climbing routes. As we left the ruins, several thousand tourists descended on the place, delivered in droves by the fleets of tour buses from Cancun.

Our next destination was Gran Cenote, but getting there was a trick since every taxi driver carried with him a pamphlet instructing him to charge every white person a specified exorbitant rate for the 3km journey. We walked for a half-kilometer before stopping for tacos featuring chicken, fish, and hashbrowns, accompanied by an amazing rice drink known as horchata. We then bargained a driver down to the (still ludicrous) fare of 30 pesos and were at the sinkhole within 90 seconds.

Thought to be among the best in the peninsula, Gran has a handful of rooms where you can snorkel under overhanging stalactites and over submerged stalagmites. Bats flittered over our heads, while colorful fish and cave divers swam below us. Upon exiting, Andie sweet-talked some Italians into giving us a ride 40km to the next set of ruins.

The temples at Coba were far more impressive than anything at Tulum, with well-preserved ball courts, tunnels, and a 42-meter-high pyramid. We climbed to the top of the latter structure to get a view of the seemingly endless jungle around the site. The onward bus would be a couple hours so we caught a ride with a friendly German out to the highway, where we managed to flag down the slowest vehicle on the road. A semi with a 15m-long metal cage cruised along the empty highway at just under 60kph; it dropped us off at dusk at the turn-off for the Valladolid beltway, the town still 7km away. Fortunately, a bus came along shortly thereafter and deposited us in the center.

The Yucatan has a wide range of delicious foods, but these are often very difficult to come by. Restaurants are relatively infrequent and typically only open from 1 to 5. The locals just eat snacks the rest of the time, but these, although they bear such familiar names as tacos, burritos and empanadas, bear absolutely no resemblance to their American counterparts, and are almost always prohibitively unhealthy. Given this, we were thrilled to find a food court in Valladolid that served full meals well into the evening hours. I ordered Carne Asada, and Andie (unwittingly) ordered chicken smothered in dark chocolate sauce; somehow I lost all rights to my dish the moment our food arrived, and I was left to suffer through a bizarre mix of flavors that was never meant to be.

Though I was stuffed with that incongruous combo, Andie convinced me to try something from a street vendor that resembled ice cream and looked for the all the world to be cool and refreshing. It turned out to be hot corn smothered in mayo, condensed milk, sour cheese, and chili powder, and it was every bit as refreshing as it sounds.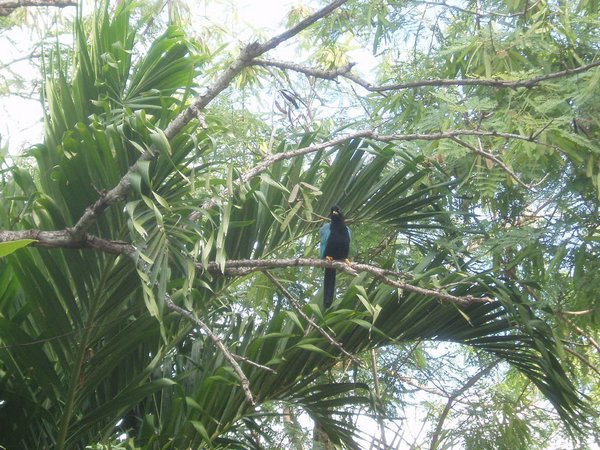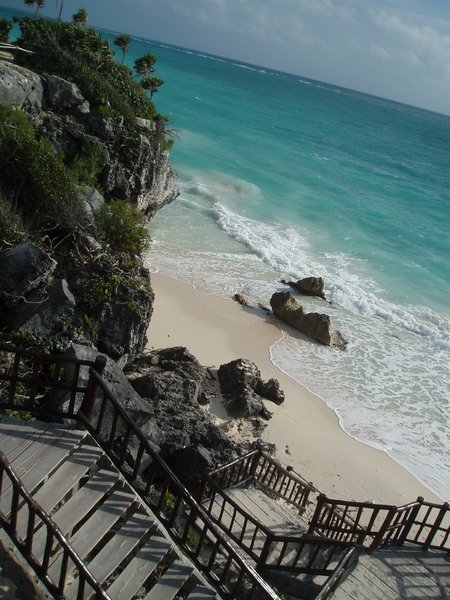 Beach at the ruins of Tulum (moments before it got swamped with Cancun day-trippers)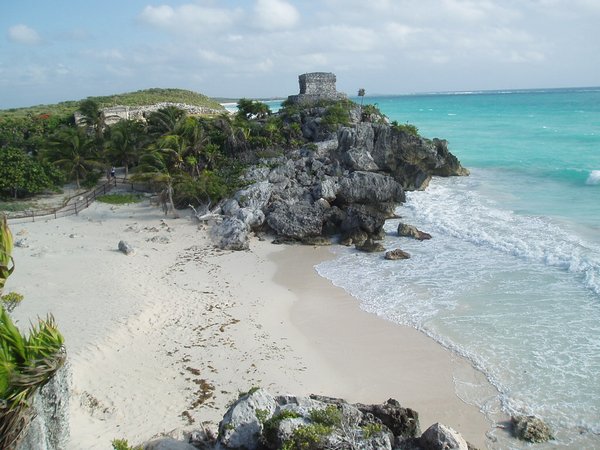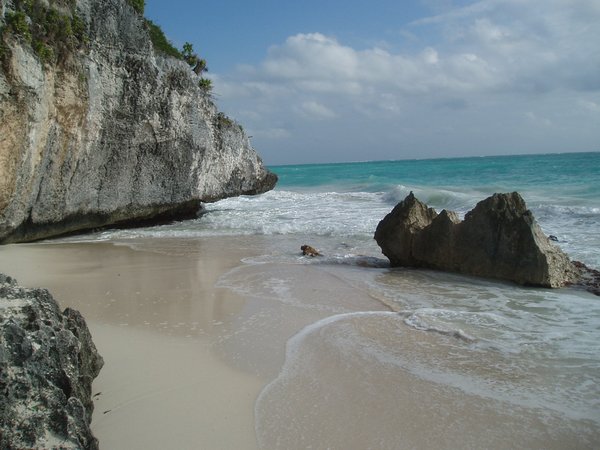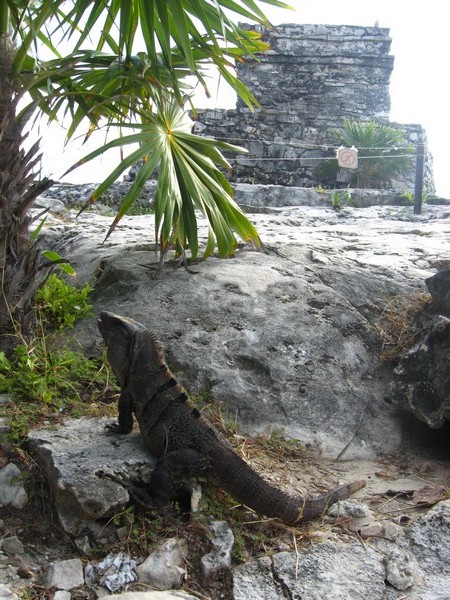 Local species of squirrel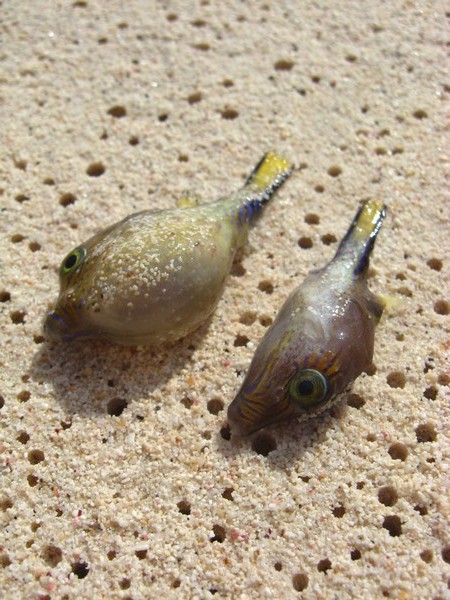 Andie spent half an hour collecting these things from all over the beach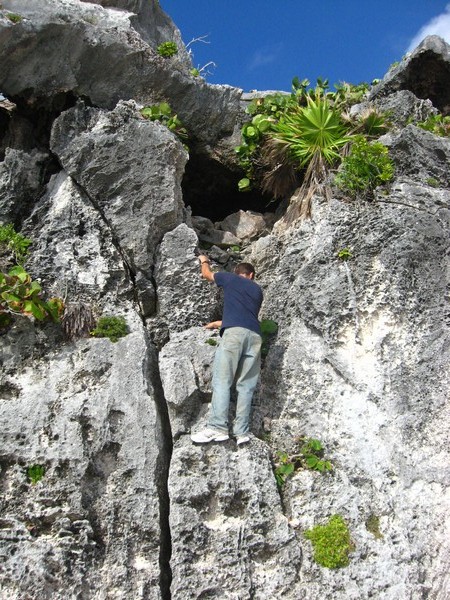 Scurrying up to a cave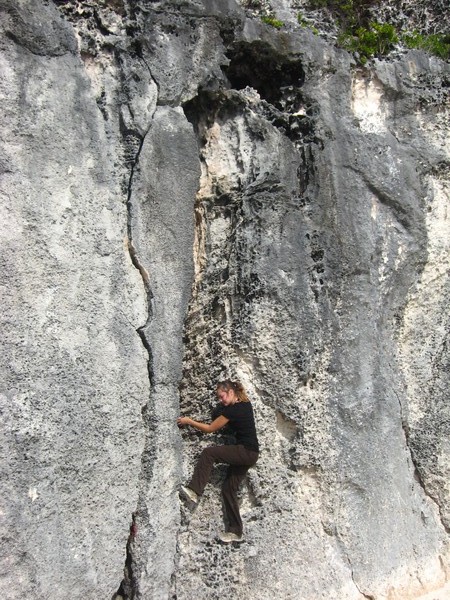 Climbing the crack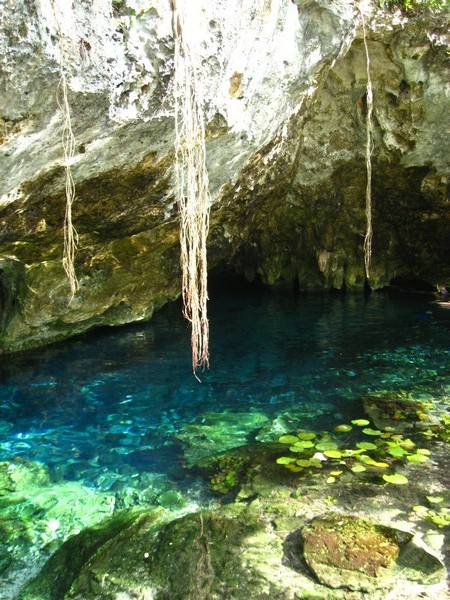 Gran Cenote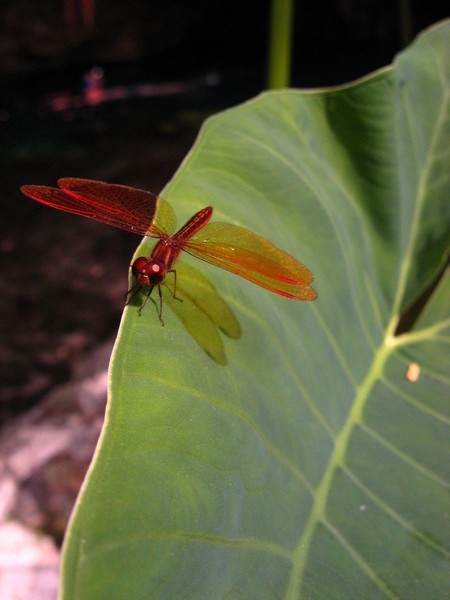 Andie tells me this is an actual live bug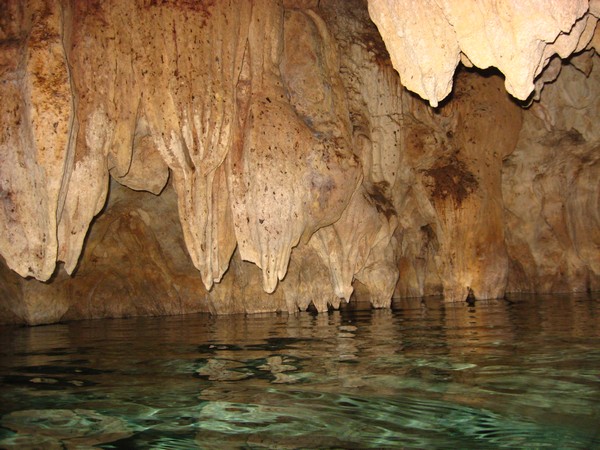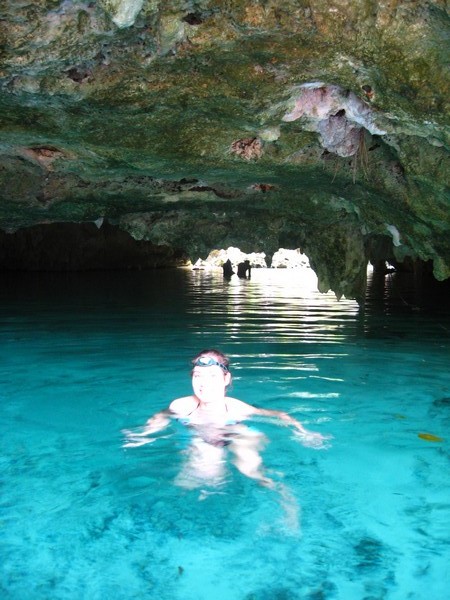 Ghost Andie

The great pyramid at Coba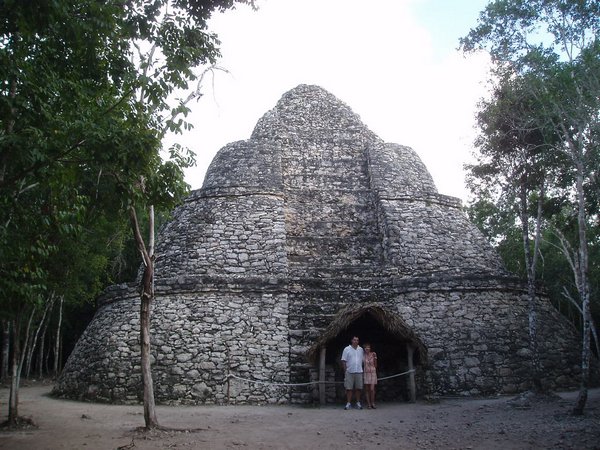 Some random couple doing their best to ruin my picture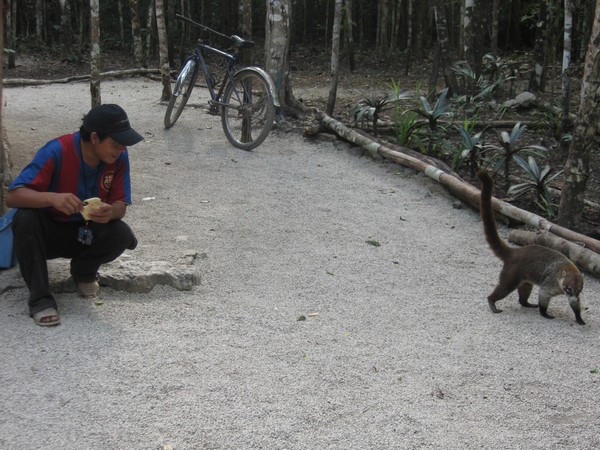 How to insure that the tourists see some wildlife on their visit...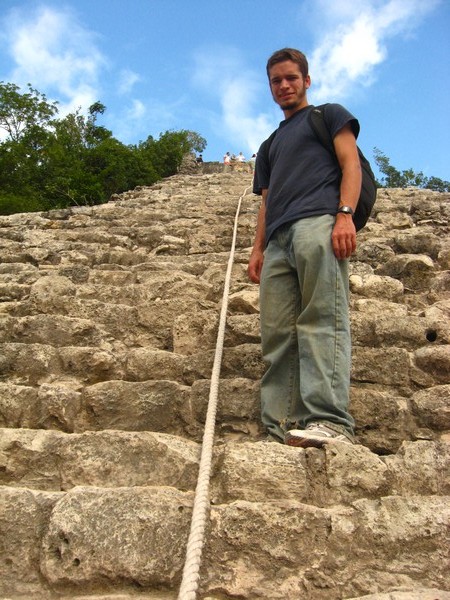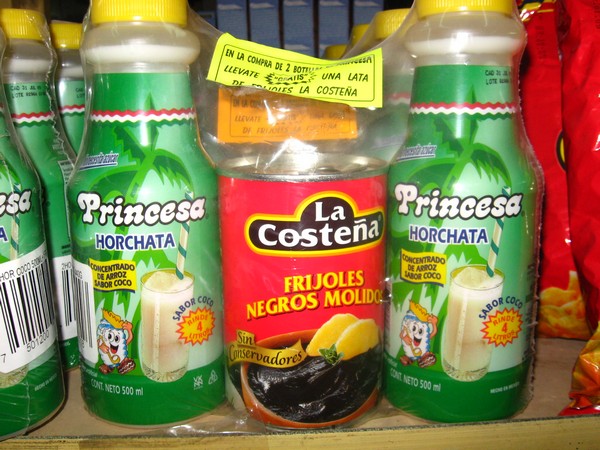 A very popular custom in Mexican supermarkets is to offer a discount if you buy a bundle of products that have nothing to do with each other (sweet drink mix and refried beans in this case)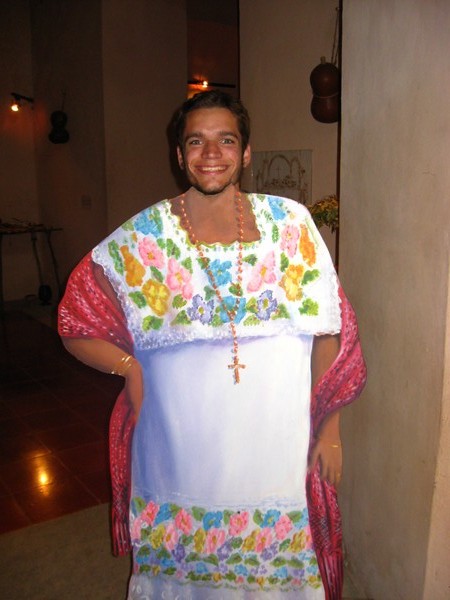 Me as a Mayan woman

Andie as a musical savage
Day 3 - More Cenotes, Chichen Itza and Merida
We had been a bit perplexed when we had found a hotel on the main pedestrian drag with the lowest prices in town - even more so when we discovered it had sixty channels of cable and hot water. It began to make more sense when we awoke to find a dozen small insects, engorged with our blood, climbing all over the bed and walls.

It took a bit of time to find someone who could let us out the front door of our motel at 7 in the morning, but as soon as we did we set off to find some more cenotes. The caves were only 7km from town and were readily reachable by bike or colectivo, but neither the bike rental shops nor the van drivers had made an appearance, so we began walking. After a few kilometers we grabbed a taxi and arrived at Cenote Dzitnup just as it was opening for the day.

Dzitnup was a terrifically atmospheric water-filled cavern with a single beam of light streaming from a hole in the ceiling and lighting up a small section of the water; most of the remainder was illuminated by flood lights. Long bunches of roots dangled to a level just above the water, and hyperactive bats and giant cave catfish moved through their respective elements. We spent an hour swimming with the whole place to ourselves before anyone else showed up. Just across the road lay the equally impressive Cenote Samula where a single tree dropped its massive roots a hundred feet down to an island in the middle of the pool.

We returned to the highway intersection and tried to find a bus to the famed ruins of Chichen Itza. In the first ten minutes, we saw about thirty tour buses en route from Cancun but not a bit of public transport. We eventually hailed a PT-cruiser which was driven by an English-speaking resort worker from Cancun and, barreling down the jungle highway at breakneck speeds, managed to overtake every last one of the buses that had passed us earlier.

The setup of these ruins was highly reminiscent of Disney World (minus the thumb scanners and huggable mascots) and the site was plagued by nearly as many visitors. The structures are well-preserved and of an impressive scale, and the two large cenotes equally so, but what really gets your attention are the 500+ souvenir stands selling every Mayanesque artifact you could imagine, and almost all of them go for 1 dollar or 10 pesos (still assumed to be equivalent by most here). Andie rounded out the visit by spelunking a cave that had been poorly secured by widely spaced sticks; here she supposedly found some ancient Mayan cave art.

We found an onward bus to Merida within two minutes of leaving the site and arrived in the bustling metropolis two hours later. An afternoon thunderstorm had us racing from awning to awning and eating at every covered snack stand and ice cream shop in a futile attempt to avoid the downpour. When we found the recommended hotel, we were shown a room with no running water, graffiti on the walls, and a location just a few feet from a noisy thoroughfare, but we accepted it so as to avoid venturing back onto the sodden streets.

We went to a free talk on exploring the ruins of Calakmul, which lies deep within the jungle near the Guatemalan border. The first half of the talk was given in Spanish and the second in English, and so we were left to figure out the more advanced elements having understood nothing of the introductory parts. As luck would have it, there was also some sort of celebration of the city next door with lots of free hor d'oeuvres and we got stuffed on little sausages and spinach tacos.

Returning to the hotel, we quickly opted to seek out a new room with a working bathroom. I went to the desk clerk, and, after a lengthy consideration of the key board to discover a room amidst the dozen or so available that fit my restrictive criteria, told me that he would have one ready in ten minutes time. This interval as it turned out, gave that clerk just enough time to finish his shift and go home; the new clerk had not heard of my previous request, but after another few minutes of contemplating the key board, he picked out a new room for us.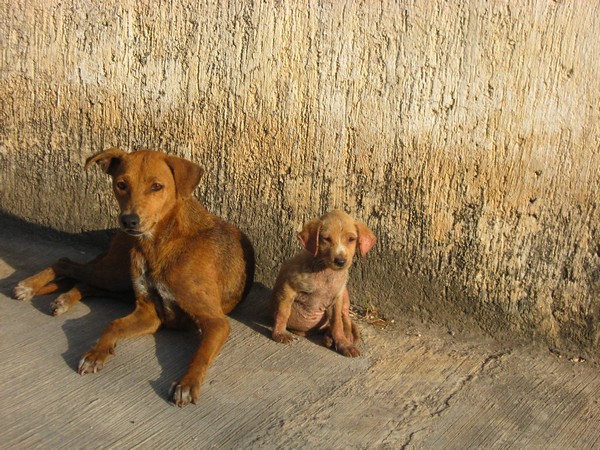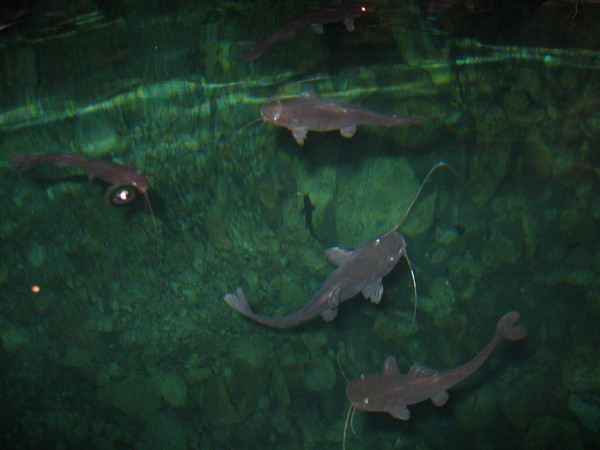 Giant cave catfish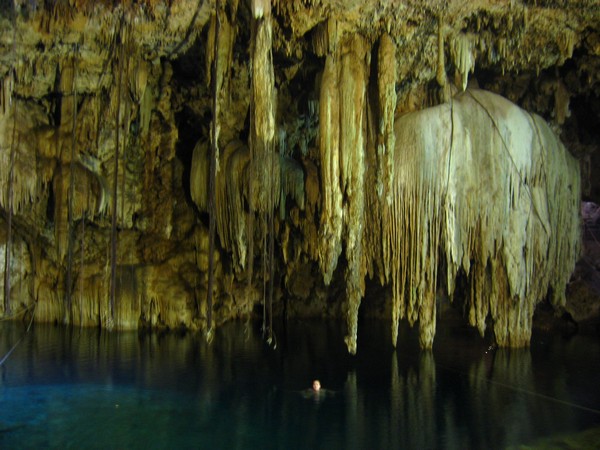 A very tiny Andie amongst the enormous formations of Cenote Dzitnup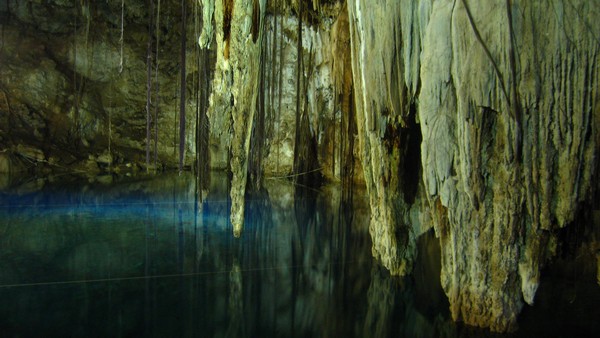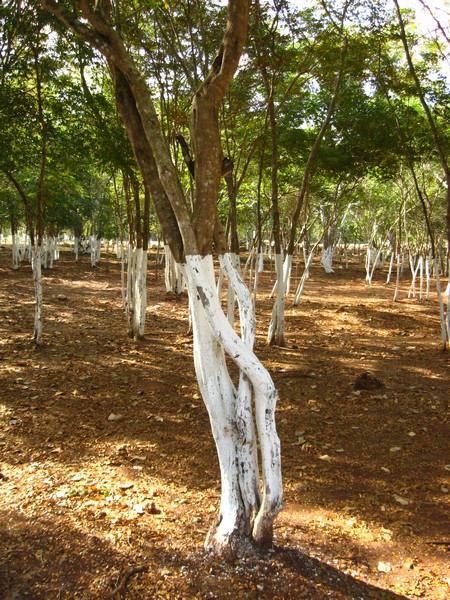 All the tree trunks in Central America have been painted white. I have no idea why.

The massive roots of Cenote Samula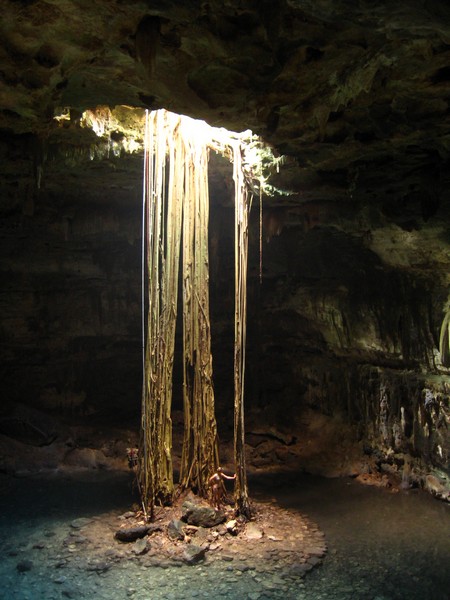 Andie amidst the monster's tendrils

Typical signage to aid the English speakers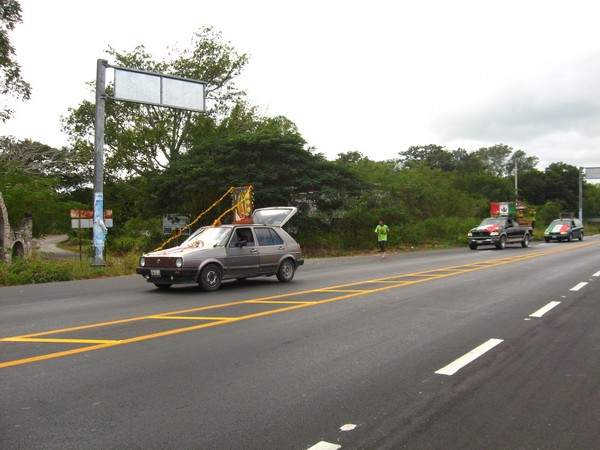 Around this time each year, the Mexicans entertain themselves by making their school children run around the country.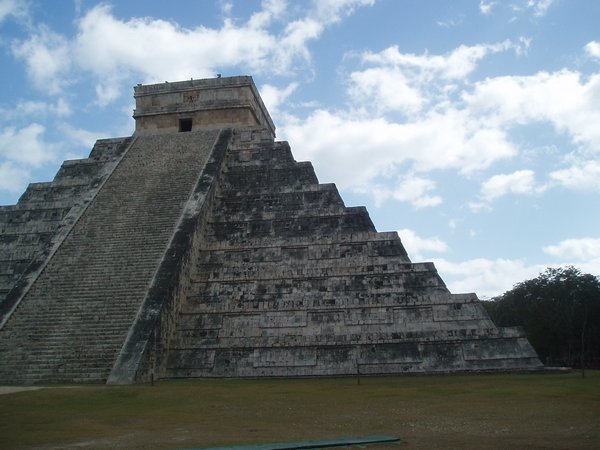 Quite possibly the most photographed pyramid in the world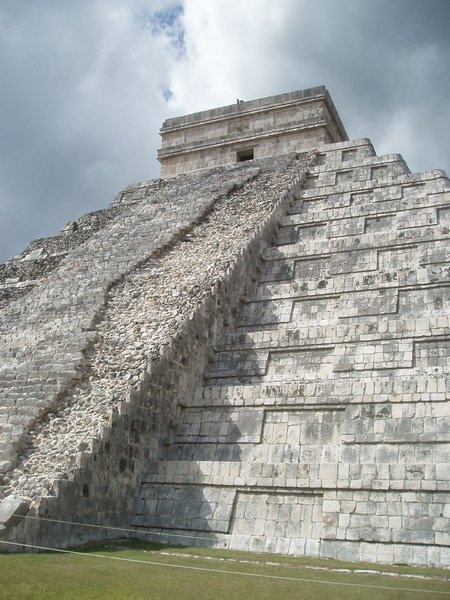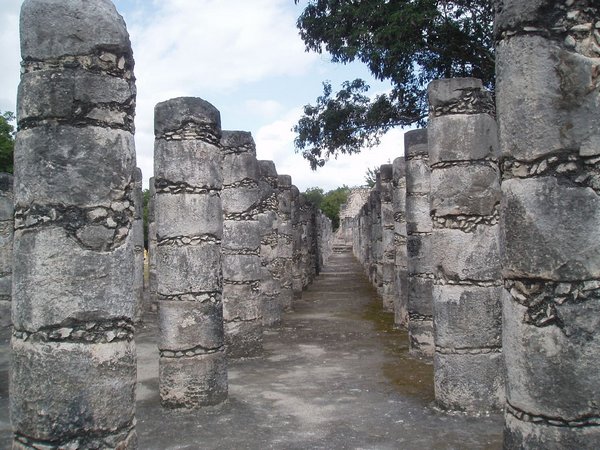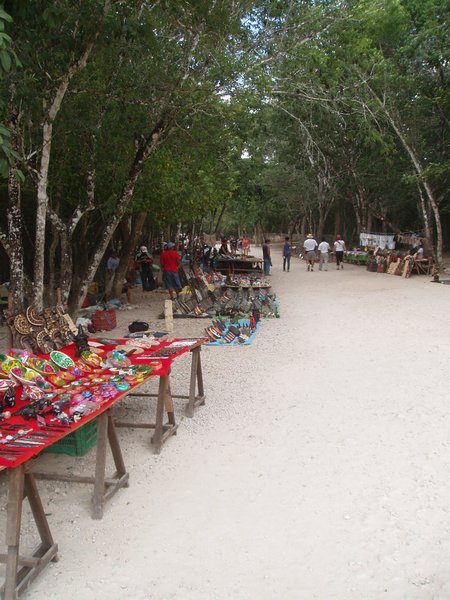 More souvenir vendors than tourists (and that's saying a lot!)

Cenote at Chichen Itza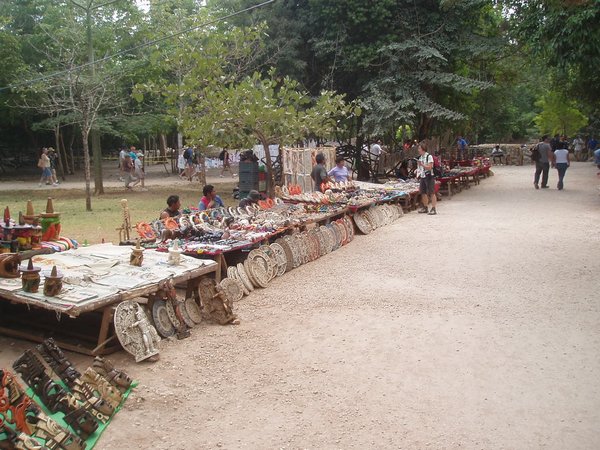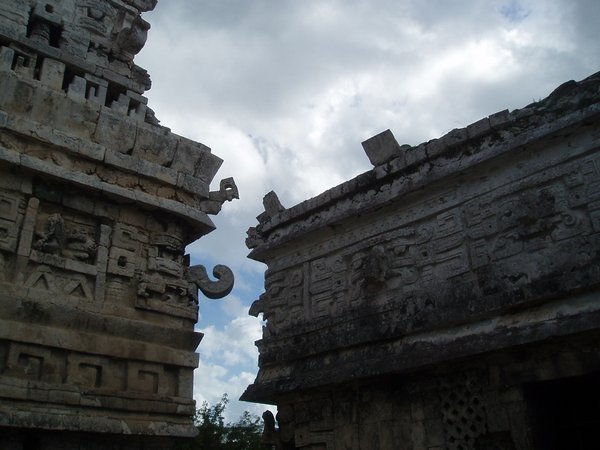 Andie exploring a poorly secured cave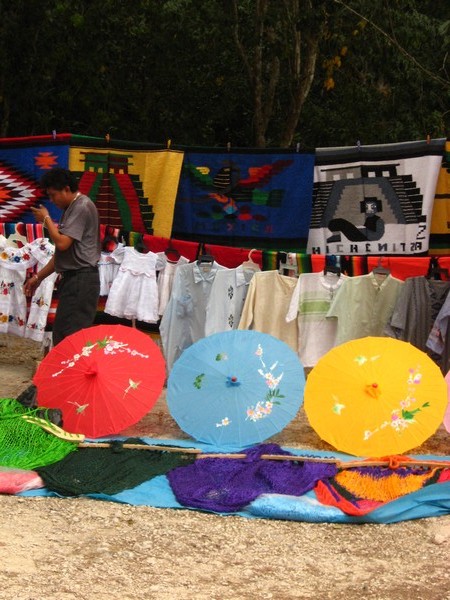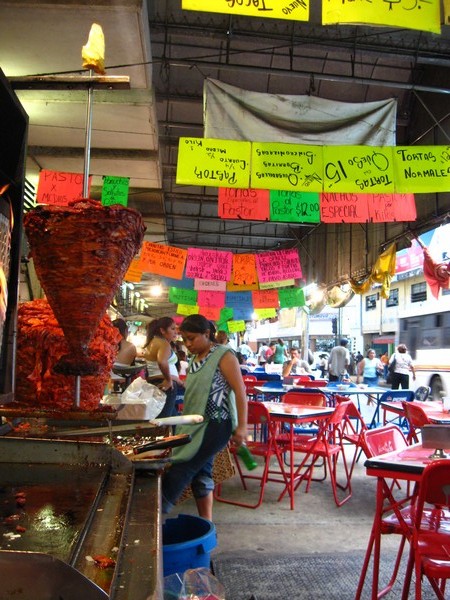 Snack vendors at Merida's market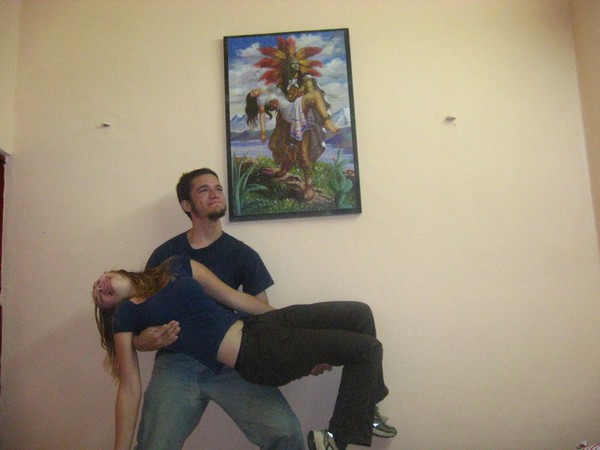 Way harder than that Mayan makes it look
Day 4 - Uxmal
I took an early morning stroll around the city and soon found the traffic-clogged grid to be just as unappealing as it had been the day before, so we decided to forego the museums and other cultural attractions of the big city and head to the hills for some more ruins. We got to the friendly little village of Muna by colectivo and then, failing in our attempts to rent a motorcycle for the Ruta Puuc circuit, took a bus the rest of the way to Uxmal.

These ruins had the same Disney-like entrance and pricetag, but lacking a direct highway connection to Cancun, were thankfully lacking in both tourists and vendors. As a result of the lower visitor numbers, it was still possible to climb up or into nearly ever structure.

Following our visit, we arrived back at the road just in time to wait two hours for the first bus to come along. This took us halfway to our destination and we had another hour to wait before the first Campeche-bound bus was due to arrive. The station's one open snack bar offered hotdogs with condensed milk, ham and cheese toppings, as well as burritos, which consisted of tortillas wrapped around hotdogs, condensed milk, ham and cheese. We shared the station with a small number of Mennonites who stood out for their pale white skin, cowboy hats, overalls, and cargo of large solar panels; this is a very peculiar people that lives on isolated farms throughout the region and in large part, only speaks German.

We arrived in Campeche around 10 at night and were immediately struck by just how walkable the colorful cobblestone streets were at that late hour. We secured a few beds in a hostel on the main plaza and went up to the roof to listen to the heavy metal tunes being performed in the park below and watch the fireworks exploding in the sky overhead. Just down the street, an ancient church featured an art exhibition with live jazz, and high-society couples strolled through the quiet streets far more readily than their counterparts would dare in most American cities.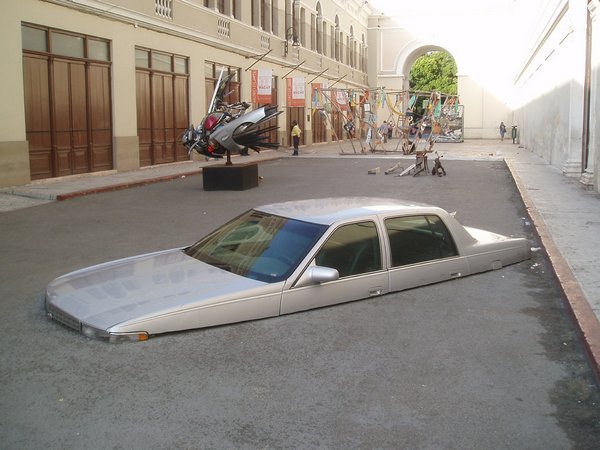 Yet another reason not to drive in Mexico

In case you ever wondered what "burrito" meant...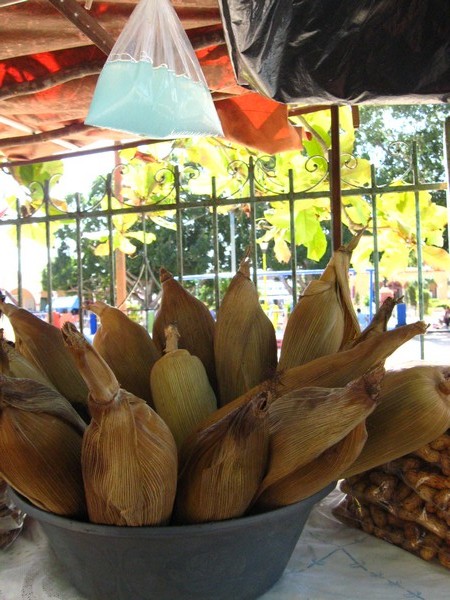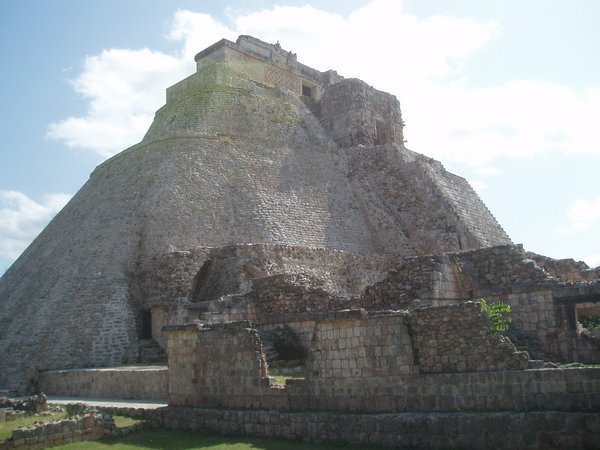 Uxmal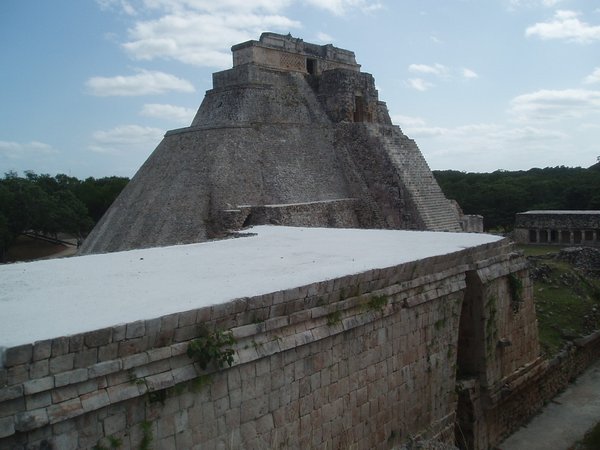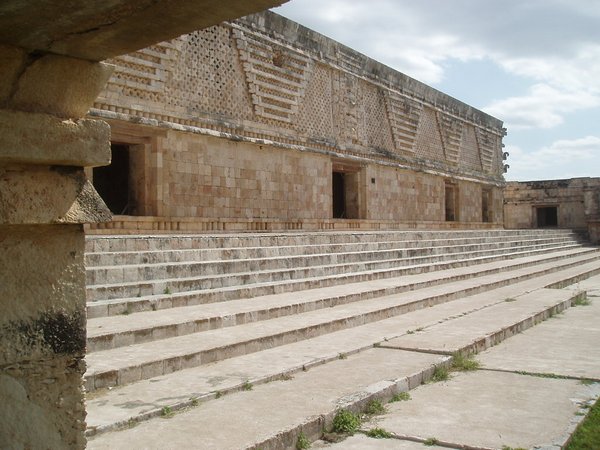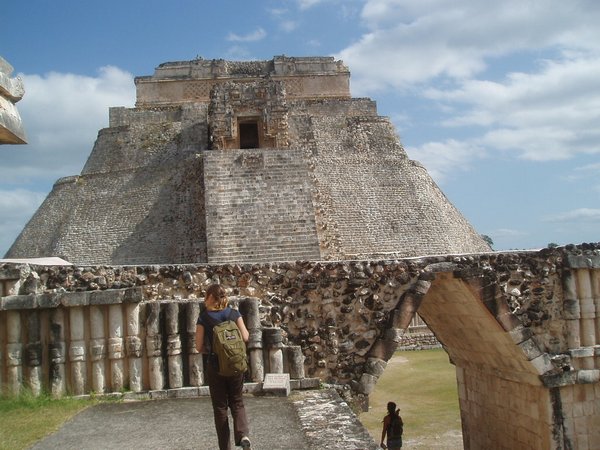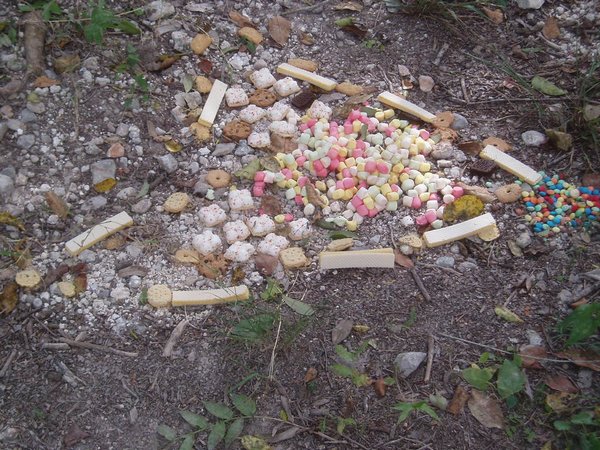 It seems the Mayan gods have a bit of a sweet-tooth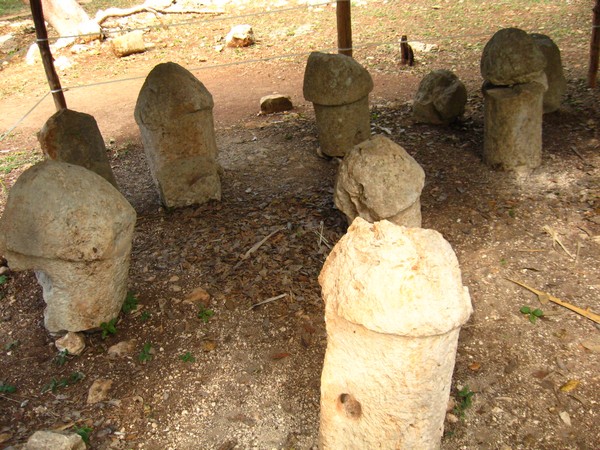 Just outside the fertility temple...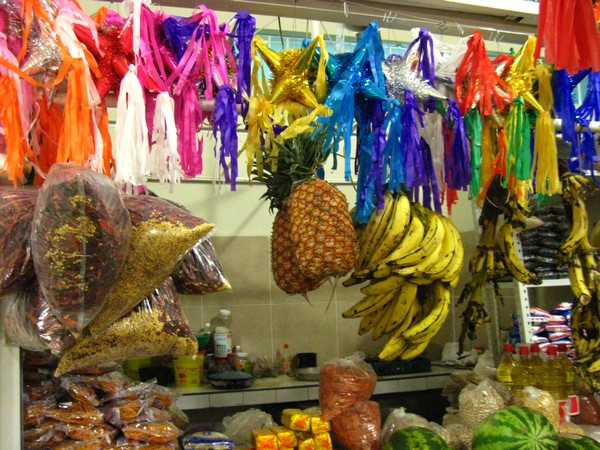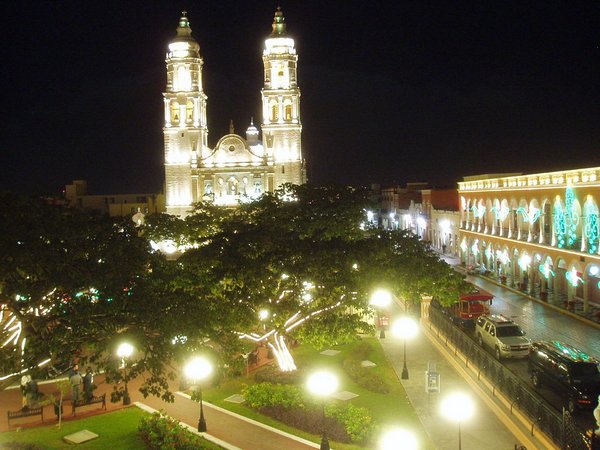 Campeche at night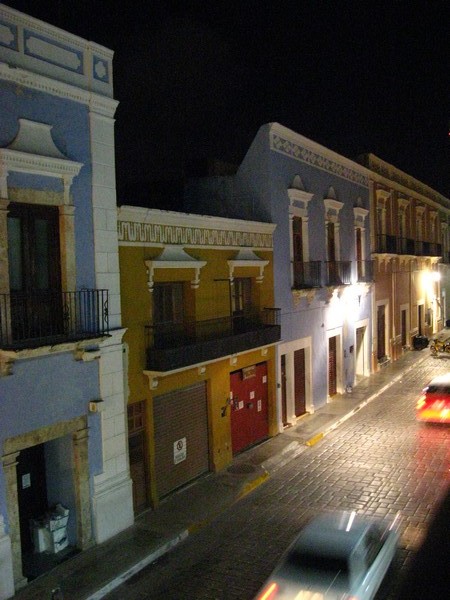 Day 5 - Campeche
After partaking of the Monkey Hostel's free breakfast of cereal, eggs, toast and tea (a huge improvement over the tacos and hot dogs we might have found in town), we wandered through the grid of colorful streets, finding colonial splendor beyond every doorway. It was free to walk along the northern segment of the city wall, but we shelled out the requisite 10 pesos for a view from the southern portion, from where it was apparent that much of the city's restoration was only skin-deep; many of the meticulously restored facades gave way to undeveloped jungle. We walked along the waterfront to the Fort of San Miguel, which housed an archaeological museum with mummies, jade masks and other interesting artifacts, and we were even lucky enough to spot an ocelot en route.

Light and sound shows are huge business in the Yucatan. Every set of ruins is rigged with hundreds of lights and speakers to dramatically illuminate the structures, relive the glory days, and greatly expand their profitability. Since we didn't have to catch a bus till 10, we went to one such show at the city's southern wall. The performance started off well enough, with pirates running around with torches and firing cannons from the ramparts, but this lasted for all of a minute and quickly gave way to a 20-minute promotional video for the town (in Spanish). We were next led to a set of bleachers, and, after a long interval of silence, a show began which consisted of some guy relating a history lesson (in Spanish) while various costumed Mayans, Spaniards, and pirates waved from the wall. This got old quick and so we snuck out of the bleachers and dodged past the souvenir vendors and photographers who had set up shop since the show began, to made our way to the bus station.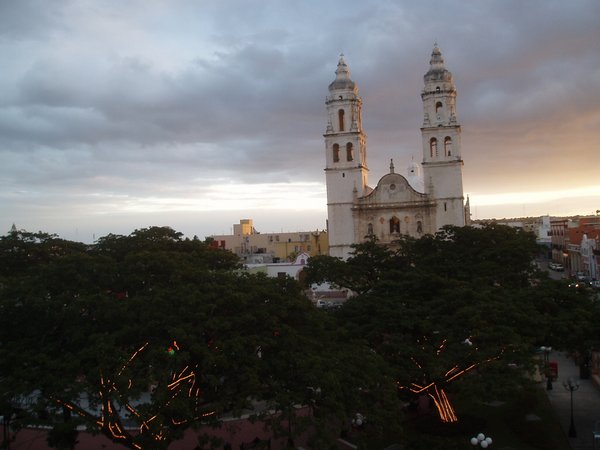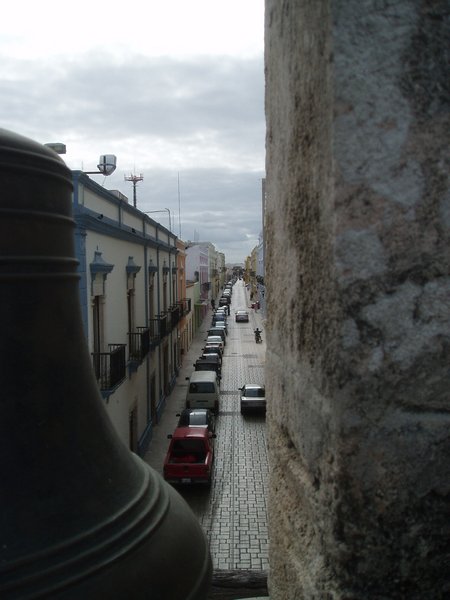 The Legislative Assembly building - Campeche's politics are a little out there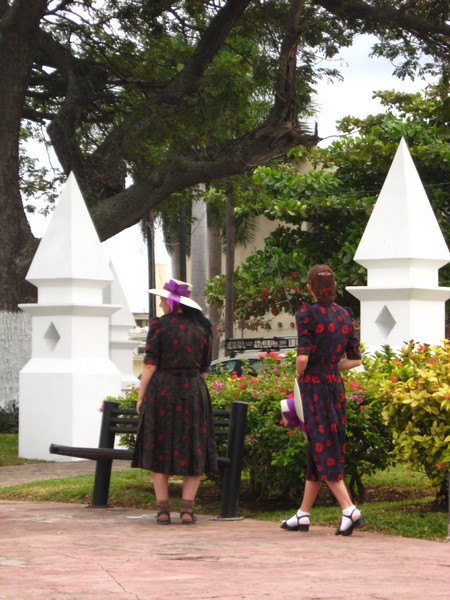 Mennonites are everywhere!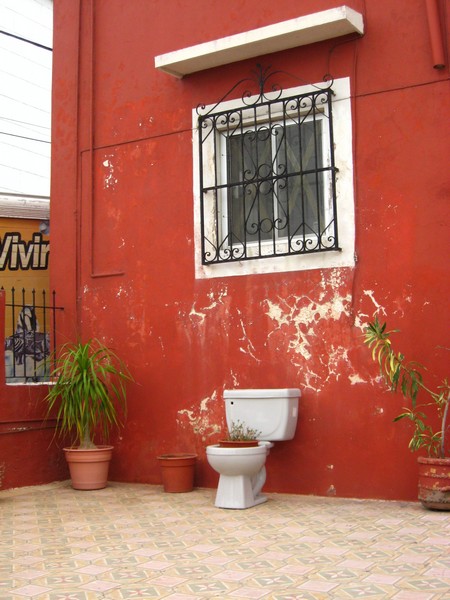 Unusual planter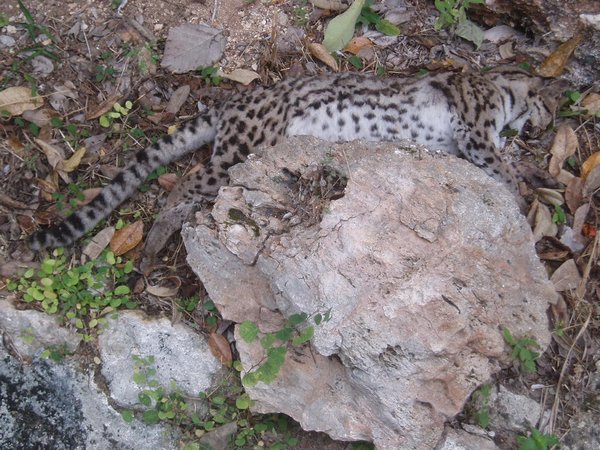 Ocelots are very difficult to spot in the wild - we were lucky to see this one resting by the side of the road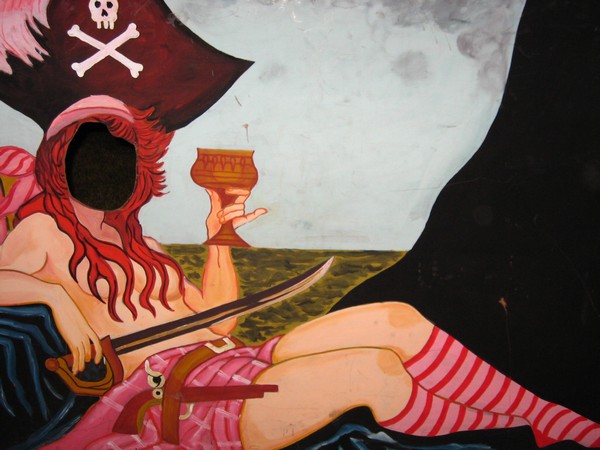 We didn't want to pay the 5 pesos to stick one of our faces in this thing, but feel free to download it and photoshop away.
Day 6 - Palenque and Border
Our "overnight" bus lasted all of 5 hours and got us to the town of Palenque around 3:30 the next morning. Andie managed a few hours of awkward sleep folded over in one of the terminal's hard wooden chairs, until at 6 we set off into town. The place had little in the way of sights, but we found a delicious breakfast of slow-roasted beef and chicken fajitas. We grabbed the first colectivo to the ruins and were shortly walking through ancient tunnels and climbing up pyramids nestled deep in the jungle. At one point, we heard a roar that we assumed could only have come from some mythical giant, like the rancor from Star Wars, but we soon discovered it was none other than the smallish howler monkeys that swung through the canopy overhead.

I had left my Belize/Guatemala guidebook in my car, believing that doing so would deter me from leading a 2-day whirlwind trip through the two countries. This was not the case. Back at the entrance to the park, we took the first of a long, continuous stream of transports that would not end until we were hundreds of miles and a border away. Our van into town arrived just in time for the departure of another to Frontera Corozal three hours down the road. We now sped through the Chiapan highlands along the river that forms the border with Guatemala. In every town, we were reminded by various signs that the Zapatista rebels were firmly in control. The number of people standing in the backs of trucks as opposed to sitting in vans, buses, or private cars was just one indicator that we had left the riches of the Yucatan behind.

We reached the dusty streets of the border town and grabbed a taxi to the river bank. As expected, the driver tried to supplement his meager fare by dropping us off at the boat tour operator where he could collect a hefty commission, but we made sure he continued all the way to the immigration checkpoint. Here, we had to pay $8 each to change our tourist card to a multiple-entry card - this was most likely graft, but we saw little choice in the matter. A boatman on the riverbank tried to convince us to pay $15 to go downriver for 40 minutes to the border town of Bethel, claiming that it was the only place with a bus, but we eventually convinced him to take us across the river for a buck-fifty, where, in the tiny village on the opposite bank, a colectivo was leaving immediately for Santa Elena.

The boy who collected money for the bus initially requested $7 for both of us, but the driver soon instructed him to double that fee; this was one sure sign that we were paying a gringo fare - another was that we were sharing a small van with 26 people and a duck, and were paying for approximately half the gas. After about thirty minutes of driving, we finally reached the border post where we got our passports stamped, paid $3 in graft to the official and changed $20 of pesos to quetzals at a ridiculous rate.

The first two hours of the ride were on a road reminiscent of those in Laos and Cambodia with plentiful car-swallowing potholes and large sections completely underwater (and this was the dry season!). These long, bumpy, third-world bus rides always seem to bring out the worst in me, and this time it brought it out all over a highway median in a small village. The other passengers seemed concerned and questioned Andie as to why I was puking my guts out; the duck didn't seem to care.

In another hour we arrived at the bus station in Santa Elena, and I ran straight for the bathroom. Lacking the necessary time to collect the appropriate change, I urgently pleaded with the attendant to let me pay afterward - luckily (more so for the attendant than for me) another bus passenger came behind me and paid the fee on my behalf. When I had completed my second round of stomach-emptying, I conferred with Andie and some other gringos as to what we should do next. I tried the station's ATM multiple times with no luck, so we had only 25 quetzals ($3) to work with. The other gringos urged us to head straight for El Remate, a quiet village on the way to Tikal, but this wasn't going to happen with a trivial amount of the local currency. We instead grabbed a tuk-tuk (strangely, this is what they're called here, even though I'm sure it's a Thai expression) for the tourist haven of Flores, which lies a kilometer away in the middle of the lake. On the way, we tried two more ATMs and found them to also be broken in new and interesting ways. We found a hotel and arranged a room, promising to pay for it in the morning.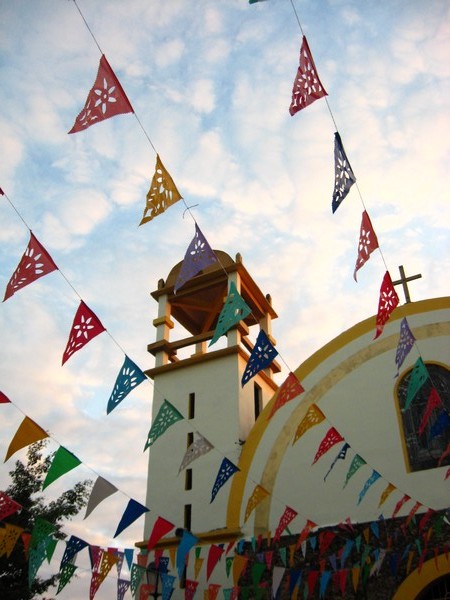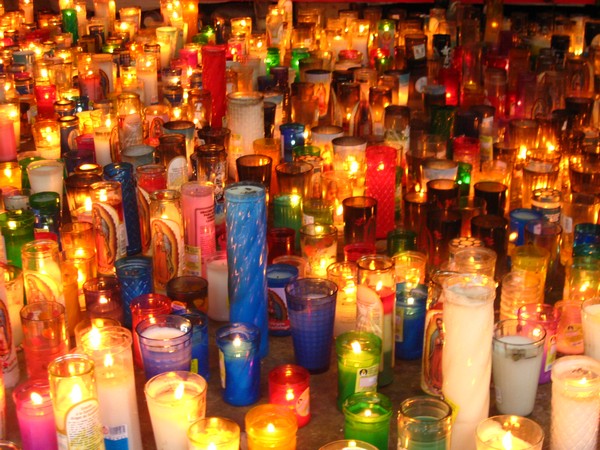 Typical meal of chicken fajitas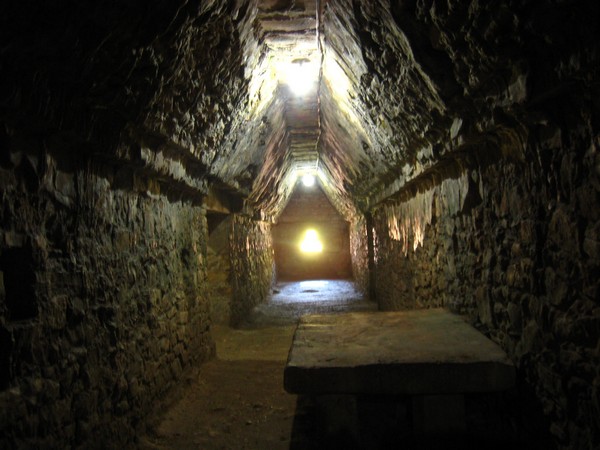 Inside the ruins of Palenque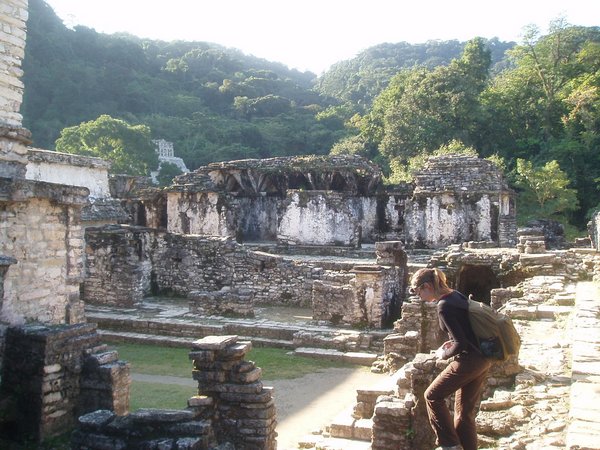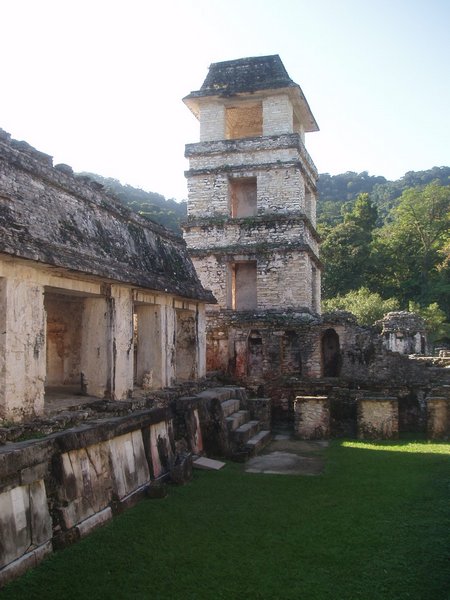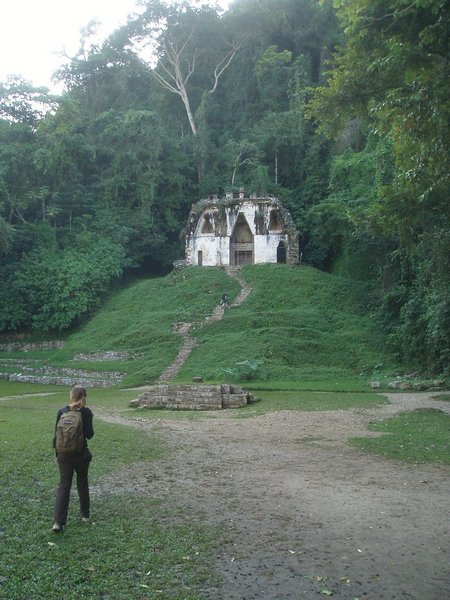 One of several flowstone waterfalls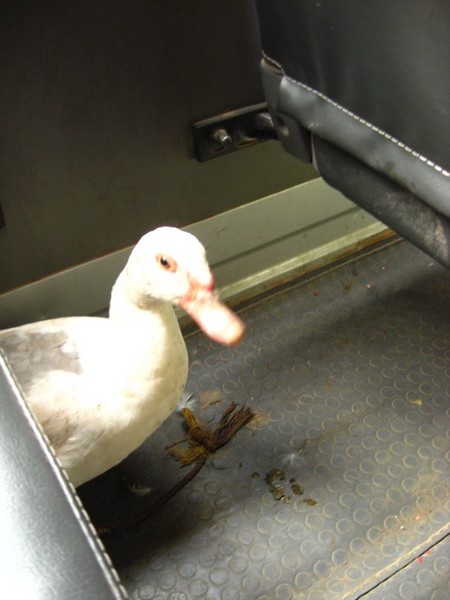 The 27th passenger in our microbus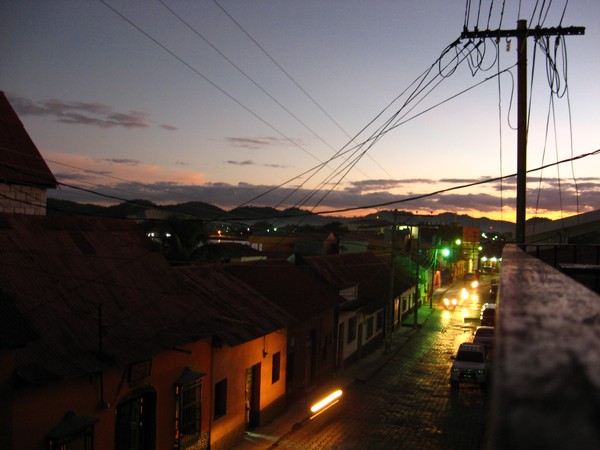 Flores at night
Day 7 - Flores and Tikal
I woke up early Sunday morning and went on a desperate search for a working ATM; I hiked across the causeway and located a fourth broken one before finally tracking down one that could actually give me some cash. Andie was a tad fed up with the public transport system, so I had no choice but to splurge and arrange for tourist buses to Tikal and then to Belize City the following day. Unfortunately, this instantly exhausted my hard-earned quetzals and we were once again left with no cash to pay for our hotel; we ended up trading a couple dollars at another highly unfavorable rate.

Our 9 o'clock bus finally rolled up at 9:35, and 90 minutes later we were pulling into the capital of the Mayan world. The road leading up to the ruins was remarkable in that it had the highest variety and concentration of animal crossing signs I had ever seen - the ones I remember are jaguar, snake, coati, turkey, bull, and deer, but I'm sure there were others. The ticket price had tripled since the publication of the '08 guidebook and foreigners now had to pay $20 a piece; I shelled out another handful of greenbacks to get us into the park.

The structures of Tikal are not nearly as much fun to explore as those at Palenque, but this site does hold the record for the number of towering pyramids; you can't climb directly up any of the taller buildings, but, so as not to deprive you of the harrowing experience, they've designed steep wooden staircases that are every bit as treacherous as any Mayan steps. Tikal is also located much deeper in the jungle than the other sites on the circuit and we saw 2 monkeys within 5 minutes of clearing the ticket booth; we would later see howler monkeys, crested pheasants, and the ubiquitous coati. Andie decided it was her turn to be sick and proceeded to puke all over one of the temples.

We grabbed one of the tour buses back to Flores and had made it most of the way when a motorcyclist decided to ram us. No one had any idea what had happened (most were under the impression that parts had fallen off the car), but it seems a bike had hit us and may possibly have been dragged for some distance behind the bus. Luckily, we were across the street from a police road block and the cops made a speedy response.

We returned to Flores and I used our few remaining quetzals to check into a hotel and get Andie some Gatorade and saltines. I went to the 7PM Mass on the top of the hill which had lively guitar music and was as interesting as it could be given that I had no idea what anyone was saying. Several kids had taken to setting off huge firecrackers just outside the church; at one point they discovered that they could trigger a car alarm by throwing one in the right spot, and proceeded to do this around 5 or 6 times towards the end of the service.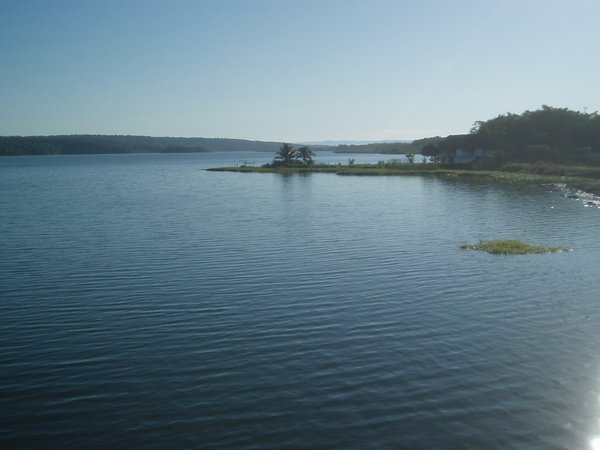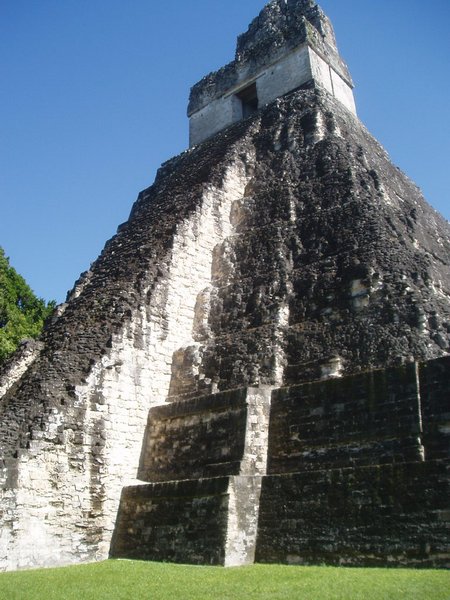 Tikal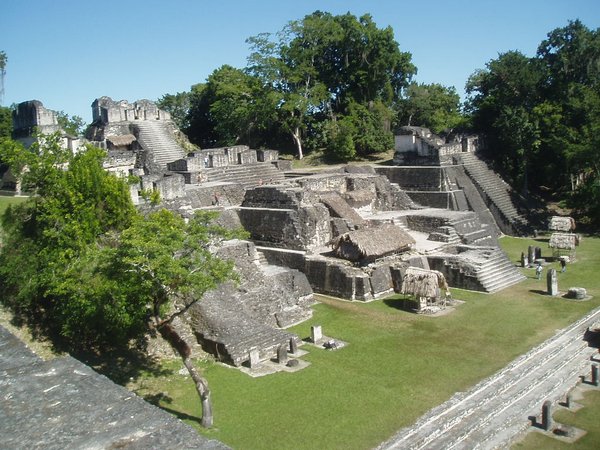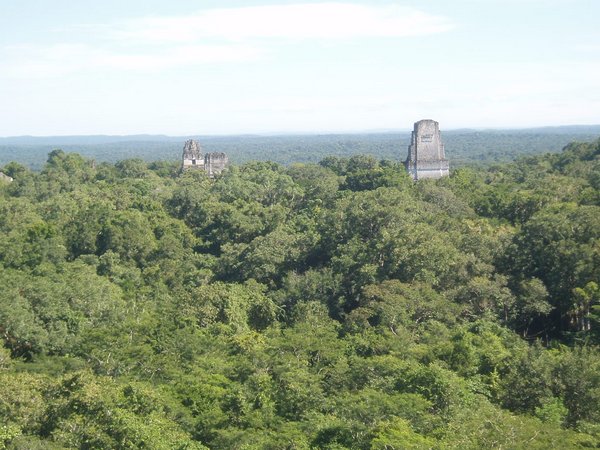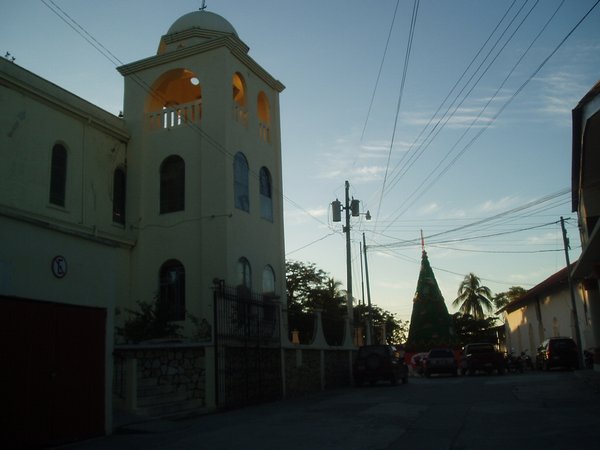 The main plaza of the island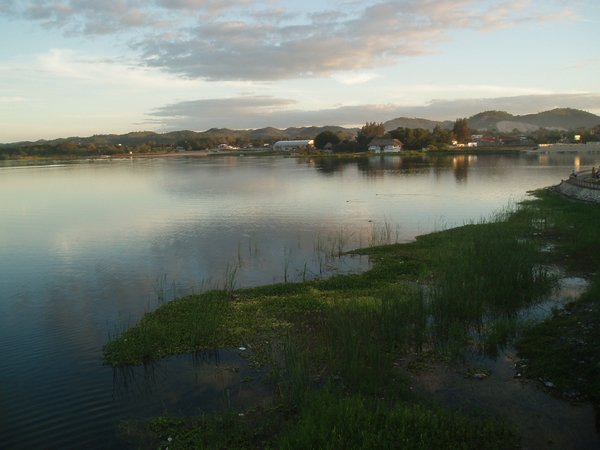 Day 8 - Belize
We were up at 4:30 and out the door at 5 to catch a bus that was, quite remarkably, right on time. I had bought the tickets from a random guy who showed up in our hotel lobby and who was apparently in the habit of selling rides with a nonexistent tour company. Luckily, the one and only company that did run a bus to Belize City had two extra seats and could squeeze us in for no additional fee. We got to the border around 8 where we got off the bus, checked out of Guatemala (paying $6 more in graft in the process), checked into Belize (after devouring the last of our Guatemalan bananas) and re-boarded the bus on the other side of the line. Some of the backpackers were unlucky enough to be from countries requiring $100 visas, and so a good hour passed before we got moving again.

It was two hours further to Belize City; notable sights along the route included a Mennonite driving a horse-drawn carriage and a church/school combo run by a person by the name of "Blackman Eddie". We also passed through the town of Teakettle, which is just one of a large assortment of places and things that the Belizeans have labeled with completely random words.

Belize City is a large, ramshackle seaside town with lots of colorful shacks, bustling markets, reggae music, and jerk chicken. With no map to guide us, we asked a series of five people and eventually honed in on the Tourism Board office (unsigned and conveniently located on a neighborhood street a mile from the tourist area). They equipped us with free maps and a walking tour, but we mostly ignored these and went wandering down random streets in search of food. We found a restaurant serving a number of enticing specials like "Gibnut" and "Fishballs", but since neither of us had eaten a meal in three days, we opted to play it safe and order the dependable chicken curry with stewed beans and rice (Retrospective note: If you google "gibnut", you will find that it is an adorable jungle rodent, and I now find myself deeply regretting not eating one when I had the chance).

We found a bus headed for the Mexican border and reached the town of Corozal about four hours later (most of this time was taken up by snack breaks); we had assumed that it would be easier to understand people in an English-speaking country, but with vendors hawking "seaweed" drinks and other bizarre concoctions, we still found ourselves very much in the dark. Leaving the station, we followed the smell of Indian curry to a small guesthouse on a backstreet and met its jovial owners who were recent immigrants from Guyana. Our subtle hints to convince them to share their food had no effect, so we went out into town to hunt down a restaurant. None of the Belizean restaurants were open (it seems they have adopted the Mexican habit of skipping dinner) so we reluctantly ducked into one of the town's myriad Chinese restaurants and ordered Chow Mein. As in Panama, the Chinese own and operate virtually all businesses in the country.

I came so close to ordering the gibnut!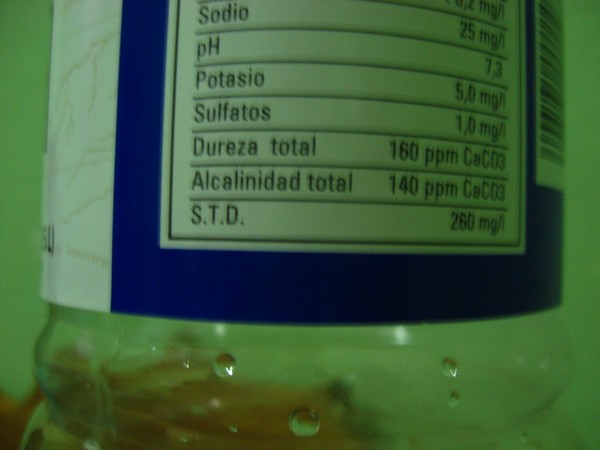 260mg of STD? I hope it's not one of the bad ones!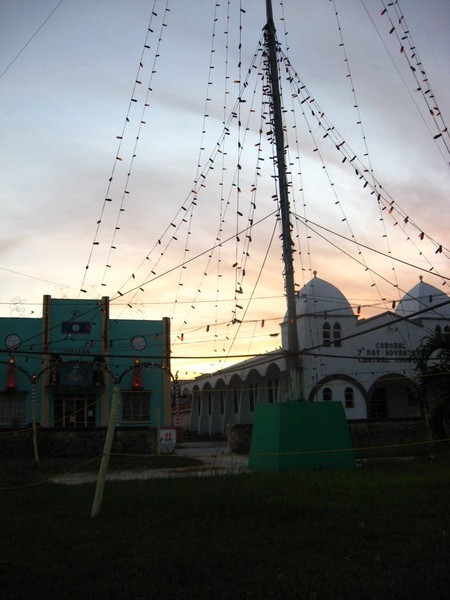 Downtown Corozal
Day 9 - Cancun
We grabbed a short bus to the border around 7am. On the Belizian side, we paid our $30 in departure taxes and then had to pass through a door labeled "Authorized Access Only" to reach the arrival side and find the one immigration official on duty. We boarded another bus and road for some time through a strange, interstitial zone filled with casinos and duty-free shops. On the Mexican side, the official saw no need to give us an entry stamp - we hoped that this wouldn't come back to haunt us when we tried to return to the States.

In Chetumal, we found a bus to Cancun and spent the next six hours puttering along the 400km stretch of highway extending the length of the Yucatan's eastern coast. Arriving in the city, we quickly located a room for just over $20 which was the nicest we'd stayed in all trip - they even folded our towels into swans!

Andie was dead-set on finding Christmas presents for her family, so we went to the city's major tourist markets in search of bargains like we had seen a week earlier at Chicen Itza. We soon found however, that the prices were a full order of magnitude over those at the ruins and no one would even entertain my aggressive bargaining for more than a minute or so. We ended up with a small assortment of tiny crafts and candies, and a bag of fried crickets we would try our best to pass off on unsuspecting family members.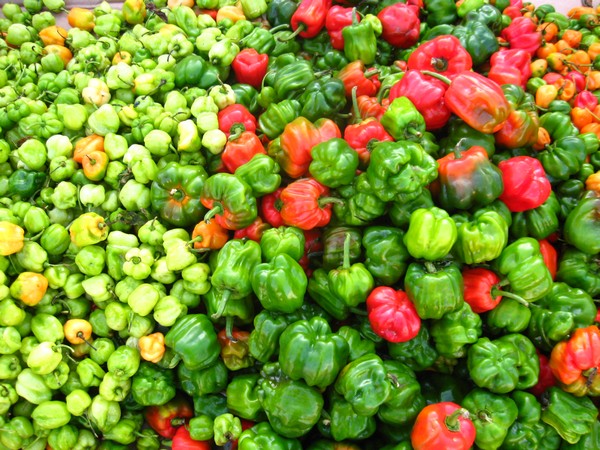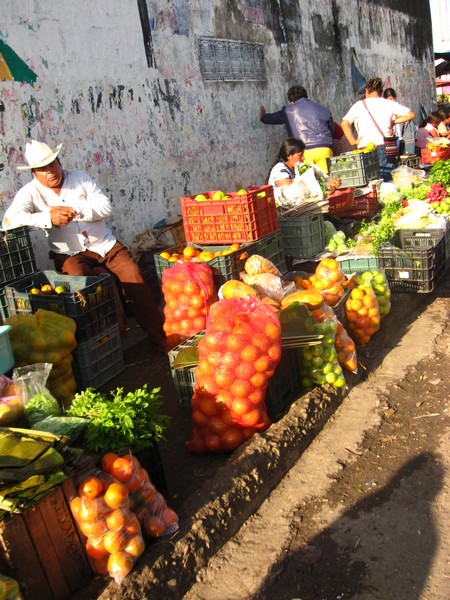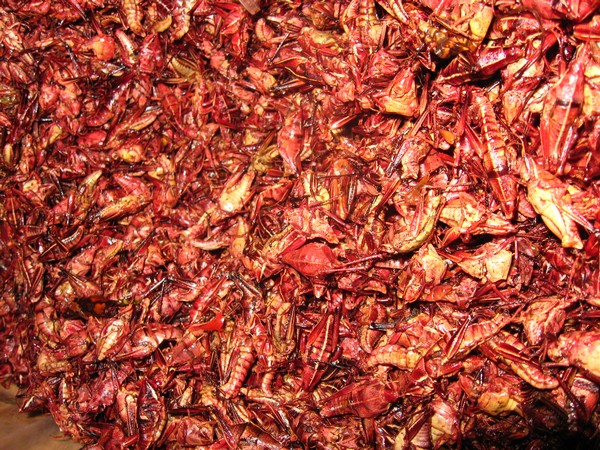 Grasshopper tastes nothing like chicken
Day 10 - Return
I rose early and hit up a licuado shop where I got a delicious liter of granola milkshake. Andie, who had never adopted the milkshake-for-breakfast custom, opted instead for an all-you-can-eat breakfast buffet of eggs, pancakes and yogurt. As usual, we were intent on finding a way to avoid taking the expensive airport bus, so we resolved to take a 50-cent city bus to the highway junction and walk from there. After waiting for some time for the one recommended by the hotel staff, we grabbed a bus that seemed to be heading in the right direction. It turned out to be a beach bus, and we thus set out on the scenic route which ran between mangroves and mega-resorts for 40km through the city's zona hoteleria.

At one point, the traffic got too heavy and our driver decided it would be more profitable to return to town than to continue his route (a definite disadvantage of a privatized bus system). So, with 20km left and no refund, we walked until we passed the cause of the accident (a bus crash), and then secured a ride with a couple of rental car employees heading for the airport office. Traffic soon thinned considerably and our driver accelerated to 50kph over the stated limit, getting us to the terminal in record time.

Once back in Ft. Lauderdale, we took a 2.5 hour sequence of buses out to Miramar. This was a bit of an exotic experience in itself, particularly since all the bus signs were written in an unintelligible Creole language. Our Google Maps Transit directions ended with "walk for 15 minutes" without giving any indication of what direction to walk in, and so we wandered around aimlessly for another hour before eventually getting picked up and driven the last half mile to our car.
10-Second Summary
Costs: More expensive than most developing countries, even with the meteoric fall of the Peso against the dollar. Hotels are almost always at least $12. Water and fruit is cheap but cooked snacks seem expensive for their size - even by American standards. Bus prices tend to be right on the heels of those in western countries and will typically run about $4 per 100km. Admission rates can add up but are not prohibitive for individual destinations ($9 for Chichen Itza and Uxmal, $6 for Gran Cenote, $3 for other ruins and cenotes). Guatemala should theoretically be considerably cheaper, but not for tourists. Hotels and attractions in Belize are very expensive, while food and transport are more affordable.

Food: Dishes are very tasty, but very difficult to come by. Snacks are terrible (American equivalents much better). Food in Guatemala seems remarkably similar to that across the border. Authentic Belizean (i.e. not Chinese) food looks awesome with lots of spices and wild game.

Scenery: Pretty much like the Florida Everglades. The Chiapan and Guatemalan highlands have picturesque rolling hills.

People: Very friendly and helpful. Easy to get a ride (though you usually have to pay for it). Little English spoken.

Weather: Just like south Florida, only slightly hotter in the winter.

Time required: Not that much, though it helps to have a car or a willingness to hitch-hike, as public transport is not always readily available. You can see enough ruins and the interesting cities in a couple days, but if you want to properly see Guatemala and Belize, you'll need a lot more time.

Dangerous? The Yucatan seems like a very wealthy place and typically about as threatening as the gulf coast of Florida. Guatemala and Belize are significantly more sketchy.

Overall: Ruins and caves are very cool, but most of the area does not seem particularly interesting from a cultural standpoint. The Yucatan is too rich and Belize is like one big Chinatown. Guatemala (off the tourist track) and Chiapas have far more potential.