We hadn't splurged on first class, or extra amenities like sheets, pillows, or food, but our second class compartment had very comfortable beds and several decent straight-onto-the-tracks toilets nearby. Shortly after we arrived, a group of Dutch tourists popped into our room and invited us to their first class compartment - this was about the same as ours, but each room had two bunks instead of four, as well as a sink, vanity mirror, fan and bookshelf. About an hour into the trip, the train's engine broke and we waited for around three hours until a new one was delivered. The meal prices were ridiculous so we lived off the unexpectedly cheap 50-cent sodas and whatever meager rations we had packed. We spent the early morning hours staring out the windows and soon spotted a plethora of wildlife among the grasses; among others, we saw a few herds of buffalo, dozens of elephants, a couple dik-diks, a group of baboons, a giraffe, and a handful of oryxes. At our stated arrival time of 10am, we were still 4 hours out. At noon, it was revealed that there were rumors of a derailment ahead and another 6 hour delay. At 1, the train stopped, and though the derailment was labeled by the workers as 'only a slight problem', it was pretty clear that we wouldn't be moving again for a few days' time.
Everyone (save for the Dutch who had negotiated a free meal and were determined to stick it out) got off the train and made their way to the little village adjacent to the tracks. The chances of getting hundreds of passengers into a thin scattering of matatus, goat trucks, and private cars were dismal indeed, but we had plenty of motivation given that we were already hours behind schedule and the only place to stay in town was simply labeled "Hotel and Butchery". After failing to exert the necessary gumption in bordering the first few minibuses, we shoved our way through a great horde of Kenyans to grab the last few seats on a Kampala-Mombasa bus.
Once in Mombasa, we got two rooms and five beds for $13 in a seedy neighborhood near the bus stands. We found lunch at a restaurant run by the Sikh temple next door; this consisted of delicious mango lassis, curries, and an infinite supply of rotis. Walking to the train station, we got a refund for the last 100km that our train had failed to cover, and then proceeded to cover the walking tour of the old town. From Fort Jesus, a large Portuguese structure overlooking the harbor, we spied our friends the Dutch sunbathing on the beaches down below. We reunited with them and hopped on some tuk-tuks to speed out to Nyali beach for some Mexican food (at what was, according to the guidebook, the only Mexican restaurant in East Africa). After some thirty minutes of searching, we discovered that Siesta Bar and Restaurant had closed and been replaced with a combination Italian/Chinese/Barbeque joint some years before. Having had no dairy in the past few weeks, we ordered lasagnas and milkshakes, and followed those up with a one-liter tub of ice cream at the store next door.
We got up just before dawn the next day and boarded the first matatu of the morning to speed up to the seaside town of Malindi. The majority of property in this area is Italian-owned, and high-end resorts, gelaterias, and pizzerias are the order of the day; the local children are as likely to greet you with a "ciao" as with the usual Swahili "jambo". The beaches are mostly vast empty stretches of white sand sheltered from the brunt of the ocean's fury by a long string of reefs offshore. We picked out a restaurant that served up a continental breakfast at a truly Italian pace; despite the 4-person staff and paltry supply of customers, our tea, toast, and fruit took well over an hour to prepare. The hotel next door had enormous rooms looking over the water for only $12 a piece; we would have to squeeze 3 people into one of the beds, but this was little cause for hesitation.
Malindi National Marine Park is said to be the place to go for snorkeling in the area, so we tuk-tuked down there, paid the non-resident student rate of $10 (after a valiant, prolonged effort to get the resident's rate of $3), and hired a glass-bottomed boat for $50 (though we would later discover the going rate was $20). The reefs were pretty incredible with plenty of fish species I'd never seen before; we were, however, quite disappointed that none of us came face-to-face with one of the whale sharks said to frequent those waters. We put Willems in the boat's rescue ring for his first terrifying experience in the ocean.
We stuffed the five of us in one somewhat off-balance tuk-tuk and headed back to town. Willems disappeared around 5 in search of an ATM and would not be heard from again for six hours; we would eventually find out (just an hour short of calling the cops), that he had met some local girl and whiled the evening away in her company. Scott set about 'saving' one of the locals, which would've been far less unnerving if his target had not been a devout Muslim in a 95% Muslim town. Ryan, Ashley, and I wandered the beaches and then went to hang out with the Dutch at their obscenely luxurious 4-bedroom, air-conditioned apartment that they had negotiated down to $50/night. It turned out they had an extra room and two extra mattresses, so we opted to just stay put and let Scott and Willems stretch out on their own beds.
On Monday, I slept about two hours later than I had my entire time in Kenya, most likely on account of the air conditioning which had quite successfully emulated a Dutch summer's night. We took a matatu down to the village of Gede, where we eventually tracked down the amazing, yet remarkably untouristed Gede ruins. After we cleared the gate, we spent a full two hours exploring the ruins, climbing into the canopy, and spotting monkeys and deer without running into a single other person, tourist or otherwise.
From there it was only a few kilometers ride to the small seaside settlement of Watamu. This place, too, was completely devoid of tourists, but a mob of a dozen touts were ready to provide for our every need the instant we stepped off the bus. We ducked into a restaurant to avoid them, but they waited a full hour-and-a-half while we polished off our Italian-paced beef curry and spaghetti, and immediately set upon us the instant we were back out on the streets. Two of them guided us to an incredibly picturesque cove, and then to a second one; we managed to chase them both off here and hiked along the beach unescorted. In the course of our walk, we encountered a man in a loincloth leading a camel through the sands; we naturally assumed that this camel was there for some tourist-oriented purpose, like riding or taking pictures, but the man expressed no interest in us whatsoever - it seemed he was just an ordinary guy with a camel. We hiked to the next cove where we found an imminently climbable rock; after a bit of acrobatics, we returned to the road and grabbed a matatu back to Malindi.
In Malindi, we got another liter of ice cream and some pilau for dinner and waited some hours for our bus to depart. Though we had been told that the road connecting Mombasa to Nairobi was among the best in the country, some combination of poor seating and bad suspension made the ride one of the more uncomfortable overnighters I've taken. It would be possible to doze for about 7-10 seconds before an unexpected jolt would send us all hurtling into the air. We arrived at dawn in the sketchy bus district of Nairobi with about five hours of sleep between us. Showing up at work only 15 minutes late, the majority of us miraculously managed to stay awake the entire day.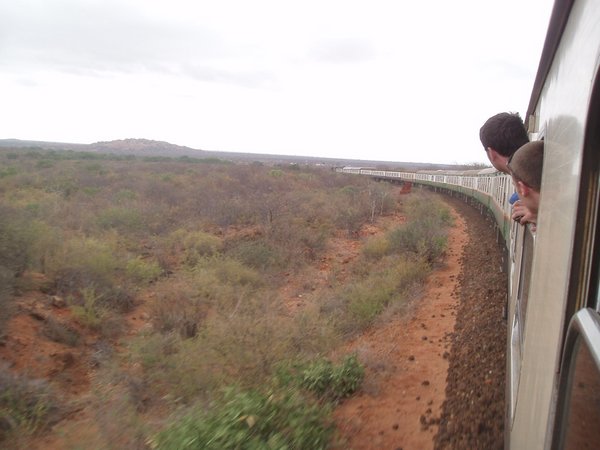 I think they call this the "Mombasa Express". It is not.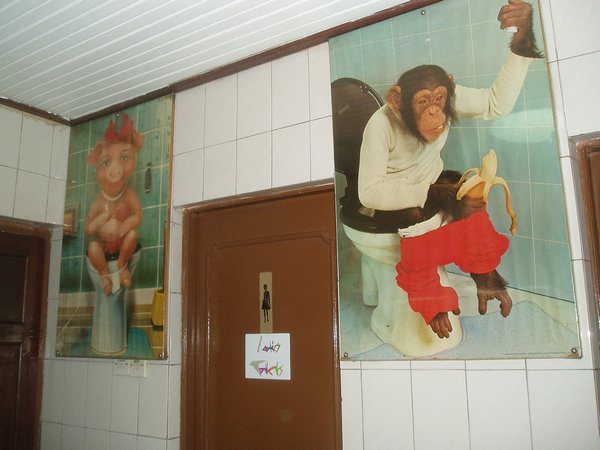 Curious pictures in bathroom of Sikh restaurant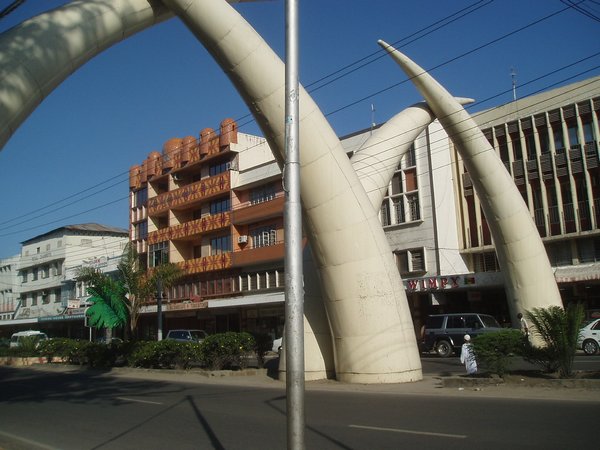 Tusks of Mombasa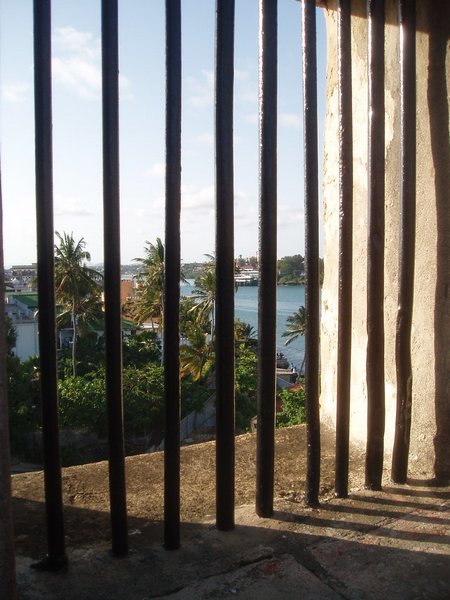 View from Fort Jesus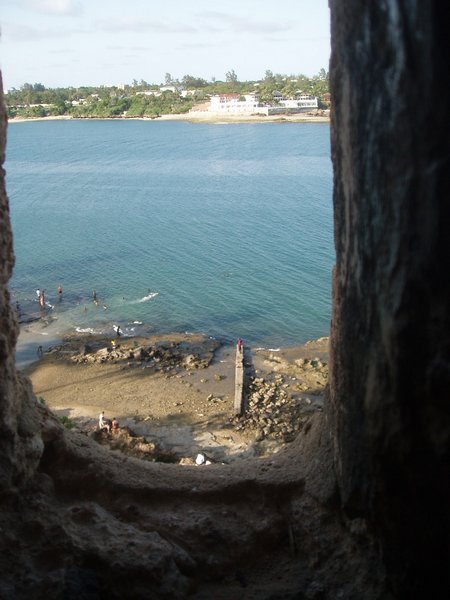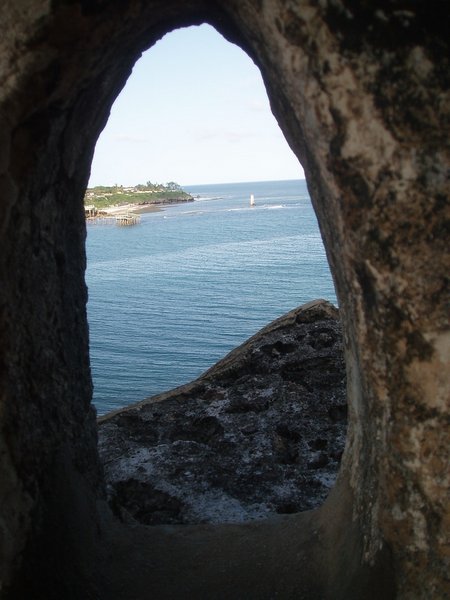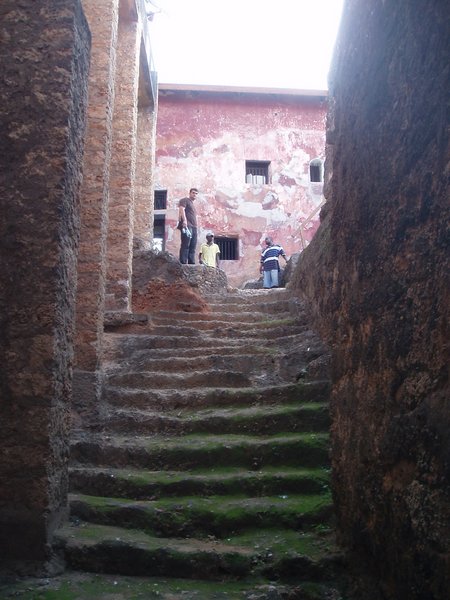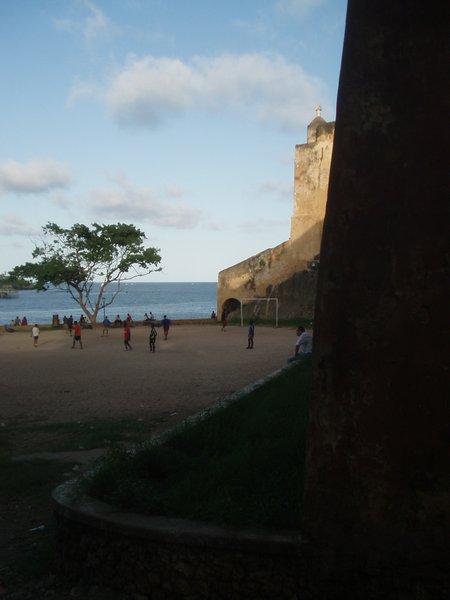 Soccer under the fort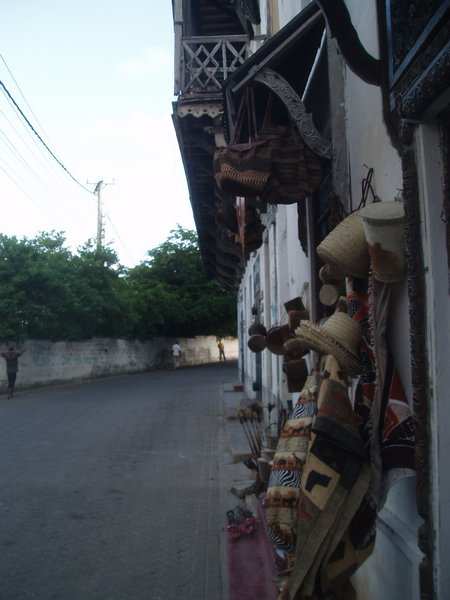 Souvenirs in old town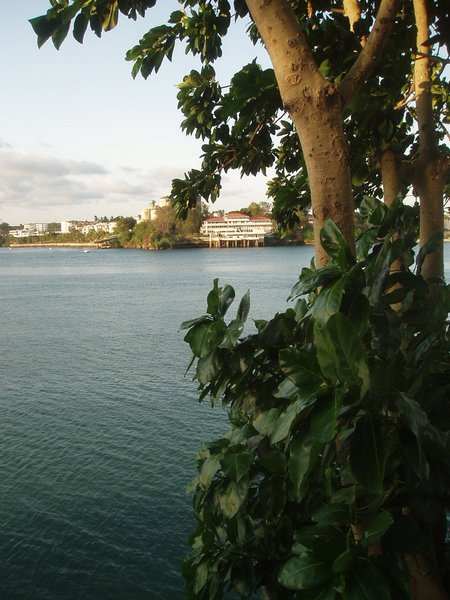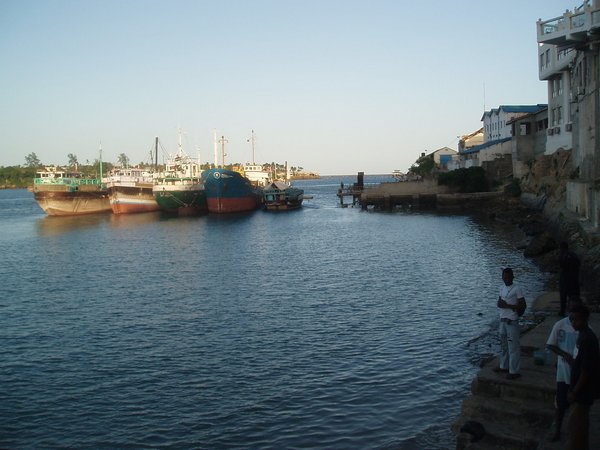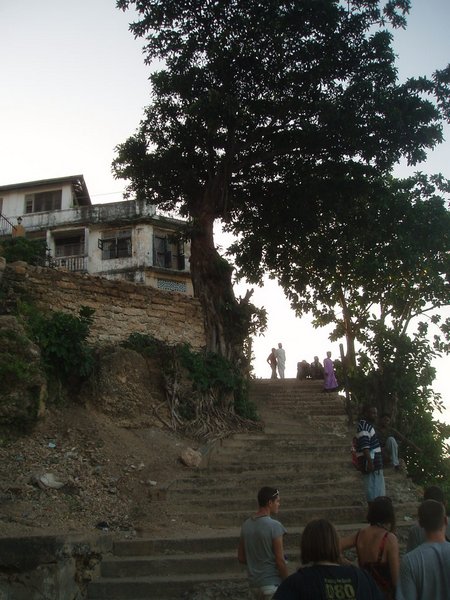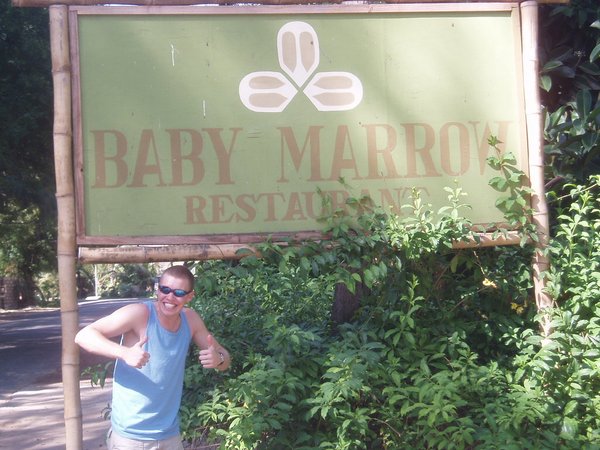 Ryan eats babies!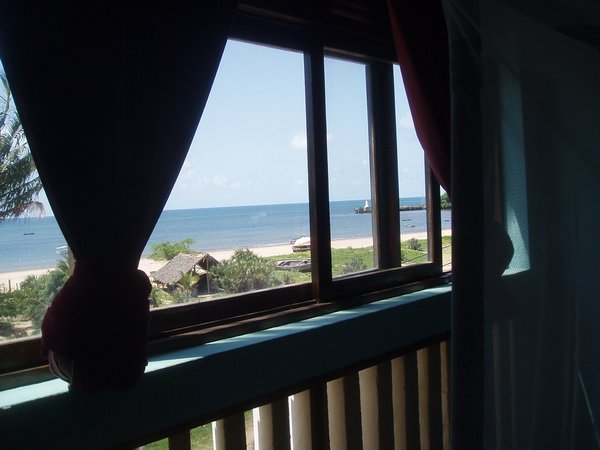 View from our $12 (split three ways) hotel room!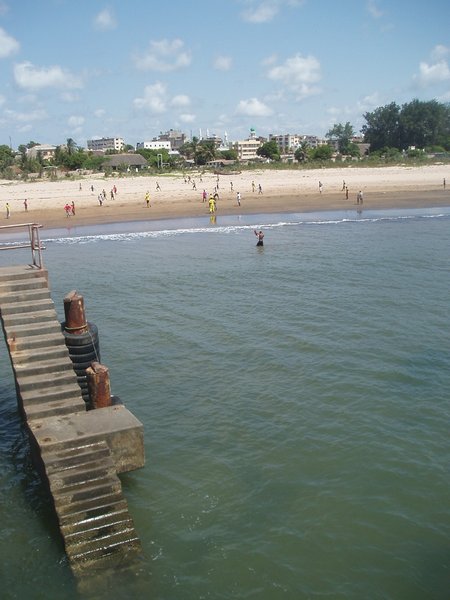 Soccer on the beach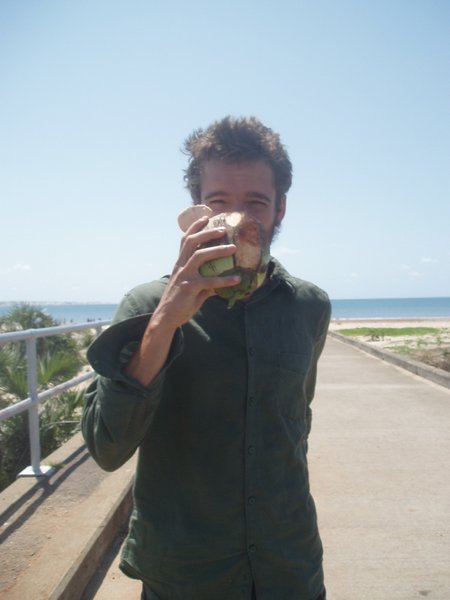 Drinking from a coconut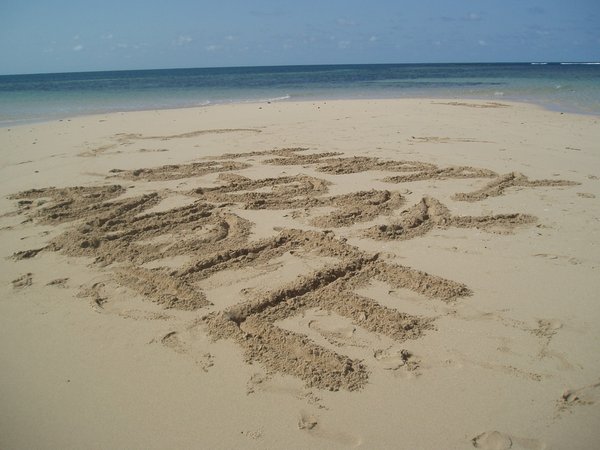 June 1st, Happy Birthday Andie! (on desert island in middle of Indian Ocean - don't go looking for it, the tide's probably come up by now - and also there's pirates)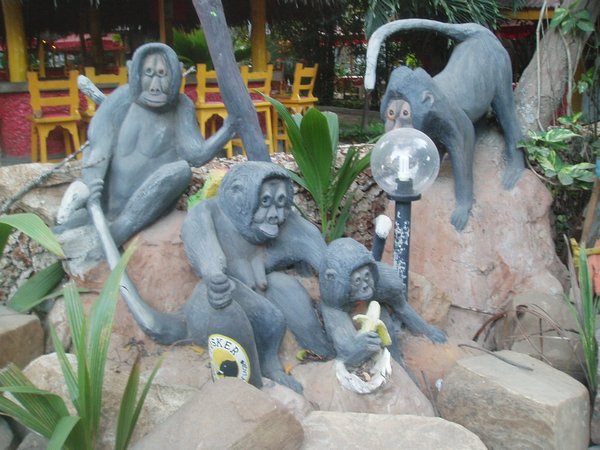 Beer-swilling monkeys

Giant beer monkey god.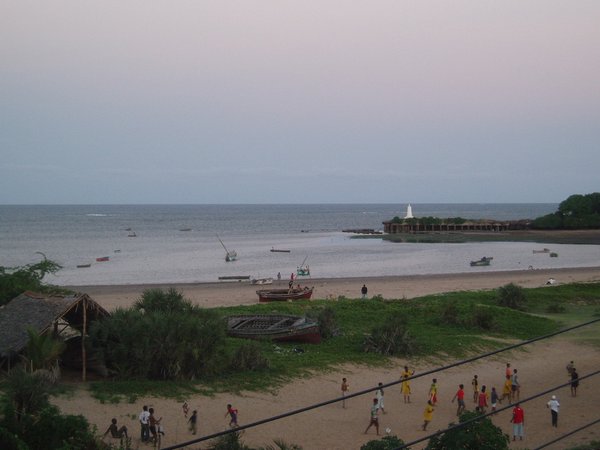 More soccer on the beach

One room in the palatial apartment of the Dutch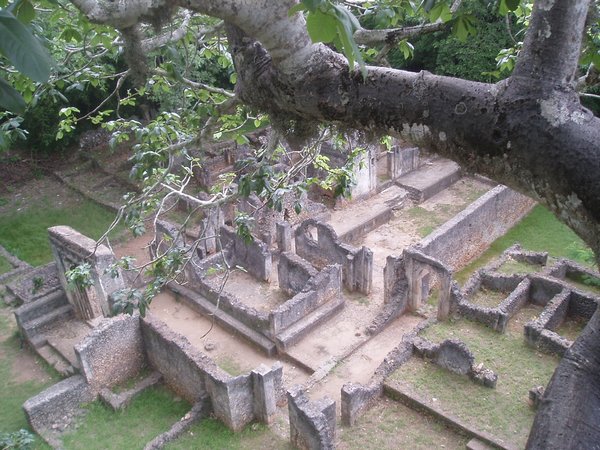 Gede ruins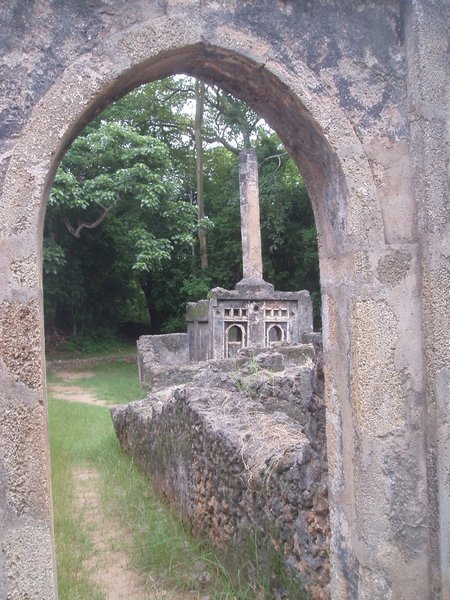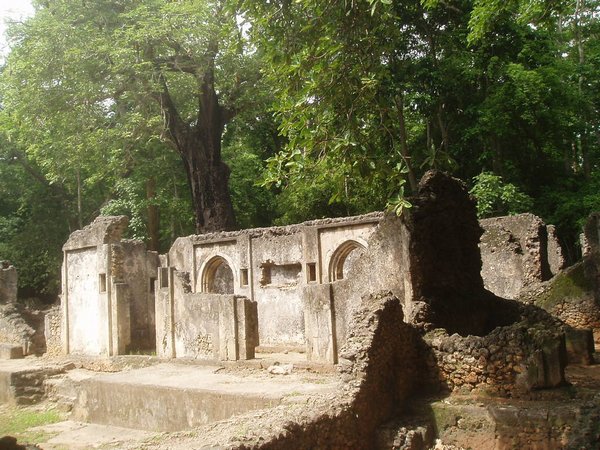 Very Angkor Thom-esque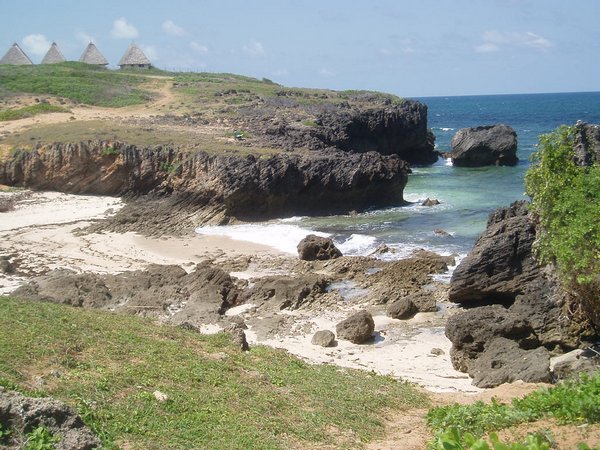 Watamu Cove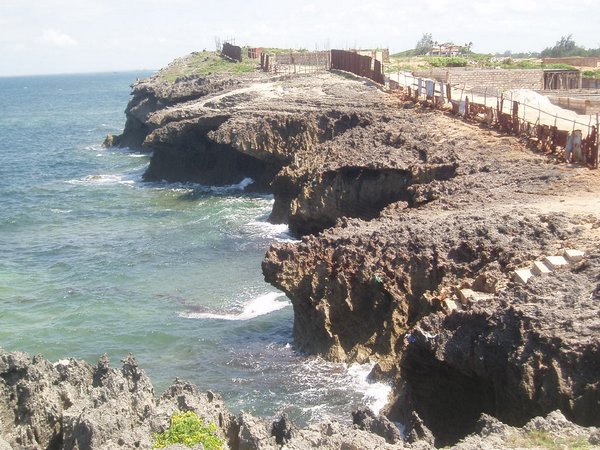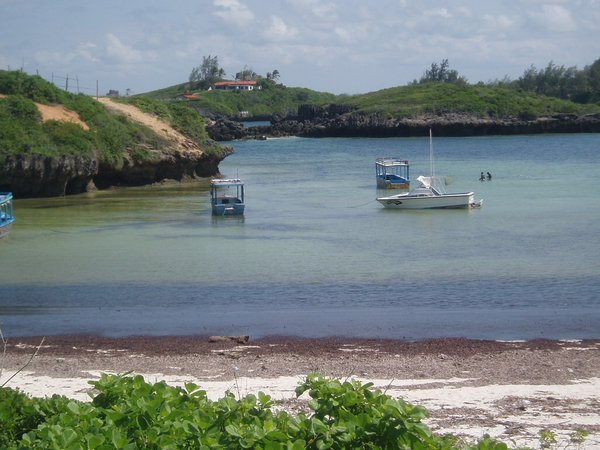 Another cove in Watamu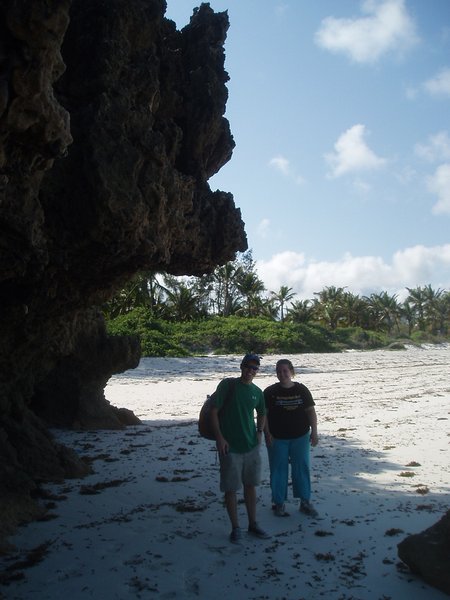 Ryan and Ashley under big rock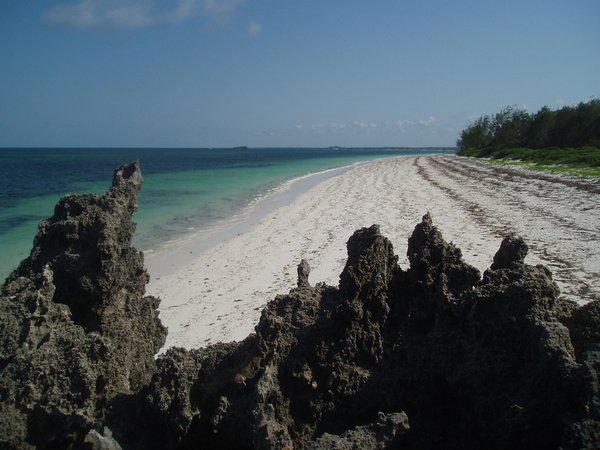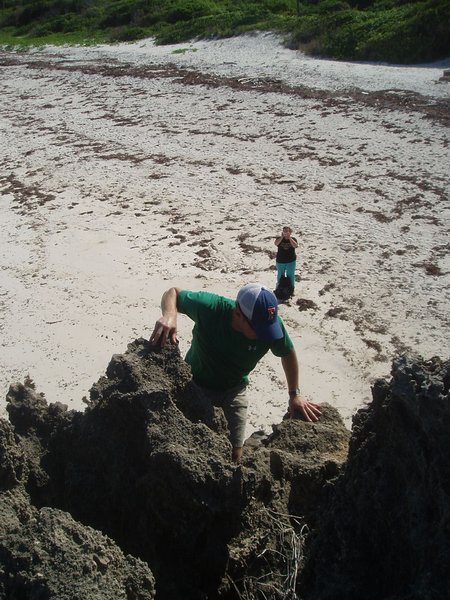 Climbing the rock