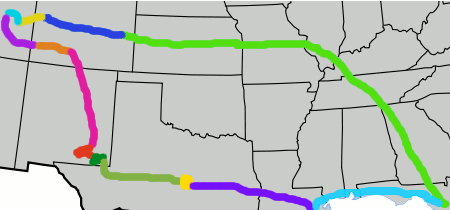 My latest 27-hour stint of plane rides to return from Nairobi had led me to swear off air travel for a time. This aversion would doubtless be short-lived, but for the two-week end-of-summer break at least, I would only be considering Corolla-accessible destinations. There were only a handful of states I had yet to visit; Idaho and its tantalizing mix of mountains, rivers, and potatoes still beckoned, and the Apostle Islands of Wisconsin offered an enticing option for island camping and sea caving - both of these are mild in the summer and relatively inaccessible at other times of the year and would have made logical choices, but I, quite inexplicably, set my sights instead on the 110-degree-in-the-shade deserts of the southwest.
Virtually all of my far-flung trips up to this point had been tourist ventures. Reluctant to carry any gear or do the necessary planning, I had turned a blind eye to the adventure sports on offer, and had stuck to the hiking and sightseeing listed in the appropriate atlas or guidebook. This, the latest chapter in my travels, would be a radical departure from that norm and would include mountain biking on the famed Kokopelli Trail, caving in the Guadalupe Mountains, canyoneering in the slot canyons of Utah, and climbing the rock spires of Colorado and Utah. Our car would be loaded down with bikes, ropes, climbing hardware, cycling helmets, light sources, and caving helmets, along with all the normal accessories needed to sustain a carload of college kids for a two-week span.
I had talked Scott and Andrew into this trip at a potluck some weeks back; I really hadn't expected either of them to follow through - Scott was rather convinced he was going to Panama during that time, though he was a bit hazy on how he would be getting there and what he would be doing. Van signed on a little later and proceeded to invite three-hundred of her closest friends; of these, nine replied that they were definitely going, twenty-three said they were maybes, and zero eventually ended up on the trip. With the numbers in constant flux, we moved from six people in two cars to twelve spread across three cars, and eventually to five stuffed into a single Jetta. Jason and his ultra-fuel-efficient Jetta pulled out two days prior to the start of the trip, leaving us with a far more expensive, though far more feasible, one-person-per-seat arrangement. The Corolla was acting a tad funny and two of the trip members had no experience driving stick, and so, after much debate, we finally settled on Van's Sentra.
Day 1 - Heading West
We set off early Friday afternoon and made a quick stop in Chattanooga for Thai food before knocking out the Midwest overnight. Scott woke up just in time to demand that we stop at the St. Louis Arch; with no idea how to go about visiting a giant steel arch at three in the morning, I drove aimlessly around the city until he had dozed off again, and then got right back on the highway. Andrew took over driving around 4 and downed 24oz of coffee in a matter of minutes; when the Missouri cop pulled him over shortly thereafter, he was shaking so much that the cop immediately came to the conclusion that we were transporting drugs and took Andrew back to the squad car for questioning. Fortunately, the rest of us were subdued enough that the cop saw no need for a search and let Andrew go with a warning.
We arrived in Kansas City shortly after dawn and attempted to open the trunk to get breakfast. Though the dash trigger and the keyless entry button were both firing something back there, we soon found that, even after removing the bikes, it was impossible to get the latch to release. Van hadn't used the special trunk key in years and didn't have it along, so after attacking the latch with a screwdriver, crowbar, and various other instruments, we set about finding a locksmith. It being Saturday, our first few random selections from the phonebook led us to closed shops, so we decided to put it off and grab some food. We ate at a diner where music was piped to speakers on each table and food was delivered by model train that ran a circuit around the restaurant; the tinny 50s-era speaker s were connected to an ultra-modern digital jukebox with a collection of thousands of songs, and so the seniors and families that frequented the place were treated to all the 80s hair metal our quarters could buy.
The next few hours of driving, being in Kansas, were amazingly uneventful; we stopped in the tiny village of Alma to get free cheese samples at the Alma Creamery, and then continued on to the mid-sized town of Selina which held the only Walmart for hundreds of miles. We got a list of emergency locksmiths to call, but after getting quotes over $100 for making a new key or ripping out the lock entirely, we resolved to fix the thing ourselves. An extremely helpful auto center employee lent us tools that we could use to rip out the backseat; we soon found however, that even after removing all the bolts, the top latches still held and we had no choice but to send Van burrowing through the small crack formed by prying up the seatbacks. Armed only with a headlamp and some vague instructions from Scott, Van managed to navigate through our bags and locate the emergency release, and, after a tense five minutes, she emerged victorious from the open trunk, the entrails of the defeated beast strewn across the parking lot. We identified the problem as a security mechanism that, when activated, only allowed access via the key; we couldn't figure out how it had been triggered, but we flipped it to off and closed the trunk. Upon closing, the trunk reactivated this mechanism and Van reluctantly made a repeat performance of her automotive spelunking; we then proceeded to cover the security switch and the latches on the seatbacks with copious amounts of ducktape so that access would remain open via both routes. We put our mangled car back together, bought flowers for the lady who had helped us, and set off on the final stretch to Colorado.
(Editor's note: the majority of the pictures on here were not taken by me - I don't feel like listing photo credits for each one, so if you're curious just right-click and check the 'Properties' pane - those starting with a V were taken by Van Tran and those with an S by Scott Paterson)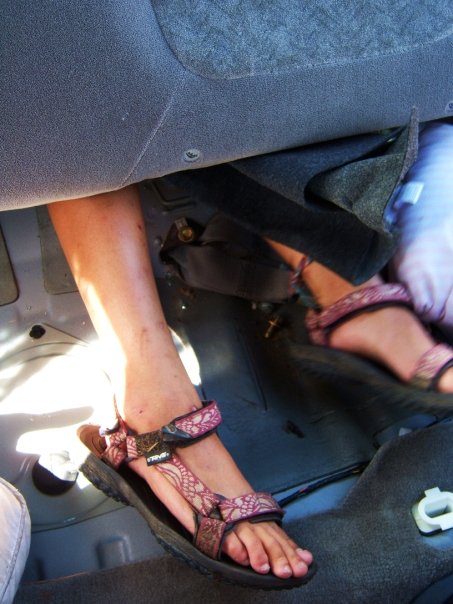 Van, the intrepid trunk spelunker, entering through a tiny crack in the backseat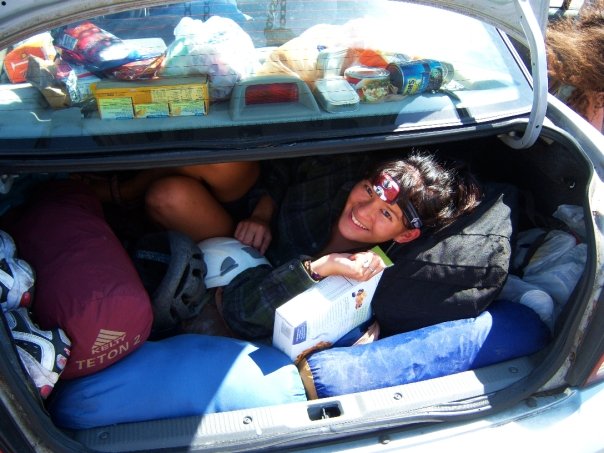 Releasing the emergency latch was only the first of many uses we found for our pint-sized travel companion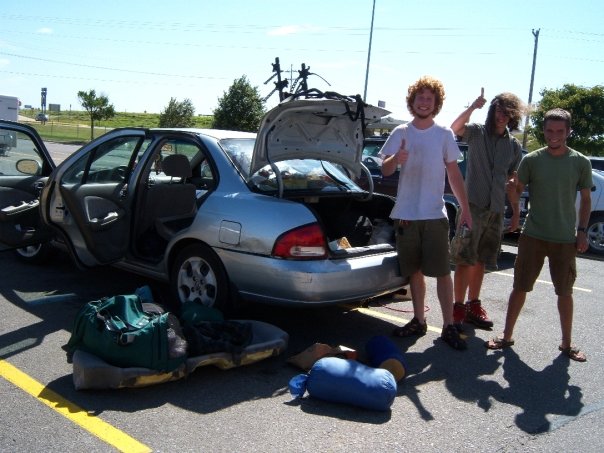 And after a 3-hour battle of wits and might, the evil trunk lay vanquished...
Day 2 - Garden of the Gods
We arrived in Colorado Springs around midnight and set off on a long and fruitless search for a free campground. Andrew was following the GPS's directions in circles around the city and was finding nothing resembling the national forest that we sought. It should be noted that I hated this device with a passion - not only for its tendency to boss us around with its snobby British accent, but also for how it convinced us to abandon all other navigational aids and common sense, and to blindly follow its instructions, no matter how ridiculous they might seem. We ended up sleeping in a Walmart parking lot, which with four people in a compact car, was an interesting exercise in contortionism.
I woke up and drove us to Garden of the Gods at dawn; we were one of the first cars in the lot, and Scott and I got an hour of hiking in on the park's empty trails while the others slept. I spotted no fewer than twenty rabbits hopping around the towering rock formations, as well as deer, chipmunks, and other assorted critters. We biked around the park's scenic, rolling one-way roads and along several challenging MTB trails. The main attraction of the place was the excellent assortment of sport and top-roping routes that ran up the faces of the walls and spires, so after procuring a climbing permit, we set about rigging our rope. The first one we chose was over my head, and after a few hours of trying to lead it (leading = really scary version of climbing necessary for setting up a sport route - you can fall quite far if you pick the wrong time), we convinced a passing expert to set up our rope for us. We spent the remainder of the evening climbing the two spires at the center of the tourist track, which were encircled by a sidewalk and saw several hundred passers-by an hour. Climbing these was a bit like being one of the monkeys on Monkey Island at the zoo; visitors gathered around and pointed and marveled at the mysterious creatures that effortlessly scrambled up the pinnacles; children made funny faces at us to try to elicit some response.
We left the park around dusk, glimpsing a pair of far-off mountain sheep on the way out, and went in search of cheap camping. Van was quite insistent on finding a shower, while the rest of us were content to let ourselves ripen for a few more days and find a stream or lake when it was convenient. After an hour of driving, Andrew and I were perfectly willing to pay our part of $24 for an in-town site with full facilities, but Scott nixed this idea and we headed far out into the depths of the Black Forest where we ended up paying $17 for pit toilets.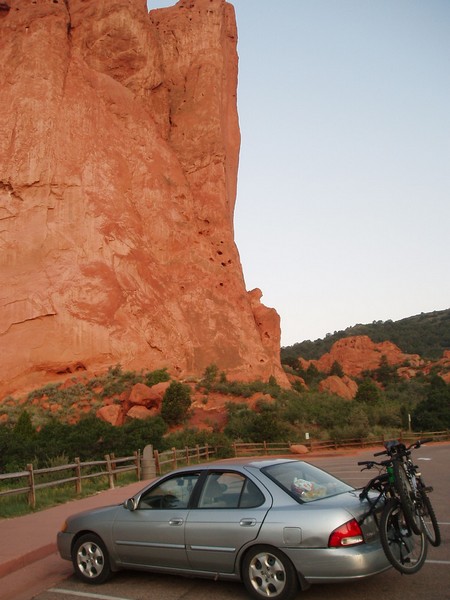 Garden of the Gods at dawn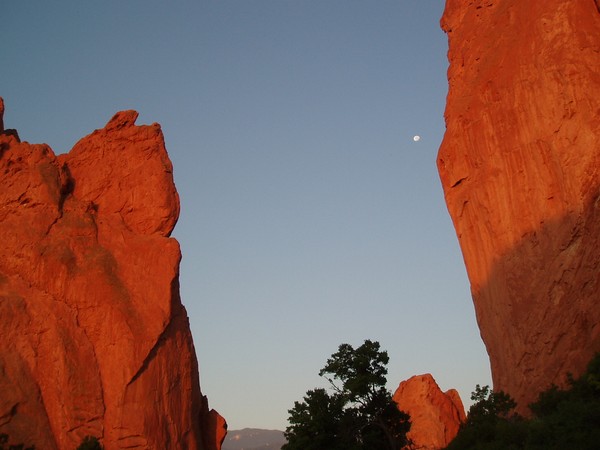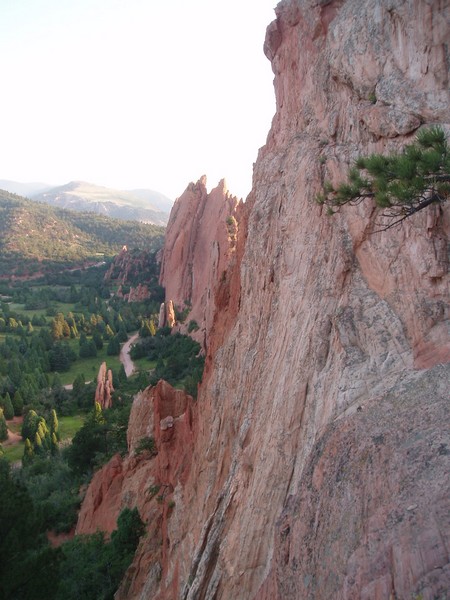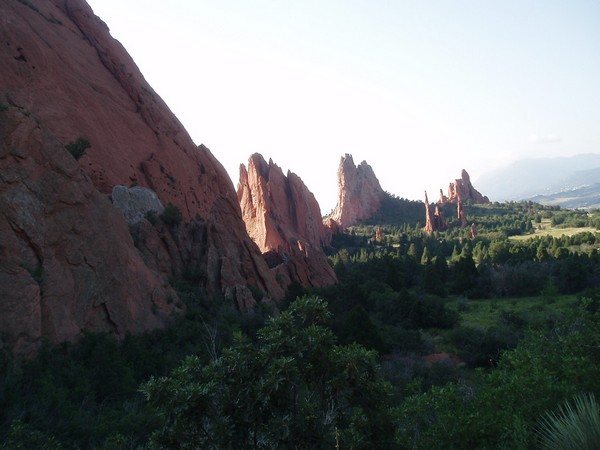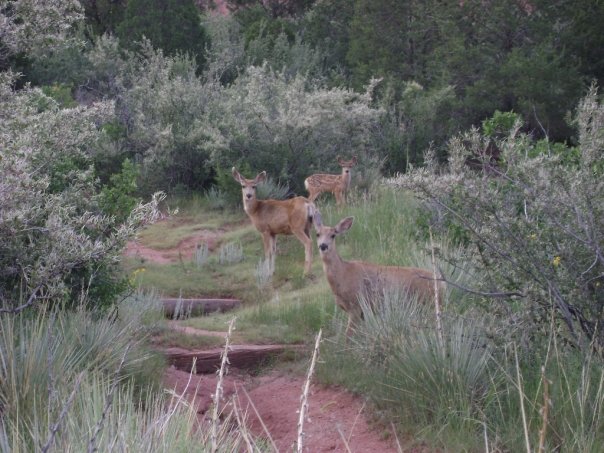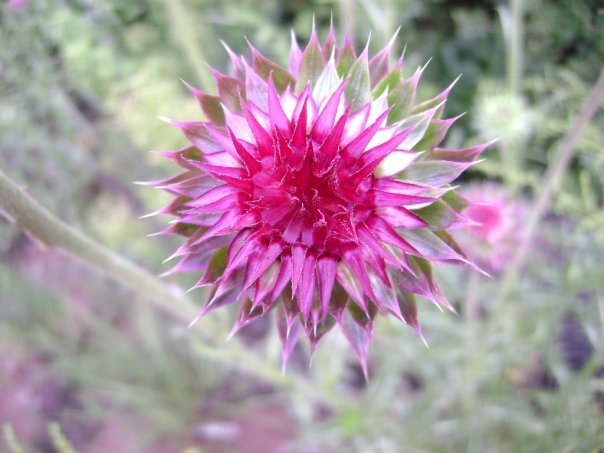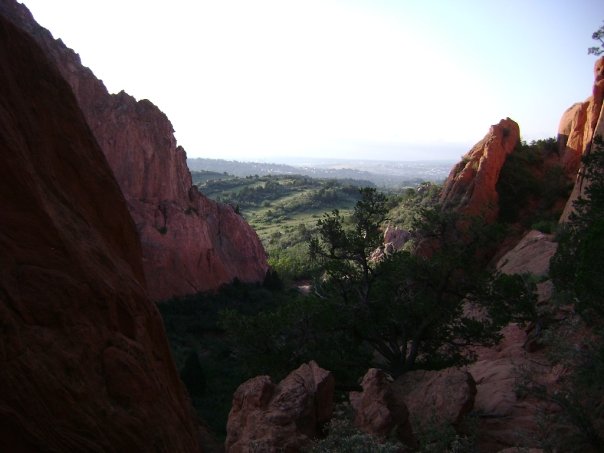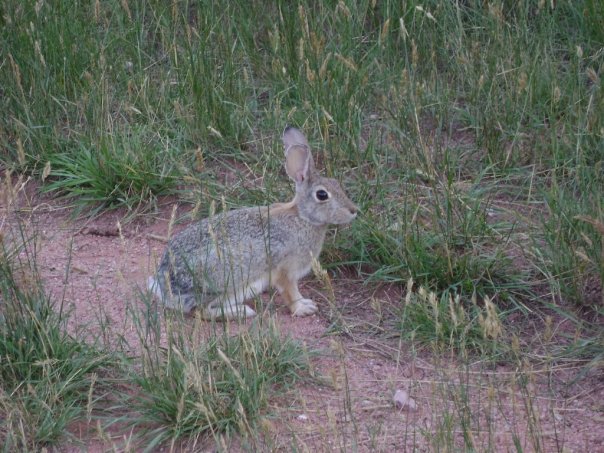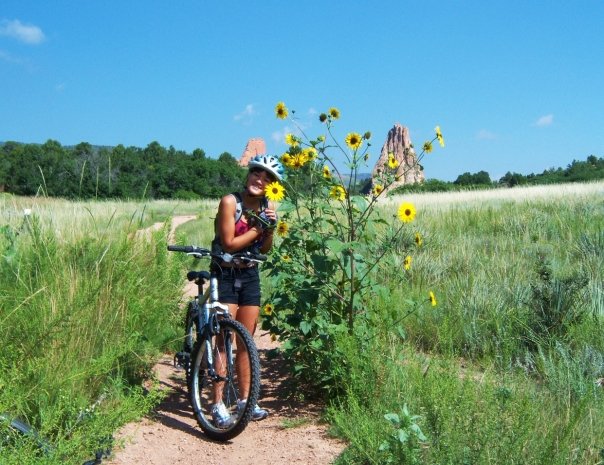 Biking in the Garden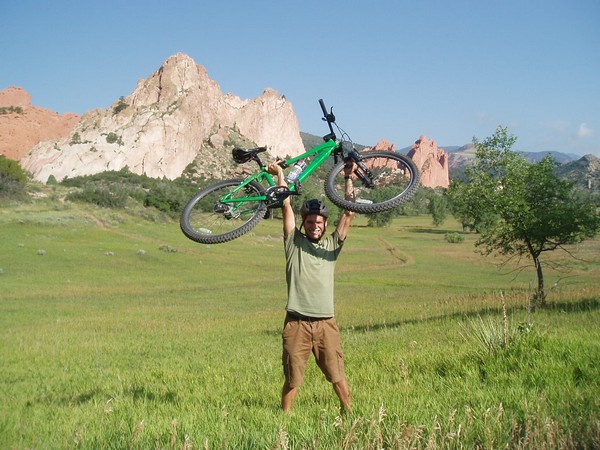 This is way easier with a road bike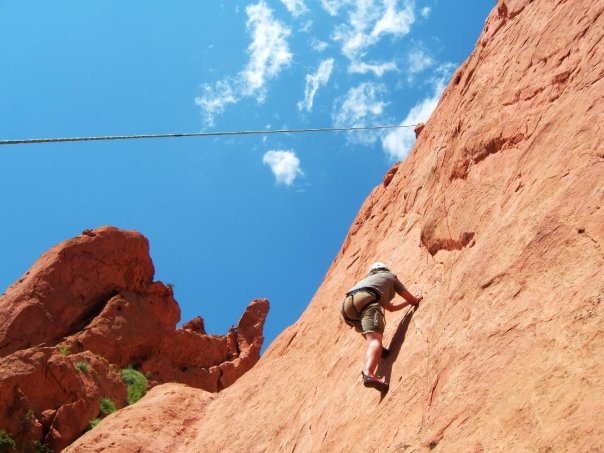 Climbing in the Garden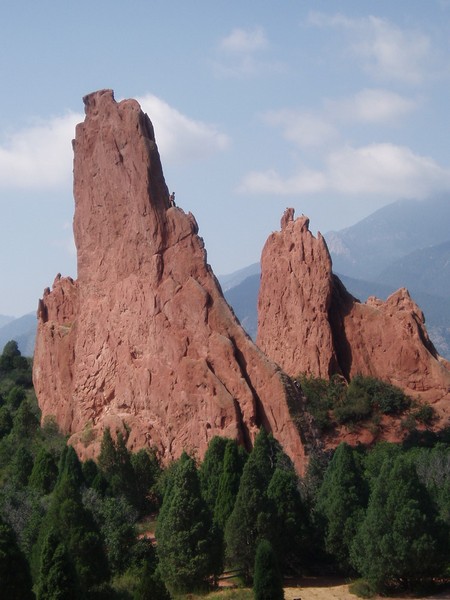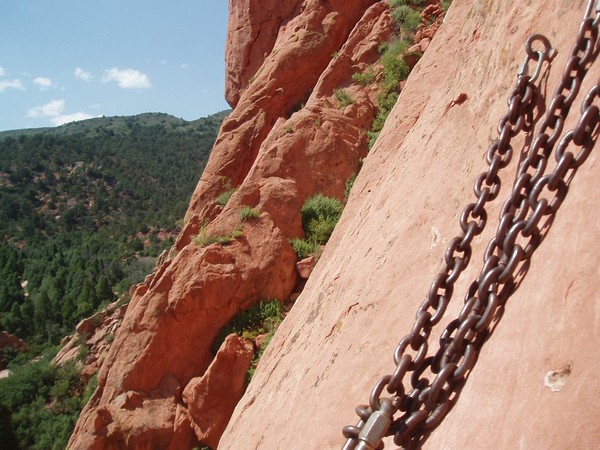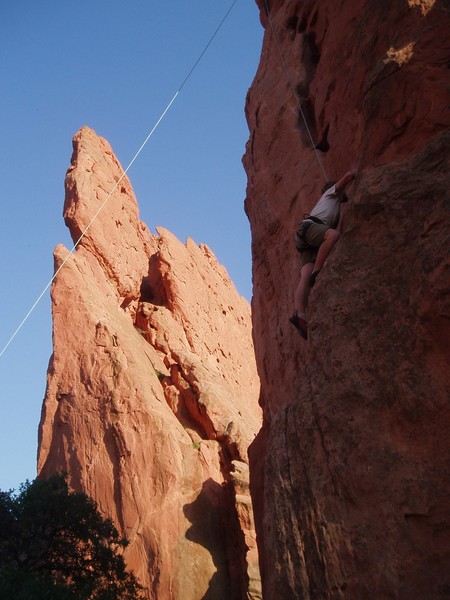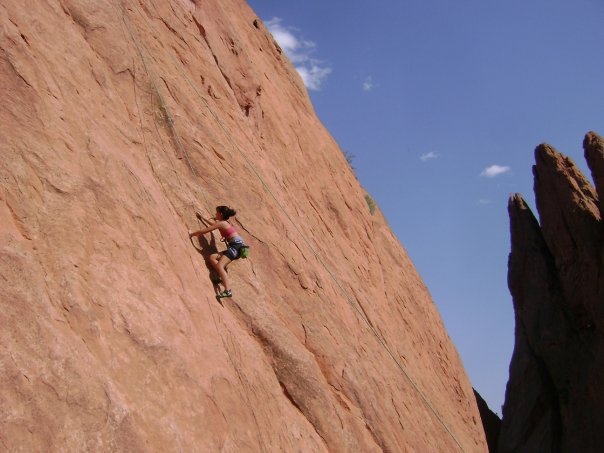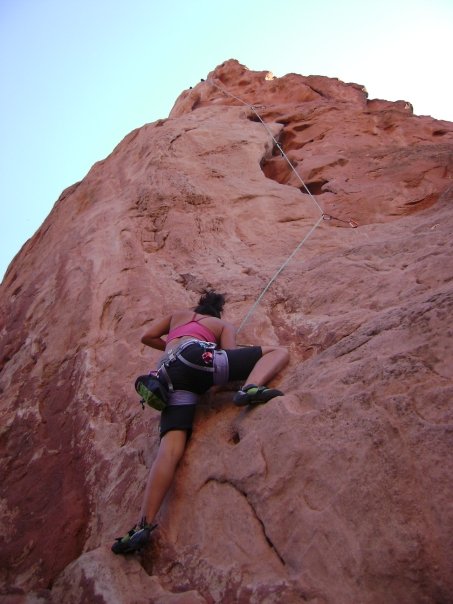 Day 3 - Eleven Mile Canyon
We drove west through the scenic Colorado hinterlands for a time before stumbling across the Florissant Fossil Beds National Monument. Of all the national monuments Colorado has within its bounds, this is probably one of the most boring; the only real attractions are an array of petrified redwood stumps, which excite and intrigue for all of twenty seconds, and a field full of prairie dogs. Once we had soaked in all the hard dead trees we could handle, we proceeded to Eleven Mile State Park. This place was home to a very nice lake, perfect for boating and fishing, but turned out to be completely separate from the Eleven Mile Canyon that we had intended to visit.
Retracing our steps, we eventually found the way to the canyon and, at the gate, were given a listing of dozens of climbing areas available in the park. We drove to the far end of the canyon looking for these sites, but though we spotted tons of amazing rocks, we had no means of relating these to the names on the paper, and thus no way to track down the limited collection of established routes. We ended up scrambling to some high points and swimming in some small waterfalls, and were on our way out when Scott discovered the first of the gear; we were able to tie our rope into chains at the tops of several walls and spent the few remaining daylight hours rappelling and climbing the 50ft cliffs on the banks of the river. We rounded out the evening by driving about five more hours to the delightfully scenic, primitive, and, most importantly, free Rabbit Valley campground just a few miles short of the Utah border.

Petrified stump

For comparison's sake: Tree (not petrified)

Scary spider (Scott loves his macros)

Eleven Mile Canyon

At the top of one of many fun scrambles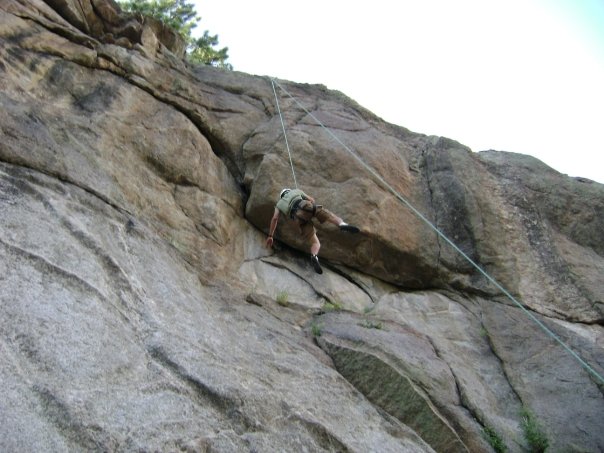 Climbing the canyon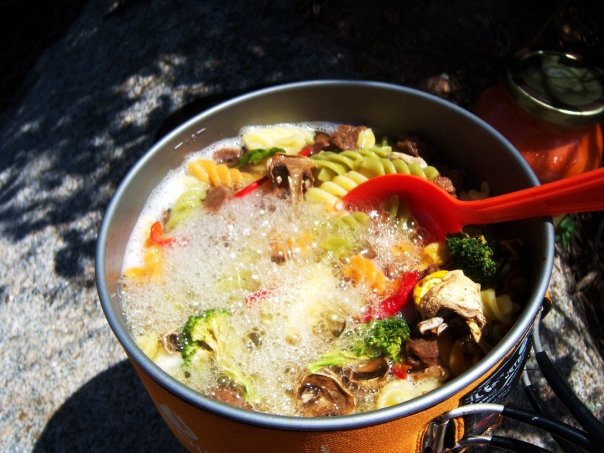 Lunch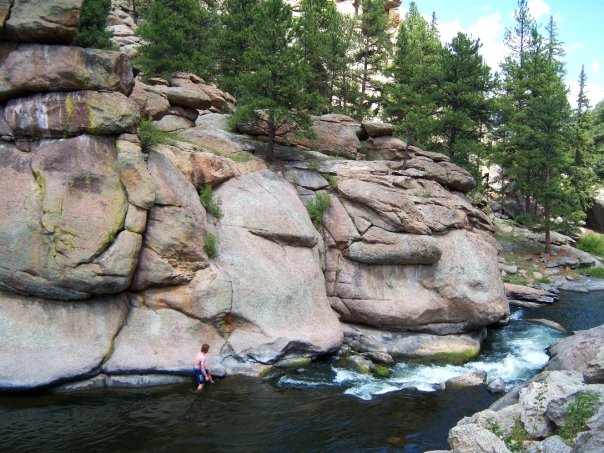 Swimming falls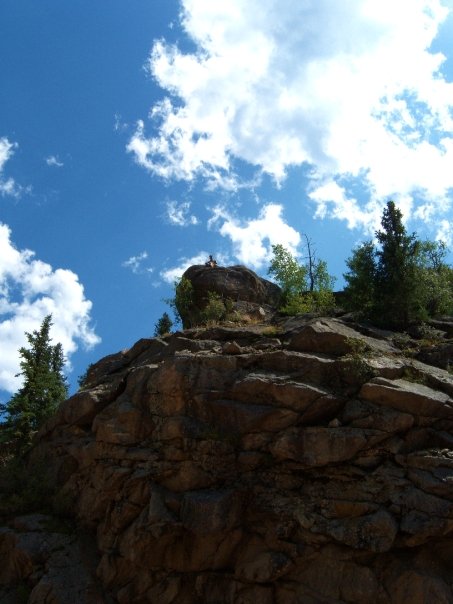 Yes, that speck on the boulder is me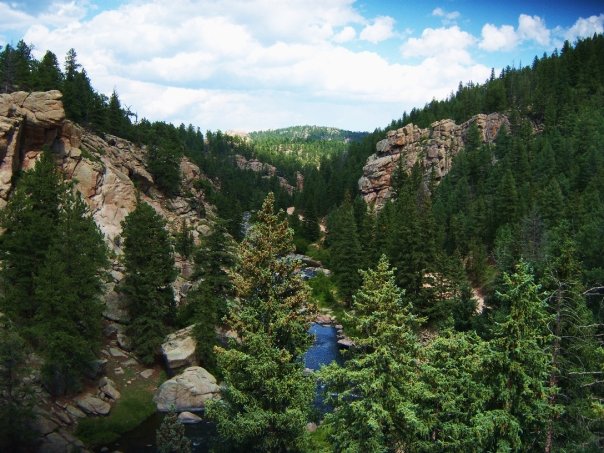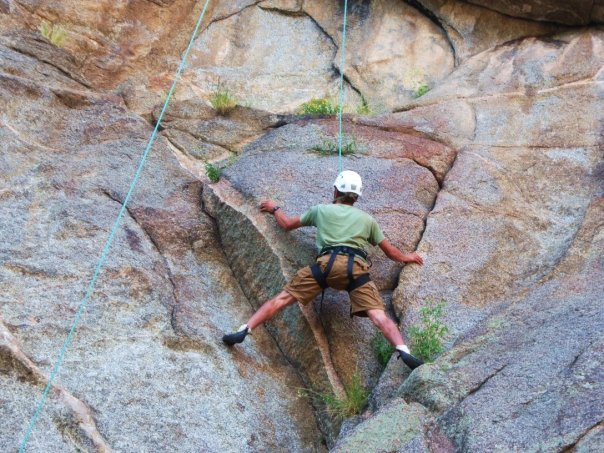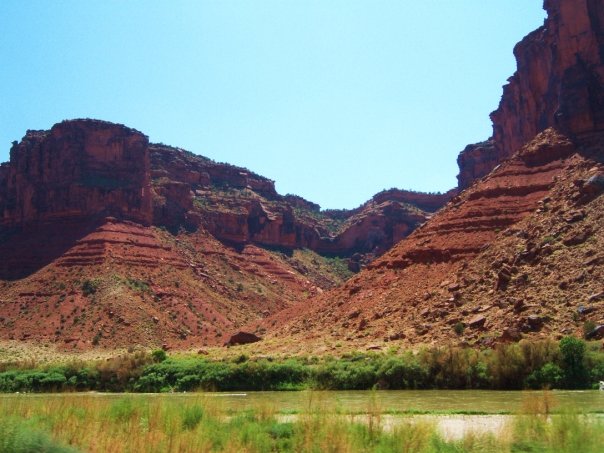 Approaching Utah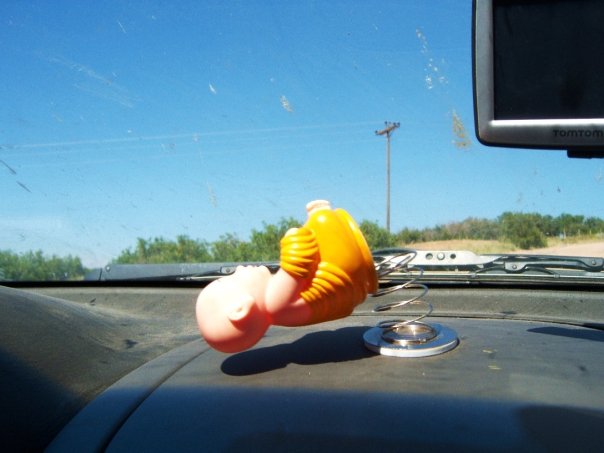 This bobbling Buddha drove me nuts for the first few days; then one day he got a little too excited on a bumpy gravel road, and bobbled his last

Darn reincarnation...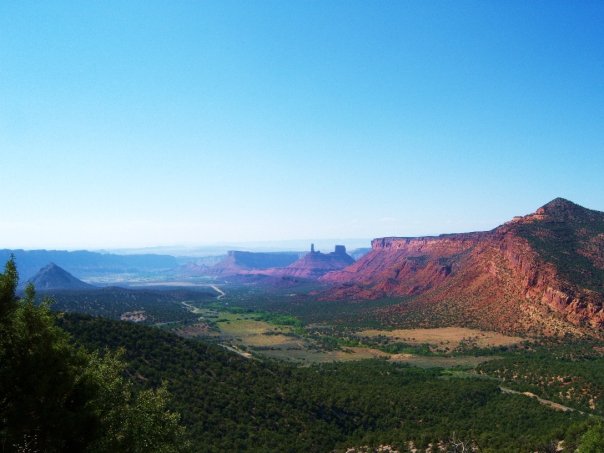 Day 4 - Kokopelli Trail
Since Scott and I were the only ones who were even close to awake at 7 in the morning, we were elected as the first cycling pair for the day. Our original plan for the trip was to bike the entire 142-mile Kokopelli Trail, but after consulting a knowledgeable local outfitter who, owing to the weather as well as our gear and experience, was convinced that we would most certainly die, we opted to pick out a few choice (easy) sections. The first section was 23 miles long with a fairly even elevation profile and took us to the Westwater Ranger Station on the Colorado River. Starting out, we found ourselves fighting through several miles of deep sand, but this soon abated and was replaced with a long stretch of effortless and incredibly scenic rollercoaster-like hills and turns. A painful trudge up a quarter-mile of steep incline gave way to an extended white-knuckled downhill ride. We found our fellow roadtrippers waiting at the endpoint and Van cooked us all a delectable pasta and vegetables dish by the river; we had bought around 20lbs of fresh vegetables prior to leaving which the dehydrator had shrunk to the size of a single sandwich bag - this was fine by me, as it was a great novelty to have any amount of veggies in my camping food.
The drive to Castle Valley was far more epic than it had any reason to be. A trailhead that was supposedly accessed via "all paved roads" somehow came to involve an interminable series of gravel roads that ran up and down the mountainsides with no signs indicating the landmarks that we sought. When it became apparent that we would surely run out of gas before completing the return trip, we decided to reconsider our interpretation of the directions, and soon found that we had driven about 15 miles in the wrong direction; we coasted back downhill and located the nearly invisible turn that led to the start of the section. The first 5 miles of the section were straight uphill along a paved road; we drove Van and Andrew about three quarters of this distance and left them to negotiate the rest on their own. Fortunately, the brutal slog that started the trail was followed by about sixteen miles of continuous downhill.
Scott and I rolled into Moab with a few drops of gas to spare; the Sentra turned out to have about half the range of the Corolla, and so we found ourselves repeating this scenario again and again in the remotest reaches of the southwestern deserts. We dropped by the visitors' center to inquire about bike trails, climbing shops, restaurants, and free camping; the lady at the desk, without any prompting, also shared with us a few not-so-subtle hints on where we might find a cheap shower. We got an $8 primitive campsite right next to the famed Slickrock bike trail and watched the sun set over the rolling sandstone as we waited for our friends to arrive. While we waited, a family of unicyclists attempted to ride the trail, which is considered a formidable challenge even for experienced mountain bikers, and didn't seem to be making it anywhere very fast; this seemed like one of the more sadistic family activities a dad could subject his kids to. Van had inconveniently called us just moments before her phone died, and so we spent a few tense hours trying to contact her and Andrew via phone, walkie talkies, and smoke signals, but they fortunately showed up with an hour to spare til the panic time.

Rabbit Valley Campground

Chipmunk (bike is for scale)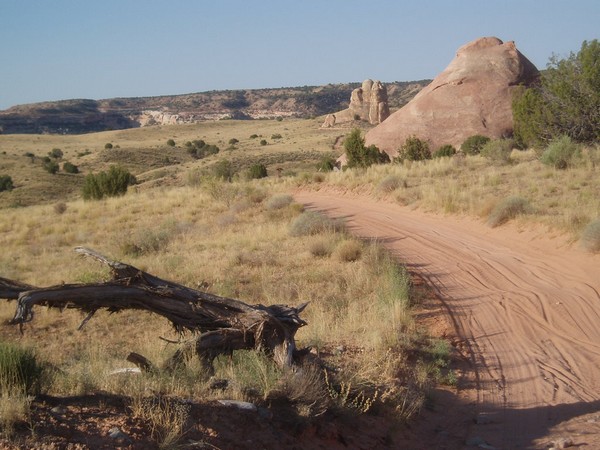 Kokopelli Trail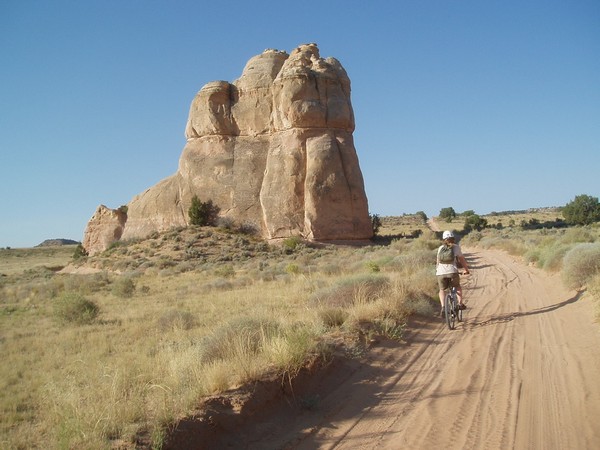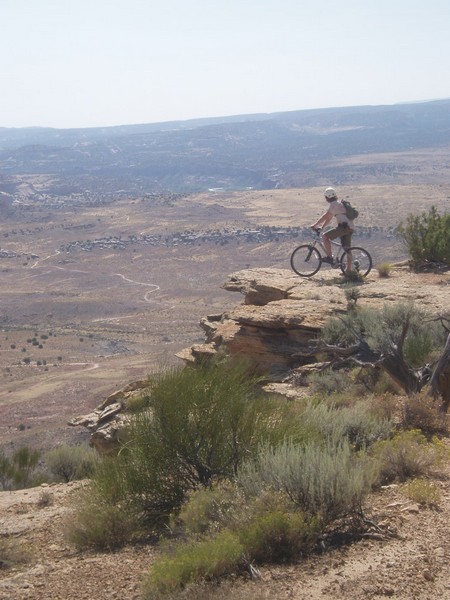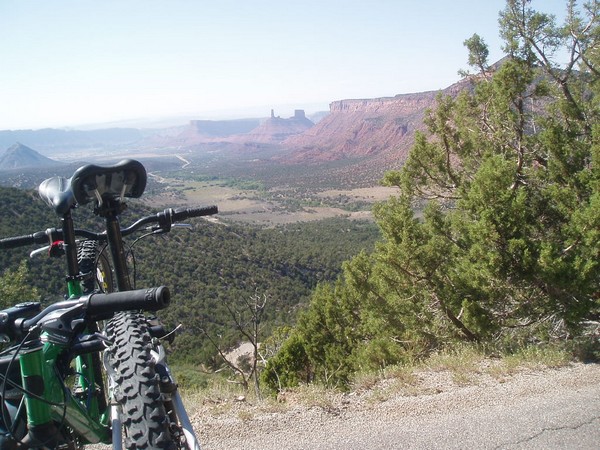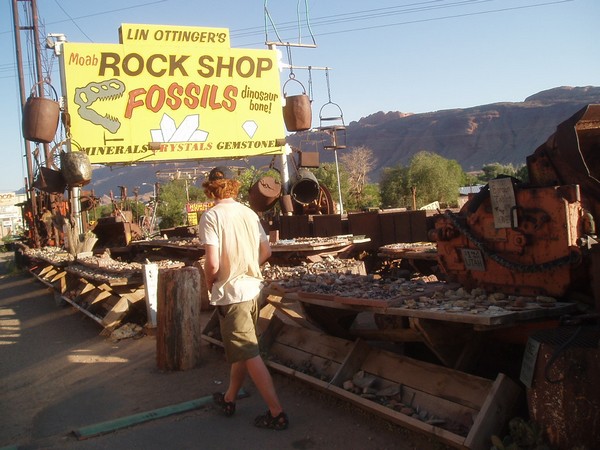 Scott picking out his complementary dinosaur bone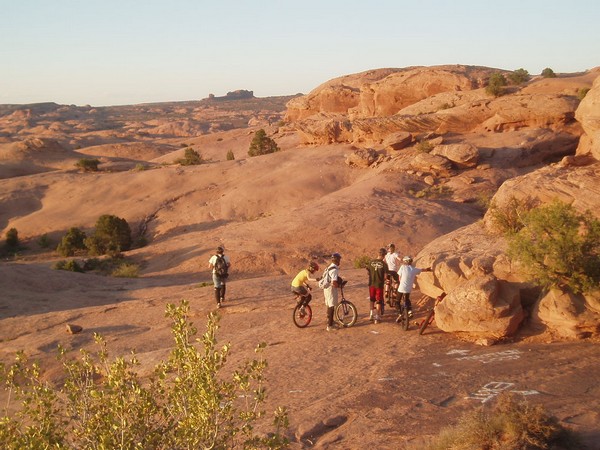 Crazy unicyclists

Andrew cleaning his wounds after fighting off a mountain lion

Nighttime visit from a kangaroo rat
Day 5 - Slickrock and Arches
Scott and I woke up shortly after dawn to ride the 12-mile Slickrock Trail. This route, which consists of a dashed line spray-painted on smooth, rolling rock, proved far more difficult than we had hoped, and we ended up throwing in the towel shortly after completing the 2.3 mile practice loop (and depleting our collective 4 liters of water). Van and Andrew conveniently pulled up at the exact instant we returned to the road, and they were all too happy to drive us to the top of an 8-mile section of downhill that they held to be just about the best biking anywhere. We spent thirty minutes flying between sandstone faces and past gravity-defying spires before ending back at Slickrock. We watched some nut on a motorized bicycle effortlessly cruise around rock formations that we could barely negotiate on hands and knees, and then went into town for lunch.
In our collection of promotional menus, we had found a special featured at the town's Mexican restaurant labeled "Wenchilada Wednesdays". For $2 per enchilada, with any filling or topping, this was far and away the best deal in town, but we would shortly regret this glut of cheese and sauces. One of the magazines we'd acquired advertised a skydiving site just outside of town, and Van and I immediately concluded that we would leap from a plane the moment we were done with lunch; sadly, our repeated efforts to call them returned only recorded messages and we eventually gave up on jumping at what was billed (at least in the company's own ads) as one of the world's most scenic dropzones.
Arches National Park was only a few miles outside of town, and we were soon winding our way up the park's twisting, arch-littered roads in search of good climbing spots. Once again, we had only a vague listing of rock fields and rough locations, and no good way to track down bolted routes within those zones. We scoured the Garden of Eden for the telltale glints of metal but found nothing. We eventually opted to give up and go for a hike instead.
The Devil's Garden trail was truly an awesome hike. It was jam-packed with tourists (almost exclusively foreign), but these dwindled as the evening wore on, and the amazing arches that hung suspended on every side were more than enough to allow one to tune out the incessant exclamations in French, Italian and Hindi. Several points along the route had walls packed with perfect bouldering holds, and the final stretches consisted of scrambling along several narrow rock fins. Due to our tendency to climb every wall, boulder, and arch along the path (and there were plenty), we used about twice as much time as was projected, and we made the return hike in the dark.
The northerly road out of the park was a sketchy gravel affair frequented by deer, kangaroo rats, and owls. After a few hours of driving, we made it as far as Green River State Park, which was in the middle of downtown Green River and consisted of little more than a campground and golf course, and for $16, we relished the first shower-equipped campsite of the trip.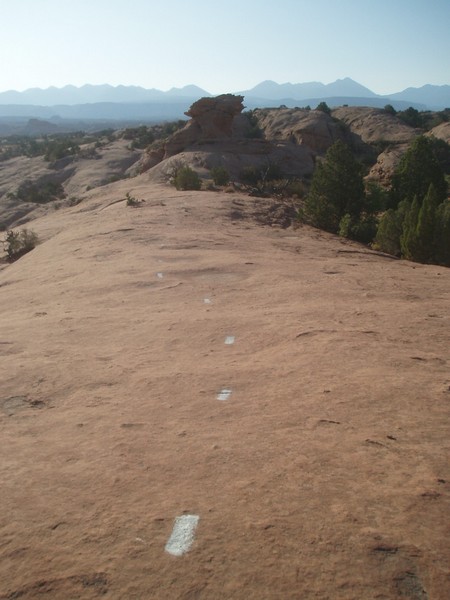 Slickrock trail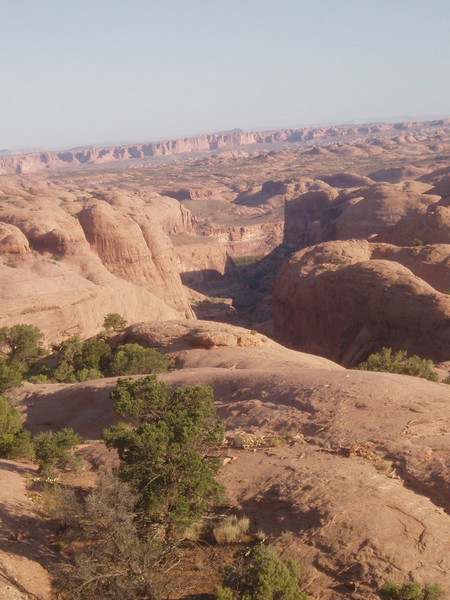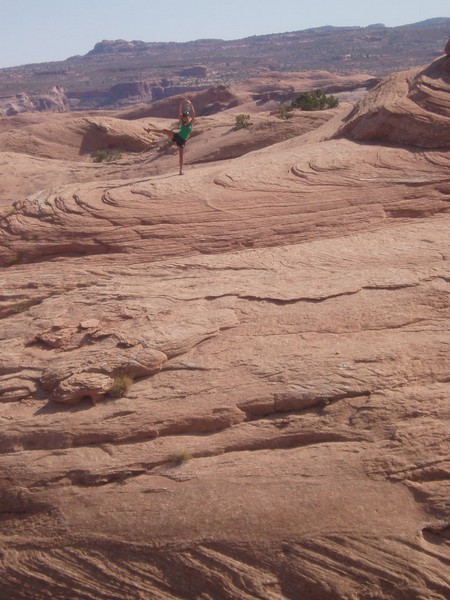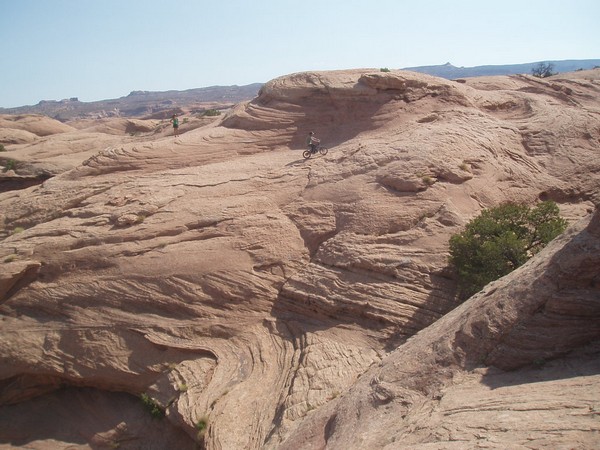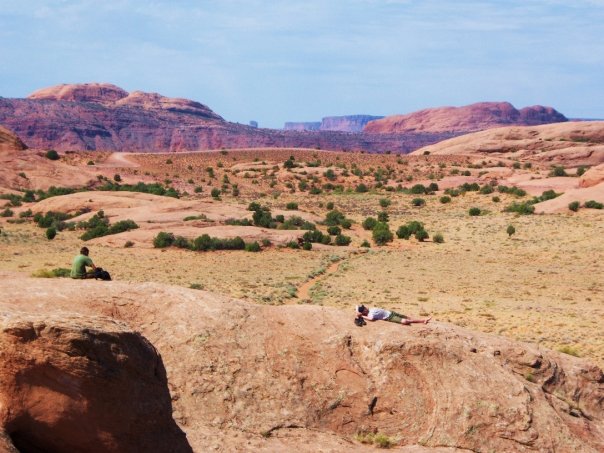 Scott resting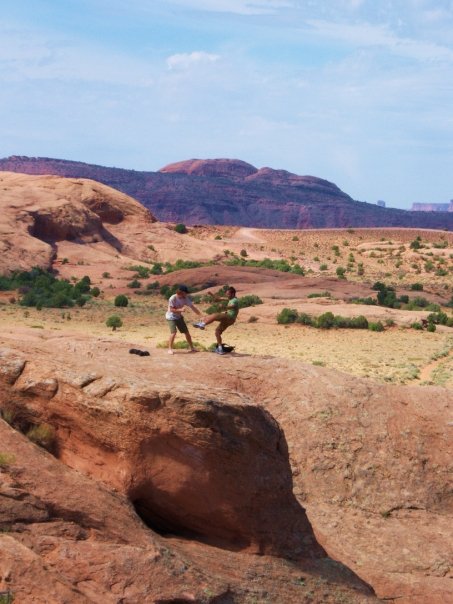 Scott and I settling a dispute with an old-fashioned ridge-top Muay Thai match

Popping a wheelie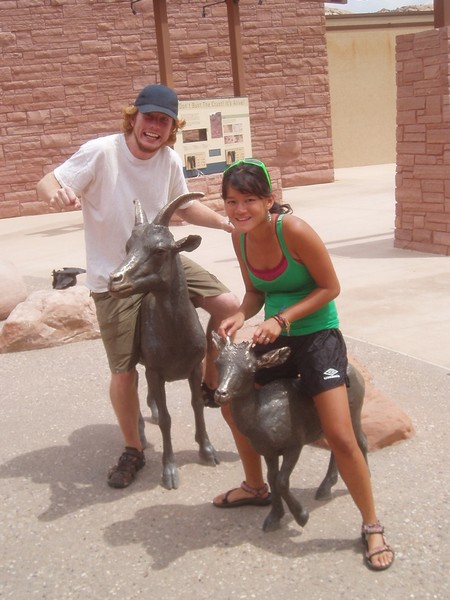 "Caution: Sheep may get hot"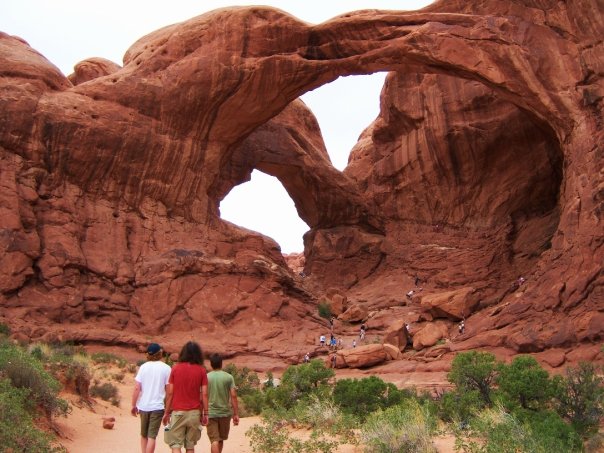 Arches National Park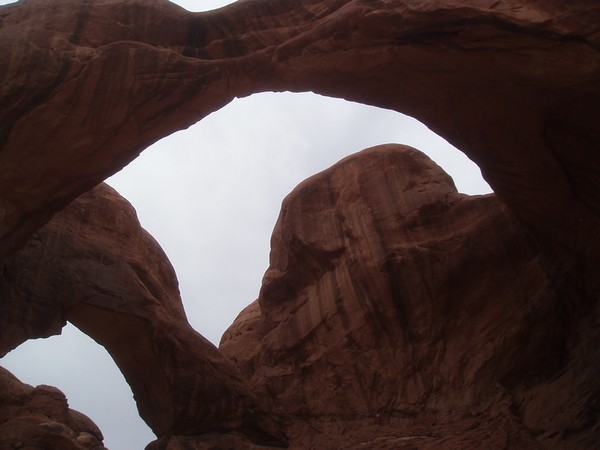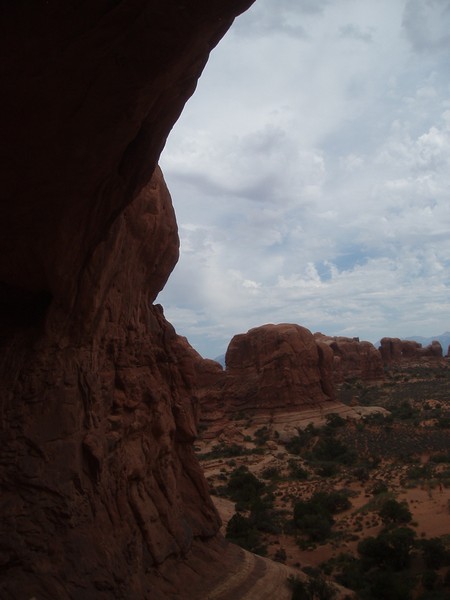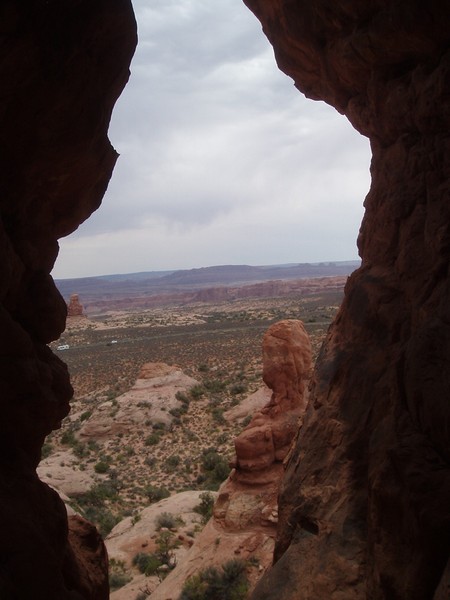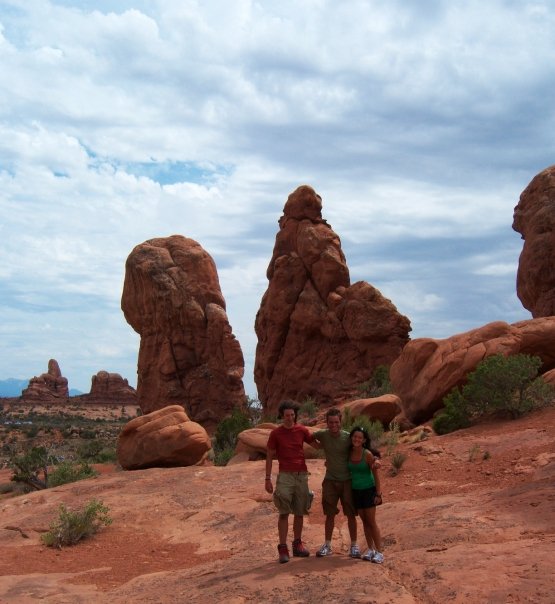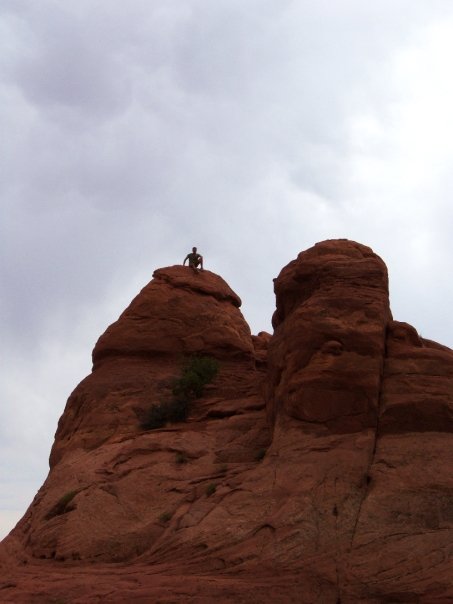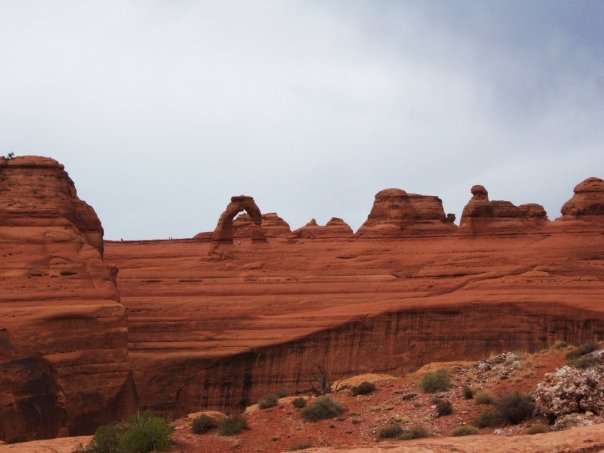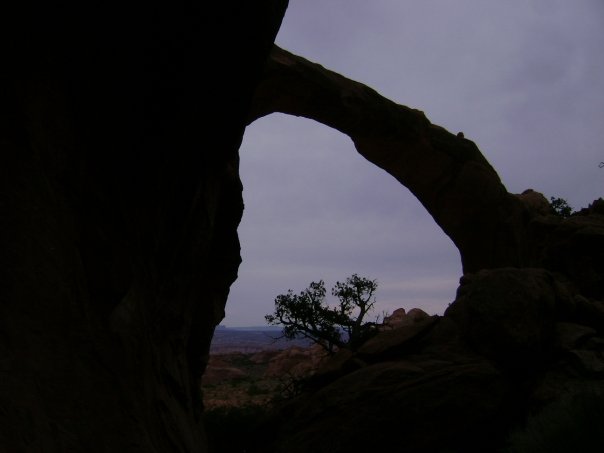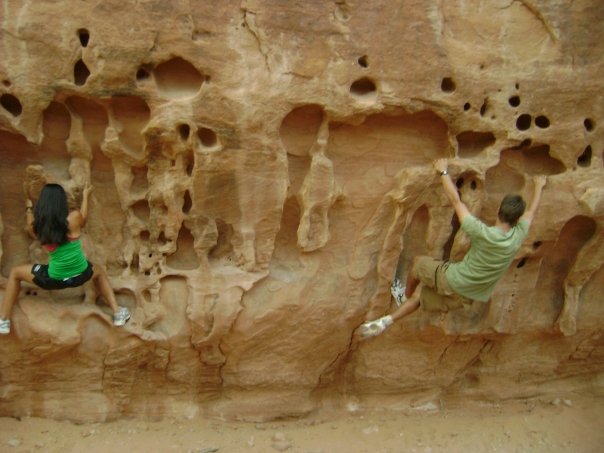 Naturally perfect bouldering holds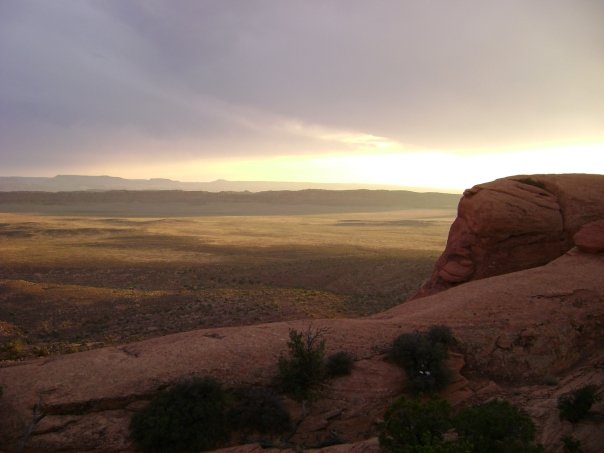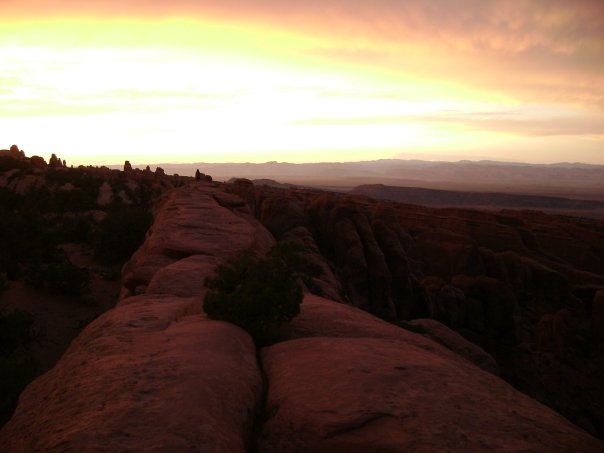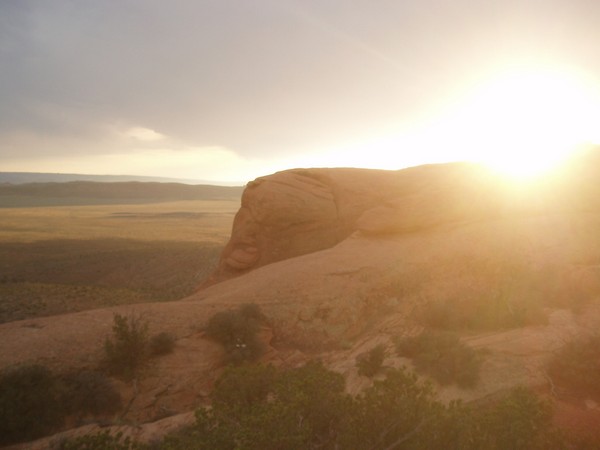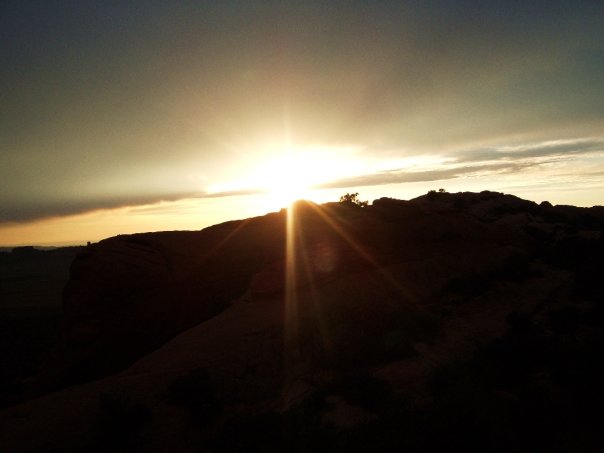 Day 6 - Slot Canyons
Canyoneering in Utah's slot canyons was another central focus of the trip that was compressed into one day due to weather and climbing. What was left of the original slate was an 8-mile loop through Little Wild Horse and Bell canyons. The trail started with massive walls divided by a wide channel of gravel and sand; this was quite exhausting to trudge through but was soon replaced by a narrow, winding slot that allowed for plenty of fun chimneying, scrambling, and all manner of acrobatics. After an hour or two of this, we returned to another wide channel. What we would soon discover was that we really hadn't covered that much ground while in the slots, and that hiking on sand through the open desert, even if it's only for a few miles, can be atrociously difficult and dangerous. Around the halfway point, Scott became convinced that he was dying of heatstroke and malnutrition and could likely go no further; this was rather inconvenient at the time because the thunderstorm that was fast approaching us could easily spell disaster as we returned through the narrows of Bell Canyon. We saw to it that he was properly fed and watered, and quickly pushed on through the rest of the trail, returning to the car before the first drops fell.
Goblin Valley State Park is just down the road from Little Wild Horse and provides several immense boulder fields for climbing and scrambling of all sorts. We cooked lunch in the shelter of the goblins, then spent the afternoon jumping from rock to rock, scaling the plateau, and playing hide-and-go-seek. An abrupt rainstorm sent us racing for our car, and we were soon leaving San Rafael Swell en route to White River Canyon. After a bit of research, we concluded that it would be stupid to attempt any more slots with the weather as it was, so we instead cleared scenic route 95 in the middle of the night and camped in a random national forest just outside Mesa Verde.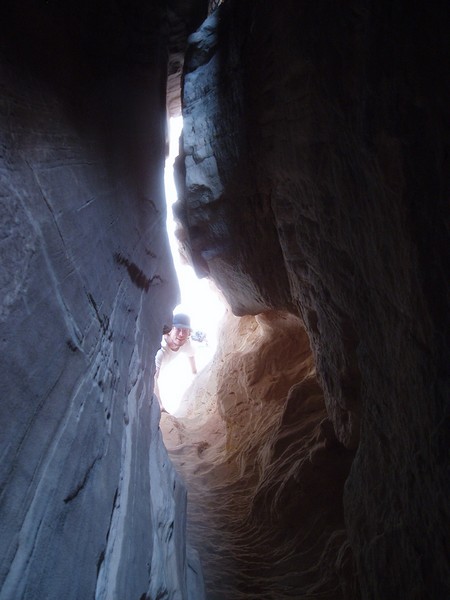 Little Wild Horse Canyon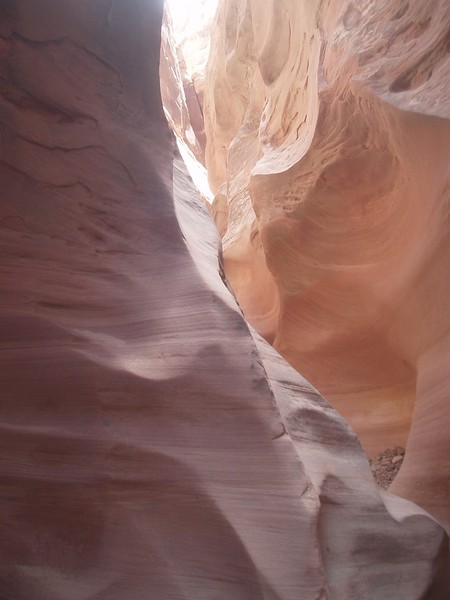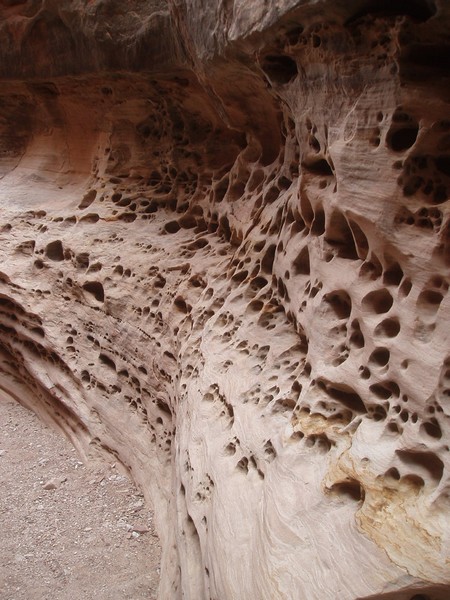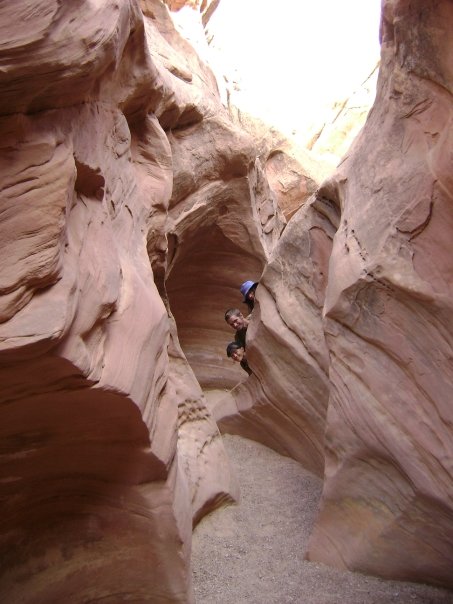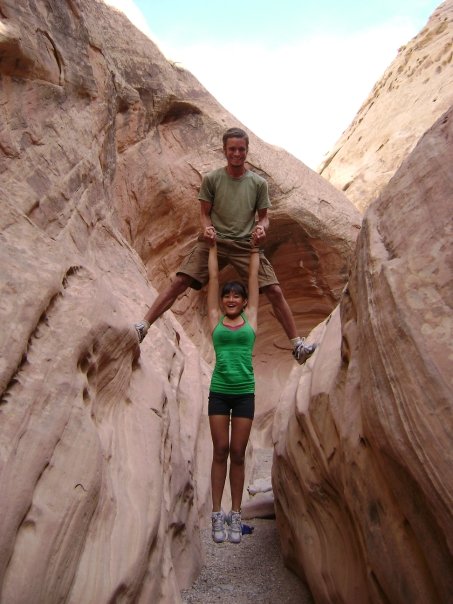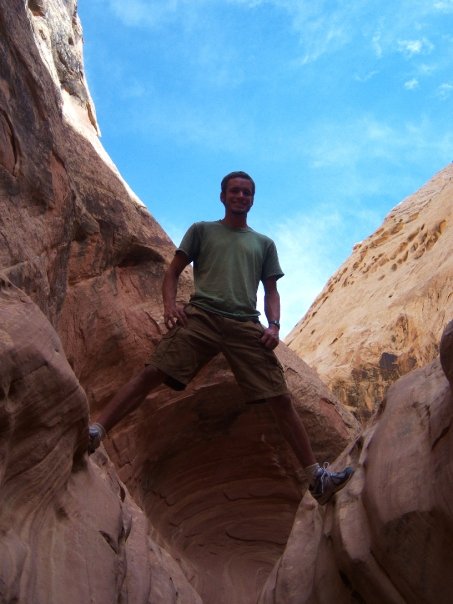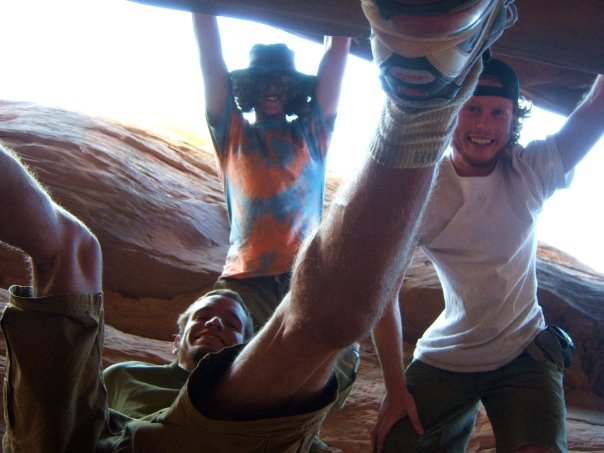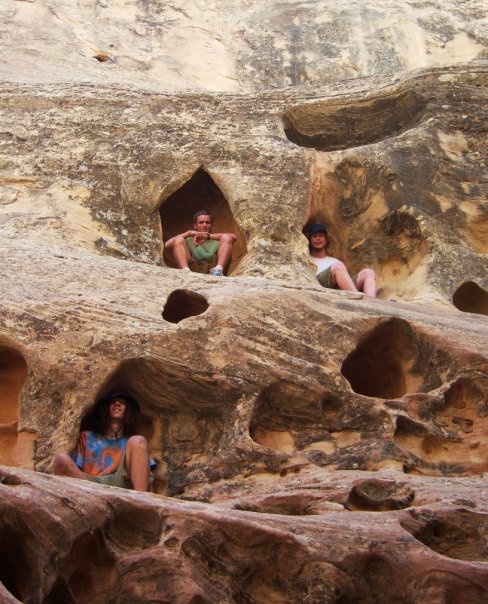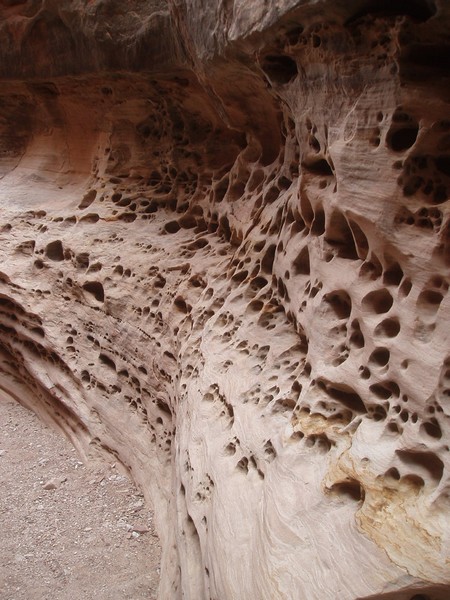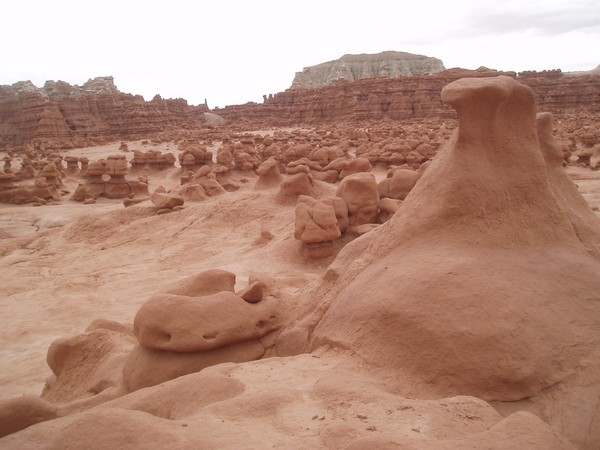 Goblin Valley State Park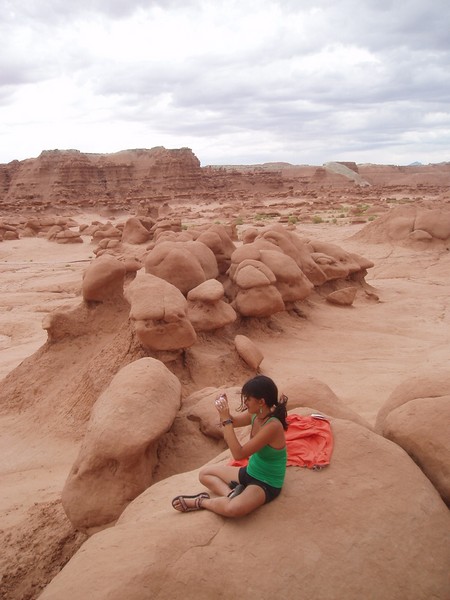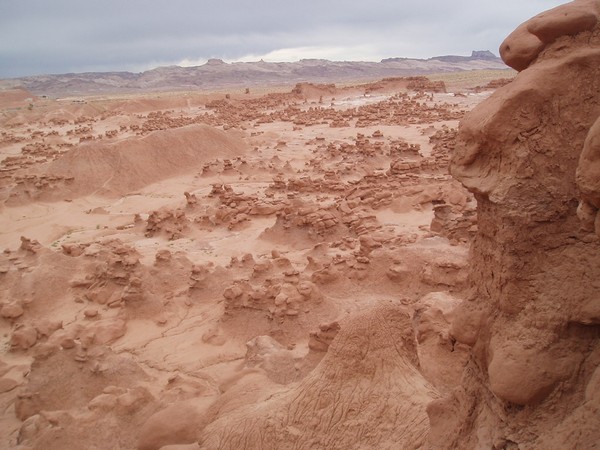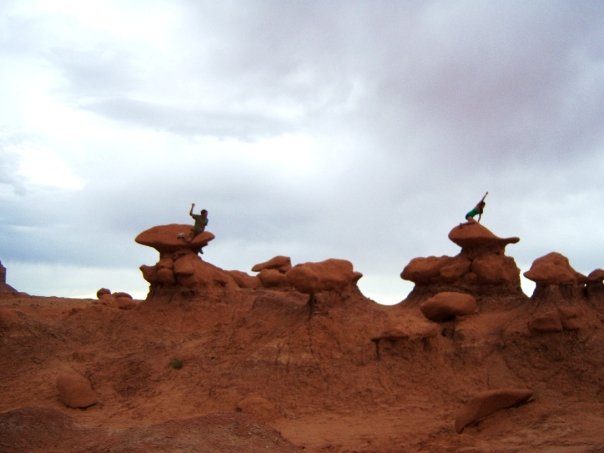 Turtle races (it was rigged)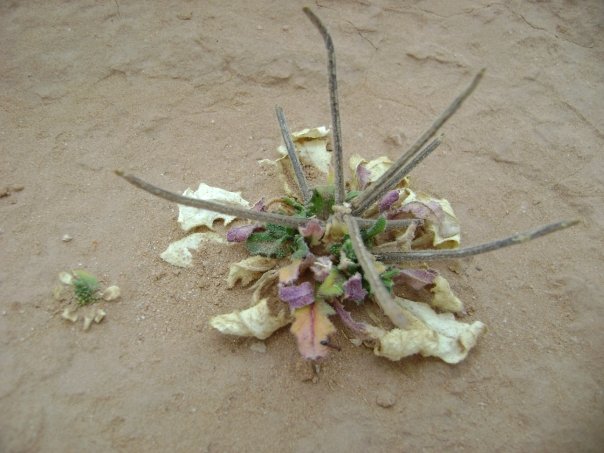 Weird desert plant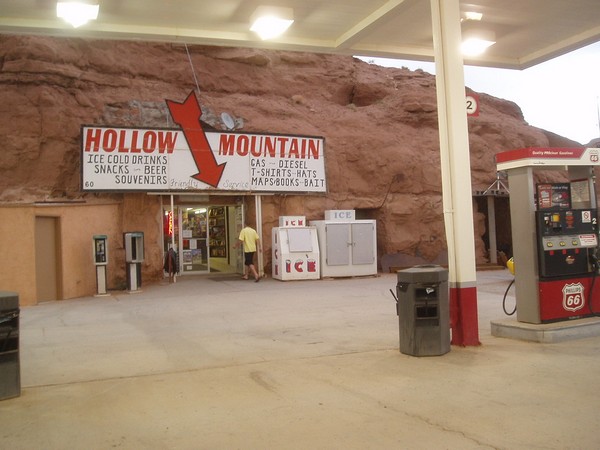 Gas station in a mountain!
Day 7 - Mesa Verde and Durango
Even in the early morning hours, Mesa Verde was exceptionally crowded. We had to wait in line for some time to get tour tickets to Balcony House (billed as the 'most adventurous' of the tours) and then found ourselves in a crowd of around thirty attendees. The tour was rather slow and dry, and the advertised climbs and crawls were nothing to get excited about; independent side-excursions, such as scaling the ruined walls of the dwellings or climbing up the cliff face using the tiny holds carved by the ancestors, seemed to be out of the question. The self-guided portions of the park were little better, as omnipresent barricades and a constant flood of tourists and rangers prevented any meaningful exploration of the ruins as one might find in Cambodia or Peru.
Soon fed up with the overcrowded, over-regulated park, we drove to Durango and pumped the visitor center employees for information. We soon found that there was a massive mountain biking trail network just a few blocks away, climbing a few miles to the north, tubing and kayaking on the river running through the town center, forest camping just outside of town, and a plethora of weird restaurants and outfitters scattered throughout the bright city streets; once again the lady volunteered a spot where we might procure a cheap shower with no prompting required.
We dropped Andrew and Van off at the biking trailhead, found a relatively easy loop for them to do, and agreed to meet them at the same spot in two hours. Scott and I left to explore the town and find the closest climbing. The trailhead for X-Rock was easy enough to find - there was even exclusive parking reserved for climbers, but somehow we managed to miss the obvious access trail and instead wandered up a series of goat/homeless-person trails into the dense brush of the mountain. We eventually realized our mistake and located the very obvious x-scarred rock, and the plethora of routes surrounding it. Our scouting was interrupted by an oncoming thunderstorm and we ran down to our car and raced back to the start of the bike trails.
We got a call from Van shortly after we arrived; the two were soaked and freezing and could no longer ride or even push their bikes on account of the deep, impassable mud that had suddenly consumed all trails in the park. We grabbed headlamps, handfuls of snack bars, and all the warm clothes we could find, and started walking up the mountain to where we believed they might be able to meet us. Half an hour passed and we had still seen no sign of them; our cell phone had lost signal and the few maps we had seen suggested that there was no easy way for them to get to where we were. We started jogging back towards the car in search of a phone signal, and only stopped when we spied a light on a distant hillside. We called out, and much to our relief, heard their shouts in reply. Calling them on the cell, we discovered that they had now given up walking and were curled together for warmth. Switching over to a side trail, we met up with them (they were now walking briskly, sans bikes) within 5 minutes. Scott immediately switched into hero mode, force-fed Van two granola bars, and dragged her the remaining half mile to the car. This left me and the healthy-though-somewhat-exhausted Andrew to carry the mud-encrusted bikes back down the mountain.
Van made a quick recovery in the makeshift sauna of her car and we went in search of dinner. When we arrived at Homeslice Pizza, we found the chef smoking outside and inquired as to whether the place was still open; he replied that it had just closed, but he would be happy to sell us the leftover slices from the day (a grab bag roughly equivalent to 3 large pizzas) for $10. So we sat in the dark parking lot and feasted on the cold assortment of pies, convinced that we had found the best deal in town.
We tracked down the nearest forest campground, but left as soon as it was discovered by the muddier members of our crew that there were no showers on offer. We then drove north to United Campground; at $38 a night, this would turn out to be the most expensive campground I had ever stayed at, but we wouldn't find that out til the morning. Another thing we wouldn't find out right away was the combo for the bathrooms; I couldn't get in, while Van somehow managed to enter, but was subsequently trapped for over half an hour; I eventually convinced our rather skeptical neighbors that we did in fact intend to pay in the morning and were deserving of the secret sequence.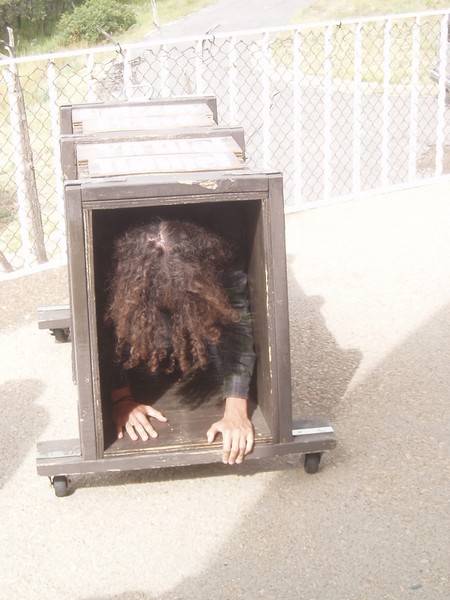 To make sure you're adequately prepared for the "adventurous" tour

Bike enthusiast

Cliff Palace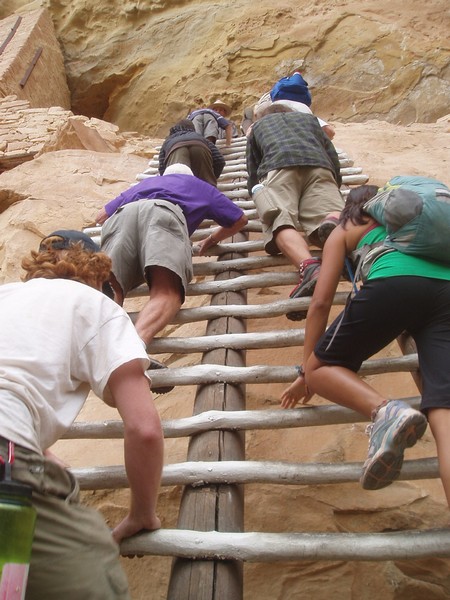 Harrowing 30ft ascent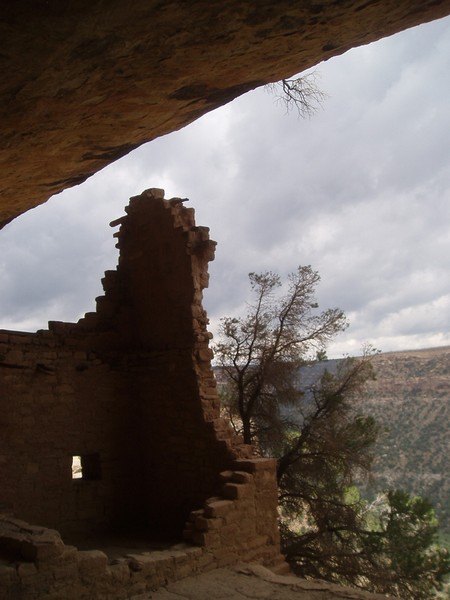 Balcony House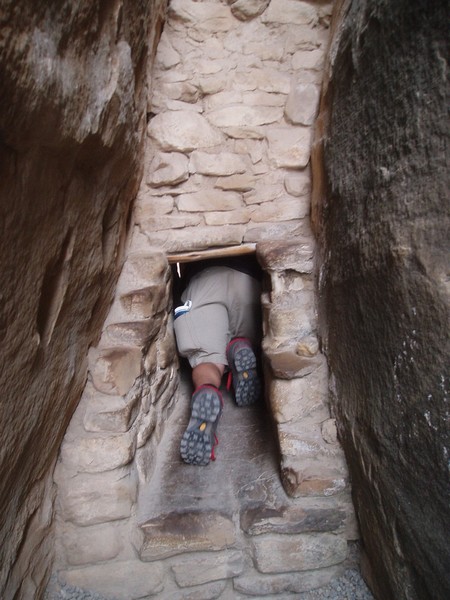 Original entrance tunnel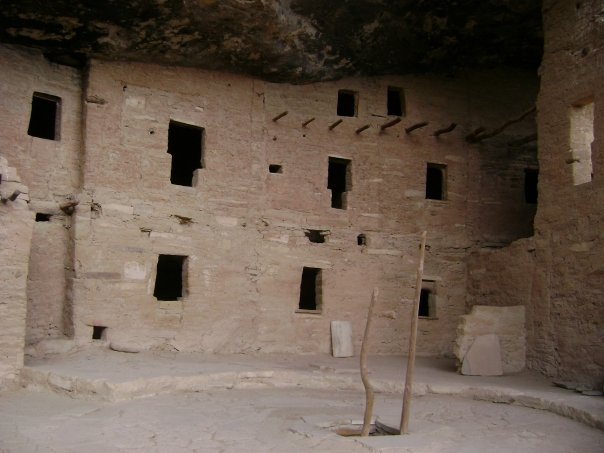 Other building I've forgotten the name of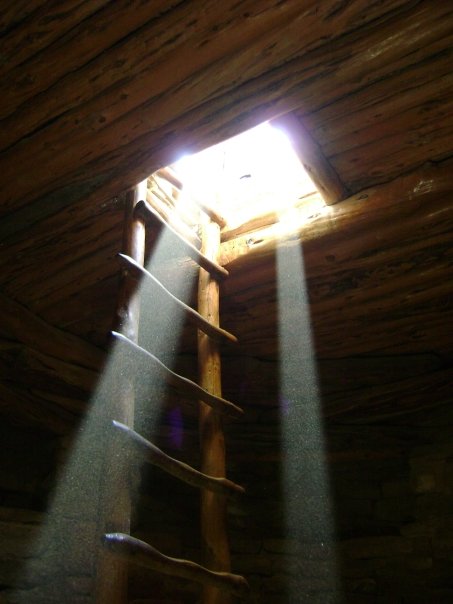 Underground living area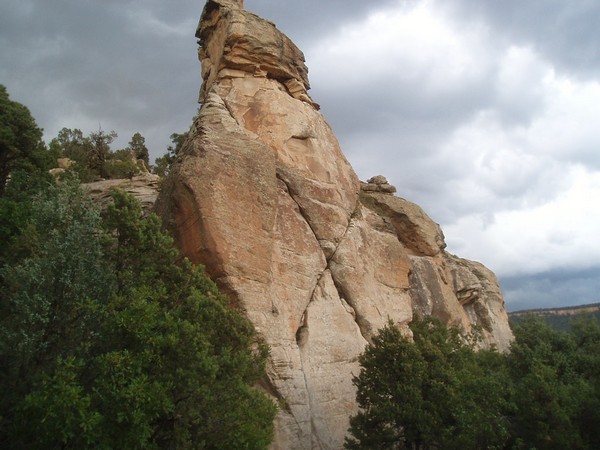 X marks the spot

Oncoming doom

Rescue mission at sunset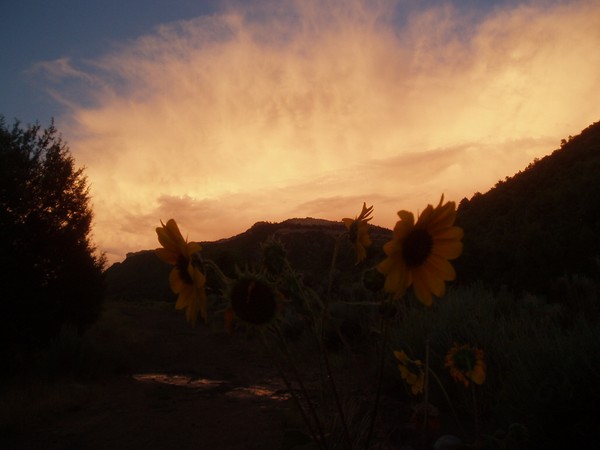 Must not get distracted... people to save...

A little bit worse for wear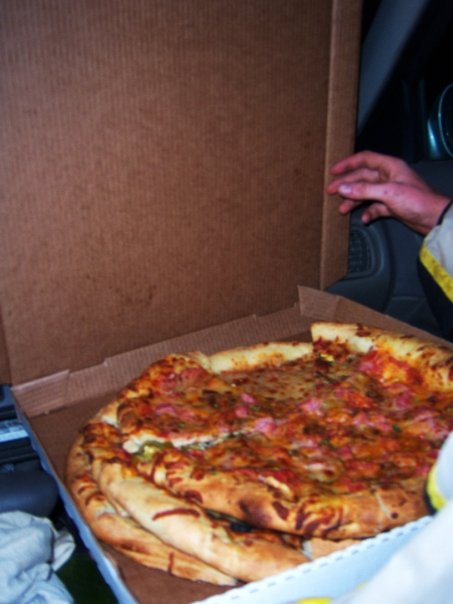 Best midnight dinner ever
Day 8 - Durango and onto New Mexico
In the morning, we hung out at the campsite for a time, ran a load of laundry, chipped mud off the bikes, played with the resident ponies and watched the tourist trains run along the track that bisected the grounds. When we finally got moving, we only had to drive across the street to reach X-Rock. Here we did a number of top-roping routes, but ran out of time before we could tackle the signature X. Our main time constraint was the end of the lunch buffet at the town's Himalayan restaurant; we ended up missing it by half an hour, but ate there regardless. We were too cheap to try out any of the yak dishes on offer but did sample some delicious momos, samosas and vegetable curries.
We spent the remainder of the day and night driving through New Mexico. Our only notable stop was an Apache casino, and we got kicked out of there before we could gamble anything because of our sub-21 group member. On one deserted road, we found a man who had just rolled his truck (but seemed to be doing remarkably well), as well as a porcupine and several other nocturnal critters. Roswell had no attractions to set it apart from any other mid-sized town, except for unusually cheap gas and a single UFO museum. We knew we were heading for Lincoln National Forest, but had no idea which of the three patches of forest to target, nor did we know which access road to follow into that patch; luckily, my caving friend Dan was on hand to give us reasonably good directions to the middle of nowhere. We camped on a lake in a state park across from the entrance to the forest; the final stretch to the cave would be tackled in the morning.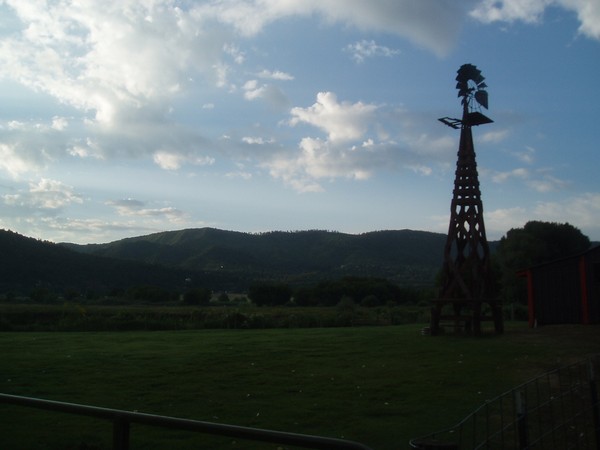 United campground

Waiting on the train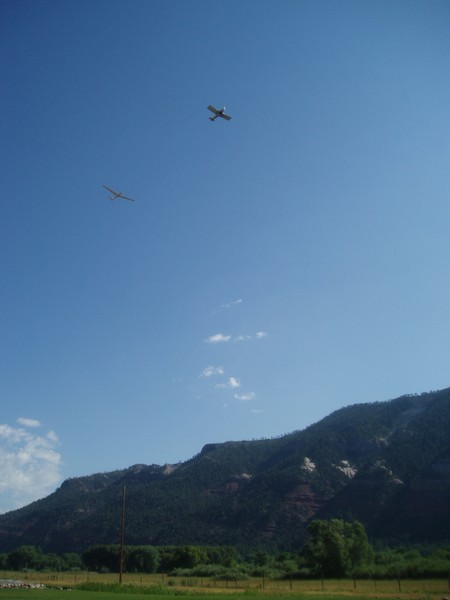 Gliding

Friendly campground pony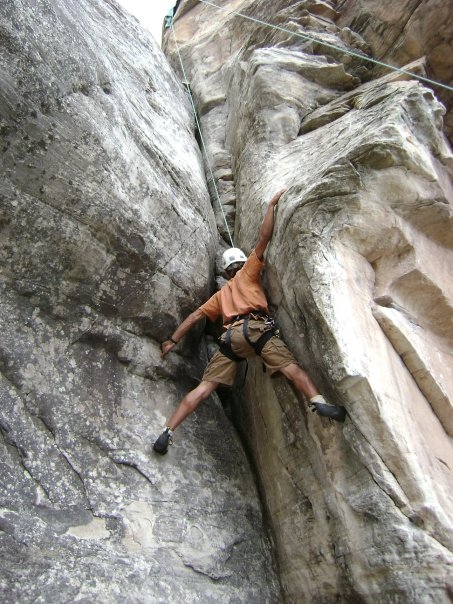 Climbing at X-Rock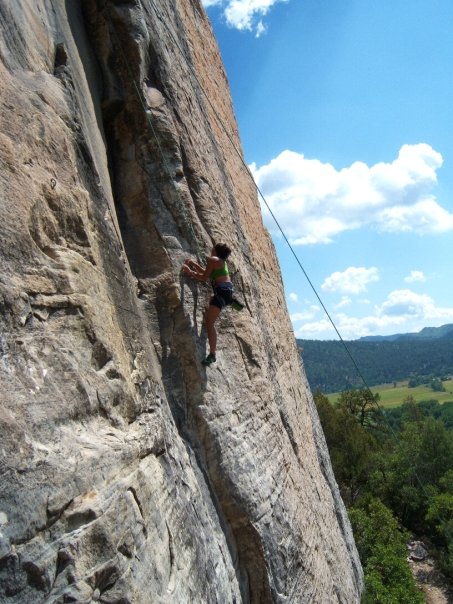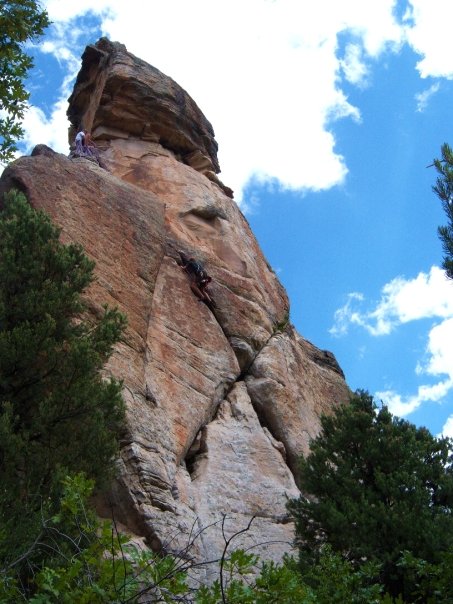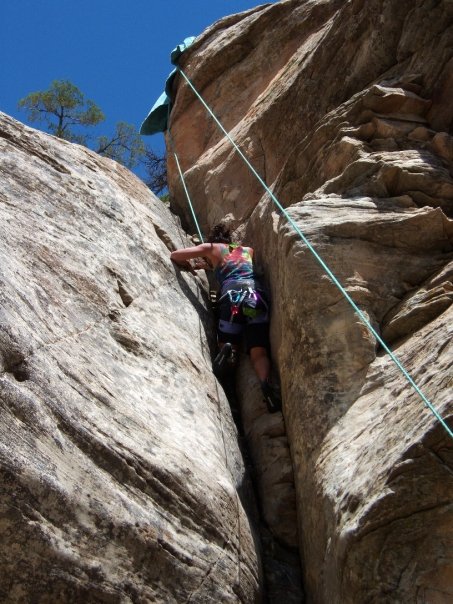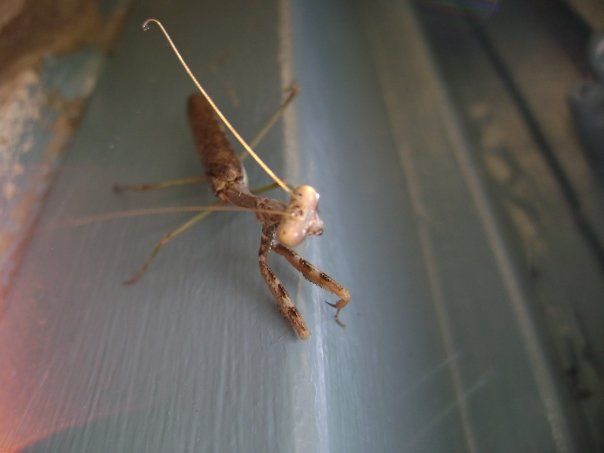 Another one of Scott's tiny little friends
Day 9 - Caving in the High Guads
Instructions for the cave were found in a locked box outside the forest's administrative office. The roads up to the cave trail were an unnerving mess of pointy boulders, loose gravel, and steep inclines; we made it to within two miles of the parking lot before we decided that car wasn't going any further and opted to walk the rest of the way. From the trailhead, the directions began to resemble a treasure map with directions such as "walk 520 steps at a bearing of 50 degrees" - this was completely unnecessary, as there was a single easy-to-follow path that led straight to the entrance. Cottonwood Cave has an amazingly massive entrance with the biggest formations I've seen anywhere. Neon tape directed us along a fairly easy path through a huge, highly decorated main passage that continued for around a thousand feet. Where the tunnel squeezed off, a locked grate in the floor promised more cave below; we had no key, and Van was the only one among us who could have fit through the bars, so we reluctantly turned around and returned to the entrance. On the way back to the parking lot, we passed a group of spelunkers with no helmets or permit, and only one flashlight for the six of them; this was a tad frustrating as they had managed to access the cave without the month-in-advance application process, and, with the help of their high-clearance truck, even did so with several fewer miles of hiking.
Starting again from the parking lot, we followed a list of 26 separate step counts/compass bearings (which seemed largely inaccurate and could have easily been reduced to 2 or 3 simple instructions) and eventually tracked down the tiny, gated entrance to Black Cave. This was an enjoyable wet and muddy cave which was filled to the brim with decorations; there seemed to be no inch of the passage which wasn't covered in growing formations, and the only thing that made it seem at all permissible to walk through the place was a sequence of neon tabs indicating a path through the splendor. This too was fairly short and we were back outside within an hour. It had cooled down quite a bit for our return trip to the car, and the trail was frequented by bizarre little frog-lizard creatures. We watched a spectacular sunset from the fire tower and made a difficult descent along the dark, bumpy road.
We headed south towards the National Park and found the only campground en route to be a sketchy affair behind a hotel in Whites City. On the way to our site, we passed a skunk, a group of raccoons, and something that resembled a baby puma; having had interesting past experiences with skunks and raccoons, I immediately instituted a 'closed-or-guarded' policy for the car, and thus saved our supplies from the fate suffered by those of the Australians down the road. The bathrooms were something straight out of a B-movie; hundreds of bugs of every variety swarmed around the sinks and toilets, and the moment you stepped through the door, you would find yourself covered in a collection of large, sociable grasshoppers. On the upside, we had access to the internet in the hotel lounge, and supposedly to the hot tub, though none of us ever managed to find it.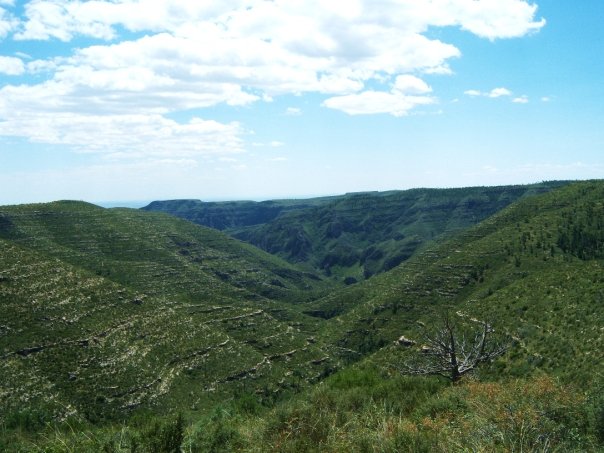 The High Guads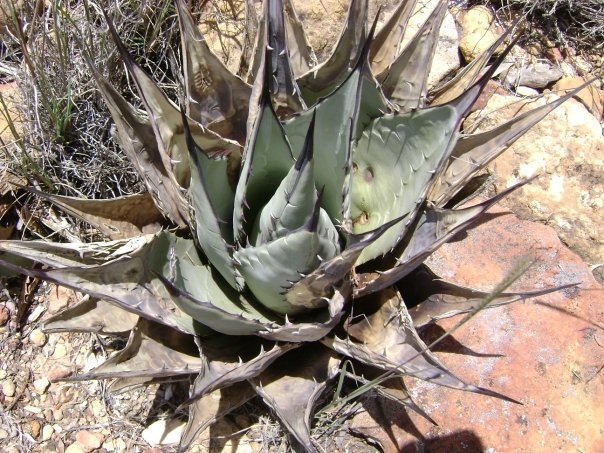 Friendly desert plant

Cottonwood Cave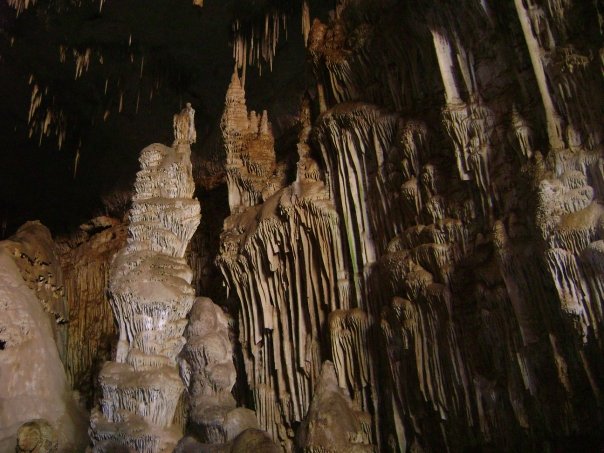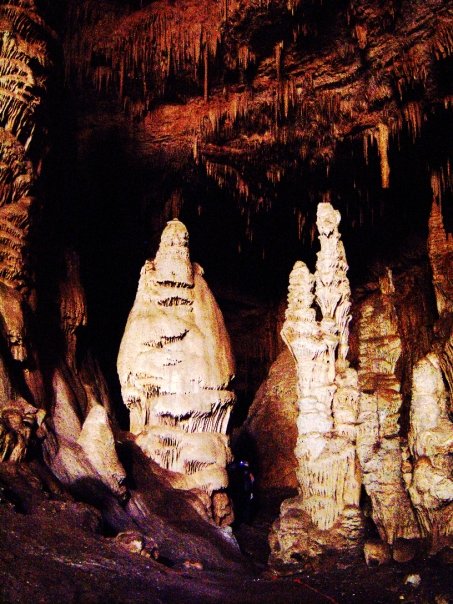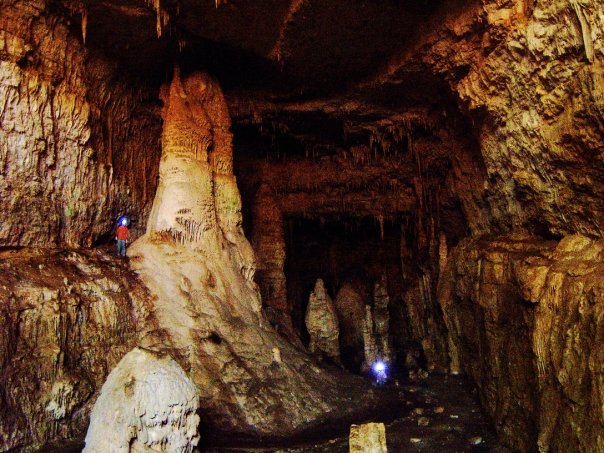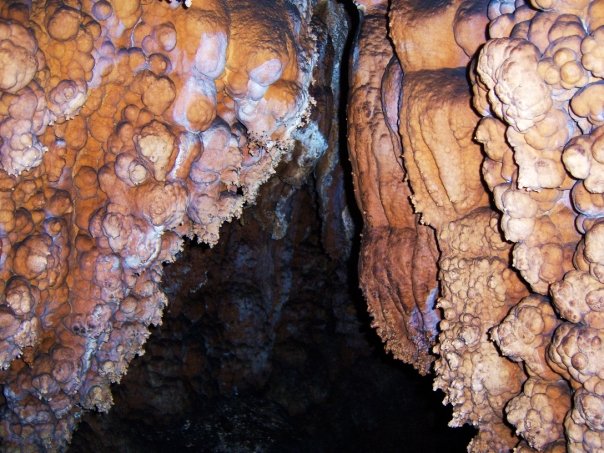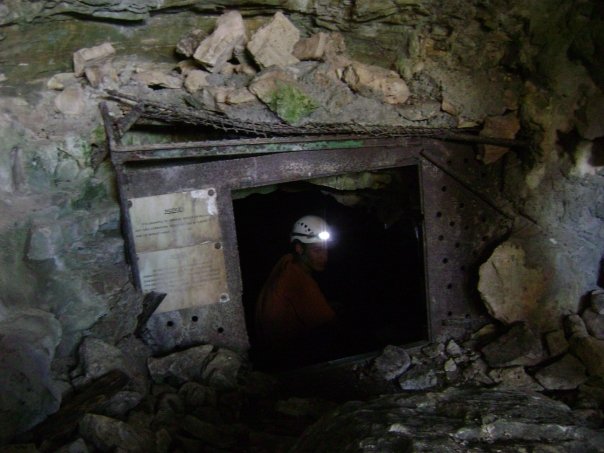 Gate to Black Cave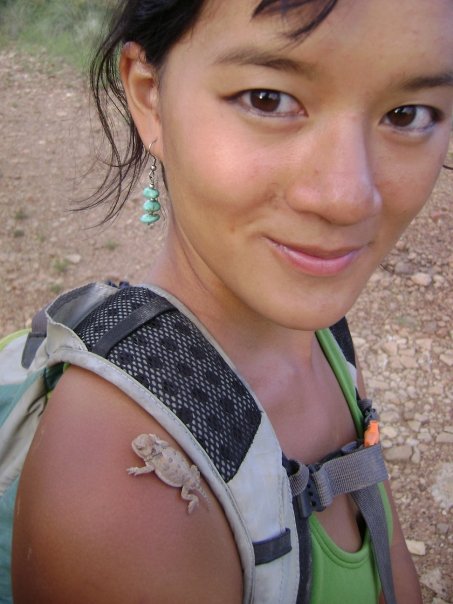 Very docile (or incredibly scared) frog-lizard thing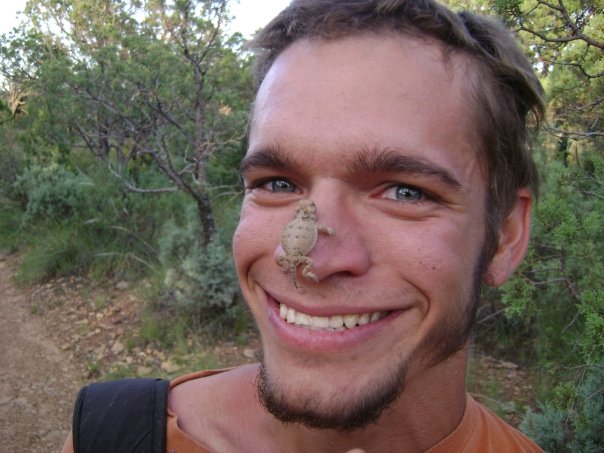 It had to be done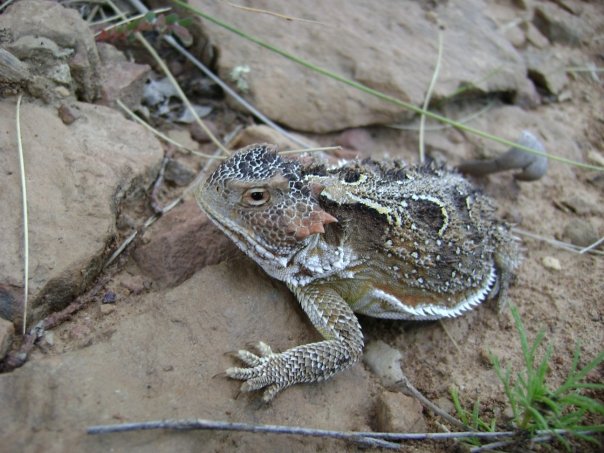 Big brother (definitely not going on my nose)
Day 10 - Caving at Carlsbad
Of all its charms, the top selling point for our campground was its location 300ft from the main entrance to Carlsbad Caverns National Park. We drove into the park first thing in the morning and walked up to view the entrance of the main cave. I had forgotten at the time that it was possible to take a free, self-guided tour of the main rooms, and thus we turned around and left without delving any further. I asked one of the rangers about the caves we planned to visit, and found he knew nothing about either one of them; this was a welcome vindication that we had selected a destination far from the beaten track.
The caves we were looking for were in another branch of the park some 45 minutes away from the visitor center. We took a mostly paved road to an undeveloped parking lot and began a brutal hike into the desert. Besides offering no shade from the 110-degree heat, the trail was chock full of disgruntled plants that sought to stab, impale and lacerate us with every step we took. Van, who started out in nothing more than shorts and a sports bra, soon succumbed to the heat and the repeated assaults by the desert foliage, and opted to return to the car after half a mile to spend the rest of the day waiting in the shade. We would discover later that she had gotten lost immediately after leaving us, and had wandered around in a daze for two more hours before eventually stumbling upon the parking lot; the last hour of this impromptu hike was carried out with a large cactus spine protruding from her toe.
The rest of us fared little better. Once again, we found the directions to be less than stellar, and we were thus lost for some time in the maze of ancient creek beds before we found the trail going straight up the mountain to the entrance. The incline nearly killed us, but we were able to collect ourselves in a cool rock shelter, and then to push on to Christmas Tree Cave. I slung a rope around a boulder and we swung down into the refreshing, 56 degree cave. The one and only chamber of the cave was only 800 feet long, but like the others, it was packed with formations. We spent an hour wandering and recuperating and then returned to the surface.
The next cave involved an even harder hike which ended with a steep, slippery uphill trail that took us through a slew of plants that seemed intent on stabbing out our eyes. Goat Cave held one gigantic, smelly passage with few formations. The main attraction was a skylight which I would have rappelled through in a second, if only I had had the energy to scramble through the cacti and up the rock face. There were also some old mining supplies scattered about. We returned to the car by the same route we had come and began the long drive to Austin.
The group had been clamoring for a sandboarding stop since the start of the trip, but for one reason or another, we had not yet managed to stop at any of the dunes en route. So when they became privy to the fact that our route passed within fifty miles of Monahans Sandhills State Park, a stop there became a foregone conclusion – even if we would be arriving several hours after the park's closing time. We stopped at Walmart to pick up some cardboard boxes (I knew from past experience that these didn't work at all, but they were a good alternative to spending money on something we'd be throwing away a few hours later). It was not entirely straight-forward to locate the dunes in the dark, but we eventually found some and spent an hour rolling, running, and flipping (though never sliding) down their heights. Scott and Andrew very much wanted to camp at the dunes, and I, alternatively, very much wanted to avoid spending another day driving through Texas, so Van and I took turns driving through the night, while the other two defiantly passed out in the backseat.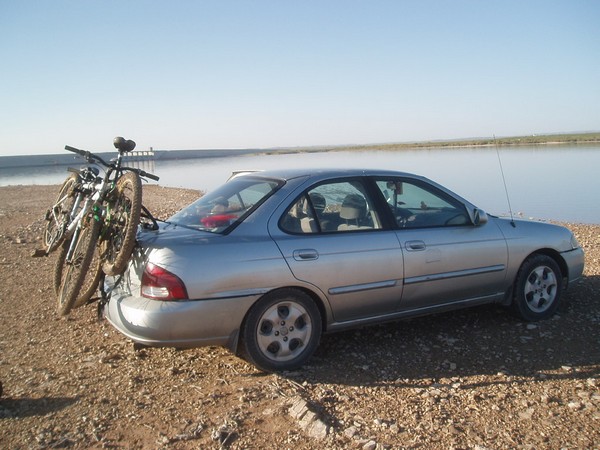 Campsite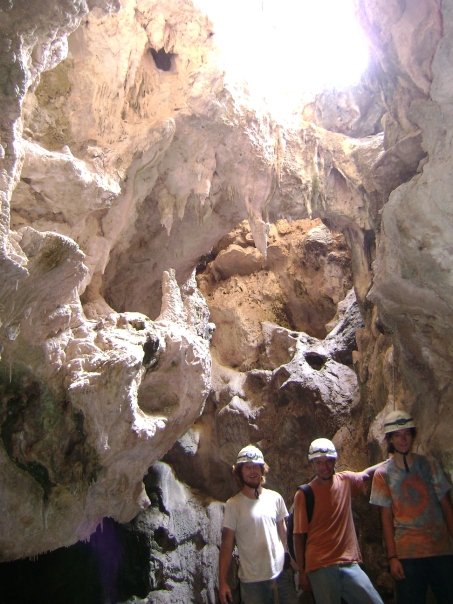 Christmas Tree Cave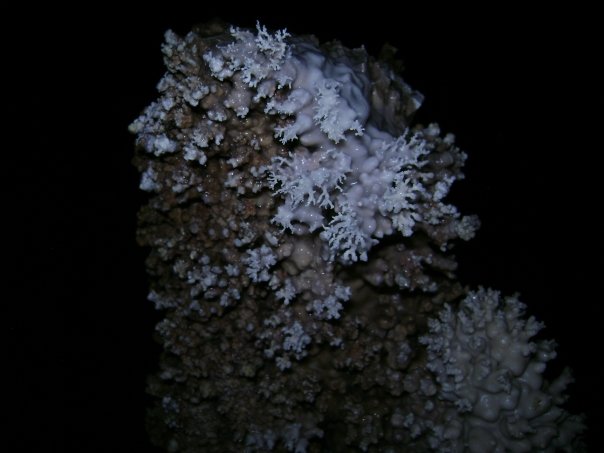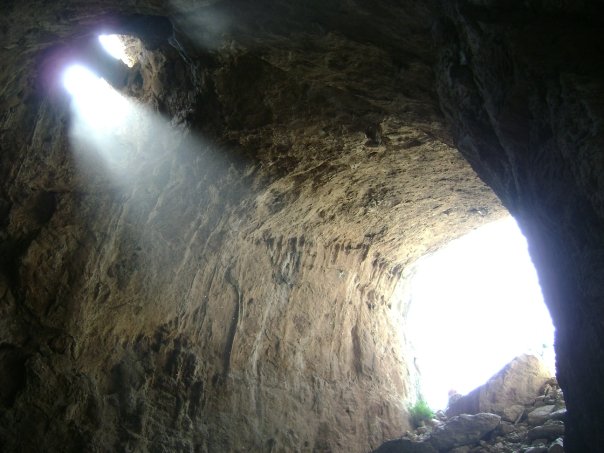 Goat Cave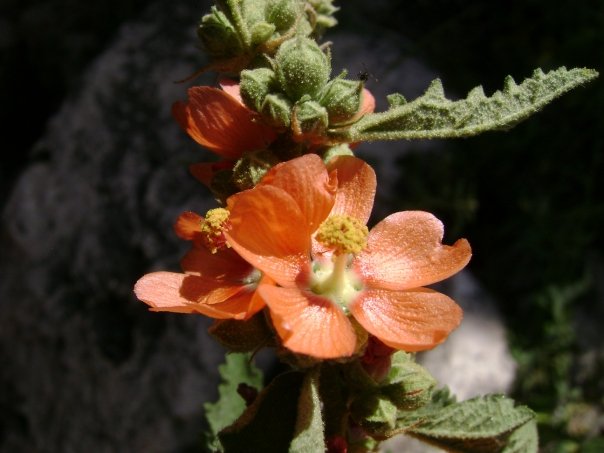 Looks pretty but will most likely hurt you
Days 11 and 12 - Austin
We arrived at Hamilton Pool on the outskirts of Austin a little before 7am. The gate explained that the park didn't open til 9, so we drove further up the road in search of a place to sleep until then. Half a mile up, we found an unassuming county park with a patch of gravel next to the gate, so we parked here and prepared to nap. Precisely at 7, a white truck pulled up, unlocked the gate, and drove on through; I followed and parked next to the ranger's station. After some discussion, I discovered that we had inadvertently happened upon the famed Reimer's Ranch, one of the climbing meccas of Texas. The park offered hundreds of routes, as well as caves, a river, and around thirty miles of biking trails. The wave of enthusiasm that swept over me precluded any possibility for sleep; while most of the carload dozed, I threw on some shoes and clambered down into the central canyon which was home to a rainforest-like microclimate, and housed a small stalactite-ringed recess known as Sex Cave, as well as tons of beginner-friendly bolted climbing routes. Andrew and I grabbed the bikes while Scott passed out under a tree and Van went down to the river for her morning bath. The novice bike trail was fun and fast, and it only took an hour to knock out the 7-mile route; I immediately followed this up with a rappel down one of the cliffs and a refreshing dip in the river. We spent our remaining hours in the park doing easy sport climbing routes and trying to conquer our crippling fear of lead climbing.
Hamilton Pool is a picturesque swimming hole partially shadowed by the roof of a large grotto. Its singular downfall, like nearly all of the springs in Florida, is the mob of rednecks that populate it from dawn to dusk seven days a week. We spent about half an hour swimming under waterfalls and sliding off rocks before hiking out and heading for the city.
Chuy's was never my favorite restaurant in Austin; to me, it always stood as a monument to Austinites' unbeatable addiction to Tex Mex, even in the face of the city's distinctly un-Texas liberal tendencies and a glut of more interesting dining options. It is nevertheless a definitive Austin experience, so it is there that we stopped for dinner; even at 5:30PM on a Tuesday, the place was packed, but we found a spot in the corner of the hubcap room and ordered the special Green Chile Festival enchiladas.
We walked along the Town Lake trail to Congress Ave. bridge to see the massive bat exodus, then went up to Sixth Street to catch a live show. We soon discovered that all the bars on the street were 21+, and the music that drifted out the open windows would therefore remain just out of reach; we stopped by the Alamo Drafthouse to pick up tickets to a giant spider flick starring William Shatner, which was only a buck and included a free rubber spider for all in attendance, but found that it was already sold out. We decided that we were all on the verge of collapse anyway, so we bought tickets to the Wednesday midnight movie, and headed for Pace Bend County Park to sleep. By some strange coincidence, the movie we would watch the following night, Lady Terminator, and another B-movie that was filmed at Pace Bend, shared roughly the same bizarre premise - I'm not going to mention it here so as to preserve the decency of this blog, but mature audiences are welcome to IMDB it.
We had intended to go cliff diving and deep water soloing at Pace Bend on Wednesday morning, but found, much to our dismay, that the water level was a good thirty feet lower than usual. The steep cliffs that typically ended in the cool, welcoming waters of Lake Travis, instead dropped into dusty rock piles. We soon concluded that this situation would make falling from the heights of the park's many coves considerably less enjoyable, and instead did a long, hot bike ride around the main loop road. Around noon, we headed back into town to try out a highly acclaimed Ethiopian buffet that had sprung into existence since my last visit; this featured a variety of delicious vegetarian stews, as well as the usual assortment of meat chunks that had been my only option in-country. Once we were all stuffed beyond capacity, with the pancake-like injera rapidly expanding in our stomachs, we sought out low key activities to give us a chance for much-needed digestion. Certain members of our party were dead-set on outfitting us all in cowboy hats and boots, and so we stopped by Goodwill to find some cheap ones; sadly we found both items to be out-of-stock. The next stop was REI where we were able to identify the in-town climbing walls and hiking trails. We headed for Seismic Wall, and there we found a slew of local climbers who were able to tell us everything we needed to know about the available routes, and we were thus able to squeeze in around five before dark.
We had originally intended to hit up the town's laser tag arena, the largest in Texas, but got a little lost and ended up downtown instead. There we found an awesome live show where a local band played covers for Pink Floyd, Santana, and others that often sounded way better than the originals. Reaching the theatre shortly before midnight, we ordered a pizza and some beers and listened to a long introductory spiel by some guy who had apparently seen the film about fifty times. By his account, Lady Terminator was an Indonesian piece which was made to emulate a Hollywood blockbuster, but failed in epic and hilarious ways. I will stop short of issuing a sweeping recommendation for this movie, as it is remarkably stupid and disturbing, but if you are the type with a healthy appreciation for the absurd and the twisted, then this one is for you. Still giddy from a serious B-movie high, we took off for Louisiana around 2 that morning.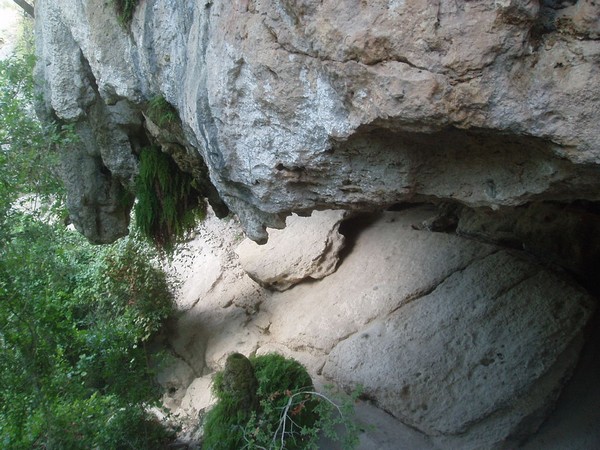 Reimers Ranch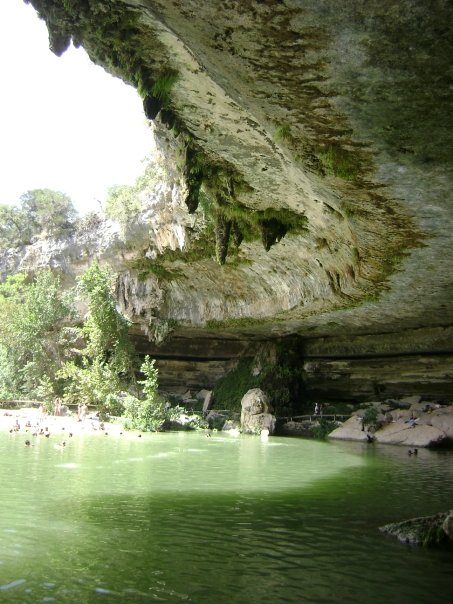 Hamilton Pool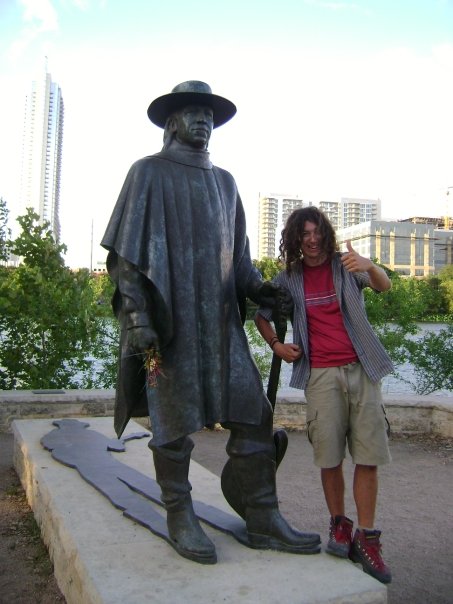 Andrew and some metal dude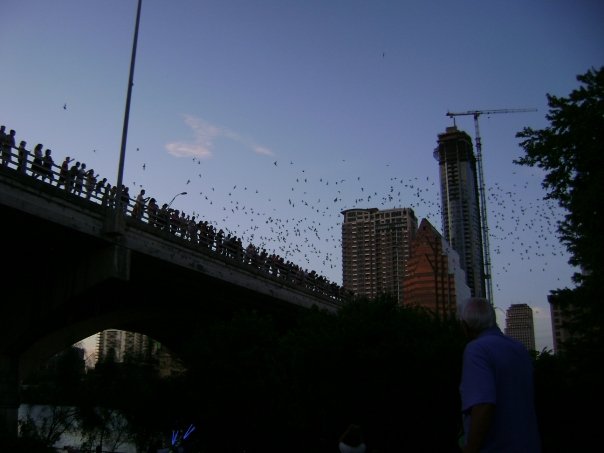 Bat exodus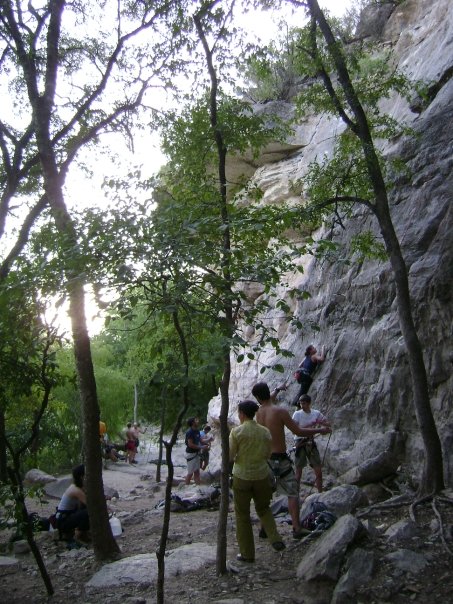 Austin climbing scene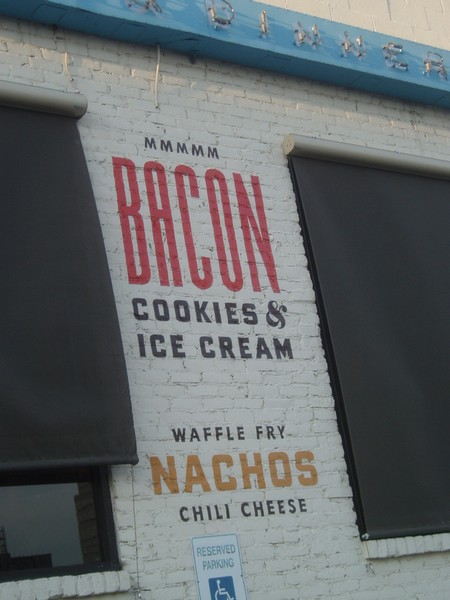 Only in Texas...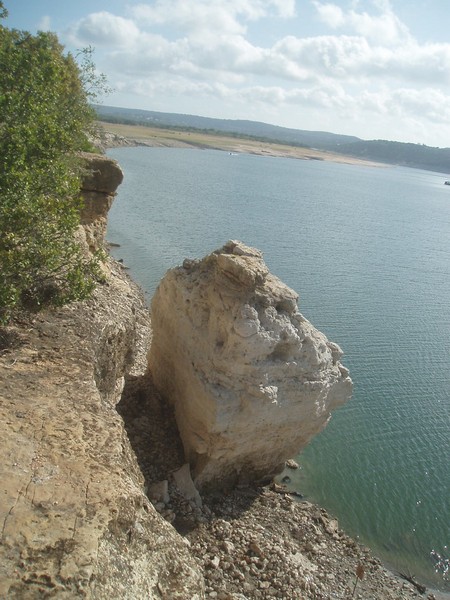 Pace Bend
Day 13 - New Orleans
We arrived at Van's friend's house, in a recently restored quarter of New Orleans, around 10 the next morning. Her friend and his roommates made repeated references to their available shower until all of us had been convinced to make use of it. Jason and his car were supposed to have been the final members of our roadtrip and we soon had a small taste of what it would have been like for the five of us to share his Jetta; Van, who naturally got the position of permanent middle seater, was suddenly quite relieved things had turned out the way they had. Jason had spent the break moving over here and was working as a saxophone busker on the main streets and squares until he found a job. He took us on the standard tour - we stopped at a cemetery and the empty grave of the Voodoo Queen, we got beignets at Café du Monde, feasted on a muffuleta at the home of the original muffuleta, bought masks at the French Market, and drank absinthe at the old absinthe bar, we visited voodoo shops and art galleries, and listened to live blues on the square. With most every attraction accounted for, we bid farewell to Jason and drove the rest of the way to Gainesville, arriving around six Friday morning.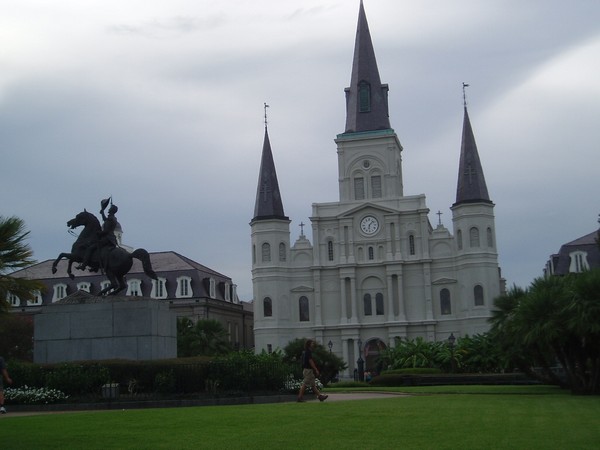 New Orleans Cathedral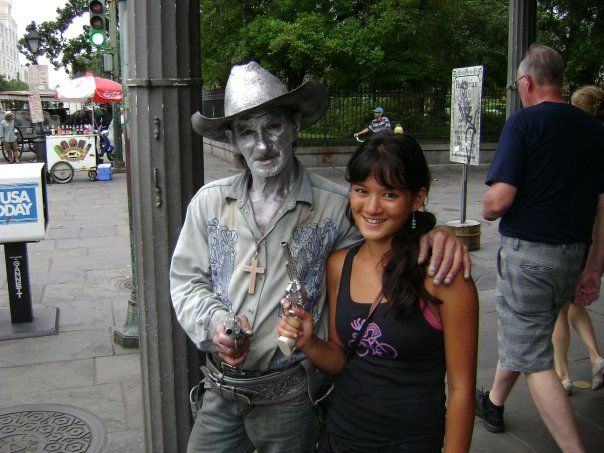 Van's new cowboy friend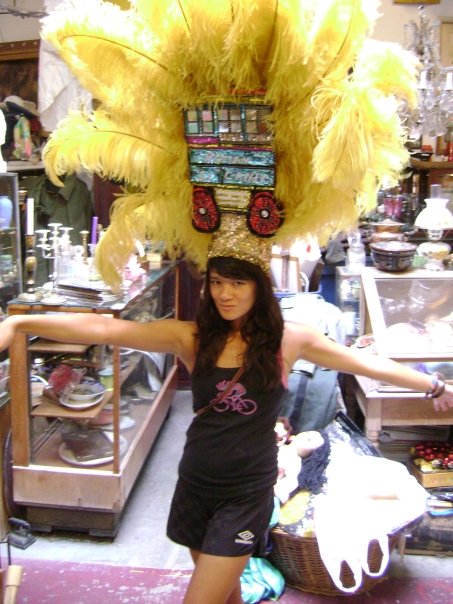 Impractical headwear
Addendum - Last Days of Summer
As is typical of these trips, the four of us were in something of a news vacuum for the duration of our travels, and so we hadn't noticed Hurricane Bill on its course along the eastern seaboard. On returning home, I found two trips going out to the beach to surf the storm swell; the one I signed up for, which involved biking the 70-mile stretch both ways, was cancelled due to concerns over the weather. I was less interested in driving, so gave up on the idea for a time. When I clicked through the surf report Saturday evening, however, I quickly zeroed in on the phrases "double-overhead" and "best in a decade", and decided I had to lead a trip there right away. So we packed the Corolla with 5 people, two boards and a duckie and left for St. Augustine. We arrived at Anastasia State Park around 3am and crashed on the beach. When I awoke at dawn, we were the only ones there, but within a matter of minutes, hordes of bikes bearing surfboards raced out onto the sand, and by 7am, the waves were packed with surfers. None of us were particularly apt at riding giant waves, but we did catch a couple with boards and many more with the duckie, and we returned to Gainesville in the early afternoon, both exhausted and satisfied.
The next planned trip was to the east coast the following day to see the 1:34AM launch of the Space Shuttle Discovery. I was entirely convinced that, after a long sequence of sleepless nights, I would be sitting this one out. However, somehow when 10PM rolled around, I found myself driving 3 of the 23 trip participants out to Mosquito Lagoon. We arrived at the put-in on Haulover Canal with only half an hour to spare. An eerie line of glowstick-bearing kayakers stretched out toward the lagoon in front of us. The car with all the duckies had somehow ended up in Titusville, so we were left with 3 canoes for 17 people. If we delayed any longer, we would have no chance of making it to the head of the canal by the time the countdown reached zero, so we threw my car's canoe in the water, loaded it with the six nearest people, and started paddling in earnest against the tide.
The bioluminescence in the water was unlike any I'd ever seen; while all of my previous experiences with the stuff left some measure of doubt as to whether or not we were actually seeing the tiny glowing critters, this was pretty much a do-it-yourself pyrotechnics show. The water exploded with brilliant color with every paddle stroke, and nearby dolphins, manatees, and alligators carved neon tunnels through the waters. When we scooped up handfuls of water, lines of light radiated across our appendages like some weird science fiction infection.
The sky was quite nearly without a cloud and a launch at the projected time would surely have been the most spectacular our club had seen thus far. But a few flashes of lightning apparently incited insurmountable fears in the minds of mission control, and the launch was scrubbed with less than 5 minutes to go. We played in the glowing seas for another half hour before returning to our cars and heading home.
The access road for the canal boat ramps had no speed limit signs, but was well-paved and one could quite comfortably do 70 along almost the entire length. The first indication that this might not be the intended speed was a singular turn arrow halfway through a sharp turn. I slammed on my brakes and began to spin the wheel, but soon found there was no way we would complete the turn upright; I spied a grassy ditch behind the turn and straightened up, caught some air, and made a reasonably gentle landing. Much to our relief, the 2wd Corolla found its way out of its precarious resting place with little effort and we were soon driving up US1 as if nothing had happened. It was not entirely clear to me what had led me to do such a thing; it seemed I had taken many unsigned roads in the past without ever finding myself in a ditch, so perhaps it could simply be chalked up to sleep deprivation. My mind went back to a time several years prior when I was hitchhiking around New Zealand and had just been picked up by a young woman; she pointed to a patch of broken fence and tire tracks leading into a farmer's crops and nonchalantly mentioned that she had taken a turn too fast the night before; at the time I had been quite concerned about the sort of person who I had charged with my safety - apparently I have since become that sort of person.
The launch was rescheduled for 1:20 the following night. I would not be making the return trip.