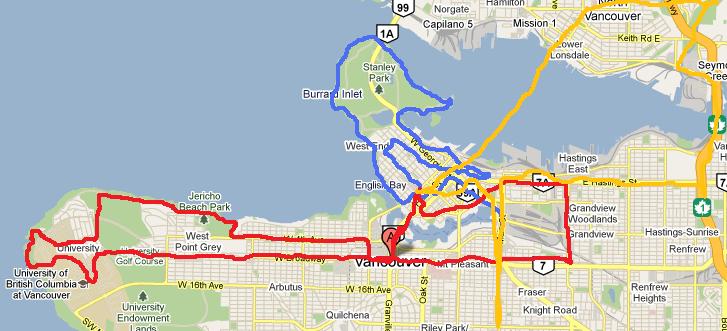 One of the many benefits of being in academia is the research conference. This is essentially an all-expense-paid vacation to some far-flung destination, thinly veiled as an opportunity to network and exchange research ideas. I often hear of such conferences taking place in such exotic, tropical locales as Hawaii, Jamaica, or Cancun; the late-October E-Learn 2009, for whatever reason, would be having me fly a few thousand miles northward to the chilly, rain-sodden Pacific Northwest.
The day after the cycling club's annual Santa Fe century, my legs had recovered enough to allow me to bike up to Gainesville Regional. I showed up roughly four hours ahead of my flight; the airport only offers a handful of departures a day to a grand total of two destinations, so it was an easy matter for the Delta agent to pick me out from the otherwise empty waiting room and give me one of the remaining seats on an earlier flight to Atlanta.
Despite traveling through the city nearly every weekend, I have only ever found one reason to stop - the seemingly endless array of delicious ethnic food on offer throughout the city's periphery. Hartfield-Jackson offers no Ethiopian restaurants, Korean barbeques, or Vietnamese noodle shops - only the usual selection of overpriced, uninventive chains. Some time before, however, I had found a series of somewhat dubious internet posts that suggested that there was some sort of purveyor of cheap African food near the taxi rank which fed the drivers who happened to be 100% first-generation African immigrants. This is not advertised anywhere, and it seems to be generally discouraged for non-cabbies/Africans to go there, but if you are willing to endure a couple strange looks and a largely unnecessary trip through the security checkpoint to get to your connecting flight, you can get a delicious and filling meal, and a bit of culture to boot. Most of the directions online fell apart after leaving the terminal, so I identified a security guard who looked reasonably African and extracted from her a set of cryptic instructions that took me through a hole in the fence, along a poorly defined path along the highway, and finally into a non-descript concrete block, swarming with Africans, all seemingly in the midst of some fierce debate. There was no menu, but a bunch of trays behind a thick pane of glass held a number of dishes, which appeared, for the most part, completely unappealing and/or unidentifiable. I went to the kitchen window and hesitatingly requested rice and vegetables, and the man on the other side in turn inquired "beef or chicken?" I responded "fish" and got back a styrofoam box piled high with yellow rice, a carrot/cabbage medley, and a full filet of some sort of fish. The total came out to be $6.42 - whether this was what the drivers paid or was a farang price, there was no way of telling - chances are that I'll never know. The man in line behind me questioned whether I was South African; I responded that I was actually from Zimbabwe - and then promptly left to avoid the inevitable introduction to someone from those parts.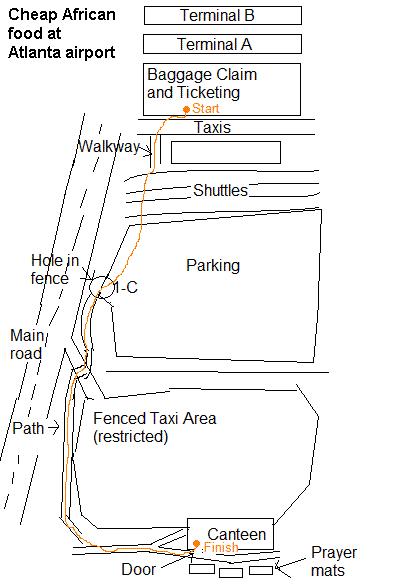 Day 1
SeaTac was exceptionally quiet at 1 in the morning, and a few non-partitioned benches made for excellent makeshift beds for me and one other vagrant. At six, I took the first bus to the Tigwilla lightrail; the train was leaving at the very moment I arrived, and so I dispensed with the normal practice of buying a ticket in advance. After about 20 minutes, a pair of cops boarded, refused the $2.50 I had been eagerly clutching since I got on the first bus that morning, and informed me that there was a $124 fine for failing to show a ticket; luckily I was able to convey that I was a stupid tourist and was quite incapable of operating automated ticketing machines, and thus got away with it "just this once".
Not surprisingly, it was raining in Seattle, and while it was a far-cry from the drenching downpours of Florida summers, it was equally far removed from the "gentle mist" description that people from this region often use to defend their crappy climate. The King Street Amtrak station was a dismal half-mile walk away, and it was there that I bought my ticket to Vancouver, BC (there is also a Vancouver, WA, evidently reached by regular train services from Seattle). The train was easily the plushest I've ever ridden; spotless leather seats with power outlets, transparent windows, and a free showing of Land of the Lost put it a few steps above even the newest trains in Europe, and quite unlike most every train I'd experienced, it arrived and departed on time.
The two highest rated hostels were both about a block from my conference and were both booked solid when I arrived Monday afternoon. So I headed a mile southwest to the gay district and got a bed in the Vancouver HI Downtown; this was a spotless four-to-a-room affair with free wi-fi and an enormous breakfast for $27 a night. Aside from the ubiquity of gay billboards, gay strip clubs, gay manikins (some of which, quite inexplicably, wore antlers), it was a fine neighborhood with lots of ethnic restaurants. For $7 I got a delicious plate of curry at a Thai place that was practically at my doorstep.
I headed for the water and followed a bike trail that wound along the coast around Stanley Park. It was a clear yet blustery day, and the winds kicked up enormous waves that broke over the seawall and soaked the swarms of hapless runners, bikers, and rollerbladers who sped along the path. The ocean-side swimming pools and children's water parks lay empty - why there is even a need for such things in a place where the summertime highs rarely get above 70 is beyond me. In the same vein, there were the ever-present ice cream shops, which opened shortly after dawn and closed well past sunset, seemingly not at all concerned that the mercury would never climb above 45 and no sane person would dare entertain a craving for a frozen dessert.
For dinner, I found a cheap Korean place that supplemented my $7 ramen noodle soup with a number of side dishes and hot tea. Despite walking the full perimeter of downtown, I still hadn't worked up an appetite since my 3 o'clock lunch, and the aim of the meal was mostly to warm me up enough to give me a shot at surviving the mile-long walk back to my hostel.
When I arrived back at my hostel, I noted a skunk scurrying around the bushes, possibly rooting for bugs, or doing whatever it is skunks do. I judiciously skirted the scene while a small French man taunted the creature. "What are you doing here, raccoon?" he said in a thick French accent.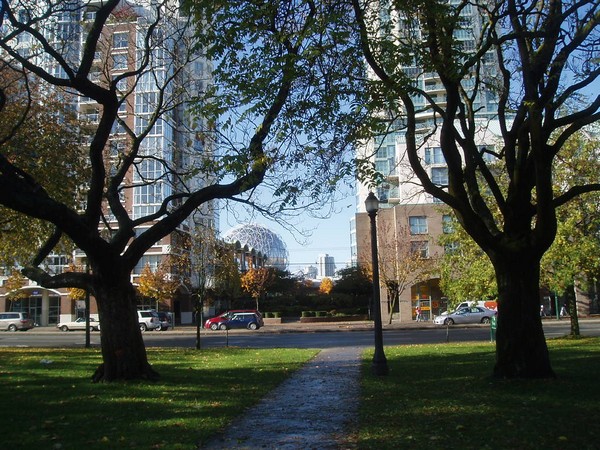 Japanese Garden in Chinatown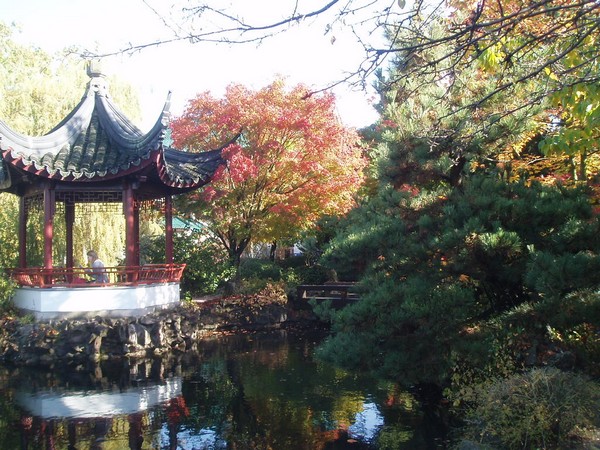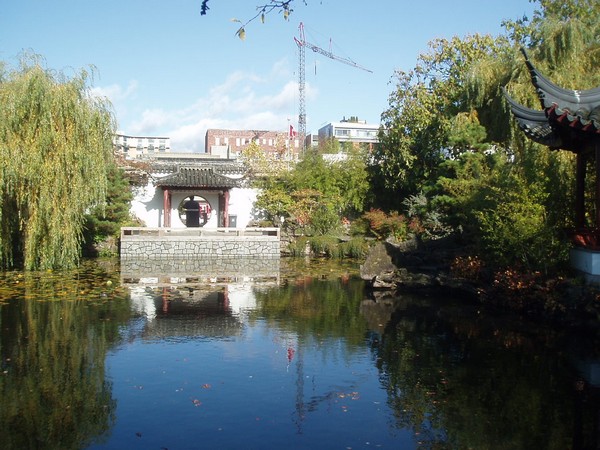 Vancouver Wall Centre - site of E-Learning 2009

Abstract beach art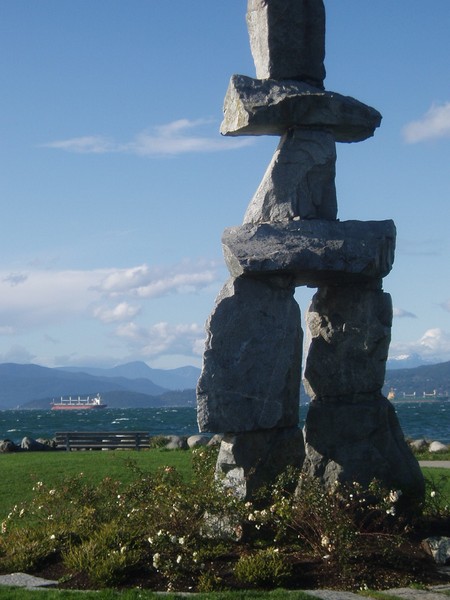 Rock man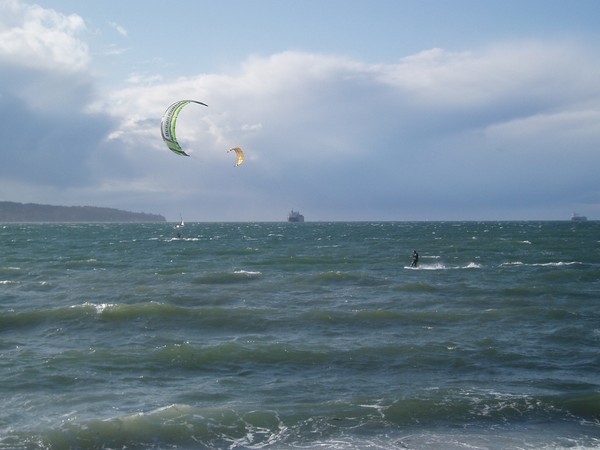 Kite surfing in some rather nippy water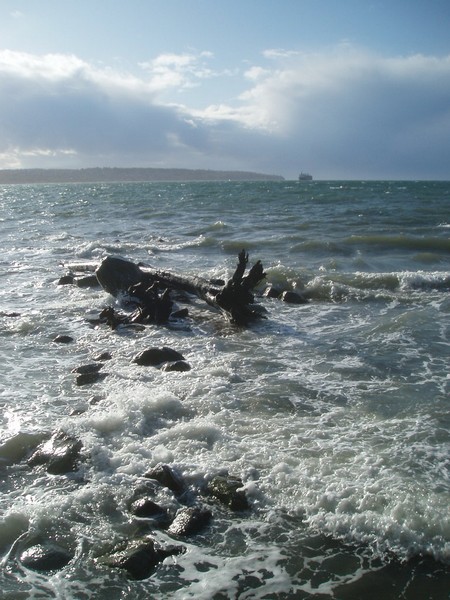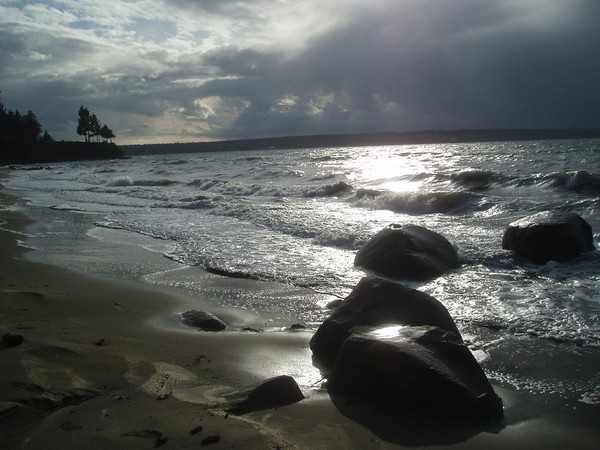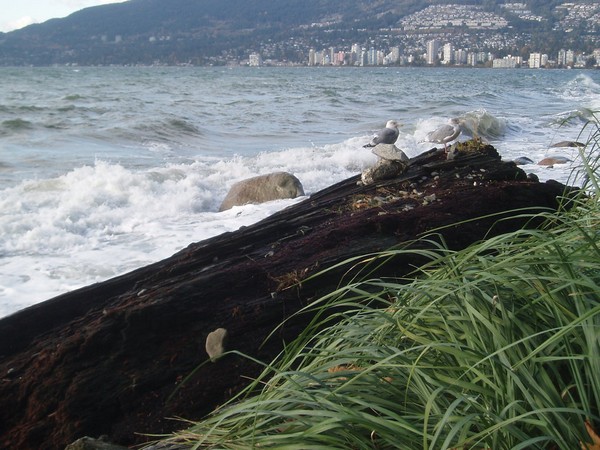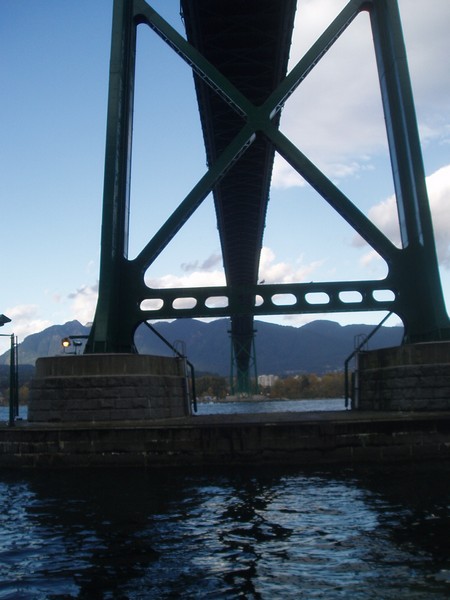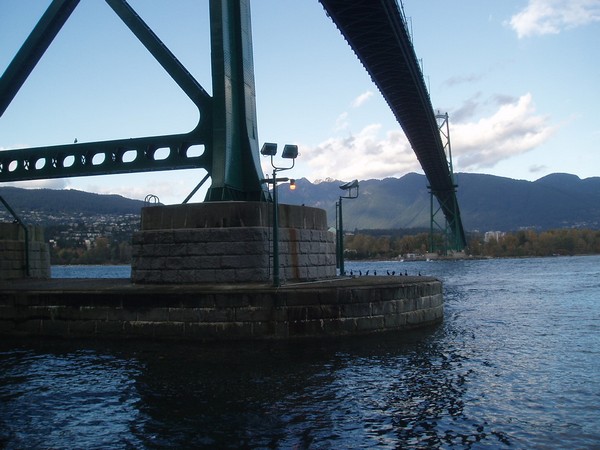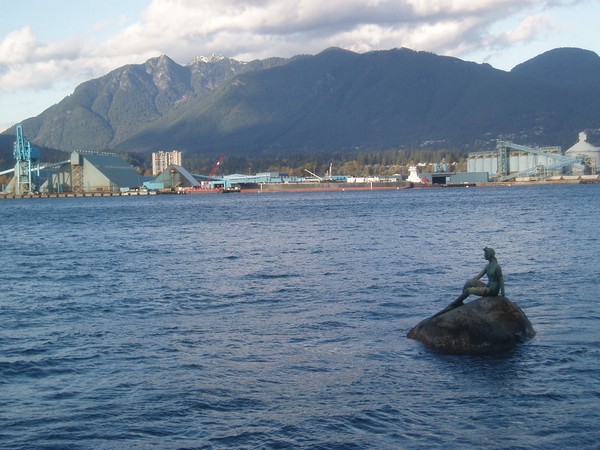 Girl in a Wetsuit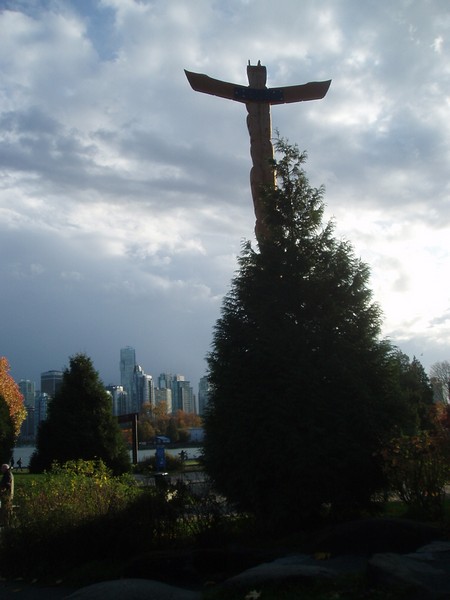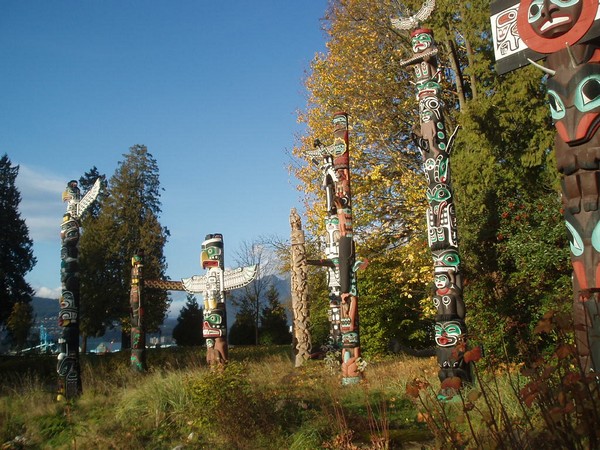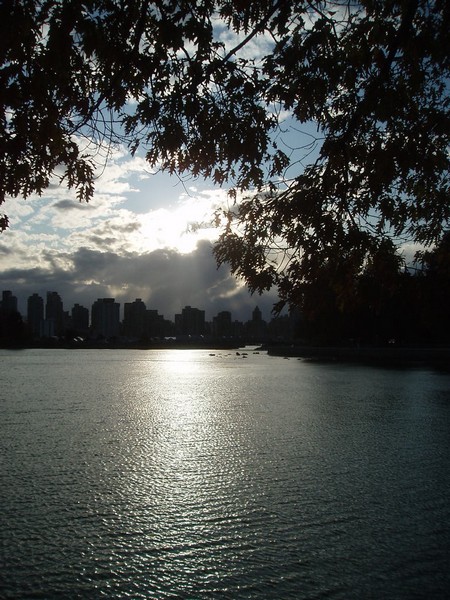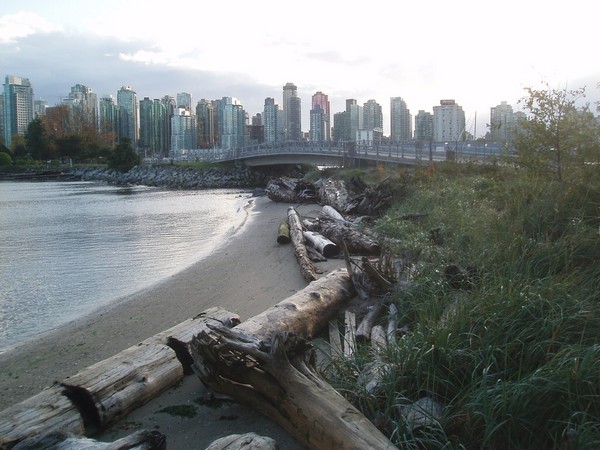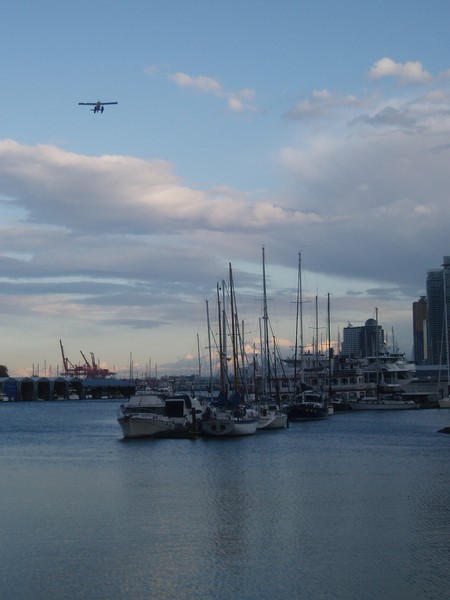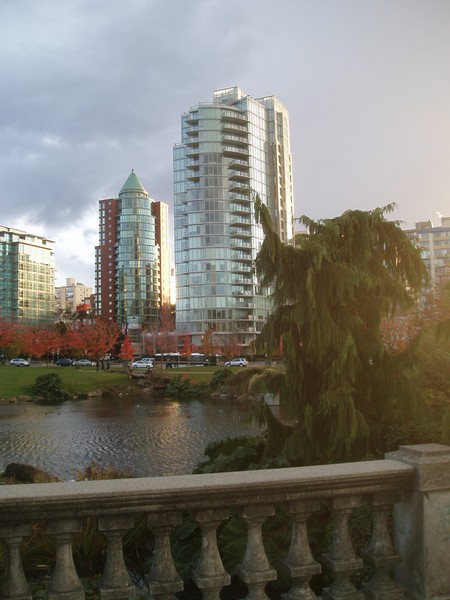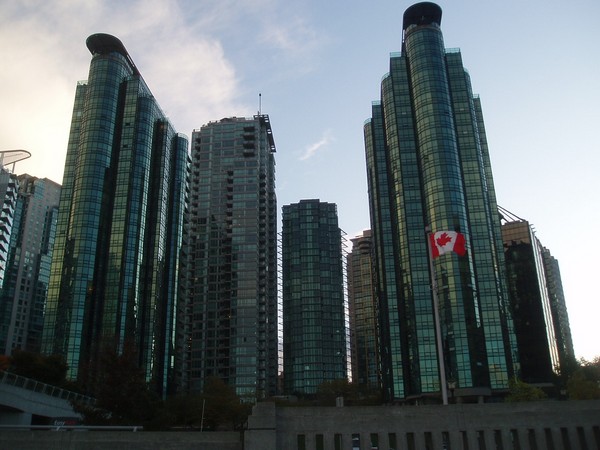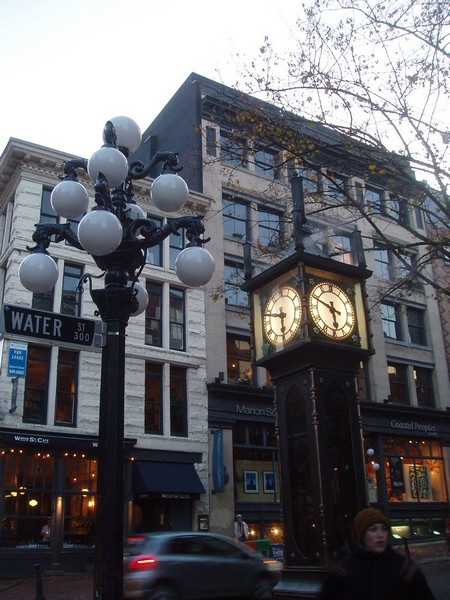 The famed steam clock
Day 2
As luck would have it, my jetlag meant that I had no trouble getting up at 5am to prepare my presentation for 10am that morning. No official showed up to tell us what to do, so the guy presenting after me provided my introduction and, in lieu of a remote, I used a corded optical mouse to change my slides. Aside from my usual assortment of public speaking deficiencies, such as staring at my feet the whole time, speaking in a hurried, unintelligible way and making a concerted effort to scratch the small of my back, I was informed after I finished that I had been shining the mouse's laser in the audience members' eyes throughout the whole thing.
This experience, coupled with the brilliant clear weather outside, was enough to convince me to take the rest of the day off and explore the city. I stopped by Granville Island to check out the public market, and then made my way to the trendy neighborhood of Kitsilano. I found an Indian restaurant that offered a small buffet for $8.95, but more intriguing was the 'buffet-to-go' option for two dollars less. The problem I found with this option was not quantity, since I managed to stuff far more into that little box than I would've ever eaten if I had dined in, but there was really no way to separate the various flavors and thus maintain the illusion that I was eating at a buffet to sample the full range of the restaurant's offerings and not just to gorge myself on nondescript curries. My solution to this problem was to develop a system of columns where each column was missing exactly one of the items, and thus by taking the sum of the differences in the flavors, I could theoretically reconstruct the flavor of each individual item; this worked about as well as I expected.
After walking through the Kits commercial district for a few more miles, I reached Jericho Beach and followed the sand to a woodsy trail that took me to the University of British Columbia. This college is surrounded by immense expanses of undeveloped forest, with dozens of miles of scenic trails winding through them. Other than that, it seems to be a fairly standard modern college campus, though it has the distinct advantage of having panoramic views of the ocean and mountains, as well as the city's only nude beach within 5 minutes walk of the main quad.
On this particular 42 degree day, Wreck Beach was conspicuously lacking in naked college students, though it did have a small assortment of weird homeless guys; one was naked, and another had no pants, presumably doing his best to keep the spirit while simultaneously warding off hypothermia. One man was building some sort of superstructure out of driftwood, which towered about 20ft high and ran for around 60ft along the cliffs.
A bit sick of walking, I grabbed a bus and made it roughly the same distance I had spent the last six hours walking in about 20 minutes. At $2.50 to $5 per trip, Vancouver buses are pretty expensive, but this is just fine because no one ever actually pays the fare. Most just flash some non-descript piece of paper as they board, at a speed that belies any possibility of the driver actually checking a date or other vital credential contained within; homeless people make a quick supplication as they tow their bags of recovered cans and bottles behind them; tourists such as myself explain that they don't have the exact change required and get nonchalantly waved through; everyone else just walks by, without acknowledging any responsibility to pay.
I ended up at Commercial Drive and began surveying the district's exciting restaurant scene. Sadly, I was still stuffed from my all-you-can-squeeze-in-a-box-and-subsequently-eat lunch, so I passed up a jumble of exciting cuisines such as Ethiopian, Jamaican, El Salvadorean and Tunisian. I put serious thought into stopping into one of the area's super-heated gelato shops for a cool, stomach-soothing ice cream-based dinner. In the end, I settled on a light meal of 18 sushi pieces and a bowl of miso soup that was on offer for $5.75. Owing to the fact that Vancouver has more Japanese people than most towns in Japan, sushi is easily the most common food in the city and is often one of the cheapest.
As I walked back toward downtown through some random industrial district, I stumbled upon La Casa de Gelato which had a full 218 flavors. For some reason, the knowledge that there were 217 flavors that you didn't get ups the price of a single scoop to $4, so I opted to grab a single free sample and press onward.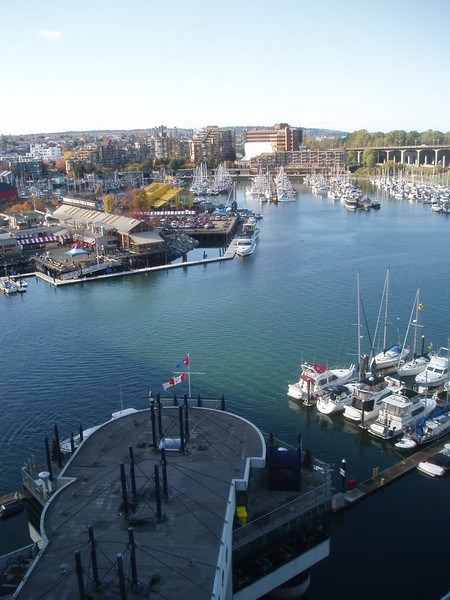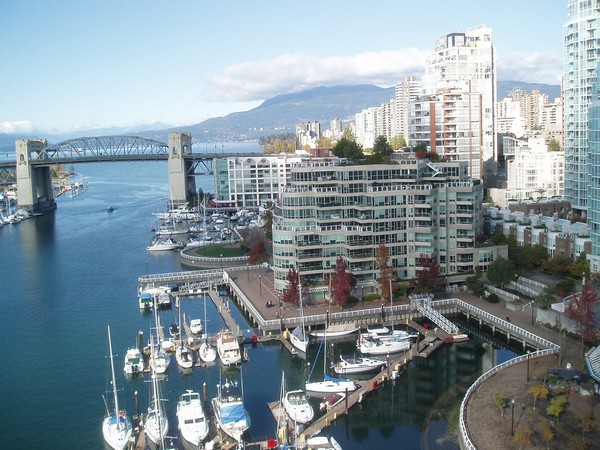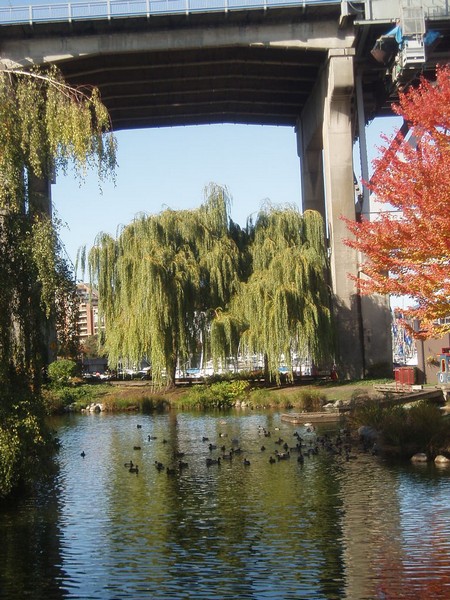 Mysterious beach rabbits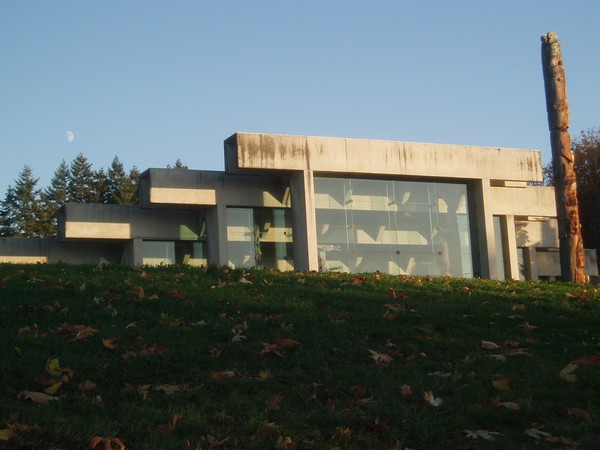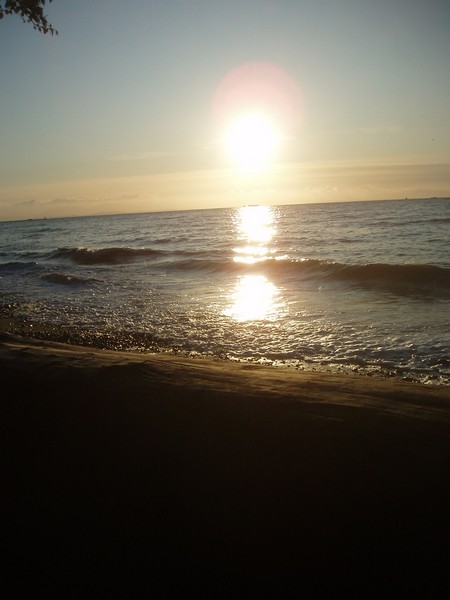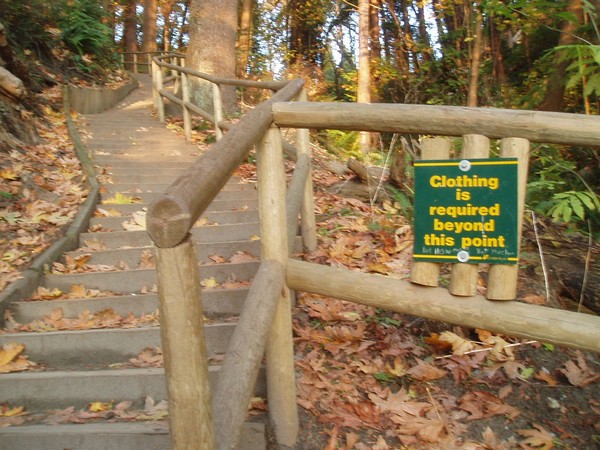 Those prudish Vancouverites!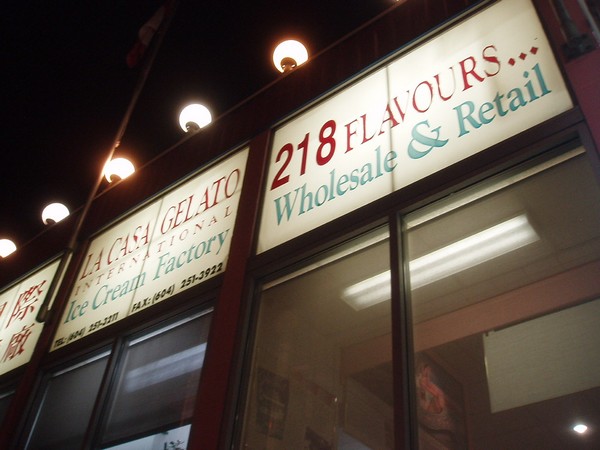 I only got to sample 205 before they cut me off
Day 3
Vancouver is one of those few magical cities, like Bangkok, Brisbane, or Sydney that incorporates boats into their public transport network. However, unlike the romantic old tugboats of Sydney or wooden, tire-lined deathtraps of Bangkok, Vancouver's boats have a distinct armored troop carrier or theme park ride flavor to them - the massive jetcats dock themselves in giant bays and ramps are automatically lowered to 10 different doors - the incoming passengers stream out one side while a new set comes in on the other - there is no option to sit out on the roof or the deck.
A bus met the seabus and carried me the rest of the way to Lynn Canyon Park. Here, it's possible to pass between two raging waterfalls on a narrow suspension bridge which hangs precariously over a high canyon. From the bridge, trails radiate out in all directions and reach as far as Horseshoe Cove some 35km away; I took a short one up along the creek to a 30ft aquamarine plunge pool; sadly it was a little too chilly at the time to explore its depths. I then took the creek all the way down to the south end of the park where I found one of the city's two MEC stores. Mountain Equipment Co-op is Canada's answer to REI and is probably the closest place to the US where you can buy cheap, good quality daypacks - I got two.
Another few buses took me to the Punjabi market district which was lined with sari shops and a number of buffet/sweets restaurants. These were all a bit too pricey, so I headed instead for a Malaysian place up the road where I got an utterly bizarre dish made up of an egg and about twenty other ingredients I had no way of identifying. To cool the palette after this spicy mystery dish, I grabbed a taro-flavored bubble tea, which was excellent aside from the giant tapioca pearls that kept impeding my every effort to drink the thing.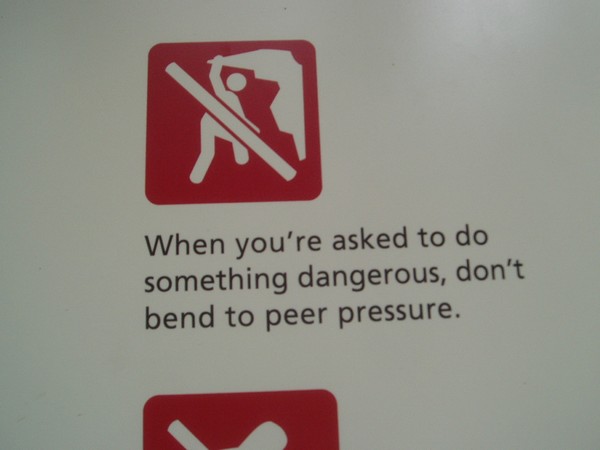 Funny, I would've interpreted this one as "Don't climb on rocks"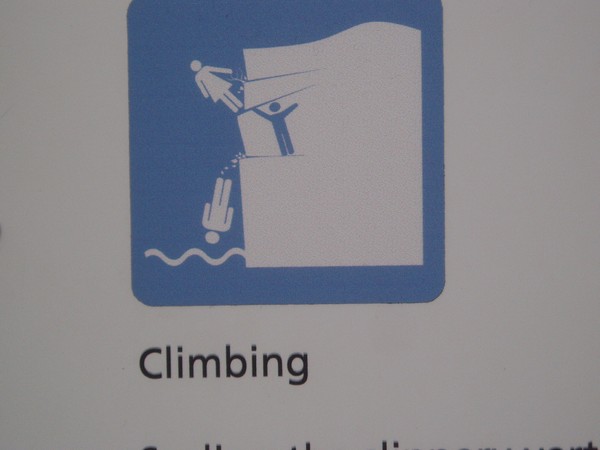 How not to deep water solo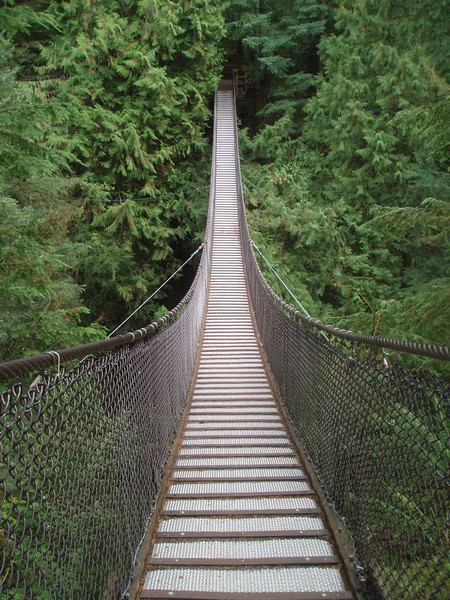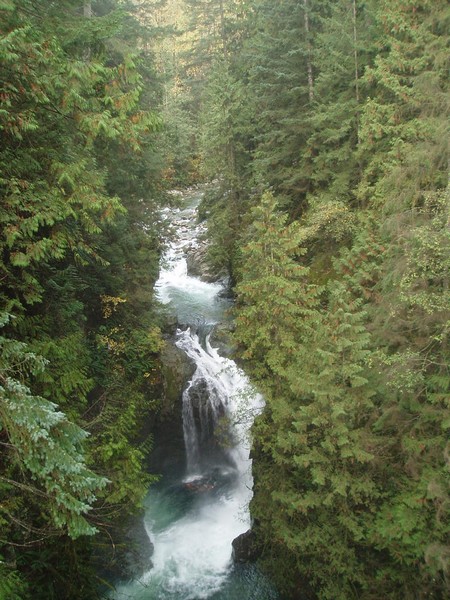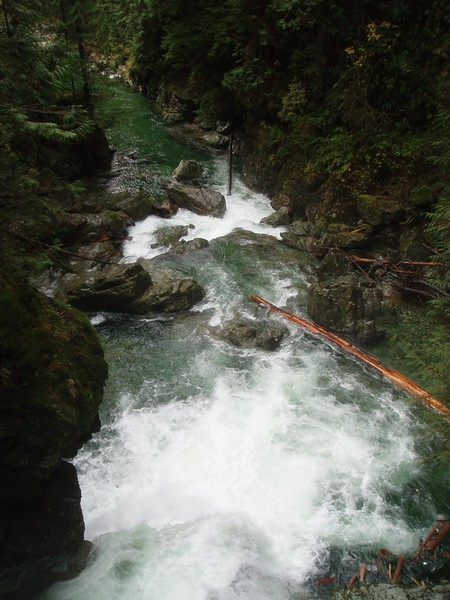 Day 4
The forecast set the chance of rain at 100% for Thursday, so I figured this was as good a chance as any to actually attend some of the conference I had flown out there for. Most of the talks were not all that interesting but there were two fun ones on computer training in Zambia and distance learning in Cambodia. For lunch I stopped by a Japanese place called Guu where the staff randomly shouted things in Japanese every few seconds (probably something akin to "Welcome to Moes!"), and emblazoned all over was the slogan 'Guu is guuuud!' I ordered a clam bowl which contained an odd mix of seaweed and potato jelly, among other things.
The attitude of Northwesterners toward rain is remarkably different from that which you get in Florida. If it starts raining in Gainesville, everyone retreats to somewhere dry and cancels whatever they had planned for the rest of the day. In Vancouver, they don't even break stride; everyone wears a raincoat or carries an umbrella at all times, so all they need do is flip up their hood or open the umbrella and continue with their lives. The crowds on the streets don't thin out in the slightest.
I had noticed shortly after arriving that there were signs for Evil Dead the Musical all over town. But the $55 price tag had thus far crushed my every hope of seeing it. In a last ditch effort, I showed up to the theatre an hour before showtime and found that they would immediately begin selling 'rush tickets' which were only $25; this is a far-cry from the 5 pound standing tickets they sell in London, but this time around I had a hefty per diem to spend.
I ran back to the Korean restaurant district and found a place by the name of Red Chicken. I'm not sure that I actually like the flavors of Korean food, but what I love is the knowledge that, whatever I order, what comes out is sure to catch me completely off-guard. The ketchup-drizzled broccoli filled that role nicely, as did the inexplicable pair of scissors that accompanied my order. I was a bit rushed to finish my meal and get back to the show in time, so it was fortuitous that I had requested the stone pot version of my dish, which meant that no matter how much I blew on it, every bite was every bit as scalding as the first.
I would not call myself a musical aficionado, but I believe I can say with a reasonable degree of certainty that Evil Dead the Musical is the greatest musical ever produced. Among other memorable points, it stars an evil, singing animatronic moose head, features such sure-to-be-classic songs as "What the f*** was that?" and requires that the first 10 rows of the audience wear ponchos to protect against the gratuitous blood splatter.
My hostel somehow filled up for Thursday night some three nights in advance, so I ended up shifting over to the Vancouver Central HI. In contrast to the previous one which was situated in a leafy residential district in the city's leading gayborhood, this one was right on the main drag of a small red-light district. Interestingly, all of the sex shops had dressed their manikins as zombies and ghouls and beheaded corpses for the holiday.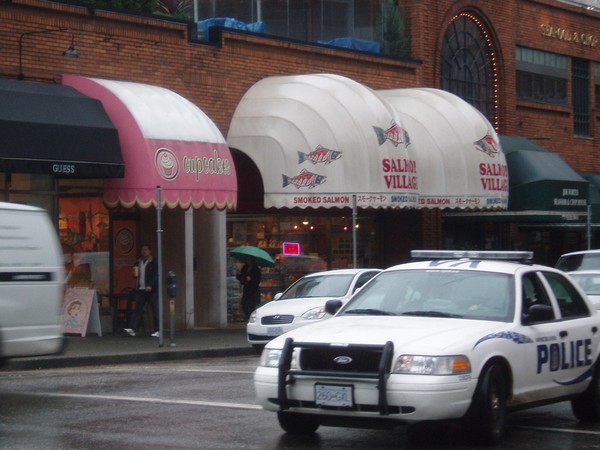 Cupcakes and salmon - what more do you need?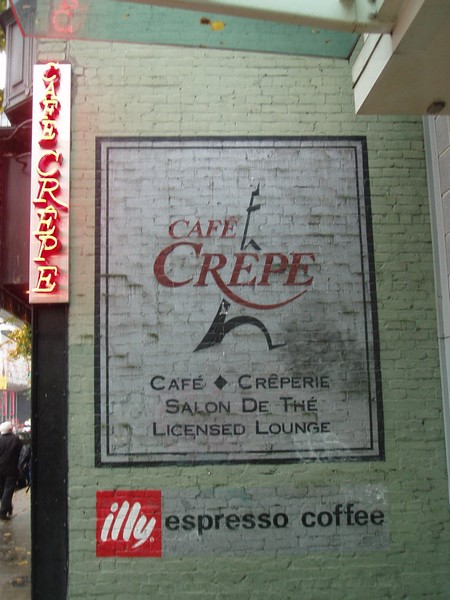 Town of a thousand creperies
Day 5
The keynote speaker for Friday was a guy who had spent 10 years kayaking all over the world. The talk was thinly veiled as a discussion on how communication technologies have changed over the last decade, but really it was just a chance for him to tell stories and show pictures from his trips.
For lunch I made the daily hike to the exotic restaurant district; the Brazilian steakhouse was tempting, but at $14 with no ostrich on offer, I had to pass it up. I eventually reached Hungarian Village where I ordered five pirogues and a cabbage roll; I was quite excited because the price for this meal came out to exactly the sum of the loonies and toonies I had left in my pockets. But then when the bill came, hiding underneath an unusual number of mints, was a pair of zeros where the total should have been and the words "Your meal is on the house." I was quite perplexed by this as I showered just that morning and was wearing spotless khakis and a collared shirt; I had even discreetly walked around the corner before counting out my remaining change. It's possible she mistook me for a guidebook writer or columnist or, as many Thai girls have done before, Anakin Skywalker; one thing was for sure - I would now have to find another way to rid myself of my 9 remaining Canuck dollars.
I had reserved an Amtrak bus back to Seattle, and left just before 5. The driver prided himself on his uncanny ability to predict the time of our arrival, and accurately guessed the exact minute when we would arrive - I would have to guess that he circled the block a few times before finally reaching the Seattle terminus.
I had picked out a Seattle Ethiopian joint before leaving the conference and proceeded to walk there from the station. In Vancouver, I think I'd feel perfectly safe walking through the darkest, grungiest streets in the middle of the night wearing a sparkling crown made of toonies, but walking through the empty streets of Seattle's international district at 10PM, sharply dressed with all my possessions hanging off my back, was a little more intimidating. Fortunately I made it without event, got a veggie combo and got back just in time to catch the evening's last direct bus to the airport.
The trouble with travelling just before Halloween is that it's often difficult to figure out if something is a certain way because of the season, or if the place is just weird. This was the case with the man who had fashioned a full coat from plastic grocery bags. There was less ambiguity with the guy at the airport dressed in a blue spandex Captain America costume; as he stood there, staring morosely at the baggage belt, long after all the other passengers had gotten their bags and left, you got the impression that he might be assuming the role of our country's namesake superhero for a bit longer than he might have liked.
It was a quiet night at SeaTac. Convinced I would sleep through any alarm I set, I stayed awake until about 3 seconds after I boarded my 6am flight. Following a quick Atlanta layover, I was back in Gainesville by 4.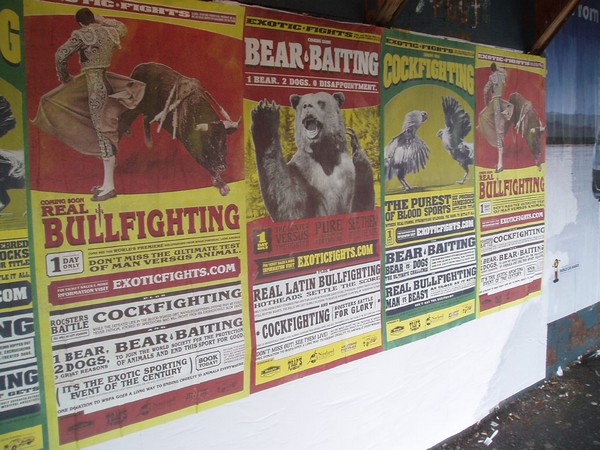 Good ol' non-violent Canada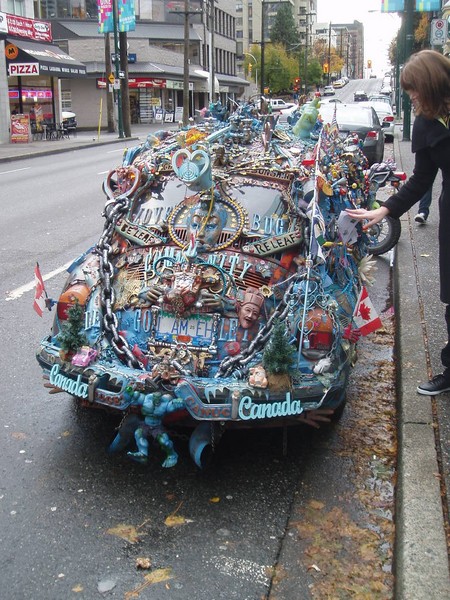 Should never have double-parked in front of that art school...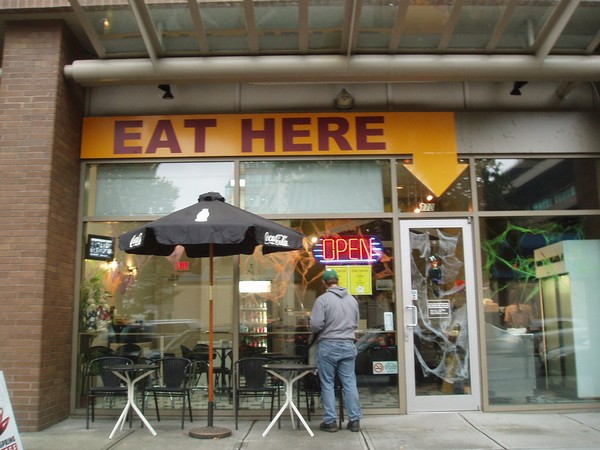 A very functional restaurant name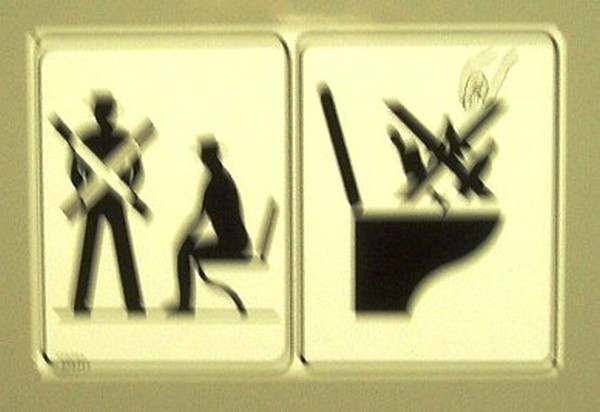 Helpful sign in bus lavatory: "Do not stand next to someone taking a crap"