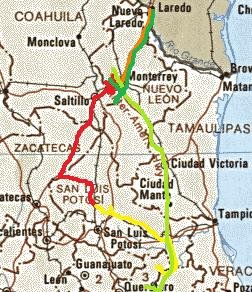 Though I've had all the necessary gear kicking around my trunk for the last half decade, I never really got into climbing outdoors until my trip to the southwest this summer. Driving through the rocky deserts of Colorado, Utah and New Mexico, you can pick out a dazzling array of eminently climbable cliffs and spires stretching off beyond the horizon in every direction. Sadly, only a handful of these have been bolted, and more often than not, expensive trad gear, a slew of training, and a healthy helping of fearlessness are requisite for admission. However, after a quick round of googling, I found an isolated spot in the hinterlands of Mexico that offered literally hundreds of bolted routes, some as high as 1400 feet, and I immediately resolved to lead a trip to this, the southern mecca for sport climbers.
Having failed to find cheap tickets to Colombia or anywhere else over winter break, I chose the week after Christmas as the ideal time to mount the 25-hour drive to El Potrero Chico, nestled in the mountains just outside Monterrey. After announcing it on the listserve, thirteen people signed up, and this number dwindled to nine in the weeks leading up to the trip; quite remarkably, every one of those nine showed up on time, with passport in hand, on a brisk Sunday morning, a mere 33 hours after Christmas. We loaded a slew of climbing and personal gear into the Corolla and an aging Camry, and were soon heading up I-75 on a drive that would take us across six states and 1400 miles before dropping us at the foot of the Potrero early the next morning.
Our first stop, four hours in, and still well within the bounds of our own state was Falling Waters State Park. This is home to the highest waterfall in Florida, weighing in at a breathtaking 73 feet. The plume drops into a narrow cave and disappears into the limestone below, and is certainly one of the more impressive things to see in the region. After a picnic, a 10-minute hike, and a stroll through the defunct butterfly garden, we were back on the interstate.
We presumed we might find something to eat in Baton Rouge, Louisiana's capital city, but upon pulling into downtown on that Sunday evening, we found the streets to be empty. The only open sign belonged to the casino and none of us were in the mood for a 24-hour buffet, so we got directions to a Cajun diner near the university and munched on catfish po-boys and cheesy hashbrowns before resuming our drive.
With no further stops, we crossed the Mexican border at 5:30am; we had to pay $3 to cross the bridge, but aside from that, there were zero formalities and we never managed to get our passports stamped (no one even verified that we had the passports we would need to reenter the states). My car proceeded directly to the permitting office, while Mike's opted for a less direct route that took them back into America, and, due to a brush with the language barrier and an opportunistic toll collector, cost them around twenty-seven dollars. The office had a few dozen windows to serve the tiny trickle of early morning applicants; the price for taking my car more than 20km south of the border was $30, and we each paid another $20 for personal tourist cards that were never once checked.
Disclaimer:Many of the pictures in this report were taken by people other than myself - in order to see who took what, right-click on the picture and select properties. The J prefix is me, J2 is the other Jeff, C is Christian, M is Mindy, and JA is Jason.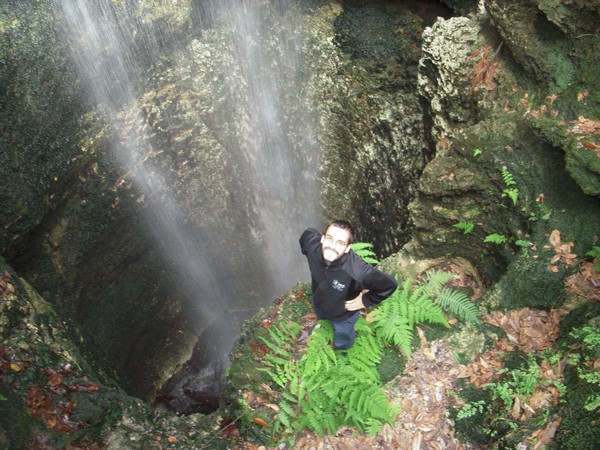 How do you get a 73-foot vertical drop in Florida? It's gotta be a sinkhole.
Day 1 - Hidalgo
We proceeded south toward Monterrey; at the edge of the border zone, a disinterested customs official spent a full twenty seconds warily prodding the bulging mass in our trunk before sending us on our way. The toll road for the 150km stretch would have set us back 190 pesos, so we opted for the scenic route. This was a fine road with little in the way of towns or bandits to slow us down; what it did have was a handful of unannounced chasms which nearly succeeded in ripping my axle off as we nosedived into them at 100km/h. We stopped at a roadside diner where we got some tasty huevos rancheros and a few rather diminutive (read: bite-size) tacos; our meal was accompanied by some sort of free water which turned out not to be the bacteria-laden, diarrhea-inducing concoction most of the crowd presumed it to be.
Our guidebook provided instructions on how to dodge the $2 toll on the beltway around the city, but we misinterpreted these, and were soon many miles and many pesos past our desired exit; just before reaching the $12 toll booth, we made a u-turn at a paved median crossing that was conveniently announced by a 'no u-turns' sign and proceeded back to the appropriate exit which, from this direction, was conveniently toll-free. Another 50km took us to the small town of Hidalgo where we followed a long sequence of signs back to El Potrero park; the road was punctuated by abrupt, absurdly high speed bumps every five to ten feet; I soon found that, if I slowed down to 3mph, I could just barely clear these, while the other car, carrying one additional person, would let out a heart-breaking metal-on-concrete squeal as it crossed each one.
The road just before the park entrance was lined with hotels, campgrounds, and rental properties catering to the hordes of climbers that would descend on the area each winter. The first place we checked had no space for our tents, but the second was able to squeeze us in on its soccer field. The parking lots were chock full of cars bearing plates from Mexico's northern neighbor, some came from even further afield than ourselves. By random coincidence, we ended up camping right next to a group of ten TRiP leaders from UF (our competition, sort of).
It was cold and damp when we arrived, so we decided to start with a hike rather than attempt a climb on wet rock. We got a set of rough directions that would supposedly take us on a 6-hour trek to one of the peaks overlooking the town, but after about half an hour up a steep, scree-covered slope, our trail dwindled away to a treacherous, cactus-covered scramble. We concluded that it was probably dry enough to climb after all and attempted a few routes in the latter hours of the day.
We drove into town in search of dinner and quickly happened upon a corn vendor where we all got delicious cobs smothered in mayo, chili sauce and two kinds of cheese. Running low on pesos, the nine of us did our best to keep a low profile as we each withdrew large sums of money from the town's ATM. We followed the other car's GPS the wrong way down a series of one-way streets in search of Paco's Tacos (which was, quite remarkably, actually registered in the Garmin database), but gave up halfway there and ate at 'La Estacion' instead. This place had some tasty enchiladas and, to celebrate Mindy's birthday, we all chipped in for some sort of chewy coconut cake, which received decidedly mixed reviews.
Though I knew there had quite recently been a hint of snow in Austin, I had every expectation that the instant we crossed the border, we would enter a tropical paradise. This was unfortunately not the case; we arrived in the midst of a cold front and nighttime lows were below freezing; having only packed a 50 degree sleeping bag liner, I added myself to an already full three-man tent in hopes of pilfering enough warmth to survive the night.

El Potrero Chico - world-renowned for its water sports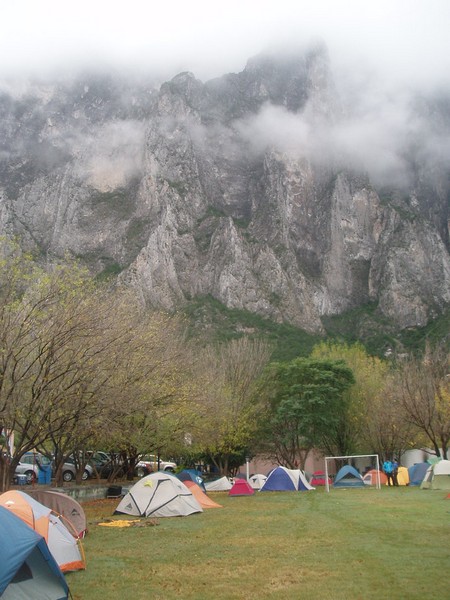 Soccer field turned campground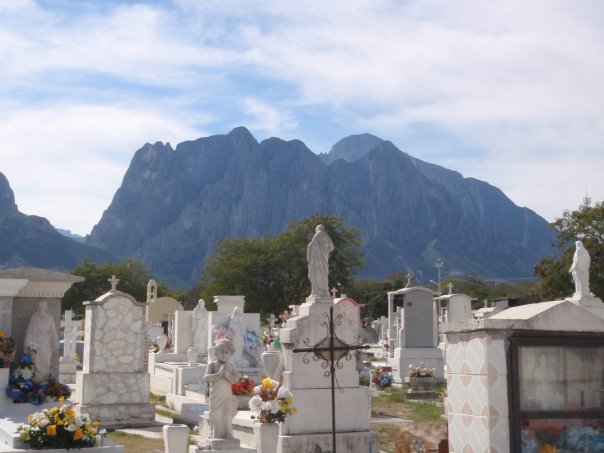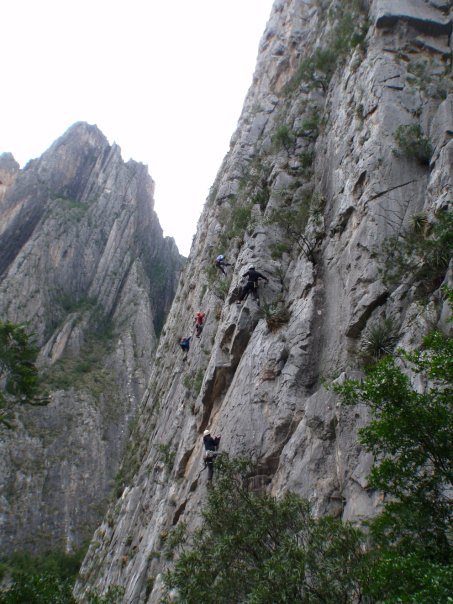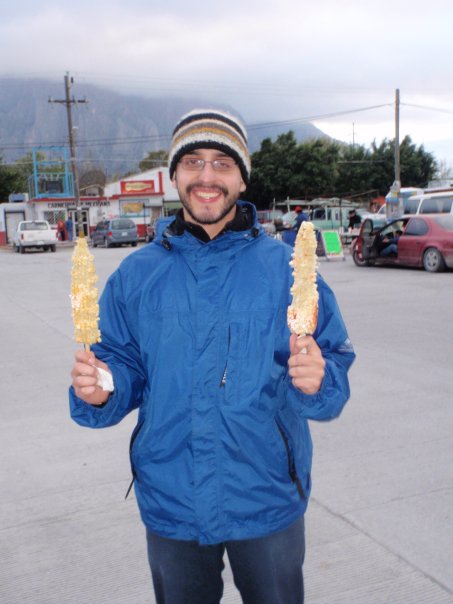 Elotes!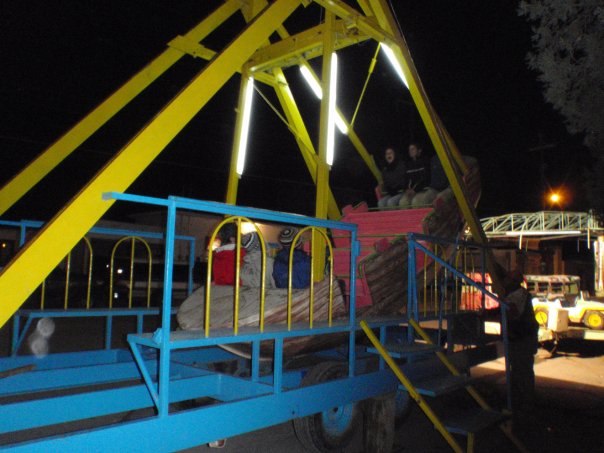 A carnival just for us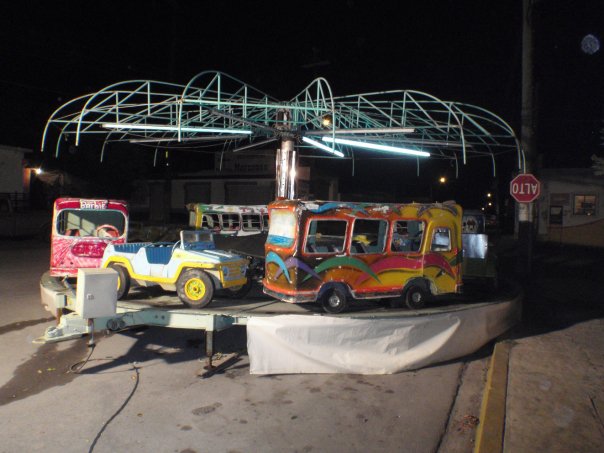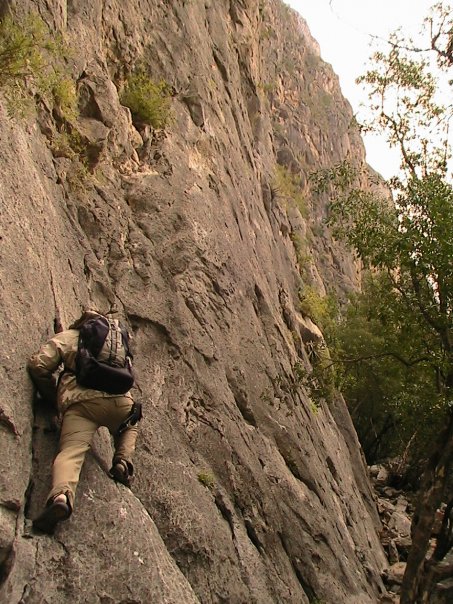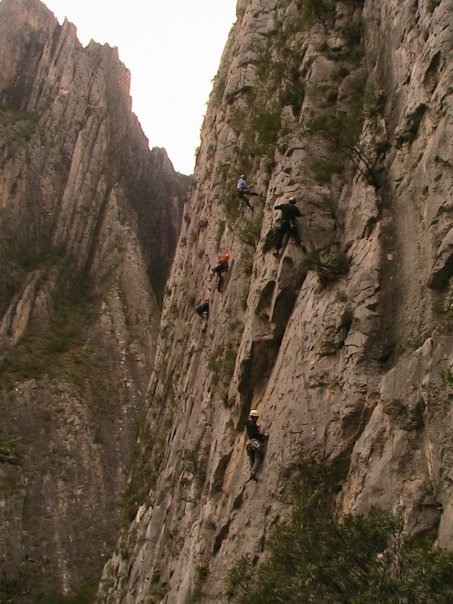 Day 2 - Grutas Garcia
Tuesday is the big market day in Hidalgo, so we drove into town early in the morning to shop for souvenirs and tasty snacks. On the merchandise front, there was little more than American-branded clothing, cookware, rat poison, and Chinese toys, but the various food vendors offered a smorgasbord of delicious options. We first got bananas, cheese, and avocados which we would later use to make sandwiches, then picked up some cactus gorditas, grabbed a couple of tasty pancakes, sampled a few strips of fried pig intestine, and finished it all off with a delectable combination of strawberries, chocolate, and whip cream.
This day was even colder and wetter than the last, so we quickly wrote off climbing and took off on a plan-as-you-go sub-roadtrip roadtrip to the theoretically warmer south. Our first stop was Gruta Garcia, a giant cave a few thousand feet up in the side of a cliff. Three dollars buys you admission to the cave; for a dollar extra, you can get a ride on the cable car and thus avoid the mile-long, largely vertical walk; when we told the woman at the ticket window that we wanted to walk it, she made repeated attempts to verify that this was our real intent, and it wasn't just some bizarre misunderstanding, before finally issuing the tickets.
The hike was easier than we expected, and we arrived at the top before the first gondola. The 45-minute cave tour was entirely in Spanish, but we had prepared for this eventuality by bringing someone who was fluent in Spanish to serve as the translator for the rest of us gringos. Through Christian, we learned about the many features of the cave such as The Crucifix, The Face of God, The Mary Statue, The Donkey and The Gorilla (interestingly, every Mexican cave has the same set of features, which are completely distinct from the set that is standard in America or any other country; the Catholic-themed imagery makes sense, but why every single cave has a gorilla is beyond me). We also learned that there was an additional two kilometers of cave passage that had been excluded from the tour. After the guide had finished explaining the 'Christmas Tree', an amorphous blob which would have looked nothing like a Christmas tree had the staff not strung lights all over it and placed a star on the top, we lagged behind the tour, and then, once we were out of earshot, donned our headlamps, hopped a fence, and went to explore the remaining passageways. We raced through the unlit sections of the cave, which were every bit as impressive as the massive, heavily ornamented main rooms, and then caught up to the rest of the group at the exit. The guide gave no indication that he had noticed our absence (though it seems doubtful that the only nine gringos on the tour could slip off unnoticed); we jumped on the cable car with the rest of the group and sped down the mountain to a churro stand waiting below. Our cars, which we had paid some sketchy guy five pesos to watch, were thankfully intact.
I had arbitrarily picked a random little town from the guidebook that seemed from our one-page map of Mexico to be reasonably close. In the blurb I had read about it, I noted that Real de Catorce had once been a ghost town, so I sold it to the group as such. Once we had been on the road for a few hours, and some of the passengers were starting to get restless, we double-checked my calculations and found that Real was actually around 400km away from the caves. The three experienced climbers and Vlad, who had actually come on the trip with the intent of doing some climbing, defected and drove back to Hidalgo, while the five of us who remained pushed on to the south. Half way to our destination, we were stopped at a police checkpoint and briefly interrogated on why we were choosing to take the slower, more dangerous free road rather than the toll road, but we were shortly sent on our way with minimal dissuasion.
After the sun set, the backcountry roads were virtually empty, and aside from a smattering of speedbump-infused towns, we had no trouble keeping up an average speed around 100. The only obstacle we encountered was a wayward group of donkeys; I spotted them in time to screech to a halt just inches from the backside of the closest one.
Around the place where we calculated our turn-off should have been, we encountered a sign for Estacion de Catorce; while we realized that this was not the exact name given in the book, we surmised that, since there were no other signs indicating otherwise, this was no doubt related to our destination. One kilometer down this road, we came upon an unmarked speedbump that launched my speeding car high into the air, but remarkably failed to dislodge any critical parts. After we reached Estacion, some twenty kilometers later, we discovered that there was in fact no way to cross from this to the town where we had intended to go, and we soon resolved to give up on ever reaching Real and find a place to stay somewhere on the new route. We ate dinner at a family-run establishment that served excellent enchiladas and banana milkshakes, and then continued on to Charcas where we found a hotel with two big beds, hot water, and satellite TV for around $25 a night.
Mexican signage is a curious thing. The problem is not a lack of signs; at least every quarter-mile, there is a sign to instruct you never to put rocks on the pavement, set fire to the pavement, destroy the signs, vandalize the signs, or steal the signs, and to, at all times, obey the signs. What is lacking is each and every sign that could have somehow aided you in getting to your destination or not destroying your car. Intersections hardly ever have any indication of which road you should take for which destination, and speedbumps and other intentional road hazards, regardless of the current speed limit, are more often than not a complete surprise.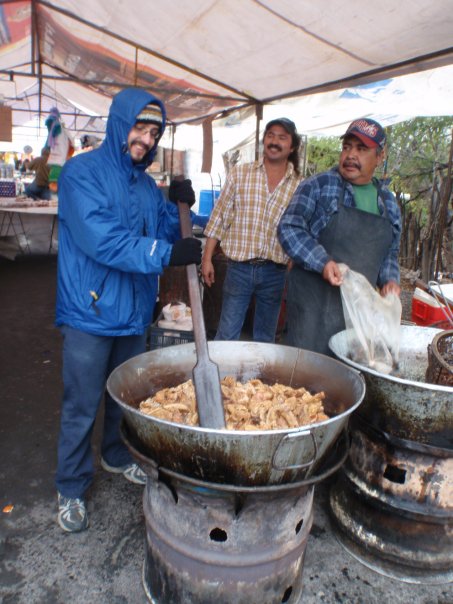 Stirring the pig intestine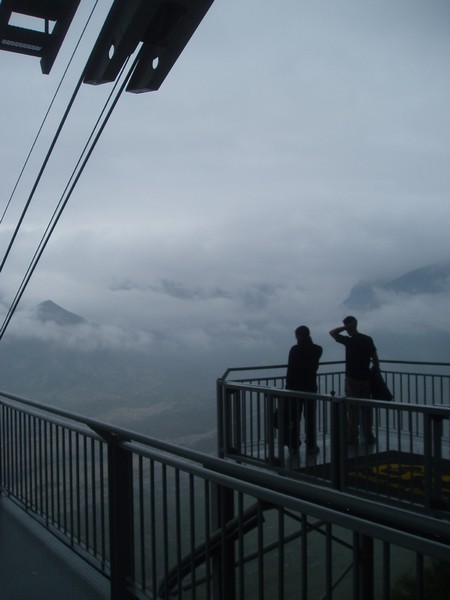 Awaiting the cable car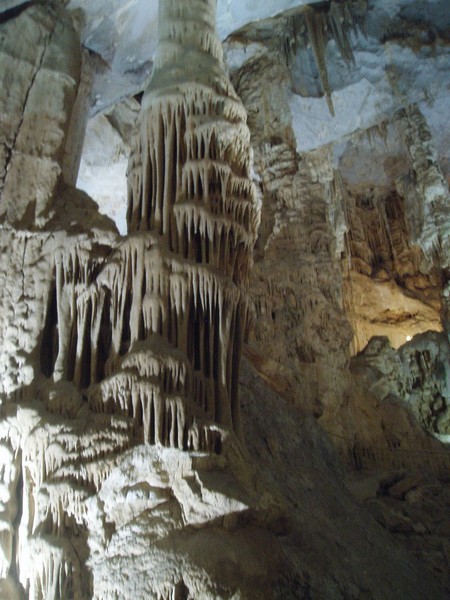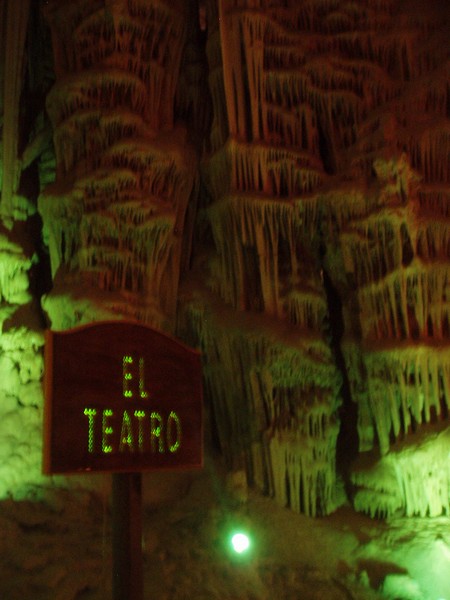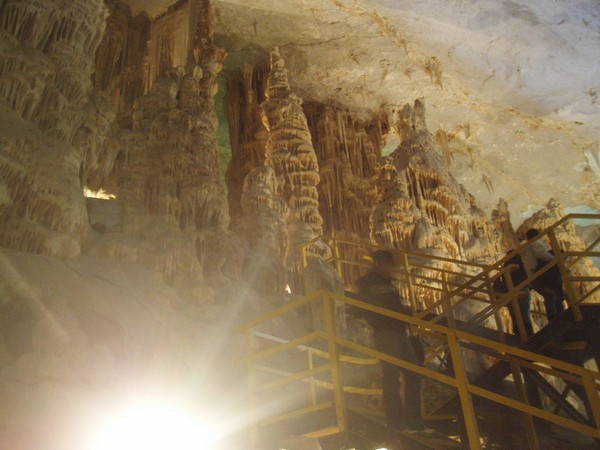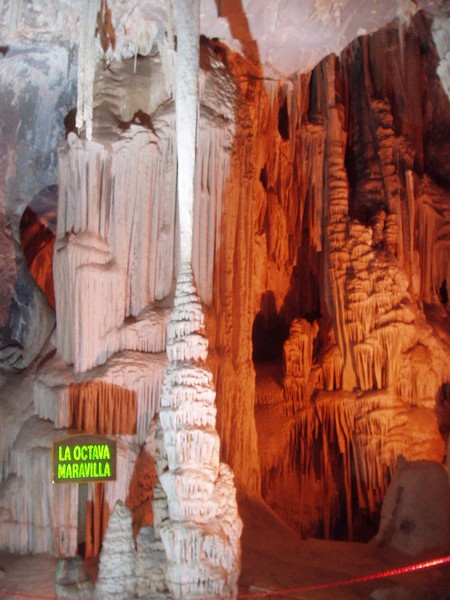 Eigth Wonder of the World #761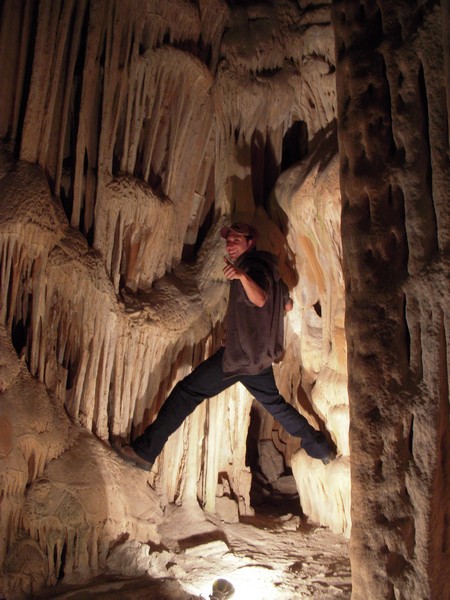 One disadvantage to having 70 tourists per one guide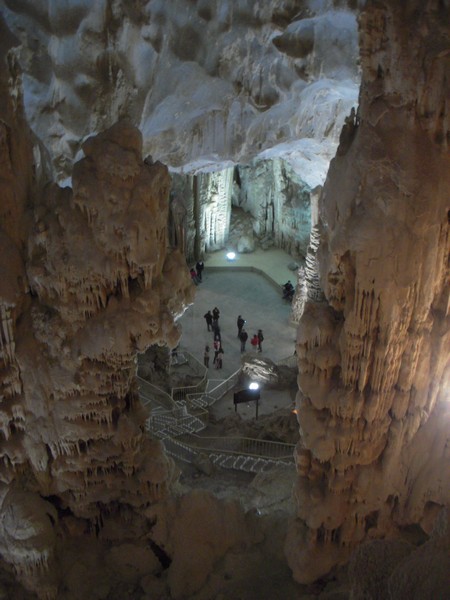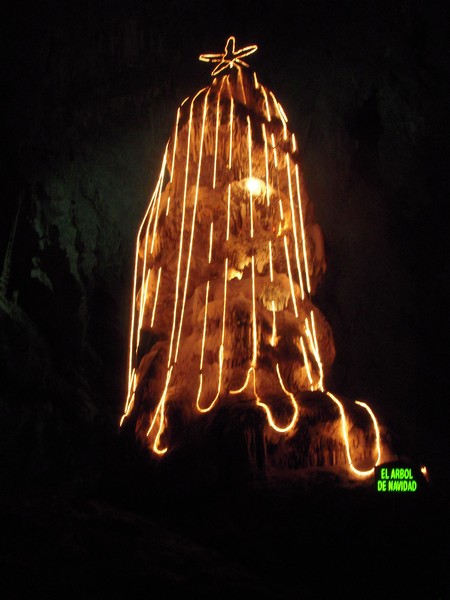 Fossilized camel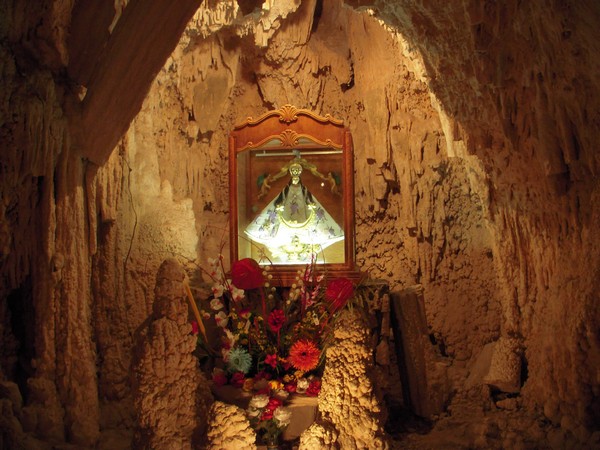 Cave chapel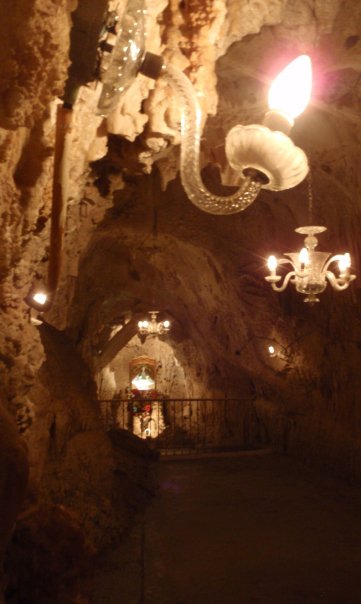 Gratuitous product placement
Day 3 - Aquismon
We left Charcas early and continued on our epic drive south. About half an hour into it, we encountered a sign at the edge of a town reading 'Truck route this way'; thinking that this would be a clever way to circumvent the inevitable speed bumps, I followed it; it turned out that they had only amplified the bumps for the larger vehicles, and, after about half an hour of driving, we found ourselves at the end of the pavement in a tiny little village. We had no choice but to backtrack, and eventually found our way back to the town and to the onward highway; we stopped at a 'Boing' gordita truck which seemed to have nearly every gordita filling imaginable for rock-bottom prices.
After a few more hours, we found ourselves in Aquismon, the base for excursions to the Sotano de Glondrinas, as well as dozens of other caves and adventure destinations. The tourist office, which reportedly held a detailed map of all the caves in the area, was closed when we arrived, so we went instead to the truck tout and negotiated a ride up to the pit and back in an incredibly dilapidated old Ford for 500 pesos. The road up the mountain was nothing more than a mud pit in places and the truck had next to no traction, but somehow our expert driver managed not to drive us off the steep cliffs that lined the road. The parking lot for the pit was a complete zoo; herds of tourists had arrived just in time to see the evening re-entry of the swallows. Touts tried to sell their services as guides and were hawking various souvenirs like coffee and fungus pipes. Our driver somehow convinced us to hire a small boy as our guide who silently led us down the well-signed, paved, heavily-trafficked path to the edge of the cave. We could just barely make out the massive perimeter of the cave through the fog, and there was no way of grasping the immensity of its depths. For a small tip, a local would tie a rope around your waist so that you could lean out and look down over the edge; this was a poor substitute for a rappel or base jump, but given our time, money, and equipment constraints, this was about the best we could do.
Christian had spent the whole ride up the mountain chatting with our driver; among other things, he discovered that there was a marsupial living in the jungle here that was a reliable source of food for the indigenous Huastecas, and that there was another animal that had razor-sharp teeth and a temperament to match, and would tear down trees or eviscerate hunters with the greatest of ease; luckily we never happened upon the latter. He also learned that there were many other accessible caves in the area, and we negotiated, for an extra 200 pesos, to stay out and see three more that night.
A thick fog had enveloped the mountain, and our driver negotiated the treacherous roads by driving with his head out the window. As we rolled into the sleepy village at the base of the cave reserve, he honked his horn to alert the local populace of the arrival of this handful of crazed gringos. Most seemed rather unwilling to have any part in our late-night expedition, but one sprightly old man, wearing a Dora the Explorer backpack (this was his cave pack which held his single flashlight, bag of cheetos, and can of soda) volunteered to show us the way. The Cave of the Spirits was at the top of a half mile of near constant climbing (our driver estimated there to be about 3000 stairs); the cave had a giant mouth and some magnificent formations, and we followed a semi-developed path on a through-trip to a second entrance. The next cave was about half a mile away and was every bit as impressive as the first; some of our group followed our guide's lead in sipping from a pool of water which was supposedly safe to drink. After each cave, our guide questioned whether we still wanted to go on, and always seemed quite taken aback when we replied with the affirmative. The third cave was just as massive as the first two but had fewer formations and was generally less exciting. After the trip, our guide informed us that, in all his years of leading trips to the cave, this was the first time he had ever gone after dark, or even heard of it being done. We got back to town around 11:30; neither of the available hotels was particularly good value, but we managed to stuff all 5 of us in a room for under $35.

Charcas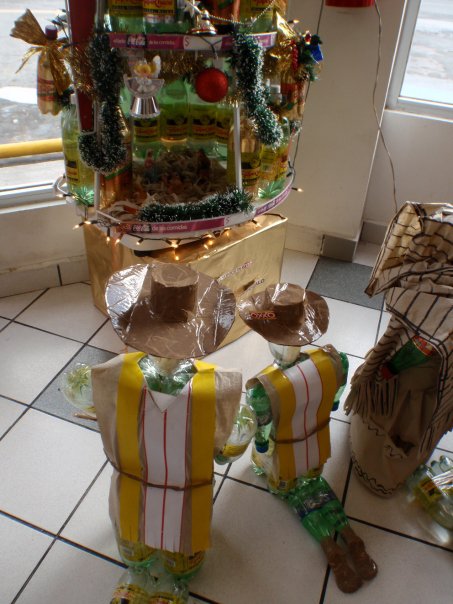 Soda bottle manger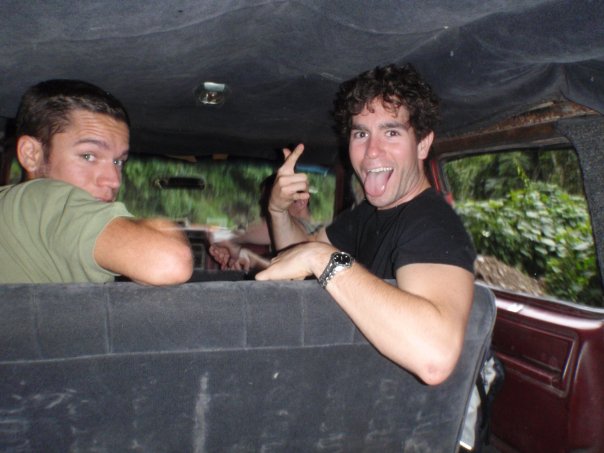 Jeff 2 is pretty excited about this next cave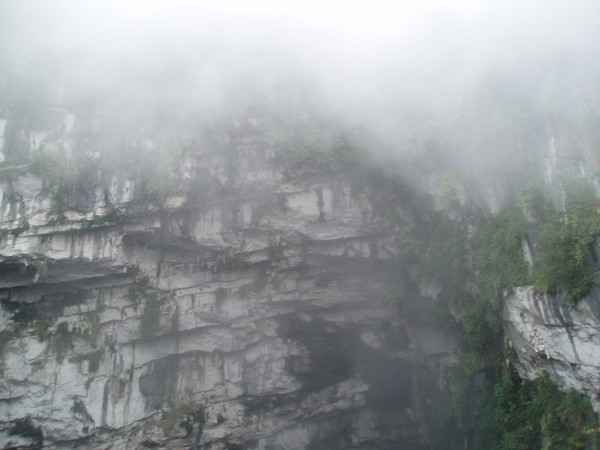 The legendary Cave of the Swallows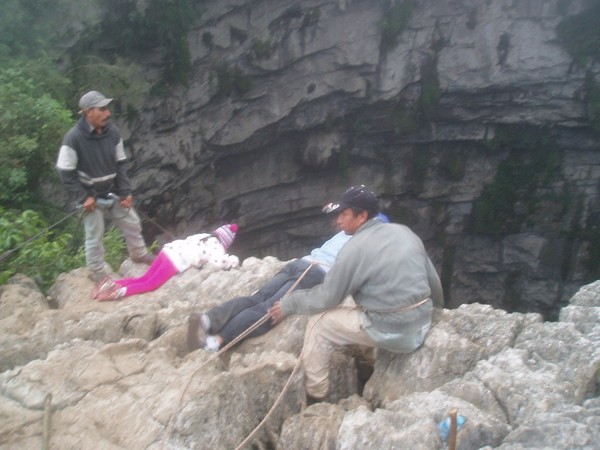 Questionable safety measures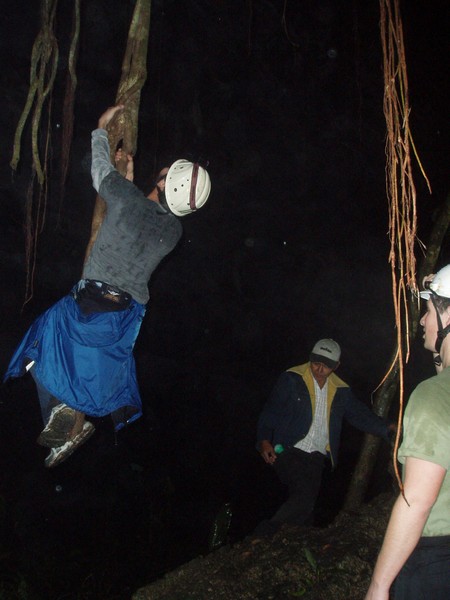 Vine swinging in a cave
Day 4 - Las Posas
It was New Years Eve, and we woke up at 7am knowing we had exactly 17 hours to get 600km north to the parties and our friends at El Potrero. But first we had to go another 30km south to the mountainside town of Xilitla to visit the bizarre mansion/funhouse of an eccentric millionaire. We found some purple corn mash and banana milkshakes for breakfast, and then took off for points deeper in the jungle.
The highway turn-off for Las Posas was, unsurprisingly, not at all signed, so we tried to find the secondary route through town. The obvious road was under heavy construction and not entirely welcoming for 2WD vehicles; the alternative route was up what surely must be one of the steepest streets in the world. We drove up this street, realizing halfway that we were in a do-or-die scenario – either we maintained our momentum, or we would almost certainly flip end-over-end back down the mountain. This situation was made all the more interesting by the fact that the street was topped by an intersection with a traffic cop standing in the middle blowing a whistle and gesturing that we should stop; fortunately he had the good sense to get out of the way before we topped the crest and came hurtling through.
Las Posas, the home and garden of a man with entirely too much money and time on his hands, is every urban explorer's dream. A series of bizarre complexes hidden in the jungle, are made up of staircases to nowhere, wall-free platforms suspended above the canopy, strange concrete flowers, diverted waterfalls and a plethora of other improbable constructions. Visitors can climb on absolutely anything without the hindrance of handrails or warning signs of any kind. A path alongside the waterfall leads to a series of smaller waterfalls and then to a more recent bamboo construction with an excellent view of Xilitla and the surrounding jungle.
We left the complex around 1 and began the long, arduous race to the north of the country; we were quite reluctant to leave behind the 80 degrees and sun, stunning scenery, and cave-laced mountains, but having given no indication to the rest of our group that we'd be gone for more than a day, we felt somewhat obliged to make an appearance. We made a necessary stop at an ice cream village nestled deep in the sweltering jungle; here, a dozen shops each offered forty different flavors ranging from cheese to guanabana to something labeled 'tuna'.
Highway 85 morphed from straight and level highway to winding mountain road and back again. The only city of note on the route, Ciudad Victoria, was big enough to have fire jugglers and windshield cleaners at the intersections, and giant LCD advertisements overhead, but still too small to offer a beltway or dispense with the half-meter-high speed bumps. A smattering of small towns offered intermittent speed bumps to keep me on my toes; several towns, one with a long series of animated led signs, threw a wrench in the works by announcing all manner of speed bumps in the most menacing terms possible, even though no such bumps existed.
Four-lane highways were in short supply on this route, but that was of little import because two-lane roads in Mexico almost universally allow for exactly the same freedoms as their wider brethren. The shoulders on these roads are usually just wide enough for a compact car, so it is perfectly feasible for the slow traffic to ride in these extra lanes and for everyone else to pass whenever they feel like it. Oncoming traffic in the opposite lane, and quite often, oncoming passing cars present little barrier to passing within your lane; the only time when it becomes an issue is in the case of the ever-popular 'double-pass', when a car, while in the midst of passing a slower car in the shoulder, is passed by a still faster car in the other lane – when this occurs, you are expected to retreat into your shoulder and hope that no one goes for a triple.
If you enjoy driving through Atlanta, with its unofficial 80mph speed limit, fast turns, and unexpected four-lane shifts, then Monterrey would be your dream come true. There are plenty of road signs, but most of them put any potentially useful information in a ludicrously small font that is only intelligible once you've passed it, and misleading lane indicators insure that you're always in the worst possible lane to make the shift to continue on a given highway. The reflectors in the lane lines have all been replaced with bright, blinking lights, and adding to this light show, we were treated to the sounds of a thousand mortars going off all around us as do-it-yourself fireworks shows erupted from every block. After stopping for directions at least half a dozen times (the final time we discovered that we had just driven about 20 miles out of our way and that we were in great danger given the bandits that frequented the road at night), we finally found ourselves on the highway to Hidalgo. We arrived at our campground some 9 minutes early, and seeing no sign of our other group members, raced to one party and then the next in search of them. At midnight we found ourselves just outside the gates of the biggest New Years celebration in the area; it featured a trampoline, fire jugglers, live music, plentiful booze, and a cover that none of us felt like paying; we heard a cheer go up from the crowd and echoed it in our own group as we stood in the shadow of the towering peaks of El Potrero. Shortly after midnight, the remaining four members of our group sauntered up and explained that they had gone for a nap and overslept. They and a few from our carload went out for a long night of pool and partying, while I opted to return and collapse exhausted in my tent.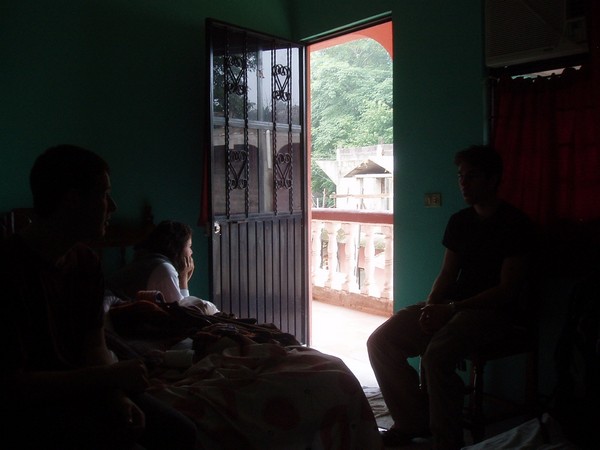 Our digs in Aquismon

Xilitla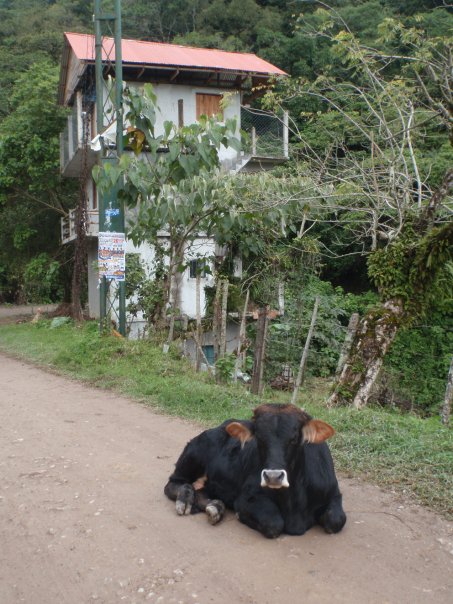 Cow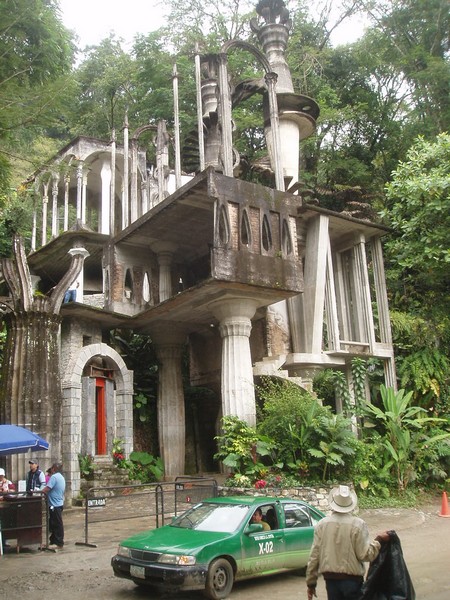 Las Posas - craziest place ever.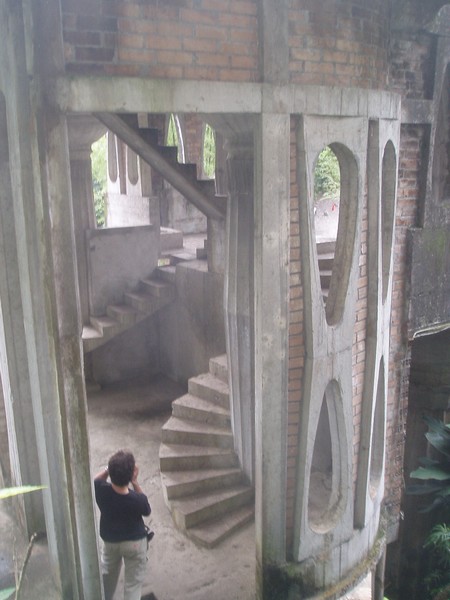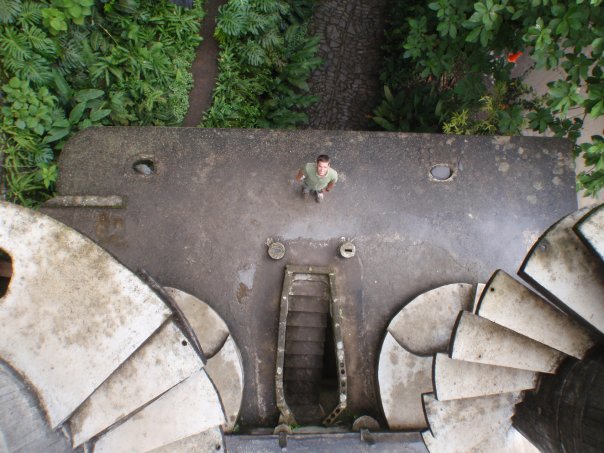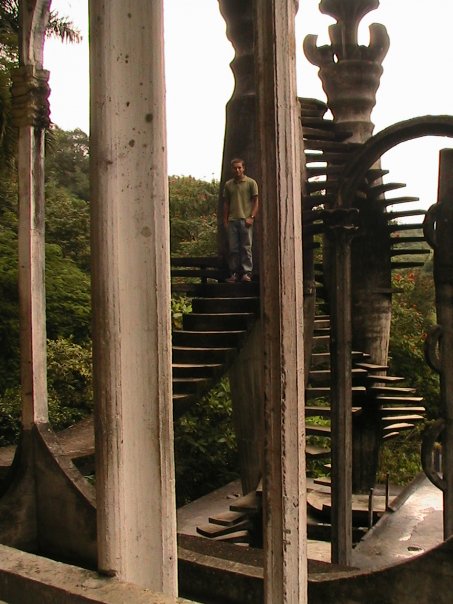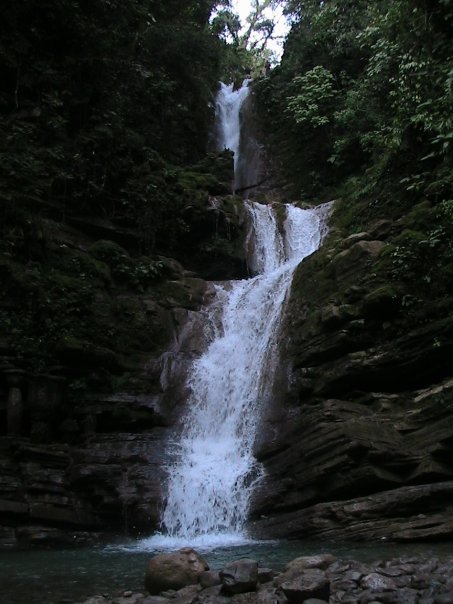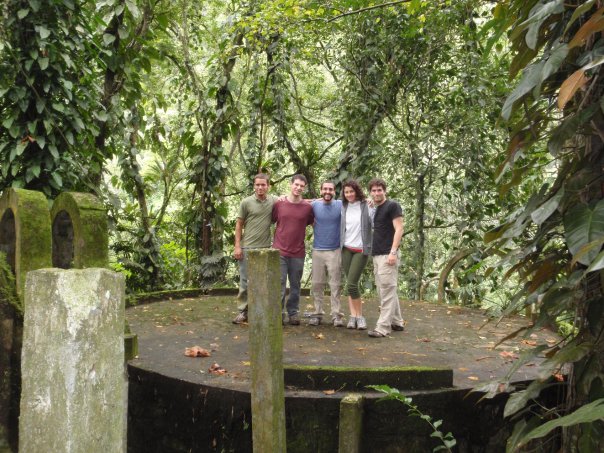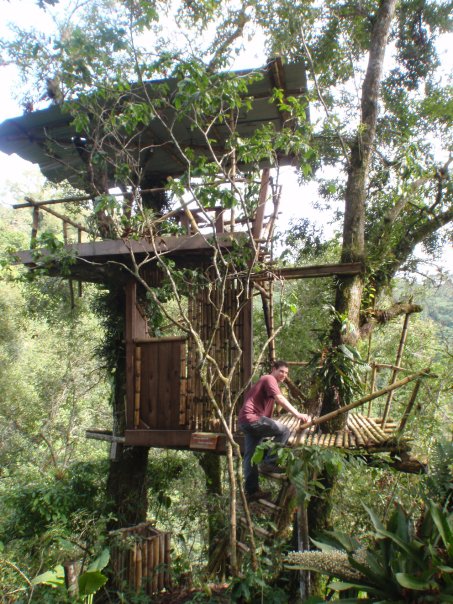 Bamboo lookout tower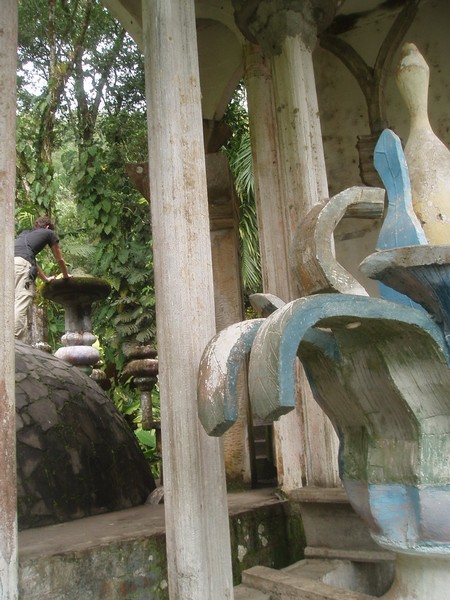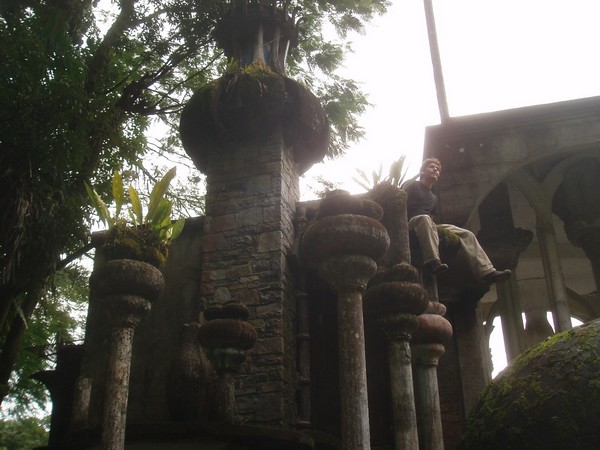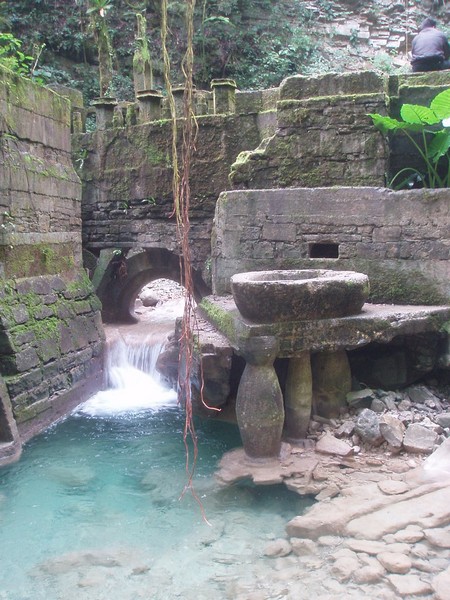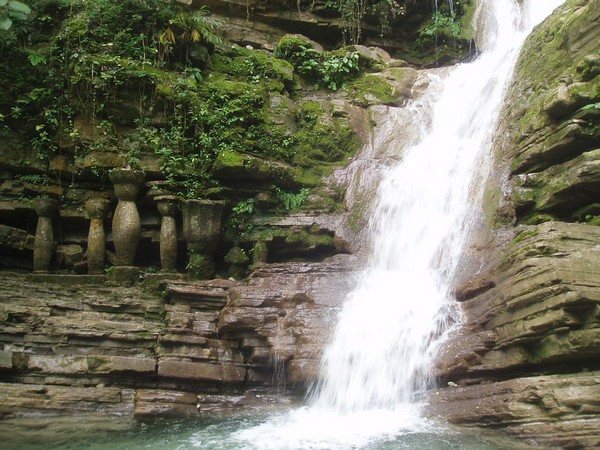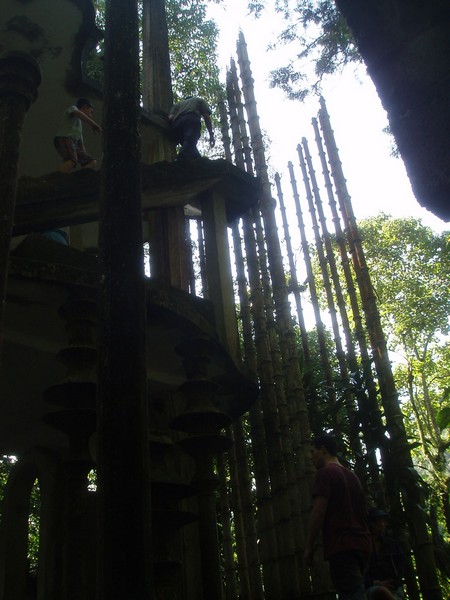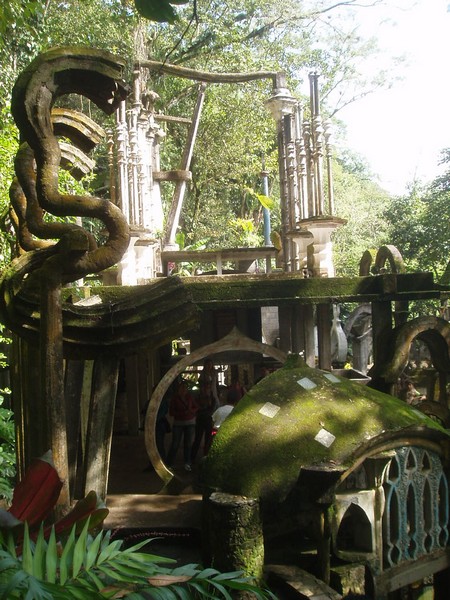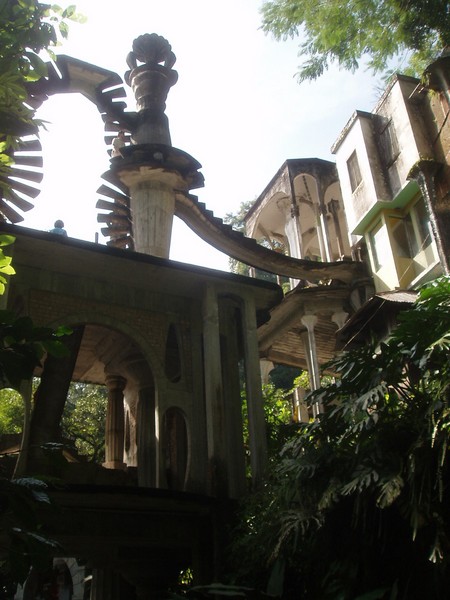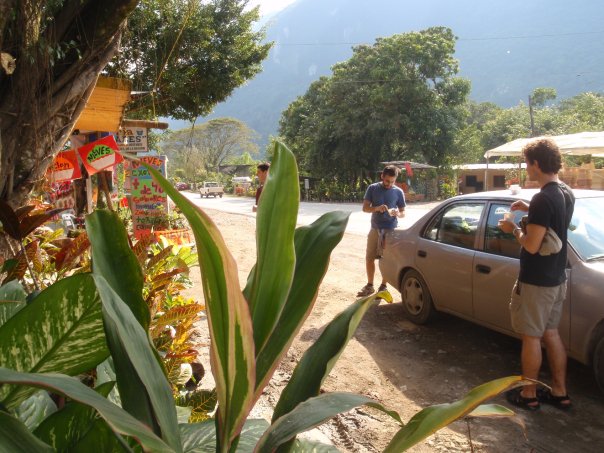 Ice cream village!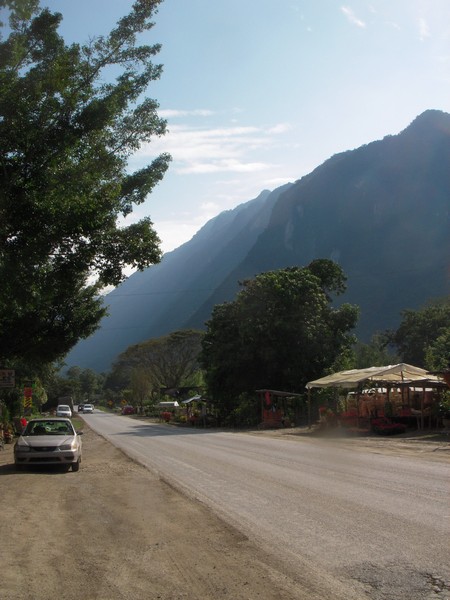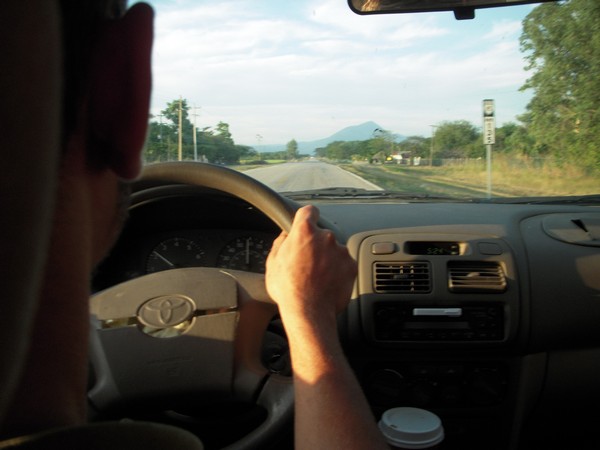 The long road ahead...
Day 5 - New Years Day
Since this was technically a climbing trip, we decided we would spend at least one day actually climbing and this became the main aim of New Years Day. We waited til the sun had sufficiently heated up the cliffs and set up several routes on the Mota Wall. I drove into town for noon Mass with three others from the group (a Jew, a Pentecostal, and an undeclared), and struggled to take away anything from the flurry of Spanish readings, hymns, and homily. We were able to hum along to Little Drummer Boy and Dashing through the Snow, and wish a Happy New Year to the horde of kindly old ladies who came up to hug us after the service.
The Friday market was a much smaller affair than that which was held on Tuesday, but it still had one food tent which was whipping up heaping plates of fried fish, ceviche, rice and shrimp soup. While we were ordering, one of the owners comically held up a big dead fish in front of us and flapped it around in such a way to imply that it was in the midst of a song-and-dance routine. After we had stuffed ourselves with the extensive spread, the owner came over and plopped a whole fried fish on the table and declared that it was on the house; naturally, we ate this too.
We returned to the cliffs and climbed til the last bits of daylight faded away. On several of the cliffs, pinpricks of light suggested that others were not going to give up and go because of an inconvenience as slight as darkness. Many of the restaurants in town were closed on account of the holiday, so we found ourselves stuffed into a tiny tacqueria with about twenty other climbers. The place had no drinks on hand and, out of all the items on its extensive menu, could only offer us tacos, enchiladas, and cheeseburgers. The tacos and cheeseburger arrived some thirty minutes after they were ordered, and the owner took this opportunity to inform those of us who had requested the enchiladas that she was out of the ingredients necessary to make them. The three of us who had been thus jilted left in a huff and drove around until we found the only other open restaurant. Here, the owner was thrilled to see us and brought us complementary peanuts and wine and gave us frequent pats on the back as he repeatedly stopped by our table to chat while we waited for our food. The dishes, huevos rancheros with three kinds of tortilla, chips and guacamole, and french fries, were all quite tasty; it was such an excellent feast, in fact, that we nearly forgot all about our friends who we had left two miles from camp without a car some 90 minutes earlier. After finishing our meal, we attempted to find the little tacqueria we had left so long ago, but soon became lost in the maze of one-way streets and did not track it down til half an hour later; by that time, our group had already started walking back to camp.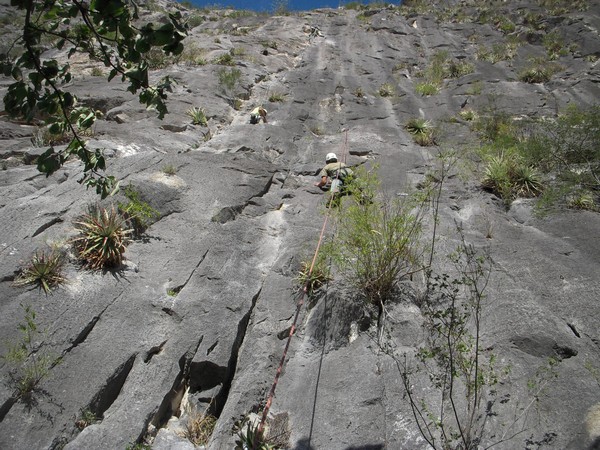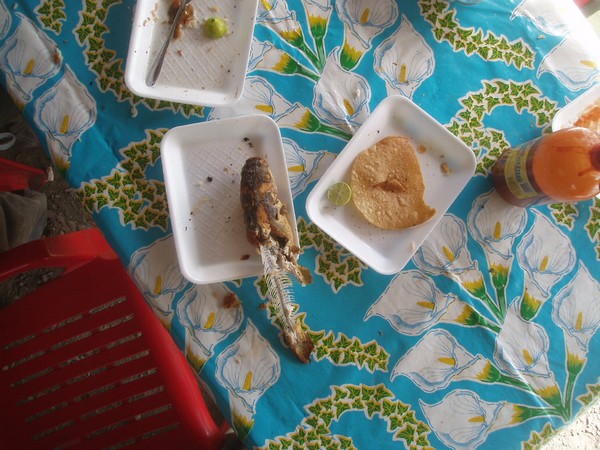 Ok, who's gonna eat the head?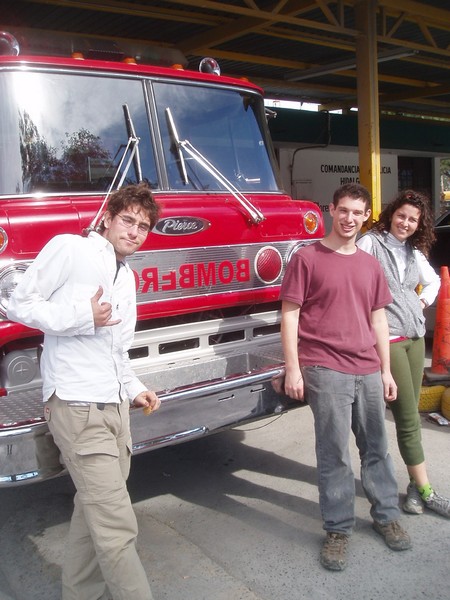 Hidalgo firemen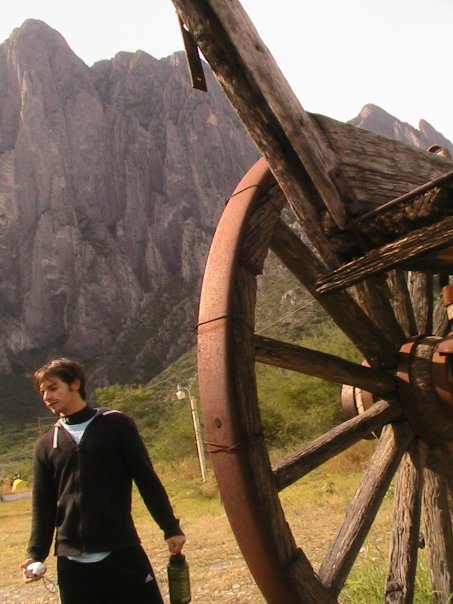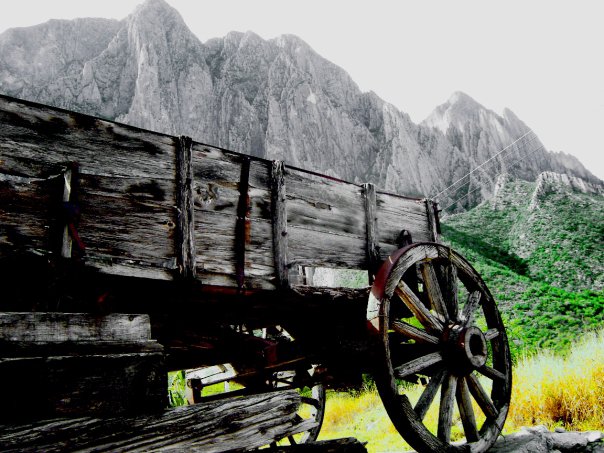 Day 6 - Canon de la Huasteca
The plan for our final day in Mexico was to leave early and try out the Via Ferrata course just southwest of Monterrey. Since we had arrived, the serious climbers had been trying to get on a particularly popular easy multipitch that takes you to the top of a rock spire. I came up with the idea of getting up early and getting on the route before any sane climber would dare to brave the cold and claim it. This worked like a charm; the route, though easy, looked like an avalanche waiting to happen, and while leading the first pitch, Vlad verified this by dislodging a giant boulder that bounced down and came within half a foot of taking out me, Dan, and, by extension, Vlad himself. This unsettling event and some technical difficulties prevented us from finishing the full route, so we rappelled down from the first belay station and returned to camp.
The other car planned to climb all day and hit the border in the dead of night when it would theoretically be fairly quiet (spoiler: it ended up taking them twice as long as us), so we shifted all necessary gear around and my car took off with five to tackle the 'first via ferrata in Mexico'. Our guidebook only listed two outfitters to contact and gave no indication of how to find the place, so we took the usual approach of asking directions at every turn until we got to La Huasteca park. Though only I had the proper equipment for the sport, we concluded that we could jury-rig four additional sets of gear using the huge store of climbing gear in the trunk. Pulling up to a ticket booth, we paid a 22 peso fee and were directed to go to kilometer 7 of the park road where there would be a clear sign indicating the way to the start of the 'ruta vertigo'. This sign never came, so we once again began asking anyone in the vicinity for directions; as it turned out, not a single person had ever heard of the route. When we returned to the ticket booth in hopes of getting some clarification, we discovered that the park official, his ledger, and even the desk at which he had been sitting had mysteriously vanished. Frustrated, we headed for the exit to the park.
We followed virtually the same route as we had two days before to get across Monterrey to Highway 85 North, and managed to get lost in all the same places. We sped north towards Nuevo Laredo, only stopping for grilled corn, piratas (like philly-cheesesteaks) and some quesadillas. The line for International Bridge II ran for many kilometers through the city; we opted to drive around it and try to find some shortcut, but only succeeded in getting stuck in a long line for the permit office. We canceled our vehicle permit (something that can be done much faster at the border itself) and got at the end of the line for Bridge 1. During our two-hour wait, hundreds of vendors moved stealthily between the cars; most were selling crucifixes, Mary statues, tiny guitars, bas reliefs of The Last Supper, sparkling wrestling posters, churros, sodas, and grilled corn. Dominos bikes weaved through the ranks and delivered pizzas ordered by hungry drivers.
Despite our less than savory appearance and odor, the customs officials only glanced at our passports and waved us through. We grabbed a late dinner at a Taco Cabana in San Antonio (which we suspect was responsible for the trip's first bout of diarrhea), and then proceeded to Pace Bend park in Austin.

Intriguing caves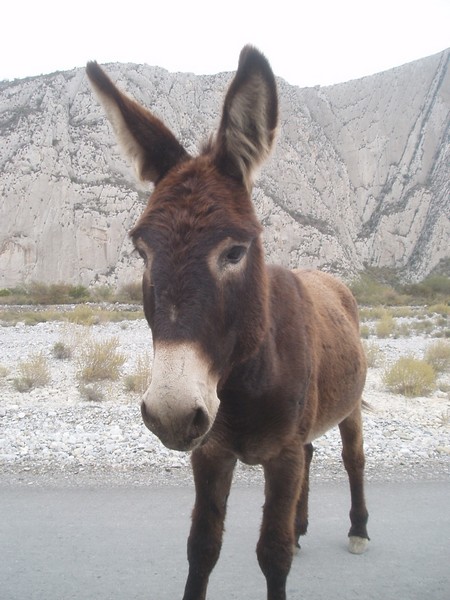 Curious donkey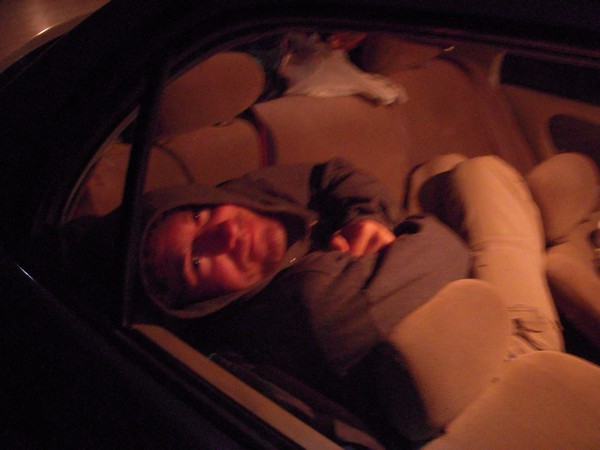 I would've said you couldn't sleep comfortably in the backseat of a Corolla with both front seats fully reclined; Jeff 2 proved otherwise
Day 7 - Austin and the Long Ride Home
On Sunday, we stopped by Hamilton Pool (which was blissfully free of rednecks, who were likely put off by the 42 degree water temperature), did several climbing routes at Reimers Ranch, grabbed a late lunch at what is now one of two Ethiopian restaurants in town, briefly contemplated playing laser tag, dropped Christian off at San Antonio International to catch his flight back to Denver, and then drove for 17 hours straight back to Gainesville. Over the course of the next week, we would begin to sort out all the stuff that had been left in my car and the nine different sets of pictures that had been thrown to the four winds. I would not soon forget this trip; the rotting fruit under my carseat would be a gentle reminder for weeks to come, and the damage to my muffler, transmission, clutch, brakes, and suspension would surely help with the upkeep of those fond memories for longer still.

Pedernales River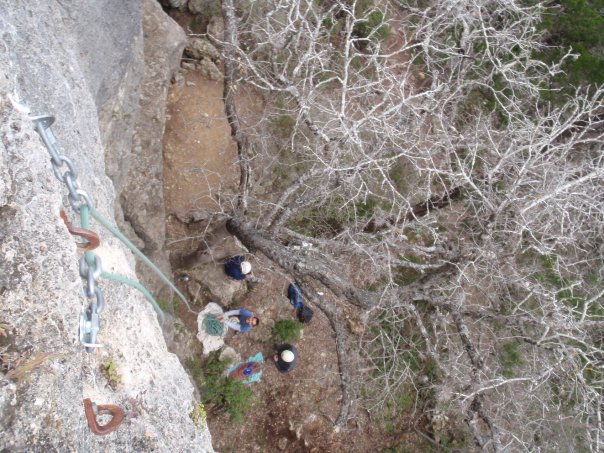 Dead Cats Wall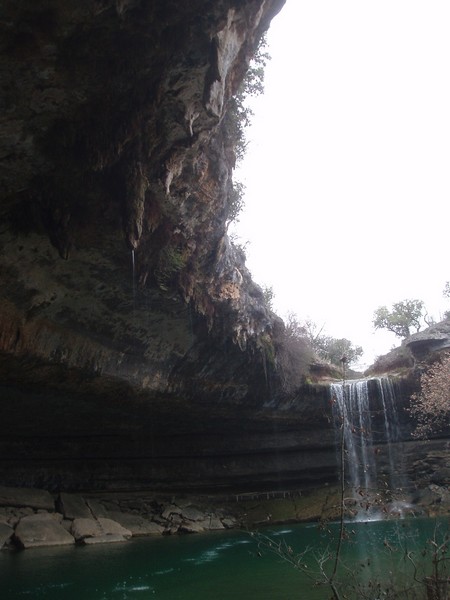 Hamilton Pool