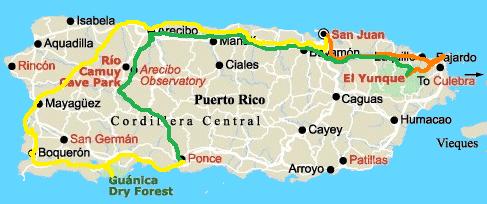 The Thanksgiving trip to Haiti had been a proof of concept. I knew now that it was completely feasible to buy absurdly cheap tickets, fly to a nearby Caribbean island, and fly back a few days later, having experienced a rewarding, representative sample of the countryís natural and cultural offerings. One could even reason that, aside from the price point, driving across the state and taking a 2-3 hour plane ride on a Friday night was not a hair different than heading up to Tennessee for a weekend backpacking or climbing trip. This is, at any rate, exactly what I had running through my mind when, with a few weeks left in the fall semester, I advertised to the club a 2-day trip to Puerto Rico on an arbitrary weekend in January.
The tickets for the 8pm Friday flight from Orlando to San Juan and the corresponding 3am Monday return were $75 roundtrip. Three others immediately wired me the money through Paypal, while six more remained on the fence until after the sale had ended. I checked and rechecked the dates and times before securing 4 tickets for myself, Alex, Frank and Reade; two former club members in Orlando, Allison and Curtis would shell out a little bit more to lock in theirs just a few minutes later. Frankís roommate Kristin and her friend Danielle would hear about the trip several weeks later and pay double what we had paid to get the cheapest remaining flights which would put them in San Juan several hours before us and have them leaving Monday afternoon.
The four of us in the core group left Gainesville at 3, and, after nixing a plan to drive around Orlando aimlessly in search of a Haitian restaurant, arrived at the gate three hours before our flight. The two other girls from Gainesville had arrived for their noontime flight with less than half an hour till takeoff and had thus been bumped back to our flight; they had spent the day exploring the city with a friend and had found an authentic Puerto Rican restaurant. They each showed up with a backpack and a roller suitcase, which were full to the brim with all the accoutrement necessary to survive a roadtrip in a developed, tropical territory for 48 hours. Somehow the girls had ended up in our same row, and so we sat six abreast; by showing up after all the other tickets had been doled out, Allie and Curtis managed to get upgraded to the Big Front Seats, for which no one had shelled out the extra forty bucks. Danielle had never been on the plane before, but she fortunately turned out not to be of the sort who would scream bloody murder as soon as we were airborne and necessitate duck-taping her to the seat and spinning around for an emergency landing.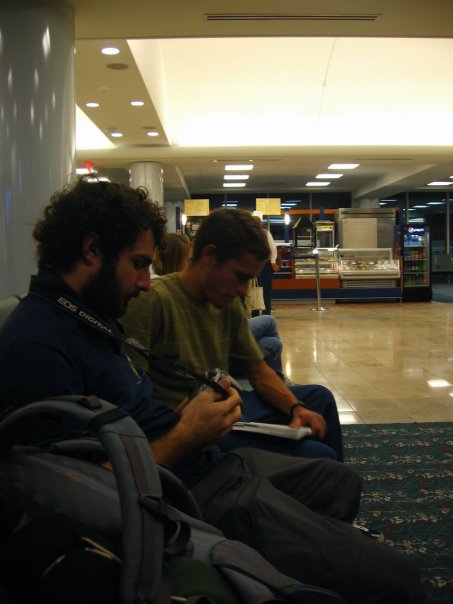 Waiting at the Orlando airport (photo credit: Frank)
T-51 hours until flight home: Getting some wheels
I glanced at one car rental website and got a quote of $50 for the weekend. I took this to be representative and assumed we could just show up at the airport, hop from one companyís desk to the next and find the absolute cheapest rate. The flaws in this plan began to manifest themselves as soon as we landed and found that none of the rental companies had desks in the airport and we would need to take a shuttle to each of them. We confirmed a cheap rate with one and waited twenty minutes for a shuttle, only to discover upon arriving at the office that they had no cars left whatsoever at any price. We thought this odd and returned to the airport to try a different one. The next two companies had zero available cars, and a third was asking $125 for each economy model. Finally, we found one with models available at a reasonable price; they refused to give us any discounts and tried to trick us into taking a more expensive model, but we eventually managed to arrange two Toyota Yarises for $73 each. Besides being spacious and getting good gas mileage, these little compacts provide the perfect punchline for the joke that begins "What is a pirateís favorite type of car?"
Arriving in Puerto Rico from the states is a bit like entering an episode of the old 90s show where they slide into alternate dimensions in which the world is, in some way, ever so slightly askew. San Juan has the exact same stores and traffic signs as us, with the notable distinction that everything is in Spanish. A cell phone from back home works just fine, as does a 44-cent stamp. If you go into a Taco Bell or McDonalds, you can get the exact same 89 cent burrito or 99 cent double-stack hamburger you can get back home - assuming you can figure out the Spanish word for double-stack. Gasoline is sold in liters and kilometers are used for distances, but all the speed signs are in mph (or I was going double the limit for the entire trip).
Intent on stuffing as much into the weekend as possible, we left the rental office at 1am and headed straight for Old San Juan. We left the cars and made a circuit of a few of the central streets. Aside from a few hopping clubs, the city was quiet. We briefly considered dropping into a bar with a live salsa band, but balked at the $2.50 cover charge; if we were going to see the whole island in a weekend, we couldnít be committing ourselves to $2.50 worth of dancing in a single club. Shortly thereafter we encountered our first (and only) con-artist; he was a white guy who delivered a well-rehearsed story about how he and his father wandered off a cruiseship and into a bad section of town, and he had the cuts and contusions to prove it; we wandered away one-by-one without saying a word - Alex, who is something of a connoisseur of well-delivered cons, gave him some spare change for his performance.
We grabbed our car, and through a confounding network of surface streets, found our way to the free highway out of town. It being the middle of the night, with next to no traffic about, we imagined there would be little benefit in taking the toll road. What we hadnít figured on were the ubiquitous traffic lights that were perfectly timed to ensure that we caught every single one; never once did we see a car approaching from the intersecting highways, and quite often it seemed that all the lights were red simultaneously. What we soon discovered is that it is perfectly acceptable to run any and all such traffic lights - even when thereís a cop right on your tail.
Around 4am, we snuck through a hole in the fence onto a beach from which we believed might offer a route to the bioluminescent bay. To get to the bay, one typically needs to shell out some serious change for a kayak tour, and naturally, show up a tad earlier than 4 in the morning, but we figured we could just strap on masks and snorkels and swim out to wherever the phosphorescent critters happened to be. This plan never came to fruition, and the arrival of a man trudging through the darkness of the beach carrying an unusually huge, heavy duffel bag encouraged us to move with all appropriate speed towards our next destination.
We stopped at the only restaurant open in town, which was a taco/burger kiosk where the owner communicated to the outside world via a tiny window with a revolving door. With expectations that Puerto Rico would be yet another cheap Latin American destination, the $10 meal prices came as a bit of a shock; I got a pile of less-than-exciting mofongo (a mostly flavorless mashed corn dough) with spicy mayo for $4, but those who got the burritos left very satisfied.
We followed a series of ultra-narrow roads through the rainforest to reach the islandís most popular national park. Aside from the occasional all-consuming pothole, the roads were fine as long as there was never a car coming from the opposite direction; the moment this happened, one of the two would have to back up several miles along unlit, tortuous mountain roads, with treacherous drop-offs on each side, until the latest pull-off was reached - luckily for us, this was not an overly popular road.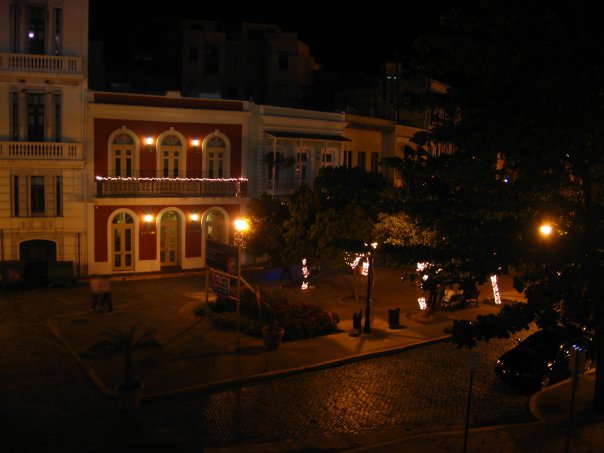 Old San Juan (photo credit: Frank)

(photo credit: Alex)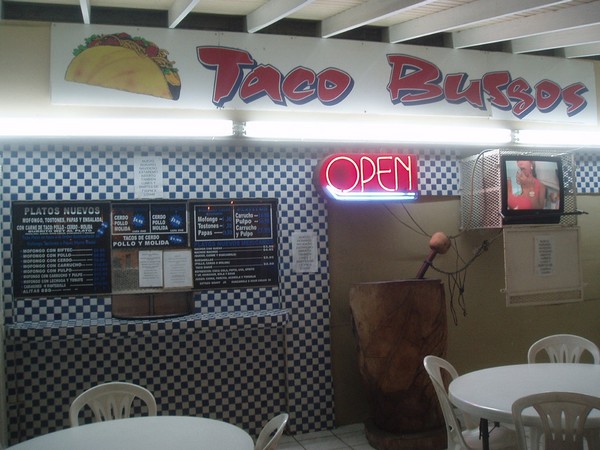 Best burritos (available at 4am) in town!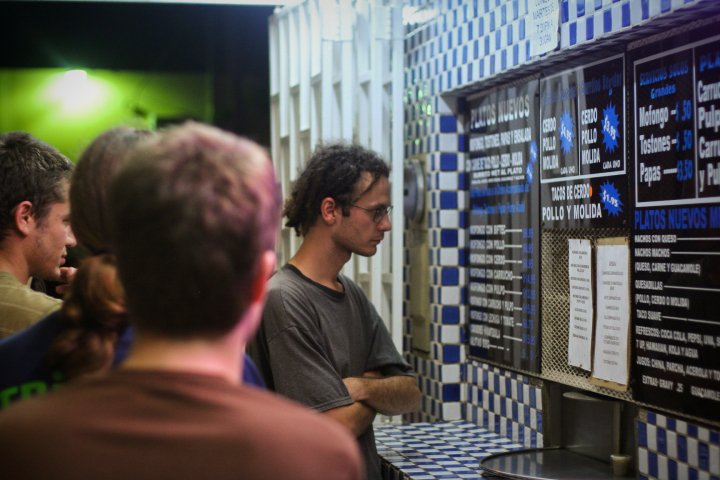 (photo credit: Alex)
T-45 hours: Dawn at El Yunque
We arrived at the park just before dawn and found a closed gate along with a sign explaining that it would not be opened for another hour; fortunately, the park hadnít bothered to lock it, so we pulled it open and drove through to the first lookout. We scaled Coca Falls, which was a wonderfully sketchy feat in the dark. We attempted to find a way into a castle-like tower that might afford us a birdís eye view of the surrounding landscape, but found no way past the locked gate. Next, we climbed to the top of El Yunque mountain; having not slept for over 24 hours, I came quite close to dozing off while walking and plummeting off the mountain, but I made it most of the way up before passing out atop a sun-drenched rock spire.
I was awoken by the rest of the group some twenty minutes later and we continued to the summit; an old fortification provided a lookout that would have easily allowed us to see from one end of the island to the next, and many nearby islands as well, had it not been for the dense cloud cover that constantly enveloped it.
We descended back to our cars and found that the visitorís center had been mobbed by hundreds of tourists; some were on a nature walk along the road to see crabs and other rainforest critters, many were headed to La Mina Falls for a swim at its base, and still more were driving to and fro to the various lookouts. The place had lost its appeal for us, so we opted to speed across to the karst-rich landscape on the other end of the island.

Sunrise in the rainforest

A well defended tower (photo credit: Frank)

The Yarises (photo credit: Frank)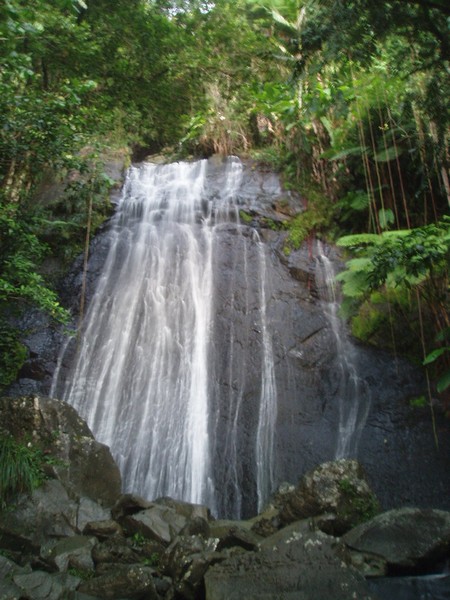 La Coca Falls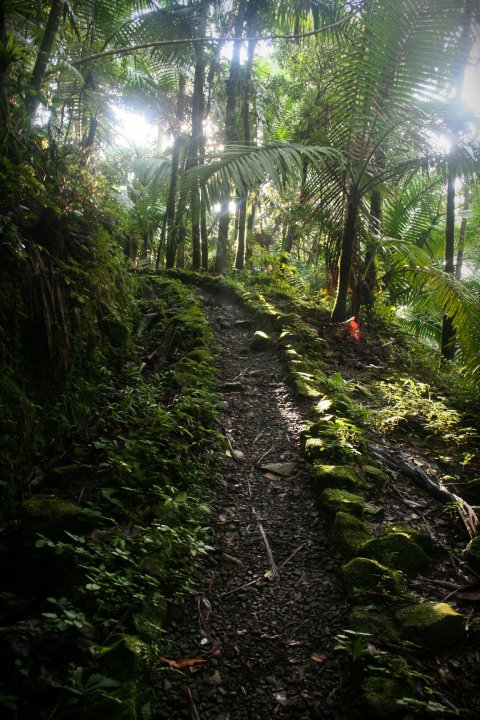 (photo credit: Alex)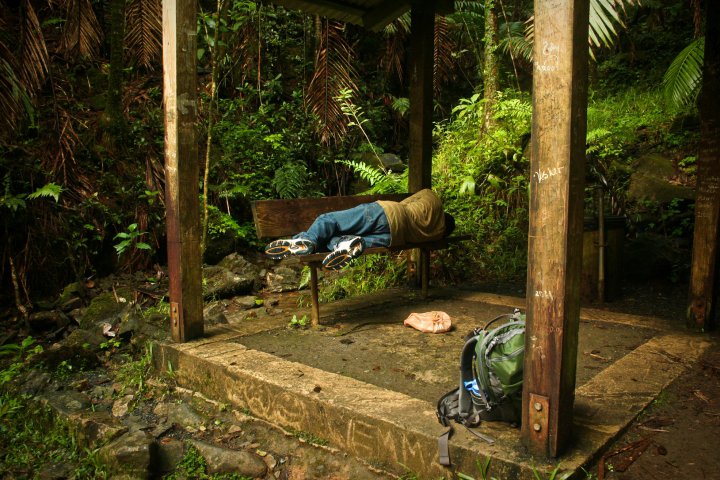 A well-deserved nap (photo credit: Alex)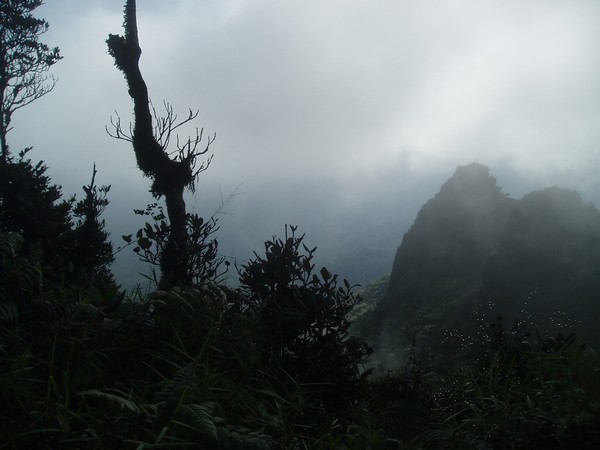 The pinnacles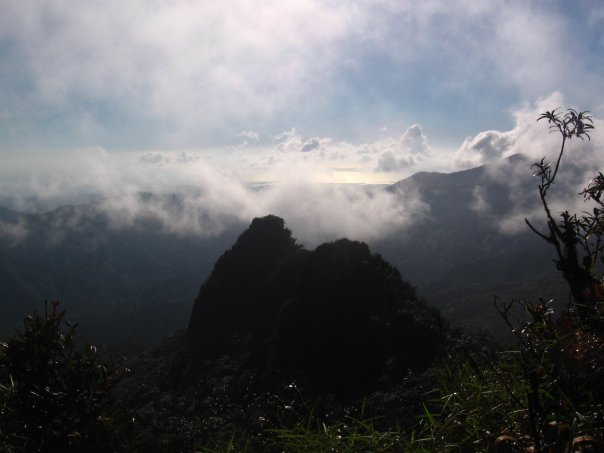 (photo credit: Frank)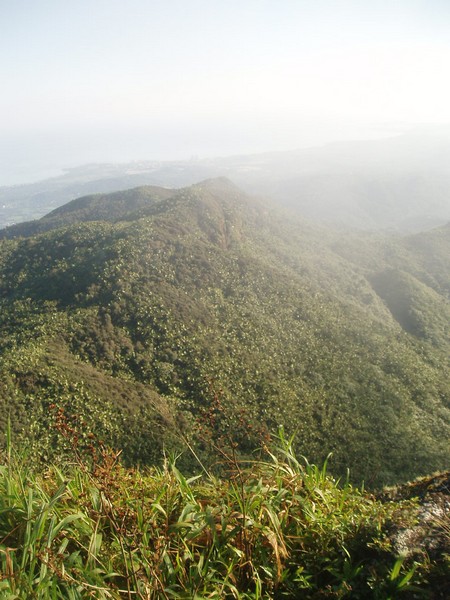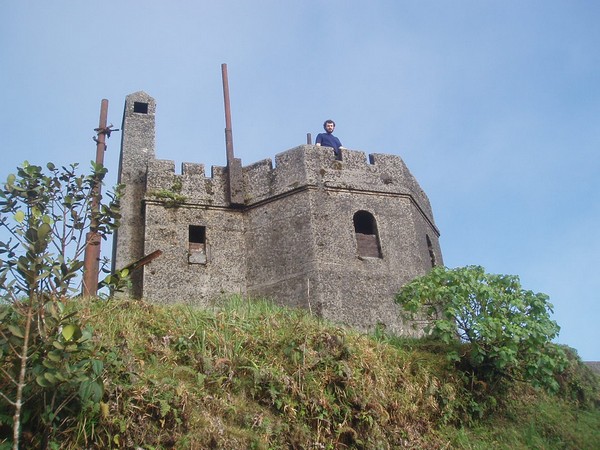 "Halt, who goes there?"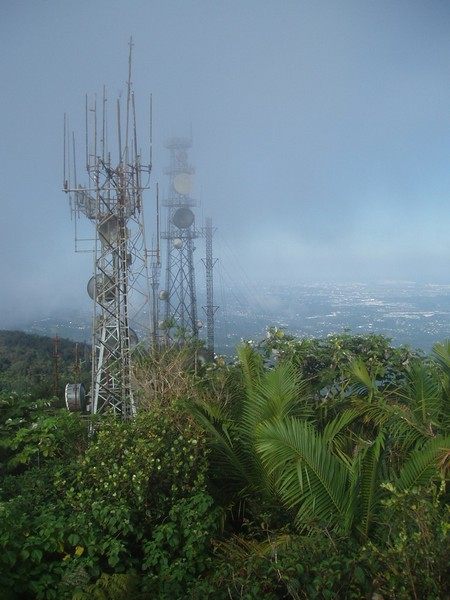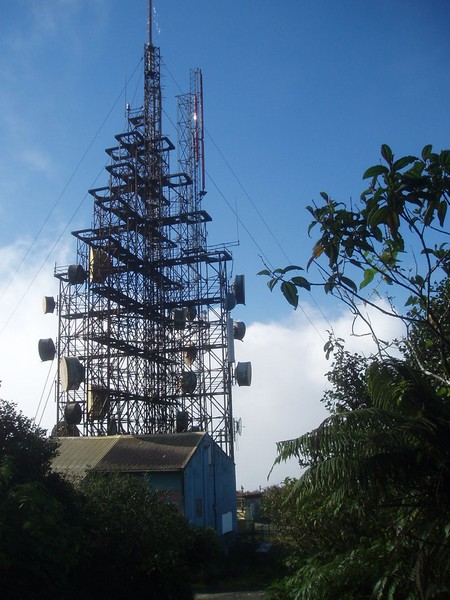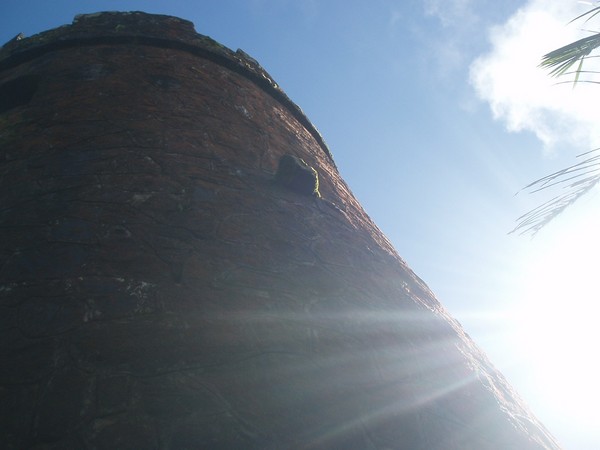 Mount Britton tower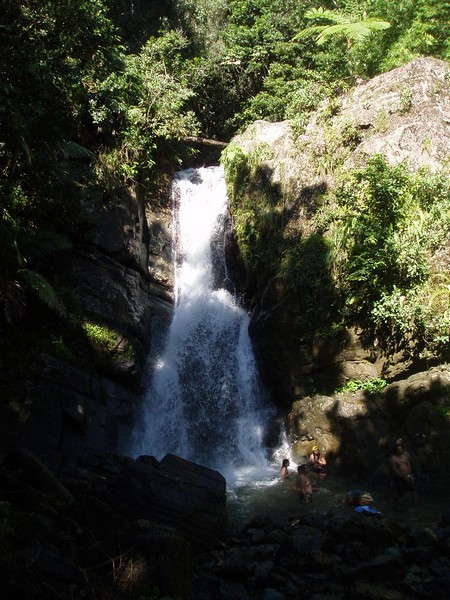 The ever-popular La Mina Falls
T-39 hours: The Long Road to Arecibo
We returned to the main east-west artery and, with a full complement of traffic, slowly chugged our way back to San Juan and onward to the west. Thinking that we would experience roadside culture and avoid hefty tolls, we initially stayed off the toll roads, but after creeping along for three hours and only making it a handful of kilometers, and encountering no decent food or culture of any kind, we finally relented and paid a very reasonable $2.25 to cover the remaining 60km to Arecibo in a little over half an hour.
Latin American countries are typically not known for being extremely accommodating of vegetarians, so the fact that a good half of our group was disinclined towards the consumption of our furry, four-legged friends, severely limited our options for finding food. Neither the bar that only served intestine, nor the chicken-on-a-stick truck could appease them, and so we passed up many a sketchy roadside vendor in search of more upscale establishments that could afford to embellish their menu with those other less essential food groups.
After another harrowing series of mountain roads through the egg carton karst, we reached the worldís largest radio telescope. I had managed to misplace the other car, and given that cell phones were banned at the site, had no way to contact them; luckily, they rolled in just before the park closed for the day. Much to my disappointment, the $6 entry fee did not allow for climbing on or rappelling from the massive structure, but it did cover an excellent viewpoint, a small museum, and an informational video that afforded me the chance for a quick, much-needed nap.
For lunch we stopped at an excellent cafeteria that served catfish and tubers, rice and beans, plantains, yucca, and other local favorites; a heaping plate that could easily feed two was only $5.
We headed south in an effort to find the Heladeria de Lares, which supposedly served more than a thousand flavors of ice cream, including such exciting options as arroz con pollo and garlic. According to the guidebook, it had closed at the same time as the telescope (4PM), but I was in denial and led the group to track it down anyway. Strangely, the town made no effort to advertise its foremost attraction, and we made no effort to stop and ask for directions, so we soon found ourselves driving south towards Ponce.
Any road going across the central range is reasonably epic, but highway 602, a tertiary road we reached by mistake, transcended any possible measures of sketchiness. Massive ditches and deep holes that reduced the one-lane road to less than half its original width were commonplace, and a sudden downpour left much of the thoroughfare flooded; switchbacks were avoided in favor of nearly vertical stretches that went straight up and over each towering feature. The sense of relief upon arriving back at a secondary road, with both cars fully intact and not upside-down on the side of a mountain, was truly palpable.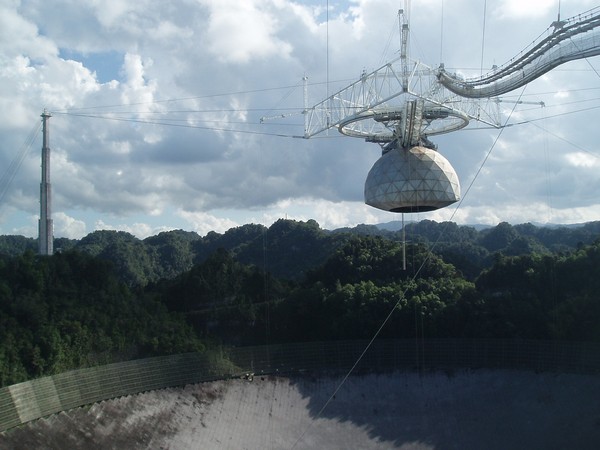 World's largest telescope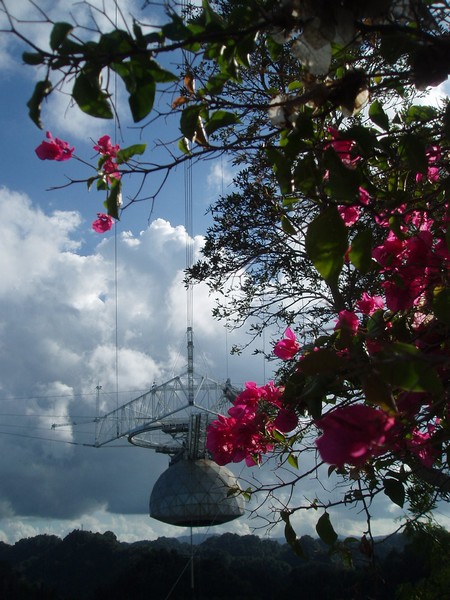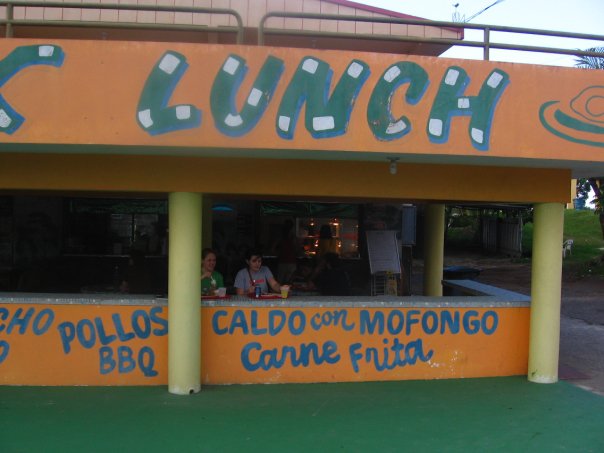 Lunch (photo credit: Frank)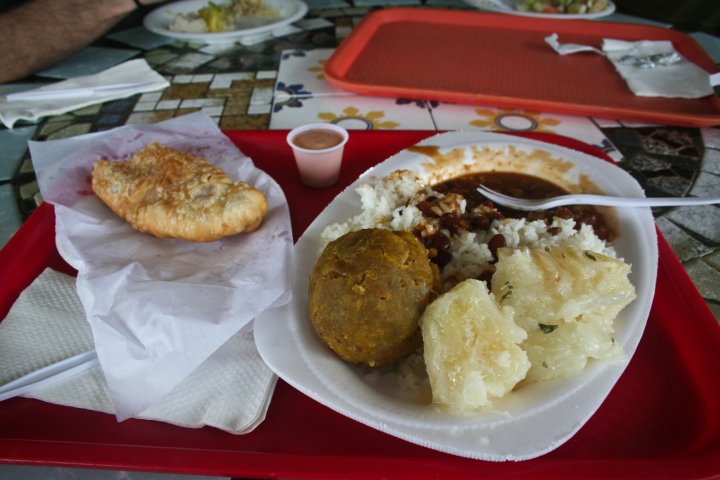 A vegetarian feast (photo credit: Alex)

(photo credit: Frank)
T-31 hours: Ponce and its wonderfully cheap and delicious ice-cream-like product
Frank began the trip insisting that he would not sleep a wink the entire weekend; to pass the night in a hotel, was, in his opinion, an absurd waste of time and money that could be used exploring the far corners of the countryside. There was some definite opposition to this; Reade was particularly vocal, as she quite enjoyed sleep, but he waived these concerns aside, noting that we had two cars and it would be no problem for one group to continue exploring while the other squandered their time in bed. What he had failed to realize was that, when you are only one of two people allowed to drive the rental cars, sleep is rather essential to not running off the road and killing all your passengers. So, around 6PM Saturday, only a mere 34 hours since he last slept, Frank acknowledged that it might not be such a terrible idea to find lodging for the night.
We had a bit of trouble navigating the maze of poorly labeled one-way streets in Ponce, the islandís second city. At one point, Frank opted not to follow us the wrong way down a one-way street and was thus left to fend for himself with no map to guide him (except for the one in his passengerís backpack that he would not find out about till several hours later). While the other car desperately drove through the darker corners of the city, Alex and I perused the hotel options. The first one we checked out was absolutely palatial; immaculate rooms with antique furniture, TVs, air conditioning, and mini-fridges, coupled with a free breakfast, internet and several other amenities, right on the central square, made for an enticing option indeed. However, at $190 for two rooms (nearly $24 a person!), I was inclined to explore other options. At Casa del Sol, a few blocks down the street, I negotiated a small room with an assortment of beds, futons and cots to sleep 8 for the bargain price of $115. With few other guests, the owner seemed quite intent on gaining our business; not only did she cut $10 off the list price, but she threw in a free glass of wine for everyone, free breakfast, hot tub privileges, and a live salsa band.
After getting settled, we all returned to the main square to visit an ice cream parlor that had received rave reviews from the hotel staff. With large cups/cones for $1.50 and large milkshakes for a dollar more, this was a truly awesome deal. We ordered all manner of exotic fruit flavors and shortly returned to the hotel to get some sleep. Most of the others, who had been sleeping in the cars for much of the day, promptly nodded off, while we drivers, Kristin and Danielle went to a nearby bar to try to find a quintessential Puerto Rican drink which we would soon learn was only served at Christmas. I went back fairly quickly while the others stayed out for a few drinks, some bouldering on the town sign, and another round of ice cream.
I awoke shortly after 6, ate the supplied breakfast of corn flakes and milk, and went to the 7am Mass. Upon leaving church, I found Frank wandering around the plaza and we went up to check out the city markets; we found the whole city to be dead, particularly the massive market building, and so, we shortly returned to the hotel. The ice cream store opened at 9, and we used this as an impetus to get everyone else awake and moving. We grabbed some more milk shakes and headed up a nearby mountain to see a giant cross that looked out over the town. When we arrived at the ticket booth, admission was half price because the power in the cross elevator was out, but sadly it flickered back on just in time for us to buy the full-price $2 tickets; we were a little skeptical about boarding the finicky contraption, but it got us up to the observation deck and back down to ground level without a single catastrophic failure.
We sped west on a free interstate highway which ran along the southern coast. We passed a sprawling abandoned factory which appeared to have limitless potential for exploration, climbing and rappelling, and briefly contemplated stopping before we pushed on to the seaside Guanica state forest.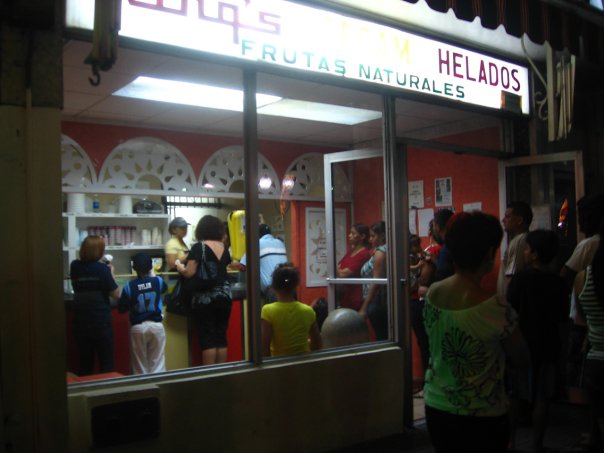 Best ice cream in town (photo credit: Frank)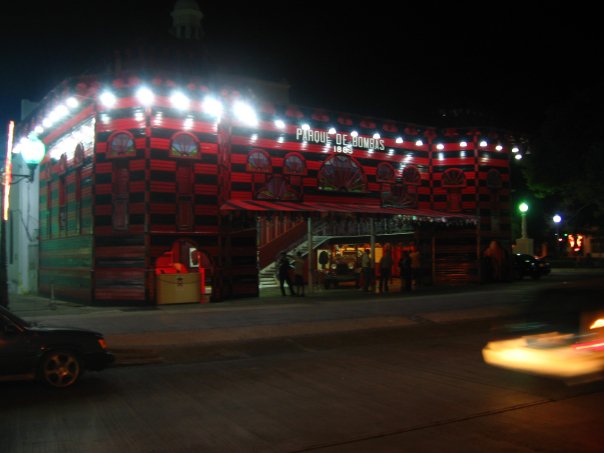 Most photographed building in Ponce (photo credit: Frank)

Buildering on the town sign (photo credit: Frank)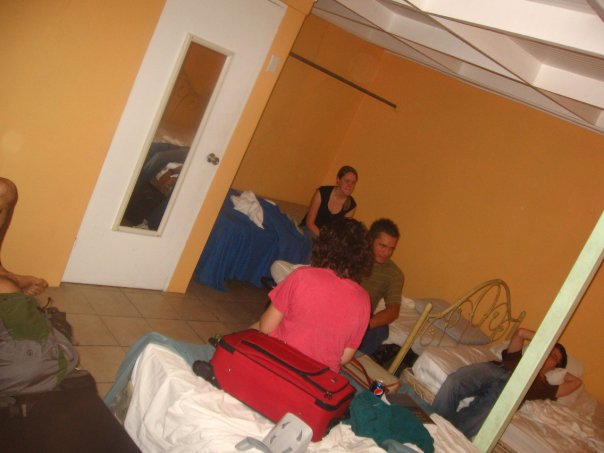 Our cozy hotel room (photo credit: Frank)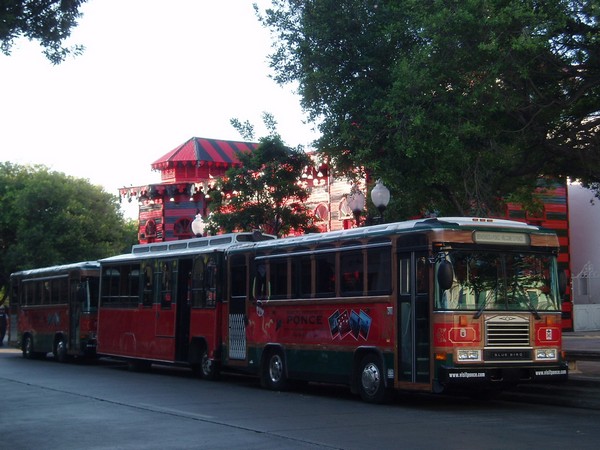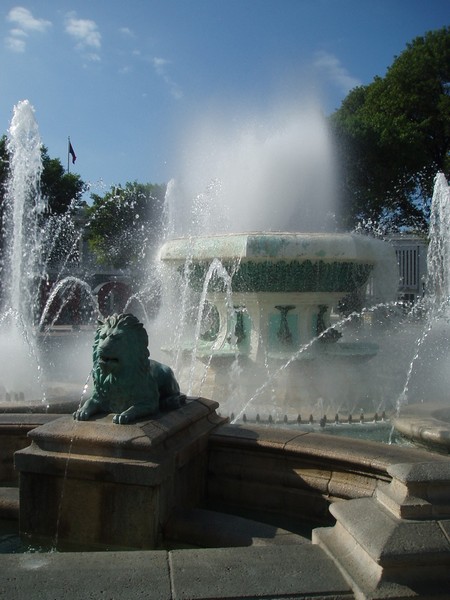 Town square

Breakfast at the bakery (photo credit: Frank)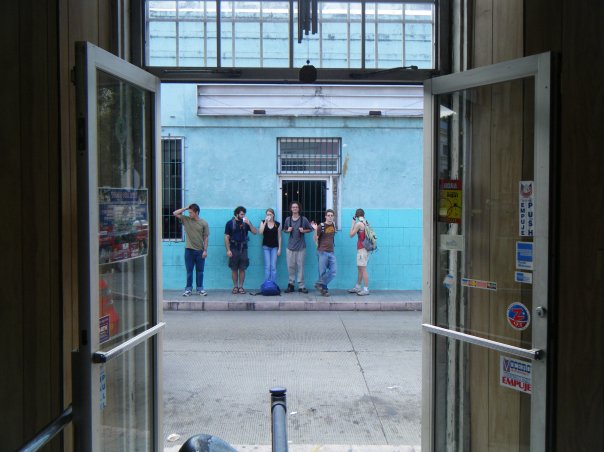 (photo credit: Daniel)

The cathedral (photo credit: Frank)

Part landmark, part office-building (photo credit: Frank)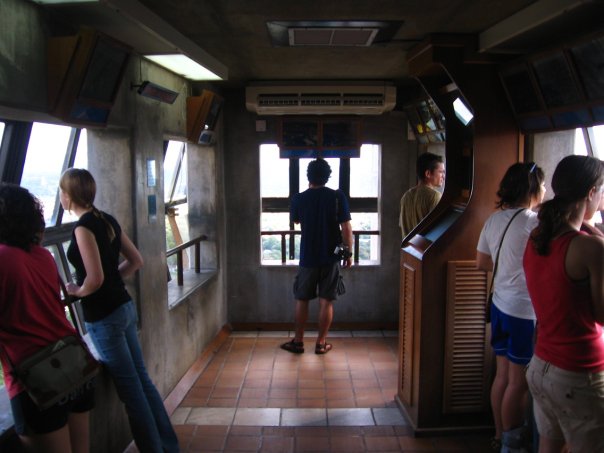 Inside the cross (photo credit: Frank)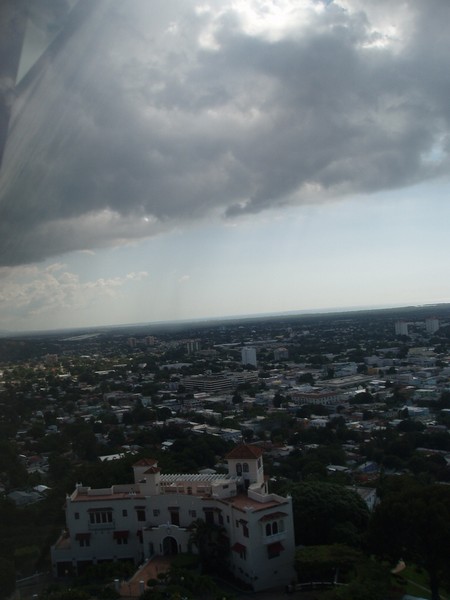 View from the top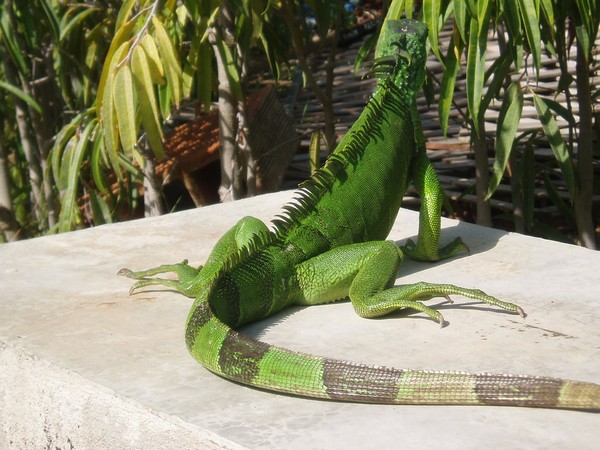 Local critter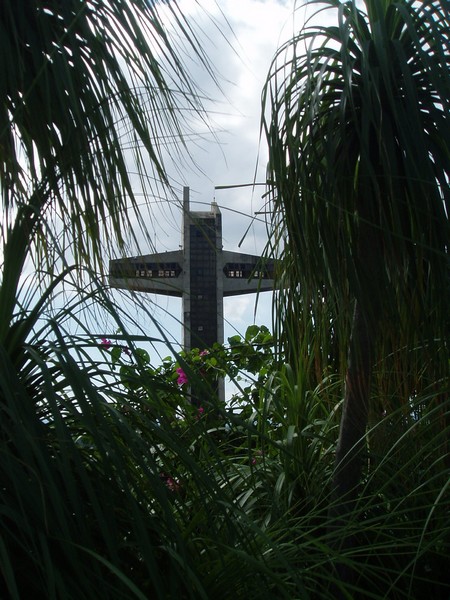 T-17 hours: Coast, caves, and coconuts
Arriving at the start of the Cueva Ballena trail, we encountered an exceptionally loquacious local hiker who was determined to give us all the information we could ever possibly need to safely tackle the mile-long path. He told us how to get to the beach and showed us a Ďshortcutí. He took us through a small manmade cave, showed us a poisonous plant we needed to avoid and gave us a detailed a history of the place. His knowledge of the area was so great and his speech so fluent that we soon surmised that he must be a guide who expected money for his services and the majority of us sped ahead to try to lose him. We went off on a side trail to find a big tree in a ravine and when we returned we found the two we had left behind; they reported that he had left them and started on a separate trail with no hint at payment.
We eventually reached the beach, and several jumped in the water while a few of us tried at length to open a coconut using only the materials at hand. We were largely unsuccessful at this feat, but the swimmers managed to find a squid and a baby sea turtle. After a time, Frank and I jogged back up the trail to retrieve our cars while the rest stayed to sunbathe on the beach. When we returned, we found that they had collected a large assortment of yellowish coconuts that we were to theoretically find a way to open and consume in the 12 remaining hours of our trip.
Driving toward the west coast, the two cars somehow became separated and mine went to a cafeteria where we got a delicious garlic chicken dish, while the other ended up at a sandwich shop some ways down the road. My car took a tour of the seaside town of Boqueron which seemed to be in the midst of some biker festival that brought traffic to a standstill and precluded any desire to explore the place. Our phones started working again and we tracked down the other car. The coast to the north was being buffeted by a torrential downpour, so we made a b-line for the mountains to the east.
We reached Guajataca State Forest around sunset and began searching for caves. We used a propped log to jump over a fence, which was topped by sharp metal points, and climbed the observation tower. This tower unfortunately did not afford us a view of any nearby caves, so we continued on the road until an obvious sign directed us to a 2.5km hike to the Cave of the Winds. We followed the trail and reached a staircase that dropped down into a large open pit. This opened up into a big walking passage with some nice formations.
We followed another twisty road to the main highway on the north coast. At Arecibo, we went in search of a sea cave with plentiful Taino petroglyphs, but due to the rampant hunger among the group members, warnings from the locals about the safety of visiting the cave after dark, and a general failure to navigate, we abandoned this tack and searched amongst the small coastal villages for a restaurant still open at ten. After we had already given up and resigned to go to a Taco Bell, we ran across a small sandwich cart sitting on a residentís front lawn. This cart served up subs that were absolutely amazing; the meat eaters in the group feasted on grilled chicken and veggies while the vegetarians got cheese and eggs; no one paid more than $3 for the monstrous hoagies. After we had finished, we convinced the owner to hack open a coconut for us, and all enjoyed a few sips of slightly over-ripe coconut water.
We raced back along the toll road and paid only $1.50 for the remaining 70km to San Juan. We dropped the cars off a few minutes after midnight, hid the remaining coconuts in the bushes, and went to the terminal to while away the remaining hours until our 3am flight.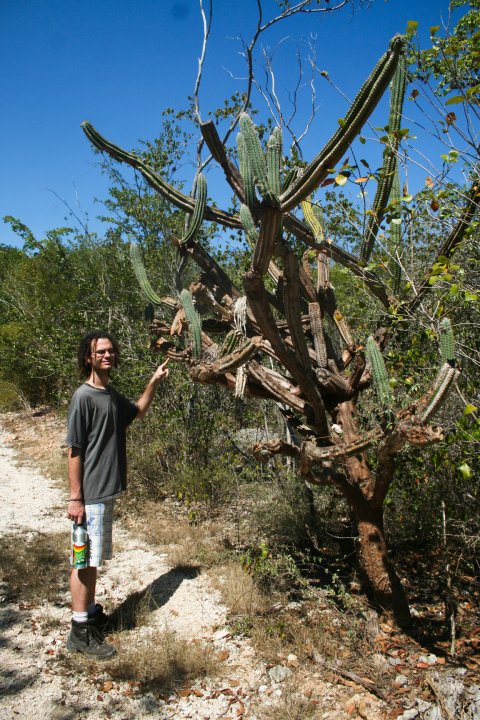 Cactus tree (photo credit: Alex)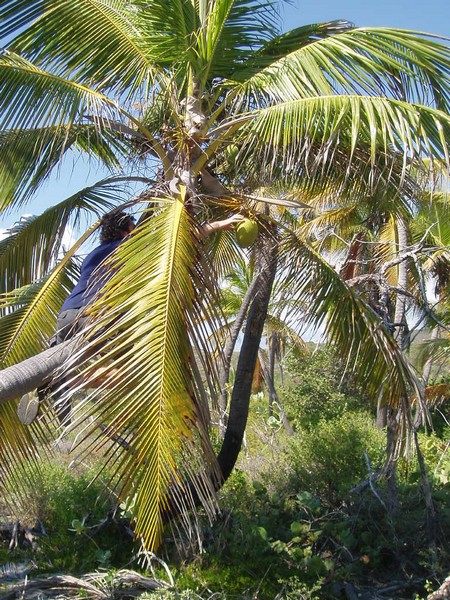 Alex acquiring one of many coconuts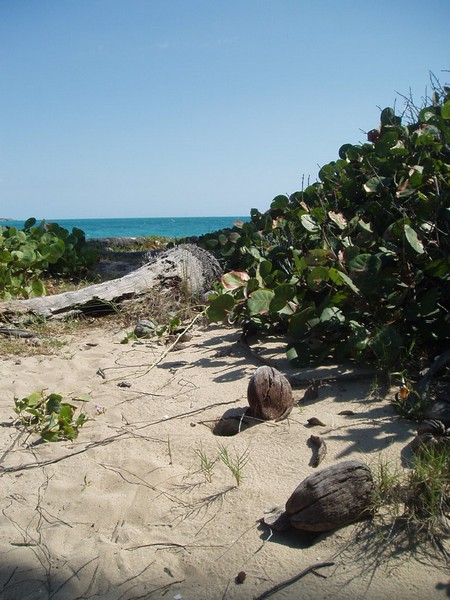 Ballena Beach

(photo credit: Alex)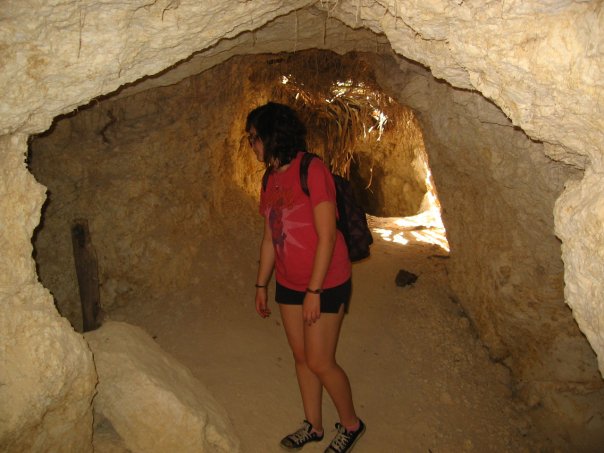 Caving, sort-of (photo credit: Frank)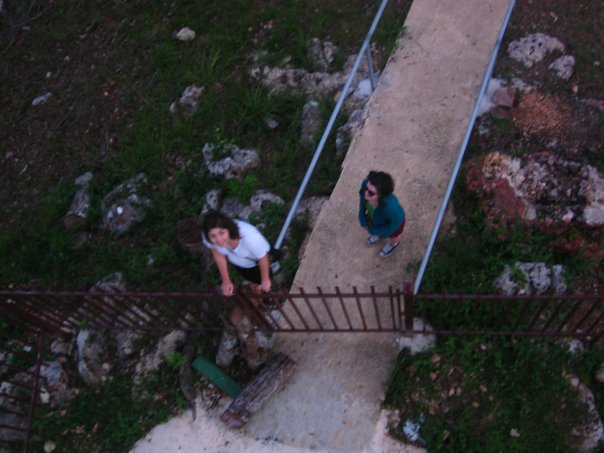 It probably wasn't a good idea for her to be jumping a fence topped with sharp metal spears with her fractured foot, but neither were most of the things we did on this trip (photo credit: Frank)

Cave of the winds (photo credit: Frank)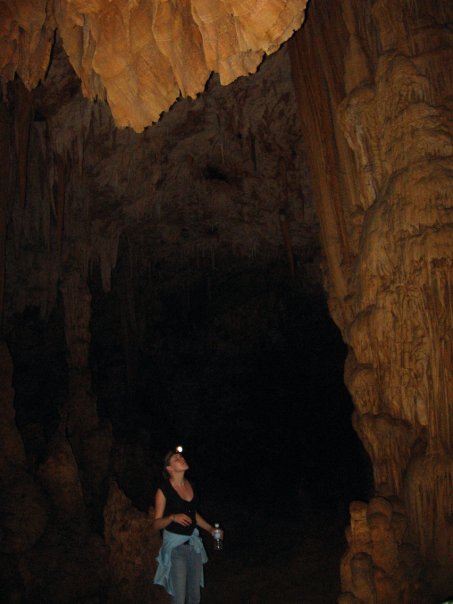 (photo credit: Frank)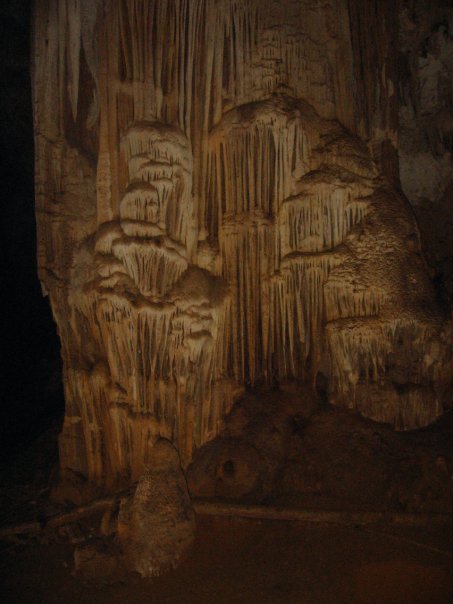 (photo credit: Frank)

(photo credit: Frank)

(photo credit: Alex)
T-3 hours: Rest and recuperation at San Juan International
Unlike any other airport on earth, San Juanís is packed full of old arcade games. Determined to get rid of our pesky leftover American currency, and unable to track down a milkshake cart, we spent the first hour feeding quarters into Galaga, Pacman and other classics. Then we all fell asleep; luckily Alex woke up just in time to get us all on the plane for the final boarding call so that we could again pass out for the 3 hour return flight. As we deplaned, two unrelated people in nearby seats shouted "Take a bath!"; this was the first time I had ever gotten this reaction and it came as a bit of a surprise, given that, while we had been hiking in the tropical sun and wallowing through mud throughout the day, we had all taken showers that morning and must have smelled worlds better than I had returning from any trip in recent memory.
We got back to our car around 6am and rolled into Gainesville at 8, just in time for a free breakfast on campus. It would be another day or so before I could stay awake through a class, academic paper, or conversation, but otherwise it was back to business as usual. The trip had been a logistical nightmare, and whether I would lead another 8-person trip overseas was left to be decided, but I could certainly think of worse ways to have spent the weekend.
Costs:
Plane ticket: $75
Gas to airport: $6
Tolls to airport: $2.50 Airport parking: $5
Car rental: $18 Gas and tolls on island: $10
Hotel: $14
4am mofongo/burrito: $4 Catfish and tubers at cafeteria: $5
Large milkshake: $2.50 Large ice cream: $1.50
Garlic chicken, rice and beans at cafeteria: $5.50
Giant chicken sub with everything at roadside truck: $3

Total (per person): $152
Guide to Puerto Rico's cold concoctions
Batida: The holy grail - ice cream and milk - a hard one to find
Frappe: Fruit smoothie - typically found at fresh fruit stands - usually with a tiny sign that you pass while going 50mph, followed by no U-turn for several miles.
Pina Colada: Sold at most roadside vendors; hopefully not highly alcoholic
Timber: Like an Italian ice - sold at cafes and convenience stores
Helado: Ice cream, or possibly Mochi-like frozen yogurt
Piragua: Snow cone
Pincho: A pork or chicken kabob - I'm listing it here because you'll see signs for it everywhere and should know that it has no relation to ice cream