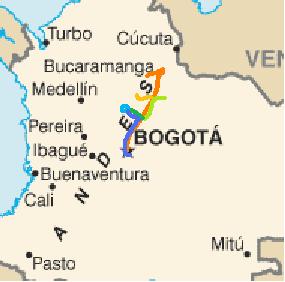 I led my first trip to Colombia nearly a year ago. The trip went out over reading days and included explorations of the medieval streets of Cartagena, forays into the subterranean tunnels beneath San Felipe's fortress, and a swim in the warm, bubbling mud volcano. The trip went like clockwork, making optimal use of the 4-day break over reading days, returning everyone to the US with hours to spare until the start of exams. The only real defect in my trip was that I was not on it; my car had carried the trip's two participants 300 miles to the Fort Lauderale airport, while I remained in Gainesville for the weekend. I had planned the trip months before and had no less than fifteen people agree to go, but the airfare sales, which lowered the price to an unbeatable $130 return, appeared in the middle of spring break, and I, sitting in a sketchy Moroccan internet café with intermittent connectivity, managed to do nothing more than send out a quick email telling everyone to buy. Two people did, but I immediately took a bus into the technology-free wilderness of the Atlas Mountains, not to return to civilization until after the sale had come to an end.
With about a month remaining before Spring Break 2010, and still no assurances that I would be able to find a cheap ticket, I decided to forego the typical wrestle with Spirit's sales, and pay a little bit more for JetBlue's standard low-season fares into Bogota. The Orlando departure point meant three fewer hours of driving, but since we had neither Frank's grandma's house nor Bass Pro Shop at which to leave the Corolla, we had to choose from less convenient options. We opted to leave the car with Amanda's mom in Bartow; we arrived there Friday night, went to an art show in downtown the next morning, ate cold pizza and bee pollen smoothies at a raw food restaurant for lunch, dropped by three different department stores for some last-minute travel supplies, and reached the airport with three hours to spare before our 5:30 departure.
Our four-hour flight had some 50 channels of TV and a hundred channels of XM, all of which winked out some thirty minutes after take-off when we left the satellite coverage area. I spent the rest of the time plotting our route, having not had much of a chance to open the guidebook before then, and Amanda tried her darnedest to make it through the introduction of "Tres Tazas de Te", which she had purchased hours before. All the while, the JetBlue attendants pampered us with every free drink and snack we desired.
We sat for some time in a painfully slow immigration line before realizing that the one across the room was moving several times faster; we ducked under several cordons and were shortly in front of an agent. He inquired as to where we would be staying, and I flipped open the guidebook to a random page and read off the first hotel name; upon seeing this, he scribbled something on a piece of loose-leaf and held it up against the glass for the adjacent agent to see, but for whatever this might have signaled, he waived us through with no further questions.
When we exited the airport at 9:30PM, we were still trying to pick from among the options for reaching an overnight bus. We could walk 4 miles to the bus terminal, walk to a (potentially non-existent) city bus or series of buses, or just take a taxi door-to-door. Given the late hour and the uncertain cut-off time for northbound buses, we eventually opted for the latter, and paid $9 as prescribed by a ticket provided by an anti-gouging booth at the airport.
Five minutes after we arrived at the terminal, we were leaving on the 10:30 bus to San Gil; our $15 fares would take us 290km through the mountains with the latest in seat-reclining technology and onboard bathrooms, and deliver us to our destination at around 5 the next morning. When I awoke at 4:45am, I found that we were parked at a non-descript city block; in my semi-comatose state, I didn't think much of it, and we were shortly moving again. We quickly left the streets of San Gil behind, and, as the sun peaked over the mountains, raced along an incredibly scenic canyon to arrive in Bucaramanga just after 7. This unexpected development would change our itinerary slightly, but on the bright side, we had just saved $6 on a San Gil-Buca fare.
Day 1 - Giron, Bucamaranga, and San Gil
We took a city bus to the nearby village of Giron and hit up the bustling Sunday market where we found filling, yet flavorless, arepas, and washed those down with a delicious watermelon jelly-like drink with various kinds of fruit suspended in it. We arrived at the town church just in time for the 8am Mass; this was definitely standing room only, with a huge mosh pit of devotees assembled around the altar, and a number of stray dogs passed out in the aisles. Though the Colombian twist on Spanish is clearer than most, the priest's message was still far from intelligible; he spoke in such a way that it seemed he was perpetually reaching a conclusion in his interminably long homily, but there was always more in store. From the 15 minutes of announcements that preceded the final blessing, we surmised that it was international women's day, which, falling less than a month after Valentine's Day, appeared to be yet another obligatory flower/chocolate-buying occasion for the hapless men of Colombia.
We took another bus to the center of the city, picked up a glass of horchata, some lemonade, and an ice cream cone with dried pineapple, explored a number of parks and churches, and sought out the hostel owned by the same guy as the paragliding service. There we were advised to take a $7 taxi up to the mountain since buses were hard to come by. After wandering around for a time, and finding no taxis that knew where we wanted to go or were willing to go such a distance for that fare, we talked to a cop-in-a-box who gave us a 20-minute speech from which we were able to take away only that taking a taxi could be dangerous and that we should take the bus.
Walking to the main street, we found a bus driver who said he would take us to the turn-off; after sitting on this bus for a long time, we reminded the driver of where we were going, and he slapped his forehead to signal that he had forgotten all about us, and let us off to catch another bus to go 20 minutes in the opposite direction. This time around, the whole bus got involved and twenty people called out when we reached the turn. From there, another bus took us up the mountain and right past the paragliding company; we followed a man with a paragliding shirt to a private club further up, where, he assured us, we could find a flight. Shortly after sitting down, a man came up and asked us if we wanted to fly; we replied in broken Spanish that we wanted to - he told us to wait one moment and proceeded to have an empanada and chat with his friends for twenty minutes while several tandem flights took off and landed. Finally growing impatient, we got up and asked the group if it would be possible for us to fly that day; they replied that it certainly would be, and, in less than a minute, we were both strapped into rigs and were leaping off the cliffs lining the site.
It seemed Amanda's instructor was far more capable and daring than my own, as they consistently flew about fifty feet above me and did spirals and other death-defying stunts; he even let her fly for a time and offered to leave her with the controls for the landing. My guy just monotonously paced to and fro a few feet above the cliff line, but it was still plenty scenic.
After paying the piddling $20 fee for our 15-minute flights, we took a bus back to the highway and hopped on another to San Gil. For the past two days, we had been filing through the possible routes for the trip; we could take an overnight bus up to Cartagena and then take four more night buses to visit Medellin, the ruins of St. Agustine, and several other sites in the far reaches of the country, or we could take a 13-hour bus ride east through the mountains to the village of El Cocuy and catch a 5am milk truck to the start of a hike up to the glaciers, or, now that we were only a stone's throw from the border, we could swing over into Venezuela and head up to the coast via an eastern route. Each of these routes would allow for maximal coverage, but would undoubtedly result in minimal sleep and, in the case of the Cartagena route, would cost hundreds of dollars, or, in the case of the Venezuela route, might get us shot. After much consideration, we were finally forced to admit that, given our limited timeframe, none of these options could quite be justified, and we would, for once, be better off sticking to a more laid-back approach that was limited to a circuit of nearby mountain towns.
Arriving, as we had that morning, on the cobblestone walkways of San Gil, we wandered up and down insanely steep streets until we found a room with attached bath for around $12. Dinner was a challenge; given that it was Sunday, virtually all restaurants, save a few fried chicken joints, were shuttered. We finally found a place that served massive, if not particularly tasty, set meals for $2.50. Amanda got a cut of meat that weighed in at around 95% fat, while I got something that strongly resembled jerky, and both were accompanied by yucca, a heaping bowl of yellow soup, and the ever-present arepa. This was followed up by a blended banana-milk drink at a nearby fruteria. We hiked around a bit more, sat in the main square to people-watch for a time, and found a park which featured trampolines, bounce houses, teeter-totters, and other contraptions not at all appropriate for our present level of fullness. We turned in and watched rally car racing from Mexico, that being the option which lost the least in translation.

Tourist office/bounce house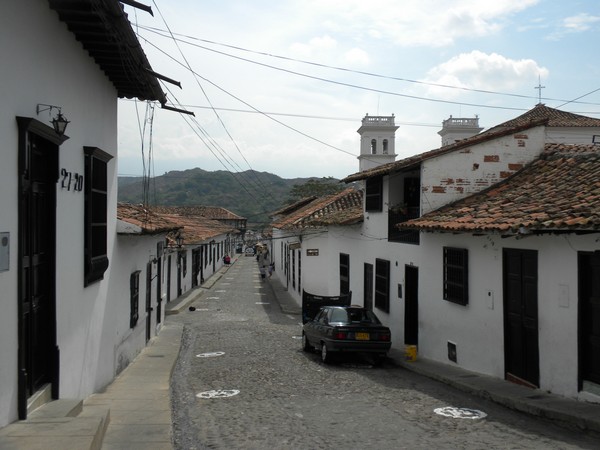 Giron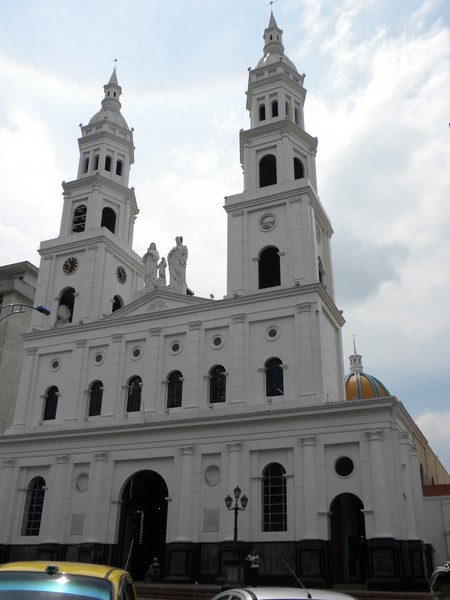 Bucaramanga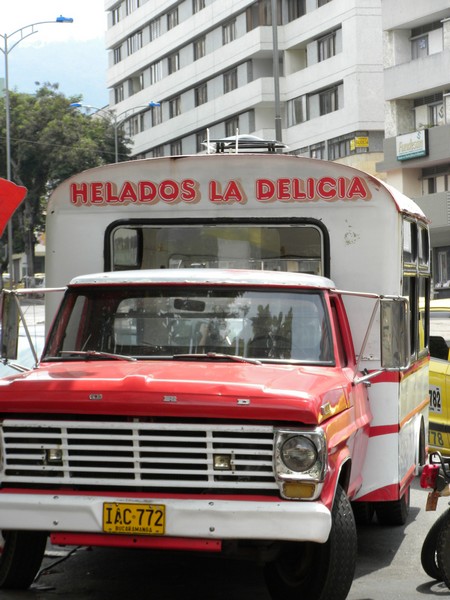 Ice cream truck

Fruit cart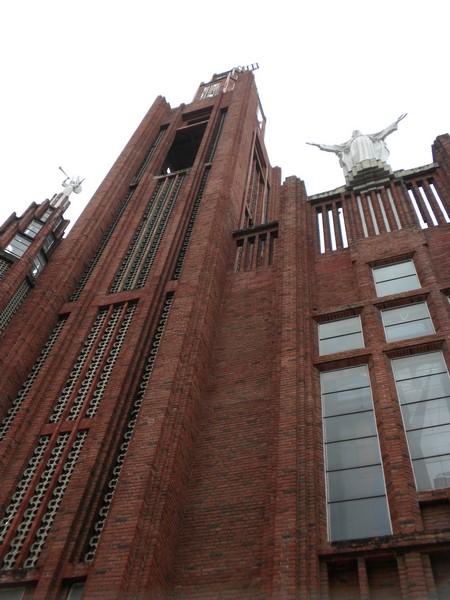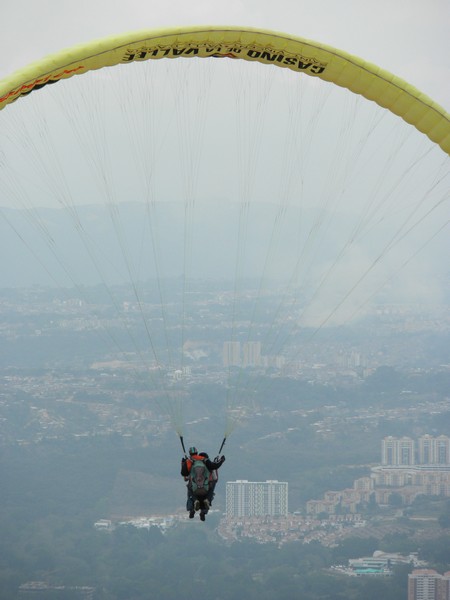 Paragliding over Buca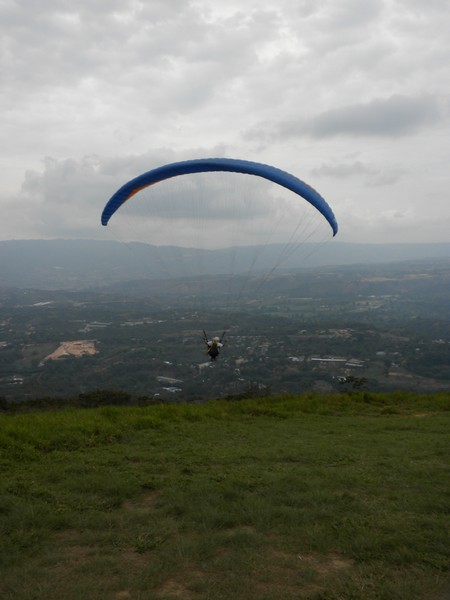 Amanda taking flight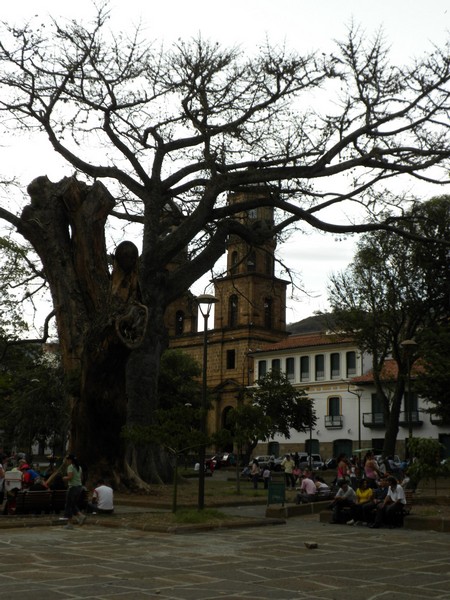 Plaza in San Gil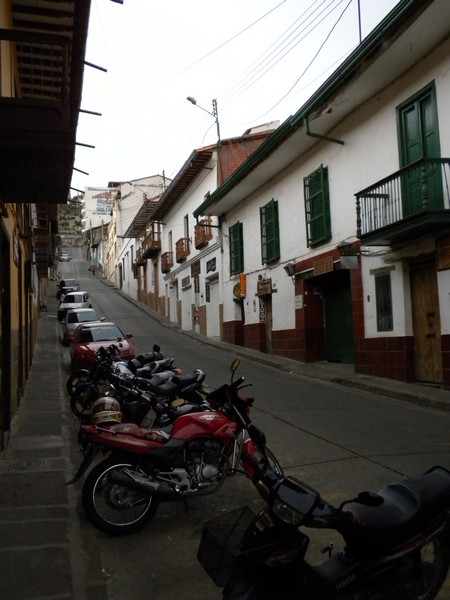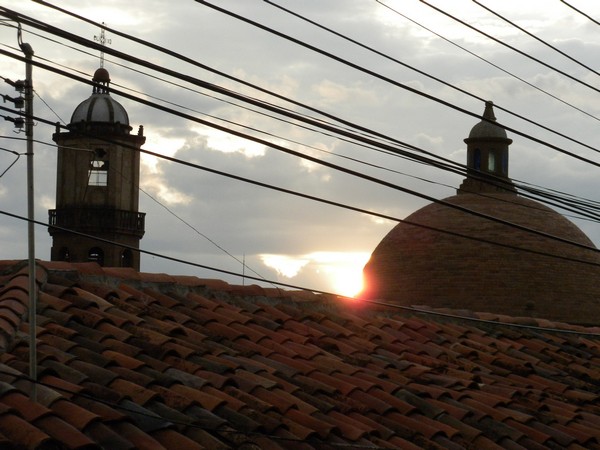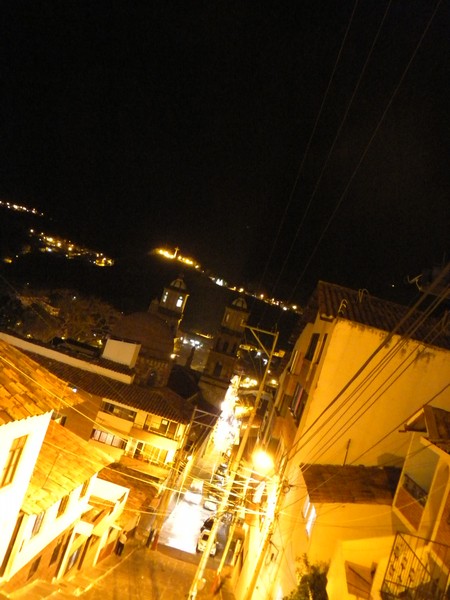 Day 2 - Barichara, Guane and back to San Gil
Despite passing out around 8, we got a late start and didn't catch a Barichara bus until 7:30. When we arrived, the exceptionally scenic town was devoid of any signs of life. We got a coffee and an oat drink at a panaderia on the square and then set out on a footpath to Guane. Barely surviving the grueling heat and overpowering sun that bore down on us over the course of the 2 hour hike, we reached the tiny village and wandered through the empty streets. We sampled arequipes, popular caramel/milk concoctions from that region, as well as a very potent coffee liquor. We talked to some artisans, and some random farmers sitting on the curb. The town's only attraction, an archaeological museum, was inexplicably closed, so we circled the plaza a few times while we waited for the noon bus.
Guane, like Barichara and Giron before it, had an abundance of sweet shops filled with all manner of brightly colored sweets. But Colombian candies, like those in many parts of Latin America, are just far too sweet for their own good. Most everything on offer is practically all sugar, to the point of being almost completely inedible. This comes as a bit of a surprise, as most of the food is fairly bland and spice-free. So always ask for a sample first; those giant bars, tubs, or variety packs may seem like good value at first, but more than likely, you'll be done after the first bite.
Back in Barichara, we immediately headed for a restaurant called "The Color of Ants" to dine on fat-bottomed ants which are a delicacy in these parts. We got a chicken cordon bleu which was smothered in ant sauce, and sprinkled with fried ants. We neglected to take a picture of it prior to eating it, so we subsequently asked some random guy if we could photograph his food before he started.
After a short ride back to San Gil, we set out to investigate the options for adventure sports. Among others, the ones that really spoke to us were rappelling down a 180m waterfall for $18, going down class 3 rapids on a boogie board for $18, and bungee jumping off a 25m bridge for $12. To start, we signed up for a rappelling trip the following morning at 8:30am - oddly, we were expected to find our own way to the base of the waterfall which was some 20km out of town.
The Parque El Gallineral is the main attraction in San Gil proper and is a pleasant enough place for a stroll, though it has a bit of an abandoned air about it. The river has been diverted in one spot to form a natural swimming pool, and here you can go for a chilly and slimy, yet very refreshing dip.
Somehow I had gotten it into my head that the bungee jumping crew was permanently stationed at the bridge, and so we walked over to find them, but we found no one and had no way of contacting any of the outfitters before dark, and opted to save such silliness for another day. We spent the rest of the evening wandering around town; we were still quite full of ants, so we just got a coffee smoothie and cheese arepa and once again turned in around 8.
Colombians have a love affair with arepas. Every town you go through, no matter the size, is sure to have at least a dozen little shops and stalls with high stacks of these discs of fried corn dough. Some are nothing more than dough and oil, while others are stuffed, and there is even a chain of restaurants where you can select from a buffet of ingredients with which to personalize your arepa. We did not care much for these low-taste, high-grease concoctions, and it was a constant source of frustration that, even in the absence of anything else edible, there would always be an abundance of arepas. But if you're ever in Colombia and in need of a quick, cheap calorie fix, this is probably the way to go.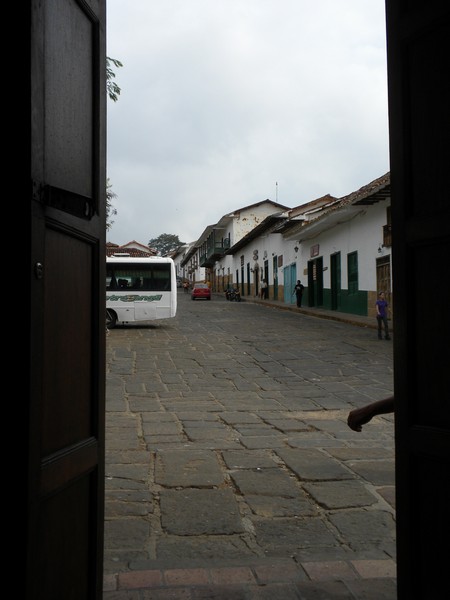 From a coffee shop in Barichara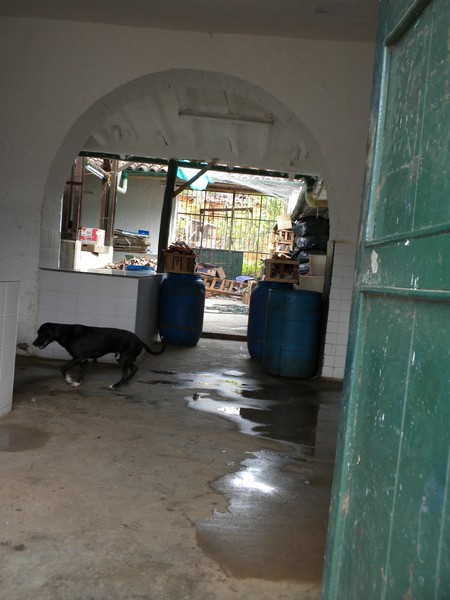 Barichara's quiet market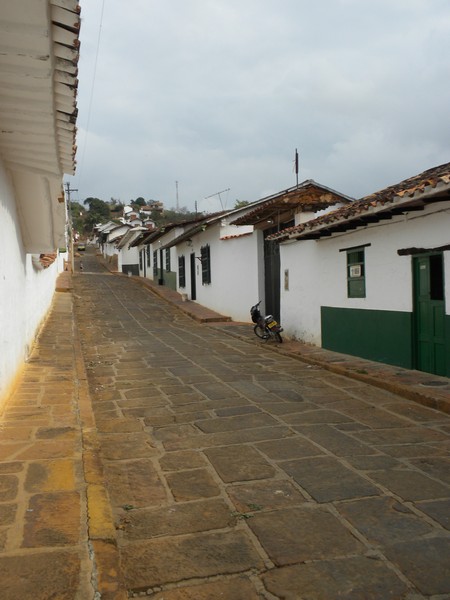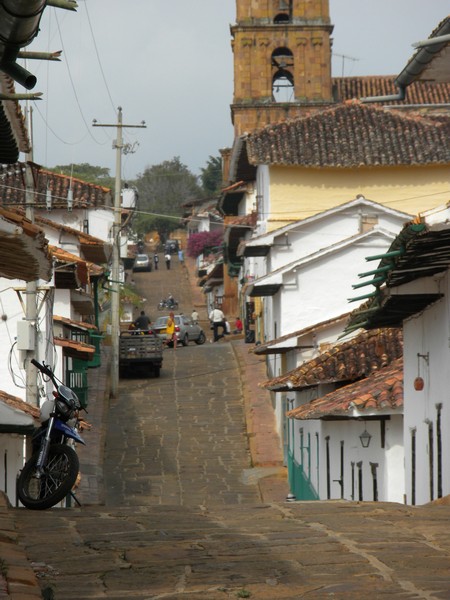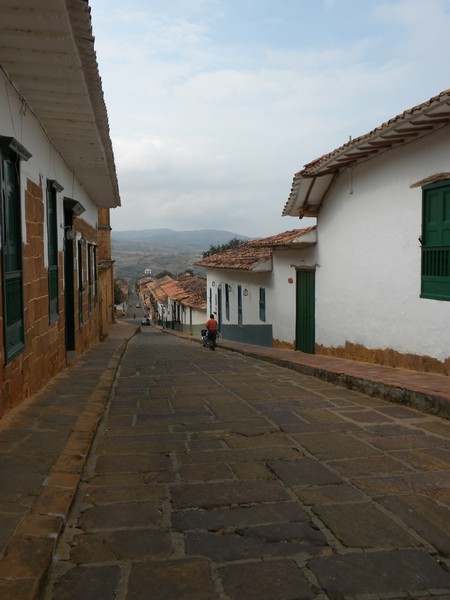 On the trail to Guane

Guane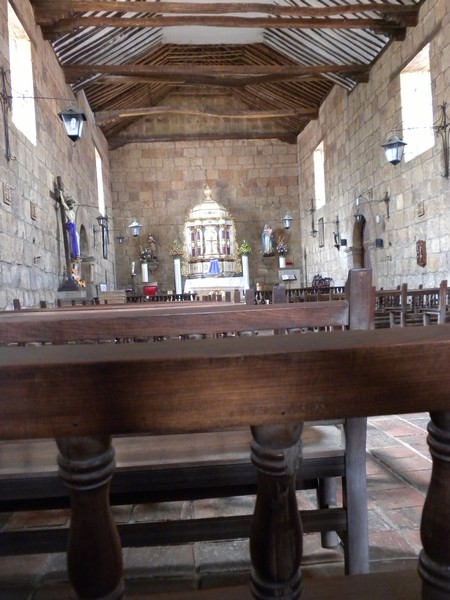 All the residents of this town could fit in the first two pews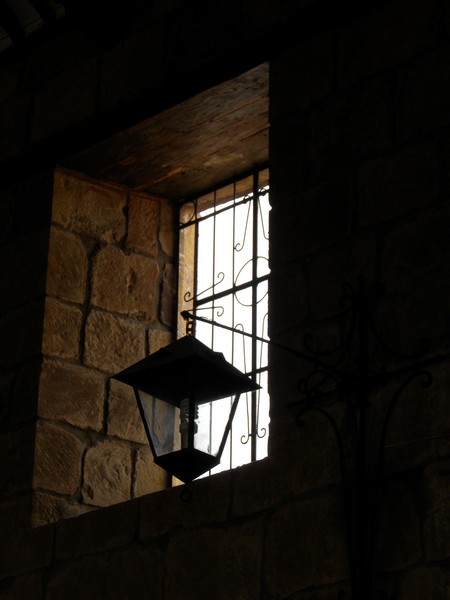 CFLs are everywhere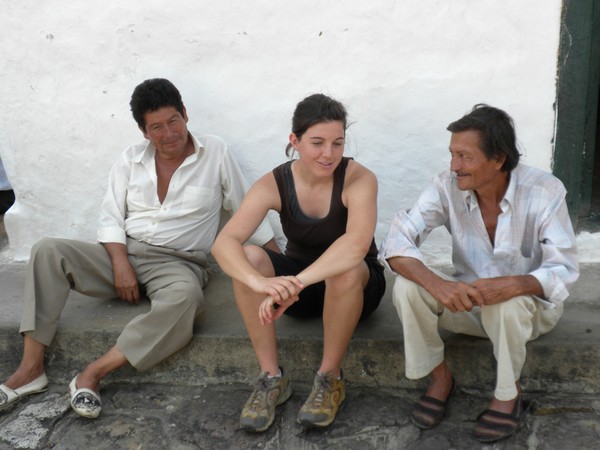 Amanda chatting it up with random men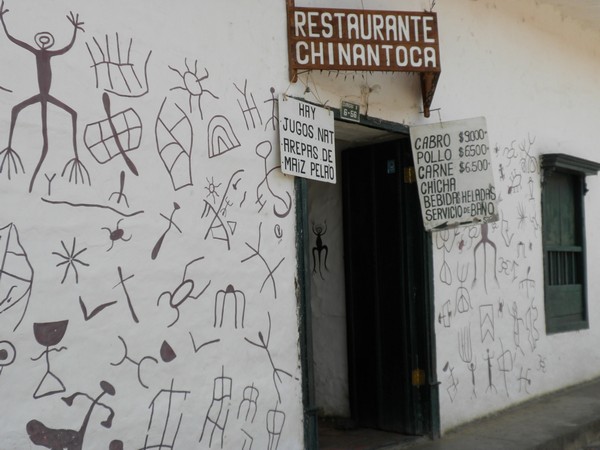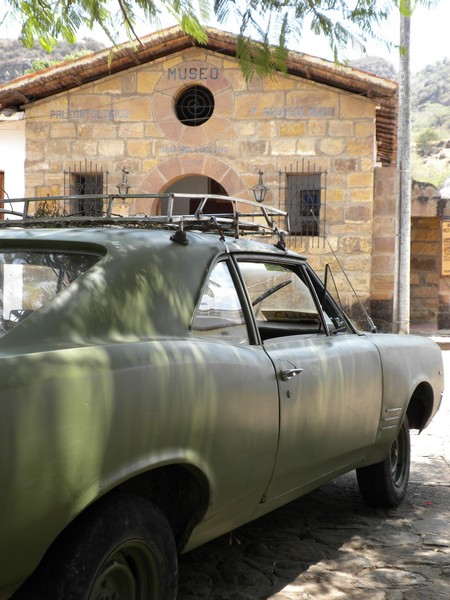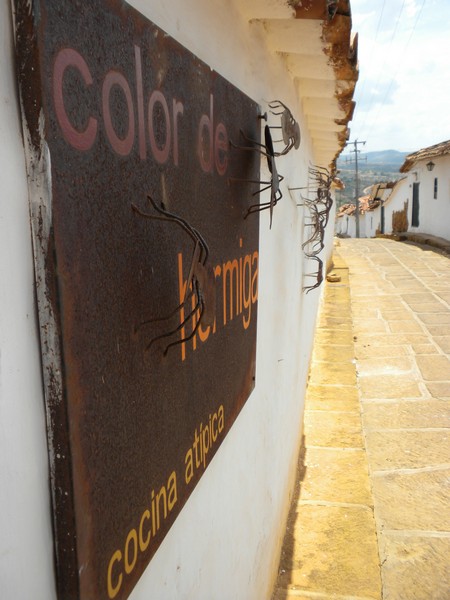 Ant restaurant!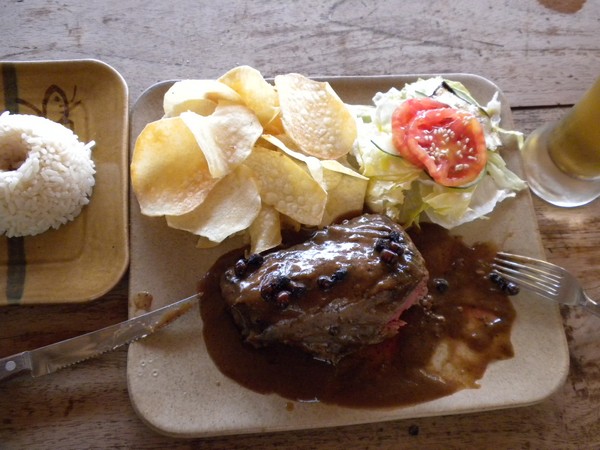 Beef in ant sauce, topped with fried ants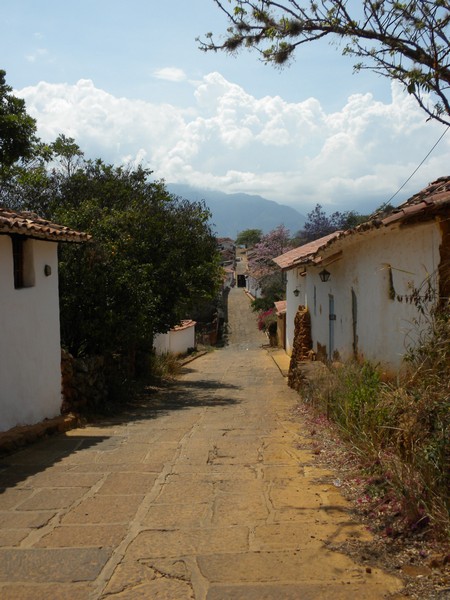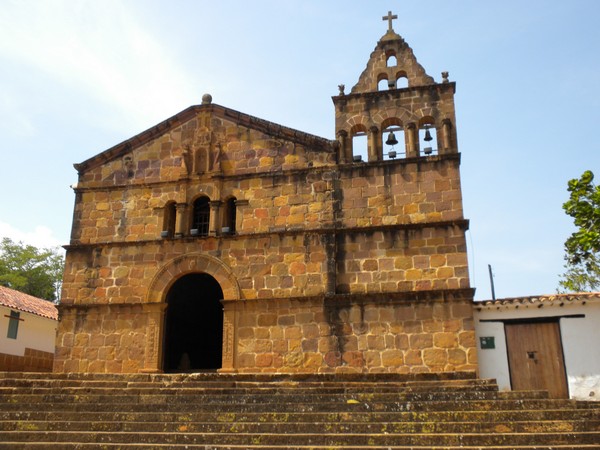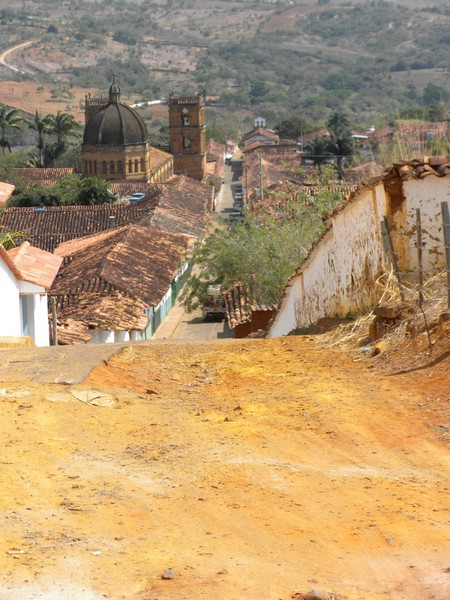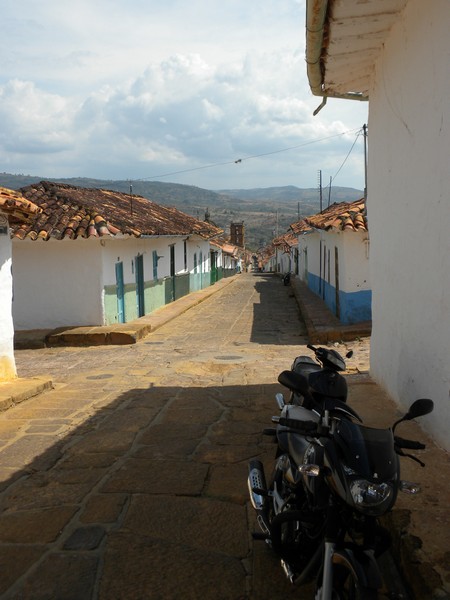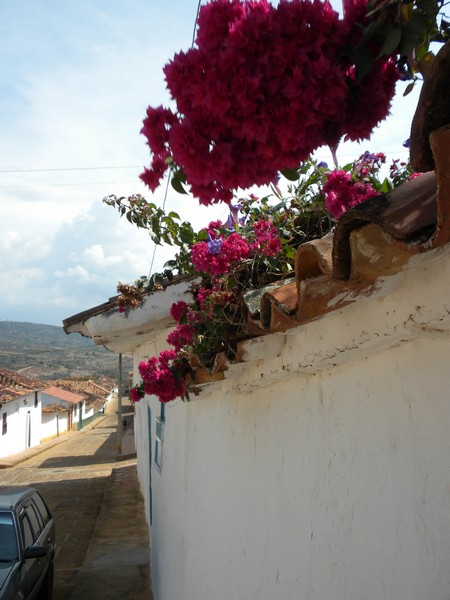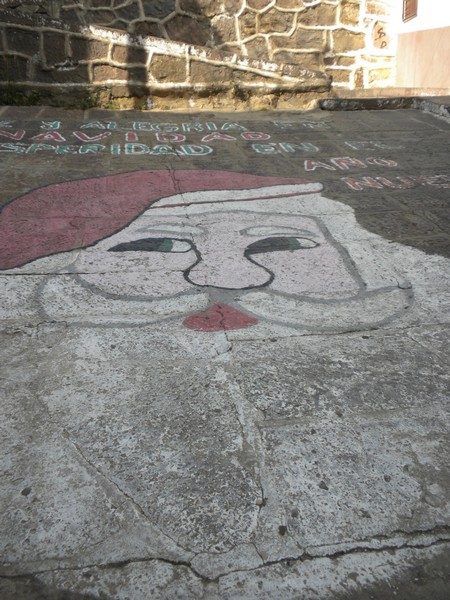 Keep Christmas with you, all through the year...

Seriously, who doesn't need one of these?

Similar to the "ants in the pants" phenomenon

Only a tiny fraction of the cows in this ice cream shop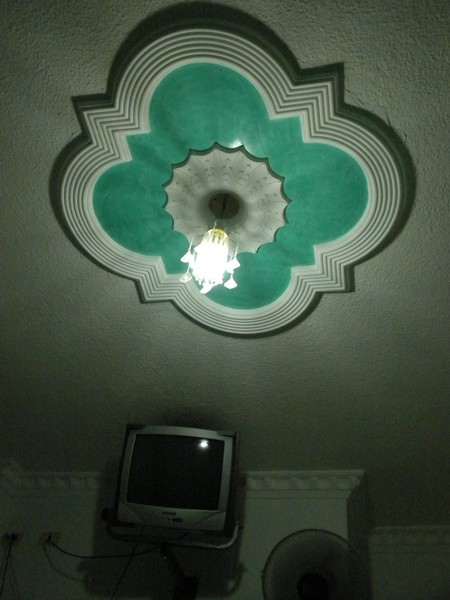 Our $12 room's crystal chandellier
Day 3 - Waterfall rappelling, hydrospeeding, and on to Tunja
We were up and ready to go at 5 the next morning, so we killed some time getting a breakfast of eggs and bread, and grabbed a smoothie from the market. We searched at length for a store that sold the region's delicious ants in bulk, but it was to no avail. A seven o'clock bus dropped us off at the entrance to the waterfall park an hour before the appointed time. When we arrived, we found only geese, turkeys, an exceptionally hyperactive beagle, and a number of workers who hadn't the slightest idea what we were talking about.
About 15 minutes past the 8:30 meet-up time, a man came up to us and inquired as to why we were there; he called up the company that was running the show and found that they would arrive after another twenty minutes. In the interim, two Americans who spoke less Spanish than us, and had also arrived Saturday night, missed their stop, gone to Buca, and gone paragliding, showed up to join our party.
Once our guides arrived, we placed all of our worldly possessions in unguarded cubbies, donned harnesses, helmets and figure-8s, and embarked on an arduous hike up a steep grade to the middle of the falls. We had been led to believe we'd be rappelling all 180m in three stages, but as it turned out, we would only be doing the last section which seemed somewhat shorter than the advertised 70m. The setup was considerably less sketch than we had anticipated - the ropes and equipment were shiny and new, and we had a backup belayer below; the guide had set up two ropes side-by-side, so Amanda and I went down together, getting quite soaked in the process, and then swam in the pool at the base while we waited for the Americans and three other random tourists who had arrived after our descent. We returned to the road and waited for twenty minutes before a bus showed up and took us back to town.
We went to a local eatery and got a fixed plate with soup, rice, fruity eggs, fruit salad, yucca, chicken, and sweet tea for $3. Then, it was back up the hill to the hostel to book a river-boarding trip for the afternoon. The English guy at the desk, who apparently also served as a part-time guide with the rafting company, declared that he would accompany us in a kayak and we would leave in an hour. After a few games of boggle, we went down the hill, hopped aboard a minivan labeled "school bus", and got outfitted with helmets, flippers and giant boogie boards. We went halfway back to the waterfall, got a quick lesson on turning and recovering from a flip, and followed a Colombian guide into a series of giant rapids. The river had the most water it had had in months, and it made for a most thrilling (and cold) 80-minute ride. Our guide would inconveniently turn around and start kicking towards us whenever we went through a rapid, and I would typically run right over him, but there were luckily no serious collisions. The water was clearly not the cleanest and had a rather overpowering fecal taste to it, and I was quite convinced the whole way down that I would come out of it with pink eye, dysentery, worms, and an ear infection.
At the end of the run, we walked barefoot and soaking wet, with riverboard, flippers and helmet in tow, straight through the middle of downtown. I grabbed a quick shower at the hostel and we headed for the bus station. En route, we happened to pass a restaurant that advertised ants and decided to stop in. I am typically not the biggest fan of meat, but on occasion, in order to fully experience a local culture, I will order absurd quantities of it, and this was certainly the case with the "mixed plate" at Carne Brava. With one order, we got a sausage, goat, carne asada, belly of some sort, a type of slow-roasted beef, and ants. Right after we ordered this monstrosity of a meal, we heard the unmistakable sound of microwave buttons, and shortly thereafter, our food arrived; we noted that there were no ants included, so we mentioned that to the waitress, the microwave started up again, and a plate of around twenty of the little buggers was instantly delivered to our table.
We grabbed a bus that took us four hours south to Tunja and showed a dubbed version of the new Wolverine movie on the way. Arriving after 11, we walked a short distance to a neon-lit hotel, woke up the owner, and got a good-sized room for fifteen bucks; a showing of Spanglish on Cinemax offered a refreshing dose of English language entertainment.

Waiting in the middle of the fish pond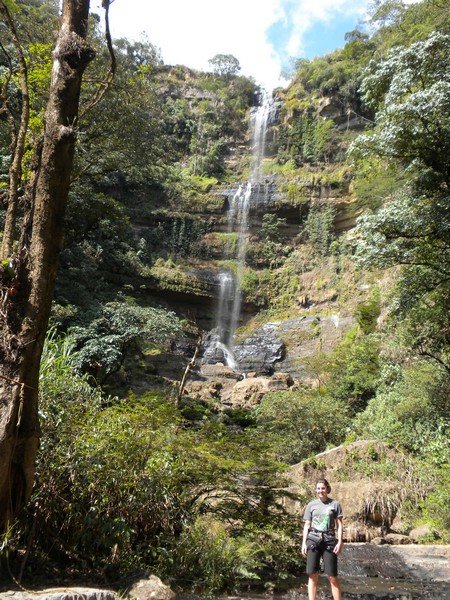 The first stage of the 180m waterfall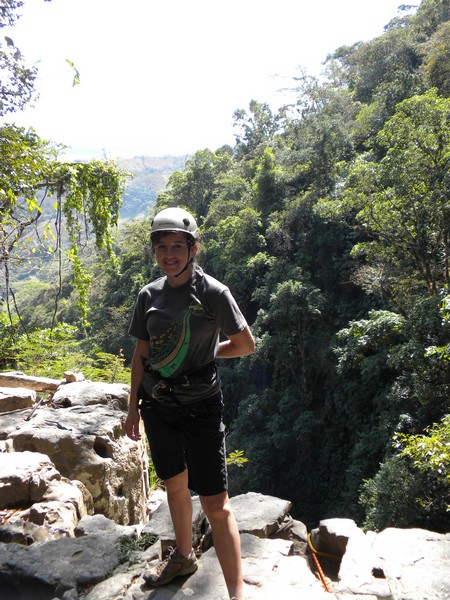 Getting ready to rappel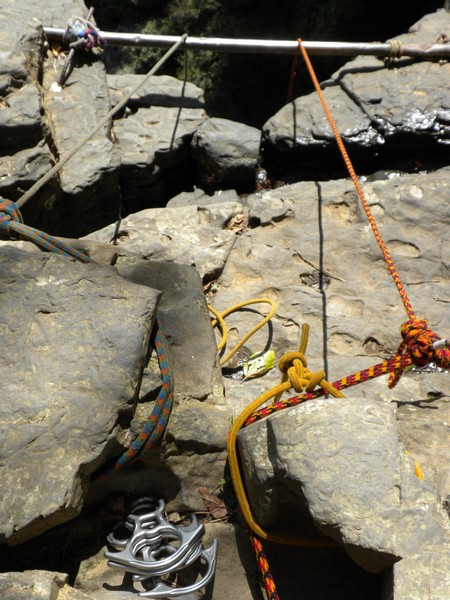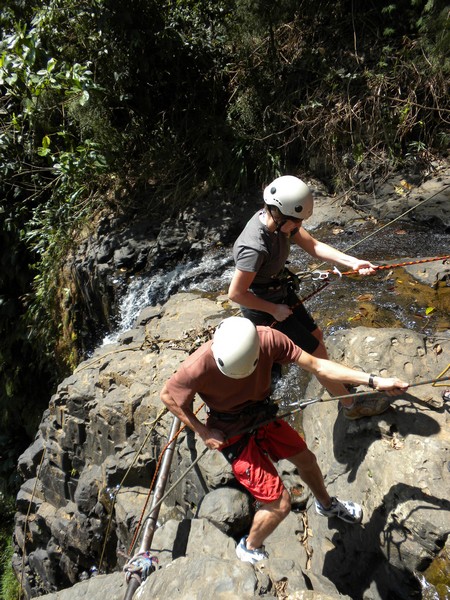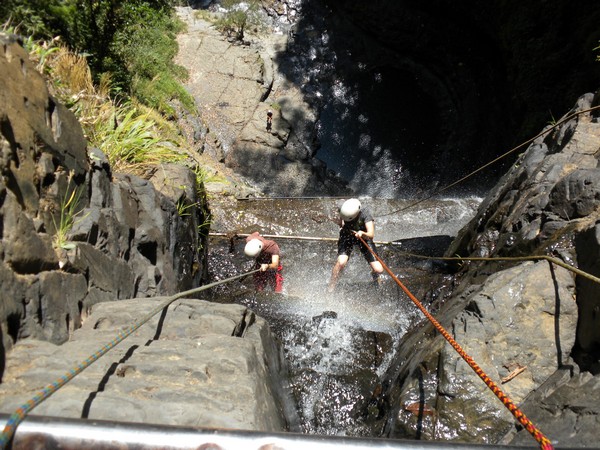 Torrentismo!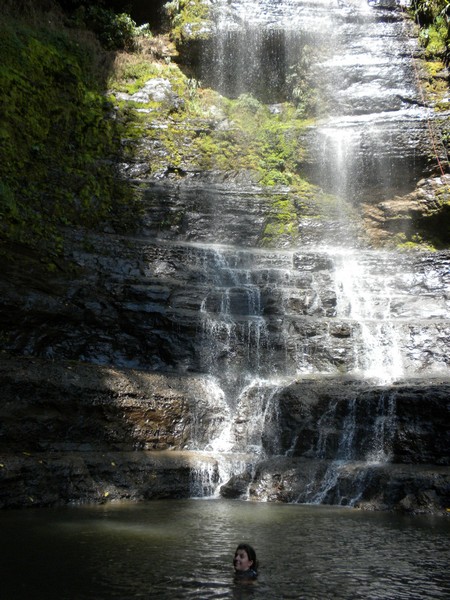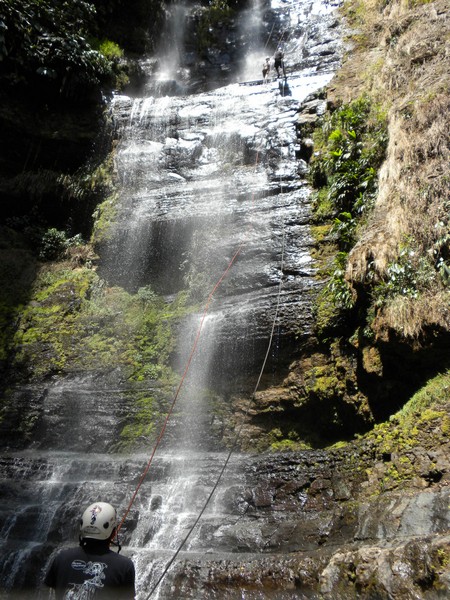 I still have no idea what this says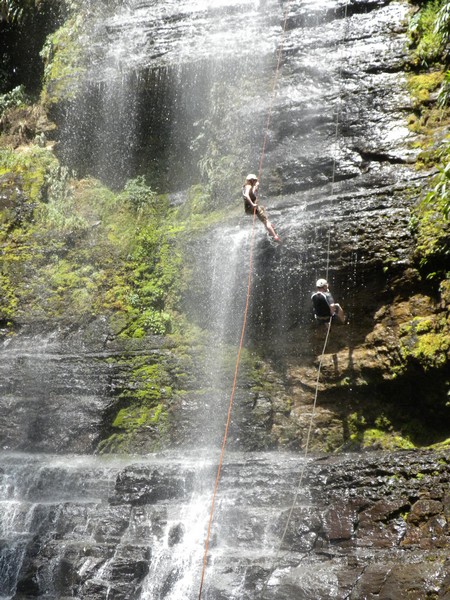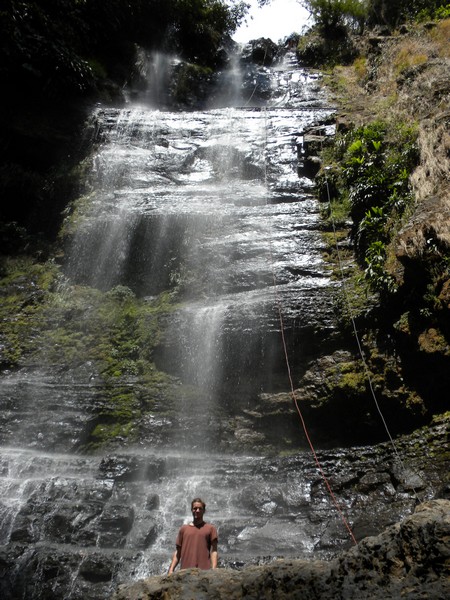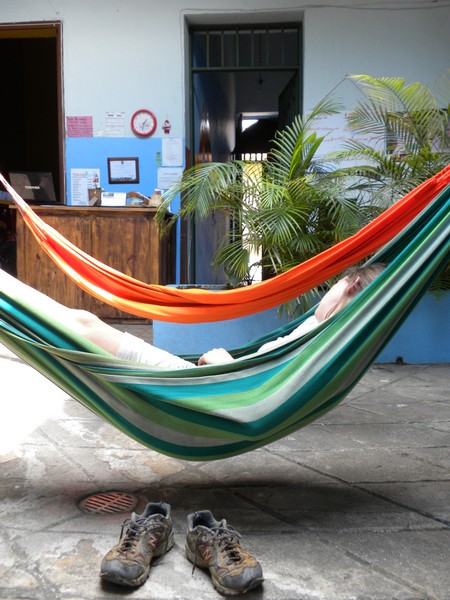 Resting between waterfall rappelling and boogie boarding down rapids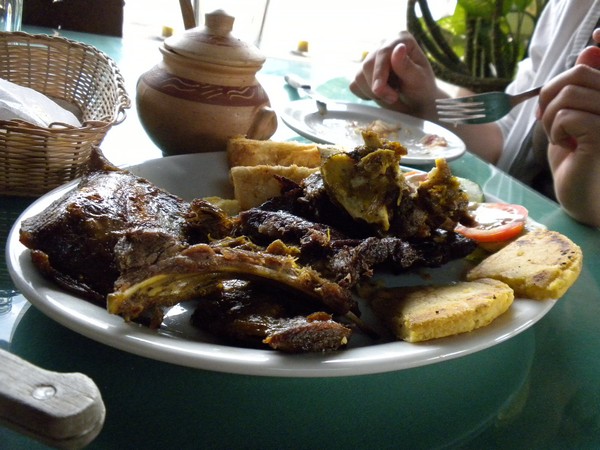 Seven kinds of meat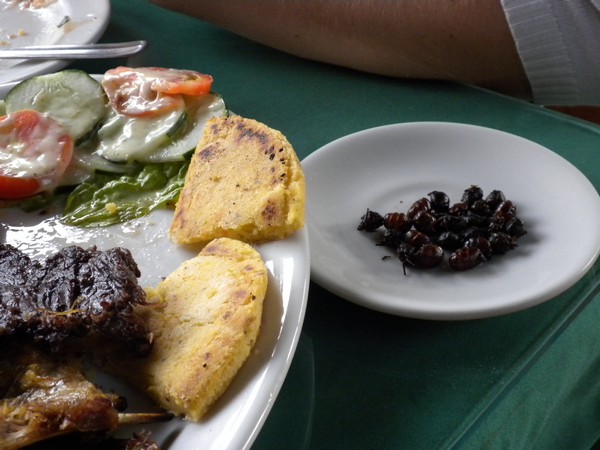 ...accompanied by a side of ants
Day 4 - Hiking in Villa de Levya
We got up early the next morning and started exploring the streets of Tunja. Having the distinction of being the coldest department capital in Colombia, the temperatures were hovering in the mid 60s when we left the hotel; the residents were bundled up in winter coats, and had outfitted their children in ski masks and mittens. The city's many elaborate churches were all shuttered, so we just traipsed around the various neighborhoods and absorbed the ambience. Like many Latin American cities, the streets are organized by genre; in one alley, we found a dozen breakfast joints and dropped into one to get fried eggs, bread, and a bowl of eggs and milk soup. Another street held a collection of wonderfully fragrant bakeries and we picked up something that resembled a giant almond cookie. Amanda had developed a sudden interest in supermarkets and tracking down authentic Colombian chocolates, so we stopped by around five stores before jumping on a bus to Villa de Levya.
Along the same lines as Barichara, Villa was a quaint little village with cobblestone streets and ornamental facades. It had scores of hotels, restaurants, outfitters, candy shops, souvenir shops and ice cream vendors, but since we arrived on a Wednesday, and all the middle class Colombians were at work, tourists to enjoy the many amenities were in very short supply. Having read about a short hike up to a lookout, we set off on a grueling trudge up one of the mountains ringing the valley. From the top, we had an excellent view of the town and the surrounding landscape.
Back in town, we got a delicious set meal for $4 which consisted of chicken soup, orange juice, roast chicken, yucca, salad, and a desert, all meticulously split into two equal portions. We went to the hostel a kilometer out of town to begin a hike that would take us up past two waterfalls to a viewpoint, but soon discovered that a fire had destroyed the trail about a month before. Between town and the hostel sat a highly incongruous army base with manned bunkers along its perimeter. We had notice before that the streets of town were all patrolled by uniformed men with machine guns, but it was impossible to imagine even a hint of crime in such a place.
We set up a bicycle rental with a small outfitter on the periphery of town; he presently had no bikes, but promised he would come up with some by 8am the next morning. For dinner, we walked into a somewhat fancy restaurant and were presented with a menu touting prices in the $8-12 range. I noticed a number of single diners scattered about eating soup and surmised that there must be a set meal on offer, and had soon negotiated for us to share another massive meal for dirt cheap. That night saw the first bout of rain since we had arrived, so we returned to our room even earlier than usual and watched "Live from Iraq" on one of the many English movie channels.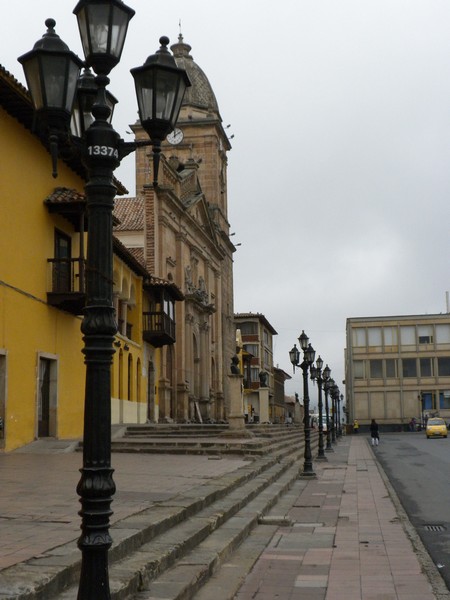 Tunja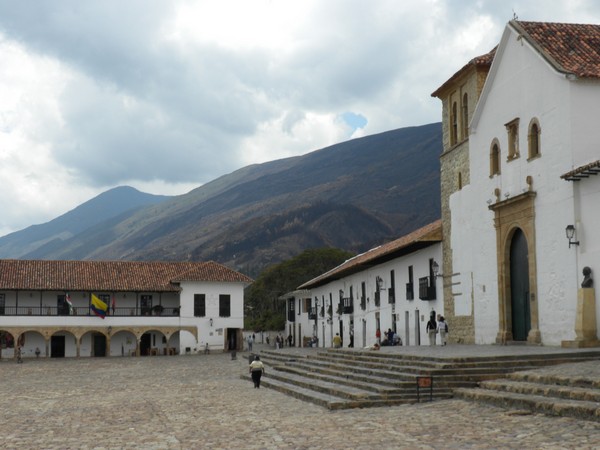 Villa de Levya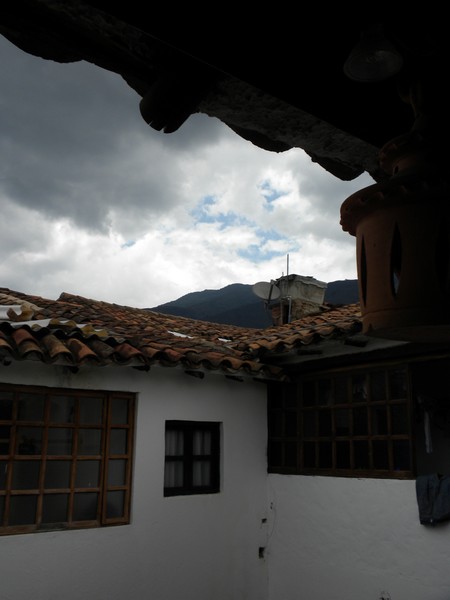 View from our room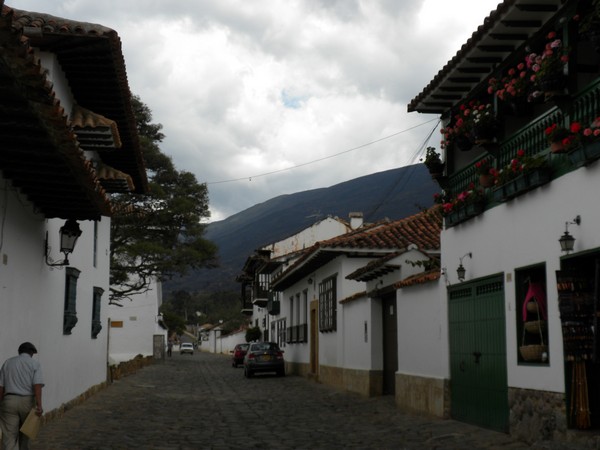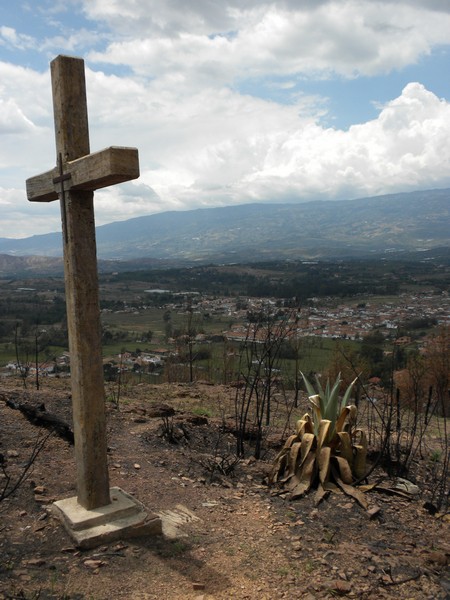 The lookout halfway to the lookout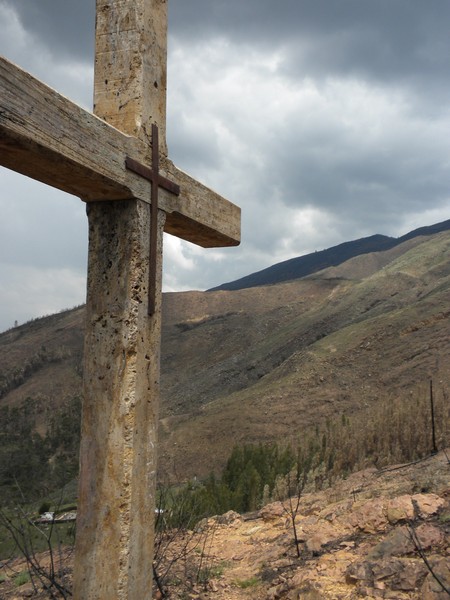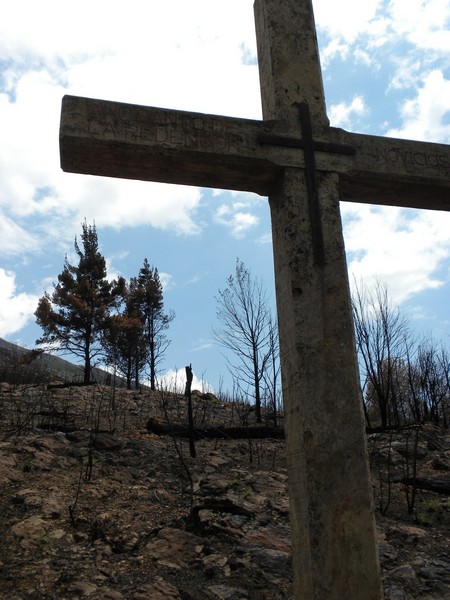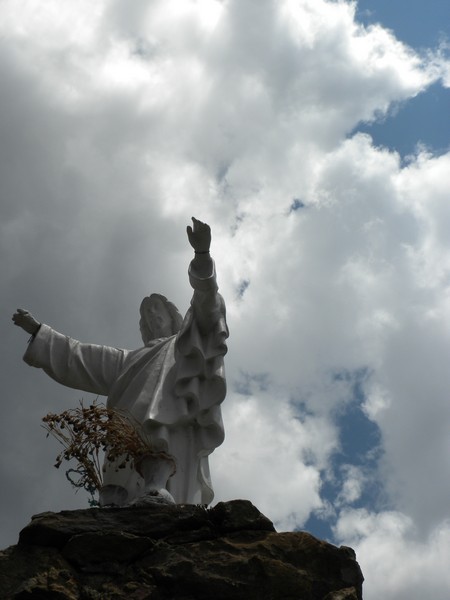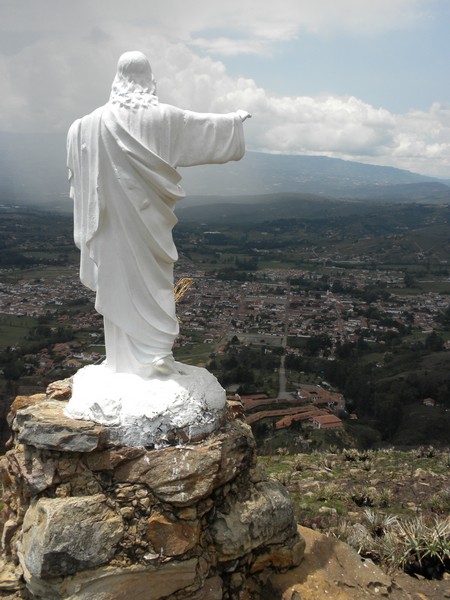 Watching over the Villa

A few of the courses of our split $4 meal, along with some of Amanda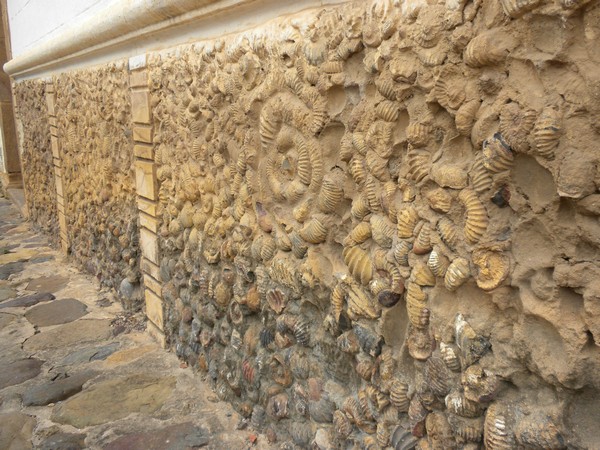 Fossilific wall in Villa de Levya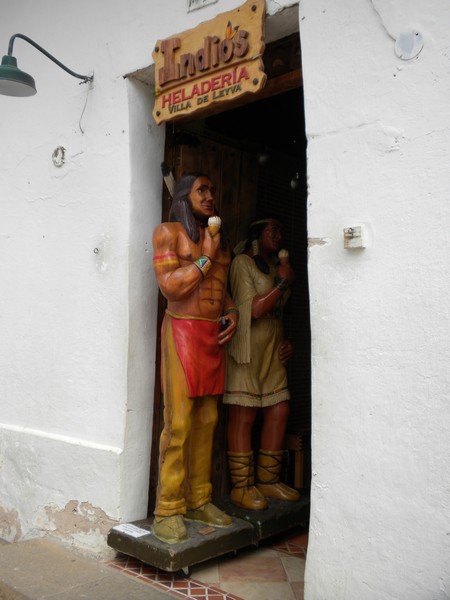 Even Native Americans like ice cream!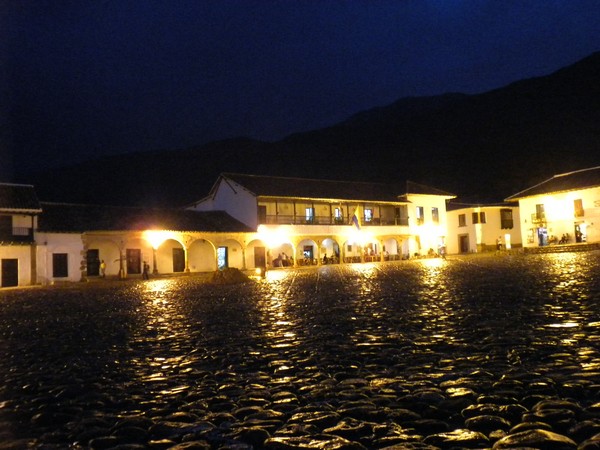 Day 5 - Biking around the Valley
We were out the door before 7 and tracked down a breakfast place before arriving at the outfitter at 8. The guy showed up 5 minutes late with one bike, and explained that he had not had much luck getting a second one. He did, however, have a personal bike with a crooked peddle axle, loose handlebars, bad brakes, and a few other defects. We spent the next hour repairing this one, negotiated a huge discount, and took off going south out of town. The plan was to make a circuit of several little attractions on this side, and then return and go 18km west to a waterfall with swimming, rappelling, and caving.
We started by ducking under a barbwire fence and biking down a long clay slope to a number of bright blue pools embedded in a Martian landscape of fins and canyons. We then proceeded to jump two more fences and rode down a dirt road for a bit to reach the ostrich farm. Since there was a fairly steep entry fee of $4 a person, and there were no ostrich burgers on offer, we opted to continue, and shortly reached another park featuring 35 concrete dinosaurs. The only way into this park was with a $10 guided tour, so we passed this up as well and rode an exciting downhill stretch into the town of Sutamarchan.
The road we guessed would take us onward to Santa Sophia turned out to go straight up a mountain to a pass thousands of feet above the valley floor. We spent the next two hours going uphill, asking random motorists for directions along the way; we always assumed the road would momentarily level out, and thus, we kept at the painful upward peddle far beyond our exhaustion point. When we ran out of water, we finally resigned to turning around for a speedy descent; near the top, Amanda got a flat and rode down most of the way on the rim.
Back in town, we got a big, rejuvenating lunch and then tracked down a bike repair shop. The shop doubled as a home, and we had interrupted a family meal, but the matriarch immediately came over and spent twenty minutes patching our tube, charging us 75 cents for the service. This is a far cry from American bike shops that will typically just sell you a new tube because patching isn't cost effective.
We found the correct road towards Santa Sophia and followed it for many wonderfully level kilometers to a vineyard. We didn't feel like a tour, so we continued on to a famous monastery in the area, but this involved a lot more uphill, and we doubled back 1km short of the site. We returned to town, passing an ancient solar calendar and grouping of tall stone phalluses on the way. After we had returned the bikes, we were walking down the street and were confronted by an owner of a restaurant that clearly wasn't open for dinner; she rushed out to invite us in for a meal consisting of leftover lunch ingredients - we were the only ones there and the dining room lights never came on, but the food was freshly cooked and tasty enough. I had discovered a common dessert that consisted of chunks of fruit, a glob of peanut butter, a block of cheese, or some other substance, that was frozen in milk on a stick and sold for 35 cents; I was determined to try all the flavors, so we picked up the coconut and mango varieties and strolled around the quiet streets. It seemed a movie or TV show was being filmed in the main plaza, and a couple of massive lights illuminated the backdrop as the actors dined in a café.

The blue pools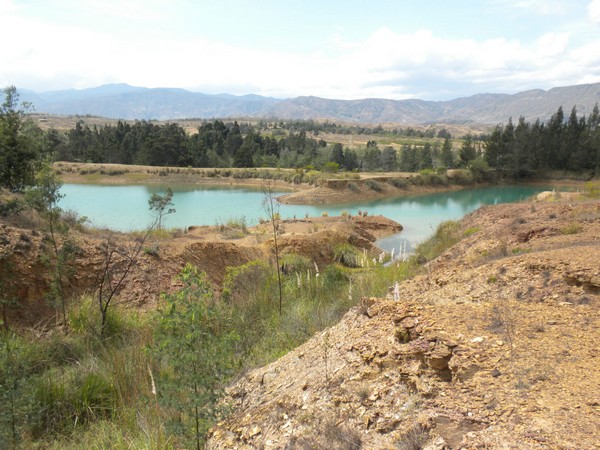 Serious offroading

Ostrich farm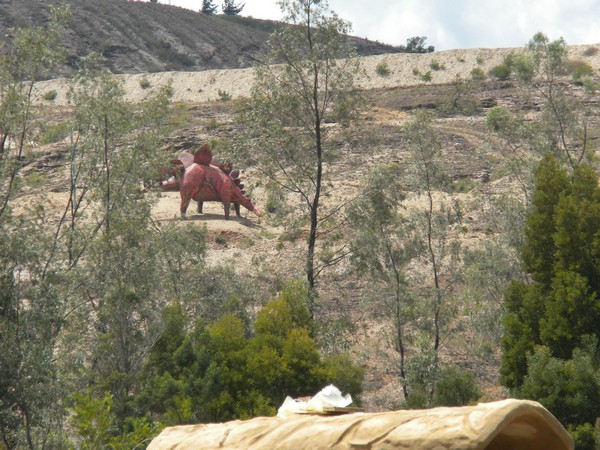 One of sixty-some different species in the dinosaur park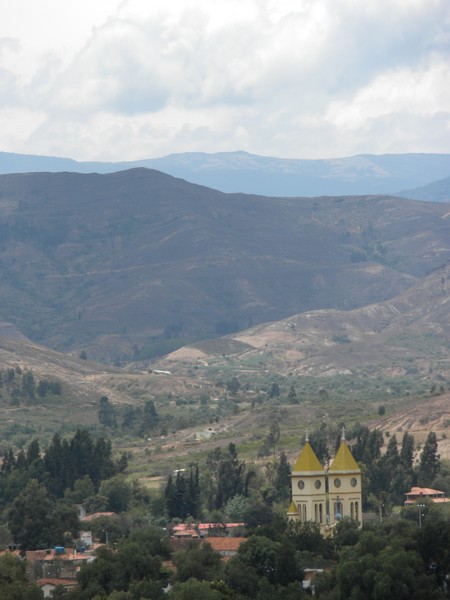 Sutamarchan from above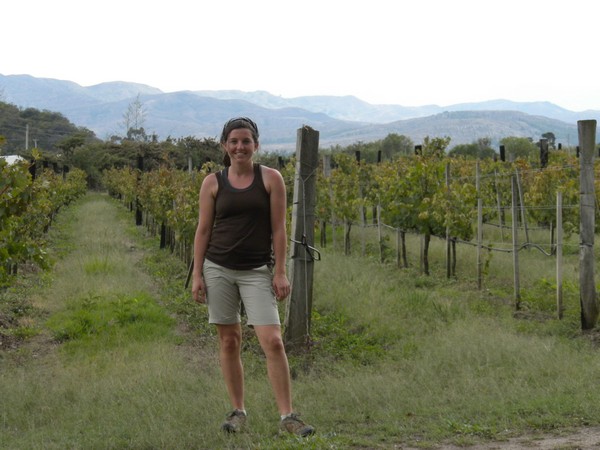 In the vineyard

Random house...

Extreme urban rappelling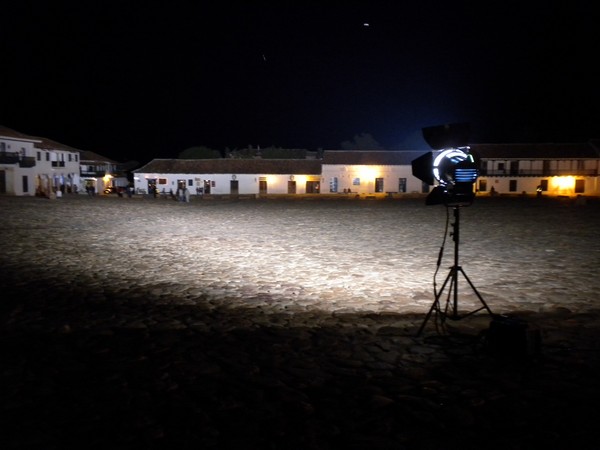 Movie set
Day 6 - Bogota
We woke up at 5 and caught the 6am bus to Tunja, and from there immediately jumped on another to Bogota. On the way, we passed some sort of amusement park that held giant replicas of the Taj Mahal, Colossus of Rhodes, and other memorable landmarks. Most everyone got off the bus at a Transmilenio station, but I was convinced it would be no problem to cross the city by foot and so we remained onboard until we had reached the bus terminal. From there, we followed dedicated cycle and pedestrian paths to Parque Simon Bolivar, picking up many tasty snacks from street vendors along the way; unfortunately, the park, larger than New York's Central Park, was surrounded by a high fence and seemed completely inaccessible, so we continued for a ways along a road lined with manicurists and veterinarians, before getting bored and hopping on the Transmilenio bound for La Candelaria. We got a room in Casa Platypus with a shared bathroom for the staggering price of $25 – this rate did, however, include unlimited free coffee.
I have heard from many sources that hot chocolate with cheese is a common drink in Bogota, and, as I had not been able to successfully reproduce this drink at home, I was quite determined to have it before I left. After finishing our lunch at a downtown restaurant, we ordered this, but rather than receiving a few small slivers of cheese to mix into our mug, we got a half-pound of cheese that was considerably bigger than the cup into which it was presumably supposed to be mixed. Though it pained me greatly, I finished the whole block (after generously marinating it with hot chocolate) and we set off on a whirlwind tour of the city.
We first went to the gold museum which is world-renowned for its extensive collection of artifacts. We followed that up with visits to a number of insanely elaborate churches, jogged through a free military history museum, and then proceeded to explore a cluster of five free museums. The highlight of these was the extensive collection of works by Botero, which featured all manner of overweight man, beast, and vegetable.
We hiked randomly northward, discovering a colorful Bohemian enclave full of jugglers, troubadours and fuzzy clothing. We encountered a group of Krishnas and asked one of them if there were a Krishna restaurant in town; they informed us that it was closed but that we could go to a party they were having in an hour which would feature a free feast. We tracked down the temple and danced and chanted for an hour, and then got ushered into another room for a lecture in Spanish on the merits of vegetarianism; we got bored with this halfway through and left before the food arrived.
As a substitute, we found an ice cream shop that sold heaping portions for 25 cents and followed that up with various street foods. The main drag was packed with vast crowds of people and featured many street performers, food carts and vendors (and even a karaoke machine). After walking along this for a few kilometers, we returned to our hostel and settled in for the night. We were awoken by our neighbor who walked into our bathroom at 11 and commenced a round of rather boisterous vomiting.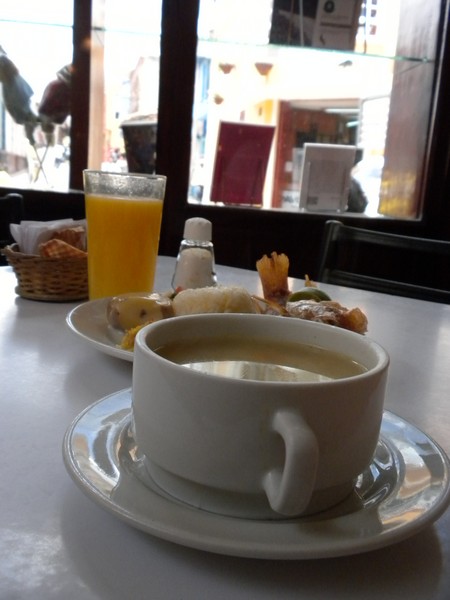 Lunch in Bogota - before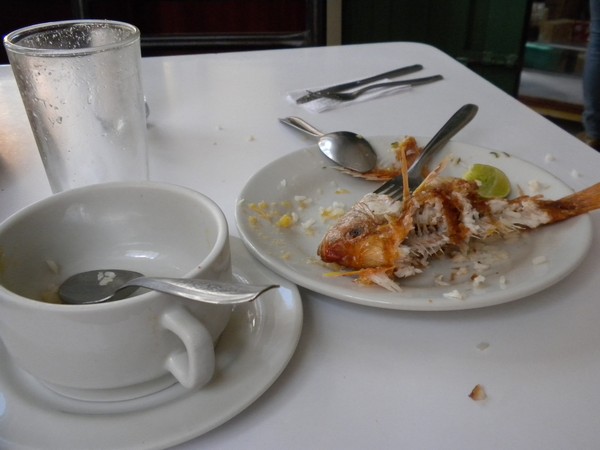 ...after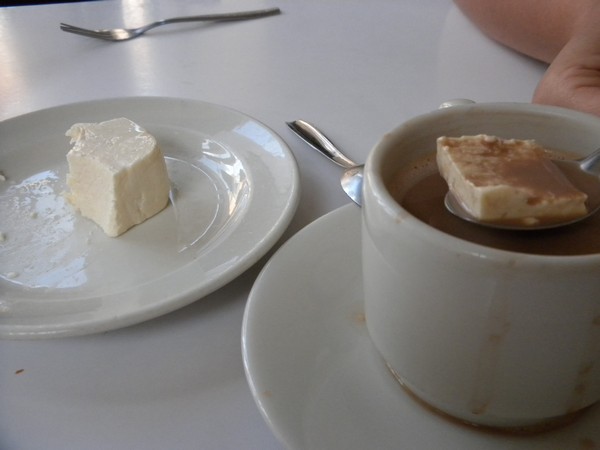 A tiny fraction of the cheese that originally came with our chocolate con queso

Gold museum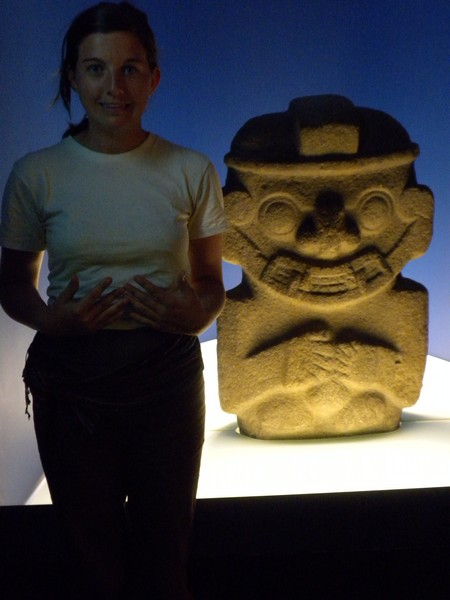 Amanda and the funny little stone man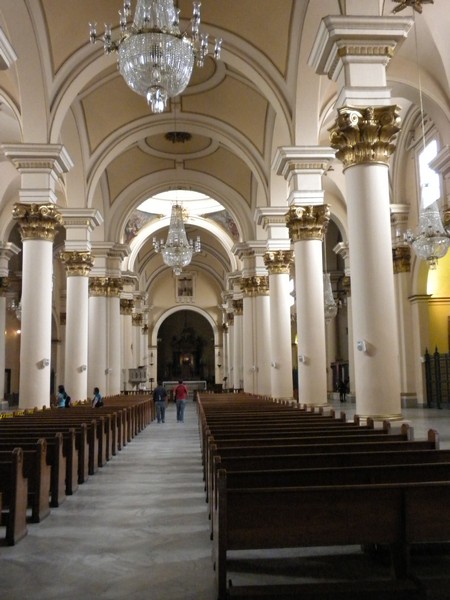 One of many amazing churches in central Bogota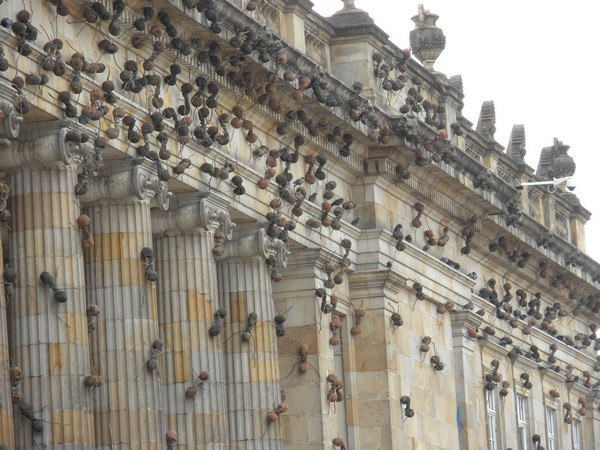 Capital building has a bit of an ant problem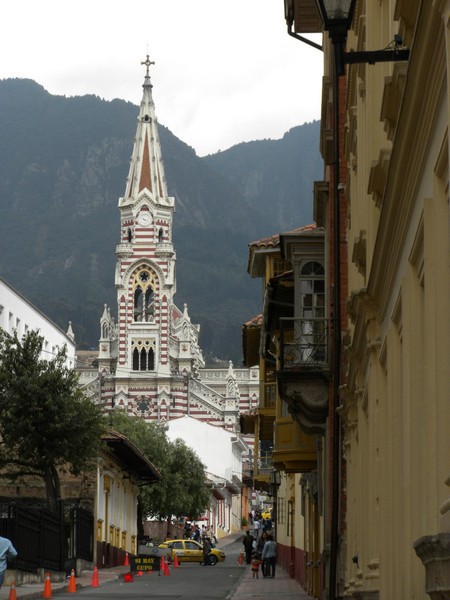 And the craziest church award goes to...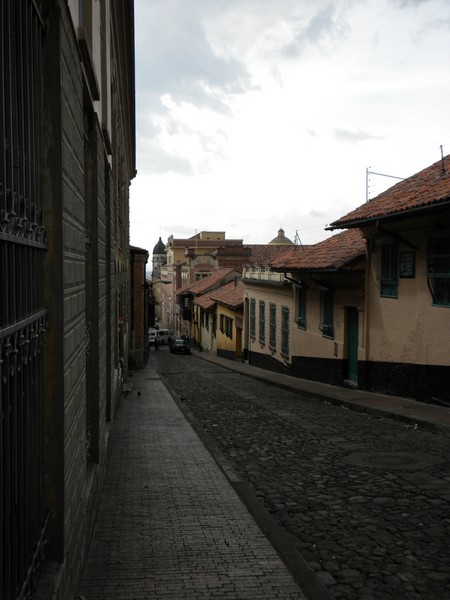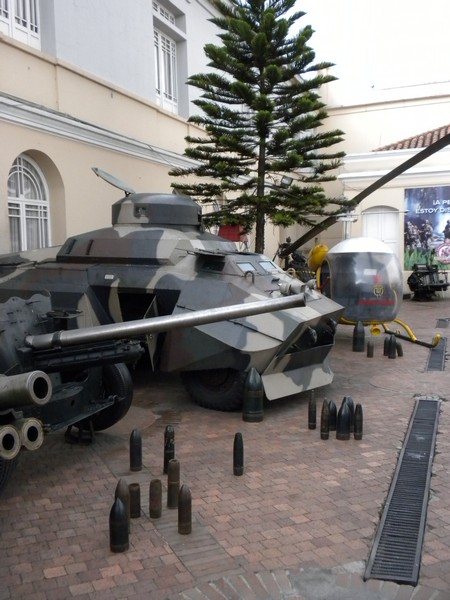 Military museum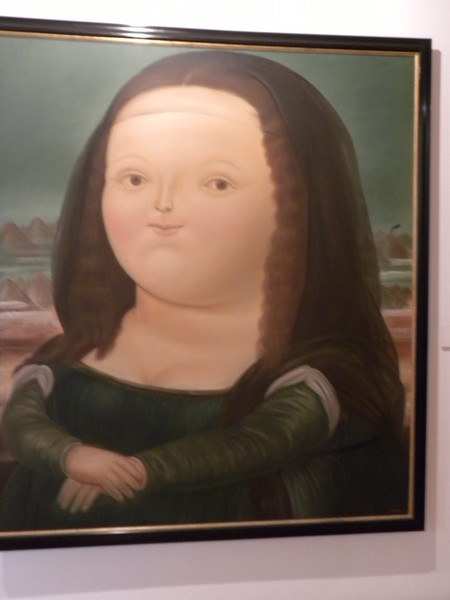 Fat Mona Lisa in the Botero museum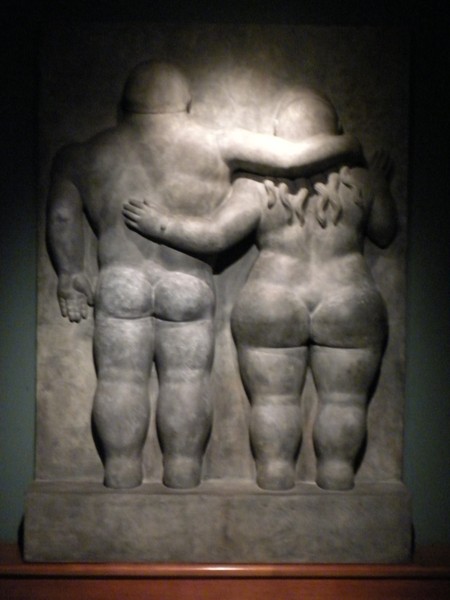 One of hundreds of fat paintings/sculptures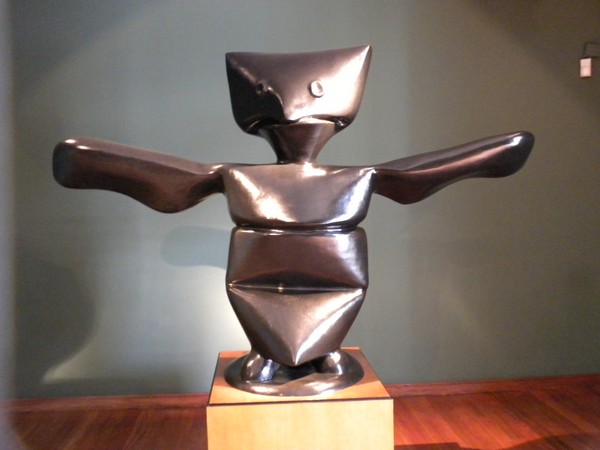 A penguin, perhaps?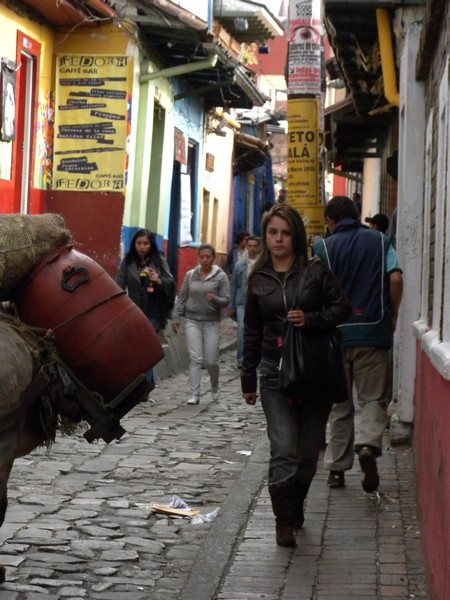 The bohemian quarter - was trying to get the mule on the left...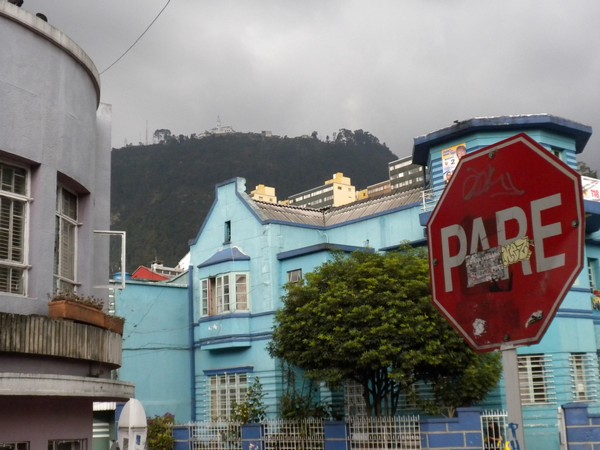 One of hundreds of stoplight entertainers

Orange cow following unsuspecting woman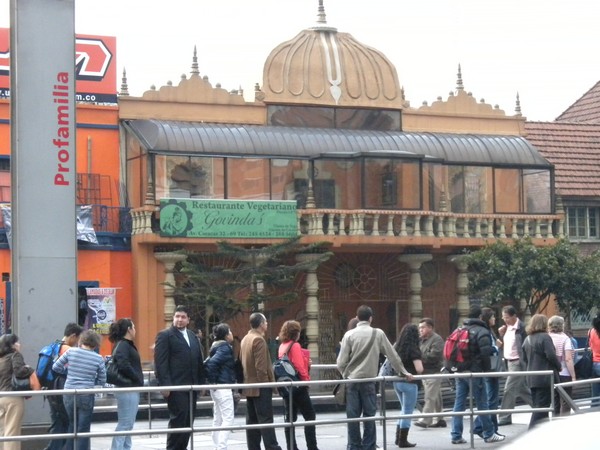 Hare Krishna temple

Weird veg propaganda

Stilt walkers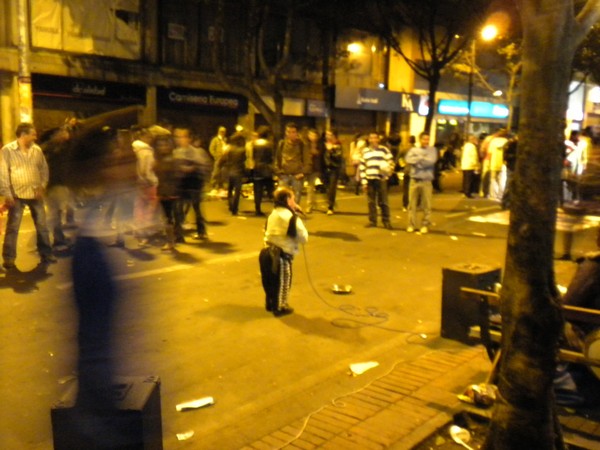 Singing dwarf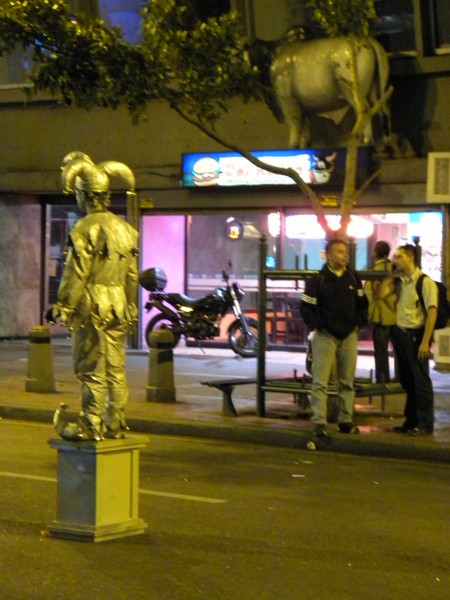 Day 7 - Return Home
At 5am, we were up and on our way to the airport. We arrived four hours early and got coffee from one of the thermos -filled carts outside the terminal. Inside the departure lounge, we found a shop that sold massive tamales, a full meal for two, for well under two dollars. We spotted a Red Cross vaccinations booth and, checking the price list, found that they offered many shots for 70-80% off the US prices; Amanda got a bargain-basement yellow fever shot, which would certainly come in handy when we returned to hike to the Lost City on the northern coast.
Like so many other countries around the world, the state department warnings imbue a certain image upon Colombia; just the day before we left, they issued another warning that reiterated their previous statements berating the country as highly dangerous, and urging American citizens to reconsider their need to travel there. With this in mind, we expected an epic 6-day struggle where we would need to constantly remain on guard, or risk falling into a tumultuous sea of crime and corruption. What we found was quite the opposite; the towns that awaited us in the mountains northeast of Bogota were very European, if not Disney World-esque, and Bogota itself seemed a very modern, non-threatening city. The water was safe to drink almost everywhere and the food was highly hygienic, buses ran on schedules, always with working electrical systems and bathrooms, and never had more passengers than seats, price-gouging and irritating touts seemed to be virtually nonexistent, CFLs were the norm, smoking was everywhere forbidden, museums were often free, mass transit systems were well developed, and bike lanes and pedestrian paths were ubiquitous. If it were not for the superior purchasing power, the prolific street food, the missing international tourists, and the absence of anyone who spoke the slightest hint of English, this could very easily be mistaken for Spain or Italy. If you want to travel in comfort for cheap, with endless opportunities for great hiking, biking and extreme sports, without being overwhelmed by hordes of rich tourists and all the annoyances that accompany them, then you should make haste to get to poor little oft-maligned Colombia.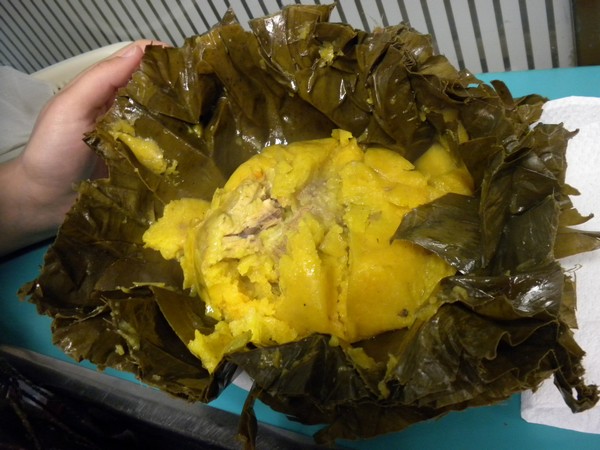 Breakfast tamale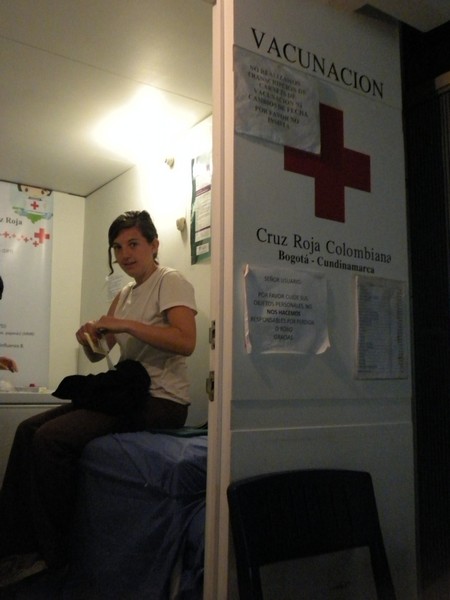 Cheap vaccinations, score!
Costs
| | |
| --- | --- |
| Orlando-Bogota Flight | $265 |
| Taxi from airport to bus station | $9 |
| Bogota to Bucaramanga overnight bus | $15 |
| City bus | 75 cents |
| Plain arepa | 35 cents |
| Lemonade/horchata/oat drink/fruit salad | 50 cents |
| Ice cream from truck | 60 cents |
| Paragliding 15 minutes | $20 |
| Set lunch big enough for 2 | $2-4 |
| Waterfall rappelling | $17 |
| Riverboarding for 1.5 hours, some class 3 | $17 |
| Chicken with ants in upscale restaurant | $9 |
| Hotel room with TV/fan/bathroom | $12 |
| Frozen fruit/peanut butter/cheese on a stick | 35 cents |
| All-day bike rental | $8 |
| Flat tire patching | 75 cents |
| Transmilenio transit ride | 80 cents |
| Gold museum admission | $1 |
| Seven other Bogota museums | Free |
| Bus from city center to airport | 60 cents |
| Giant tamale at airport | $1.60 |
| Yellow fever vaccination | $27 |
| | |
| Total in-country | $492 ($246 per person, $35 per day) |