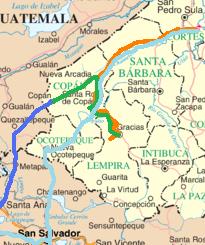 It's 2am mountain time on a Friday night in April, the second day of reading days and just hours before the start of UF's spring exams. In earlier years, I might have been studying around this time, but my classes have long since been over, and I submitted my latest conference paper some 15 hours ago. It makes perfect sense that I should find myself languishing in the oppressively hot, humid air of a Honduran bus station, waiting for the arrival of morning and the first busses to the refreshing mountain town of Gracias and its famed cloud forest. What makes less sense are the seven others surrounding me, some lying across a row of seats catching a few precious moments of sleep, some snacking on cafeteria fare, and some staring at a wall in much the same state of delirium in which I currently find myself. How had they gotten out of exams and been convinced, despite the best efforts of the state department to dissuade them, to abandon all measure of comfort and sense and be here with me? Two had never left the country before, their passports bearing only the one formidable stamp. One had driven 15 hours from the mountains of North Carolina and will return for an ASU final in just two days time.
SpiritAir had spoken; $88 would get us into San Pedro Sula in the wee hours of Saturday morning and return us to Ft. Lauderdale just in time for an exhausting drive to the north of the state for Monday's afternoon exams. Five are following this itinerary while the remaining three have opted to skip the first 2.5 days of the workweek and double their time in-country. None of us had heard the first thing about Honduras, aside from scattered stories of a recent coup and civil unrest, but this hardly seemed to matter. The call had gone out, and once again, the intrepid members of OAR had risen to the challenge. A handful of text messages sent out several hours earlier to set up carpools had been the extent of our planning. Frank and Kerry had shown up at the airport with nothing more than a toothbrush and $100 cash between them (which made for an interesting circumstance when we arrived at 1 in the morning and found all the exchange counters shuttered) and Rob packed enough for a multi-year expedition.
Now, the bus that has been sitting in front of the waiting room for the past hour is finally ready to take off for Guatemala. I had not known it before this second, but here is our ticket to the western hub of Santa Rosa de Copan, where we can hop aboard the first bus of the morning to Gracias. The gringo army slowly stirs, attempts to make some sense of the situation, fails, and mindlessly shuffles into the idling coach. So it begins.
4 hours ABT (Accumulated Bus Time) - Gracias
"Gracias Lempira?" This was the standard response whenever we asked anyone about going to that quiet town to the west. In itself, "Gracias" was a weird name for a town, but why did everyone seem inclined to pair it with the name of the nation's currency? Was this some funny way of requesting payment in return for getting us there? This incongruous combination kept us puzzled for many hours. The eight of us, along with one Honduran woman, were dropped at a dark, unsigned crossroads just before 5 in the morning. Fortunately, she was able to explain that there would be another bus coming along shortly after 5, that the set price was 40 lempiras, and, after some time, that Lempira was actually the name of the state, and was referenced to differentiate this town from the Gracias a Dios on the eastern side of the country.
We arrived in Gracias shortly after dawn and immediately set about trying to find food and a place to stay. The guidebook's top pick, which supposedly had on offer a vast array of vegetarian regional specialties, showed no sign of opening anytime soon, so, much to the chagrin of the trip's three dedicated vegetarians (while I don't frequently eat meat, I'm typically more than willing to suspend my convictions to avoid living off of lettuce and french fries), we settled on a place that had "roasted chicken" in the name. Here, for L$70, we got a meal fit for kings, with fruit smoothies, steak, eggs, cheese, salad, and the best refried beans you could possibly imagine. The vegetarians got watermelon down the street.
At the Erick Hotel, we tried to negotiate a single room for the eight of us, but whether due to profitability or the fire code, the owner wouldn't hear of it and insisted that we get three separate rooms. We ventured further afield to find a hotel situated in a coffee farm within a walled compound; here, the owner agreed to let us all stay together in a room with three single beds, but the price was only three bucks shy of the cost to give everyone their own bed, so we returned to Erick and awkwardly divvied up the three double rooms between the two couples and four other guys.
We went up the hill to the fort and climbed the ramparts to look over the town. A high school class sat studying in one corner, while starry eyed couples inhabited a few of the turrets. It was seven kilometers uphill to the Parque Nacional Montana de Celaque. With our Haiti hike still fresh in our minds, Frank and I didn't hesitate to go up to a tuk-tuk and ask for a ride to the entrance. However, the price of L$600 seemed a bit steep, so we opted to take our chances with the hike. A few steps in, we flagged down a pickup truck and he took us all a kilometer up the road; it felt like a major victory at the time, but over the course of the next hour, as we trudged upward through the glaring sun, we came to realize just how little it had saved us. Half the group got a ride for the final 3km while the rest of us powered through. When Mike, Nick and I reached the visitors center at noon, we found a note explaining that they had left to do a 4-hour waterfall hike; we naturally opted for the 12-hour hike to the summit of El Cerro de Las Minas, the highest point in the country at 2849m.
It took us all of 5 minutes to get lost. While most of the park is extraordinarily well signed, a few crucial intersections have no indication whatsoever. We followed a river up through a series of dams, nets, and water treatment machines before the trail abruptly disappeared. We returned the same way we had come; in the process, I narrowly escaped disaster when one of the planks of a bridge shattered under my weight. After this brief detour, we embarked on our 12-hour tour and followed several miles of switchbacks straight up a mountain before reaching a sign that informed us we had thus far travelled a kilometer. We discovered the rest of the group in a rather fatigued state at the second rest stop; Rob latched on to our group, Frank and Kerry continued on to the waterfall, and Jeff (who shall be distinguished from myself by third person references) and Priti stayed behind to play in a stream.
It turned out that the waterfall trail never came anywhere near the waterfall, but only provided a partially obscured view of a tiny plume far in the distance. Naturally, Frank tried to bushwhack to the falls, but met with little success. These two, along with Jeff and Priti, exited the forest at a reasonable hour and got dinner at a family home near the entrance to the park.
My group followed a punishing trail that five times dropped precipitously into river valleys, only to again rise sharply through more of the harrowing 1500m of elevation gain. I got ahead of the rest of the group, and the others, unbeknownst to me, opted to abandon their summit attempt and loop back on the Rooster Trail. I continued on to a particularly steep section of the trail that required that I pull myself up the scree using tree roots. I was goaded on by the guidebook's description of a section of "beautiful rolling hills" that would begin at the top of the current section and continue all the way to the peak; these rolling hills lasted for all of 100m and then once again reverted to abrupt mountains. I eventually reached the top, which was enshrouded in trees and offered next to nothing in the way of views, and began the long jog back; I would reach the start of the trail just after dark some 2.5 hours later. The other three guys had run into troubles of their own; the Rooster Trail began with a steep rise to a lookout, which was followed by 3 hours of knee-buckling downhill. Mike, in attempting to purify the water in his camelbak, had succumbed to iodine poisoning and was forced to complete the hike with crippling stomach pains. We miraculously reached the visitor's center within 10 minutes of each other and began the long hike back to town together.
Spotting a truck with people in the bed just outside the park entrance, I ran to catch it; the driver took one look at our group of smelly Americans and decided he wanted nothing to do with us, but he happened to be parked in front of an American-run bilingual school, and several young Minnesotan teachers came out to greet us. It turned out they were having a birthday party for one of the teachers, and, in keeping with Honduran traditions, were serving up heaping piles of Chinese fried rice. We each got a plate and a glass of sweet tea, and chatted about football rivalries; one of the teachers then negotiated a reasonable rate for a tuk-tuk back to town and we were shortly sitting eating ice cream in Gracias' central plaza. We returned to the hotel, where we waited for the return of running water at 9 so we could douse ourselves in the sink's frigid stream, and then quickly passed out.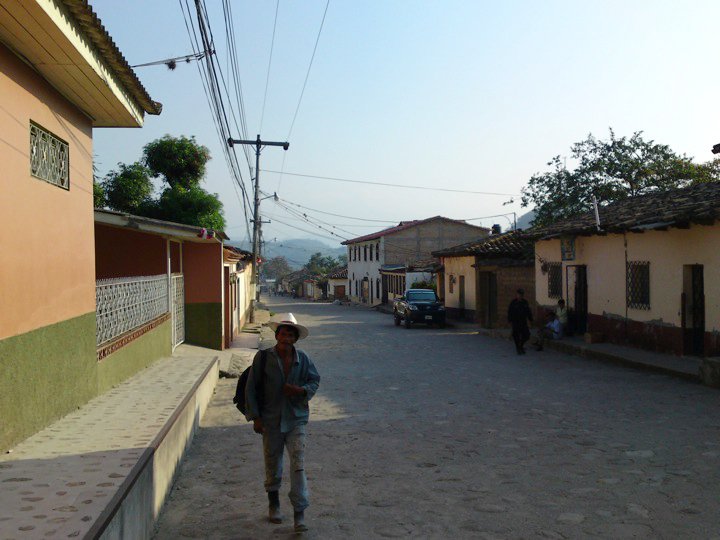 Streets of Gracias (photo credit: Mike)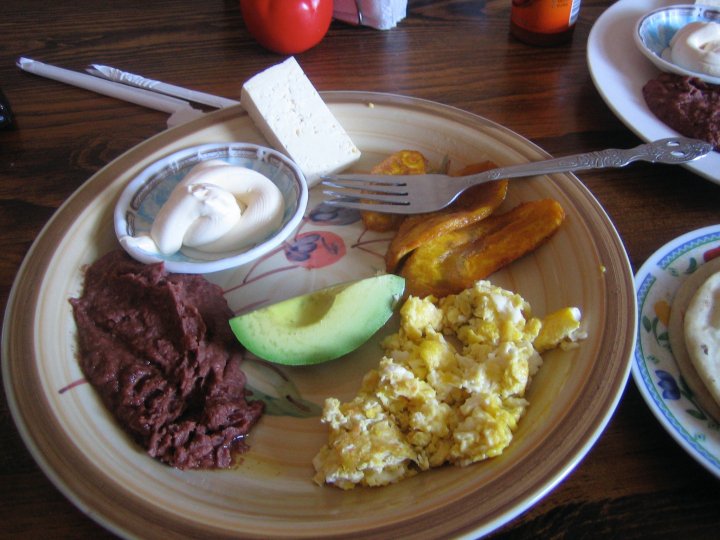 Best breakfast ever (photo credit: Kerry)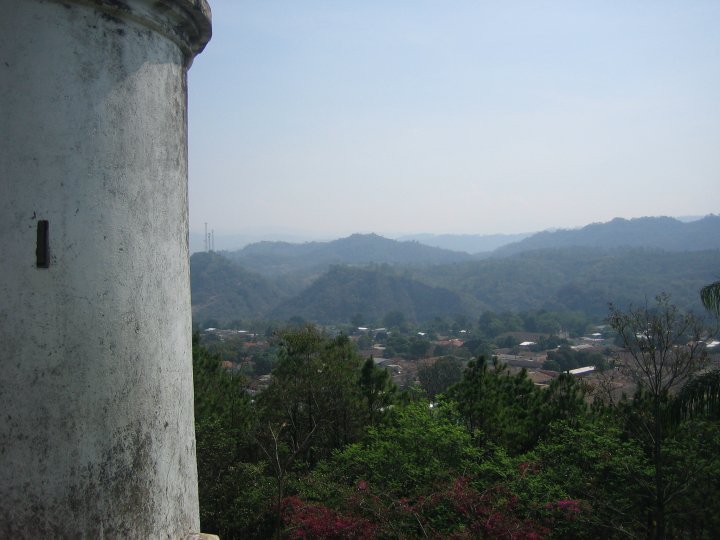 Gracias fort (photo credit: Kerry)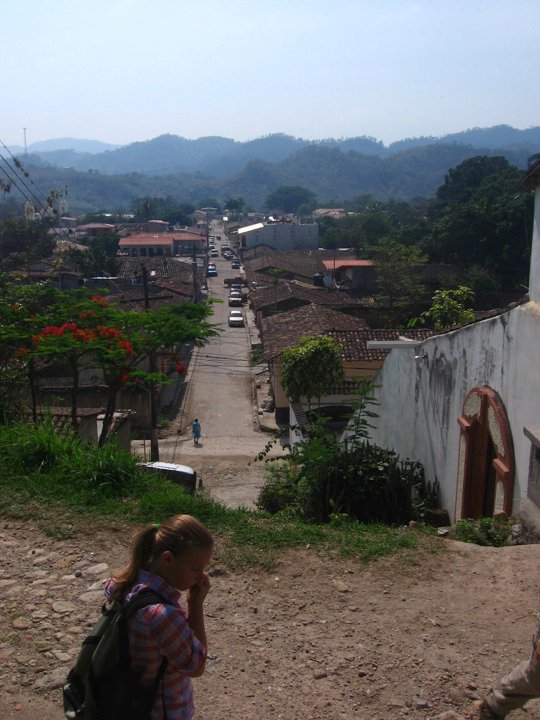 Gracias from above (photo credit: Frank)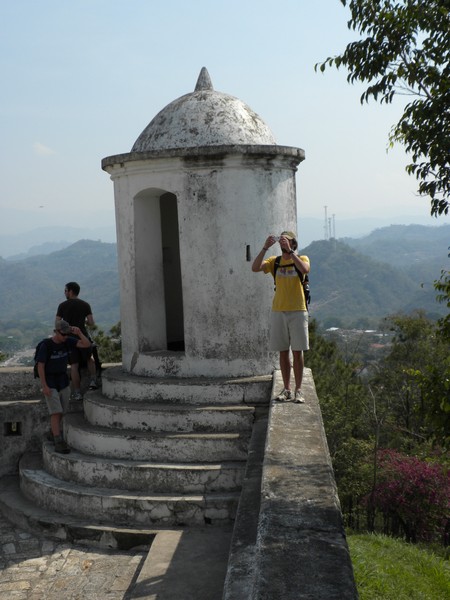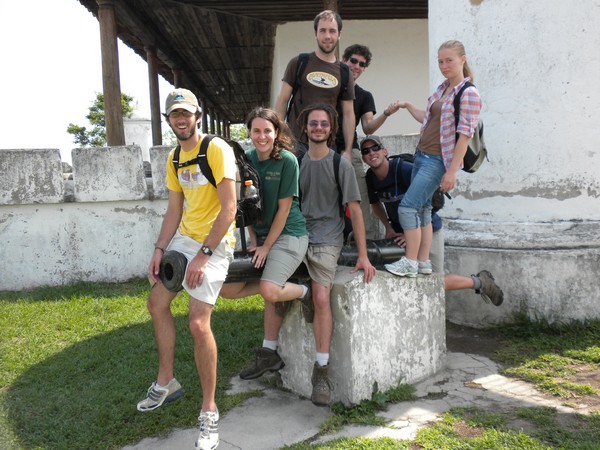 One of our bigger international trips...

Frog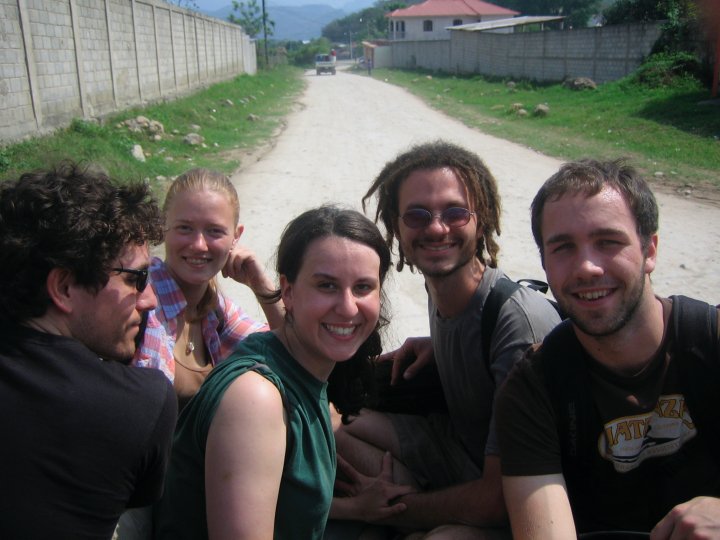 Hitchhiking with 8 people? No problem (photo credit: Kerry)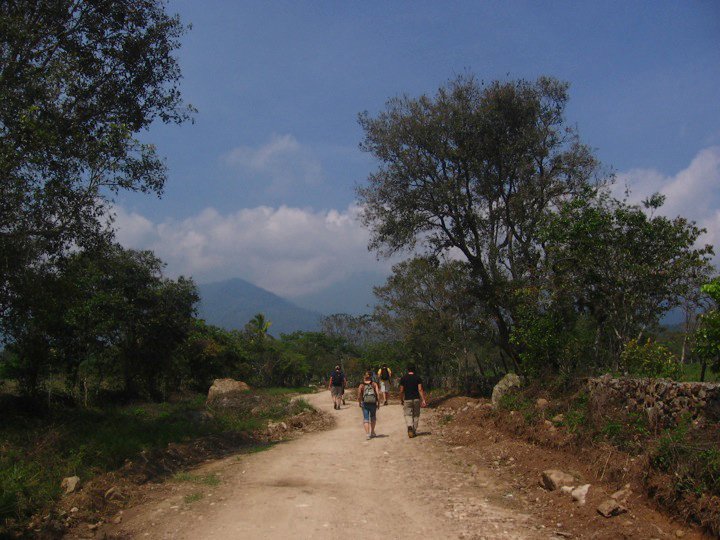 The long hike to the start of the trail (photo credit: Frank)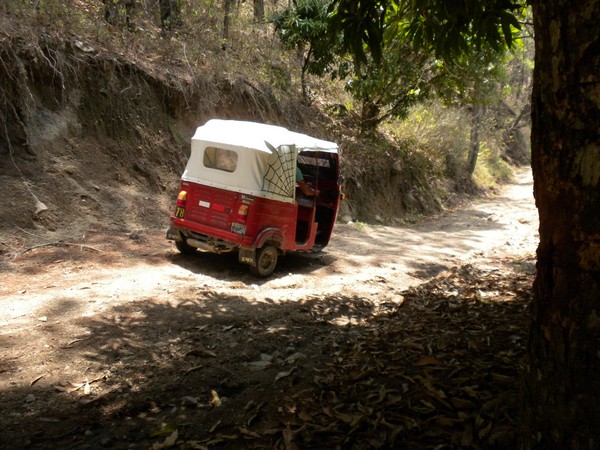 One way to make any hike easier: take a tuk tuk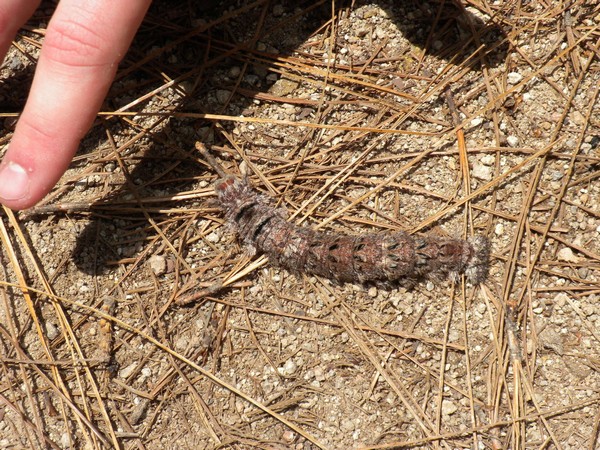 Biggest, hairiest caterpillar ever!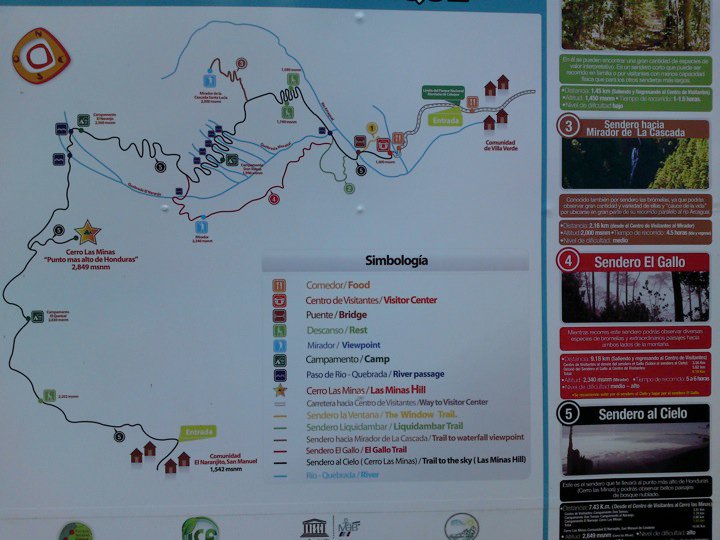 One of the better documented parks - even if none of the distances were accurate (photo credit: Mike)

View from the Rooster Trail(photo credit: Mike)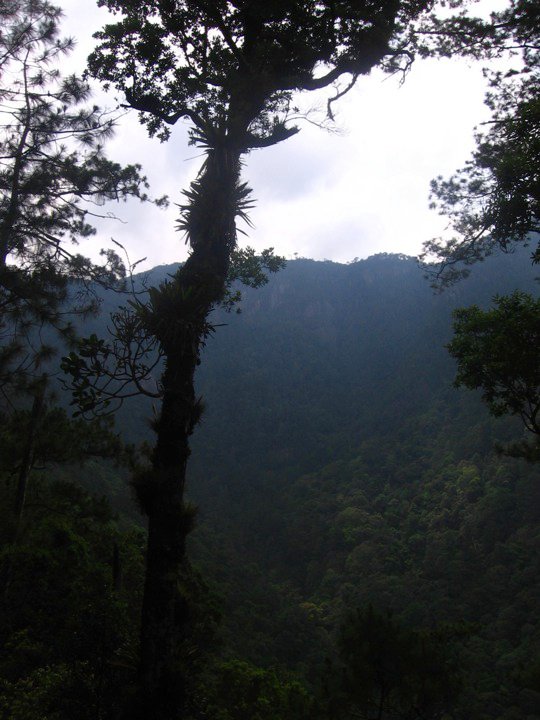 View from the Waterfalls Trail (photo credit: Frank)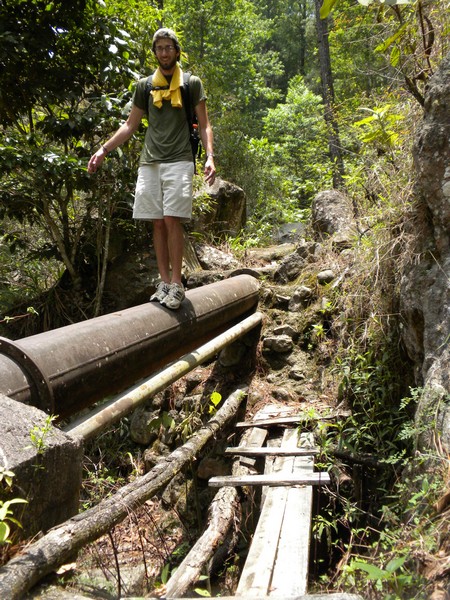 After the wooden bridge collapsed under my weight, Mike opted for a safer route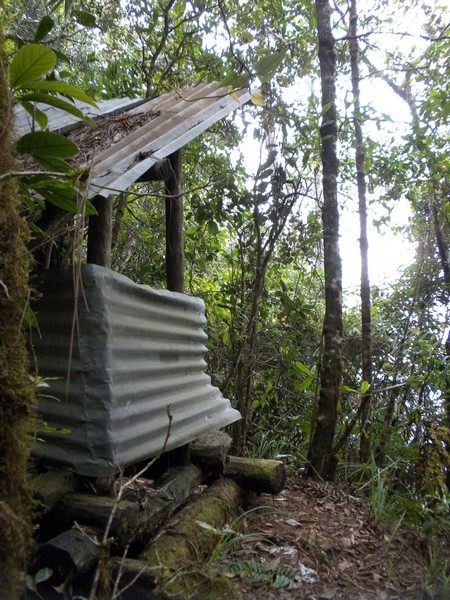 Toilet with a view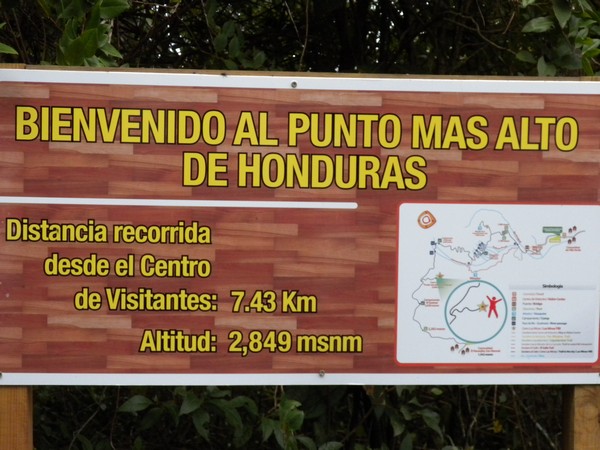 Highest point in Honduras!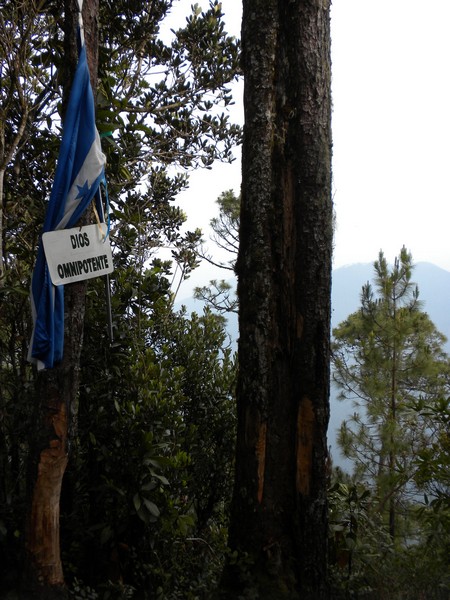 "God sees all" - probably meant to deter littering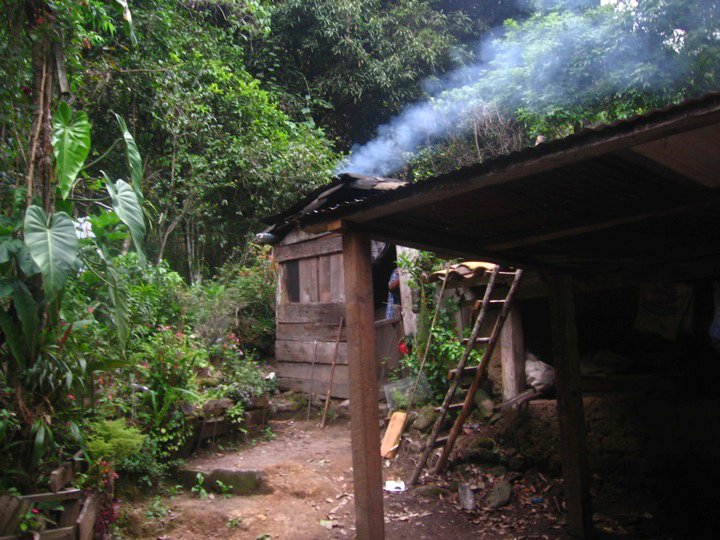 Homemade lunch at the edge of the park (photo credit: Frank)

Parade to the church for the Saturday vigil (photo credit: Kerry)
8 hours ABT - Copan Ruinas
Frank came by our room at 3am to wake us up. Between him and Kerry, they had one timepiece, which was a phone that randomly switched between Honduran and Florida time (2 hours difference). I succeeded in chasing him away and we slept until just before 5 when we went to find a bus back to Santa Rosa. When we arrived at the station, a bus sat honking and revving its engine, supposedly ready to go at any second, but it was completely empty and would in fact not move for another thirty minutes; this worked out well for Mike, Rob and Nick, who were still sleeping in their room at the time.
From the Santa Rosa bus station, it was a 1km hike uphill to town. There, we found tranquil cobblestone streets and a bustling market full of delicious snacks. I got a chicken tamale (L$8), pink goo with cumin and beans (L$5), a cheese-stuffed pupusa with beets (L$10) and a lollipop (L$1), while the others picked up empanadas and various fruits. We hopped on a bus that made a long circuit of the town before returning to the station, and grabbed another bus to La Entrada. At La Entrada, we got egg nog and other assorted beverages and took yet another bus toward Copan Ruinas.
The famed Copan ruins lie two kilometers before the entrance to the town of the same name. We waded through the typical assortment of souvenir vendors, selling impressive hand-carved Mayan statues for 50 cents; as usual, I was reluctant to add anything resembling heavy rocks to my pack to carry for the rest of the trip, and those returning to the airport that evening weren't entirely certain that they had enough money to get out of the country and thus were determined to conserve every lempira. The entry fee to the park was $15, or roughly double what we had each spent on food and lodging the previous day; this did not include entrance to the tunnels ($15) or to the museum ($7). We spent around two hours climbing pyramids, appreciating intricately carved stelae, and chasing down parrots and agoutis. In mid-afternoon, the site, touted as the #1 tourist attraction in Honduras, seemed almost completely devoid of western tourists.
There were countless sealed doors leading into the interior of the temples but only two tunnels open to the public (and only then with the special ticket). The first guard quickly chased us away when we neared one of the entrances, but the second that Mike, Nick and I encountered beckoned us to come a few steps into one of the tunnels to get a feel for it. There, obscured from the view of any onlookers, he proceeded to echo our conclusion that $15 was way too much to pay to see a few hundred feet of tunnel, and that perhaps we could come to some agreement. With around two dozen finger-to-the-lips quiet gestures, the guard requested $15 for the three of us, which was later upped to $20 when Jeff and Priti randomly appeared and were quickly ushered into the tunnel entrance. The dimly lit passageways were atmospheric and full of interesting artifacts and quite likely worth the four bucks (though certainly not $15). We nearly blew the whole operation when we came within a few feet of the other entrance where the first guard waited, but Mike stopped just short of the door and silently motioned for us to return the way we had come.
The five with the early flight went out to stand by the road and catch a bus to San Pedro Sula, while the three that remained embarked on a 1.2km nature hike. When we finished this hike, we met the larger group hanging out by the bathrooms, as of yet unsuccessful. But shortly thereafter, they apparently found some conveyance to the bus station, and a few minutes into our walk towards town, a bus roared by with a group of wild-eyed gringos hanging out the windows. We questioned whether they would be able to find their way back, as the only three with a reasonable proficiency in Spanish were in the group that stayed, and if they did succeed in getting back, there was still the question of whether they could pool enough money together to pay the hefty $37/person departure tax.
For twenty bucks, we got a room with two double beds, a TV and a fan, in a charming little place with a rooftop pool and hammocks, free drinking water, and internet. Immediately after we arrived, an ice cream truck came rolling up the hill, and I raced out to get a L$5 cone of strawberry cream. We hunted down a less touristy restaurant and got plates piled high with delicious food for just over three bucks. While we waited for our food, the area was abruptly bombarded by pouring rains and hurricane-force winds; we twiddled our thumbs until there was a loll in the storm, and then made a mad dash back to our room. The area was supposed to be full of good hikes, caves, a canopy tour, and other attractions, but the tourist office was closed, daylight was slowly slipping away, and the weather was unpredictable, so we opted to leave these activities for another trip. I went to the 7PM mass and sat through an hour-long homily that surely would have tried my patience even had it been in a language I could understand. When I returned, the guys were watching the tail-end of an English movie; as the credits rolled, we entered into an entirely too involved conversation about the legality of buying cheap guns in El Salvador and mailing them back to the states (for the record, I was summarily opposed to the idea), and when we finally looked back at the TV, the credits had been replaced with graphic porn, which seemed just a touch out of place at 9PM on a Sunday in a conservative Catholic country.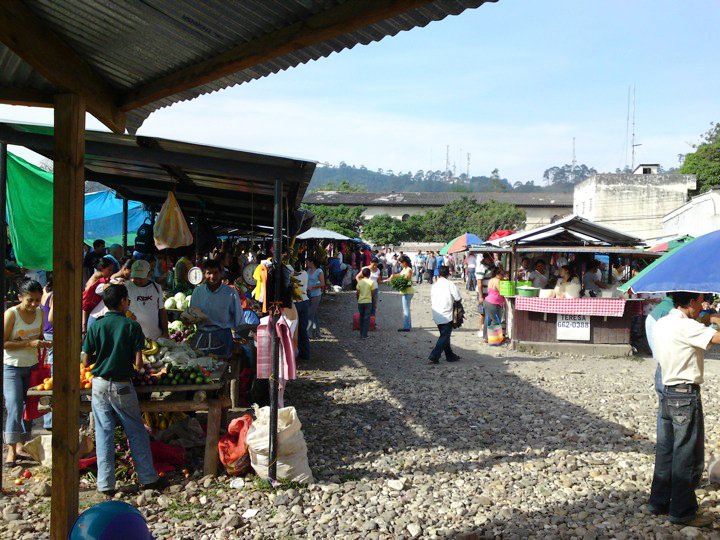 Market in Santa Rosa (photo credit: Mike)

Pupusas on the grill (photo credit: Kerry)

An array of snacks from the market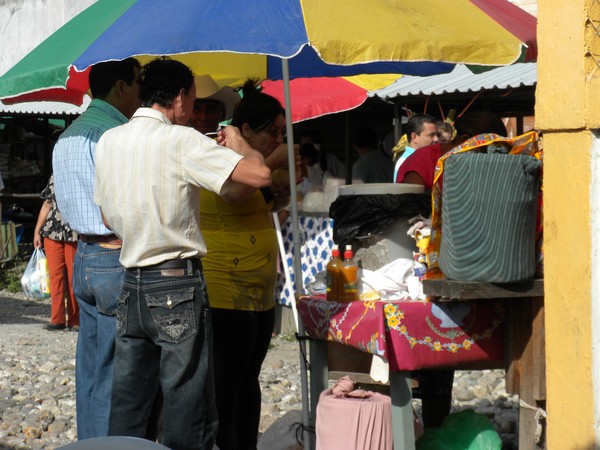 Hondurans eating bizarre, tasteless pink stuff with beans and cumin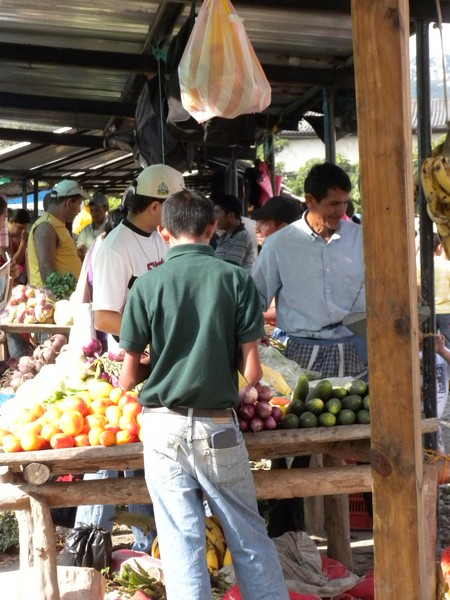 Produce

Santa Rosa church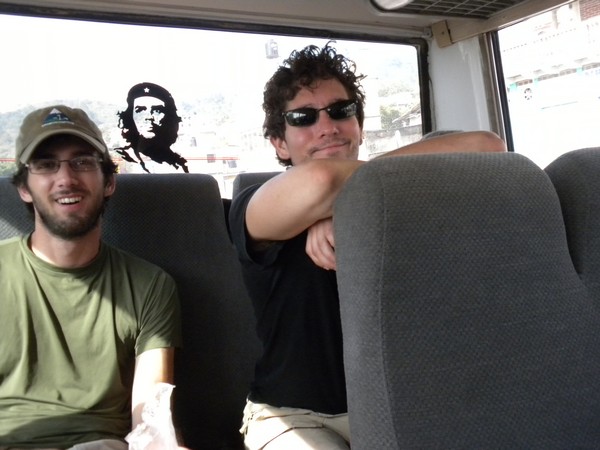 Mike, Jeff and Che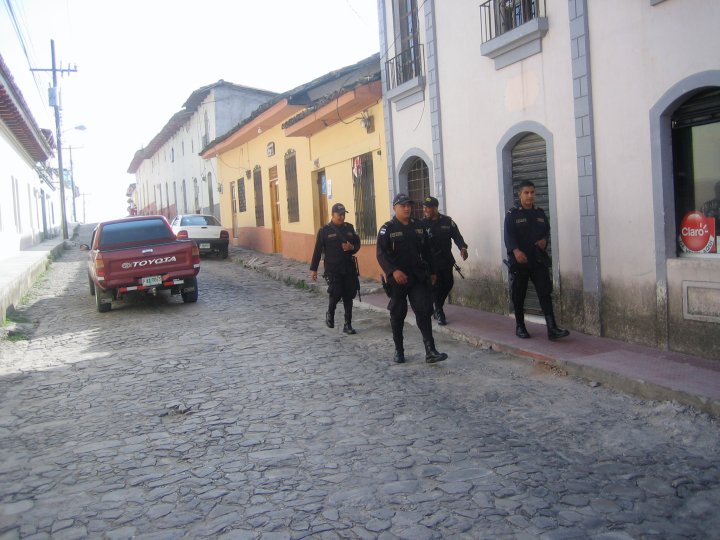 The men in black (photo credit: Kerry)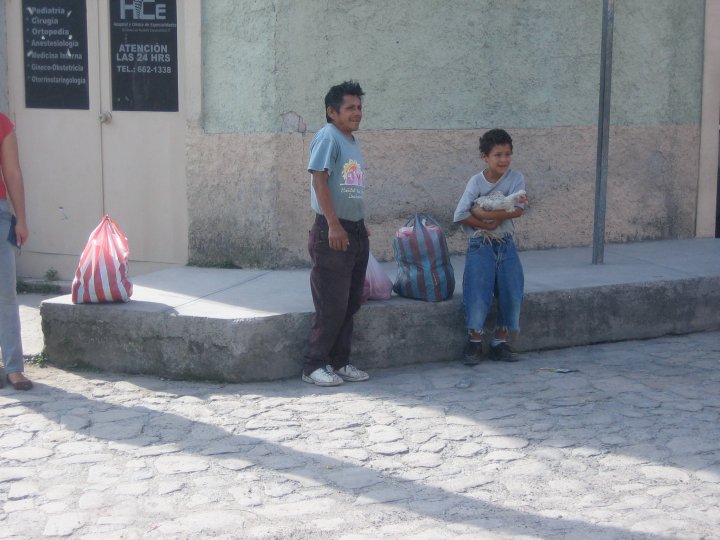 The chicken that was about to board our bus (photo credit: Kerry)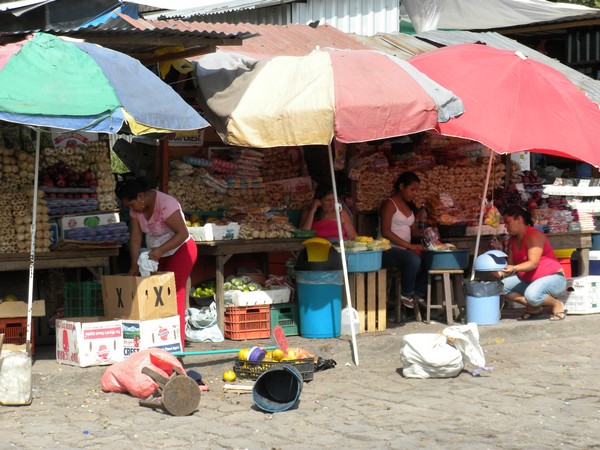 Sweet shops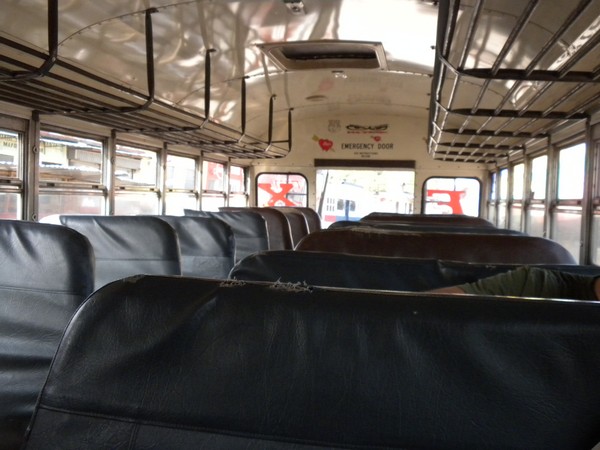 Typical intercity bus - in a former life, it hauled kids to school in Minnesota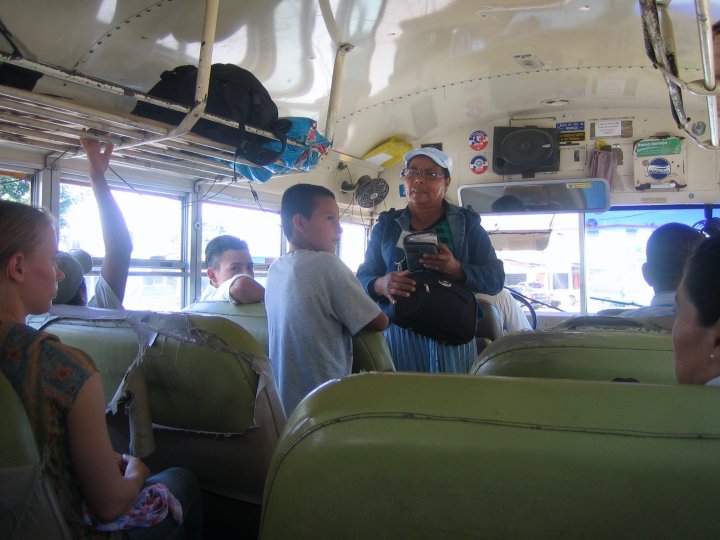 Bus preacher (photo credit: Kerry)

Turtle eggs?!

Countryside (photo credit: Mike)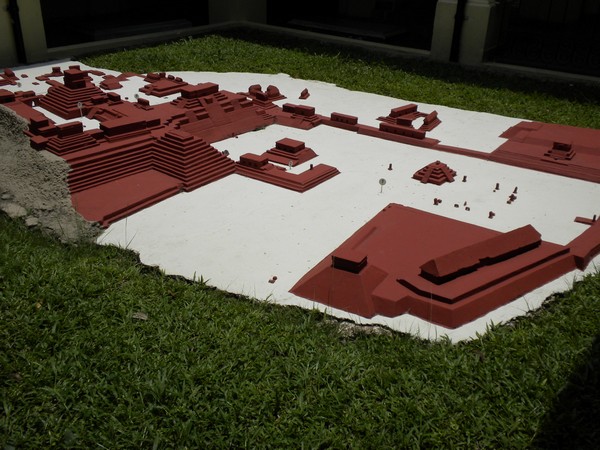 Copan in miniature

Catapult?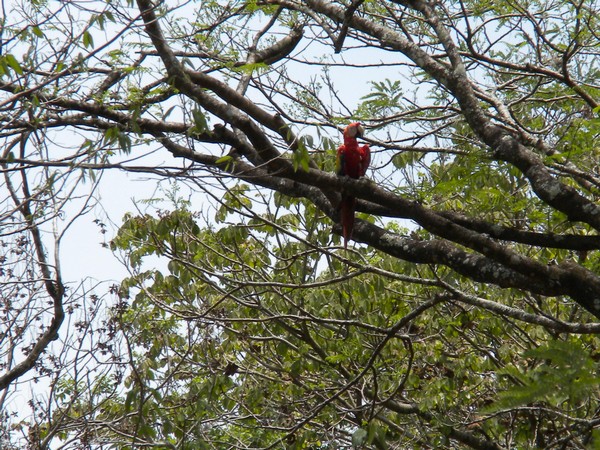 Wild parrot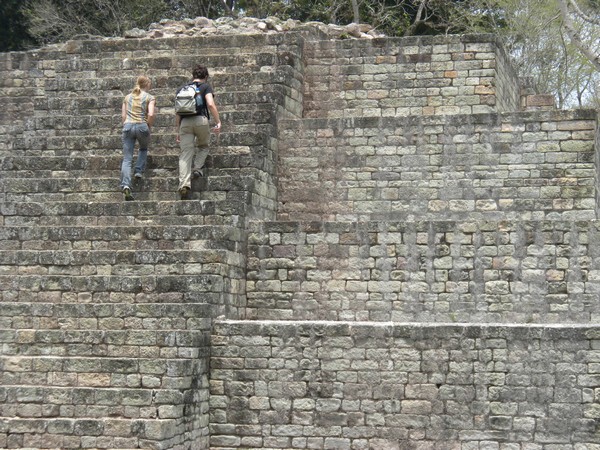 To the top of the temple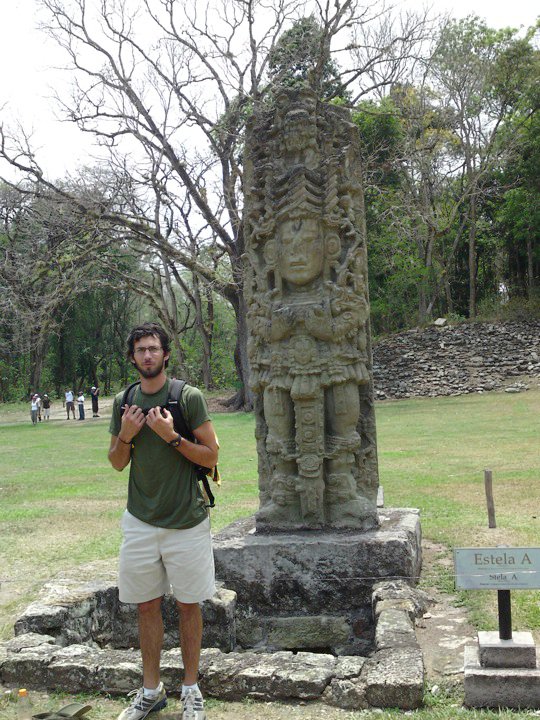 (photo credit: Mike)

(photo credit: Mike)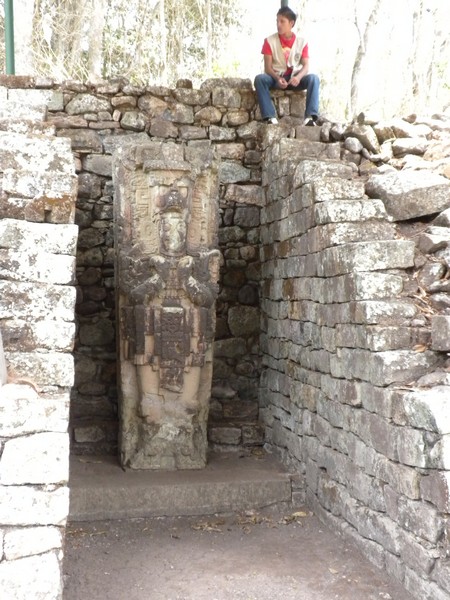 One of many intricate stellae

Super fun slide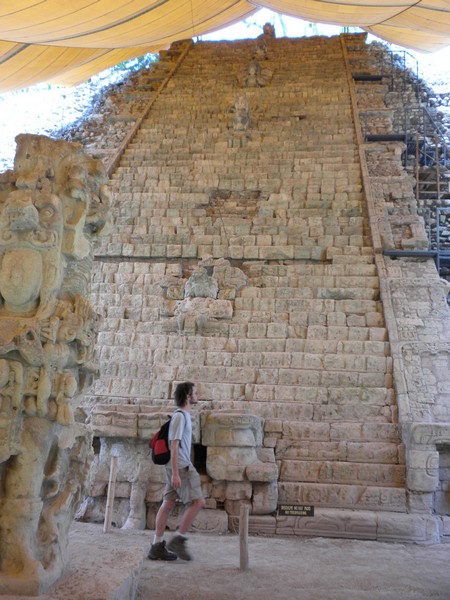 Larger pyramid

One of the main plazas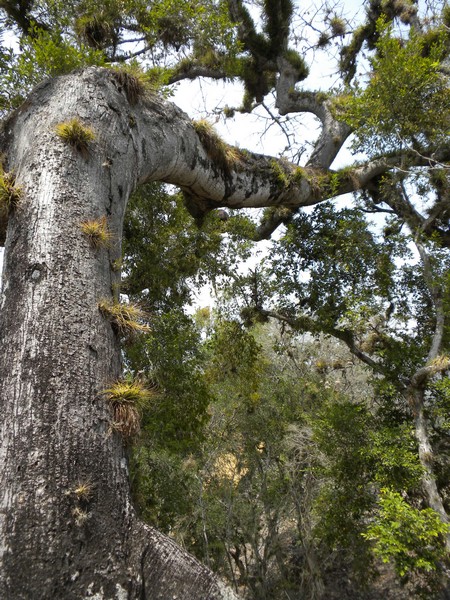 Silk cotton tree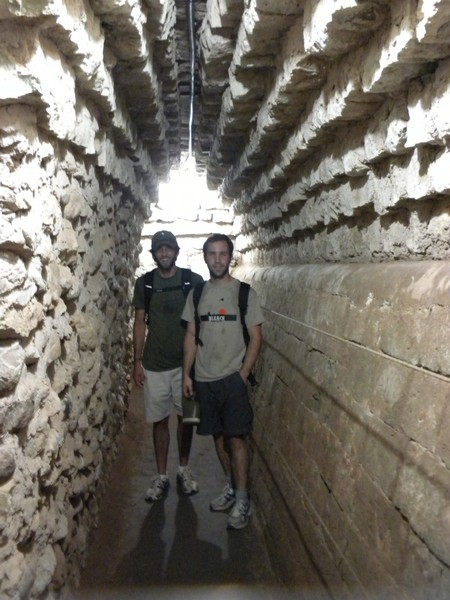 Ill-begotten tunnel access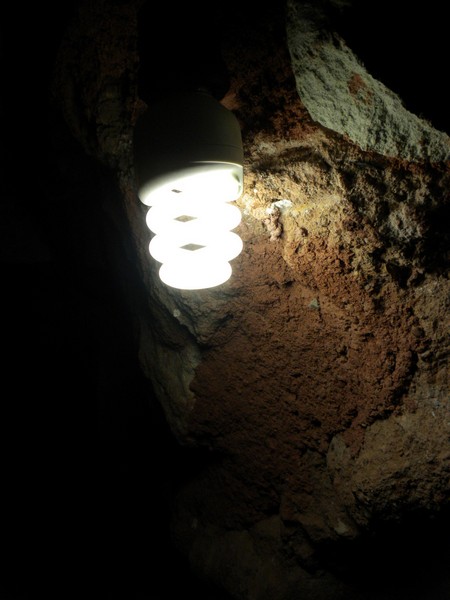 Ancient Mayan lighting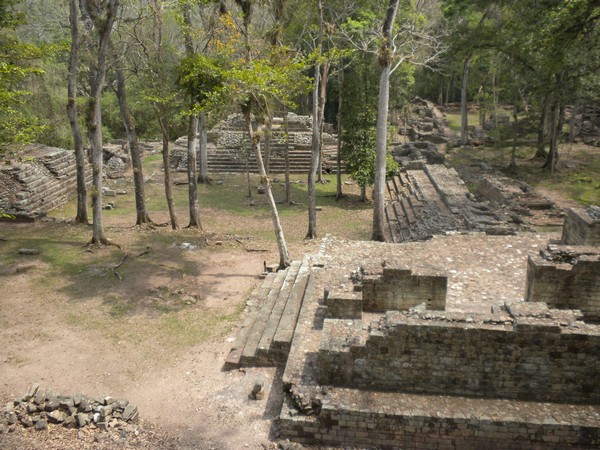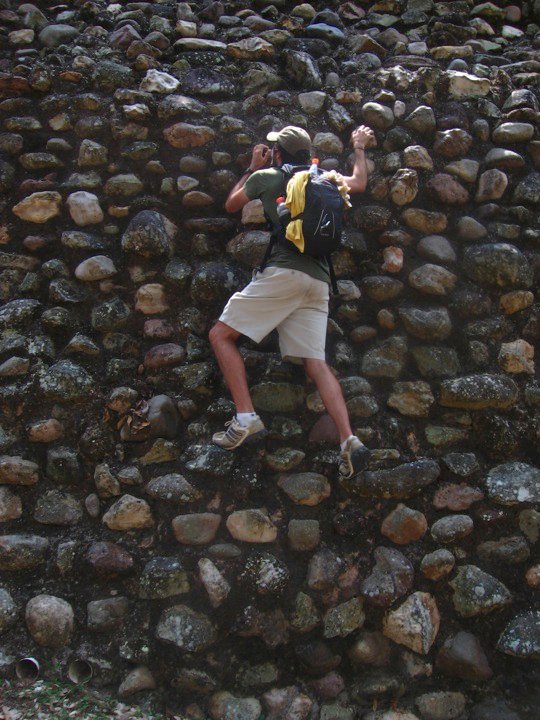 Scaling the temple walls (photo credit: Frank)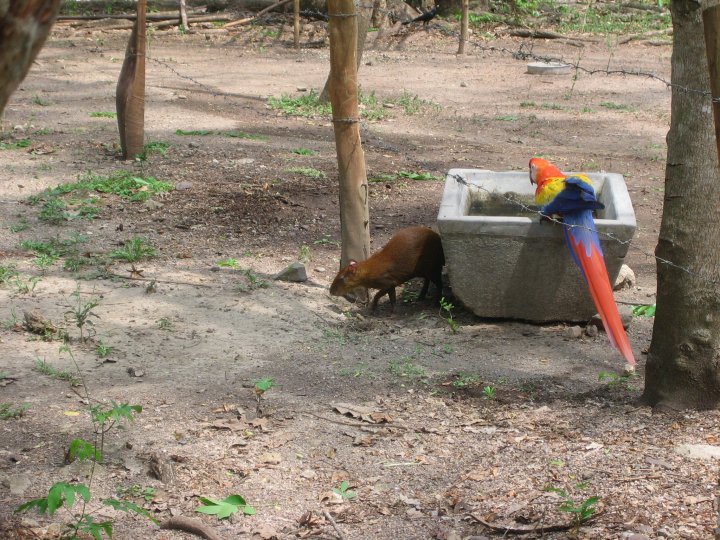 Agouti (photo credit: Kerry)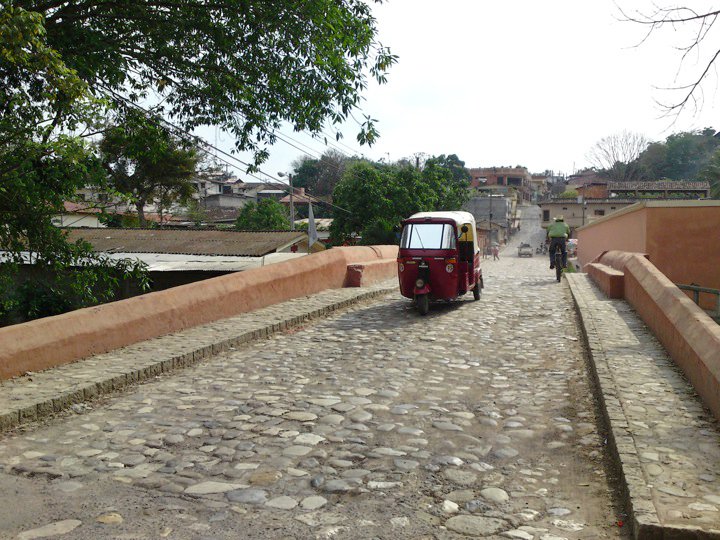 Bus into Ruinas (photo credit: Mike)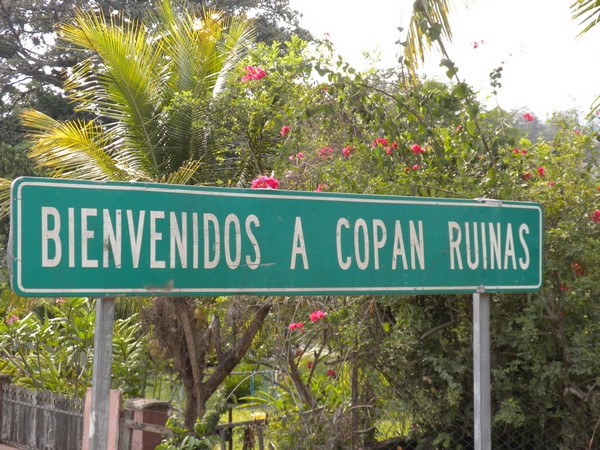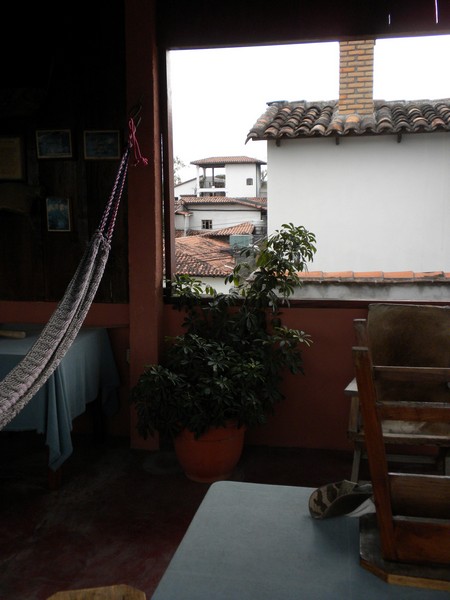 Roof of our hotel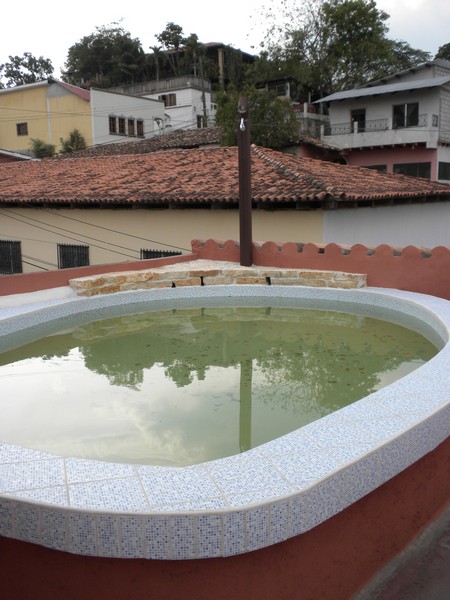 Rooftop pool!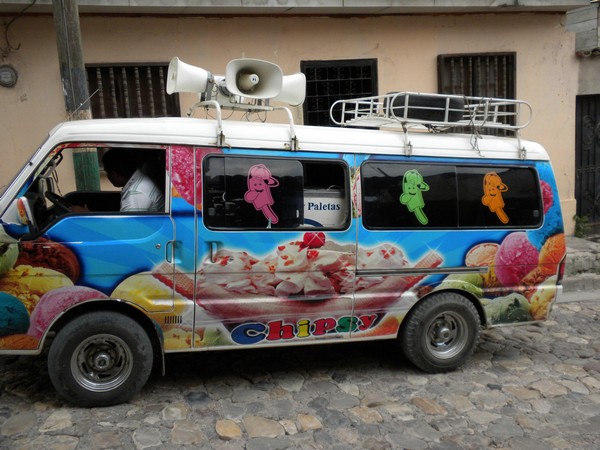 25-cent ice cream cone truck

Harley Davidson cafe
15 hours ABT - Santa Ana (El Salvador)
We got up at 5:30 and headed for the bus station. The promised 6am bus was nowhere to be found, so we started hiking up the road toward the Guatemalan border some 12km away. Strangely, none of the trucks that passed offered to give us a ride, so we were walking for a good hour before a bus finally came to a stop and drove us the remaining few kilometers. The crossing was mostly painless; entry to Guatemala cost 10 quetzals, but there was no paperwork and little in the way of questioning. We immediately found a bus to Chiquimula (Q$25), and there boarded another bus to Angiatu (Q$15). This bus inexplicably stopped in a village halfway where we were told to board another; luckily our payment somehow magically carried over from one to the next. While we were waiting in one of the villages en route, a man with a detachable plastic arm, who wore an American flag t-shirt, and a cross-country backpack from a US high school, boarded the bus and proceeded to give a riveting speech, complete with pantomiming and sound effects, about how God would come and machine-gun down sinners, while all-the-while popping his arm on and off. Oddly enough, he spoke impeccable English and made a personal appeal to us for any spare change we might have.
At the border, we wandered through a confusing jumble of Guatemalan immigration offices before we finally found a window that would take our passports. The other two got their passports back within a matter of seconds, but mine was a cause for some concern, and the official spent a long while thumbing through the visa pages and typing various things into the computer. After some time, the official explained to me that, on my previous trip to Guatemala, the official had neglected to enter my information into the computer, and I would need to go somewhere and photocopy a few of the pages. After making a circuit of all of the nearby offices and convenience stores and finding nothing in the way of a photocopier, I returned to the first official and he reluctantly used his own machine to make the copies. He came up to the window and said simply "4900 quetzales"; the best I could manage was a stunned "Que?". He clarified: "4900 quetzales is the fine", and he wrote the sum on a piece of paper so as to remove any ambiguity. I sat there in stunned silence, wondering whether it were indeed possible that this brief 4-hour foray into Guatemala would in fact end up costing me over six-hundred dollars. After allowing his previous statement to marinate for a good 45 seconds, he returned to the window and, smiling, added "but you don't have to pay it, because it's not your fault". I got my passport back and we proceeded across the bridge into El Salvador.
The Salvadorean officials took one look at our Honduran 90-day permits and waved us through without a stamp; apparently, there is some sort of agreement that occasionally allows for free passage between Honduras, El Salvador and Nicaragua. Seconds later, a bus, apparently destined for Santa Ana, pulled up and did a u-turn; we hopped onboard, and the bus was subsequently driven about 50ft before the driver came to an abrupt halt, stopped the engine and went out for a smoke. We had half an hour before departure, so we stopped in at one of the shacks along the river and got plates piled high with rice and chicken; Mike, seeing that I was still hungry after finishing my wing and drumstick, generously passed his chicken foot off on me.
The old California school bus laboriously chugged up the mountain that began immediately after the border; we listened to the animated conversation of a pair of strolling grannies as they kept pace with us all the way up. In an hour we were in Metapan ($.45), where we boarded a second bus bound for Santa Ana ($.90). While this bus idled at the station, men with handfuls of ice cream cones boarded and began hawking their wares at 25 cents apiece; this struck me as a rather risky enterprise, since it was about 100 degrees out, and failing to sell 100% of the product to the first few busloads could have dire consequences.
The second city of El Salvador, Santa Ana, was a bustling hub, filled with chaotic markets, commercial centers and buses to points across the country. The bus stations had been conveniently located amongst the street markets and so, in order to enter or leave, our buses had to painstakingly crawl through the maze of tents and crowds. The markets sold all matter of exotic foods and merchandise, but bananas seemed to be the focus; vast storerooms piled high with the fruit could be found interspersed amongst the vendor shacks throughout town. We stopped by a sorbet shop where I got a cone with the flavors "purple" and "salad" and we investigated buying cheap Chinese motorbikes in preparation for an upcoming trip that would see Mike and Nick ride several thousand miles from Costa Rica back to Gainesville. The cathedral and theater were worth a look, but what really caught our attention was a decaying abandoned palace. It would be easy enough to sneak in and explore, but the types milling around the area suggested it might not be the best of plans to put ourselves out of view of the street.
We returned to the bus station and attempted to find a way to Suchitoto, a quiet, historic town that was one of El Salvador's top destinations and conveniently quite close to the Honduran border. Unfortunately, we were told it was impossible to get there by the time the busses stopped running, and, with no desire to end up in San Salvador overnight, we instead took a bus to Ahuachapan on the popular Ruta de Las Flores. This bus was remarkable for a few reasons; first it only cost 45 cents for a 1.5 hour ride, and second, there must have been at least thirty vendors who passed through it as we left town; there were the typical snack and soda sellers, but in addition, there were people purveying bananas (7 pounds for 25 cents), apples, onions, peppers, green beans, and every other manner of produce; there was even a toothless man who gave an impassioned speech about the toothbrushes he was selling. In Ahuachapan, we jumped onboard one of the last buses of the evening to the village of Ataco and arrived there just after sunset.
It seemed none of the hotels listed in the book still existed, and none of the signs claiming to point to hotels in the area ever lead us to anything resembling one. We eventually found a place by random chance; it was a rather high-end establishment with a garden-filled courtyard, free toiletries, Egyptian cotton washcloths, hot water, and other amenities to which we were not accustomed. It also had a small collection of four-legged citrus fruit, which we found odd.
When we finally set out to find something to eat at 8 o'clock, the selection was a bit limited. We stopped by a pupuseria and asked the owner if she had any food; "no food", she replied, "only pupusas". We decided not to argue the apparent contradiction here, but explored a few more streets before settling on another pupuseria where we each got two bean and cheese pupupas and a can of fruit nectar for a dollar.

Long hike to the border (photo credit: Mike)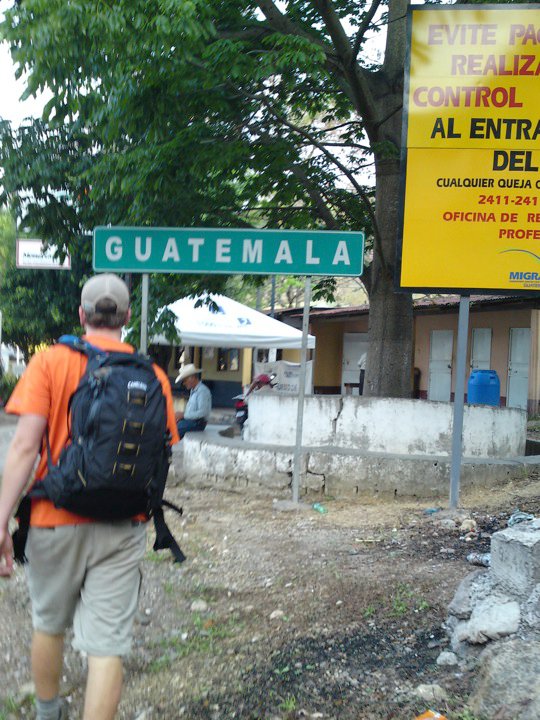 Break on through to the other side... (photo credit: Mike)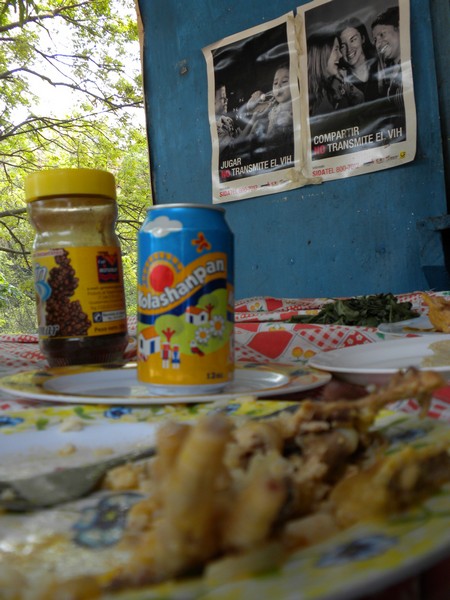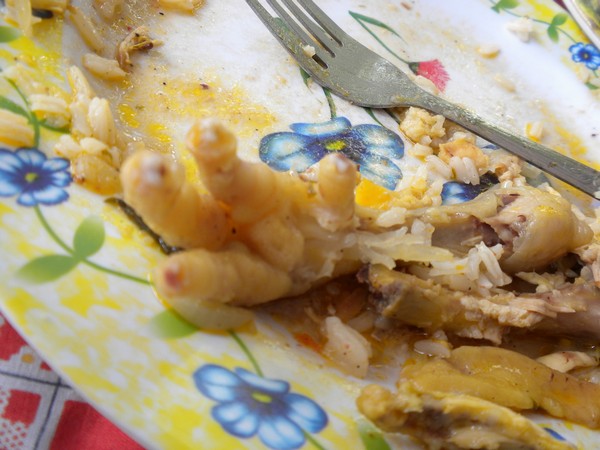 Chicken foot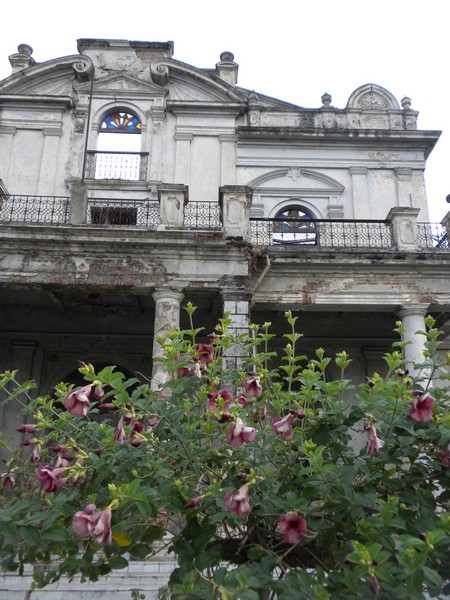 Abandoned palace in Santa Ana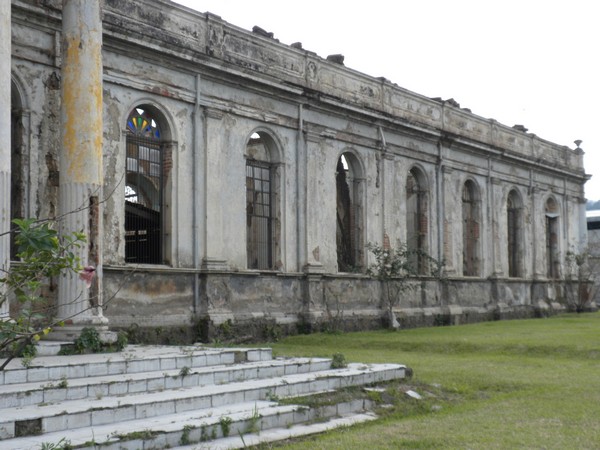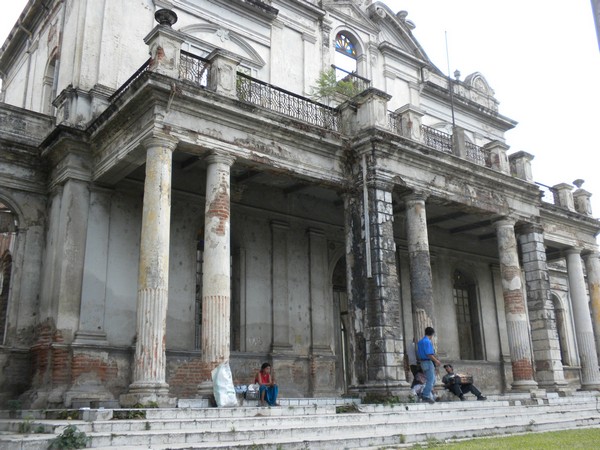 El Salvador has some gun issues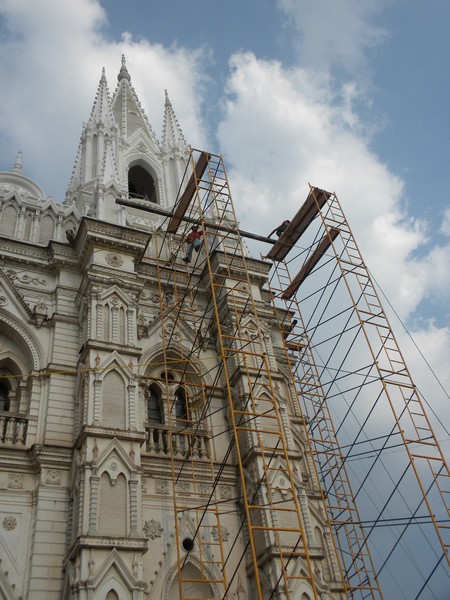 Strange mythical beast in cathedral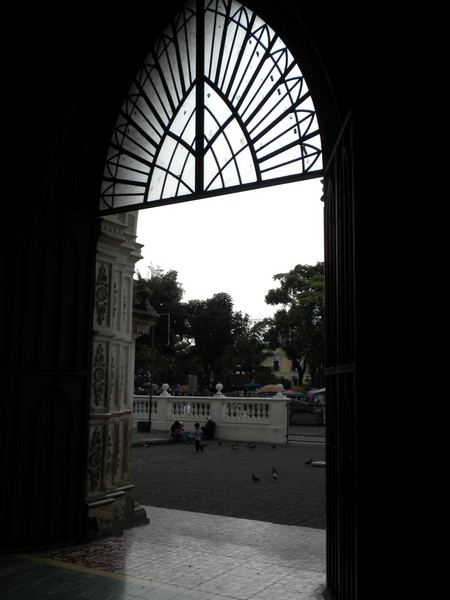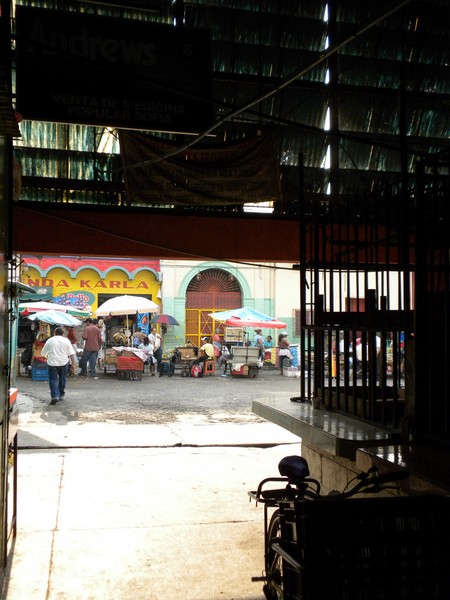 Santa Ana market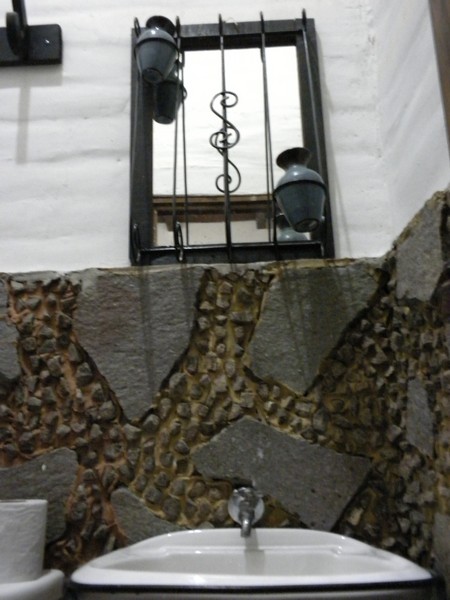 Decor of our swank Ataco hotel room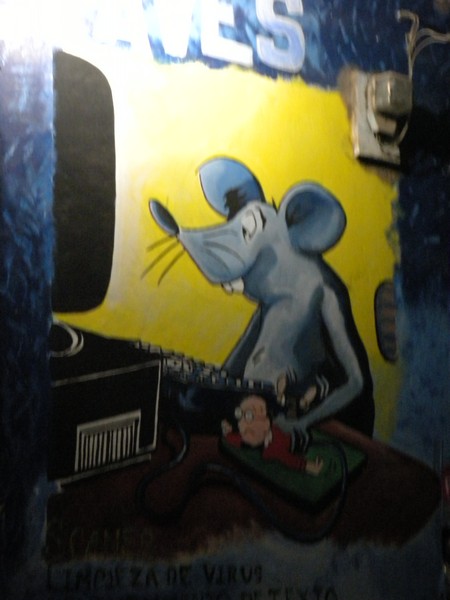 A frequent nightmare of mine...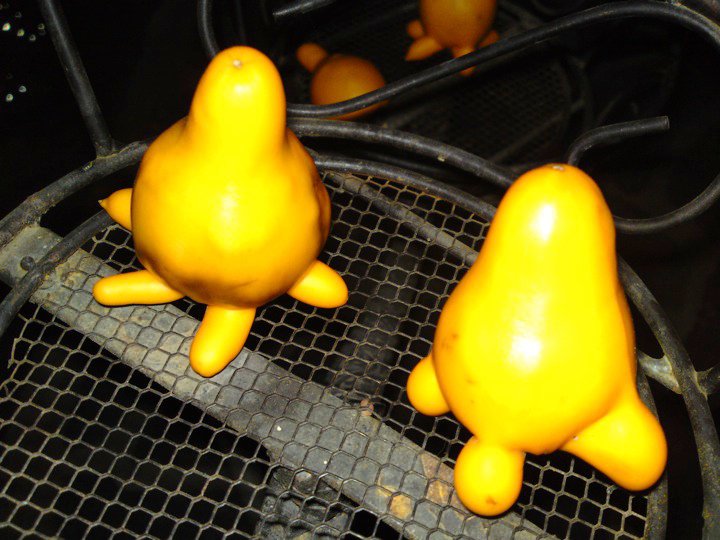 Citrus with feet? (photo credit: Mike)
17 hours ABT - Ruta de Las Floras
We were up and moving by 6 and explored the quiet streets of Ataco. A short hike took us up to the cross overlooking town, and constituted most of the exercise we would be getting that day. The market was still shuttered, so we took a short, blazingly fast bus ride to the nearby town of Apaneca. The bus dropped us directly in front of the market, and we ordered delicious meals of eggs, beans, salsa, and plantains accompanied by pina coladas. After a quick look around the quiet, cobblestone streets, we went out to the road and got a ride with an off-duty cop to the nearby city of Sosonate. Here, we found an express bus to San Salvador, and, after seeing what we could of a dubbed version of Avatar, arrived in the capital some two hours later.
San Salvador has multiple bus stations, so in order to take our bus to El Poy, we had to hop on a city bus from Terminal Occidente to Terminal Oriente; we overshot the second terminal by some distance and ended up backtracking on foot. We were soon well on our way to the Honduran border; I briefly contemplated stopping in the town of La Palma, where 80% of the population are artists, and murals abound, but reluctant to add another bus to the mix, we stayed on all the way to the turnaround point. The Honduran officials did not simply wave us through as the Salvadoreans had done, but made us pay $3 for the privilege of returning to their country.
Once on the other side of the border, we began walking in the direction of Nuevo Octopeque. A truck stopped without provocation and I walked around to the passenger window to negotiate a ride; he made no effort to roll down the window, so we jumped in the back and rode into town. Octopeque didn't seem to have a whole lot going for it, but it did feature a tourist office with free maps and brochures and a helpful staff that spent 20 minutes explaining to us all the stuff we could have done in the region if we had had more than two hours at our disposal. A fast food restaurant, which we believed at the time to be the only game in town, served us hamburgers, as well as a pile of plantain crisps that had been smothered in beans, sour cream and ground beef; it was easily the worst meal we had found on the trip thus far. Our bus left for San Pedro at 5:30 and by 10 we had arrived at the central bus station.
Though I knew nothing of it until we arrived at the station, Rob had spent the trip getting to know a few of the locals. In a romantic comedy-esque scene, the woman in front of him had suddenly dropped her seat back as far as it would go, eliciting a cry of pain from Rob and providing the impetus for a conversation. This woman was quite determined to marry off her young daughter to a rich American and thus open up her chances for a life of luxury in the States. By the time we arrived, she and Rob had exchanged emails and phone numbers, and had arranged to share a taxi.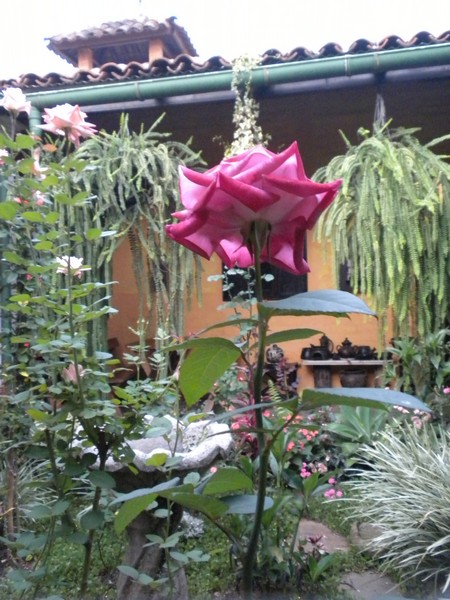 Hotel garden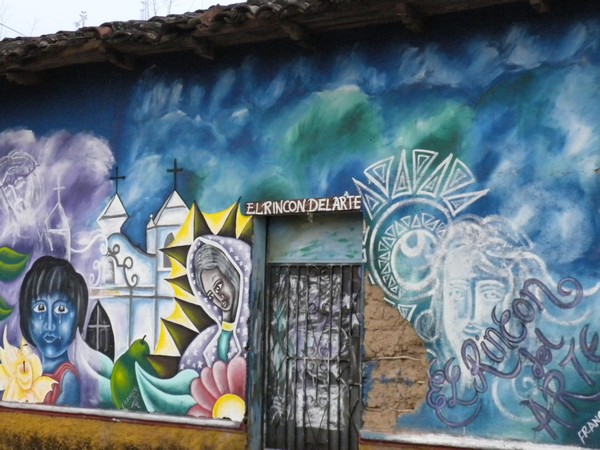 Ataco murals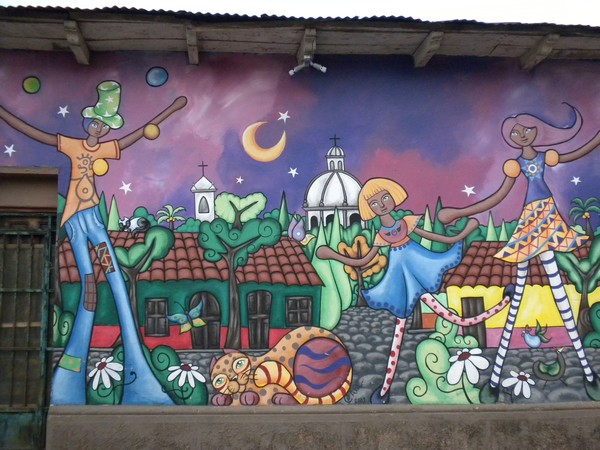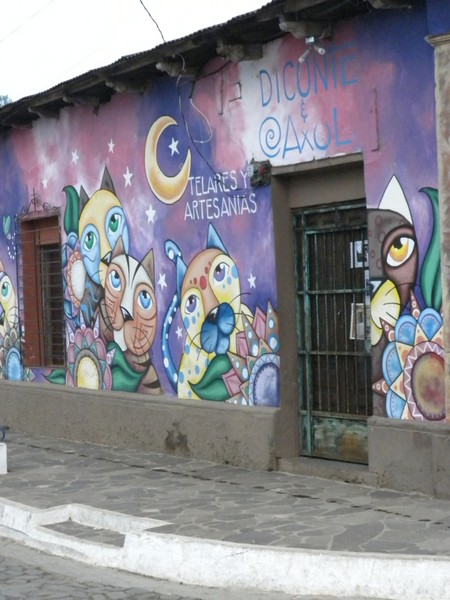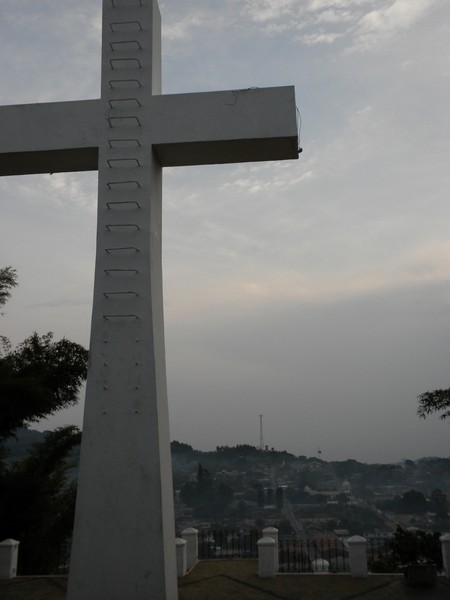 Mirador del Cruz

Ataco from above

Who doesn't love aspirin?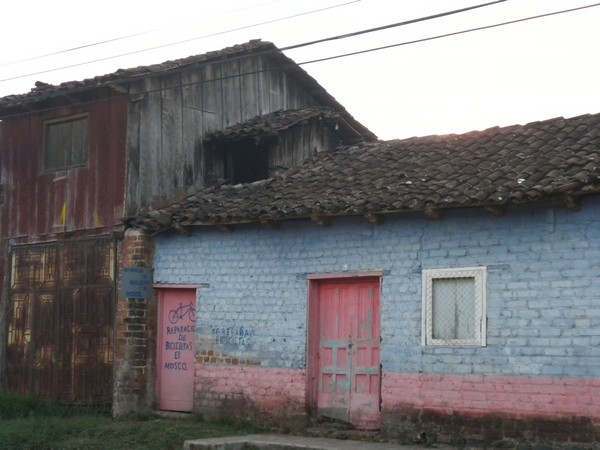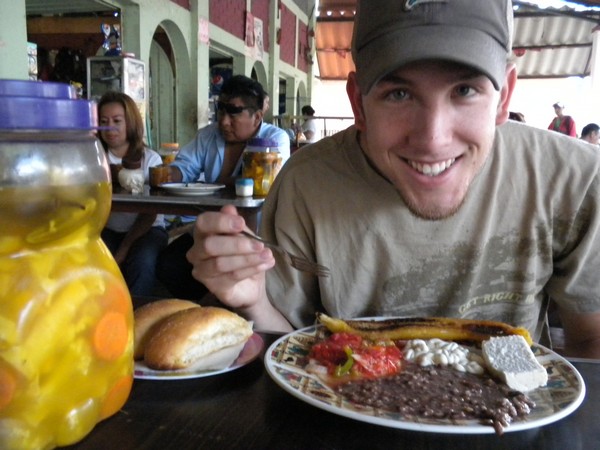 Huge breakfast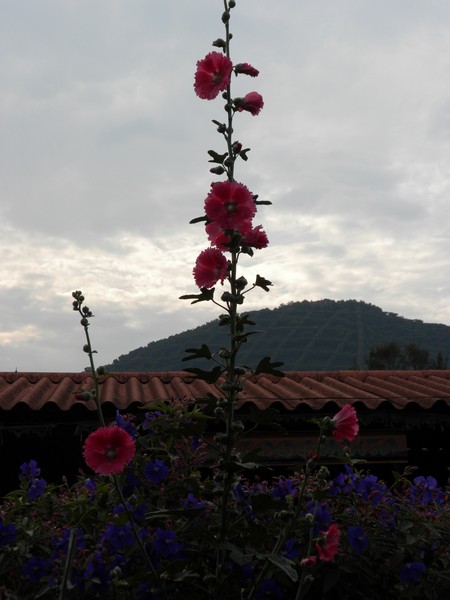 Market garden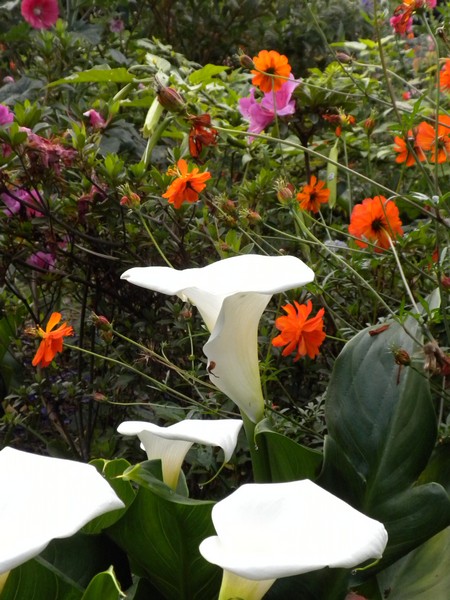 Just steps away from the butcher...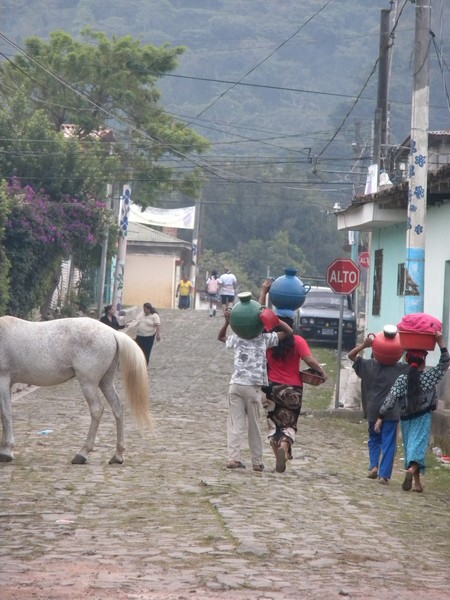 People with buckets on their heads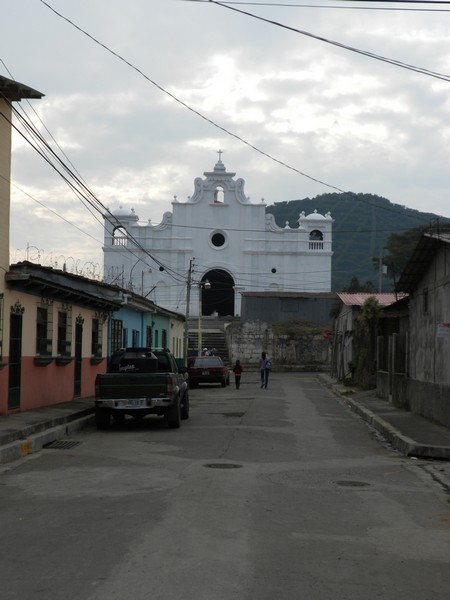 Apaneca church

Banana soda

Heart attack on a plate
27 hours ABT – Villeda Morales Airport, San Pedro Sula
We arrived at the airport and bought a few tacos and sodas from a vendor outside before going to check in. We used a mix of our leftover lempiras and dollars to pay the steep $37 departure tax; the process was a bit enigmatic – Mike handed over two twenties and got five dollars and 12 lempiras back in change – but we ended up having enough hard currency to get out of the country. Another man apparently did not, and his ATM card was proving ineffective, so as we passed through, he was going back and forth between the check-in desk and currency counter, trying to find some way to negotiate his return to America.
Rob's mom picked us up at the Fort Lauderdale airport and drove us to our car. Frank's grandma had insisted on keeping our key, so we were forced to wake her up when we arrived just before 6 in the morning. By noon, we were back in Gainesville; I had a full two hours of sleep under my belt and was ready to tackle the mountain of work that had somehow accumulated in my 4-day absence.
Currencies
| | | |
| --- | --- | --- |
| 1 US Dollar | = | 18.89 Honduran Lempiras |
| 1 US Dollar | = | 8 Guatemalan Quetzales |
| 1 US Dollar | = | 1 Salvadorean US Dollar |
Costs
| | |
| --- | --- |
| Ft. Lauderdale-San Pedro Sula Flight | $88 |
| Taxi from airport to bus station (8 people, 2am) | $20 |
| San Pedro Sula to Santa Rosa bus (3am) | $8 |
| Santa Rosa to Gracias bus | $2 |
| 3 rooms for 8 people in Gracias | $25 |
| Giant breakfast with eggs/cheese/steak and fruit smoothie | $3.50 |
| National Park entry | $2.50 |
| Empanadas, tamale, or pupusa in Santa Rosa market | 50 cents |
| Copan Ruins | $15 |
| Bribe for tunnel guard | $4 |
| Room for 3 with swimming pool | $20 |
| Entering Guatemala from Honduras | $1.25 |
| Series of Guatemalan buses from Honduran border to El Salvadorean border | $5 |
| Chicken, rice, and can of cream soda on El Salvadorean side of border | $2 |
| Bus to Santa Ana from border | $1 |
| Ice cream cone on bus | 25 cents |
| 12 giant bananas on bus | 25 cents |
| Bean and cheese pupusa at pupuseria | 25 cents |
| Swank hotel in village of Ataco | $25 |
| Bus from San Salvador to border at El Poy | $1.60 |
| Entry fee for Honduras | $3 |
| Bus from Honduran border to San Pedro Sula | $7 |
| Departure Tax | $37 |
| | |
| Total in-country | $150 |