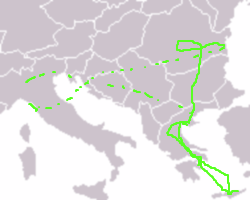 I was never a big fan of ontologies. My coworker Chen's contribution to our system often seemed to succeed only in making the whole thing slower and more complex, without adding much in the way of extra functionality. I don't remember what I added to his conference paper; perhaps I had a written a section or maybe I had just checked over the grammar, but I never thought much about it - until one day when he sent the group a message saying it had been accepted and, because of his new job, he needed someone to cover the presentation for him. I have since developed a healthy appreciation for the semantic web, but when I got that email, the aspect of the conference that really appealed to me was that it was to be held on an island in the middle of the Mediterranean Sea. No one else in our group was inclined to make such a trip, so I selflessly volunteered to shoulder the burden and see that the paper was given the hearing it deserved.
Crete is not an easy place to reach, and if I were to book a single ticket from Florida to Iraklio, it would have cost upwards of $1200. So, after considering every possible permutation of European cities and discount airlines, I found a cheap flight that flew from Tampa to Milan and returned from Pisa, along with an EasyJet flight from Milan to Thessaloniki and a RyanAir flight from Romania to Pisa. I did some preliminary calculations to insure that I could reach the airports on time, and booked for a 17-day span surrounding the conference. I announced the trip on the outdoors club listserve, but few seemed very interested in an excursion that would likely cost thousands of dollars and allow for only a few nights of fitful sleep. Vlad, already planning to be in the area, announced that he would meet me in Bucharest whenever I arrived.
Amanda had, quite by accident, booked her flights to California such that she would fly out of the same airport the morning after I returned, so it was decided that she would drop me off, keep my car for a few weeks, and then return it to me when it was time for her flight. She had a morning class, so I found myself at Tampa International at 8am Wednesday morning, a full six hours ahead of my flight.
Escalators are a funny thing. Those in the Atlanta airport are exceptionally long, such that if you stand still, it takes a full 90 seconds to get from the top to the bottom. And herein lies what is for me a great curiosity. The average passenger you see transiting through the Atlanta airport is running full-tilt to catch his/her next flight. These people will cut through newsstands, hurdle over small children, and generally abandon all measures of decorum that they assume in their everyday lives, and all with one or more large rolling suitcases in tow. However, when they reach an escalator, they stop. The idea of walking down this set of moving stairs to expedite their journey has never even crossed their minds; to propose to them that they should move themselves and their luggage to one side so that others may pass, would seem every bit as foreign as if you were to ask that they squat so you could crawl over.
My exit row seat on the cross-Atlantic stretch had around three feet of legroom more than I could ever use; if another passenger had brought in a folding chair and set it up in front of me, we probably still would have both been more comfortable than we would have been in standard seating. The disadvantage was that the lack of body heat made my space absolutely frigid, and I had to make frequent trips to the balmy lavatory just to stave off hypothermia.
Day 1 - Milan and Bergamo
Aside from a convoluted series of local trains and buses, the cheapest way from Malpensa airport to Milan is by an hour-long bus ride that costs a whopping seven and a half euros each way. When I arrived in town, it was pouring rain. I had seen this coming; there had been a 90% chance of thunderstorms in the forecast, but there seemed to be little I could do about it. I was compelled to visit Milan one way or the other and I only had a day to do it, and since I was travelling with only a single small bag, rain pants or alternative footwear were out of the question. A host of recent immigrants from parts south sold umbrellas around the central station, but this seemed a silly investment when this would surely be the last rainy day of the trip. There was nothing left to do but don my disposable poncho and get soaked from the knees down.
Milan is a city of fashion, art and shopping, and can be a little dry for the budget traveler or tourists in general. I stopped at the public gardens in search of a free bathroom, then considered going to the natural history museum since it had an exhibit on caving and would inevitably be drier than outside. It was, however, considerably more expensive than wandering around in the rain, and there was, too, the matter of a swarm of school children who arrived at the same time I did.
In a nearby art district, I stopped in at an exhibition bearing the sign "Paul Mccarthy, Free Entrance"; I had never heard of the artist but the second part appealed to me. I smiled and nodded at the attendants standing by the door, wondering if they would give me any direction or background, but they just stared down at their shoes, seemingly ashamed. In the entrance hall was a larger-than-life sculpture of a man violating a pig. As I followed signs through what appeared to be an abandoned warehouse, sounds of horrified screams followed me, and each room held disturbing videos of people who were covered in ketchup and wearing pig noses. Eventually it all ended with a tub of ketchup surrounded by hundreds of emptied bottles, followed by an 80-foot tall inflatable bottle. Modern art is a curious thing... much like escalators.
I explored what appeared to be an art college and then moved onto some sort of large, open castle. Lunchtime rolled around but it seemed there was not a meal to be had for anything short of twenty euros; not a single kebab shop was to be found, and gelato, one of my primary motivations for going through northern Italy in the first place, was infrequent and expensive. I eventually arrived in Plaza del Duomo, the tourist hub of the city, and coughed up the five euros to climb two-hundred steps to the top of the insanely ornate cathedral. After passing a slew of absurdly tempting gelato displays, I broke down and bought two scoops and then returned to the station to catch the next train to the nearby town of Bergamo.
Unlike Milan, Bergamo is the quintessential tourist draw; an old fortified town rests on a high hill that overlooks the modern city and surrounding valley. With no map, I was left to wander around haphazardly and see what I could of the atmospheric alleyways and ancient buildings. I attempted to order a hundred grams of spinach and feta pizza, but slammed into a language barrier and failed to convince the lady to cut a 6 euro square in half. Attempting to return to the train station, I got lost and found it surprisingly difficult to get directions. Since I had only ever planned to be in Italy for two days, I hadn't bothered to learn a word of the language, and this proved to be a stumbling block in communicating with those locals who didn't have the decency to study up on English in preparation for my arrival.
Returning to Milan, I found my granola supplies were running thin, and there were few cheap food options in the vicinity of the station, so I decided to take drastic measures. Italian McDonalds charge 4 euros for most sandwiches and even 30 cents for a packet of ketchup, but a normal hamburger, at 50 cents, is every bit as cheap (and every bit as un-hamburger-like) as its American equivalent (incidentally, the cheeseburger is twice as much). The Thai massage parlor down the street offered massages with "bath included"; while I was in desperate need of a shower (I wouldn't get one for 3 more days), I surmised that this likely wasn't the sort of bath that would leave me feeling cleaner. Another eight euros got me back to the airport where I would spend the night in preparation for my 9am flight.
Every bench was full in the EasyJet terminal as planeloads of cheapskates awaited their morning flight in one of southern Europe's most expensive cities. My feet were unusually odor-free at the start of the trip, but a day of walking in sodden socks had rendered them stinkier than ever. Every once in a while someone would come to sit next to me, but would always leave after an appropriate politeness interval. The night was uneventful; quiet forms rested at awkward angles on their makeshift beds of suitcases and spare clothes, and the stillness was only interrupted by the regular security announcements, and more sporadically, by the first few stanzas of a familiar Disney song, which would abruptly start playing from some unknown origin.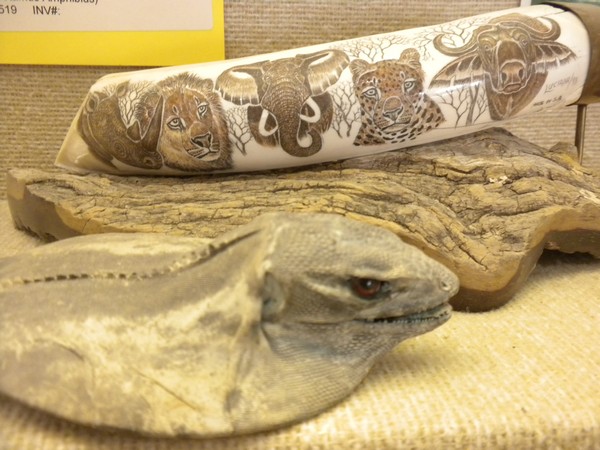 Getting ideas for souvenirs from the airport's confiscated luggage gallery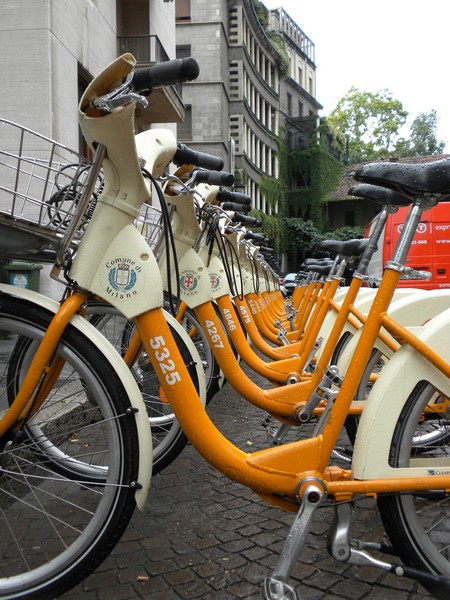 Milan's bike sharing program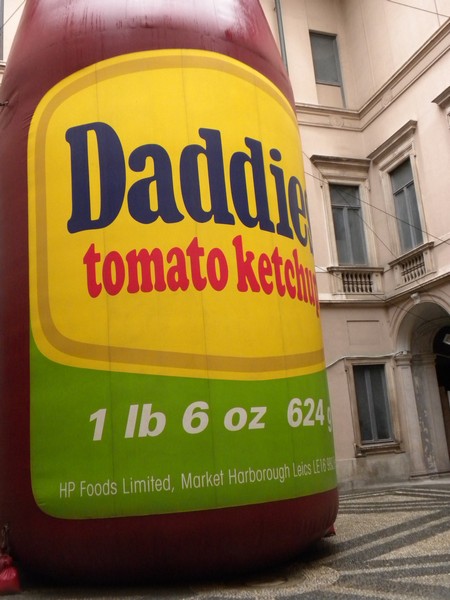 Giant bottle of ketchup from bizarre art exhibition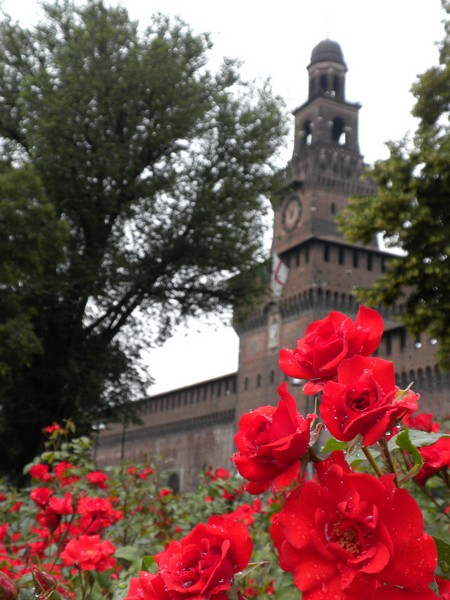 Castle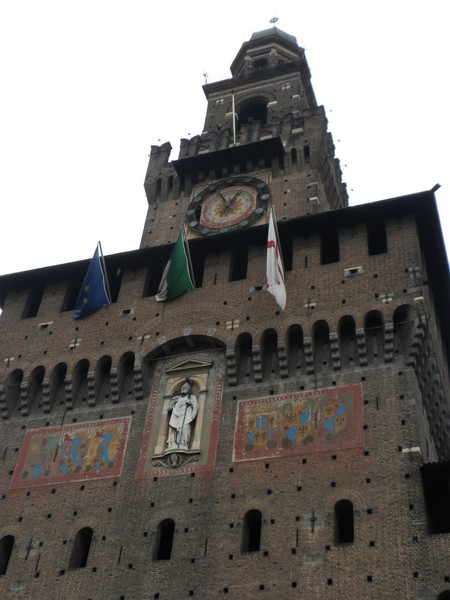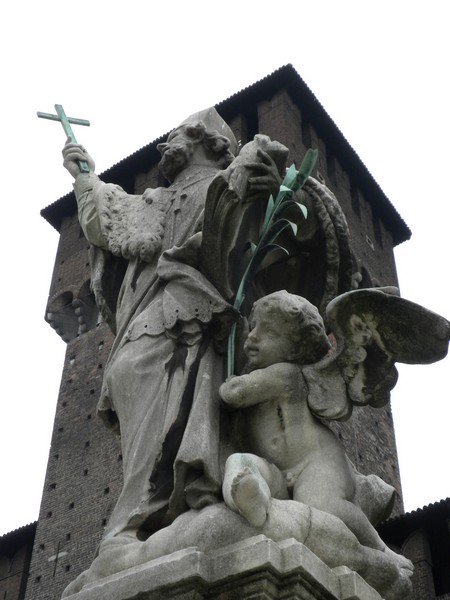 Not sure who this guy is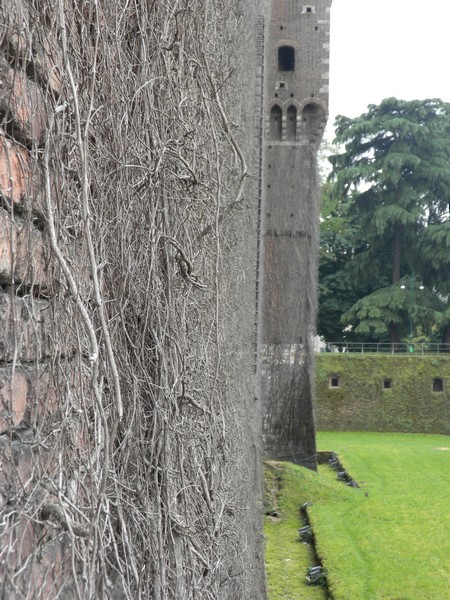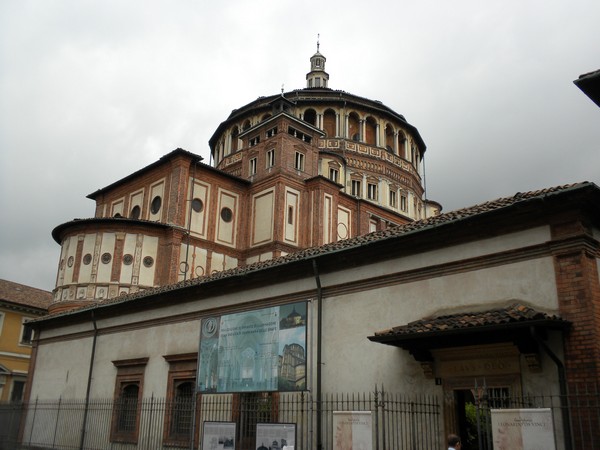 Possibly where the Last Supper painting is held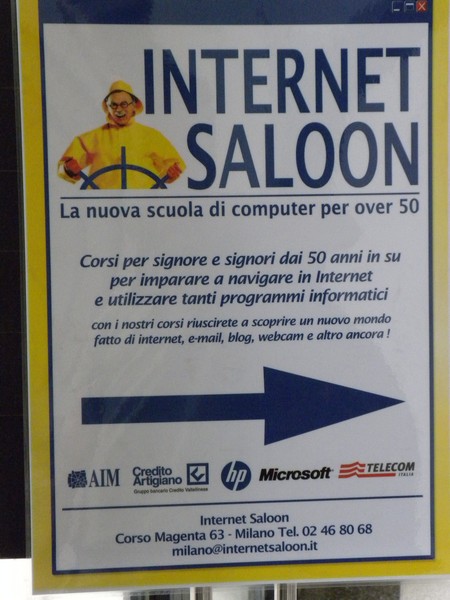 If only I were over 50 and computer illiterate...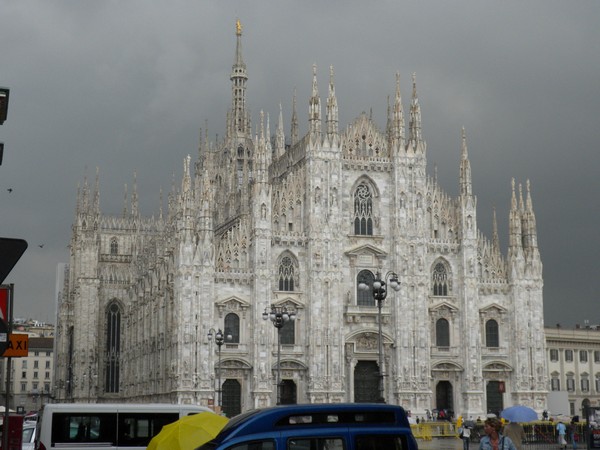 Big church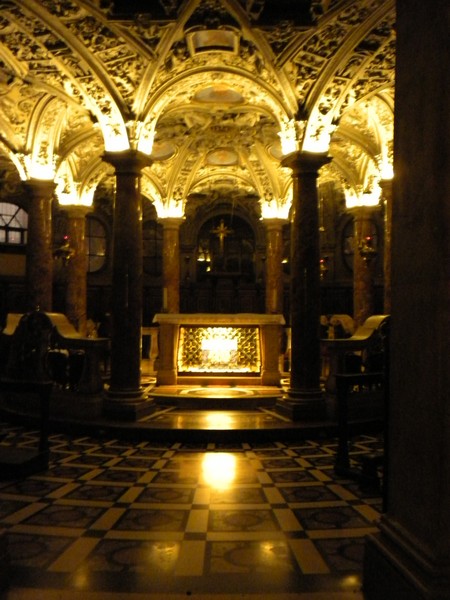 Crypt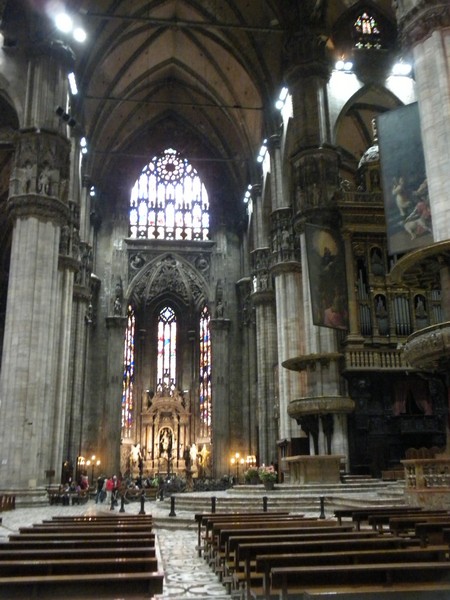 Inside aforementioned big church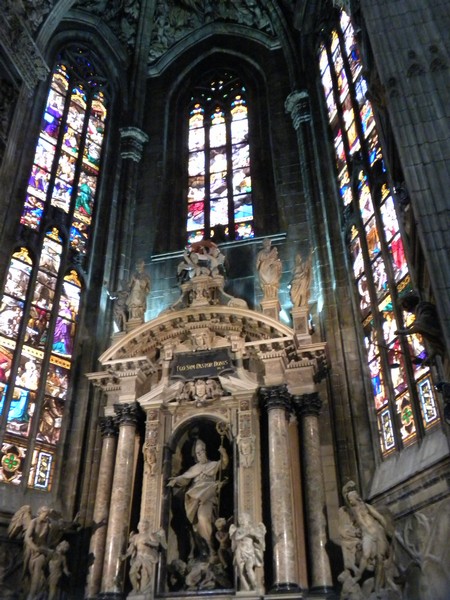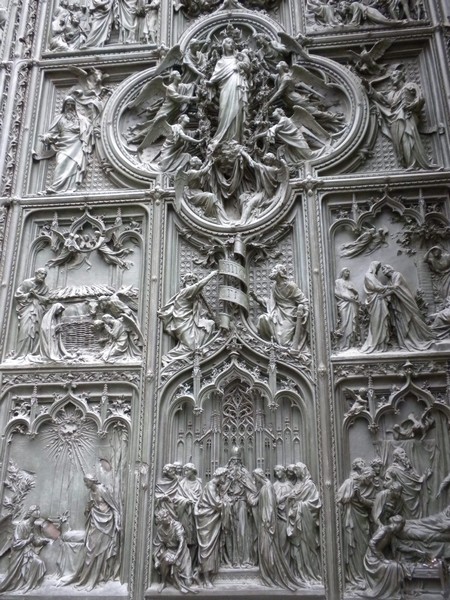 Door of aforementioned big church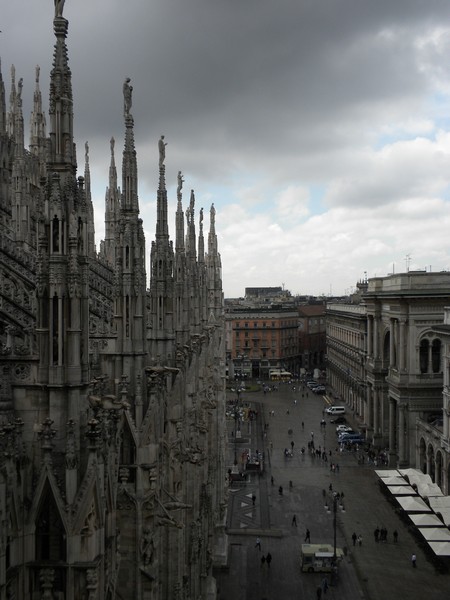 Rooftop views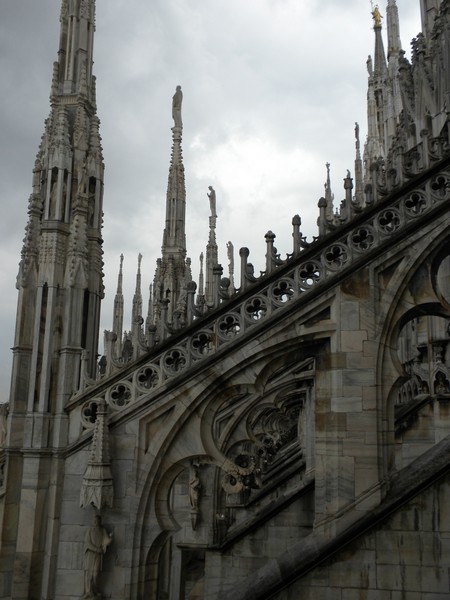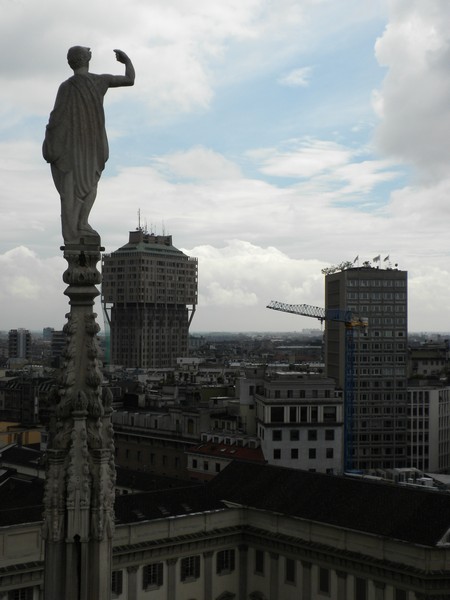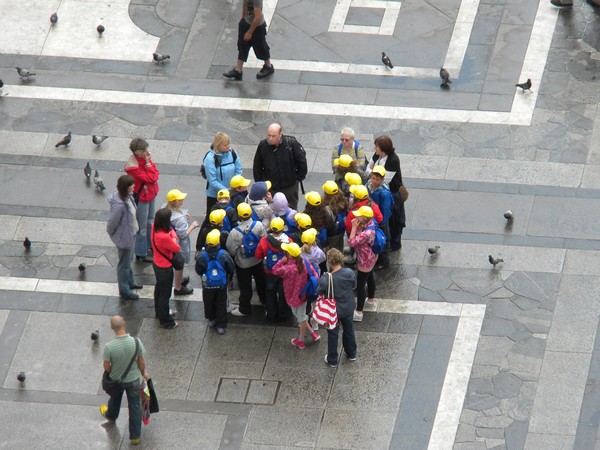 Reason #451 I don't do tours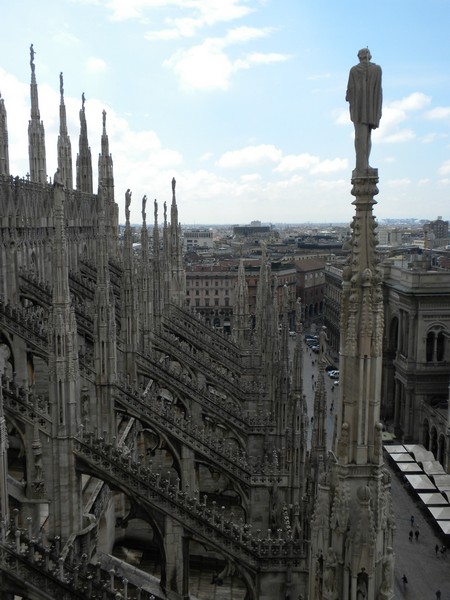 Marzipan mushrooms!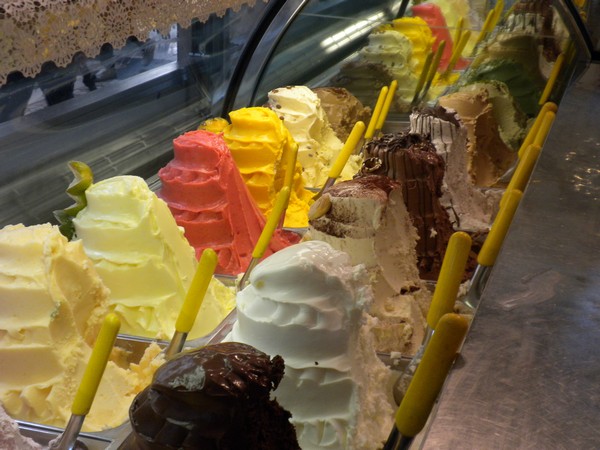 Gelato!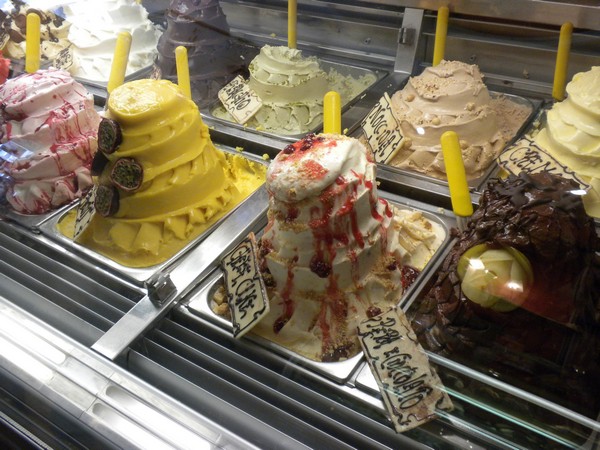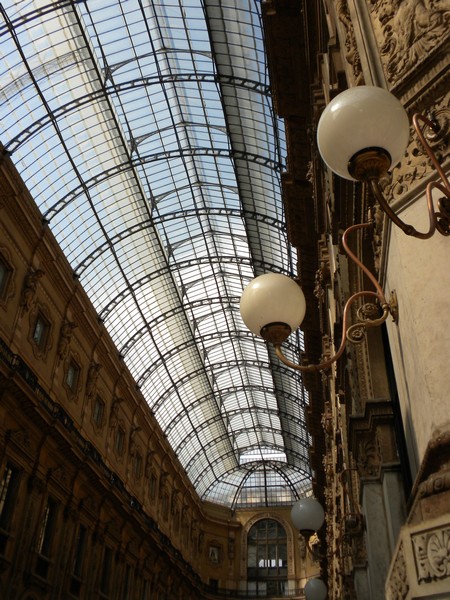 Some mall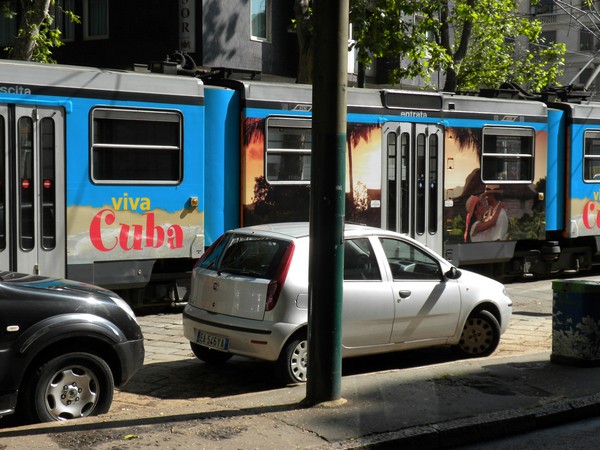 An ad you'd never see in America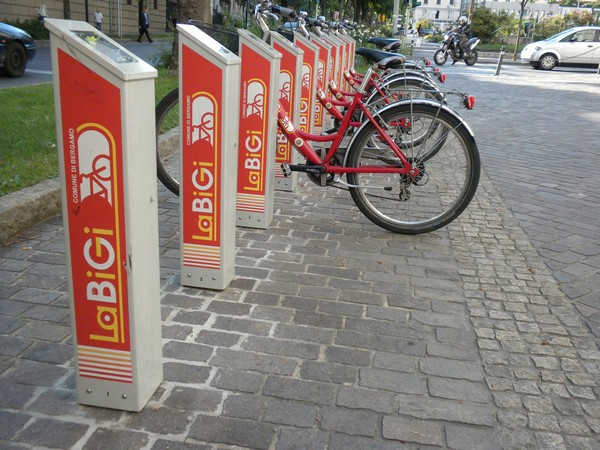 Bergamo bike-sharing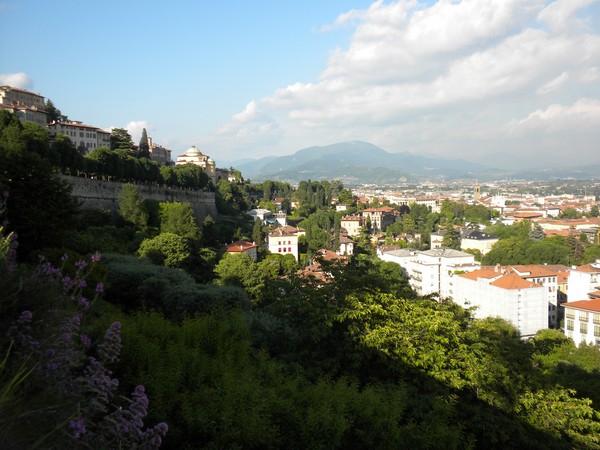 From the old town of Bergamo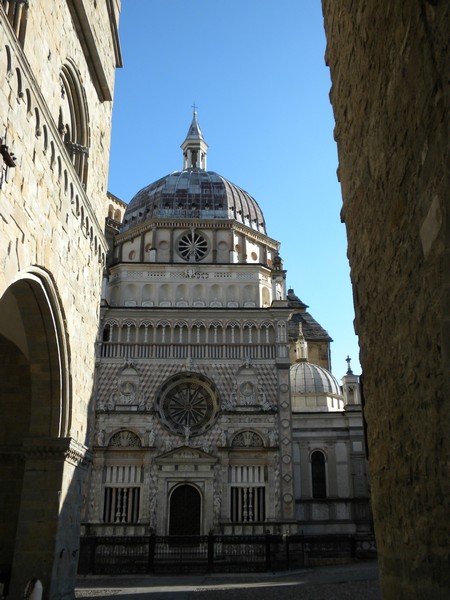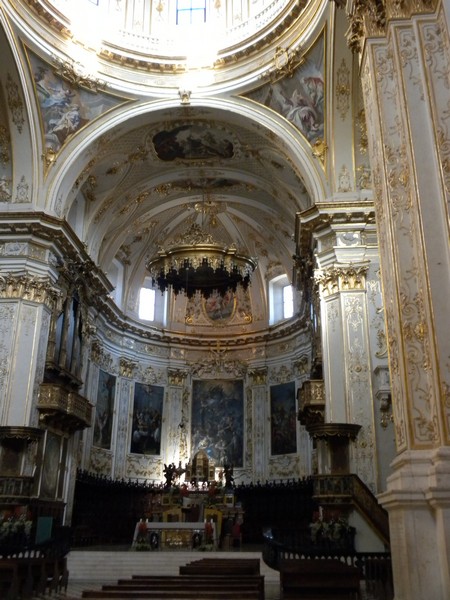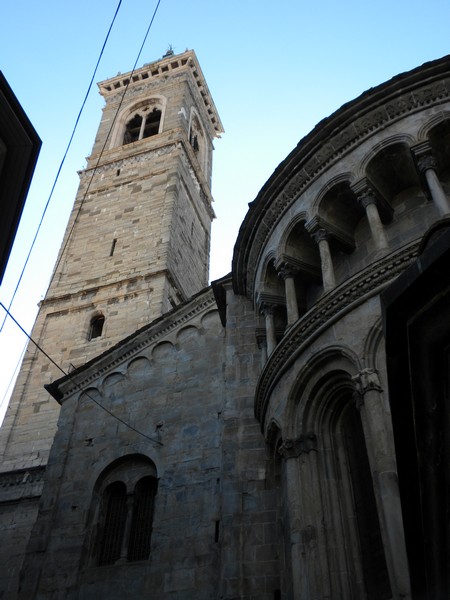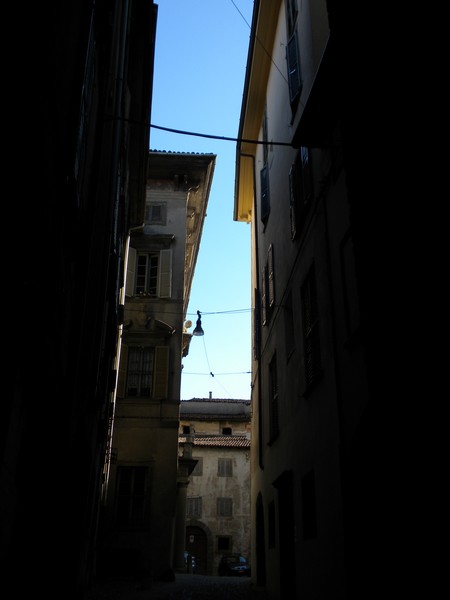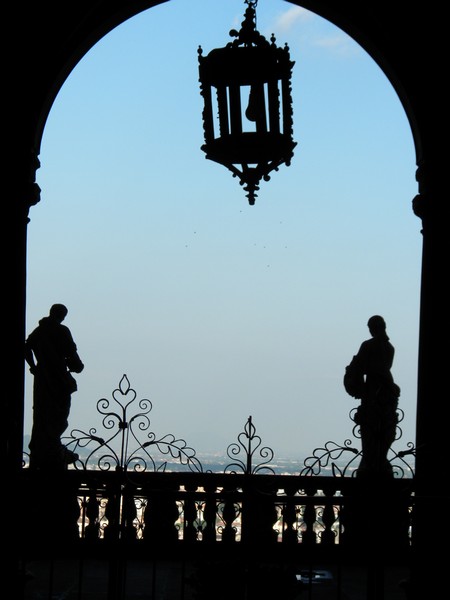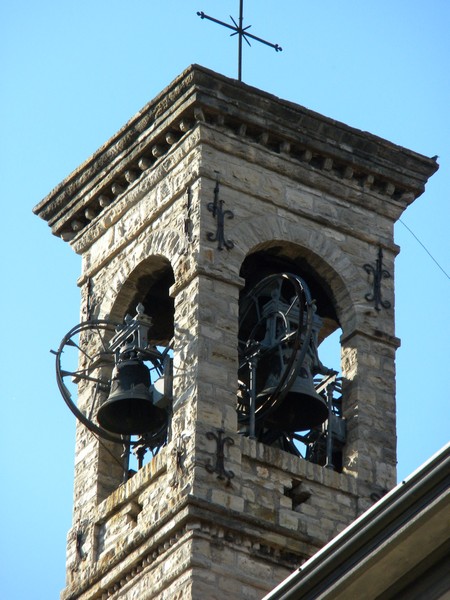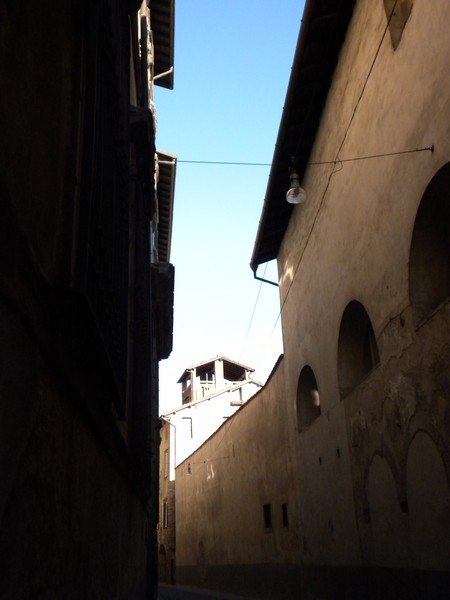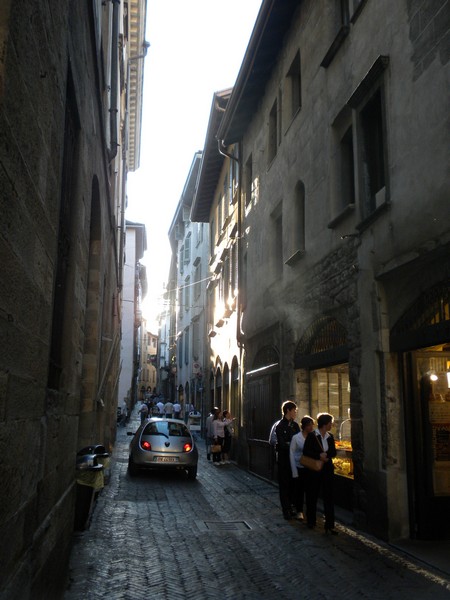 Pizza and candy by weight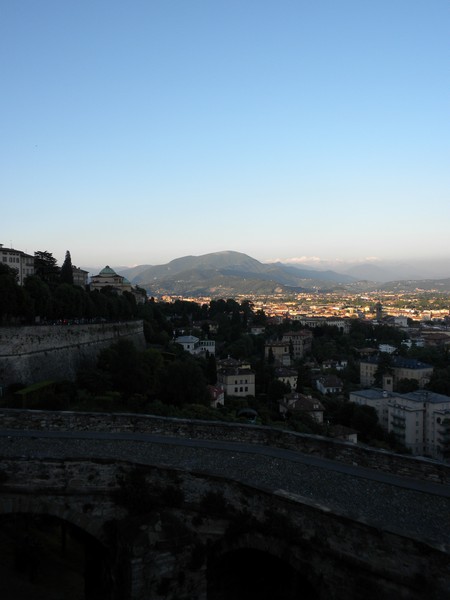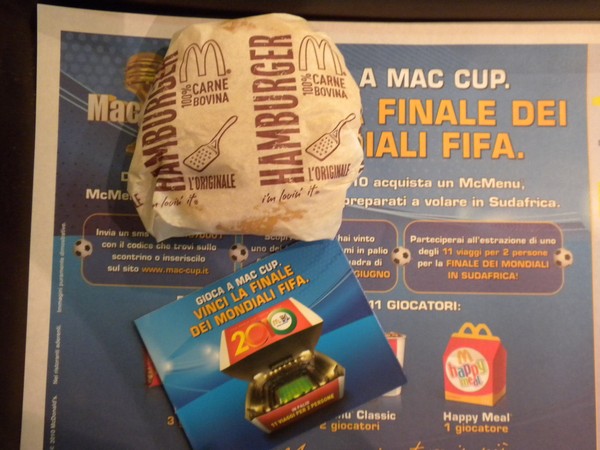 First meal of trip - 50 cents (standard entree in Milan - 20 euros)
Day 2 - Thessaloniki
I would get a whole lot more sleep in the course of my travels if airports would institute a system where they give you a buzzer when you arrive at the airport that goes off when you need to check in and when you need to board the plane. Since such a system does not as yet exist, I had no choice but to stay awake all morning in preparation for the 5-minute span between the time when EasyJet begins boarding each flight and when it closes the gate, preventing anyone else from getting on the plane under any circumstances. I paced to and fro about the terminal, got onboard at the appointed time, and then promptly passed out for the entirety of the two hour flight.
A bus from Thessaloniki's airport to its center costs 60 cents, and the moment I discovered this is the moment I decided I would much prefer this, Greece's second city and fashion hub, to its Italian counterpart. The map in the guidebook claimed it was only 1.5km to the major sights, but the bus plugged along at a decent clip for over an hour before reaching the port. It was at this point in the trip that I discovered just how many signs in Greece are written in Greek, and while I had learned to read the language before I left, reading it at the pace of a speeding bus was a bit of a challenge.
I stopped at a restaurant that had its food on display cafeteria-style, which I reasoned would be cheap and would allow me some shot at knowing what I was ordering. I tried to arrange for a "little bit of everything", but ended up with a heaping plate of roasted eggplant in a pool of oil, accompanied by a Greek salad that could have easily constituted an entire meal by itself. The bill was a steep eleven euros, which only exacerbated the queasiness I felt from consuming more in one meal than I had in the 48 hours prior. Outside of sit-down restaurants, food prices were quite reasonable; two euros would get you a loaded kebab and a single euro would get you a big slice of spanakopita, a couple of chunks of baklava, or two scoops of gelato.
It seemed virtually every street was lined with sidewalk cafes where, even at three in the afternoon on a Friday, hundreds of people sat sipping frappes and playing backgammon. I followed a walking tour around to a slew of exquisite churches and ruins. One monastery featured a large peacock habitat, where half a dozen males were shaking their feathers and chasing around a handful of seemingly unimpressed hens. In another part of town, a man walked down the middle of a busy street cranking his organ grinder as traffic swerved around him; he had no cup for donations and no apparent audience, but he played all the same.
For dinner, I stopped at a little snack counter with clearly marked prices. I looked through a case of savory pastries and asked the clerk to describe each as well as his limited command of my language would allow. There were pies packed with spinach and cheese and ham, but the winner was the one which defied all description beyond "that one's... good!" I also got a frappe, which, in some parts of the world, is apparently nothing more than a foamy mixture of instant coffee and tap water, and is a far cry from the delicious, sugar-saturated icy concoction that we know and love. For dessert, I went to a store that has sold nothing but cream-filled triangles for the past 50 years; I ordered a donut. An orthodox church was supposedly holding a highly atmospheric Friday night service in the crypt, but upon arriving, I found that, while there was a service, it was not in the crypt, nor was there any chance I'd be able to follow one word of it.
It seemed there were no boats leaving that night for Crete, so I went to the station to take an 11PM train to Athens, from where I could board a boat bound for Europe's southernmost island.

Roasted peppers and greek salad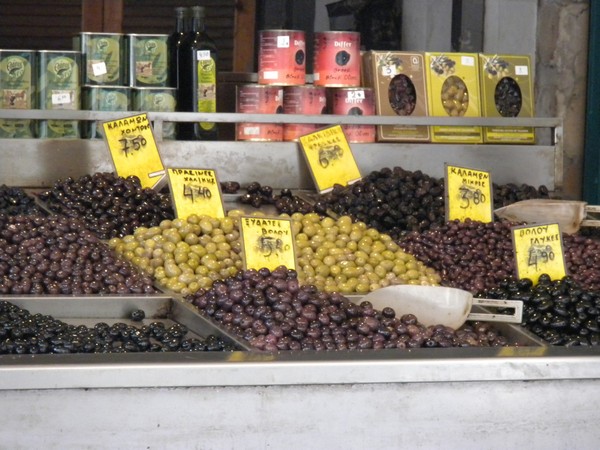 Probably couldn't tell the difference between any of these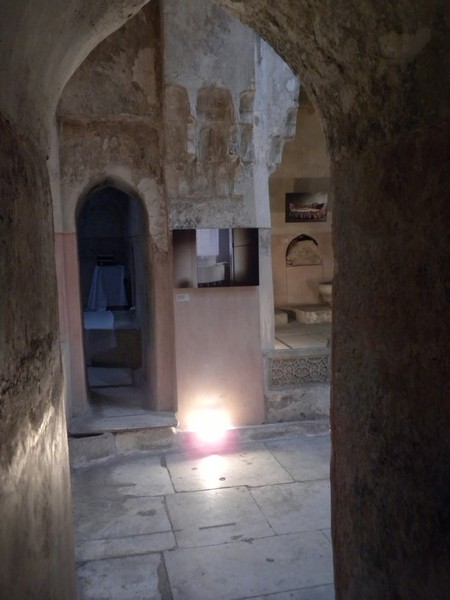 Turkish baths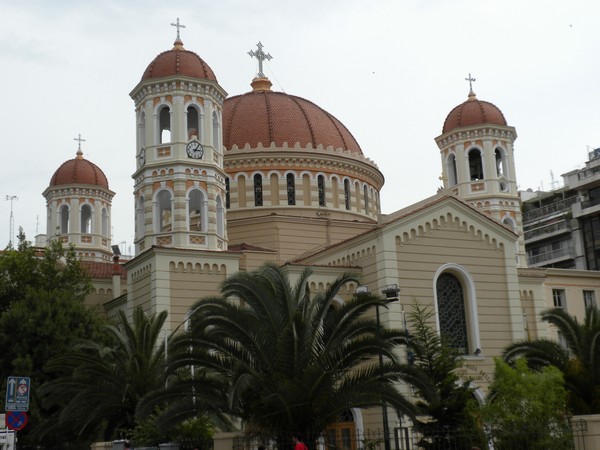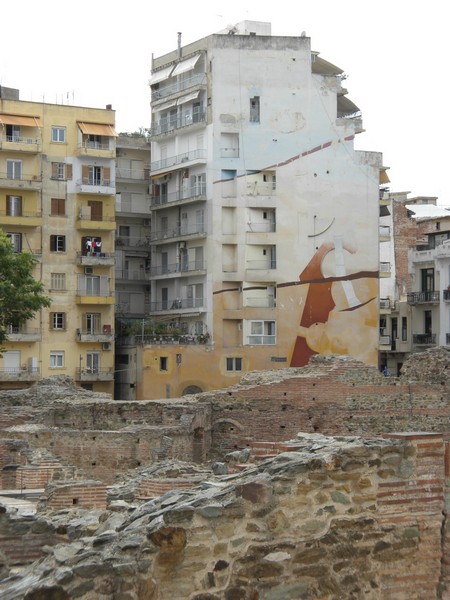 One of many sets of midtown ruins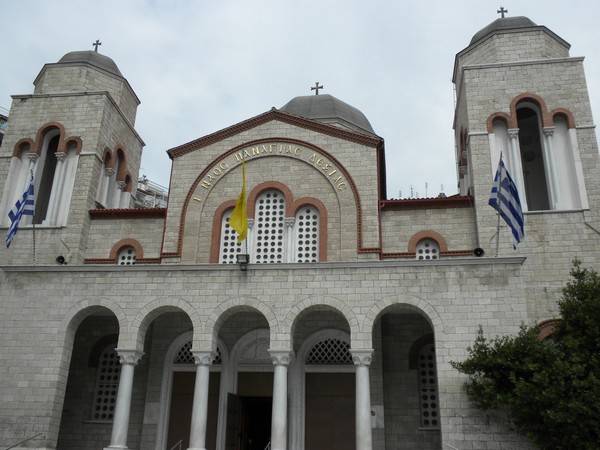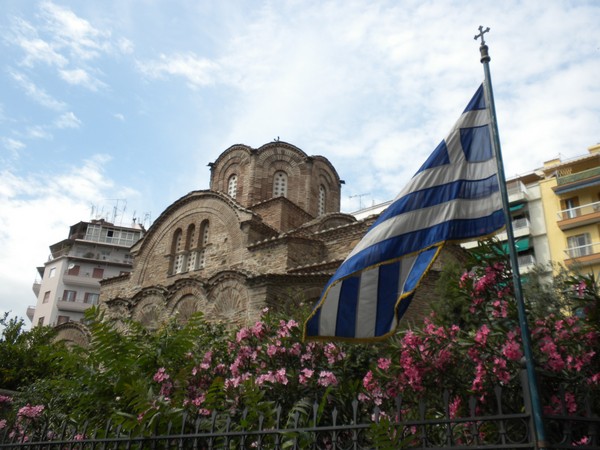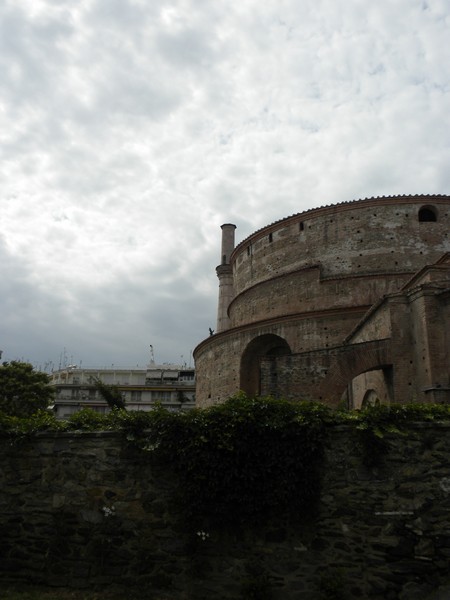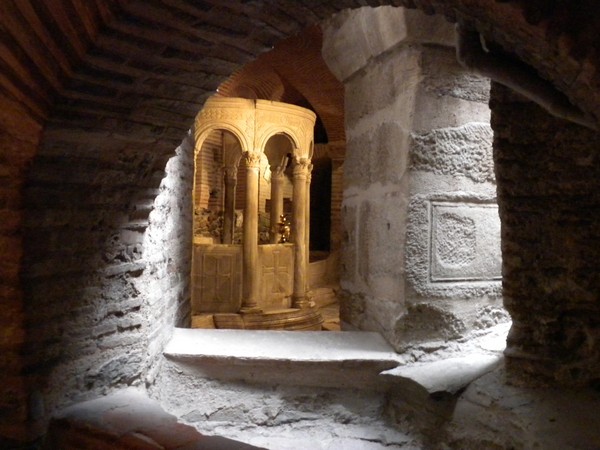 Crypt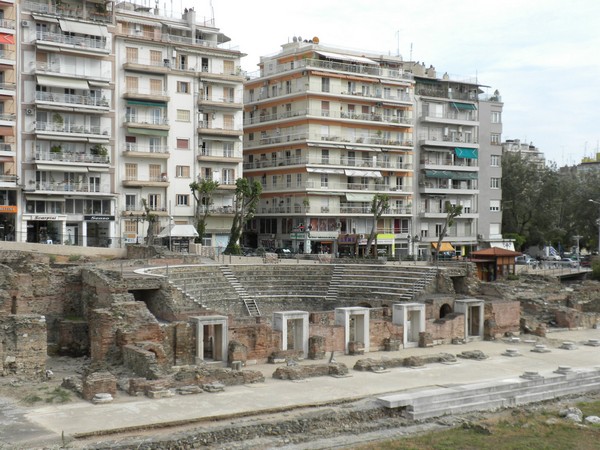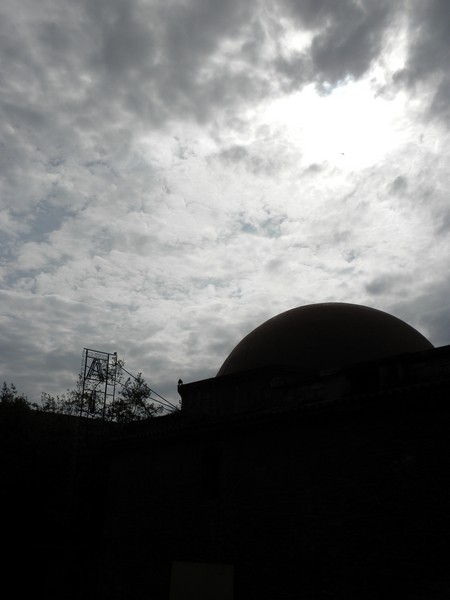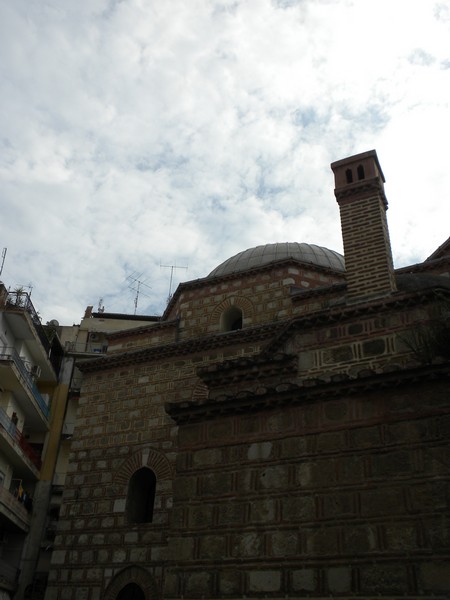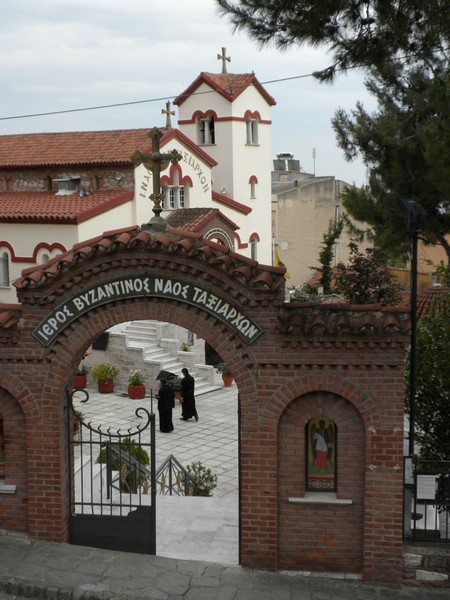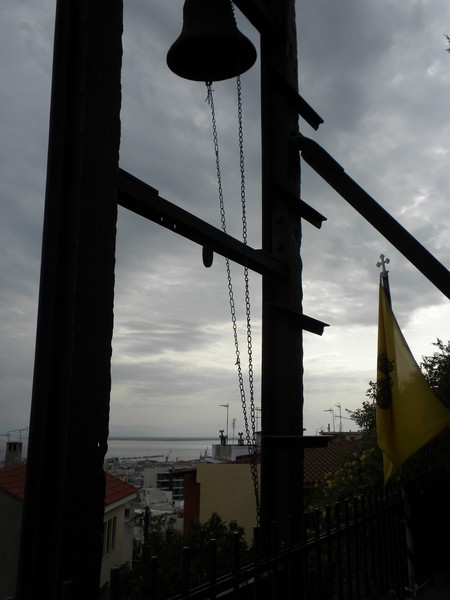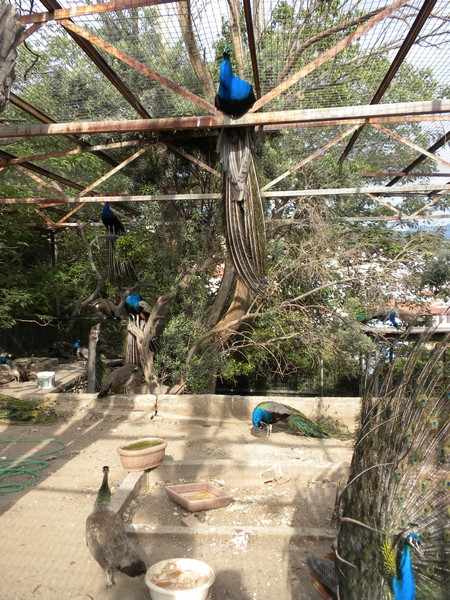 Monastery peacock zoo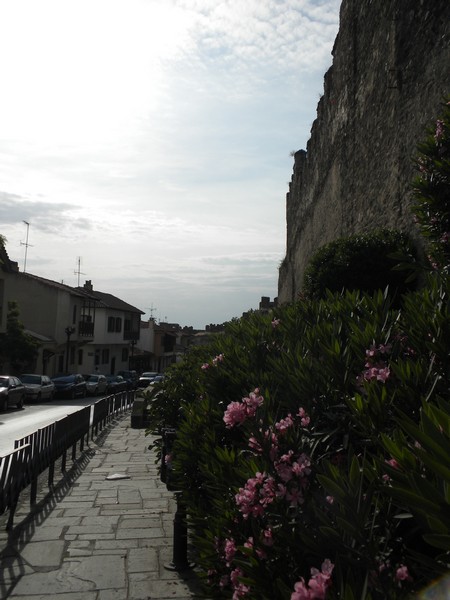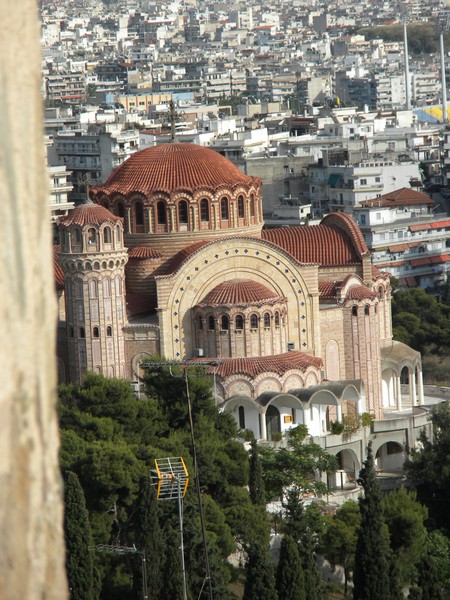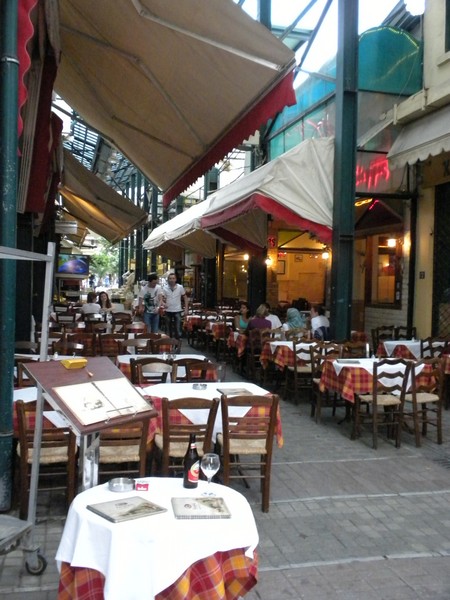 Sidewalk dining
Day 3 - Athens
We rolled into Athens around 5:30am, I with at least an hour of sleep under my belt, quite ready to tackle the myriad sights on offer. Three euros got me a 24-hour metro card, and I immediately rode out to the port to check on the boat situation. I was intent on finding a way to stop at another island en route to Crete, but there were no centralized schedules, and extracting any information from the ticket offices proved far tougher than it had any right to be. I eventually settled on going to straight to Crete and then seeing where I could get from there. The port town of Piraeus doesn't have much to offer the tourist; I waded through a dingy flea market which sold much of the same crap we have at our flea markets back home, and then took a train back to the Acropolis station.
I got to the main attraction of Athens minutes before it was swamped by hundreds of tourists. It was highly exposed and ridiculously hot, and so I was quick to descend into the cooler streets of the surrounding town. Winding through the convoluted passageways of the central flea market, some girl tried to hand me a loaf of bread; my first reaction was to dart away, but after seeing someone else take a loaf with no ill effects, I went back to retrieve one for myself. Shortly thereafter, while walking through an underpass, I encountered a breakfast festival where they were giving away free cookies, what appeared to be either sunscreen or toothpaste (I ended up with a minty fresh neck, but it was better than the alternative), and single-serving packets of nutella. I was soon sitting on a park bench, eating a nutella sandwich, and contemplating how much I appreciated this newfound order in the world.
Next on the agenda were the national garden, home to a zoo featuring peacocks and longhorn sheep, and a series of ruins and pedestrian walkways. Thessaloniki had been packed with Nigerians selling purses, sunglasses, watches and women's underwear, but here these had been largely supplanted by hordes of Indians peddling only two specific items. The first was a dainty Chinese paper umbrella, which the male hawkers gaily twirled over their heads as they walked amongst the tourists. The second was a ball of goo; a salesman would squat on the ground and hurl the ball on to a board such that it deformed into a two-dimensional puddle - only to regain its original shape a few seconds later. How it was decided that the market could be best capitalized upon by having a crew of hundreds sell only these two things, goes far beyond my limited grasp of economics.
Despite the fact that practically no one is Catholic, everyone in town seemed to know where the Catholic church was. There didn't seem to be a Saturday mass, but it did have a schedule for ten other churches in the area, including one right next to the ferry dock. My guidebook directed me to an unsigned restaurant reached by a hole in a sidewalk; the place was packed, but I managed to secure the last table. I selected a bean soup from a series of cauldrons, and this proved a tasty and filling meal for only 4 euros.
I picked up another frappe to make sure I hadn't just gotten a bad sample (I hadn't) and made my way to the world-renowned archaeology museum, which was inexplicably giving out free tickets when I arrived. The place had hundreds of interesting artifacts and gave me an excellent excuse to spend two hours out of the sun. I went back to Piraeus and got a ticket for the 9PM boat to Iraklio for a dirt-cheap 19 euros. Mass was held in a tiny side chapel of a large cathedral; the priest skipped the homily, but otherwise followed the standard format; it was of course all Greek to me. I wandered the streets to kill time before my departure. A girl in a random side alley was dressed in a traditional dress and was playing an accordion for no one in particular. A nearby wedding produced a long caravan of rambunctious motorists who drove around town honking for a good forty-five minutes.
My ferry was quite huge and came equipped with a swimming pool, four different restaurants, gift shops, and an internet cafe. My ticket was for "lounge seating" which meant that I was entitled to pass out on whatever empty seat I could find in the bar. A lucky few secured the couches early on, while the rest of us had to be a bit more creative. One man slept in a half-meter high, two-meter long luggage compartment.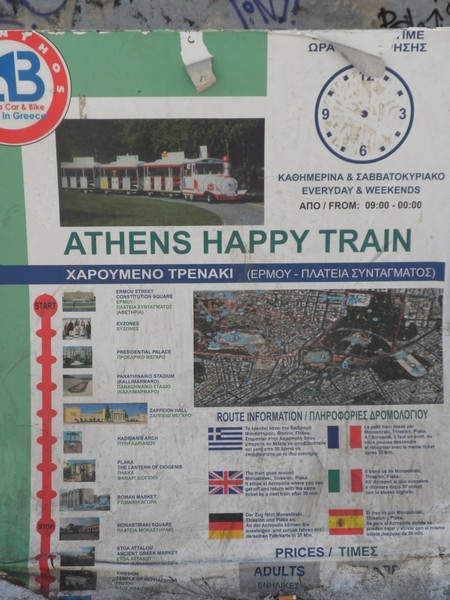 After much deliberation, opted not to take the happy bus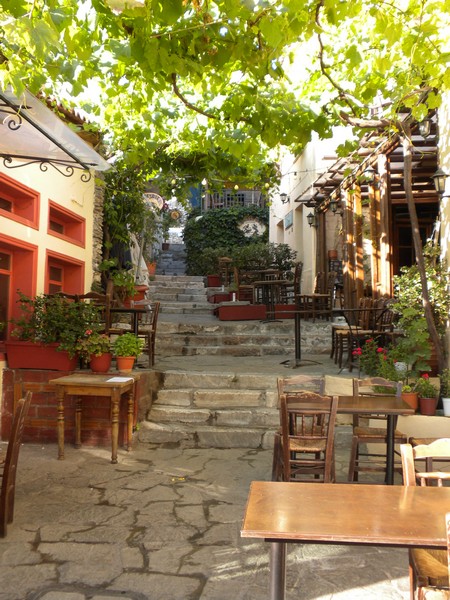 Stairs up to Acropolis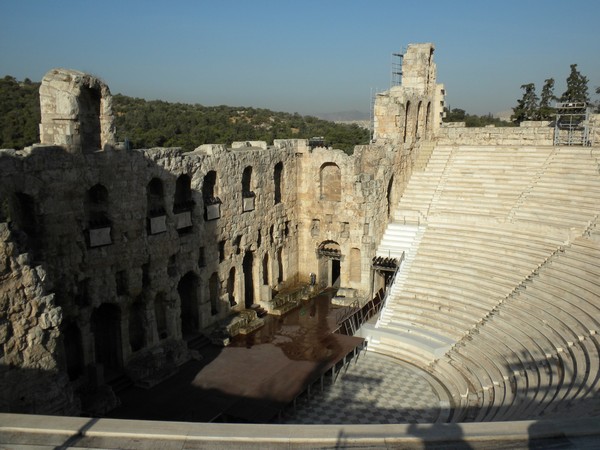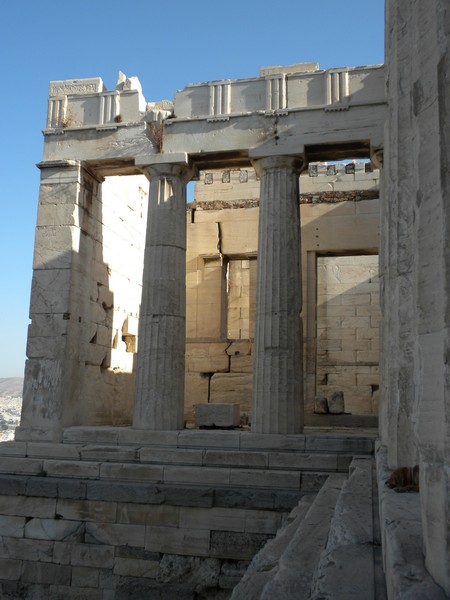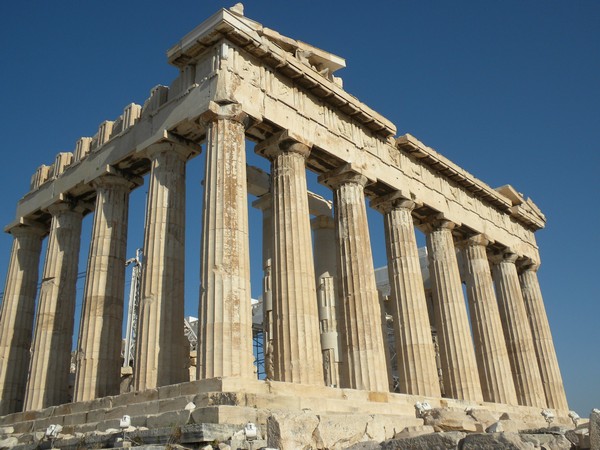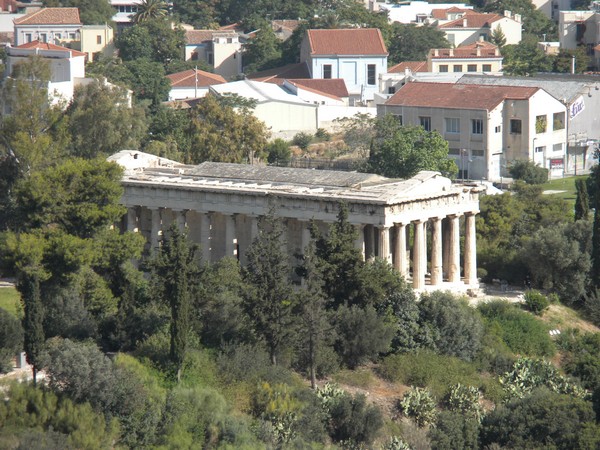 Probably grandfathered in to the neighborhood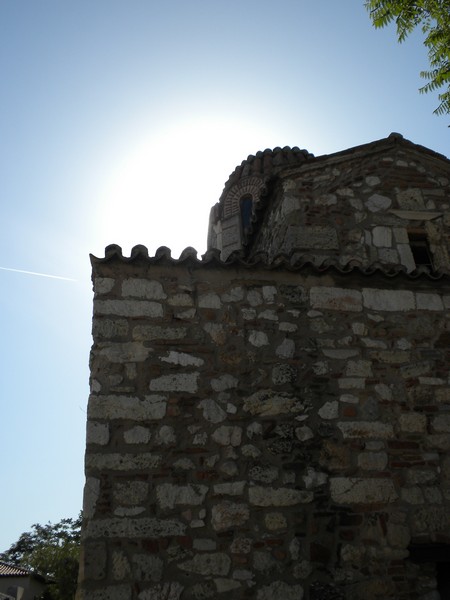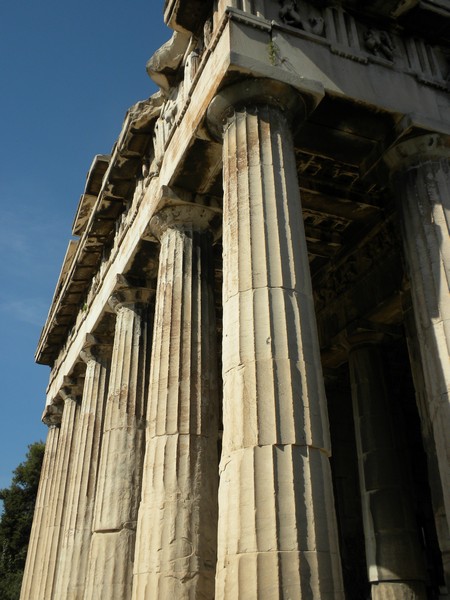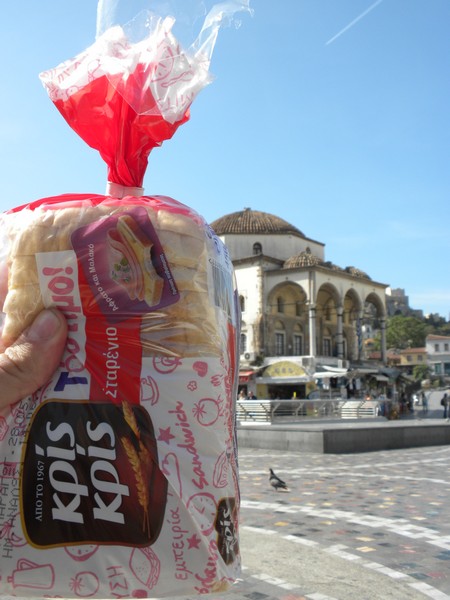 Free bread!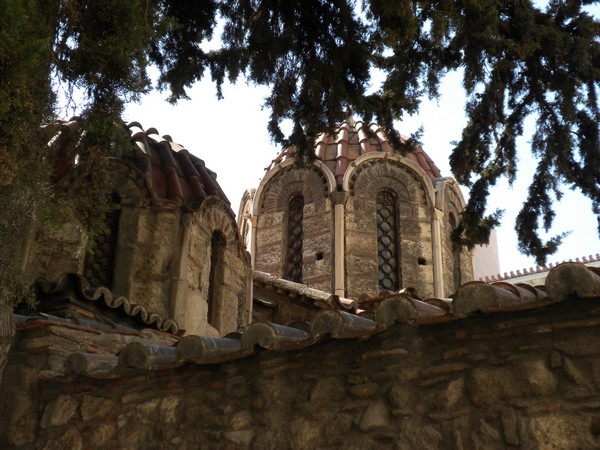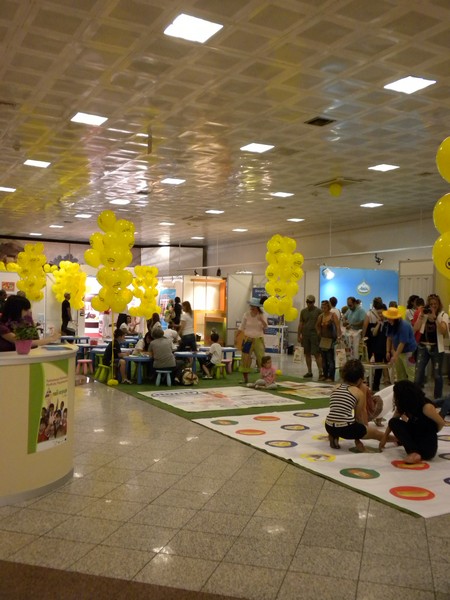 Breakfast festival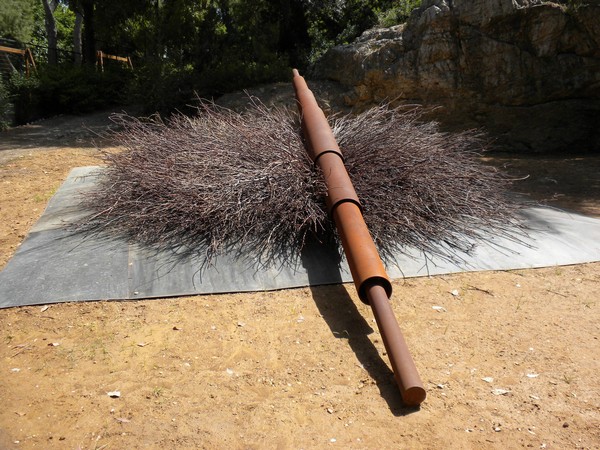 Modern art

Art in the old Turkish baths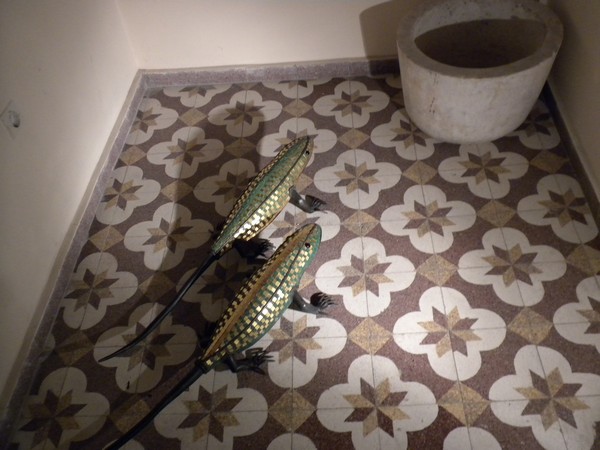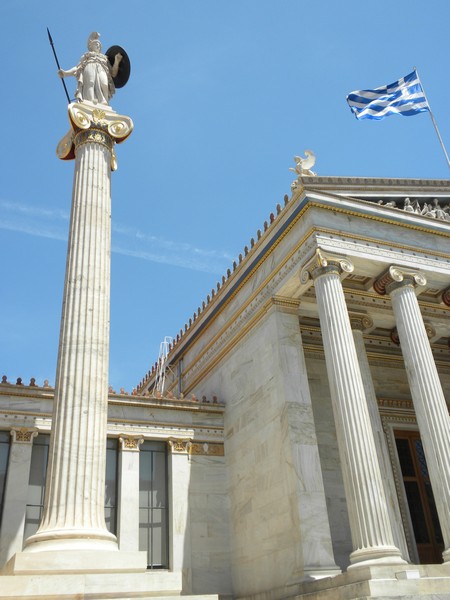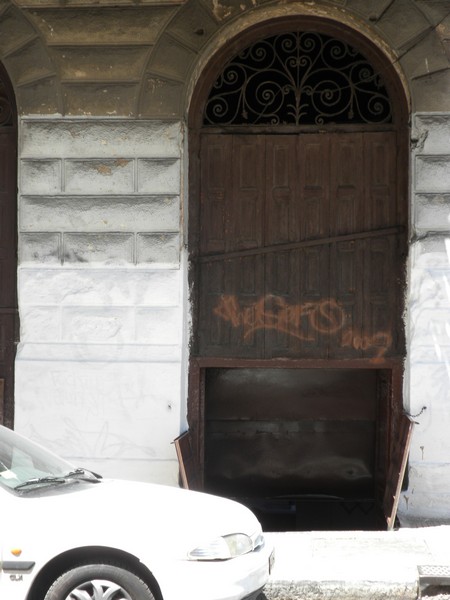 Hole-in-the-ground restaurant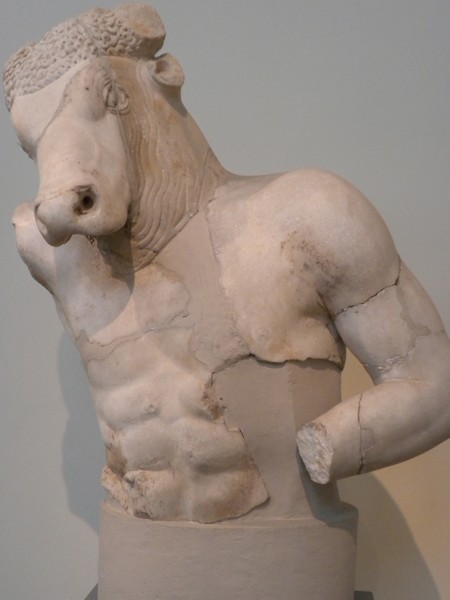 I would likely be seeing many of these creatures on the isle of Crete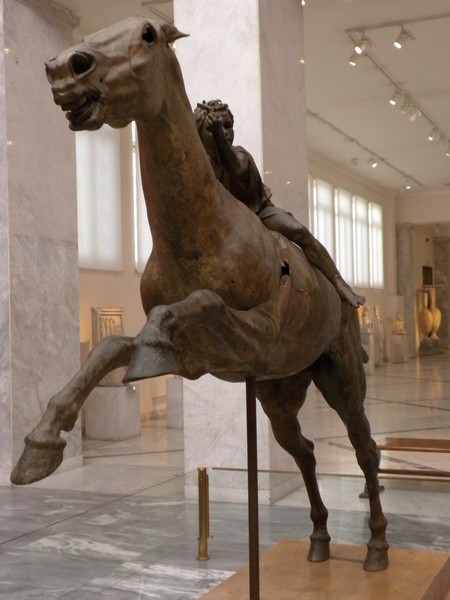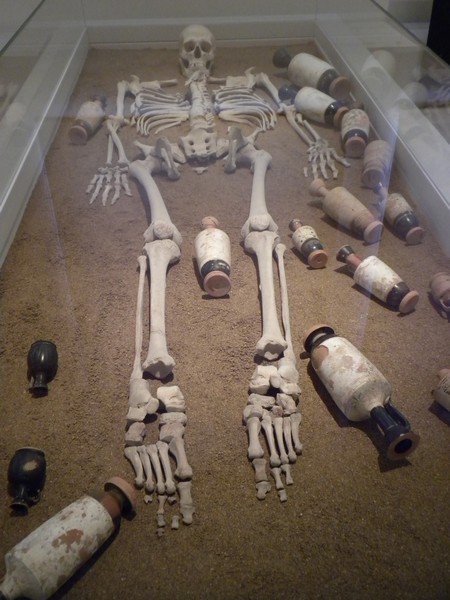 Woman demurely resisting the charms of goat man, with shoe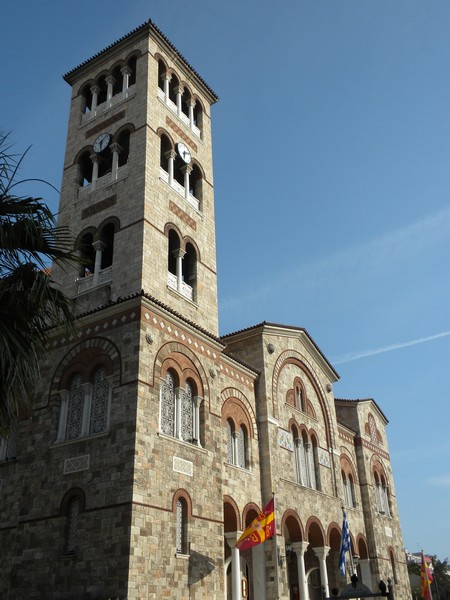 Kriti 1 - my ride to Iraklio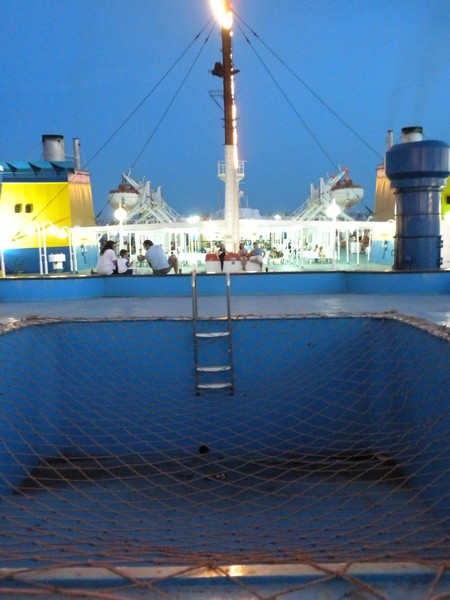 Onboard swimming pool
Day 4 - Iraklio
We arrived at 5:30 in the morning and were treated to free coffee and orange juice before exiting the boat on to the dark streets of Iraklio. Just outside of the port I noticed a horde of people massed around a food truck, and stopped to get a delicious kebab hoagie, made in under 15 seconds and loaded with tzatziki, chicken and/or pork, lettuce, tomatoes, fries (yup - in the sandwich), ketchup and mustard, for three euros. The town was a bit dead at six in the morning; none of the motorbike-rental shops were open and the hostel wouldn't let me check in for another five hours, so I wandered around a bit and then caught a bus to the island's star attraction, the ruins of Knossos.
I arrived at the ruins at the same time as fifteen tour buses, and thus opted to race ahead and go through the place backwards; sadly I missed a few of the important spots and had to wallow through swarms of Asians and octogenarians to see the last few rooms. Observing the movements of these giant, all-consuming blobs of humanity, led me to speculate whether members of such groups actually have separate consciences like you or I - whether they have their own hopes and dreams, or if they just mindlessly marched to the orders of an all-powerful yellow-umbrella-bearing queen - this is a question that merits further research.
After visiting a sizeable sampling, I have to conclude that there's absolutely nothing all that exciting about Greek ruins. The Incans managed to get multi-ton stone blocks to sit flush with adjacent blocks, and even more impressively, somehow place them at the empire's loftiest heights. The Egyptians built huge pyramids laced with intricate networks of tunnels that have remained largely intact for thousands of years. The Greeks' contributions, however, have largely disintegrated, and rarely seem as if they had been anything particularly awe-inspiring to begin with. I can only conclude that these sights are appreciated solely because their visitors force themselves to appreciate them, under the assumption that appreciating such historically significant antiquities will make them appear smarter and more attractive to their peers. This self-deception is perpetuated by package tourism and high-quality infrastructure that work tirelessly to insure that travelers never perceive these sites as anything short of "must-see" attractions.
Back in Iraklio, the streets were now buzzing. Ten gypsy children with identical accordions had spread themselves out over a half-mile span of the main pedestrian drag and were playing the same song with a few seconds delay from one to the next, so that the same notes eerily followed you as you walked. I visited the fortress on the jetty and then returned to the hostel; the room still wasn't ready, but by waving my arms about and wafting my stench in the direction of the staff, I was able to arrange for an early shower.
The scooter shops were now open. The first guy was extremely skeptical about my plan to drive a scooter around the island and tried to sell me on an enduro bike instead, but I've always been slightly terrified of offroad motorcycles, and thus pushed for the scooter. We had already completed all the paperwork when it came out that I had never actually ridden a scooter and had no idea how to do so much as turn one on, and he flatly refused to rent to me. Greece, unlike Southeast Asia or India, has very strict rules on who can ride motorbikes; in most places, you need not only a driver's license, but also a motorcycle endorsement and substantial experience. For this reason, most tourists rent four-wheelers and drive them throughout Crete's well-paved road network, usually while wearing swimsuits and flip-flops.
The second guy I talked to spent half of each year in Thailand and had much more of a "mai bpen rai" attitude, and just smiled as I struggled to get the thing running and hesitatingly wobbled into traffic. In Greece, as in many parts of the world, it is standard practice to remove all but a few drops of gas from the tank of a rental bike, so that the renter has just enough to get to the nearest station and has virtually no way of returning the bike with less gas than he started with. I was caught a little off-guard, however, when the guy asked me to fill up the oil as well. I perceived this as a bit of a ridiculous request, so I opted to just wait and see what happened.
The roads through the island's center were beautiful, but the trip was largely an exercise in navigation, as I would have to stop every kilometer or so to consult the map and try to compare it to the cryptic collection of road signs that waited at every turn. The signs never pointed to the next large town, nor did they mark the next small town along a given road, but rather, they typically referred to some arbitrary point in the middle that may or may not be included on any given road map. The fact that I had no idea where I was trying to get to in the first place didn't help matters much. I had asked the man at the rental place what route he recommended and he had pointed me towards a village ten kilometers down the road, but I had reached that and thoroughly explored it within the first half hour.
When I was a few hours out, I stopped at a random restaurant at a crossroads in the middle of nowhere and asked what they had. The lady went to her fridge and pulled out two sizes of fish and told me to pick one; I picked the larger one, and, half an hour later, got four of them deep-fried, along with a massive order of French Fries. This artery-clogging abomination of a meal set me back ten euros. In my experience, eating in Greece seems to be quite similar to eating in the third world; there is rarely a menu, and you often get some obscenely unhealthy, culturally uninteresting meal that you choke down because you suspect you might have played some minor role in ordering it and don't want to seem ungrateful. The difference is that typically, when you get your bill in a third world restaurant, you can simply laugh and proclaim "But this is a pittance! How grand it is to be a wealthy westerner and be able to buy stuff I never wanted and thus avoid any need to learn the language or anything about the culture!", whereas in Greece, the most appropriate response tends to be "Ouch."
I shortly arrived in the touristy town of Zaros and passed by countless signboards proclaiming tantalizing menus that included local specialty dishes, accompanied by salads, sides and desserts, for around 7 or 8 euros. My stomach gurgled in protest. I briefly considered a three-hour hike to a monastery and gorge, but I had only a few hours of daylight left and had no faceplate to gird against the onslaught of unusually large flying things that would inevitably accompany the setting of the sun. As I drove out of town up a hill, my bike suddenly began to lurch and slow to a crawl, and I noticed that the oil indicator on the console was blinking wildly; I pulled into a gas station and pointed to the indicator, and the attendant promptly came out with a 1-euro 100ml bottle and poured it into a hole next to my gas tank; I was good for another hundred miles.
The old adage "Never spit into the wind" really applies to the whole of life, but it is especially apropos when riding a motorbike, and particularly when you are wearing a full-face helmet.
I visited another set of ruins in the south of the island, and then followed a series of secondary roads back to town. In the city, motorcycles tend to ride in an unofficial second lane to the right of traffic; it is understood that you can pass on the right at any time, and that you should always ride to the front at intersections. Driving here can be hazardous.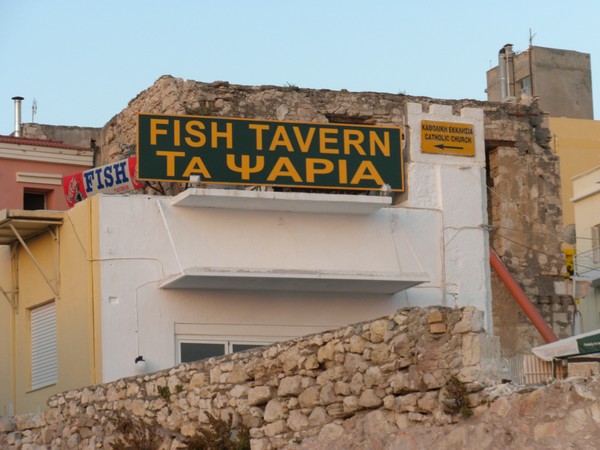 For when fish need a drink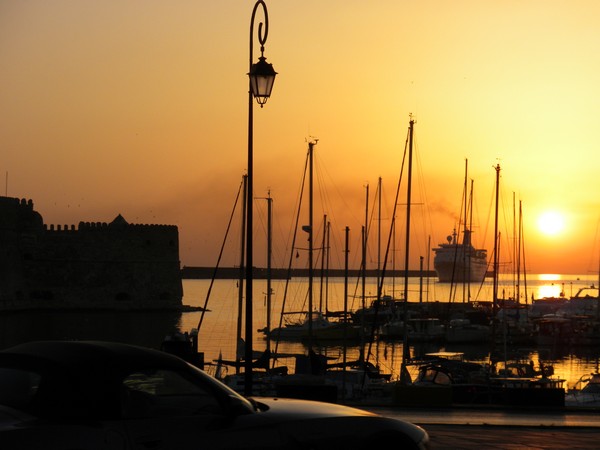 Sunrise over Iraklio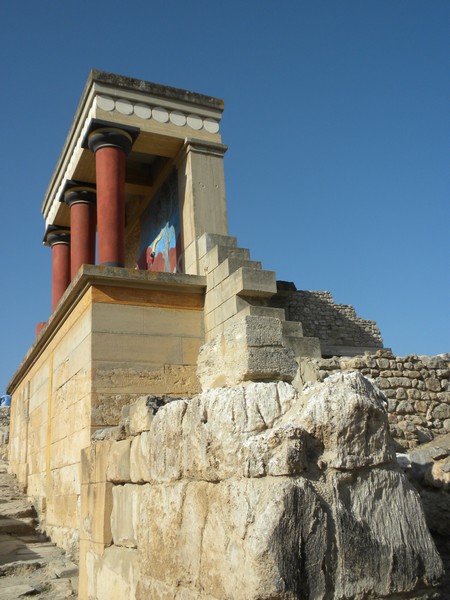 Knossos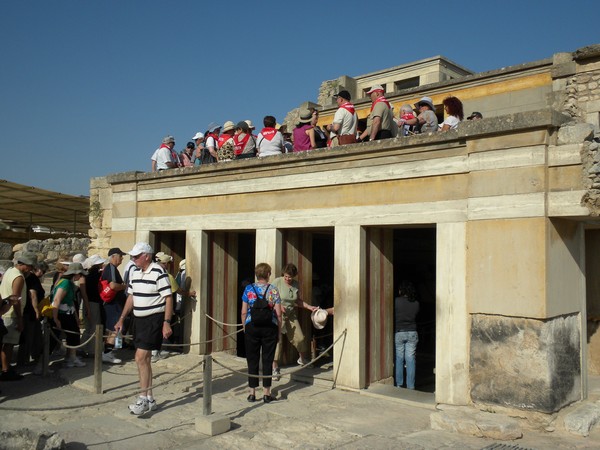 A fraction of the 15 tour buses that arrived shortly after me

Hawker selling goo balls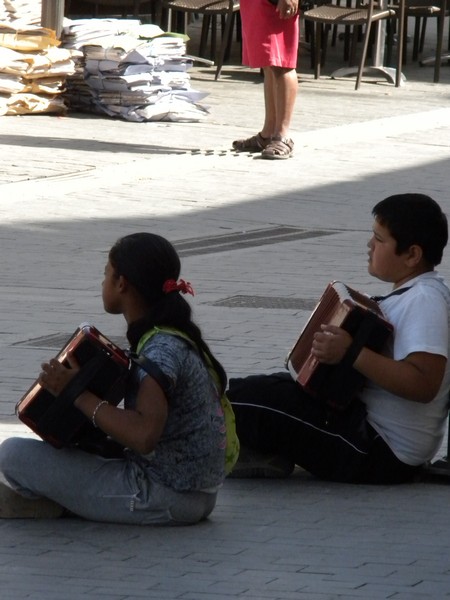 Part of child accordion gang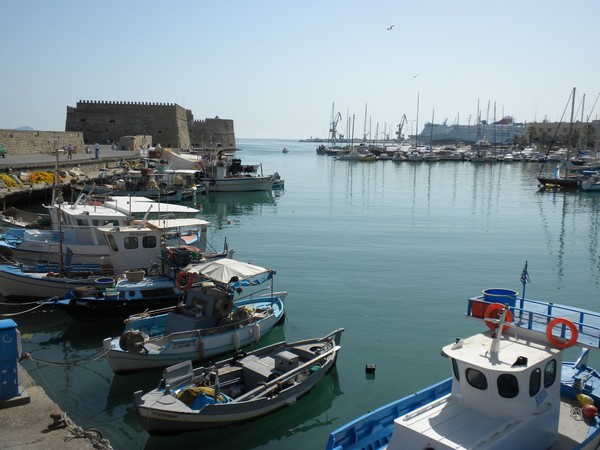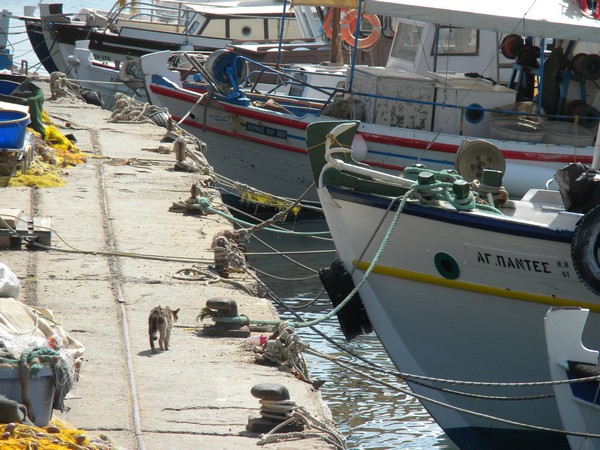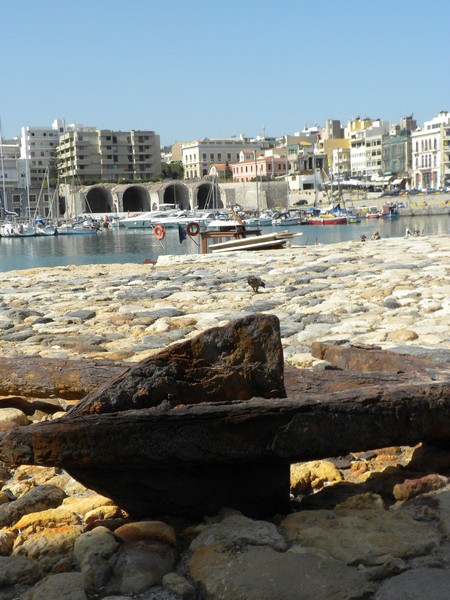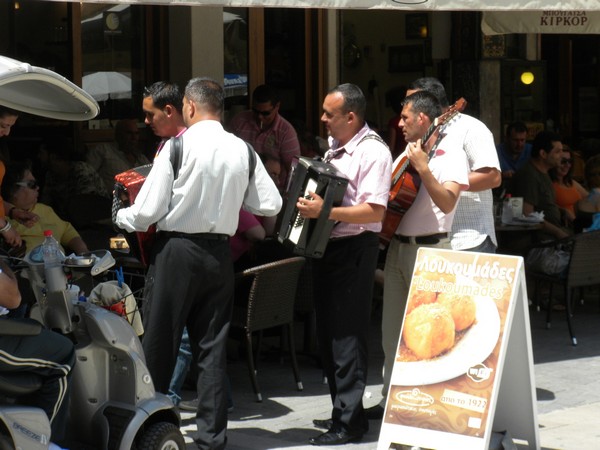 Lunchtime entertainment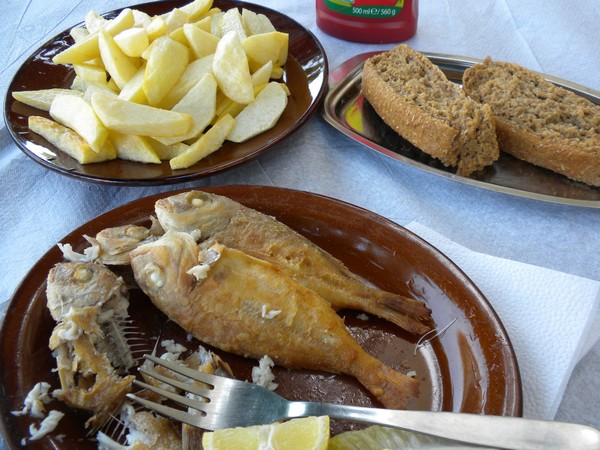 Wouldn't you pay 9 euros for this?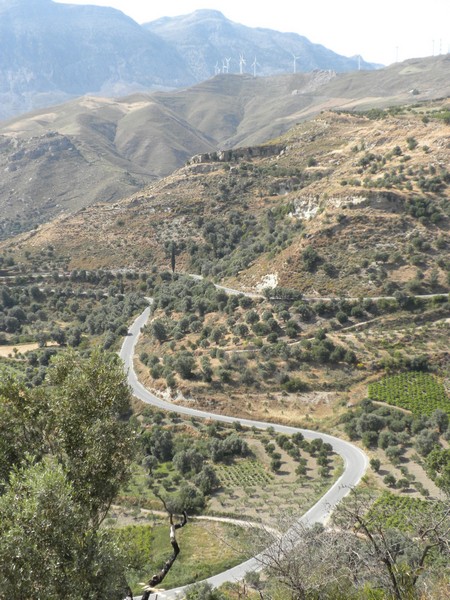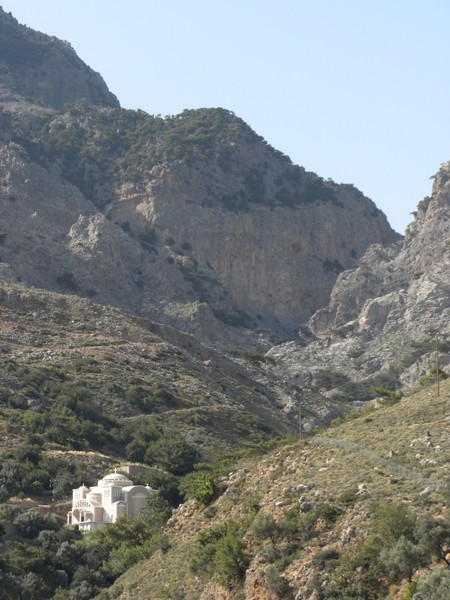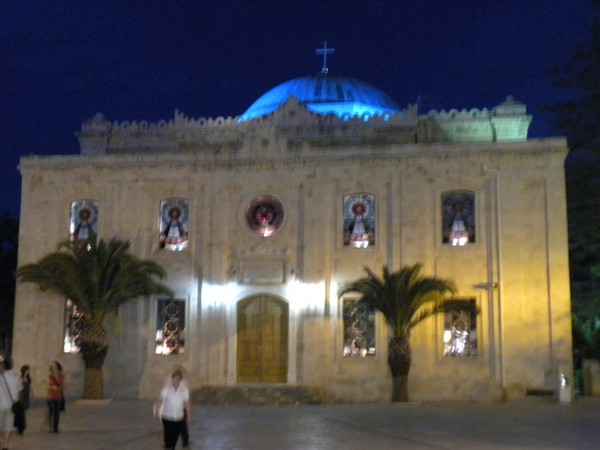 Iraklio at night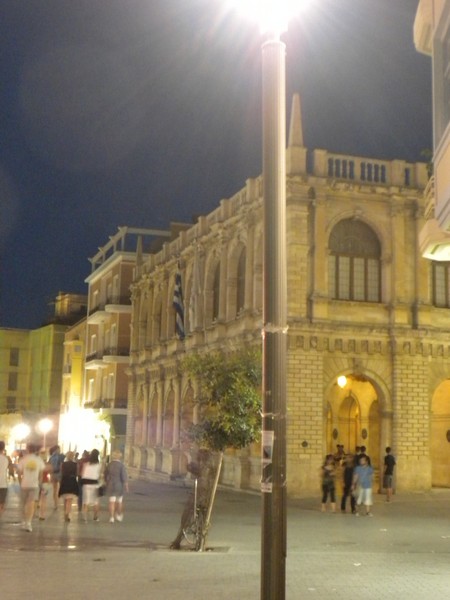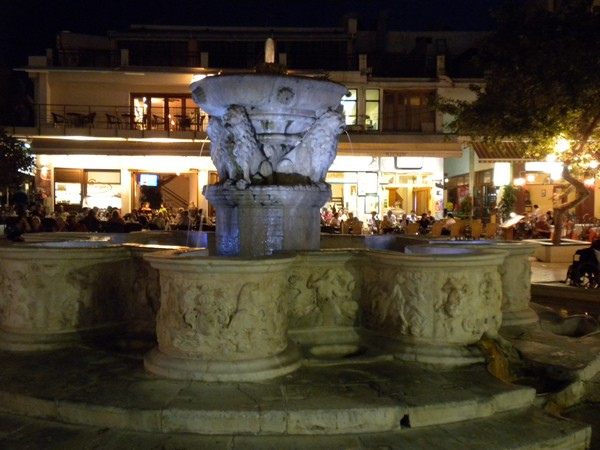 Day 5 - Iraklio
It was still a full twenty-six hours until my talk, but I decided to pay a visit to the conference venue, so that I would have some shot at finding it on-time when it mattered. It was located at a luxury resort on the beach some 20km outside of the island's capital city. On the first attempt, I overshot it by 10km and ended up in one of the north coast's mega-resort towns. Here, scooter and four-wheeler rentals were prolific, as were package tours and ghostly white skin, and there were even a handful of Indian and Thai restaurants to cater to those for whom Greek cuisine was just too tame. The venue was more of a city than a hotel, and featured a plethora of restaurants, gyms, nightclubs, swimming pools and waterslides; the resort's private nude beach lay beneath the cliffs a mere 80m from where we would be spending our days fiddling with RFID tags and debating the merits of the semantic web.
I don't want to come across as ungrateful, but I must admit that I find the whole concept of academic conferences somewhat ridiculous. In order to be recognized in their respective fields, faculty and students will spend absurd amounts of money (generously provided by the taxpayers) to reach a holiday destination in a ludicrously out-of-the-way place. Never mind that they're just sitting inside all day and would be just as well served by a venue in England, New York or Second Life, you can't have networking and an effective exchange of ideas without pristine beaches, luxury suites, and tiki bars.
Given my recent dining missteps, I decided to revert to self-catering for a while. Supermarkets in Greece tend to make a bit more sense than those back home; a loaf of fresh-from-the-oven twelve-grain bread is half the price of a mass-produced white loaf, a local cantaloupe variant costs less per kilo than Ecuadorian bananas, and a liter of Cretan goat's milk runs for a third less than a comparable quantity of cow's milk from the mainland. Melons are, unfortunately, a much more involved fruit than bananas, and without a spoon, eating one in a socially appropriate manner is next to impossible. I thought it best not to attempt the liter of goat's milk.
I had put together a rough itinerary to do a huge loop around the south of the island, but I was soon knocked off course by a sign announcing "mountain villages". Unlike those in Thailand or Peru, Cretan mountain villages are full of modern buildings and cars, and are virtually identical to any other town. My spirits were lifted a bit when a child ran out and waved to me as I passed through the tiny burg of Aski, but it would've been better if he hadn't been listening to his iPod at the time.
I had planned to turn around at a spot where the map indicated the road would end, but when it didn't, I felt I had no choice but to continue on until it did. After an anxious half hour, where each minute I questioned whether I should turn around and return the way I had come, I reached a recognizable crossroads and discovered that I had in fact resurfaced in a completely different section of the island, at the base of the Plateau of Lasithi. Following a winding road up onto the plateau, I ran across the Museum of Homo Sapiens. Here, you entered a tunnel at the base of a windmill and wound through a mountain to a ticket booth; various signs proclaimed, in seven different languages, the wonders that awaited you beyond this booth, but I thought it best to keep my two euros and press onward. As I approached the road, a long jeep caravan, with a rainbow of neon paintjobs and tourists hanging out the top of each, came screaming around the curves on its way down to the plains below.
I followed the standard circuit around the plateau and soon reached a cave that had been transformed into a tourist mecca. The parking lot was encircled by souvenir shops, restaurants, and milkshake vendors, and a group of donkeys sat waiting to bear the lazy directly from their cars to the cave far up the mountain. The student rate was two euros, which I reluctantly paid, assuming that this was likely the only of the island's three-thousand caves that I would have a shot at seeing. Sadly, it was fairly small and unexceptional, and I was in and out in under five minutes.
Greece is one place where it pays to be a student. An American student card, and often just youthful features, will get you half-price admission to nearly every attraction in the country, and, on occasion, half-price trains as well. Those from the European Community, however, get into everything for free, and each time the ticket seller asked for my country, I fell to pondering what European country could possibly be home to a "University of Florida". Spain would be the obvious choice, but the English title would definitely be a red flag, and I would guess the average Greek probably knows enough Spanish to pin me as a non-native. Moldova might be a better bet; I'm fairly certain not even the Europeans know the first thing about that country.
I encountered a road that was marked as gravel on the map, and the picture of a jeep on the road sign certainly offered no optimism on this front, but upon following it, I found nothing but beautiful pavement for miles, as I sped along the contours of the mountains and punched through great herds of sheep and goats. But just when I let my guard down and allowed myself to assume I would be able to effortlessly pass through the mountains and enter a larger loop in the south, the pavement changed to rubble and I had no choice but to turn around. I found another cave that had clearly been an attraction in times past and had an excellent staircase leading to its mouth, but lacked any other infrastructure or personnel; I suspect this might have had something to do with the fact that it was only four feet high, went back about twelve feet, and had zilch in the way of formations.
I returned to Iraklio via a convoluted series of roads and got a light dinner of yogurt and melon. This staved off my hunger for all of fifteen minutes, at which time I stopped for a mushroom and cheese pie and a cone of gelato. I noticed a cup of sample spoons atop the gelato case and asked to sample one of the flavors; the attendant handed me a tiny spoonful without any hesitation, but upon requesting a second sample I was informed that I was limited to the first. As an American, this is a very difficult policy for me to grasp; though I have never followed through, I have frequently plotted with friends to see what absurd quantity of samples one person could request before he/she was cut off. A one-sample policy is simply illogical; sure, if the customer is completely satisfied by the sampled flavor, then you're golden, but if the experience with the supplied flavor is less than ideal, how is the customer to make a decision? Does the shop as a whole just make inferior ice cream? And one is willing to make the leap and assume that just that one particular flavor was bad, how can one possibly know which of the remaining flavors to commit to? Even if the selection were quite tasty, is it really the best choice, or could it in fact be just the lowest entry in a superior breed of creams?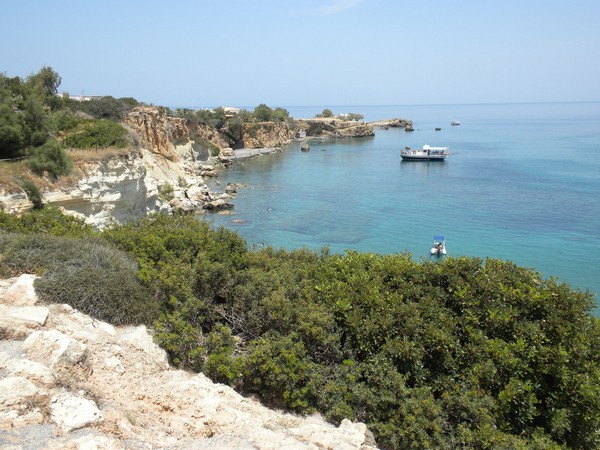 Views from conference venue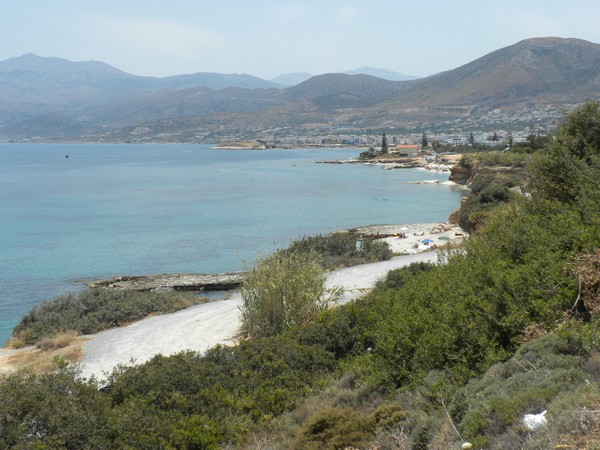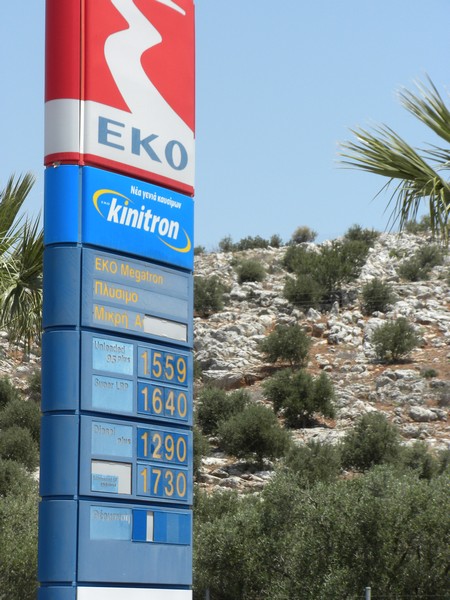 Ahhh, I remember when gas was this cheap in America - oh wait, that's in euros... per liter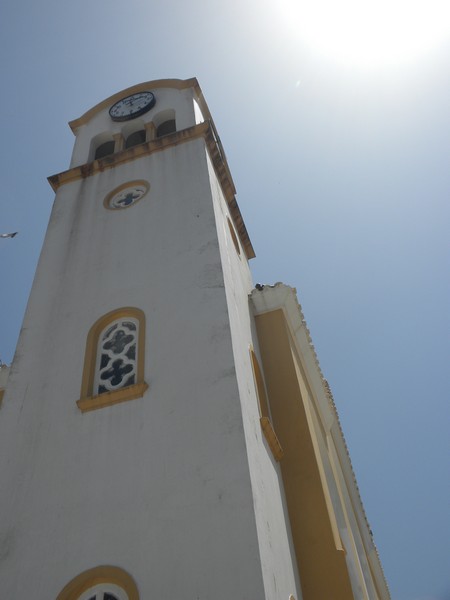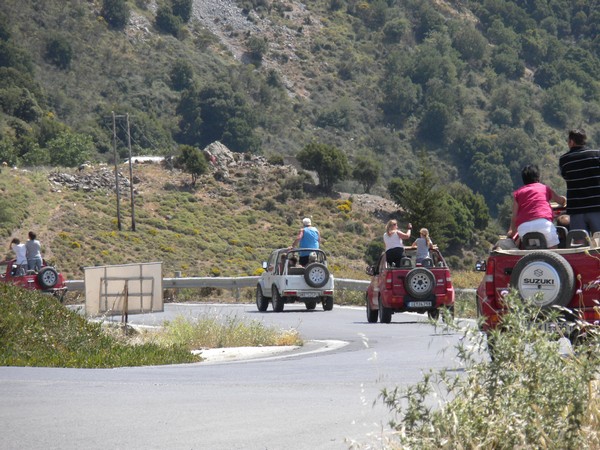 Silly tourists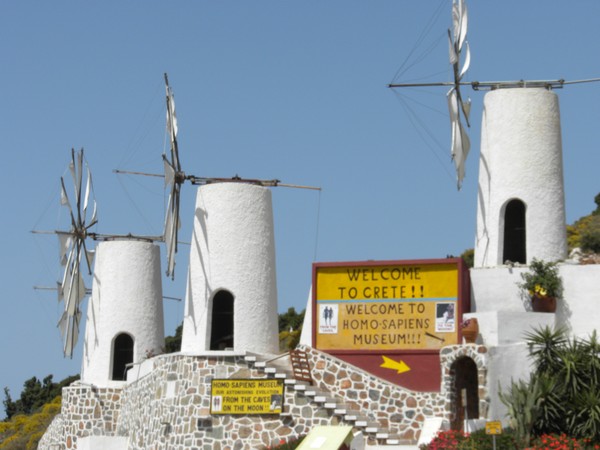 Homo Sapien museum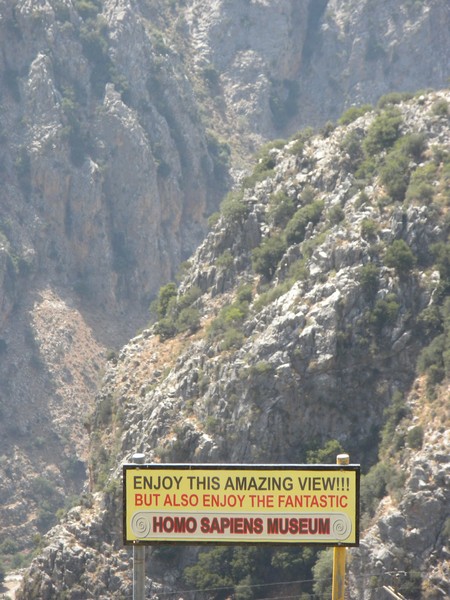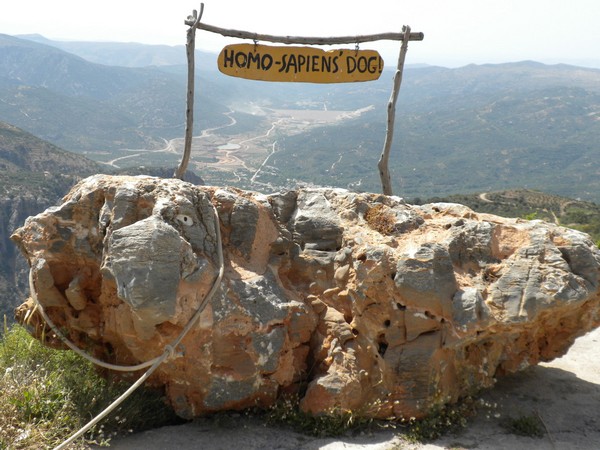 This one takes some imagination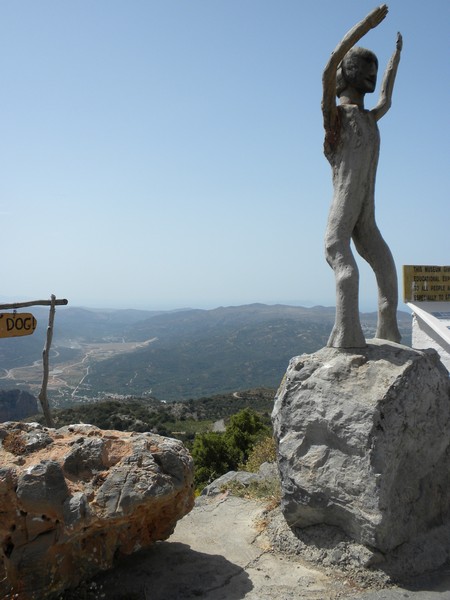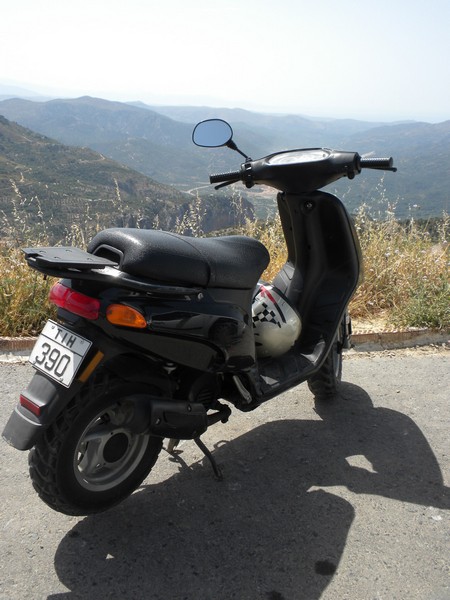 Mighty steed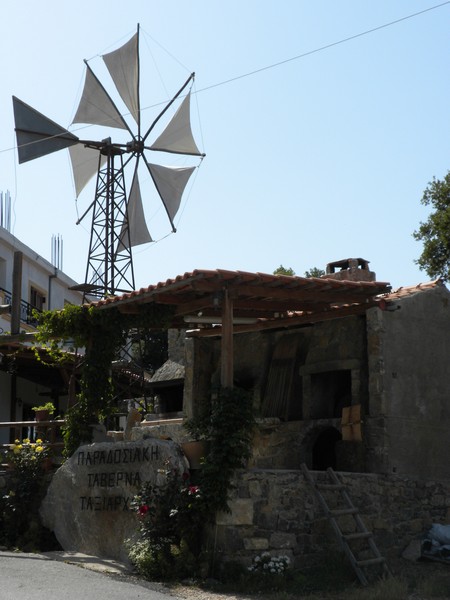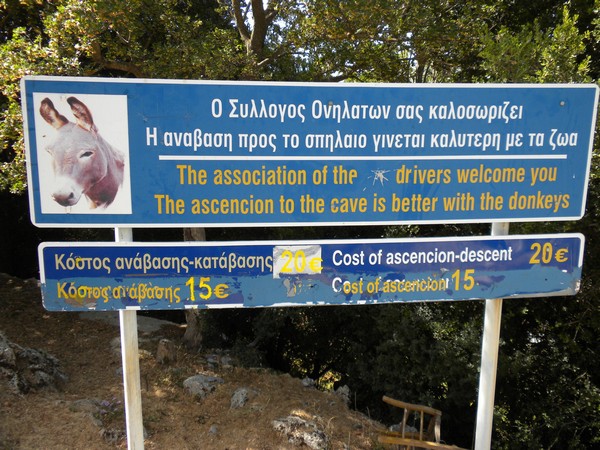 Why walk up that hill when you can ride a donkey?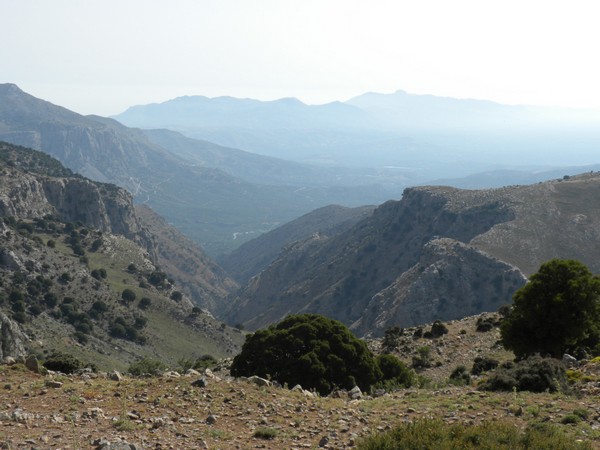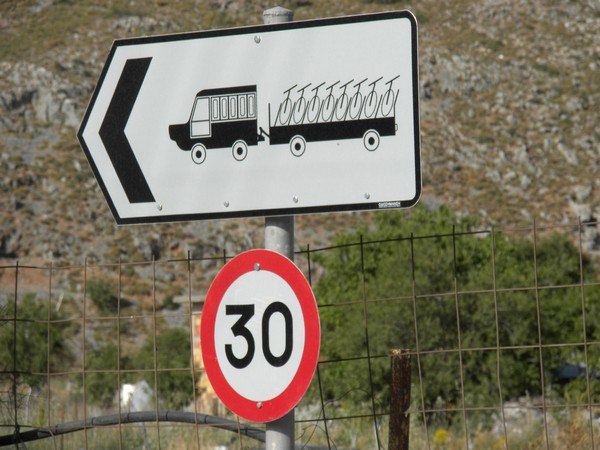 These signs were everwhere...

One of 3000 caves on island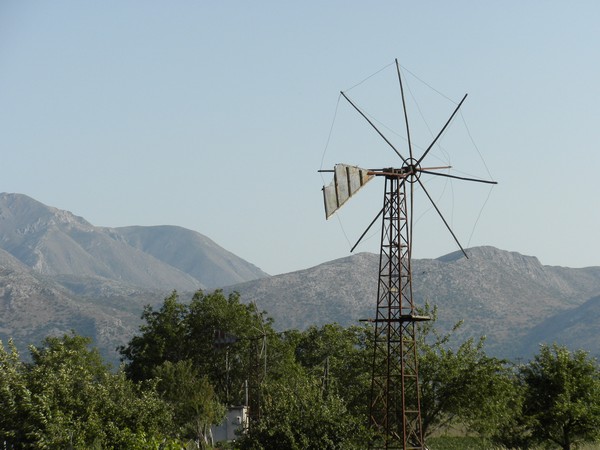 Day 6 - Iraklio
The morning commute to the conference could have been worse; it followed a windy, nearly traffic-less highway along high cliffs that dropped dramatically into the foaming sea below. The session in which I gave my talk had a very European flavor to it; the moderator showed up with a case of Smirnoff Ice, and gave a bottle to each speaker and three to whoever asked the best question for each talk. My presentation went well enough, though several people left after I mentioned that I wasn't the primary author and probably knew less about the subject than anyone else in the room. I honestly didn't expect anyone to stay, since my talk was immediately followed by an absurdly diverse lunch buffet, which featured moussaka, octopus, snails, and a few hundred other entrees, appetizers and desserts, including no less than five types of baklava. The demo session was held that night in "Club Aquarius", an onsite nightclub with a pool in the center of the dance floor; a buffet and open bar encouraged people to stick around and chat it up with the creators of a medley of fascinating ontology-driven mashups.
The weather for the ride back was dark and stormy, with high winds threatening to toss my little bike over the cliffs and into the sea below. I needed gas but didn't want to return my bike with more than a drop or two in the tank, so I only bought a euro's worth for the return trip. The attendant chewed me out in Greek, telling me I'd never make it. A powerful headwind did in fact bring me uncomfortably close to pushing my bike home, but I rolled in with ounces to spare (which I naturally siphoned out onto the street). On the porch of the old basilica, a full brass band was playing "Abba's Greatest Hits" when I arrived; they went straight through the whole album without pause, accepted fifteen seconds of applause, and then abruptly packed up their stuff and disappeared into the night. The Indian hawkers had expanded their range and were now selling bubble guns, RC helicopters, and electronic cycling Barbies.
One attraction I never managed to visit in Crete was the Cretaquarium. No matter where you are on the island or which direction you might be heading, you will always see signs directing you one way or the other to get to this place. They never indicate a distance or location, they just point left or right, and if you ever decide to follow one, you can be assured that there will be a continuous stream of such signs that will direct you through the countless turns and kilometers to get you to wherever the place happens to be (a fact I never uncovered). I understand it has some nice fish.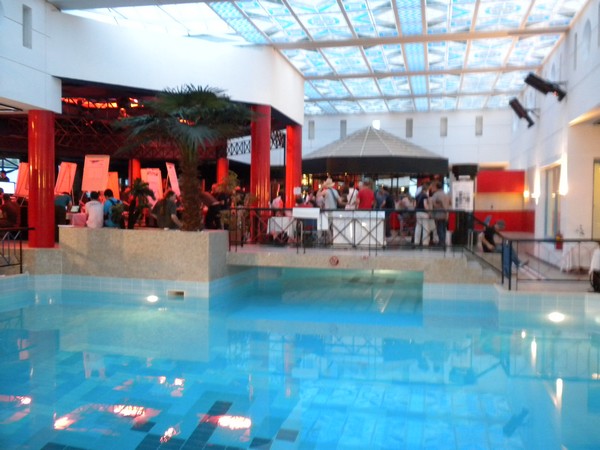 Night club with swimming pool where conference was held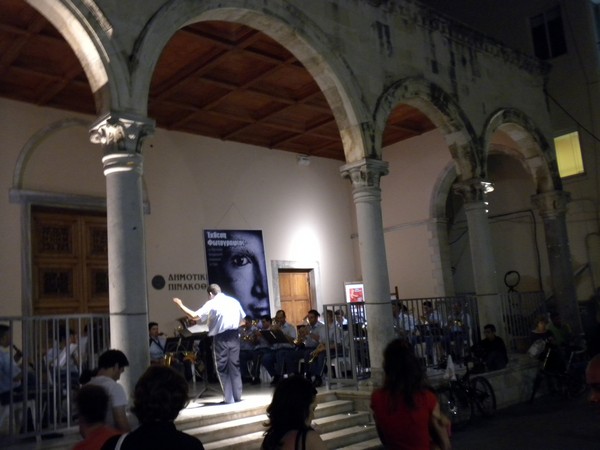 Brass band playing Abba's Greatest Hits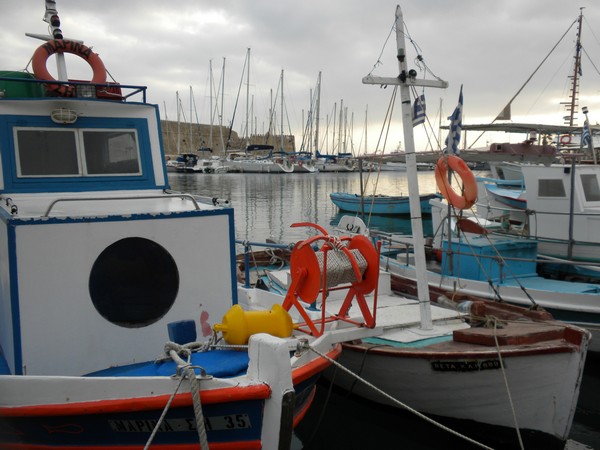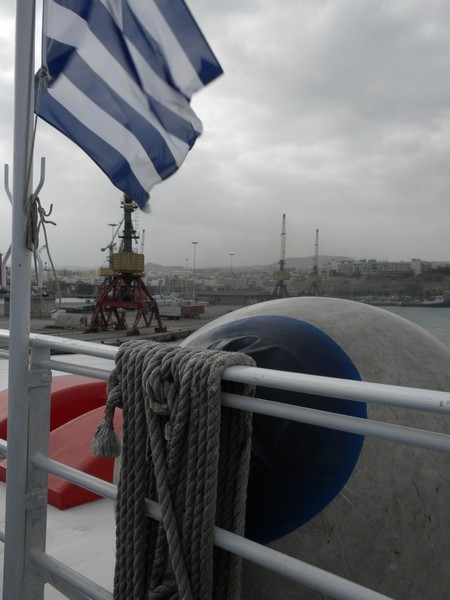 Day 7 - Santorini
None of the conference's remaining talks really appealed to me, and I was fairly certain that if I continued my daily rides to the conference, I would inevitably be killed off at some point by Cretan traffic, so I opted to take the twice-weekly ferry to the nearby island of Santorini. Arriving at the port, I was told, with no further explanation, that the ferry had been cancelled, and I would need to pay three times as much to take a hydrofoil. The seas were exceptionally rough, such that it became nearly impossible to stagger across the deck and the staff eventually forced everyone inside.
Upon arriving three hours later, everyone filed off the boat and on to one of a dozen buses, each of which having a given language associated with it. I took the "local bus" which had reclining seats, enormous windows, and copious amounts of AC, and cost two euros for the 9km ride into Fira. This, the main town of the island, was a non-stop barrage of jewelry shops, souvenir stands, gelato counters, and restaurants offering port and/or caldera views. I saw crowds of people descending a staircase to the old port and decided to follow. Along the start of this 587-step set, hundreds of donkeys waited to bear the weak-kneed down to the water far below. It turned out there was nothing much to see at the base of the stairs, and nearly everyone else was just getting on a boat to take a cruise, so I found an isolated rock just past the seawall and commenced eating a melon I had been carrying around, using roughly the same technique SNL's Mr. Peepers might use to eat such a fruit. I washed off in the sea and commenced hiking back up the stairs; despite the constant stream going down, I only saw one or two making the return trip, the rest likely preferring the gondola that left from a hundred meters down the sidewalk.
I made a circuit of the town to investigate a motorbike rental, and found that, even though there were about fifty people with exactly the same business in a square mile, and I would only be renting for five hours, no one was willing to drop below the standard 15-euro 24-hour rate. I eventually found a fellow who operated out of a podium on the side of the highway who was willing to give me a bike for 10. This guy had gone one step beyond the typical gas-draining practice and had disabled the gauge as well, so that the needle forever sat at empty and the indicator light blinked nonstop. Any reasonable person, in order to be on the safe side, would have been forced to fill it with way more gas than needed; fortunately, I am not such a person.
I biked to the southern side of the island to a town full of reasonably-priced 24-hour bakeries. While munching on a pizza round, I spied a church in a large cave sitting high above the flatlands. I hiked up to it and found that it was surrounded by climbing routes with a detailed sign explaining each. The ruined city of Ancient Thira lay just above this alcove, but the trail to get to it followed a circuitous route that would probably take an hour to hike and would run across a ticket booth where two euros would likely be extracted from me. So I elected to forge my own path and scramble up the boulderfield along innumerable goat paths, which all smelled of Italian seasoning. After some time on this tack, I felt I was making good progress, but I still had a lot of vertical distance to cover and was getting progressively more and more sketched out, so I resigned to giving up, descending and resuming my ride.
The next stop was the ancient city of Antikori, but this had apparently been closed due to a ceiling falling on some tourists some years back, so I went to a nearby beach instead. A still-operational lighthouse sat on a rocky outcropping at the southernmost tip of the island and provided amazing views of the coastline.
Gas station attendants have the uncanny ability to accurately estimate exactly how far your bike can go just by eyeballing the level of fluid in your tank. I do not have this ability; I can tell exactly how far I can go when my bike sputters to a stop. This came to pass on a rather steep hill and I pushed the onerous scooter the remaining kilometer to the nearest station. Due to a mistranslation, I ordered one euro less than I had intended to, and this blunder would come back to haunt me soon enough.
I stopped in Pyrgos to peruse its picturesque twisting alleyways, and then continued towards Oi on the north end of the island. What I didn't realize, until I consulted my map near the northern tip, was that there wasn't a single gas station north of Fira, which lay some twenty odd kilometers to the south. This time, my bike came to a stop on what could very well have been a 45% grade, and I had to lean my whole body into it to move it the hundred meters to the next convenience store. The clerk informed me that my only shot at getting gas was a rental agency a kilometer down the road. Reaching it, I found that the staff had a protocol in place for just such a scenario, and it entailed charging me five euros for a 1.5 liter bottle of gas siphoned from a rental car; I negotiated the rate down to 2.5 euros for a liter and made it back to town with no further issues.
In a refreshing shift from the shops in Piraeus, every ferry office in Fira had a full schedule of departures to all reachable ports. Finding no easy way to visit another island and subsequently return to Athens, I bought a ticket for the 12:40AM ferry to the capital's port. With little left to do in Fira, I opted to just hike the 9km back to the dock. I've always said that the best way to get to know a place is to hike across it in the middle of the night.
I stopped at a discount grocer where I found big containers of nutella and tahini for two euros each and kinder eggs at a rate of three for sixty cents; sadly, I didn't feel like carrying any of these, so I just picked up a week's supply of raisins and gum. At the port, I found an international cast of backpackers from seven different countries, and joined them for an absurdly large game of cards. The ferry drifted in some ten minutes after its scheduled departure, but was nicely equipped with enormous air seats that provided the first decent night of sleep-in-transit of the trip.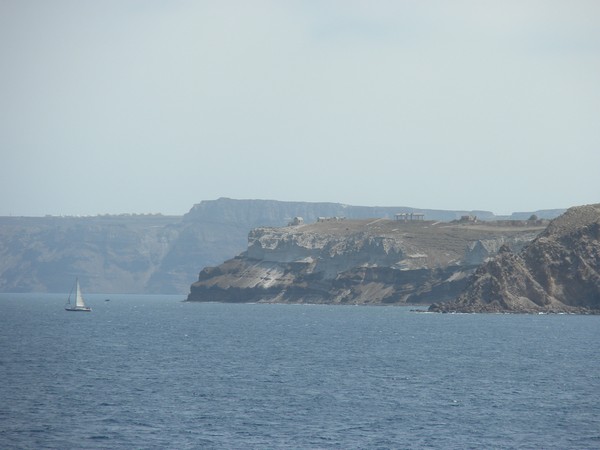 Approaching the isle of Santorini

On bus from port to main city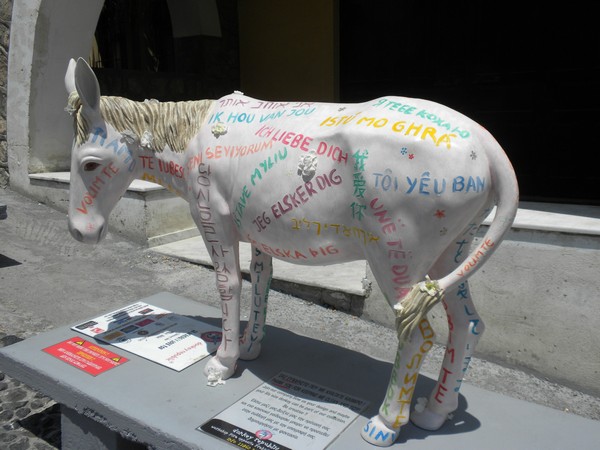 Asses on Parade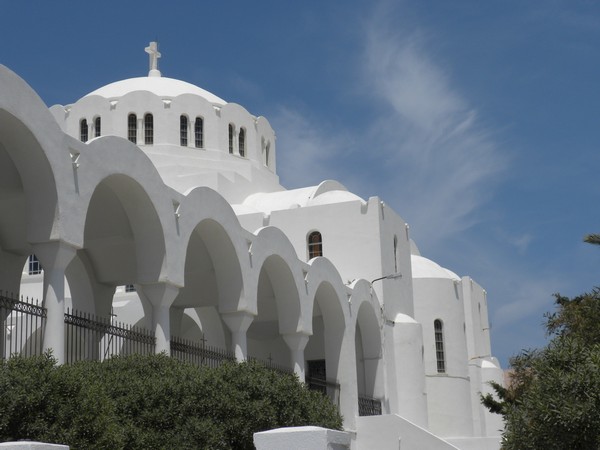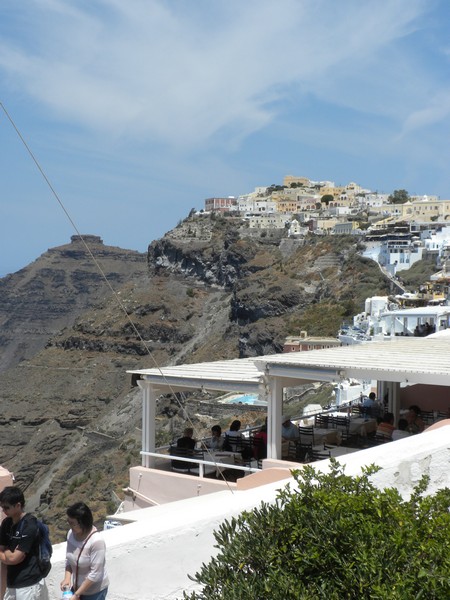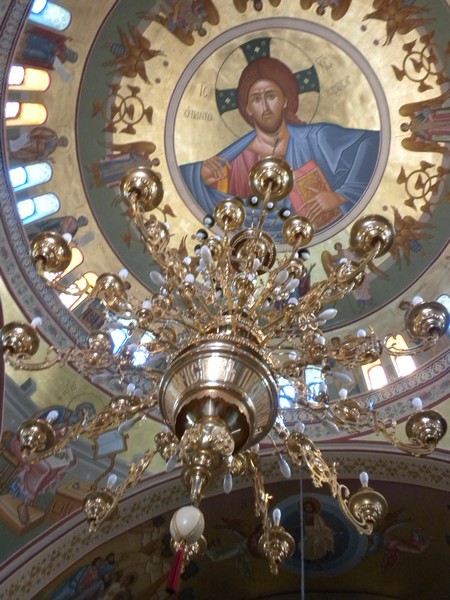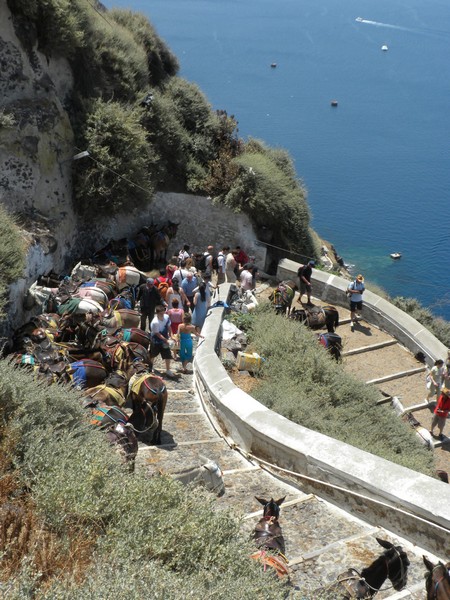 587 steps covered in donkeys, tourists and crap (from the donkeys, not the tourists)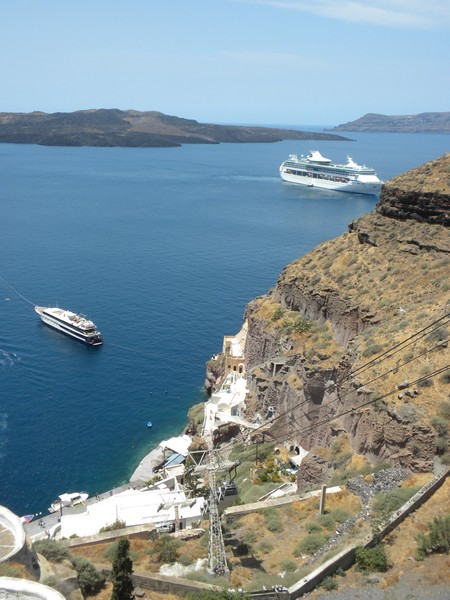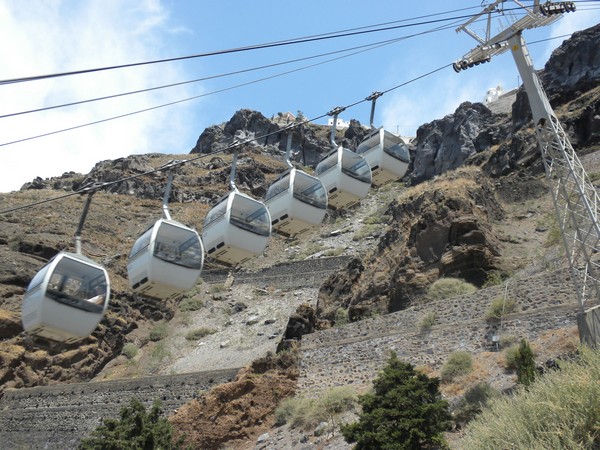 Alternative to stairs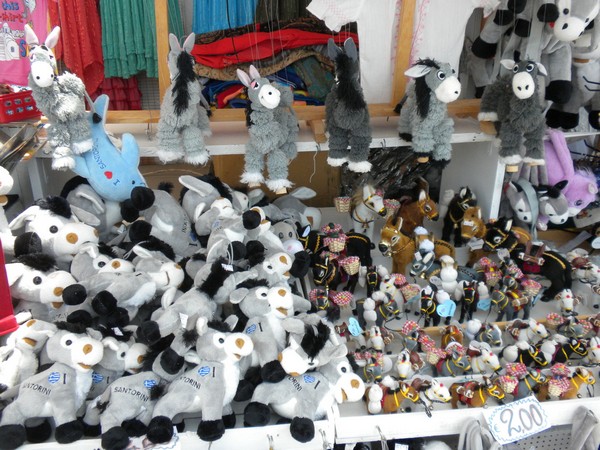 Typical souvenirs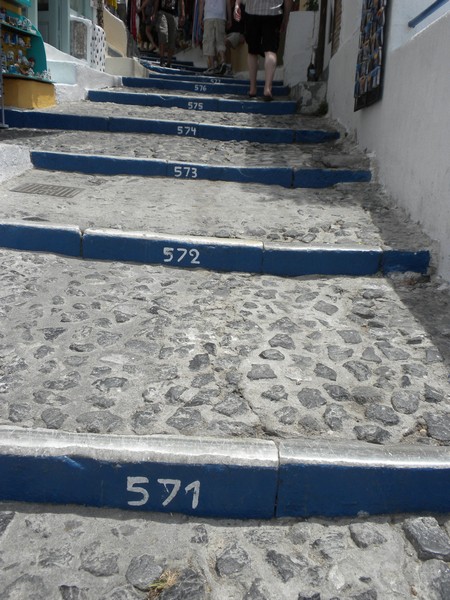 In case you lost count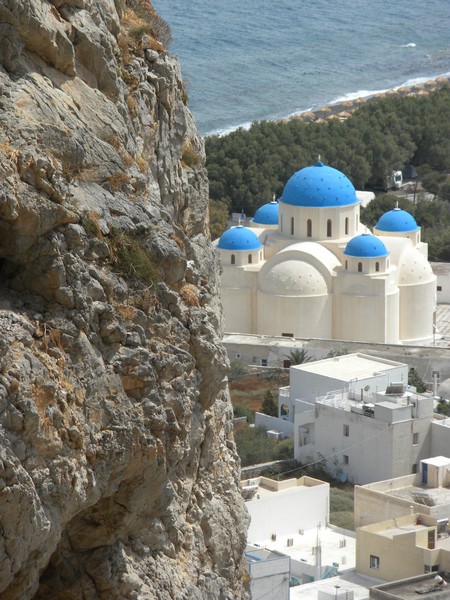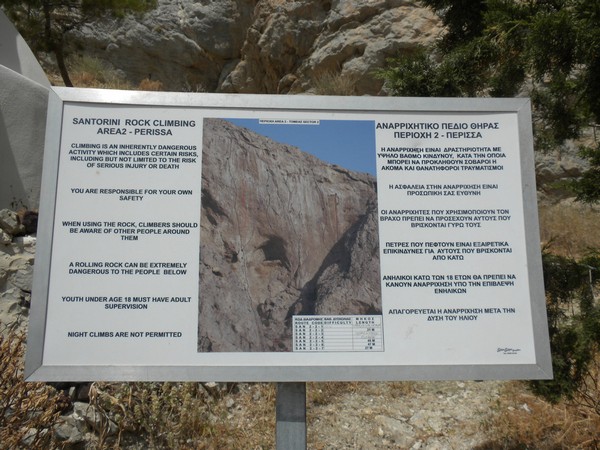 Climbing at the cave church!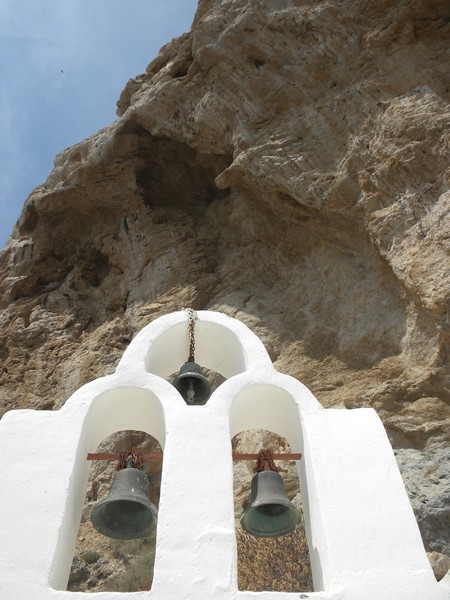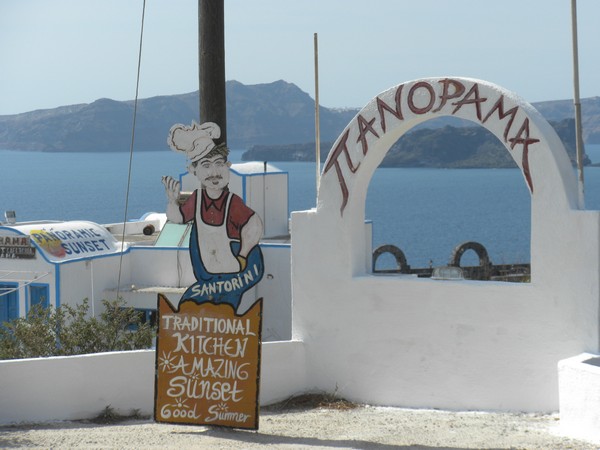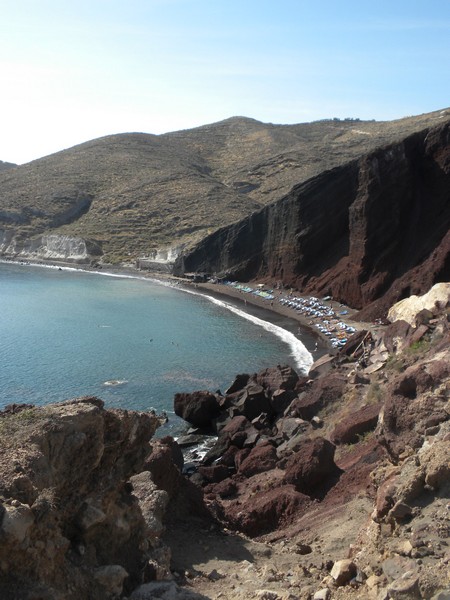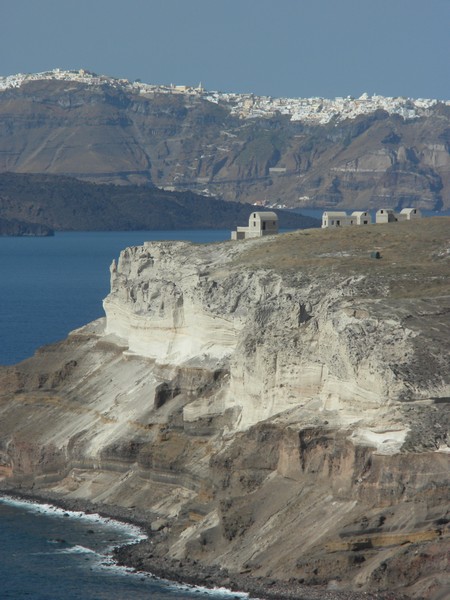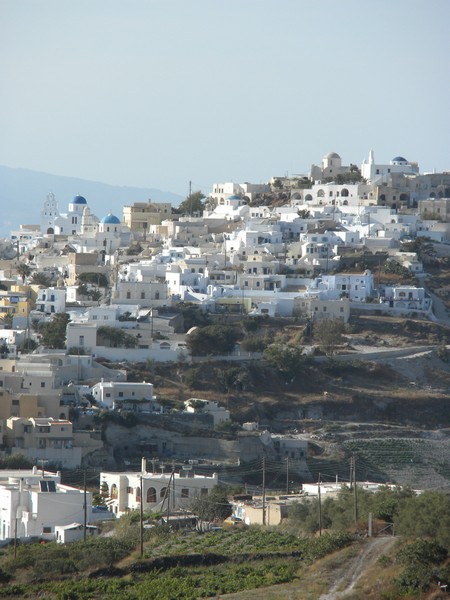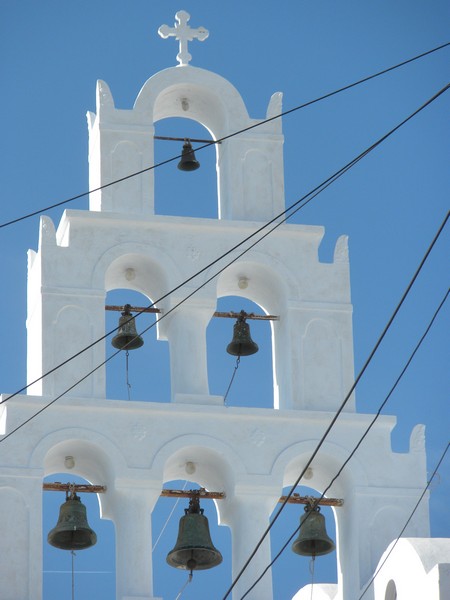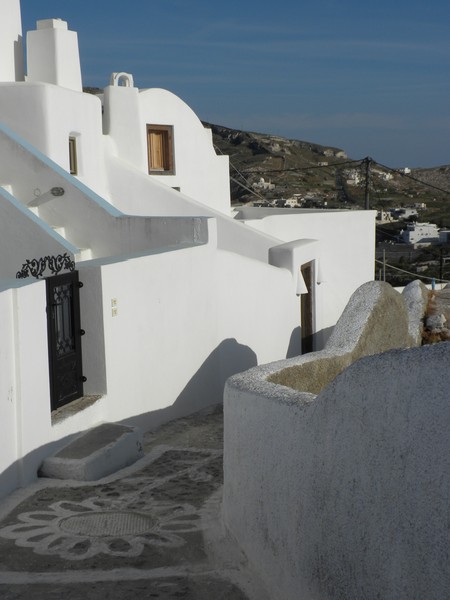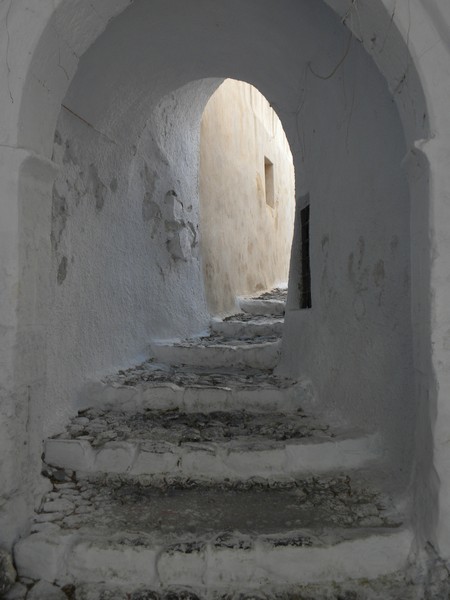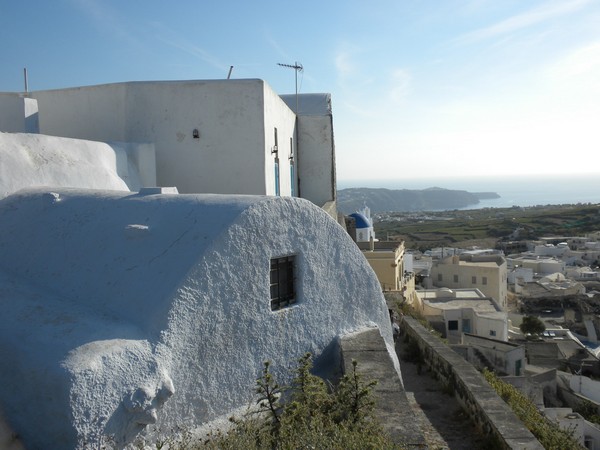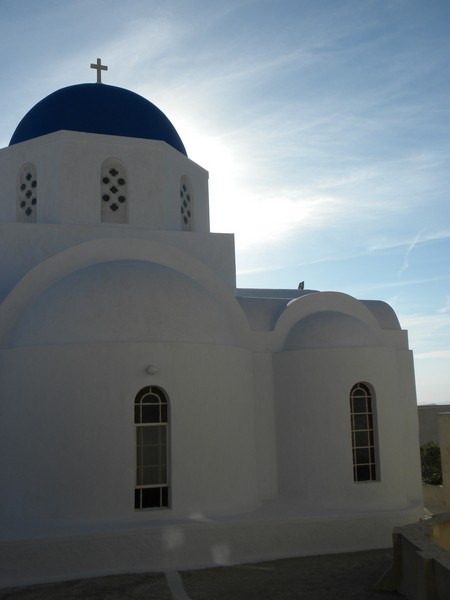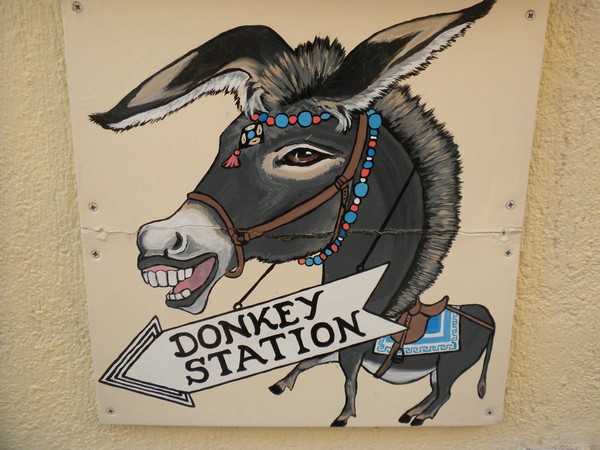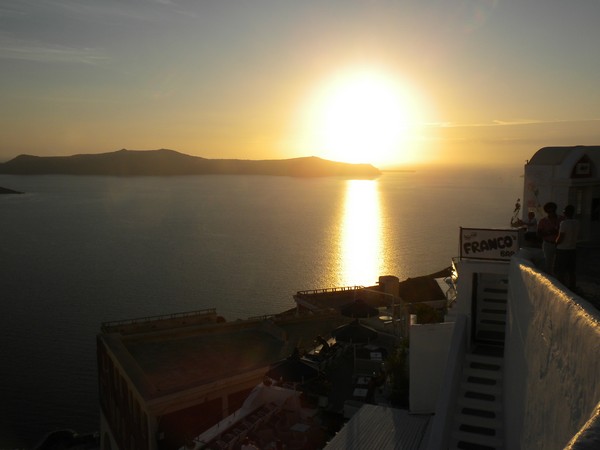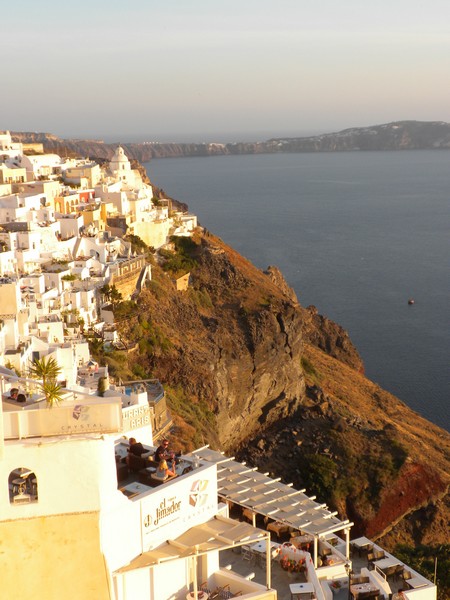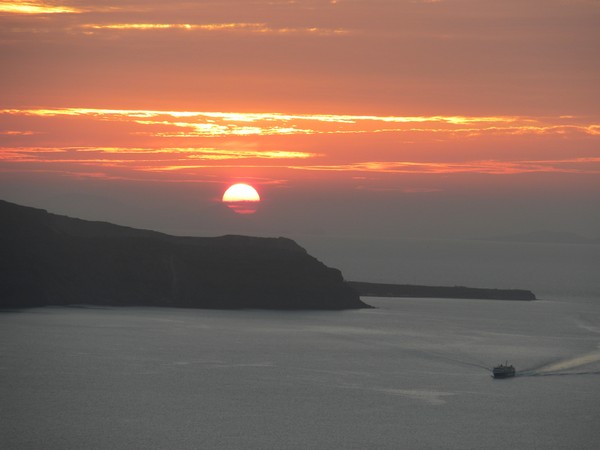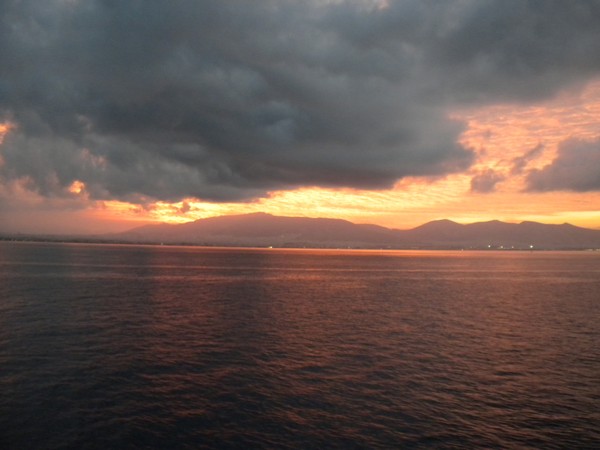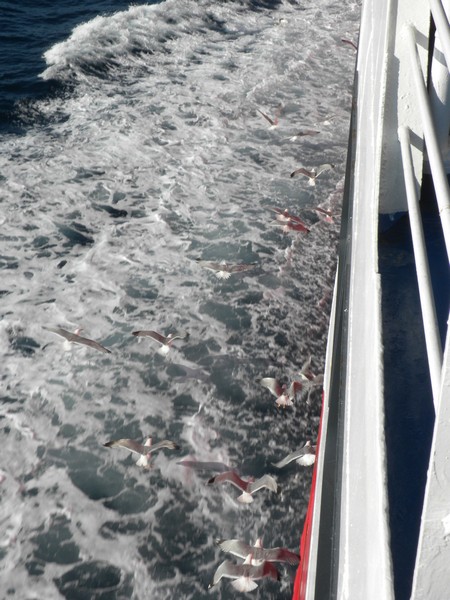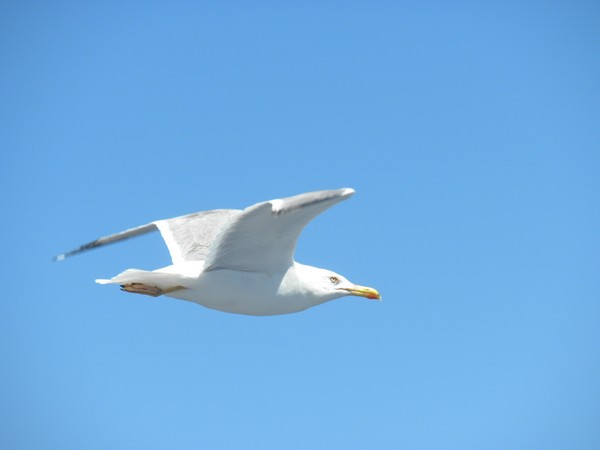 Day 8 - Meteora
When the ramp lowered to let loose the ship's passengers on to the streets of Piraeus, nearly everyone raced on to a pair of waiting buses. Since the port was right next to the metro station and I likely would not get a chance to walk for a while, I decided to just go by foot. What I failed to realize was that the port was several kilometers long and it was a good twenty minutes before I got where I was going. Once there, I found the doors of the station blocked and big clumps of foreigners standing outside looking distraught; I asked at two different tourist offices and ascertained that the country was on strike and the only way to get around was by taxi or ferry. It would have been easy to find a group with which to split the thirty euro cab fare into town, but there was really nothing I particularly wanted to do in Athens, so I booked a ticket on the next boat to the nearby island of Aegina (nine euros, one hour).
I was hoping to just hike around the island, since the book suggested there were several long trails, but everyone I talked to just laughed at the idea and there were no trail maps to be found. My backside probably wouldn't survive another day on a motorbike, and there wasn't a whole lot to the port town other than a couple of restaurants and pistachio stands. Furthermore, I noticed that the buses were in fact running on schedule and no one could tell me anything about the strike. Eventually I decided to just hop on another boat, return to Athens and see what I could figure out there.
Back in Piraeus, I asked at another tour desk and learned that only the city itself was affected by the strike and all intercity trains and buses were running as normal. I was about to find some people with whom to grab a cab, as I was advised to do by everyone I spoke to, but then I happened to notice a second train station just beyond the metro that seemed to be running as normal. For one euro, I got a ride on the suburban rail to the central train station, and there bought a ticket for a Kalambaka-bound train that would leave two hours later. Of course, had I gone straight here from my morning ferry instead of embarking on my little island detour, I would have left some six hours sooner; it's amazing how often people will answer important questions with absolute certitude, with little regard for whether the answer they're giving is the correct one.
I did my best to get lost in the train station neighborhoods while I waited. Thriving immigrant communities meant signs were just as often in Bulgarian or Arabic or Chinese as they were in Greek. Frequent buses left for Skopje, Llubjana, and other points abroad. In some stores, English seemed to be used as the lingua franca. I discovered another peculiarity of Greek driving; during grid lock, motorcycles will simply pull up on to the sidewalk and thus circumvent the long lines of cars; if you are a pedestrian from outside southern Europe, you might assume that you always keep your right-of-way on sidewalks, pedestrianized streets, and arcaded walkways, but at least in Italy and Greece, you would be dangerously mistaken.
The scenery on the northbound train was extremely scenic. I had to stay awake to listen for a seven syllable station name where I would change for Meteora. All of the electronic departure boards in Greece are non-functional, so myself and several others waited on a platform in an otherwise empty station in the middle of nowhere, unsure of when, or even if our connecting train would show up. After half an hour, an ancient, two-car affair rolled up and carried us west to Kalambaka.
Exiting the station, my mood instantly improved. Towering rock formations rose over the city, some honeycombed with caves and others capped with tiny churches. I considered just hiking up and sleeping on one of these spires, but had to admit in the end that I didn't know anything about the area's wildlife and didn't have much to protect against the evening chill, should it ever arrive. According to my book, a single room at Koka Roka Rooms was supposed to run about twenty euros, but when I arrived, the only available offer was to share a room with some random guy for twenty-five. I hiked into town and secured a table amidst a couple of fake coconut palms in a small tavern, and ordered a delectable dish of stuffed peppers and tomatoes. The rocks were dramatically lighted by giant spotlights and these were all I had to try to find my hotel which was nestled back in a barely navigable jumble of darkened streets on the edge of the forest; I wasn't lost for more than an hour.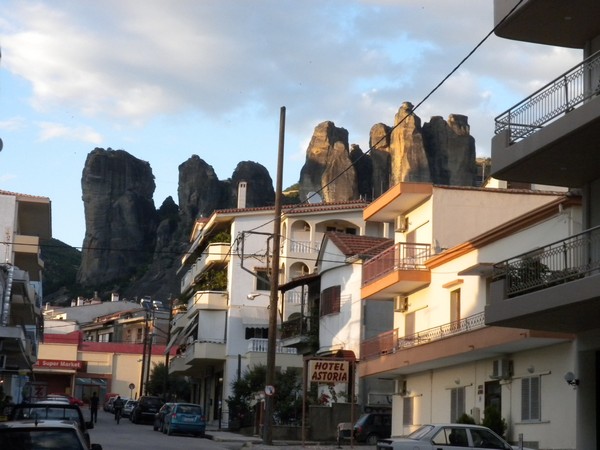 View from Kalambaka train station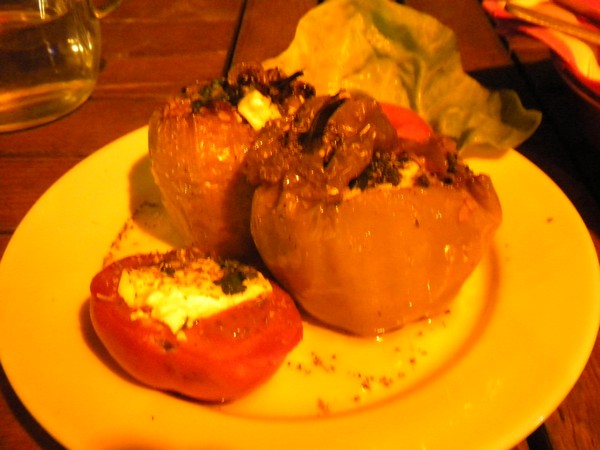 Stuffed peppers/tomatos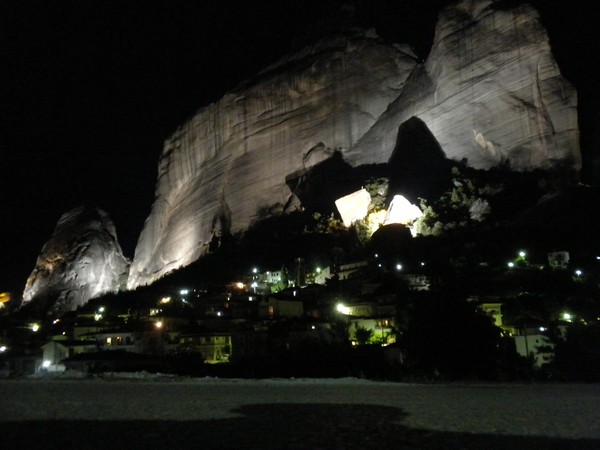 Meteora at night
Day 9 - Meteora
I was up at five to begin my day of hiking around monasteries. There was a time not too long ago when only hiking paths connected these enclaves and only the most intrepid of travelers could access them. In the past few years, however, they've built an excellent road that winds through the spires and gets you nearly to the front door of each, and naturally this has transformed Meteora from the domain of hardened pilgrims, climbers, and hikers, to that of day-tripping package tourists who arrive aboard luxury buses from the coast. Fortunately, I started out three hours before the monasteries opened, and aside from a few nuns out for a morning stroll, I was the only one on the road. The downside of this was of course that I couldn't actually get into any of the monasteries, but there was, at any rate, a two euro entry fee for each which I was not particularly inclined to pay six times. Each one I reached had more elaborate architecture and a more spectacular perch than the last, and as I walked, I contemplated whether I might not be called to the monastic life after all.
I reached the penultimate monastery at 8:55 and caught a glimpse of impending doom as a pair of shiny tour buses pulled up. I realized there was no time to be wasted, and raced next door to Moni Meteoron, the grandest of them all. I was one of the first through the doors and had a full twenty minutes to explore the place before the hordes descended. The monks maintained a nice collection of skulls, as well as a substantial wine cellar, and, in a bit of a departure from the pacifistic tendencies that usually typify the profession, an extensive military museum.
There was still another monastery which was closed to tourists beyond Meteoron and this was my next target. My guidebook's map used four different line styles to depict roads, but each of these was equally likely to be a highway, gravel road, maintained trail, or goat path, and it was therefore quite useless for navigation purposes. I took an unmarked path that ran up a hill next to the monastery and hiked for twenty minutes before spotting a large, impressively situated monastery in the distance; it took me another five minutes before I realized that I had in fact just walked in a circle and was viewing the same one I had left a short time prior. Breaking out my compass, I made my way further north and found the complex I sought nestled into the side of a cliff, completely invisible to anyone approaching from the south. I followed a series of paths in a southwesterly direction through the forest, encountering about fifty tortoises en route, each making enough noise to be easily mistaken for a bear or rampaging elephant. I ran across some climbers and several sets of ruined monasteries and eventually found myself back on the main road. I wandered up a random trail and met another tourist who had somehow obtained a free map that provided a 3D perspective view of the spires, and clearly delineated the trail network that connected all the monasteries, eliminating any need to ever travel on the road.
Taking a path back towards town, I happened to spot a large cave in the side of one of the spires with structures of some kind built into it and the faint sound of bells emanating from it. I worked my way through vineyards and forests on barely discernable paths and reached the mouth of the cave. It did indeed have the remains of some sort of tall wooden structure built into it, but what was more interesting was the herd of goats that inhabited it. When I tried to explore the place further, the goats withdrew further into the entrance and placed themselves in a defensive formation, turning their horns toward me with belligerent expressions. I gathered I had seen all I would get to see of this particular cave.
There were supposedly more trails to take me to another church, but I was soon just bushwhacking through thorns and brambles, and decided to retreat back to the main path. In town, I stopped in at a tavern that served up some delicious moussaka; unfortunately, the prices had doubled since it had been featured as LP's "top pick" only a year earlier. Completely exhausted, I bought a train ticket back to Thessaloniki and returned to my hotel to get my stuff. I had made an arrangement with the owner the night before where I would leave a bag in my room and she would move it to the reception and keep it there until I returned. When I inquired on the matter, however, she hadn't the faintest idea what I was talking about. After a lot of prompting, the old lady remembered that she had in fact thrown it away an hour before. We went to the dumpster and found my clothing spilled out on to the other garbage, which included, among other things, a soiled diaper. I proceeded to express my discontent that my belongings had commingled with baby poop, and suggested that she might run a quick load of laundry or give me a few euros for a laundromat somewhere down the line, but she refused, insisting that my clothing was dirty and belonged in the garbage. I briefly considered burning the place to the ground, but thought better of it and returned to the train station to await the five o'clock.
I had been sitting on the train for a few minutes when a Nigerian man sat down next to me and began a conversation by asking if I were from Romania; he had come to this assumption by observing that I was reading a Romanian guidebook. I opted not to point out the obvious fallacy in this reasoning, and explained that yes, I was in fact from Timisoara and was on my way back from a brief holiday in northern Greece (I figured my standard Zimbabwe story was a little risky in this case). He explained that he had recently completed university in Lagos, but had been unable to find work there and had entered Europe by way of Turkey. He had tried selling bootleg DVDs in Istanbul, but hadn't had much luck and was now making his way from one Greek town to the next. He eventually wanted to get to Sweden, which has apparently gained a reputation among immigrant street hawkers as a sort of promised land of consumerism and gullibility. He related this story and nothing more; he made no requests for money, or my phone number or address, and shared nothing about his role as the beneficiary of a grand inheritance from a deceased prince. He got off at the next stop and I never saw him again. This was not the behavior I had come to expect from Nigerians who engaged me on trains, and I was ill at ease for several hours after; I made a point of conducting myself in such a way so as to give little hint to where I was going or what I was doing next, in case he happened to be watching from around the next corner and plotting out a masterful scheme that I had no way to predict. I suspect I'm probably safe by now, knock on wood.
I got tickets for the overnight to Sofia for thirteen euros, which was oddly three euros less than I had paid for the three-hour trip from Kalambaka, and boarded the train at midnight. The other passengers in my compartment kept themselves entertained through the night by playing selections from their respective ringtone libraries.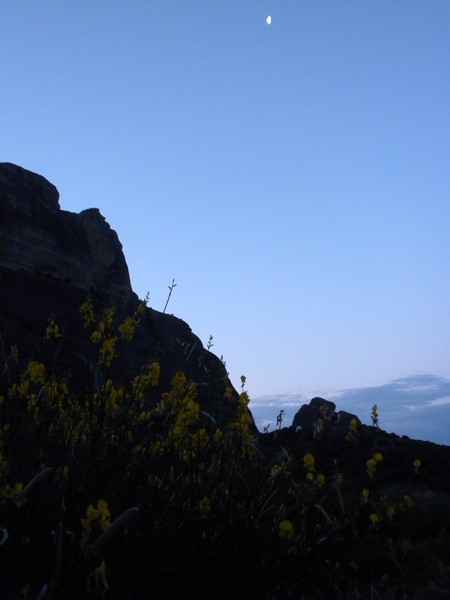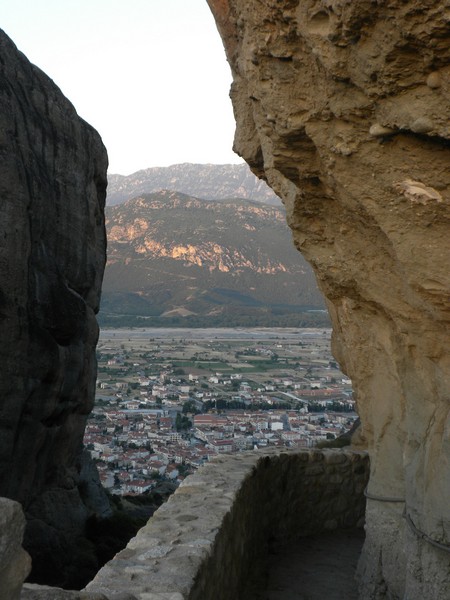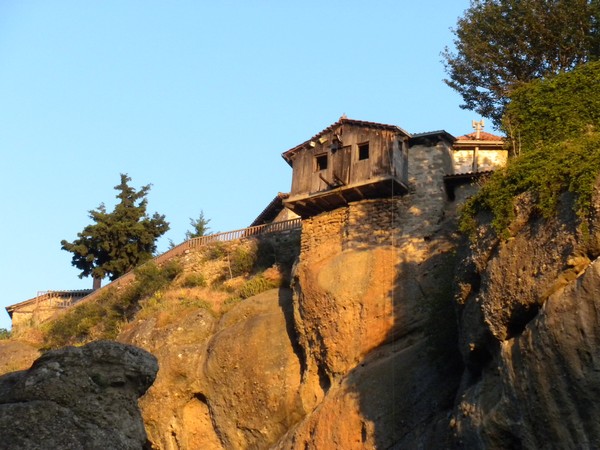 First monastery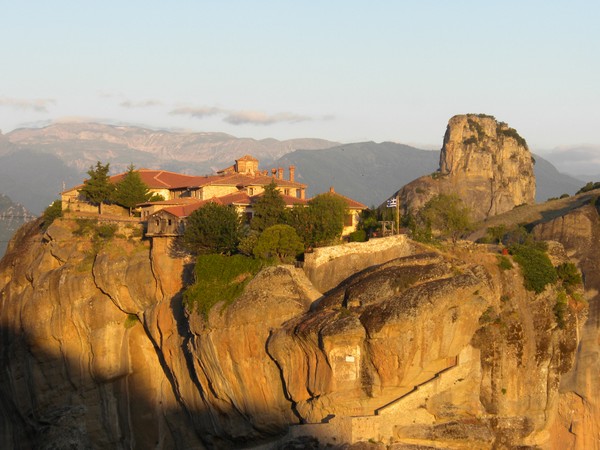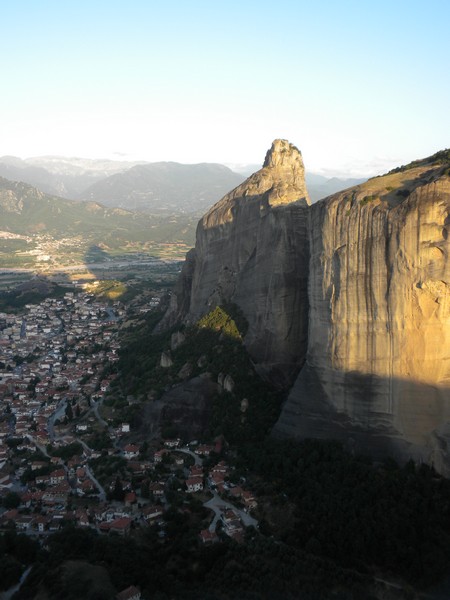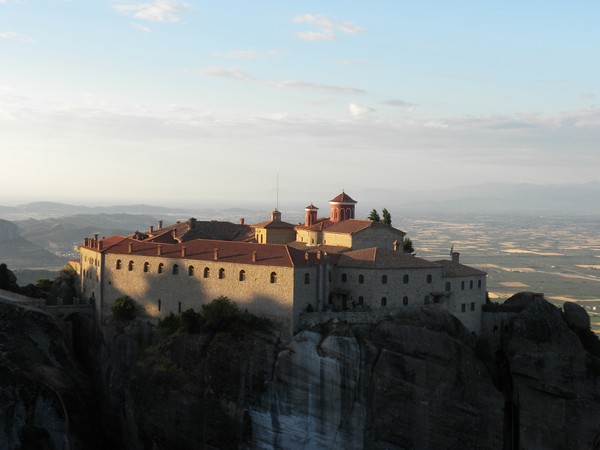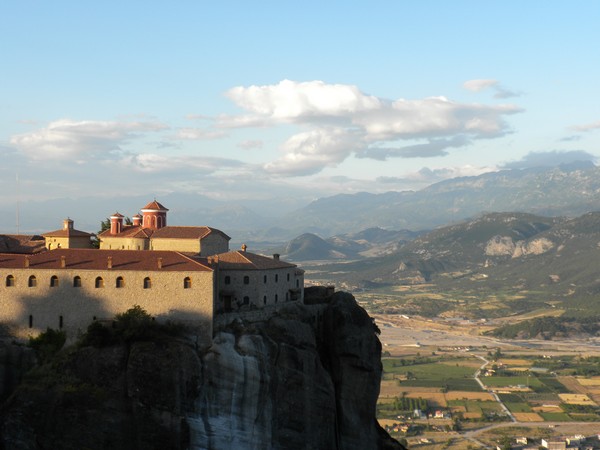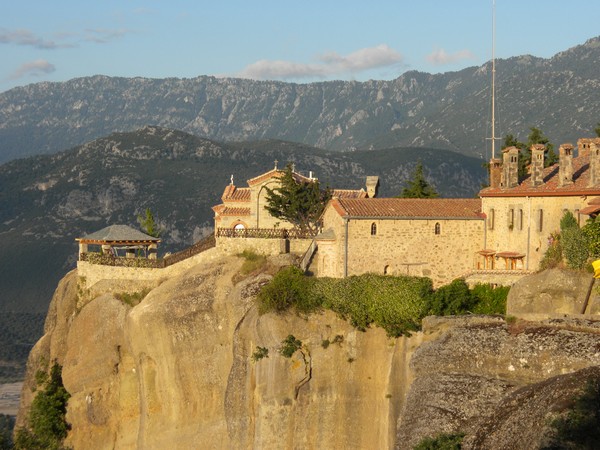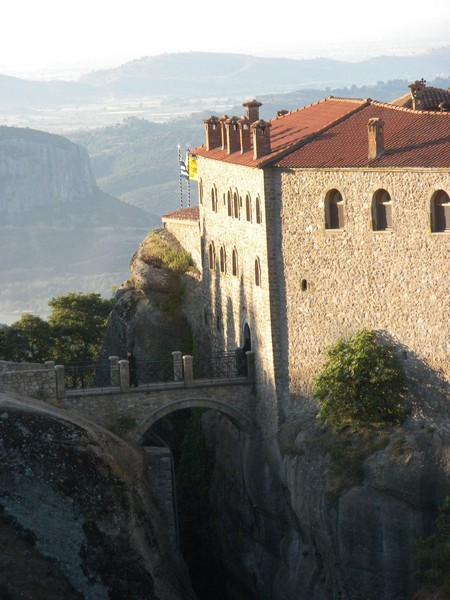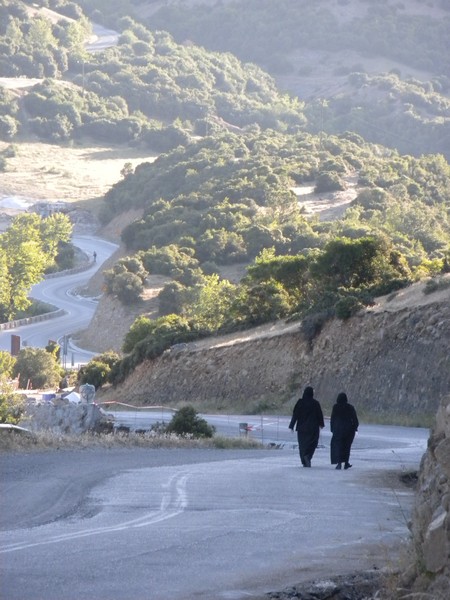 No one out but me and the nuns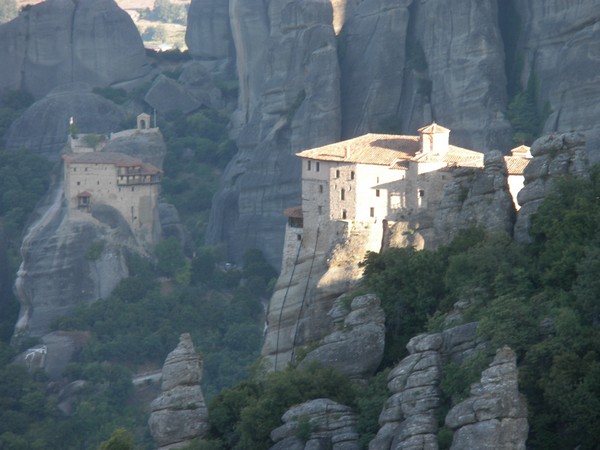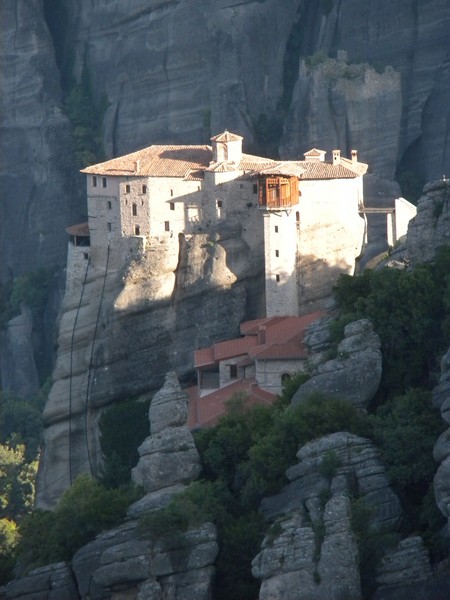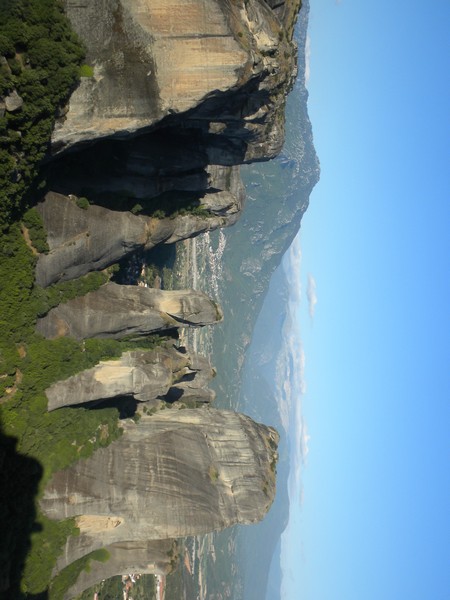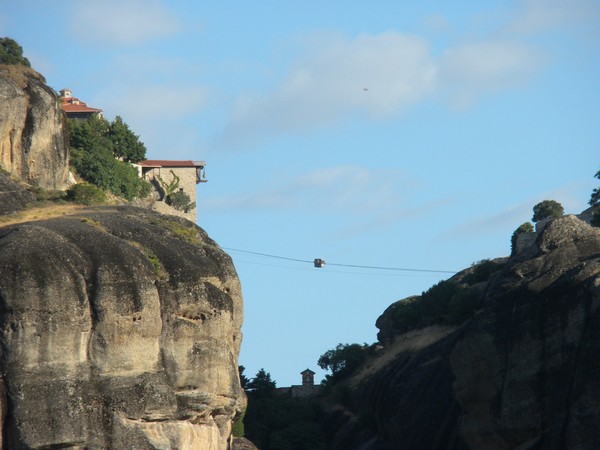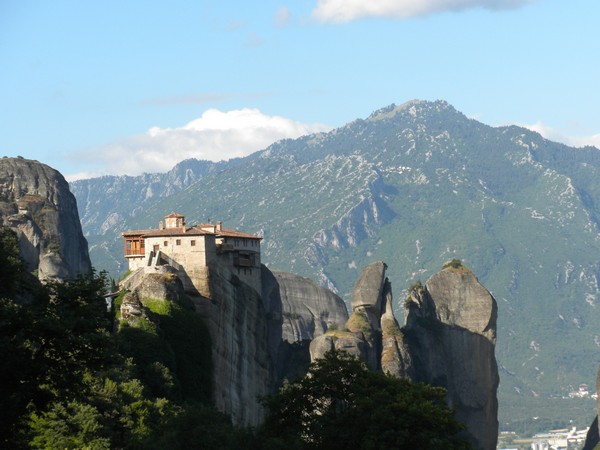 Mysterious cave with structures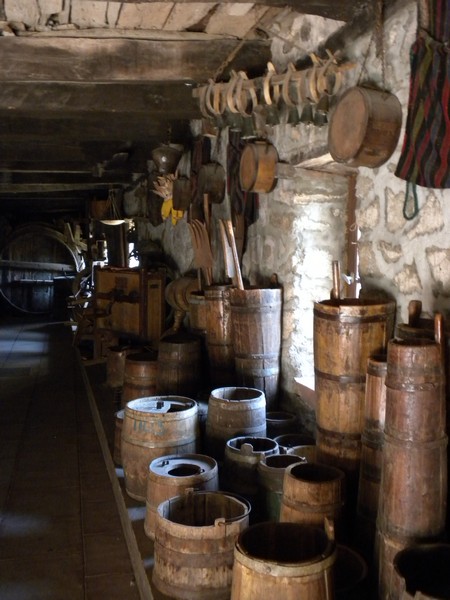 Monastery cellar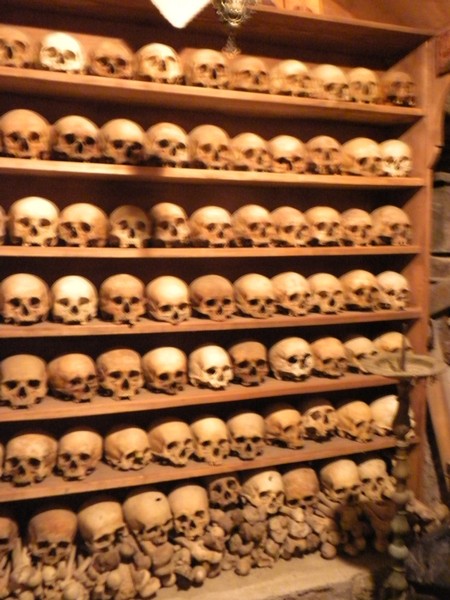 Ossuary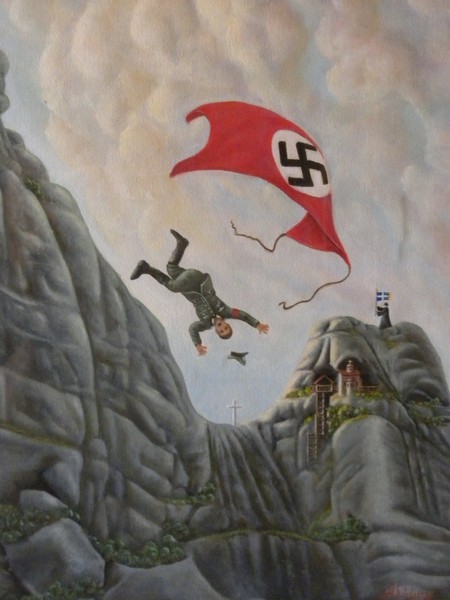 Kicking the nazis out of Meteora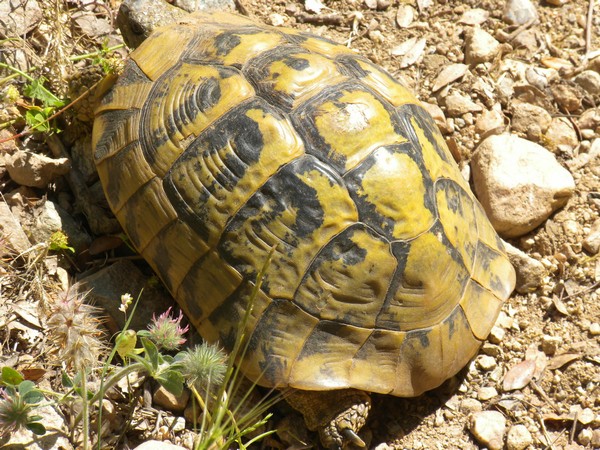 Ubiquitous turtle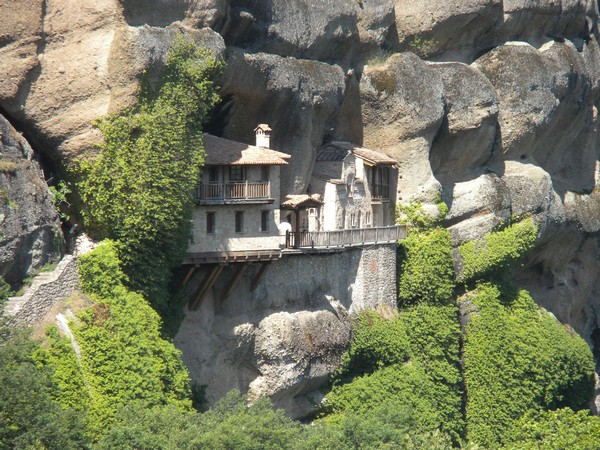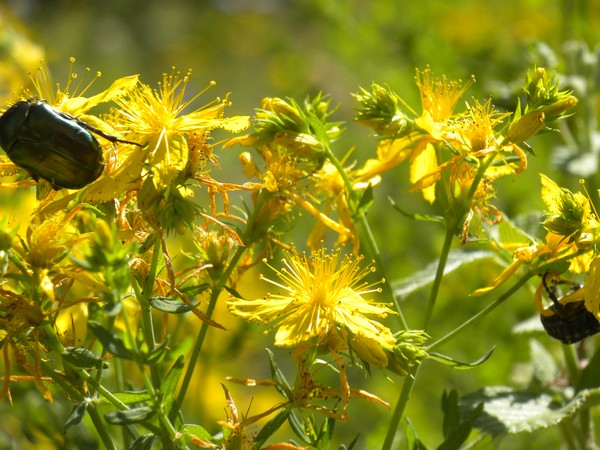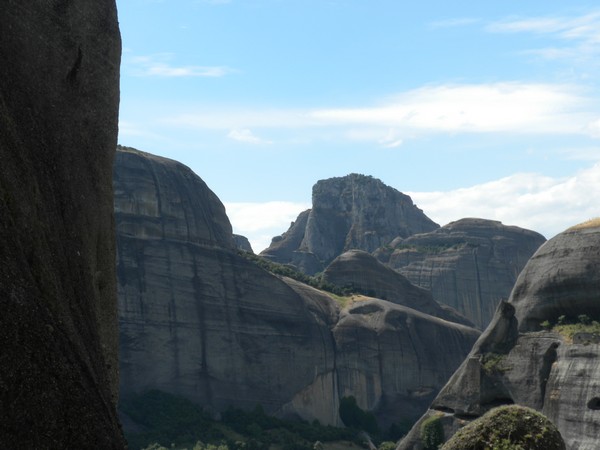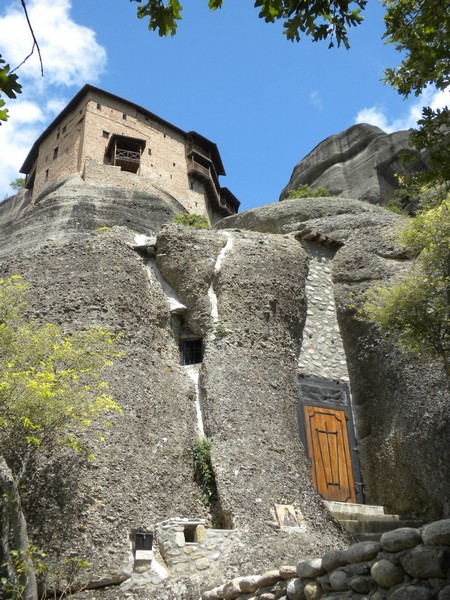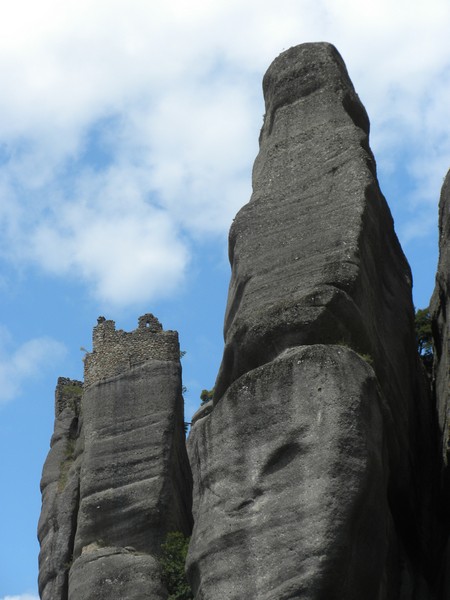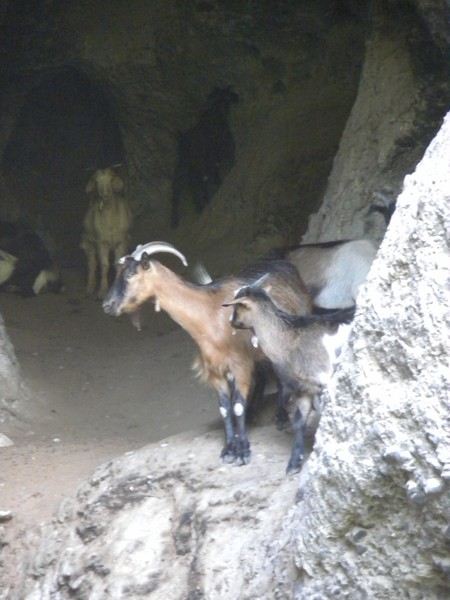 Cave goats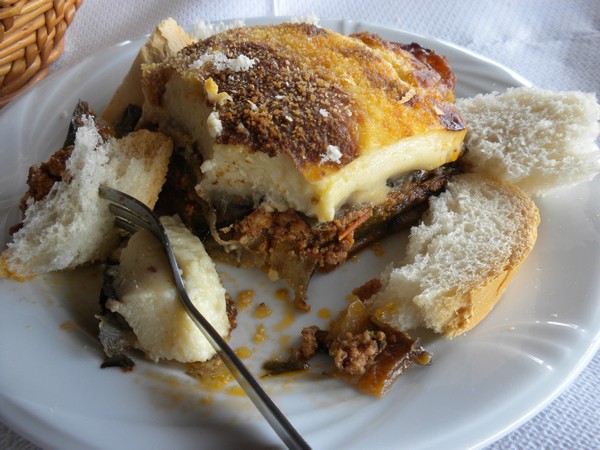 Moussaka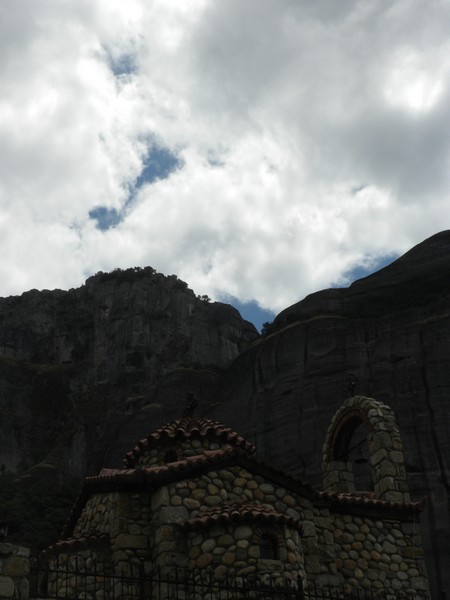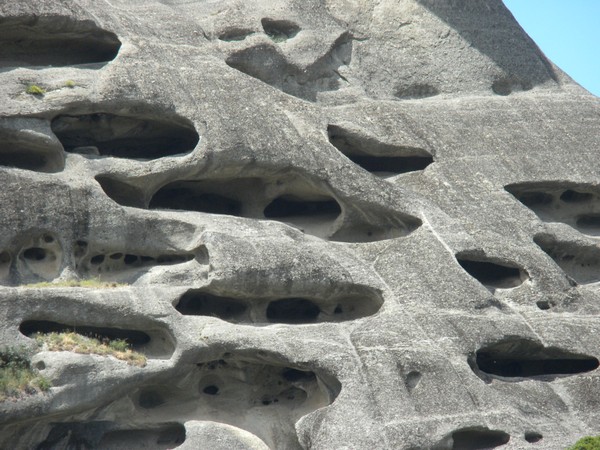 Day 10 - Sofia, Bulgaria
I arrived at Sofia's central station just after dawn. The place was clearly intended to be something grand; platforms stretched on for as far as the eye could see, but weeds covered the tracks and a general dinginess and emptiness pervaded the colossal halls. I went to an ATM and tried to obtain enough currency for the day's food and onward ticket, but the recommended amounts were in units of "GBN" and only went as high as 50, even though the local currency is the leva and has a value roughly equal to half the euro's. For fear of taking out hundreds of dollars in a relatively useless currency, I set out in search of an exchange counter.
I found a large, colorful street market that was just setting up and noted that the listed prices, even negating the difference in currencies, were typically less than half those for the same products in Greece. In another indoor market, I decided to try buying food from a deli counter, thinking that the ability to see what I was ordering would insure some degree of control over what I received; I requested 100g of three dishes which I perceived to be broccoli, creamed spinach, and eggplant. The eggplant turned out to be liver and after a few bites, I was instantly unwell. I tried to buy a 1 leva value shake from a nearby McDonalds to settle my stomach, but these would not go on sale until noon. An army of stray dogs roamed the quiet streets; one pair attacked and killed a cat right before my eyes.
The city's central mosque and a tiny old church nearby both cost two leva to enter, so I avoided these and went to a cathedral that had a reputation as the town's principal attraction. Antique, souvenir and art markets sat in the plaza below the grand structure; here you could buy bargain basement Russian nesting dolls, gas masks, and most everything else you can imagine.
Finding anything resembling a restaurant proved a formidable challenge. Dirt-cheap fast food was easy to come by, but offered nothing beyond the old standbys of pizza and kabobs. The vast majority of people seemed to be content with whiling away their lunch hour sitting in a cafe drinking beer and eating pastries. The few establishments that bore the "restaurant" label, tended to have unintelligible menus and even less intelligible waitstaff. Finally, in a narrow alley off of the main market square, I found a place with a waitress willing to see to it that I had an adequate sampling of the country's traditional cuisine; she brought out a number of plates, presumably ordered by the other patrons, to gauge my interest, and, based on my responses, would return minutes later with identical portions for me. I got a bowl of a spicy, milky soup with random chicken (or possibly pig) parts, a traditional salad, and a stuffed pepper; the total came out to a very affordable 4.50 leva. The market had amazing deals on sweets (one place sold ten chocolate bars for one leva); I ended up with a platter of strawberry-shaped cookies that I would try my best to pass off on various people over the next several days.
Taking a trolley to a large park, which had been advertised by the guidebook as a "peaceful reprieve from the city streets", I found a carnival atmosphere with bungee trampolines, inflatable slides, bumper boats, pony rides, a roller coaster, cotton candy, many gelato-by-the-gram stands (a waffle cone and one scoop costs about 1.2 leva), and a concert stage where Hotel California was being blasted through the trees for a sound check. When it was time to return to the station, it seemed the relevant trolleys had stopped running for the day, and so I walked several kilometers back, buying a giant slice of tomato sauce and bologna pizza for a leva en route.
There were at least three parts to my train, splitting sometime in the night and going their separate ways toward Kiev, Moscow, Bucharest, and possibly a few other destinations. The ticket lady came by after a few hours and gave me a long explanation in Bulgarian and pointed further down the train; her English was little better than my Bulgarian (she understood the English word for "English"), so I got up, moved one car down, and crossed my fingers that I was still headed for the right place. Around 2am, a few customs officers got on and checked all of the hidden compartments for stowaways; one took my passport and I would not see it again until we had arrived in Romania some two hours later.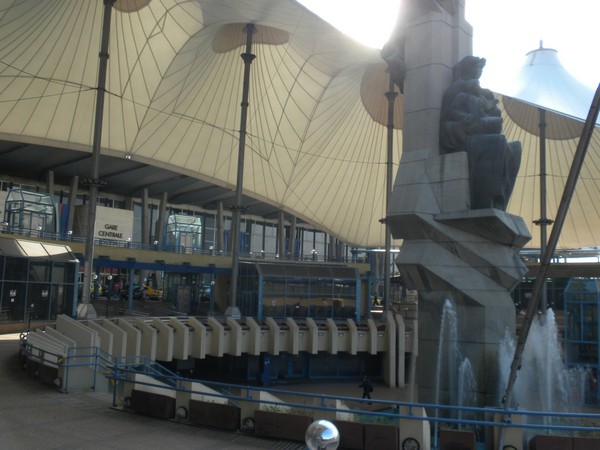 Sofia train station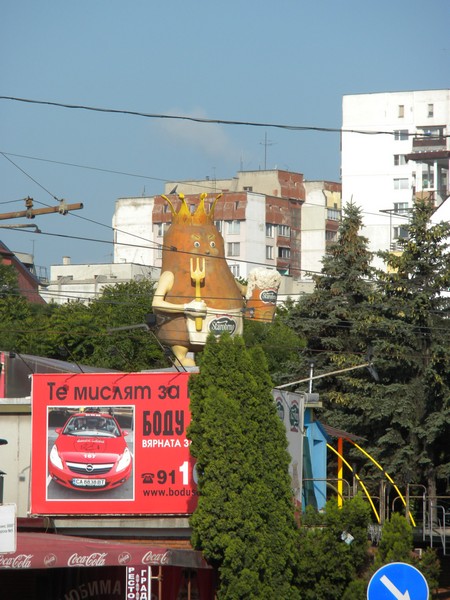 King of the peanuts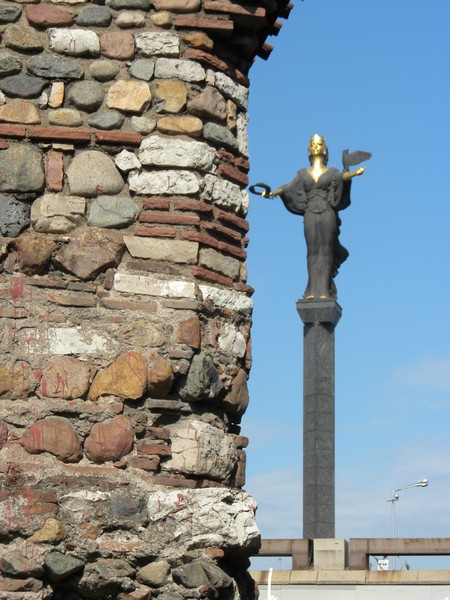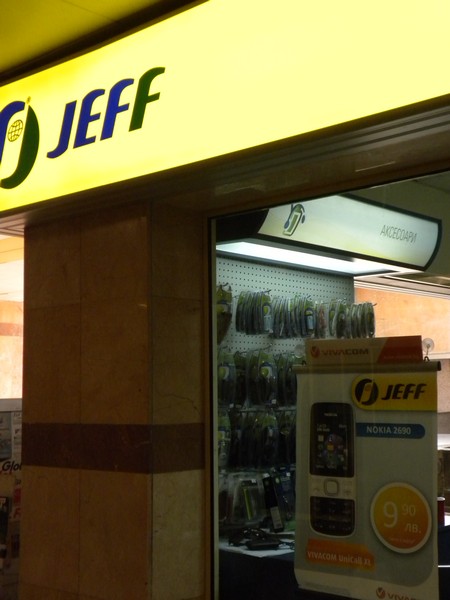 It's about time they named a cell phone plan after me!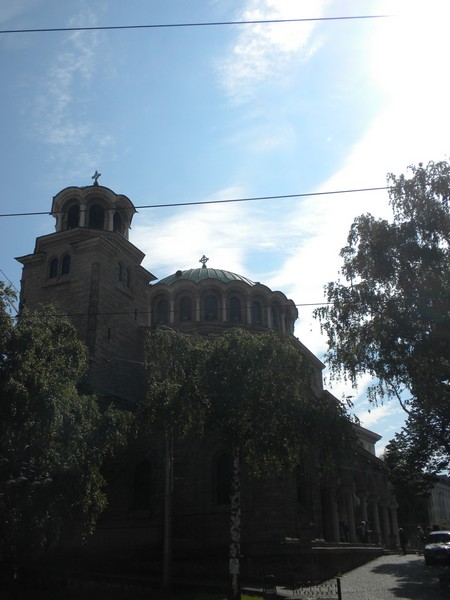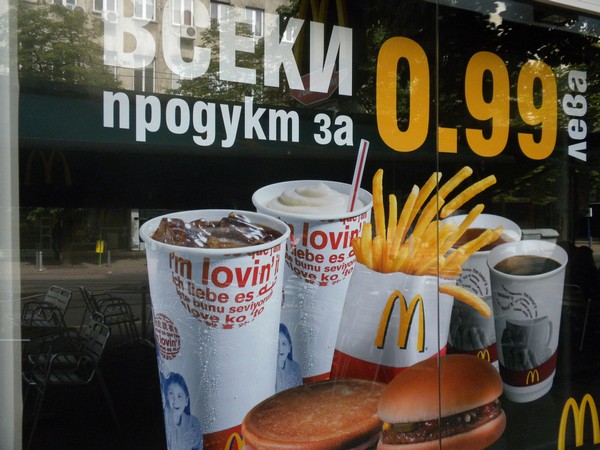 Value menu!

Why not indeed!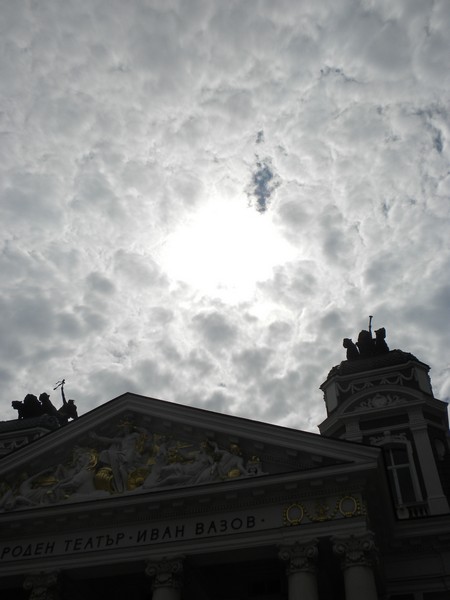 Park band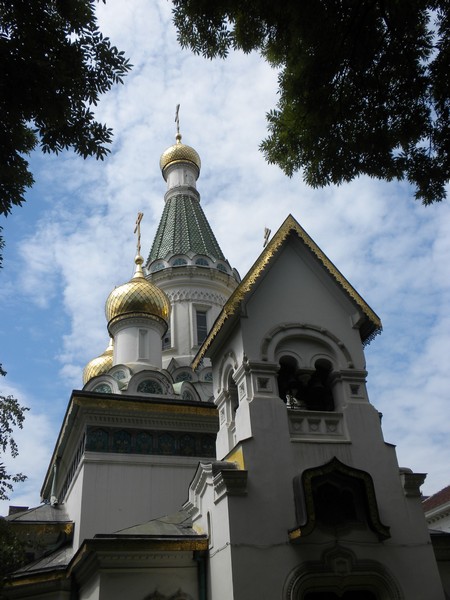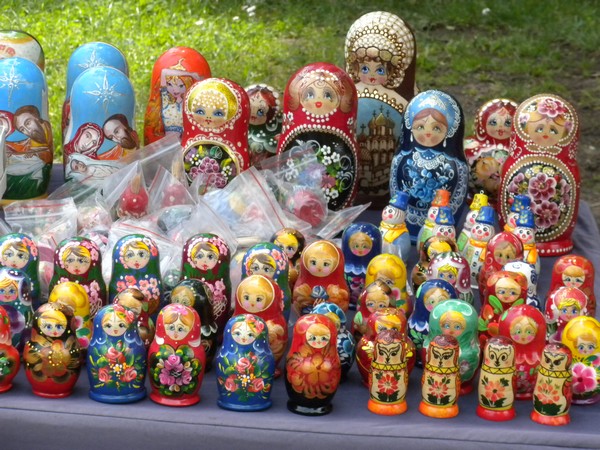 Tiny fraction of nesting dolls on offer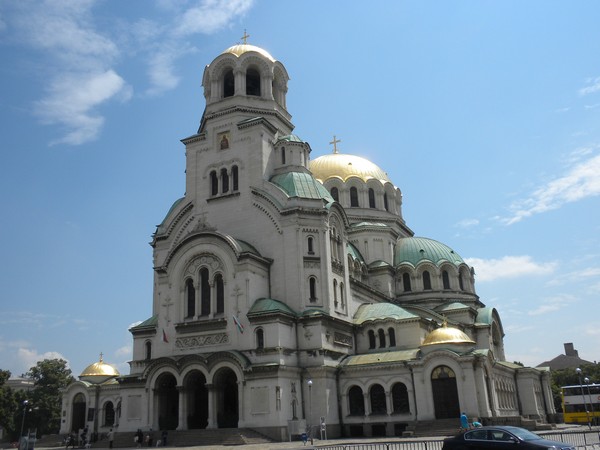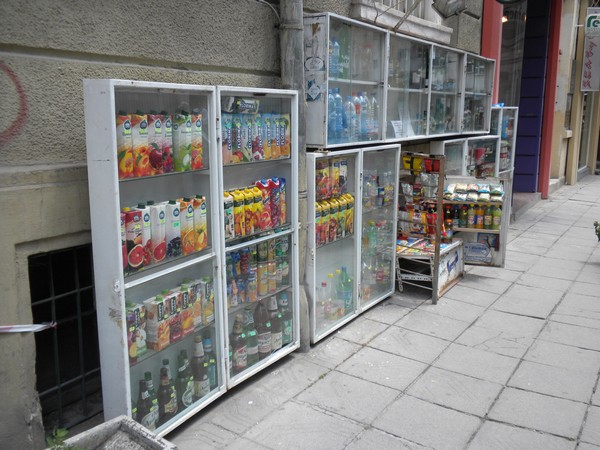 Typical 'kneel-through' convenience store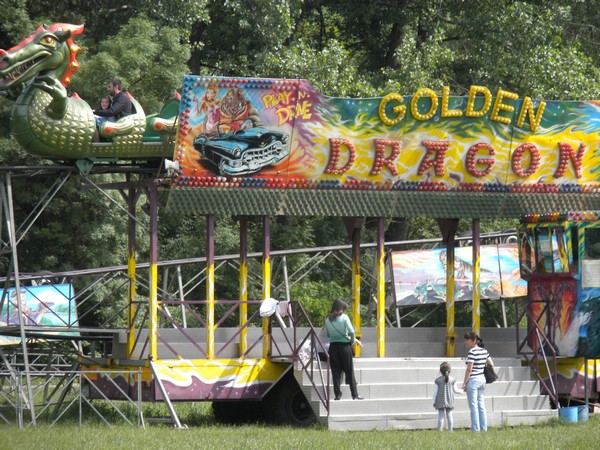 Park entertainment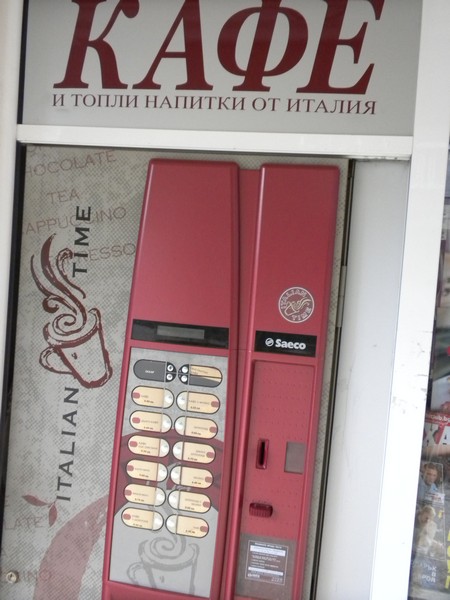 Ever-present automatic coffee machines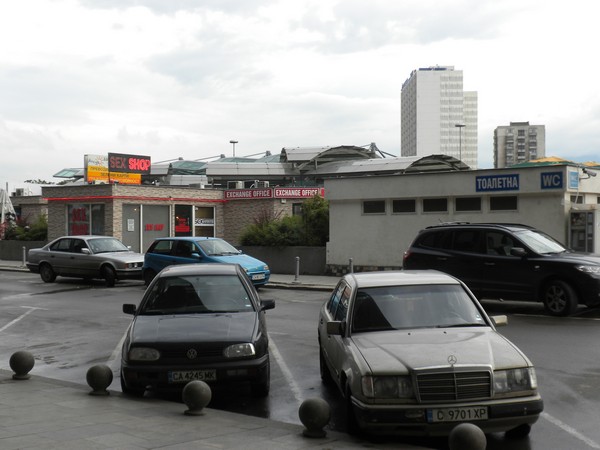 Every self-respecting train station is surrounded by sex shops, but Sofia's is the only one I've seen where the shops are actually at the station
Day 11 - Bucharest, Romania
We arrived at 6:30AM at Bucharesti Nord. After trying four separate ATMs with no luck, I concluded that I would be surviving off of bread crumbs, peanuts and raisins for the next week. I had no way to call Vlad, and no money for transport, so I decided to seek out his address on foot. Since it was a Sunday, I dropped into about twenty different churches, looking for the telltale signs of Catholicism, before finally finding one with a prominent picture of our good buddy, Pope Benedict; the schedule reported that the next Mass was in a language called "maghiara", and I found I had quite a hard time following any of it; I would discover several hours later that this translated to Hungarian, so I never really had a fighting chance.
Walking the rest of the way to Vlad's apartment, I conveyed to a neighbor through interpretive dance that I needed her to show me how to use the intercom, and was soon admitted. Vlad's mom didn't speak much English but welcomed me with open arms and immediately directed me to the shower and washing machine. She prepared an amazing spread of bread, cheese, vegetables, fruitcake, unpasteurized milk, apricots, cake, bananas, and fermented flower juice. Vlad and I met up with his friend and went by the much maligned parliament building and a few other sights, before settling into a bar in the historic center for a round of liter beers. We returned to the apartment for another feast of fish, broccoli and various deserts, and subsequently ascended to a bohemian bar on the roof of the national theatre to meet up with more of Vlad's friends and eat a few orders of "mich" (little sausages accompanied by bread and mustard). The city's transport stops at midnight, so at 1am, on aching legs, we walked the five kilometers back home.

Museum of the Romanian Peasant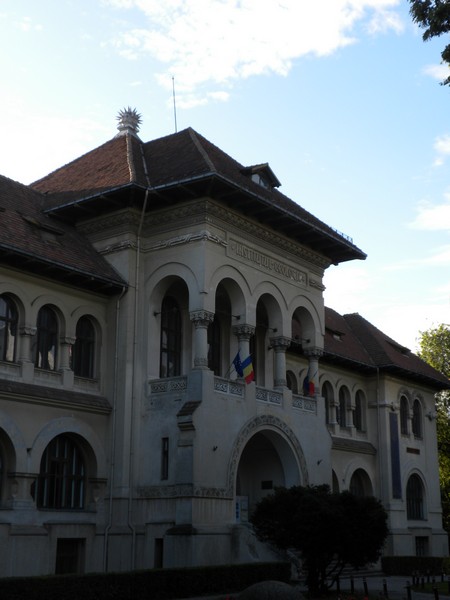 Geology museum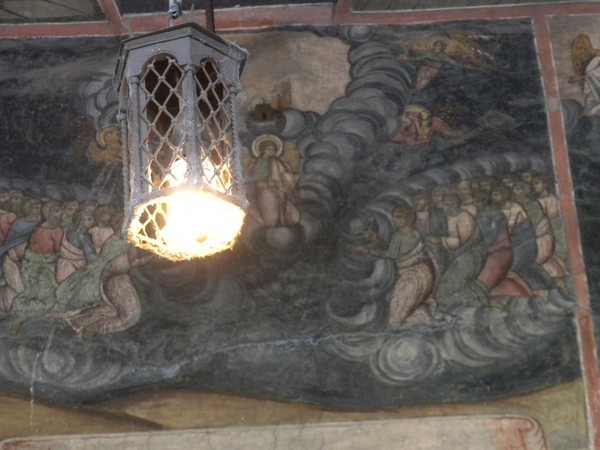 Mural at town's oldest church

Weird...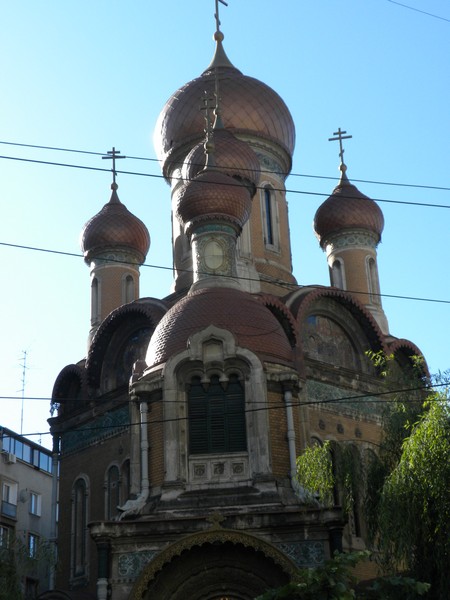 Russian church

One of many offerings in Bucharest's thriving music scene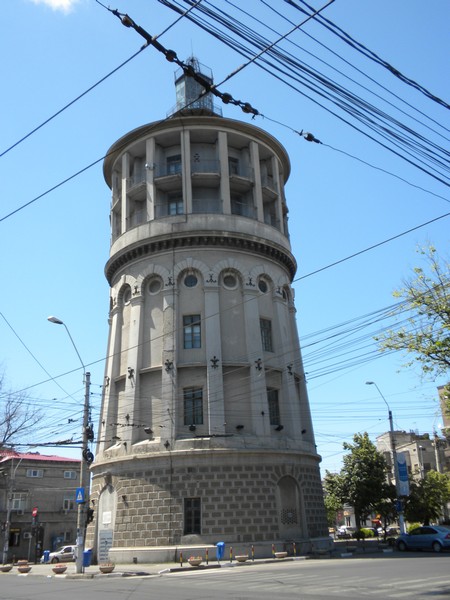 Tower to watch for fires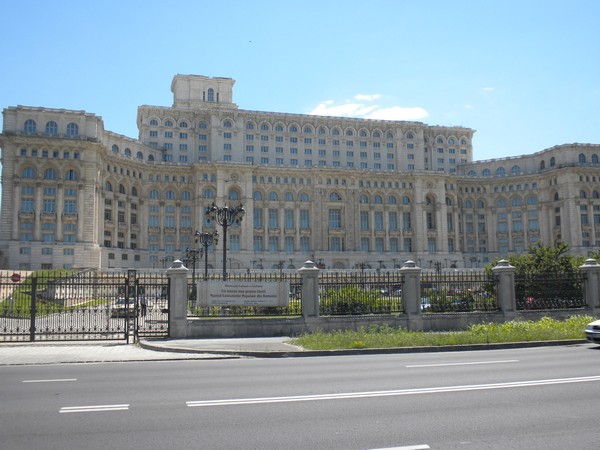 Second biggest building in world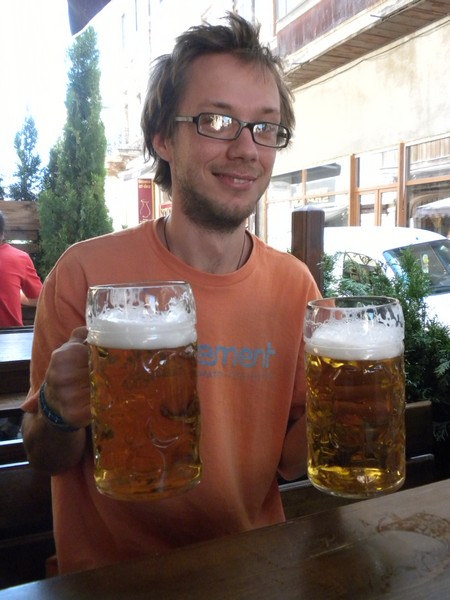 Vlad likes his beer

To circumvent ordinance forbidding the tearing down of historic buildings
Day 12 - Brasov
Bucharest's intercity buses, known as maxi-taxis, are divided up amongst half a dozen stations scattered throughout the city. Luckily for us, those for our westerly destination of Brasov departed from the most easterly station, which was conveniently all of two blocks from the apartment. Vlad's mom gave us care packages of sandwiches and fruit and we made it down in time for the 8 o'clock.
Had we bothered to put any measure of forethought into the day's plans, we would have gotten off in the Buscegi mountains, taken a cable car up to the highest point, and followed a spectacular ten-hour downhill hike to Bran Castle. This idea, however, did not enter our minds until much later, so we took the bus to its terminus and set about finding another bus to the nearby village of Prejmer which purportedly had an impressive fortified citadel.
We set out hiking for bus station #3, which the book claimed was only a half-kilometer away; a string of people along the way pointed us towards it, but each suggested that we take the city bus that regularly plies the route. Thinking it silly to take a bus when we were so close, we kept walking for over an hour, and during that time, two Prejmer-bound buses passed by us, the second speeding past when we were less than fifty meters from the station. We waited for half an hour and finally caught a bus that returned along exactly the route by which we had come and picked up around thirty more people directly in front of the station where we had arrived nearly two hours before. Reaching Prejmer, we soon discovered that, contrary to the schedule given in the book, it was in fact closed on Mondays. With little else to see in the village, aside from a few storks that had built huge nests on telephone poles, we waited for the return bus and were shortly headed back to Brasov.
We secured a room for 78 lei at a simple hotel just north of the center. The main attraction in town was the black cathedral, but it had closed a mere twenty minutes before we arrived. The old section of the city is encircled by a wall, with a number of towers each maintained by a given guild; we stopped at the hunter's tower and admired an imaginative array of taxidermied critters and climbed to the upper chamber for a view out over the rooftops.
A Hollywood-esque "Brasov" sign presides over the town, and we followed a series of switchbacks up Mt. Tampa to reach it. Getting slightly lost, we jogged down the wrong side of the mountain and circled the whole thing. Back on the main drag, we stopped at a sidewalk cafe and enjoyed a dinner of tripe soup, palenta and cheese, salad, and moonshine.
Ice cream is everywhere in Transylvania and many shops make use of crazy new technologies to integrate six or more flavors into the standard three-spicket soft serve machine. We got a few cones for dessert and visited the remainder of the towers. Just after dusk a squadron of thirty janitors in formation began frenetically cleaning the main square; like a swarm of locusts, they ravenously plowed across the cobblestone, leaving not a scrap in their wake. We considered going to see a movie at the 7-D movie theater, this being a full four dimensions beyond the most sophisticated of our theaters back home, but we thought it better to sleep instead.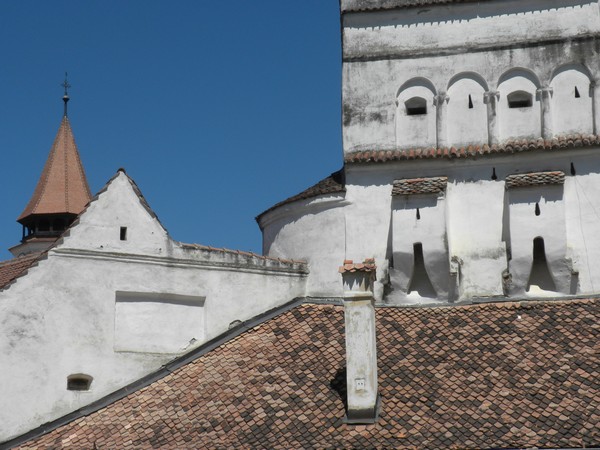 Citadel that we discovered to be closed on Mondays

Toyota's entry into the Romanian market (just kidding - they actually have way too many cars here these days)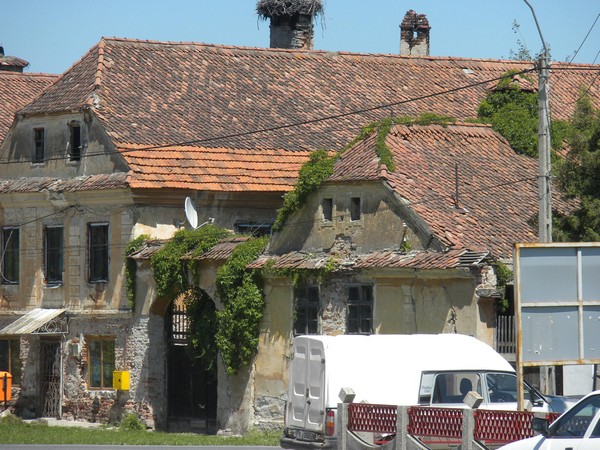 Contender for world's narrowest street (Vancouver's is narrower)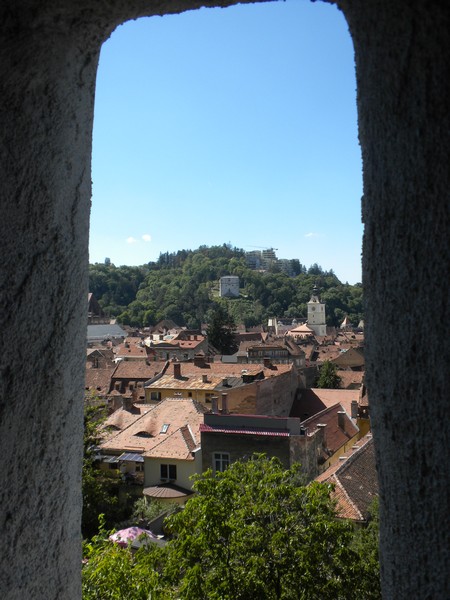 View from hunter's tower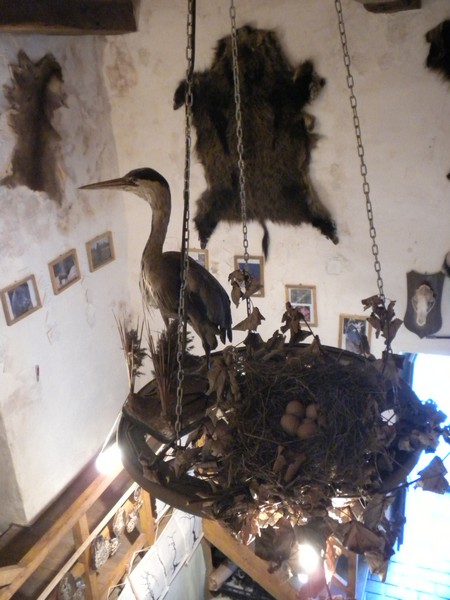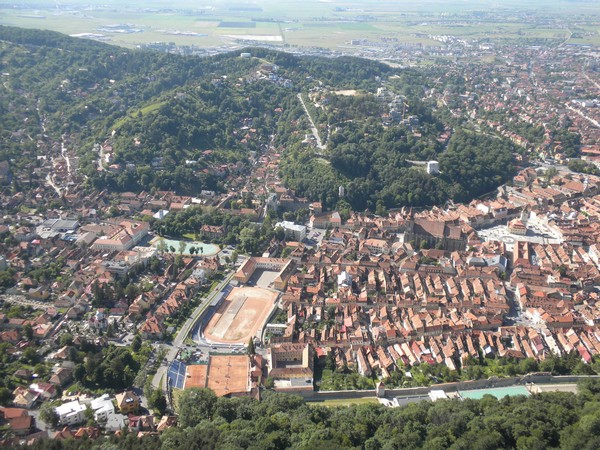 Main square as seen from Mt. Tampa

Almost Hollywood...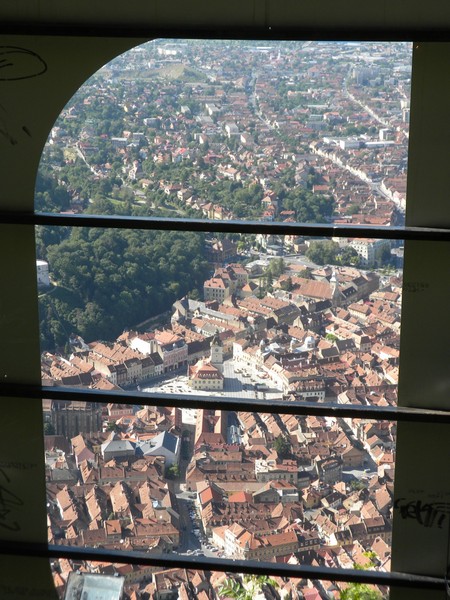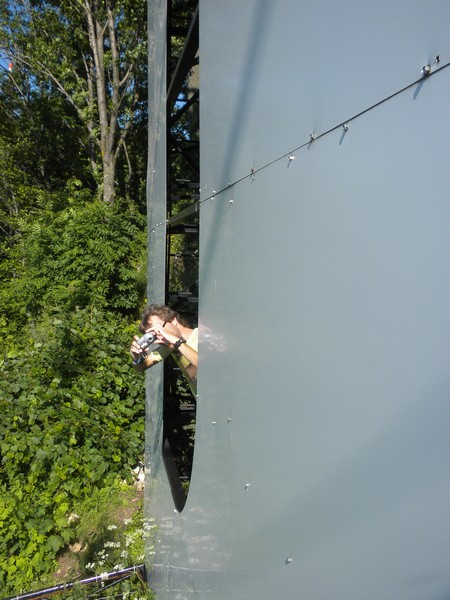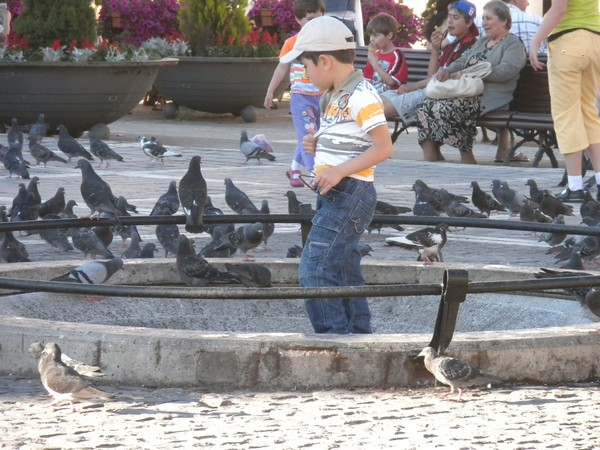 Moments before the pigeons swarmed and devoured the boy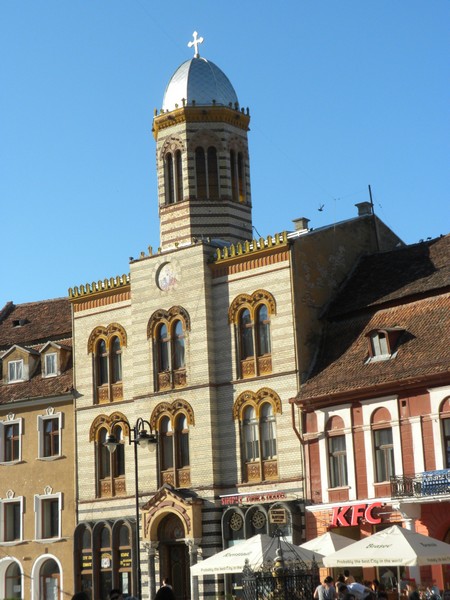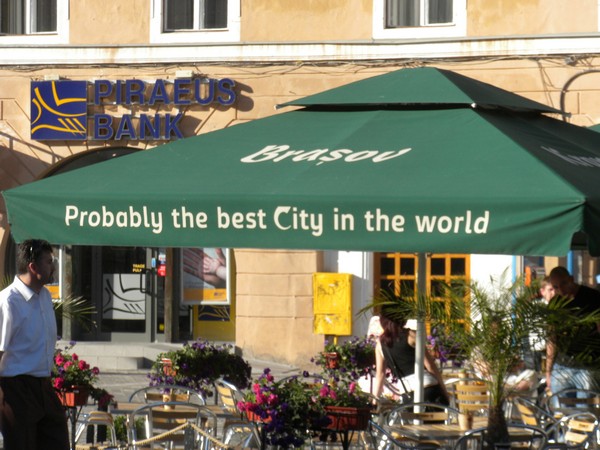 Who needs attractions when you have ego...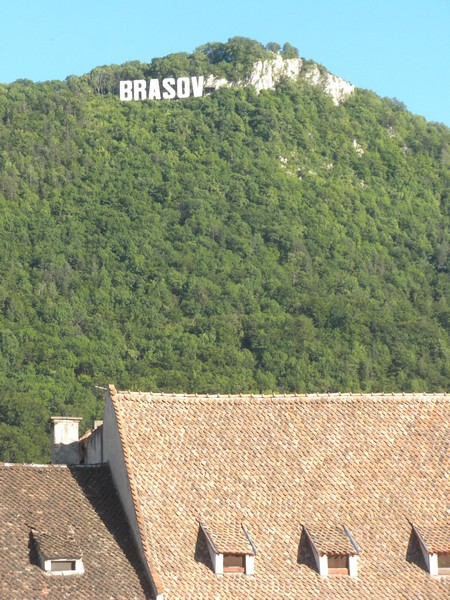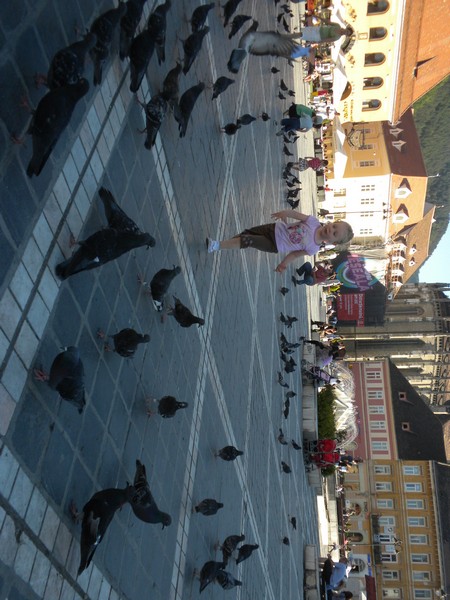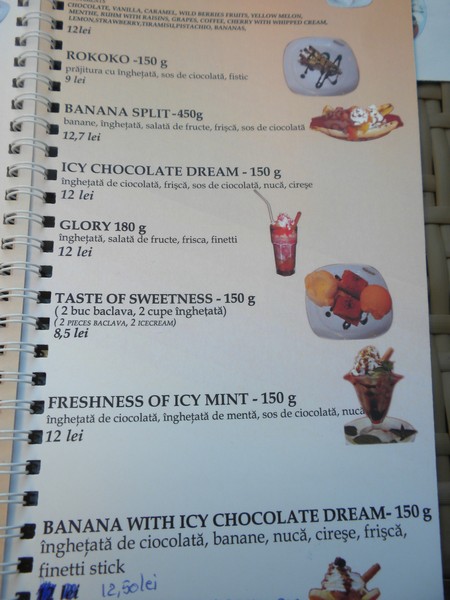 While it's hard to argue with a name like 'Glory', at 450g the Banana Split is the best value by far
Day 13 - Bran and Sighisoara
The sun must come up around five in Transylvania, but we managed to sleep in until 6:30 when a set of church bells started ringing like crazy. I ran downtown to see if the bells might have come from the famed black church, but alas, it was not due to open til ten. We caught a bus to Bran, along with a horde of men wielding large, menacing scythes. The tourist traps surrounding the castle were just getting set up; endless souvenir shops sold such precious keepsakes as Hannah Montana monopoly and Spiderman action figures, with very little even remotely related to Dracula or Romania. The castle itself was neither foreboding nor grand, and it's a mystery to me how anyone could ever have associated it with the prince of darkness. In honor of the Impaler's Magyar heritage, we got a Hungarian snack that consisted of a tube of fire-roasted dough, coated in cinnamon, sugar and nuts. The local theater was a little behind the times, boasting a piddling five dimensions for its films.
We waited at the bus station for a time, but before the scheduled bus arrived, a random guy stopped and asked if we wanted a ride. He took us nearly all of the way to the station and requested only the standard bus fare of four lei. With limited public transport, hitchhiking is quite popular in Romania; unlike in most of the world, passengers are expected to contribute a small amount, but this creates a financial incentive for the driver and means that rides are easier to come by.
We waited an hour and a half before the first bus arrived. Though we arrived earlier than any of the other passengers, we had elected to wait in the shade and had lost our spot in line, and when the bus finally loaded, it was one seat short and we were turned away. We went into the adjacent train station and paid an exorbitant rate of 27 lei for an "accelerated" train that would supposedly be departing in the next ten minutes; as soon as we reached the platform, however, an announcement explained that it would be fifty minutes late.
We reached Sighisoara around 5:30 and tried our best to figure out the lay of the land. The old part of town is on a high hill and we climbed up and down it multiple times in our efforts to hone in on the hotel we sought. Finally, by way of the owner standing out in the street and ushering us in, we tracked down the bed and breakfast that supposedly provided the cheapest beds in town. Vlad's first question on walking through the door pertained to the price of a room, but the man waived it aside and led us back to the garden where he introduced us to his wife and poured us each a glass of flower juice. After a long, friendly conversation in Romanian, we went up to see the room; it was absurdly nice with a TV, antique furniture, various doilies, and all the sorts of things you would expect to find in an upscale BnB. When the price finally came out, it was clear that we had been scammed. From the original 150, we talked the woman down to 120, which was still double what it was reported to be in the guidebook. With all the niceties that had preceded this negotiation, we were naturally quite disinclined to reject the room, and thus fell right into their disreputable scheme.
Vlad had tried to find a place to stay through the couchsurfing website, but with only three people registered in the entire town, chances were slim. One guy, who had just signed up for the site and had provided no information about himself, expressed his surprise that he had been contacted; he had no couch to offer, but offered to show us around. When he met up with us at the clock tower, it was clear that he had no idea how to proceed. We wandered around the touristy section of town, covering many of the same streets that we had already seen; I asked about hiking and he pointed out a large hill on the side of town and offered to drive us up there. We went to the top of the hill and had drinks at a restaurant on its summit. He pointed out a cheese factory where he had once worked and a few other less memorable landmarks. He didn't know about any restaurants serving up traditional Romanian fare, so we went to a pizzeria instead, and then spent the rest of the evening hanging out at the town's one hostel discussing the sophisticated humor of South Park with several code-switching locals.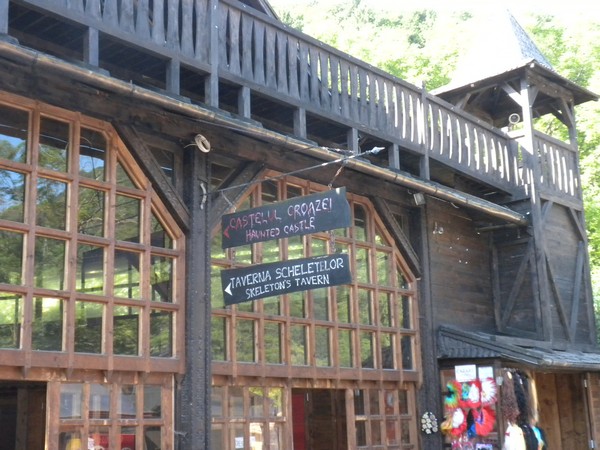 One small part of horrendous tourist infrastructure for a castle that dracula would never be caught dead in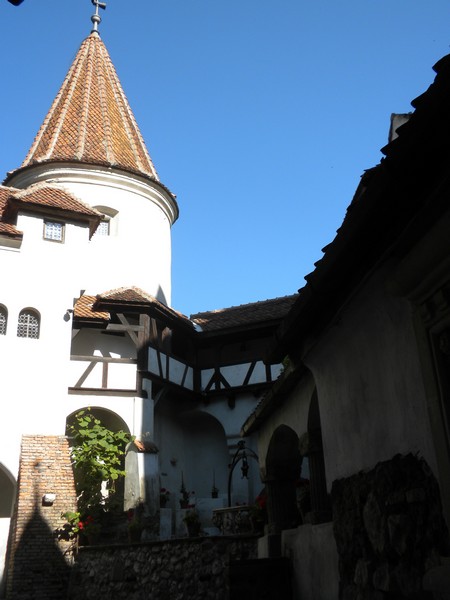 This looks more like the estate of the Keebler Elves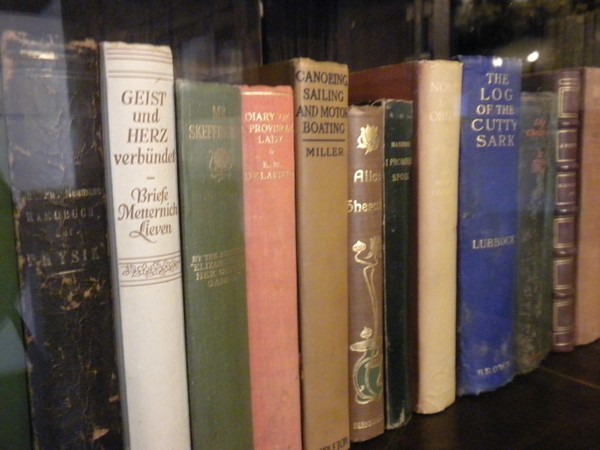 Selection from Dracula's library: 'Canoeing, sailing and motor boating' - who would've suspected he was an outdoorsman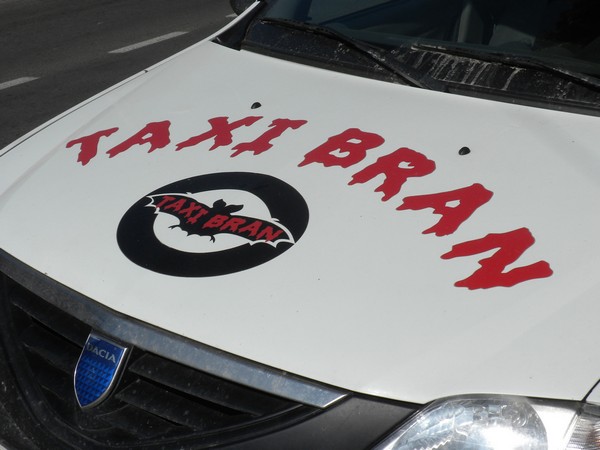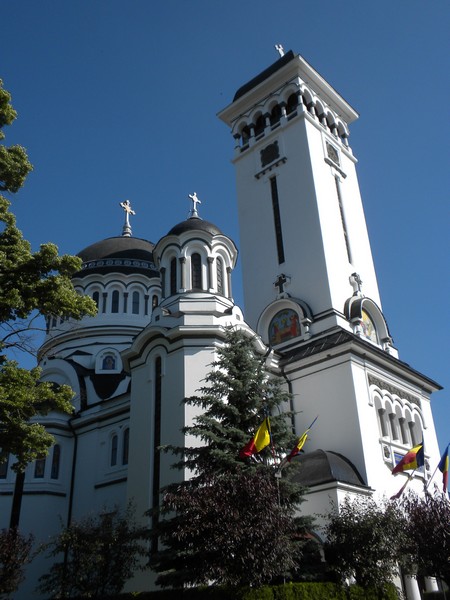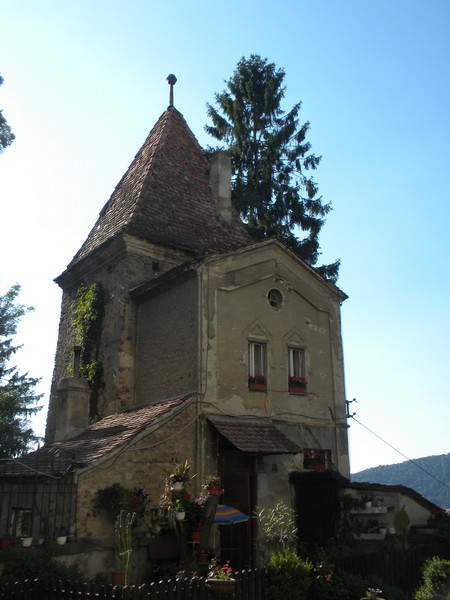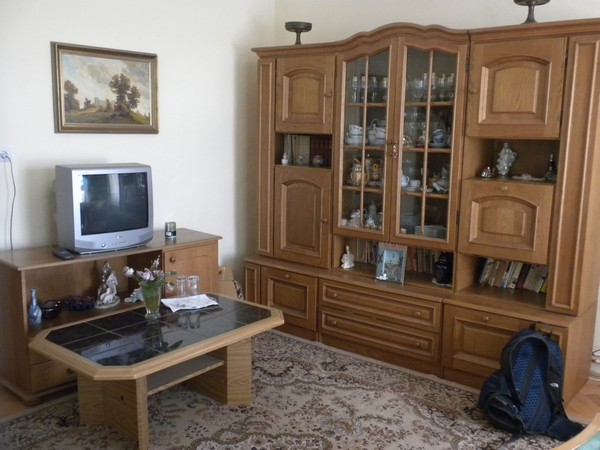 Swank bread and breakfast that an old couple swindled us into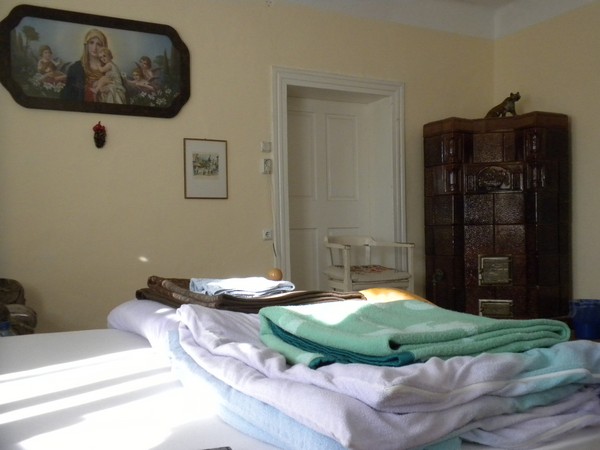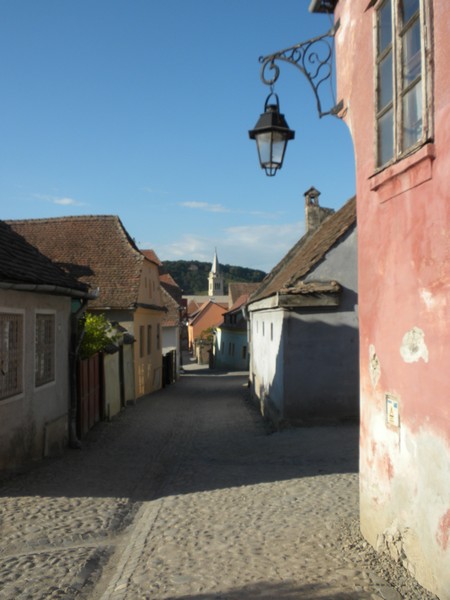 Definitely not up there with Prague's famed clockworks - every hour the drummer moves his hand a little bit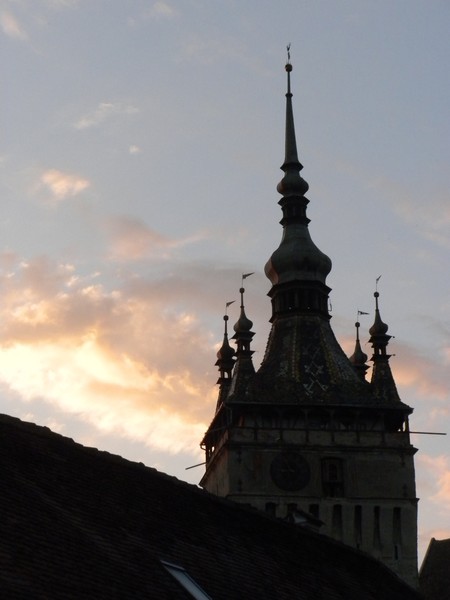 Day 14 - Sibiu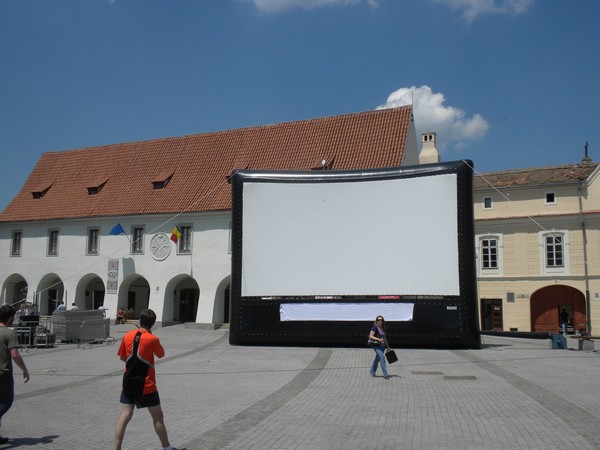 International film festival!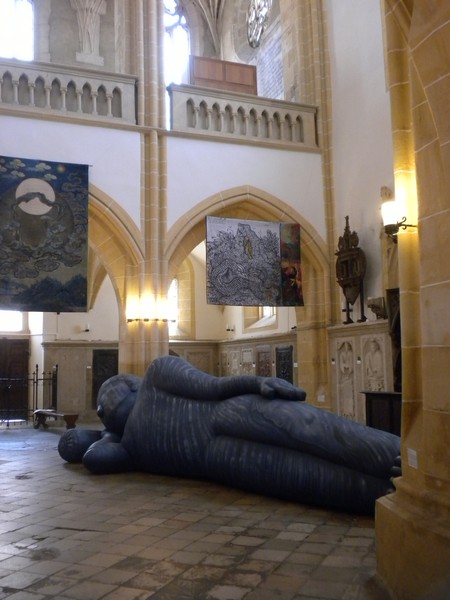 Giant inflatable buddha in an evangelical cathedral?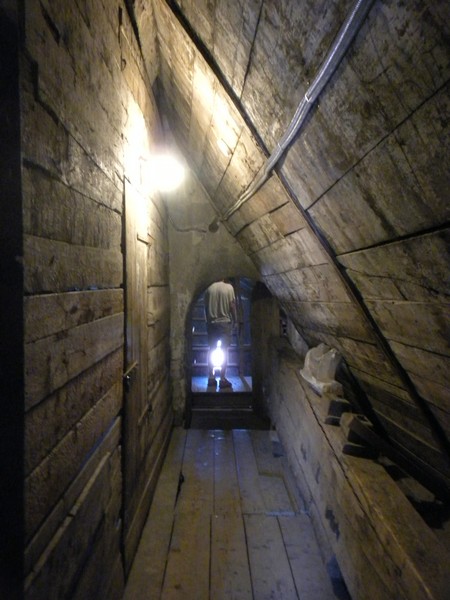 Route to the belltower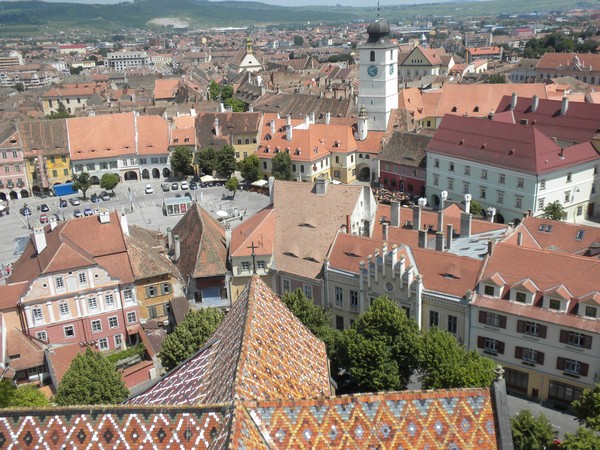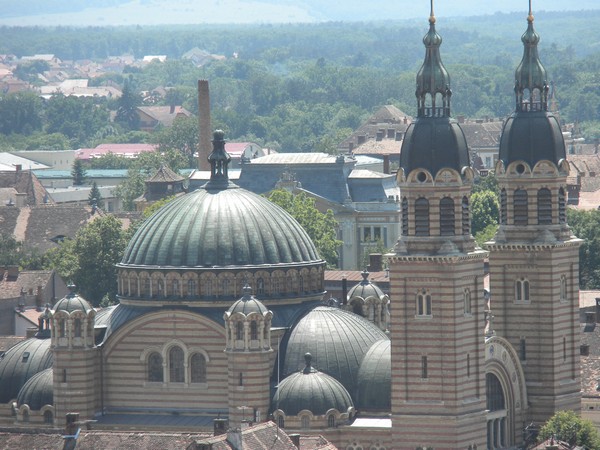 Hagia Sophia replica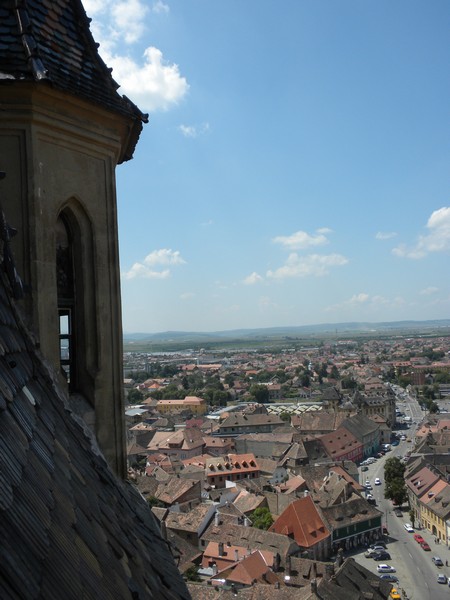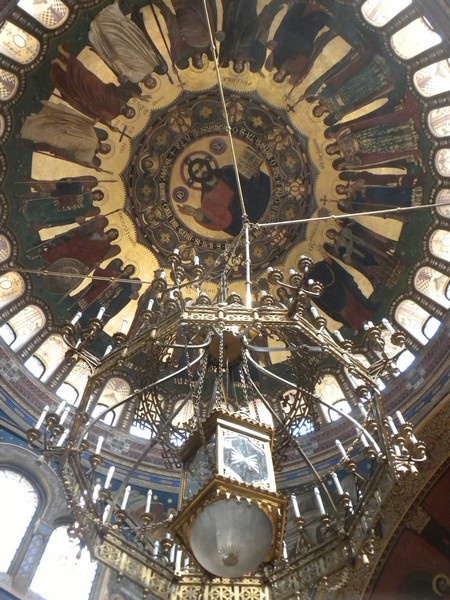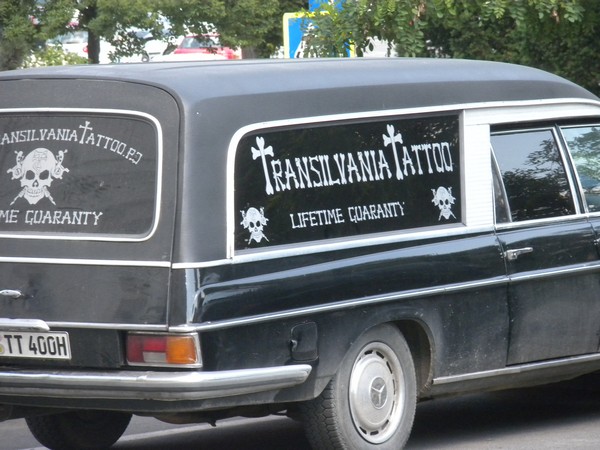 Brilliant!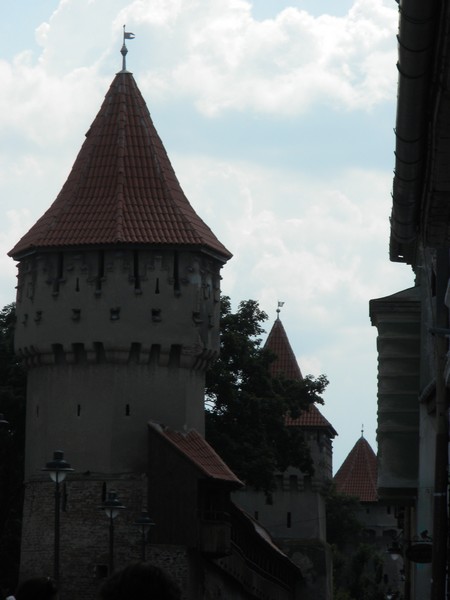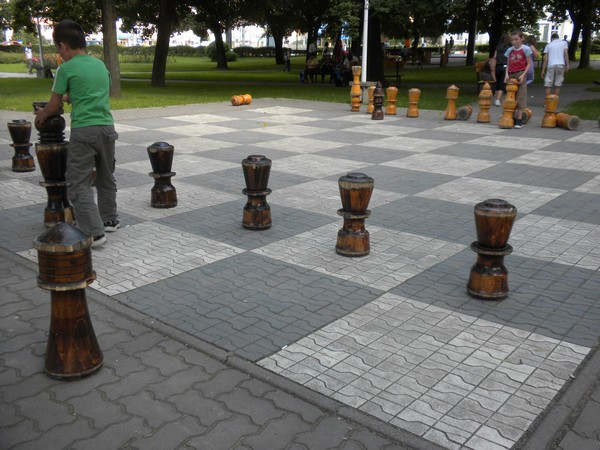 Turning chess into an aerobic sport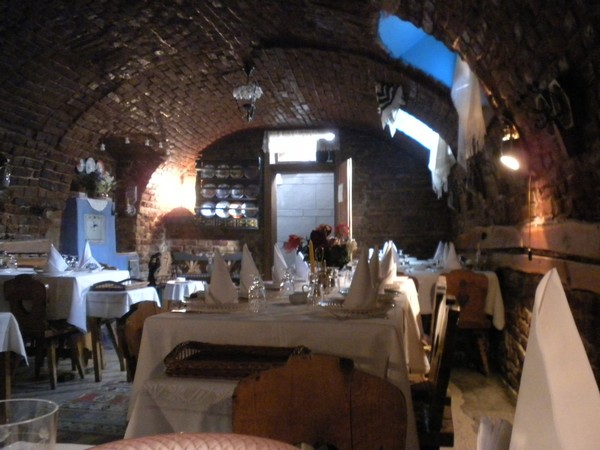 Unexpectedly affordable cellar restaurant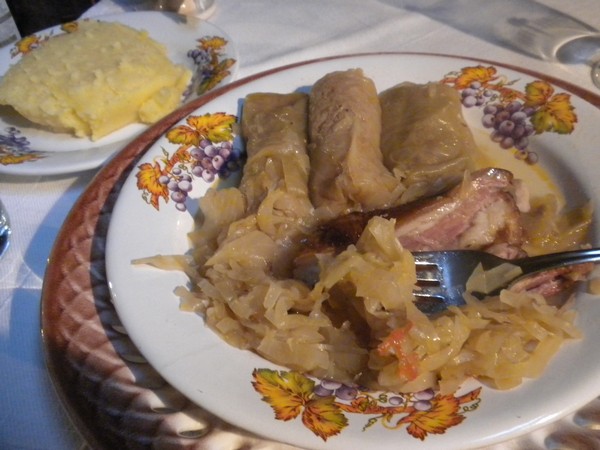 Cabbage rolls
Day 15 - Sinaia
The options for getting back to Bucharest were very limited; only two buses and one train left each day for Brasov, and so we had no choice but to forego visiting Sibiu's traditional village museum and grab the 9am maxi-taxi. We got to Brasov around noon and immediately jumped on another bus bound for the capital. We got off in Bruscheni, hoping to take the cable car up to the mountains and hike back down to Sinaia. We got to the station a few minutes before the hourly car was set to depart, but, as a result of not knowing anything about the forthcoming hike, hesitated for a minute and missed it. We attempted to find a trail to the next town over that didn't involve hiking up and down the mountains, but only discovered a couple of vague, litter-strewn paths, and a smattering of homeless people hanging out in the woods, eating various flowers. A local bus took us the 6km to Sinaia and we visited the monastery and followed a long trail of souvenir vendors up to Peles Castle. Vlad had taken the tour half a dozen times as a youth, so he read outside while I donned cloth booties and explored the varied rooms of the palace. Immediately after exiting the castle and finding Vlad again, we were hit by an abrupt hailstorm and were forced to take cover in an archway. When it relented a bit, we walked down to the bus station and waited a bit for a bus back to Bucharest. Though their driving in the countryside is pretty subdued, bus drivers tend to go a bit crazy once they reach the city, and we were stopped by a traffic cop before returning to the station.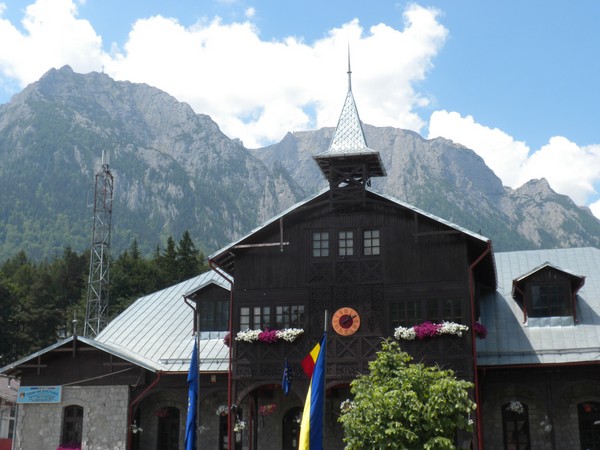 The Bucegi Mountains that we almost hiked in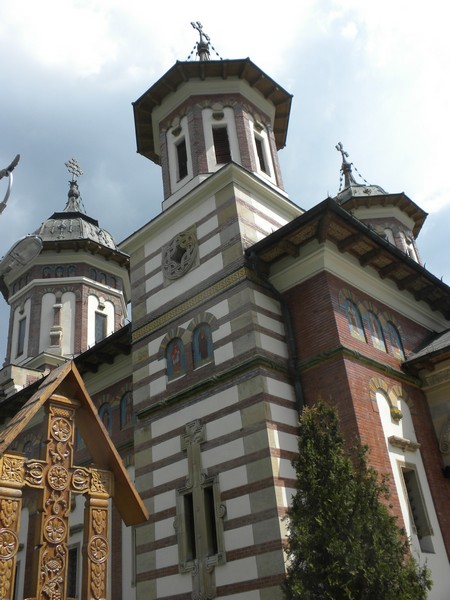 Sinaia Monastery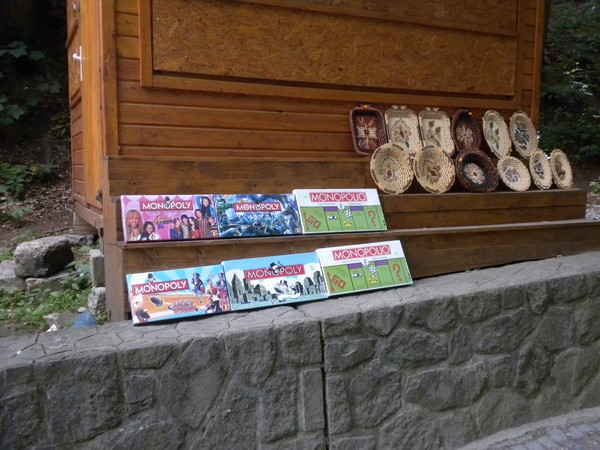 Typical souvenirs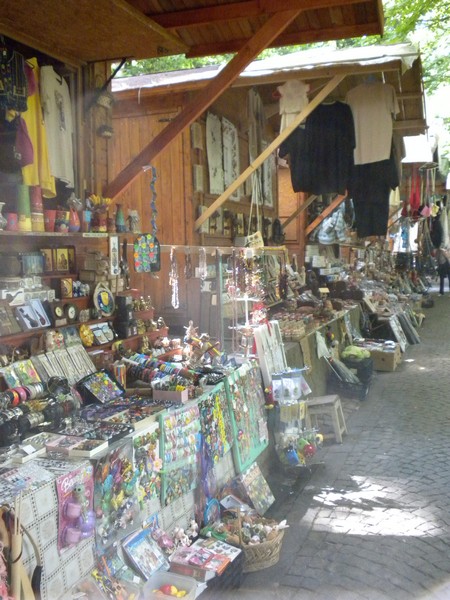 Peles Castle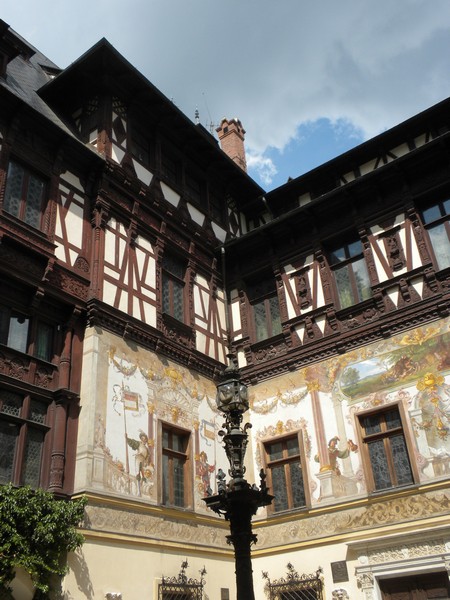 Day 16 - Cinque Terre
Vlad, his mother, and her boyfriend worked tirelessly to figure out how to get me to the airport on time Friday morning. My flight was not until noon, but I still had a three-hour bus ride to Constanta ahead of me, and had to somehow reach the airport some 25km from the city. We all woke up at 4:15am and they drove me to the central bus station where I caught a 5:30 Constanta bus. I reached Constanta at 8:45 and found an airport bus leaving immediately. The driver chose to cover the first part of the journey at about 8 km/h, but eventually sped up to keep pace with traffic and got me there within 40 minutes.
Constanta International is not a whole lot bigger than Gainesville Regional, and the entire staff was out for a smoke when I arrived. Upon the appearance of their first customer, they all raced to their stations; I had already checked in (to avoid RyanAir's 40 euro in-person check-in fee), but since I was from outside of Europe, I still had to show my passport at the desk, and thus had to wait an hour before the woman with the appropriate stickers showed up. The airport has no currency exchange counter, so I would be getting to Italy with 150 lei, 17 leva, two defunct ATM cards, and only 15 euros to get me through 24 hours and all of the Cinque Terre.
RyanAir is a bit different from other airlines; all passengers are in the same zone and are first corralled into a sort of cattle pen before being allowed to race across the tarmac and climb a set of stairs on either side of the plane to try to grab the best seats. The safety instructions are printed directly on the seatback to avoid the added expense of a pocket and, over the course of the flight, the passengers are hit with one sales pitch after another in a bid to make up for the practically non-existent ticket price. The girl next to me had bought a lottery ticket, chocolate bar, and deluxe map of Pisa by the time we landed.
Pisa's airport is a mere kilometer from the train station, and so it was a simple matter to walk into town and catch the next train to La Spezia (1 hour, 5.50 euros). Arriving from Romania, Italy's fast, frequent and dependable train network came as a bit of a shock. In La Spezia, I bought a day pass (good til midnight, not for 24 hours) for 8.50 euros that allowed me to hike the paths between the villages, provided unlimited access to the trains, and included a host of other perks, such as free mountain bike rental, that I would clearly never have the chance to use. I boarded the 5 o'clock to Rio Maggiore and arrived in that tiny coastal hamlet some ten minutes later.
There wasn't a great deal on offer in any of the Cinque Terre towns, aside from a host of souvenir shops and cafes, but it's worthwhile just to wander the narrow alleyways and visit the quaint little fishing ports. I followed Lovers' Lane, a flat sidewalk with lots of luggage locks chained to various things, and made it to Manarola in twenty minutes. I would encounter one or two ticket checkers on this stretch, but they all seemed to go home around six, and since there didn't seem to be anyone checking passes on the trains either, you could probably do without the expensive ticket if only going for an evening hike. A slightly strenuous trail, followed by 387 steps, brought me to Corniglia, then a more challenging path with plenty of sharp ups and downs took me into Vernazza at sunset. I did half of the last leg to Monterosso in complete darkness; part of the trail descended into a verdant ravine where only the intermittent flashes of fireflies lit my way.
I had finished off the last of my Turkish delight and my only hope at avoiding starvation was to prepare a batch of my cereal by putting it in a jar along with some cold water. This yielded something that was mostly edible, if not at all tasty, and kept me alive for the remainder of the hike. By the time I reached the end, however, I was starving and, in desperation, tried one of my cards at one of the town's ATMs. To my great surprise, it worked just fine and spat out twenty euros; my money troubles were over. I took the 11:30 train back to La Spezia; here I found that the ticket office was closed and the ticket machines wouldn't give me a straight answer on upcoming trains. The boards seemed to suggest there was a train at midnight, but that wasn't mentioned anywhere on the machine, and the train at 1:30 cost twice as much as normal; I opted to buy a ticket for the 3:30 and sneak on to one of the earlier ones. In the meantime, I used my newfound wealth to purchase a loaded kebab from a nearby shop.
When the midnight train arrived, I raced along its length searching in vain for a normal sitting car in a long series of sleepers; I asked the ticket checker if I could just stand in a hallway for my 50 minute ride, but he refused. The 1:30 train was filled to the brim with people who did not seem the sort who paid double for anything; I suspect this was the implicitly understood free ride of the night. I reached the train station at 3am and walked to the airport; here, I was a tad perturbed to discover that the whole place was locked up for the night. Backpackers slept outside on makeshift beds fashioned from their meager belongings; I wrapped myself in my emergency poncho and collapsed on a soft lawn for an hour or two of sleep.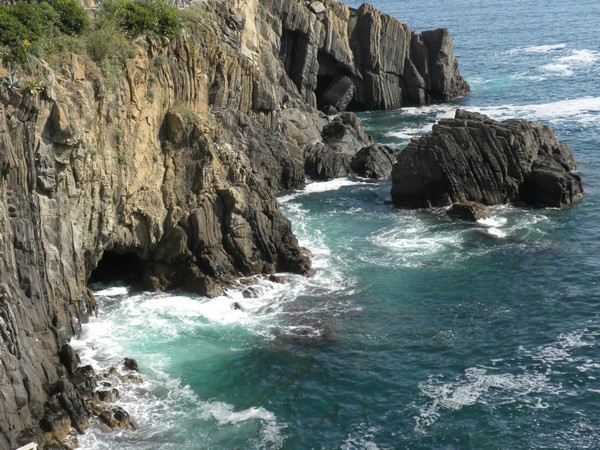 Riomaggiore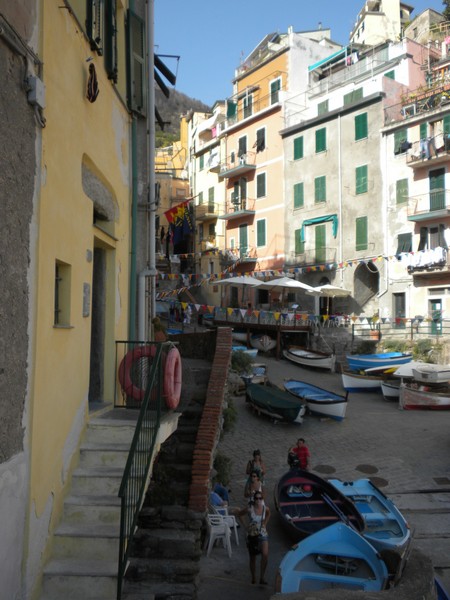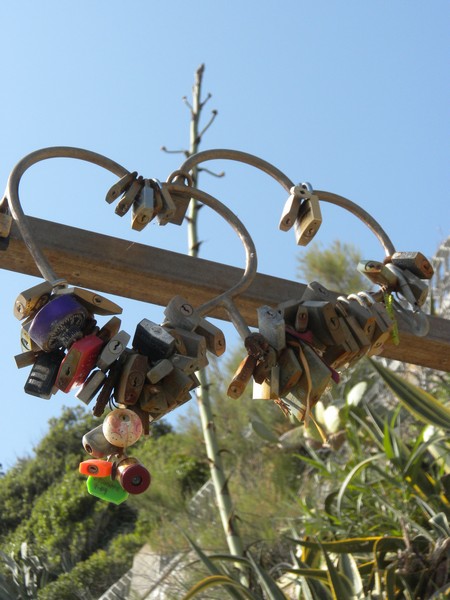 A stroll down Lovers Lane - just one lover short...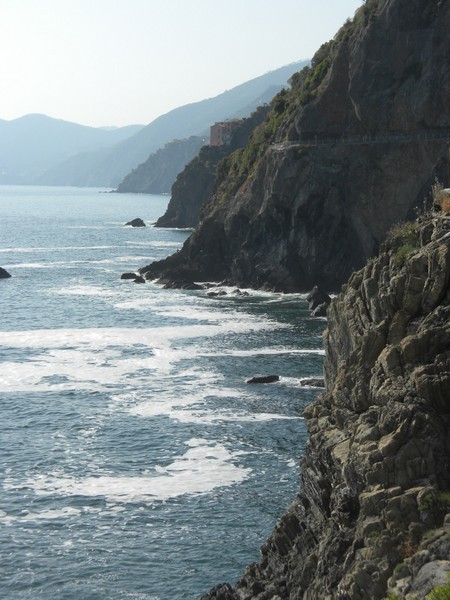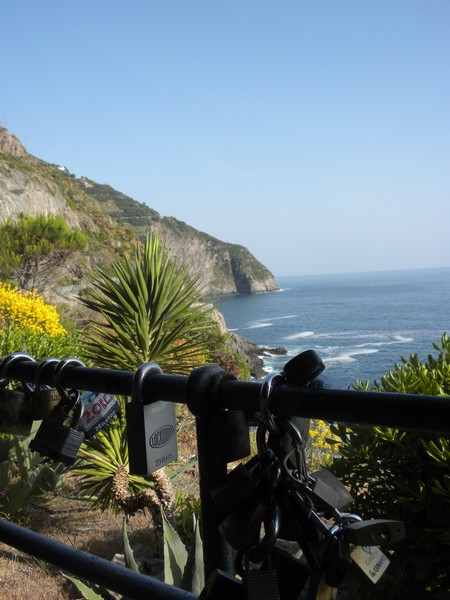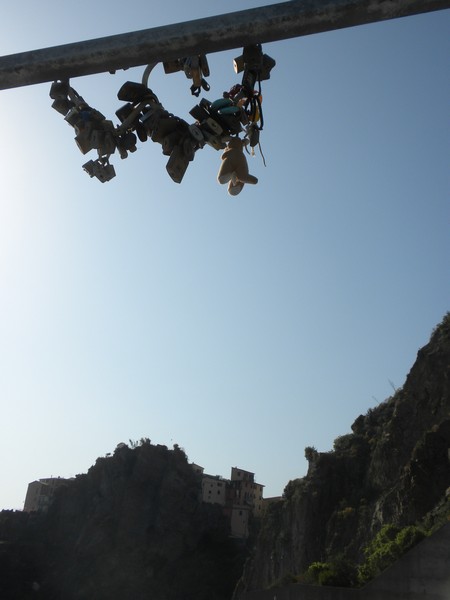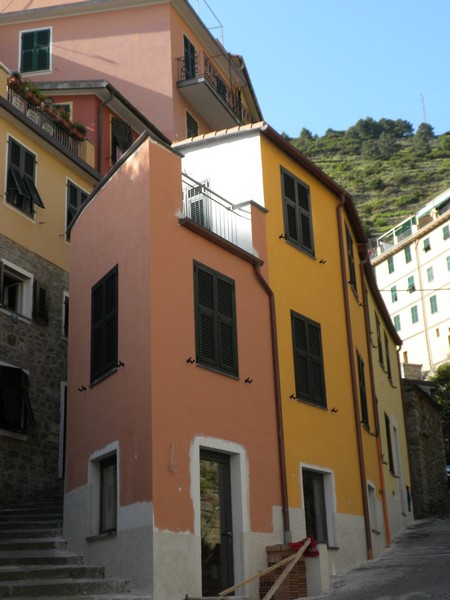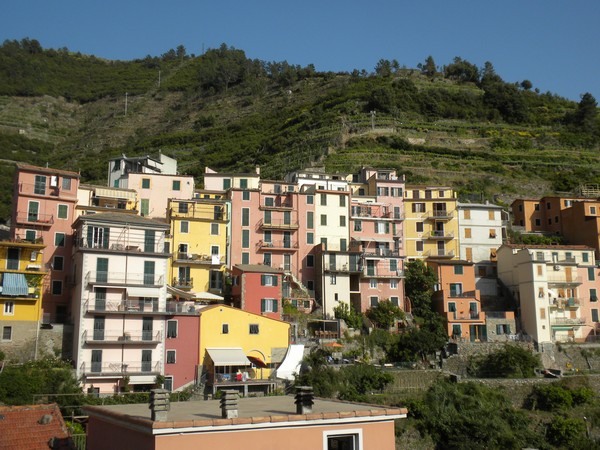 Manarola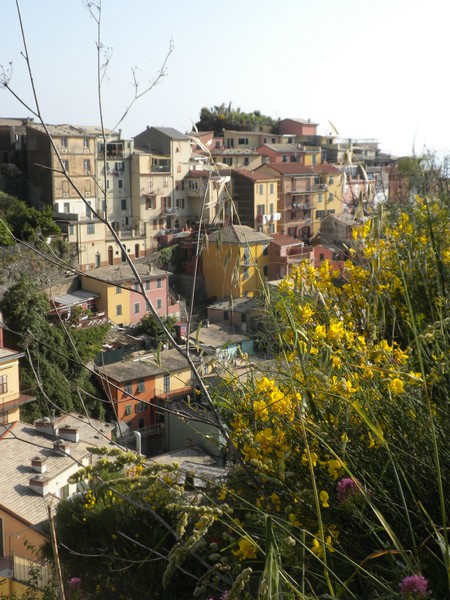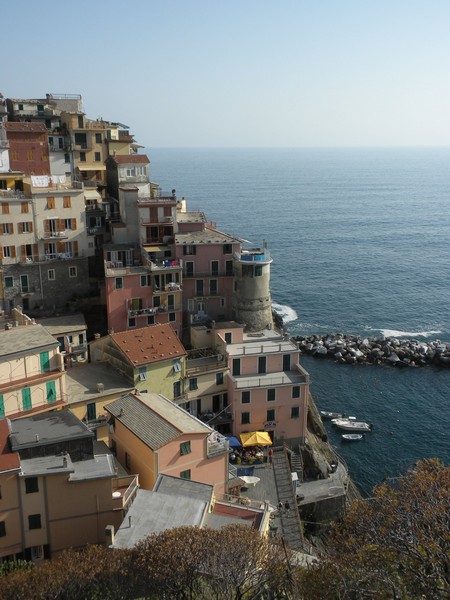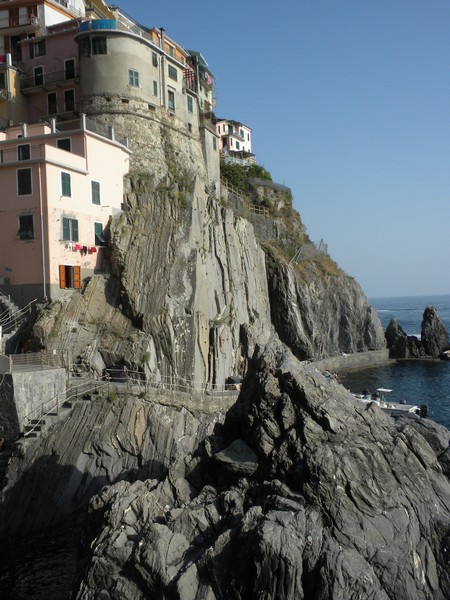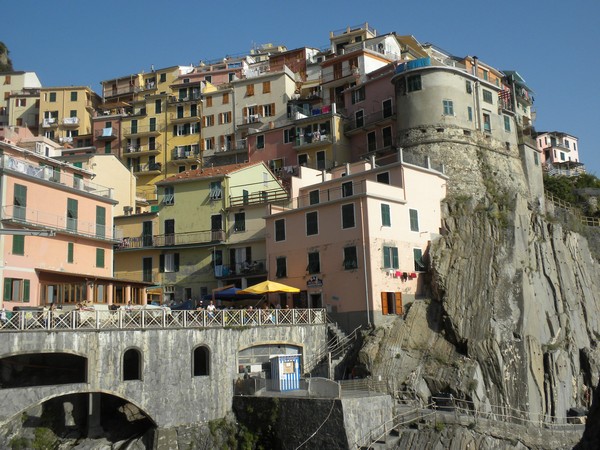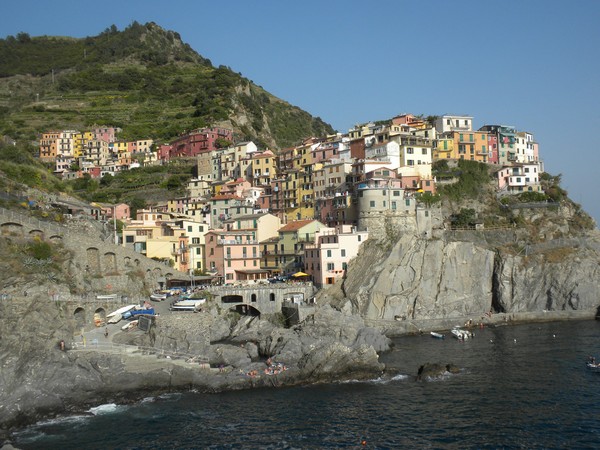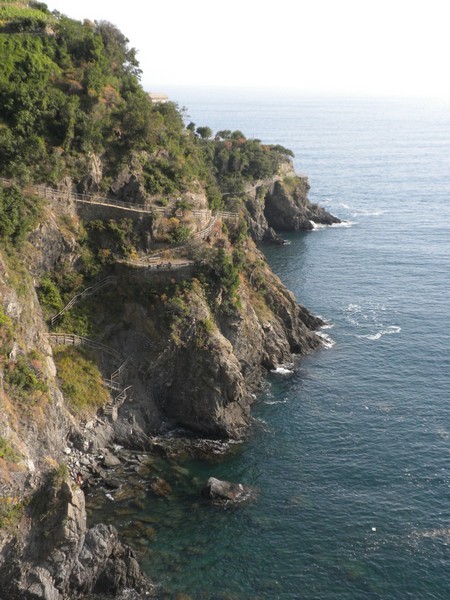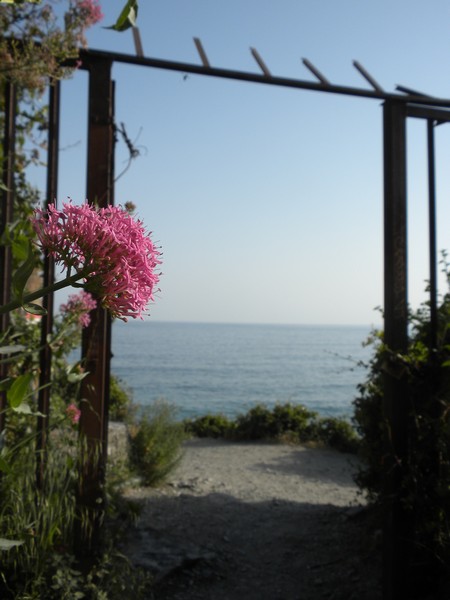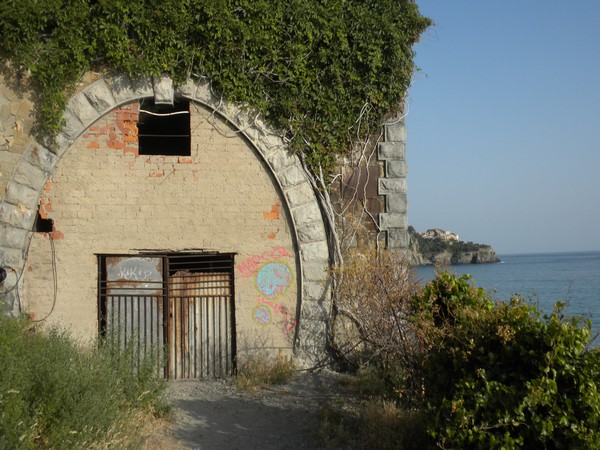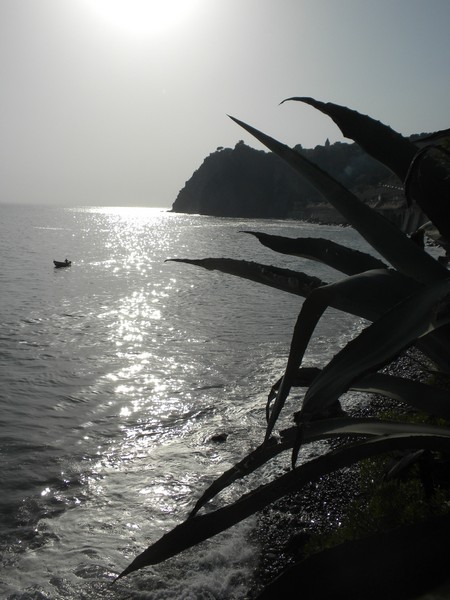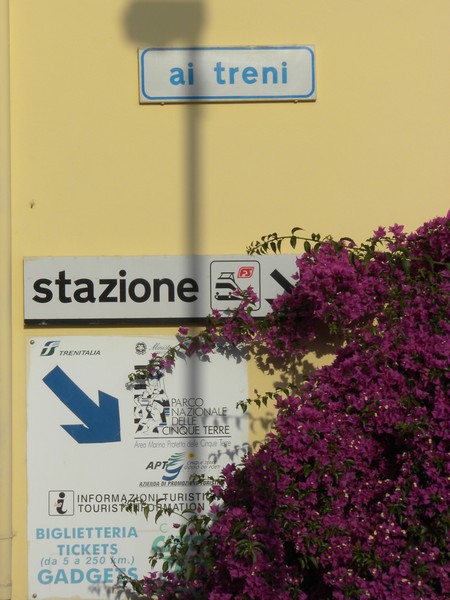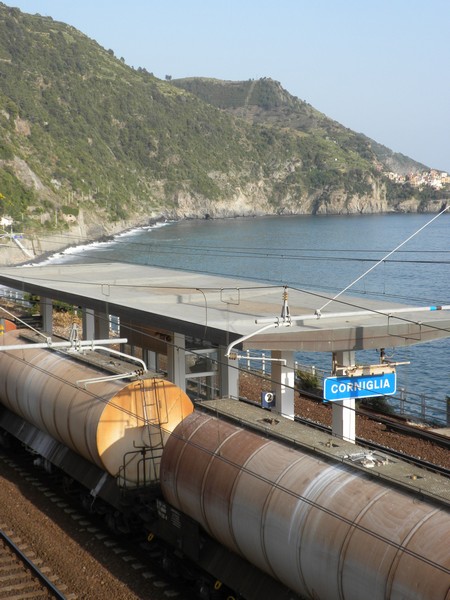 Corniglian sense of humor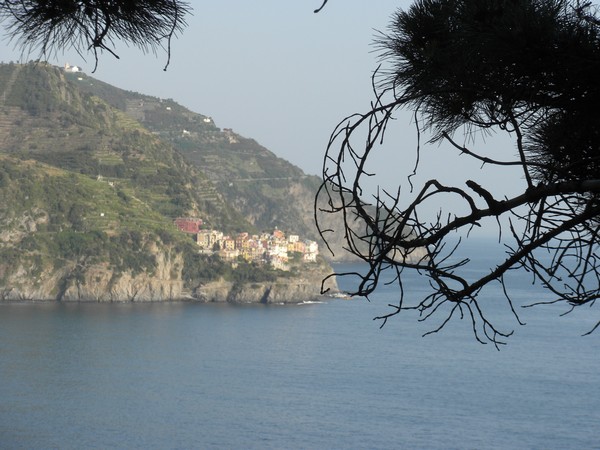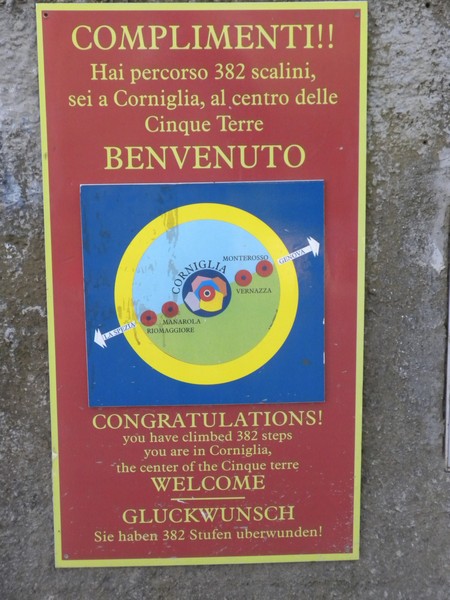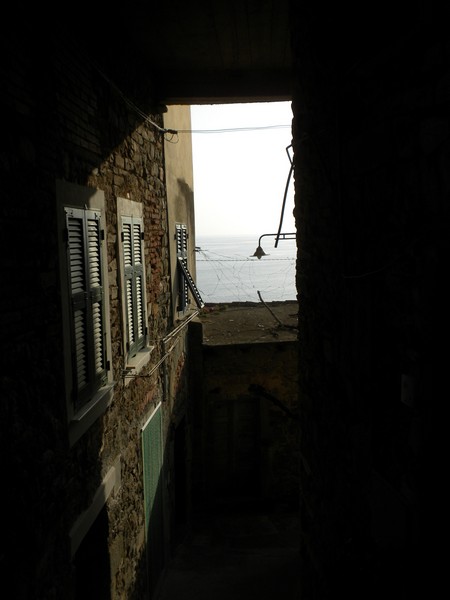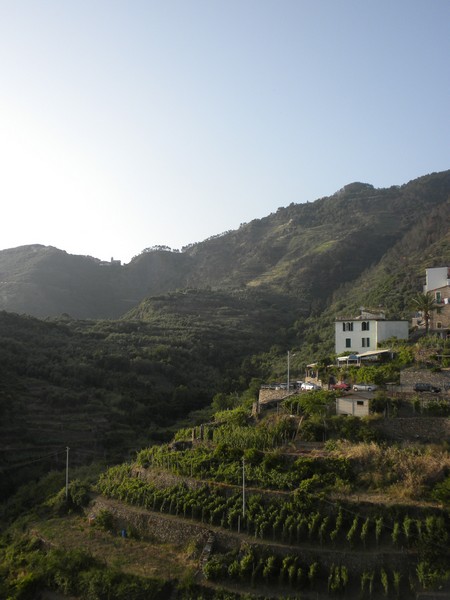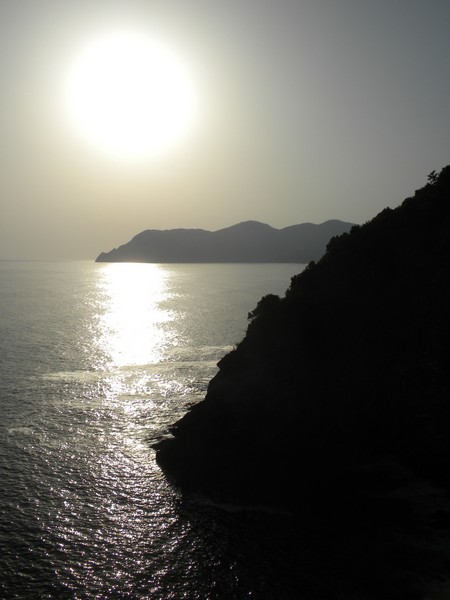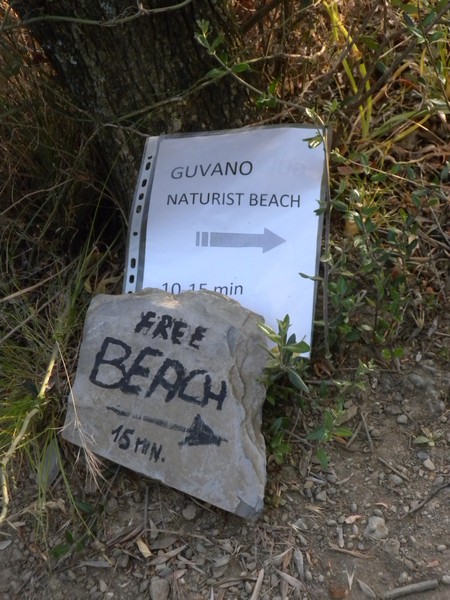 Nude beach!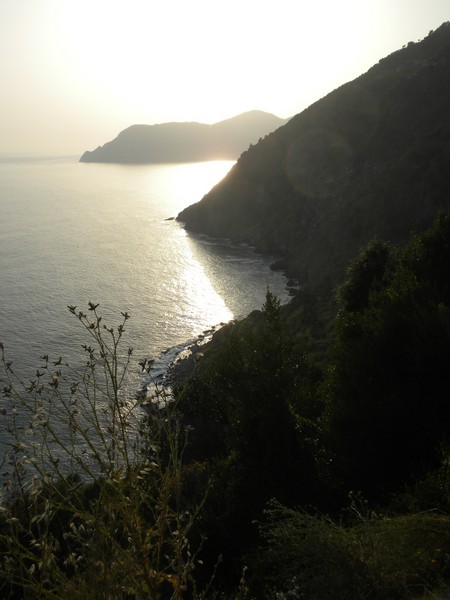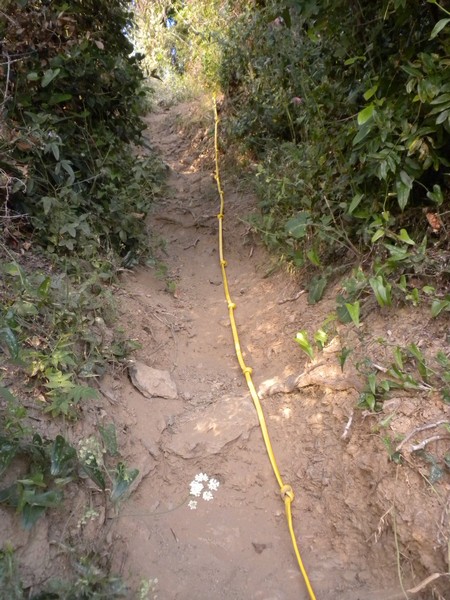 Knotted hose on treacherous trail to beach (right about the time I decided it probably wasn't worth the effort)

Corniglia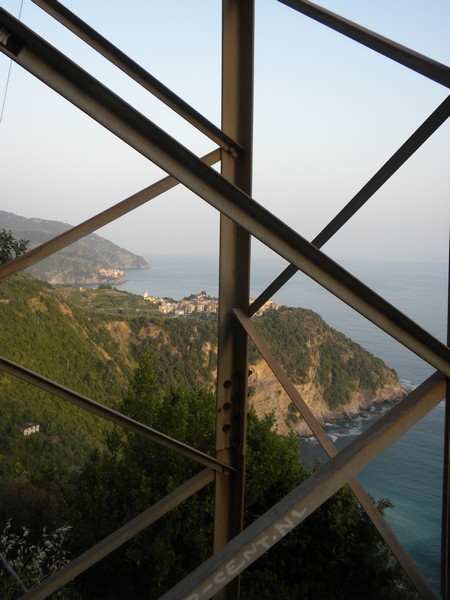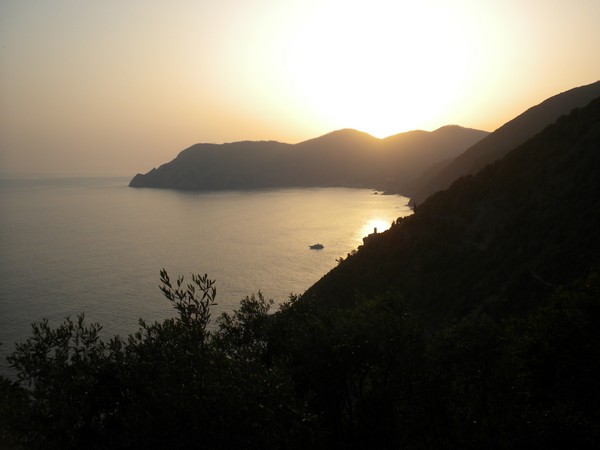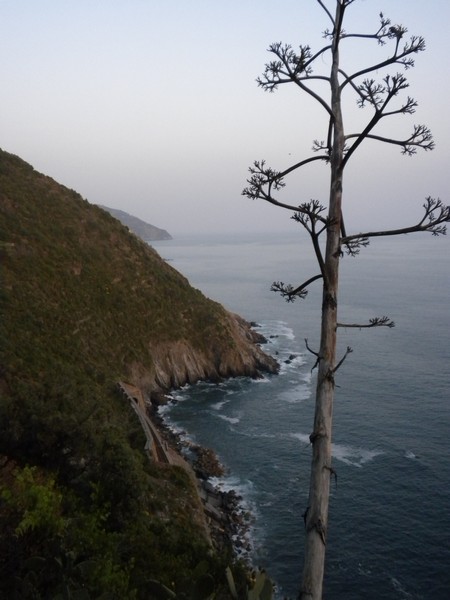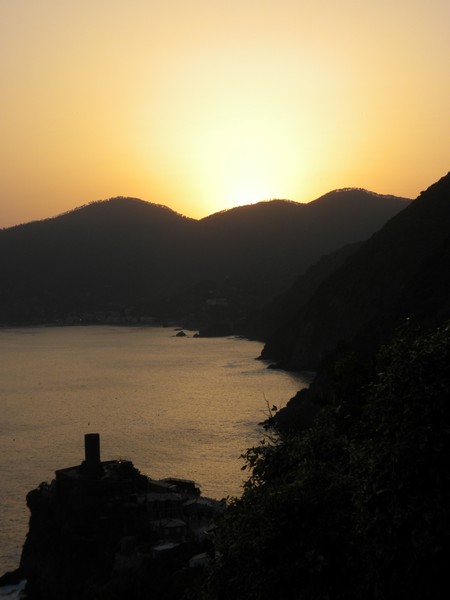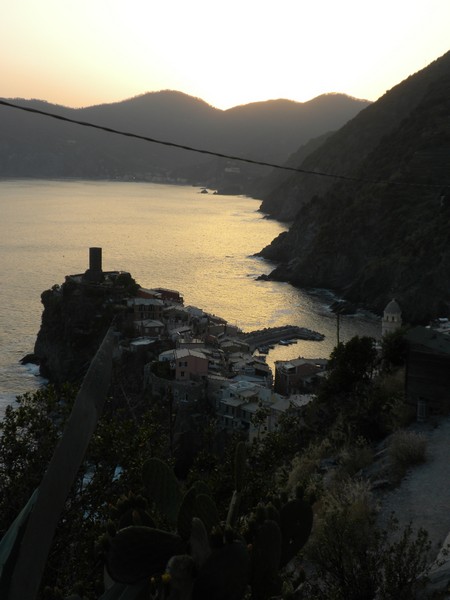 Vernazza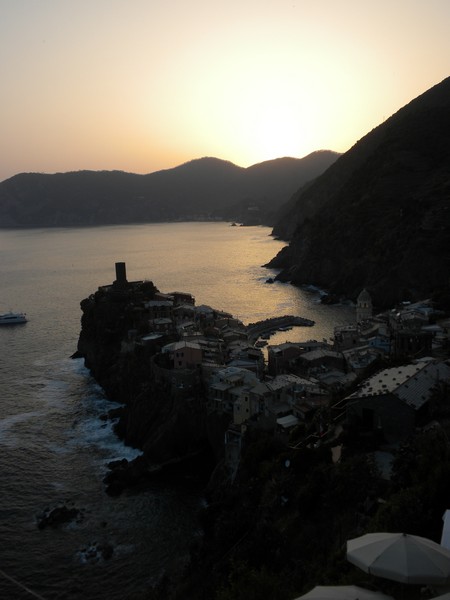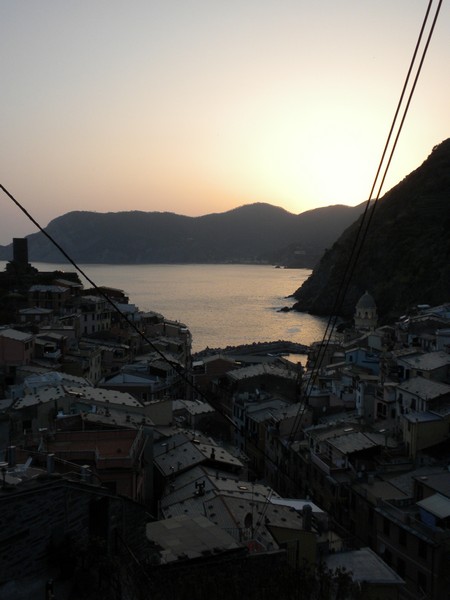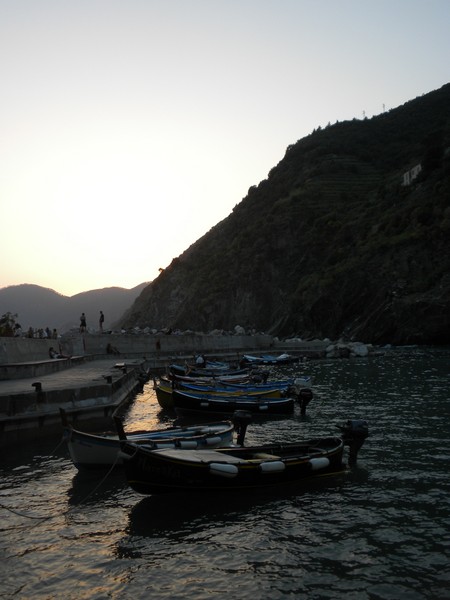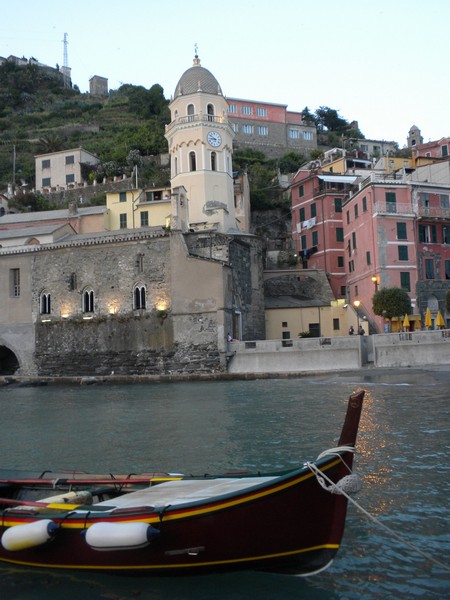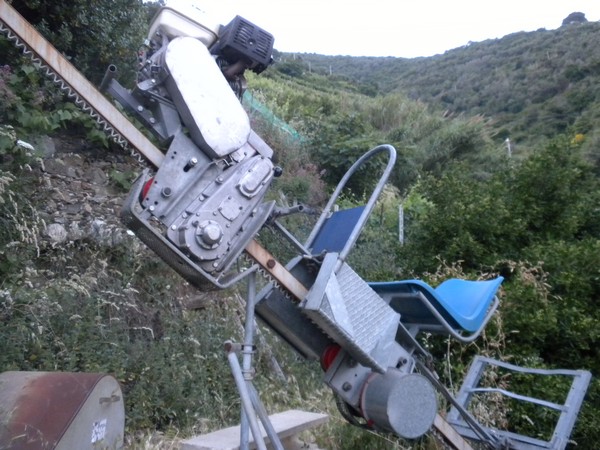 Some sort of vineyard monorail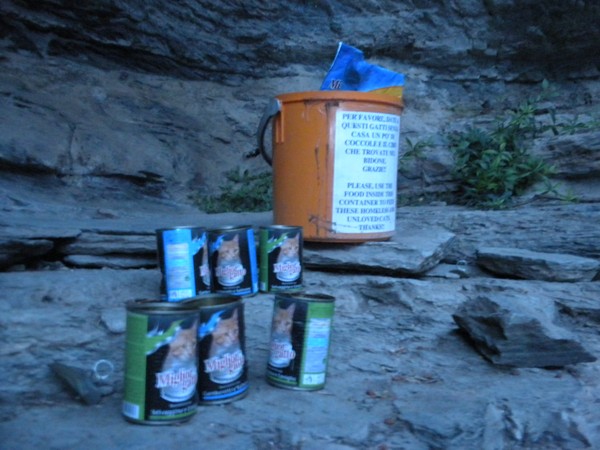 A buffet for the hungry cats... but nothing for the hungry hiker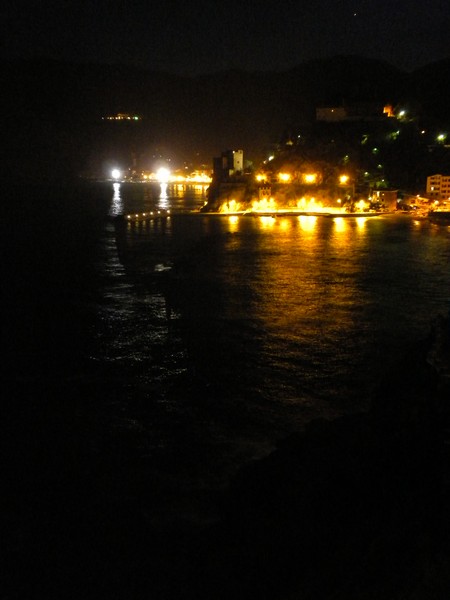 Nearly to Monterosso
Day 17 - Pisa
I started walking around town at first light (around 5:15am). Pisa was pretty quiet at this time on a Saturday morning. I stopped by the leaning tower and duomo, a farmers market, and a couple other sights. I used a couple of my remaining euros to get a slice of pizza and various other baked goods before returning to the airport.
The tower is really nothing all that exciting and gets far too much fanfare and has way too high of an admission price (15 euros) for its own good. However, in the event that you would like your very own leaning tower picture, but can't afford the ticket over, here is how you can go about obtaining one in three simple steps. 1. Find a tower (preferably one that looks vaguely Romanesque and not the space needle or some other instantly recognizable modern structure). 2. Tilt your camera by about four degrees. 3. Take a picture. If you would like someone in the foreground, have that person lean four degrees in the direction opposite the tilt of your camera. This should effectively deceive the vast majority of people.
Airport check-in is the bane of my existence. The staff shows up randomly somewhere between three hours and one hour before your departure time and leaves at some random later time. In order to insure that you do not miss check-in, and subsequently your flight, you must make absolutely sure not to sleep through this potentially narrow window. Having been more or less awake for the last 28 hours, I was somewhat inclined to sleep and, in an effort to retain consciousness, wandered aimlessly around the suburbs. The security officials at check-in interrogated me for some time due to my peculiar itinerary, and let me go only after branding my passport with a grey sticker, which is apparently a signal to alert later security checkpoints that I am most likely a terrorist and should be searched to the fullest extent possible without regard for my dignity.
Unlike EasyJet and RyanAir, Delta has a ridiculous boarding procedure where the passengers are divided into zones and passengers in later zones are made to wait until those in earlier zones have boarded, regardless of their positions in the great blob of people standing before the gate. Furthermore, the elite zones must walk on the right side of a cordon over a red carpet (even though this path is slightly longer) and under no circumstances may anyone from later zones walk upon this carpet. It is service like this that makes your Delta ticket cost $630 more than an equivalent distance on RyanAir flights.
Landing in Tampa a little around 11:30, I found Amanda and her friend Monica waiting for me in the arrivals lounge. Monica drove us to her nearby apartment, where I would grab my car, and, working off of nearly 11 hours of sleep I had gotten on the last two flights, drove the two hours home with no issues. Amanda would fly out the next morning to California where she would train up for an unknown assignment in an as-of-yet-undetermined country.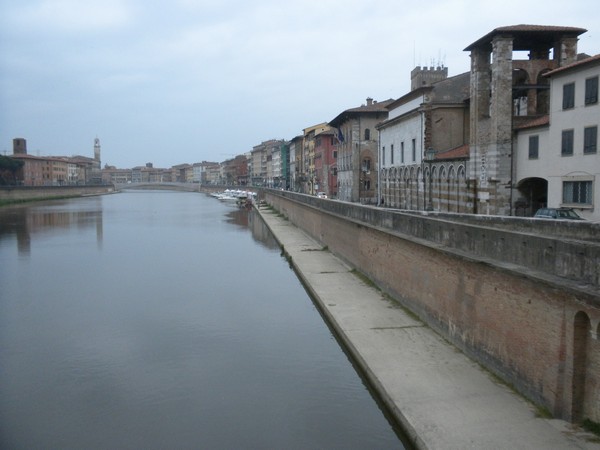 Pisa at dawn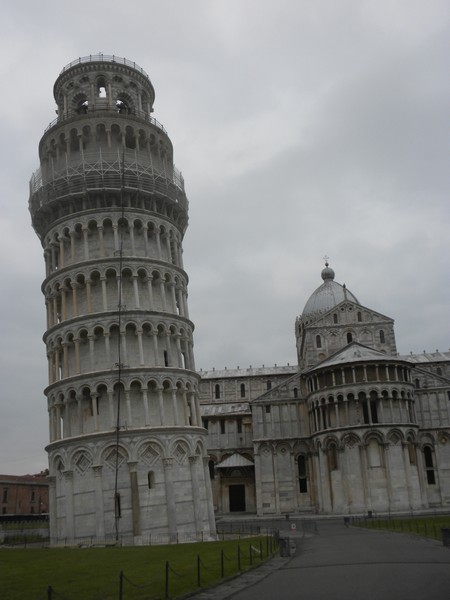 Non-descript tower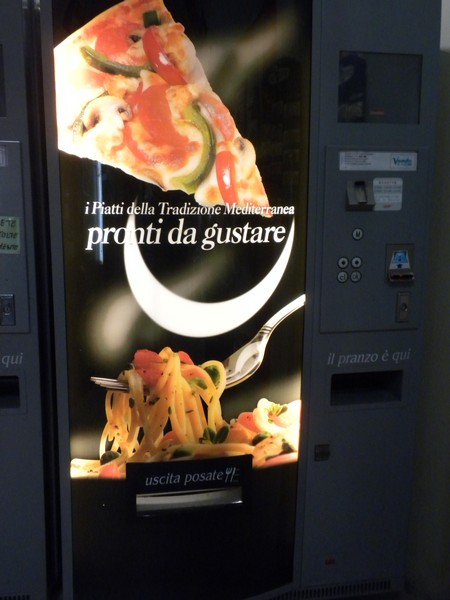 Pizza and pasta from a vending machine!

Randomly placed church thing

Specializing in entrees, salads, and sweets... possibly a bad translation
Currencies
| | | |
| --- | --- | --- |
| 1 US Dollar | = | 0.8255 Euros |
| 1 US Dollar | = | 3.4815 Romanian Lei |
| 1 US Dollar | = | 1.6146 Bulgarian Leva |
Costs
Flight from Tampa to Milan and Pisa to Tampa = $714
Flight from Milan to Thessaloniki = 45.73 euros
Flight from Constanta to Pisa = 25 euros

Bus from Malpensa airport to Milan = 7.50 euros
Bus from Milan to Bergamo = 4.50 euros
Climb the tower of the cathedral in Milan = 5 euros
One scoop of gelato in Milan = 2.50 euros
McDonalds hamburger in Italy = .50 euros

Meal of roasted peppers and Greek salad in Thessaloniki = 11 euros
Cone with two scoops of gelato = 1 euro
1.5 liters of water = .20 euro
Overnight train to Athens = 20 euros Entry to acropolis for non-EC students = 6 euros
Bowl of bean soup and bread in hole-in-the-ground restaurant = 4 euros
Overnight ferry to Iraklio = 19 euros
Bed in Iraklio hostel = 12 euros
Scooter rental in Iraklio = 20 euros per day
Gallon of gas on Crete = $7.50 ($2.51 in Tampa)
Entry to Knossos for students = 3 euros
Loaf of fresh baked bread = 1 euro
Fried fish and french fries at random restaurant in middle of nowhere = 9 euros
High-speed ferry to Santorini from Iraklio = 45 euros
Bus from port to main town of island = 2 euros
Scooter rental in Santorini = 10 euros
1 liter of gas siphoned from tank of rental car = 2.50 euros
Overnight ferry from Santorini to Athens = 30 euros
Train from Athens to Meteora = 18 euros
Bed in hostel in Kalambaka = 25 euros
Stuffed peppers at Kalambaka = 5.50 euros
Monastery entry in Meteora = 2 euros
Train to Thessaloniki = 12 euros

Overnight train from Thessaloniki to Sofia = 12 euros
Chicken soup, stuffed pepper, and salad = 4.5 leva
Waffle cone with one scoop of gelato = 1.2 leva
Big slice of baloney pizza = 1 leva

Overnight train from Sofia to Bucharest = 45 leva
Bus from Bucharest to Brasov = 32 lei
Double room in Brasov hotel = 78 lei
Meal at sidewalk cafe = 25 lei
Ice cream cone = 2 lei
Train to Sighisoara = 27 lei
BnB room in Sighisoara = 120 lei
Mushroom pizza = 11 lei
Hitchhiking to Sibiu = 4 lei
Hostel bed in Sibiu = 45 lei
Meal in cellar = 20 lei
Admission to church tower = 3 lei
Bus to Constanta from Bucharest = 50 lei
Bus from Constanta to airport = 5 lei

Train from Pisa to La Spezia = 5.10 euros
One-day pass (trains + hiking) for Cinque Terre = 8.70 euros
Kebab in La Spezia = 3.50 euros

Total on ground (17 days) = $803