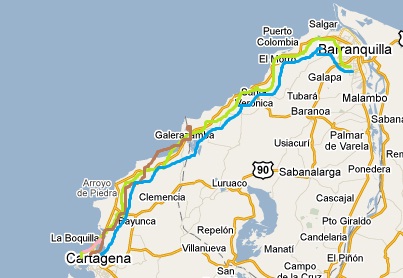 The original plan for Homecoming was to lead a climbing trip to Austin which would include deep water soloing on the cliffs of Lake Travis, sport climbing at Reimers Ranch, listening to a sampling of bands on Sixth Street, and watching campy movies at the Alamo Drafthouse. And with three days, the two 17-hour drives would be nearly manageable. But with only a month to go, I discovered that I had been signed up for a volunteer slot for a conference in Orlando on that Sunday and my extended weekend would be cut tragically short. Shortly after this discovery, however, I happened upon a most propitious Spirit sale for a flight to Barranquilla, Colombia, leaving late Thursday night and returning in the wee hours of Sunday morning for the bargain price of $150.
I immediately cobbled together the outline of a trip and announced it on the outdoor clubís listserve with a cap of nine people. By the deadline a few hours later, seven had managed to get their money and details to me, and the tickets were purchased. Shortly thereafter, ten more people expressed interest, including Jorge (pronounced "George"), who has plans to lead trips to South America as a career, and Mike, who wanted to leave two days earlier and fly straight to Cartagena. Within the next couple of hours, two more sets of tickets were purchased, bringing the total to eighteen people. I had never met half of these, and, given that none of them ever showed up to a club event or showed any interest in talking about the trip, would not meet them til that Thursday afternoon. One of them dropped out at some point without ever mentioning the matter to me. James (the girl) found out about our club two days before our flight and bought her tickets the following evening for a very reasonable $220.
Jorge decided it would probably be in our best interest to pre-arrange our transport from the airport and hostel bookings, and, given that the alternative was to wander the streets of a large Colombian city at two in the morning with fifteen gringos in tow (many of whom had never been to Latin America), I reluctantly agreed.
Most everyone showed up at the bee bio unit by two on Thursday afternoon. Zorana took her sweet time and rolled in at 2:30 and James got a flat tire on the way there, frantically dragged her bike back to her house, and would be picked up on the way out of town. Sarah and Andrea had ridden down with a friend some hours earlier, so we stuck five people in Evanís Camry and the remaining eight in Jorgeís truck, three of those riding in the bed with a big slobbery dog. We stopped at Zoranaís for a minute to grab her some pants and made our way rapidly south.
As anticipated, we arrived in Fort Lauderdale absurdly early and sought out Aunt Iís Jamaican restaurant where we got a few Styrofoam boxes full of delicious curried goat. Zorana had forgotten a headlamp, so we stopped at a nearby Walmart where she picked up a few essentials while the rest of us polished off a tub of ice cream sandwich ice cream. We had driven in the direction of the airport for about ten minutes, when Z made the disturbing discovery that she had left her bag of purchases at the checkout counter and it seemed we had no choice but to circle back to retrieve it. Not surprisingly, the $30 worth of eminently returnable merchandise was not where she had left it and she was forced to pony up another $15 for a second headlamp. When we finally arrived, the other group had been waiting for some time, and we all got through security with plenty of time to spare.
T-48 hours until flight home: A new continent
Most everyone had a full row to him/herself on the plane and thus had managed a full 2.5 hours of sleep when we landed. A transport company met us with a 15-passenger van in the arrivals lounge. A few people got money from the airport ATM and we managed to piece together nearly enough to placate our driver. The scenery at two in the morning was a bit lacking and the ride ended up being rather uneventful (despite several anteater-crossing signs); most used this time to eke out a few more hours of hugely inadequate napping. Jorge and I tried to convince the driver to take us for a moonlit swim in the mud volcano and to a fishing village to accompany the fishermen as they left at 4am to set their nets, but both suggestions were nixed for safety reasons.
Following a police escort through the dark streets of Cartagena, we arrived in a leafy plaza just outside our hostel. Jorge immediately and without any explanation, jumped on the back of a police motorcycle and sped off into the night. The rest of us sat down on the curve and tried to piece together a plan; our hostel was, not surprisingly, closed for the time being, and our sleep-deprived minds were having trouble putting together any sort of itinerary for a 4am exploration of the city. Justin set up a hammock and a few people promptly passed out in the park. Jorge eventually returned, having gone on a failed mission to find an ATM that would accept his card, and we set off with our incongruous gaggle on a tour of the empty streets. A pair of cops surreptitiously shadowed us to make sure we stayed out of trouble; since there are over a thousand cops in the old city and we made up a huge percentage of the total population of clueless gringos, this would seem a very reasonable allocation.
We shortly found ourselves at a curious line of 24-hour seafood/smoothie stands. I picked up some cash from the ATM across the street and got a delicious banana milkshake for 2500 pesos. Just down the road, we came across a live band on a street corner which was performing for a group of absurdly drunk guys; as soon as we approached, a few of the guys stumbled over and asked the groupís female contingent to dance. Some of our girls complied and Justin gulped down a few shots of whatever it was the guys were drinking; the rest of us, a little too fatigued to party, sat down on a curb a hundred feet away and awkwardly looked on.
The group walked over to the seaside and sat on a pier to watch the sunrise. After some plotting and napping, we walked around until we found a restaurant just opening its doors, and ordered breakfast. For 5000 pesos, we procured meat, eggs, patacones, salad, and some sort of grapefruit soda.
We all knew that the group, as a whole, would never get much of anywhere, and that, in order to have any sort of authentic backpacking experience, weíd need to split into groups of at most five. We were all also very much aware that, in our group of fifteen, we had only one guidebook, two competent leaders and a bunch of people who had never even contemplated independent international travel. The math of this scenario clearly admitted no equable solution, so I picked the four who had arrived at the restaurant first and eaten the fastest, and, while the rest were still working on their meals, made a speedy escape.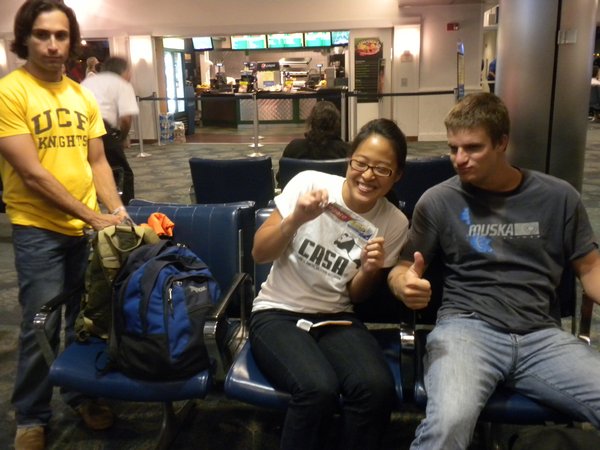 Cat showing off her illicit 8-ounce tube of toothpaste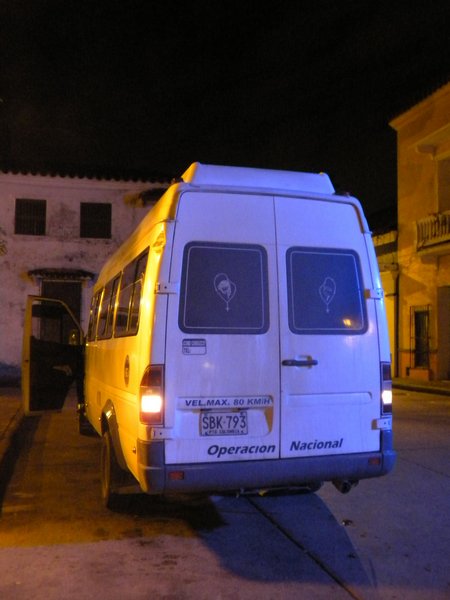 Our luxury airport shuttle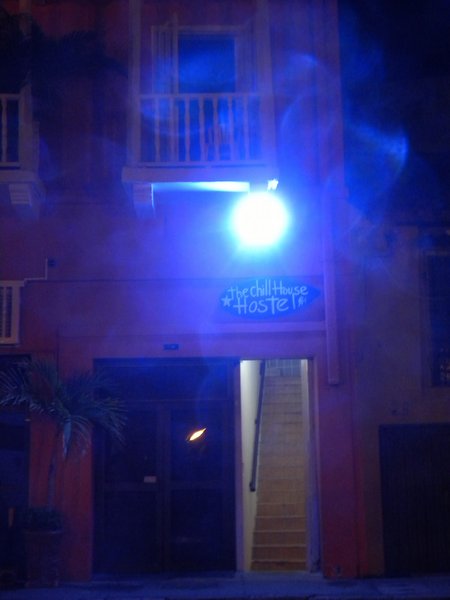 Our hostel was oddly quiet at 4 in the morning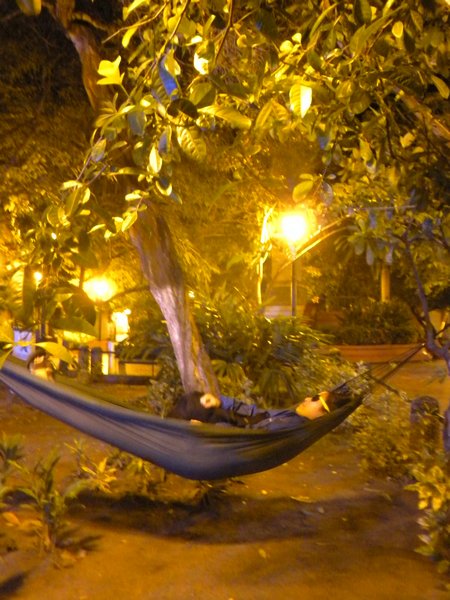 Cat attempting to catch up on lost hours of sleep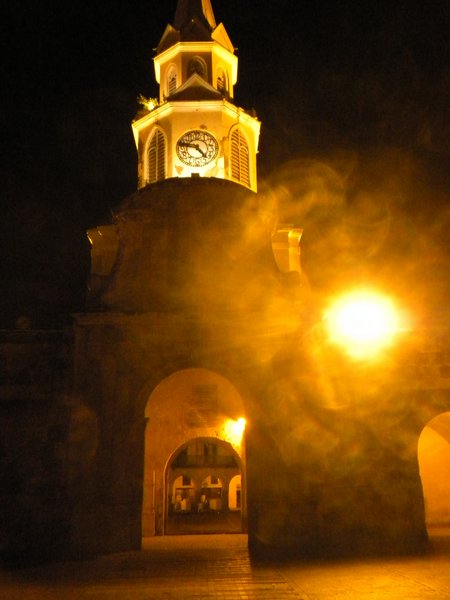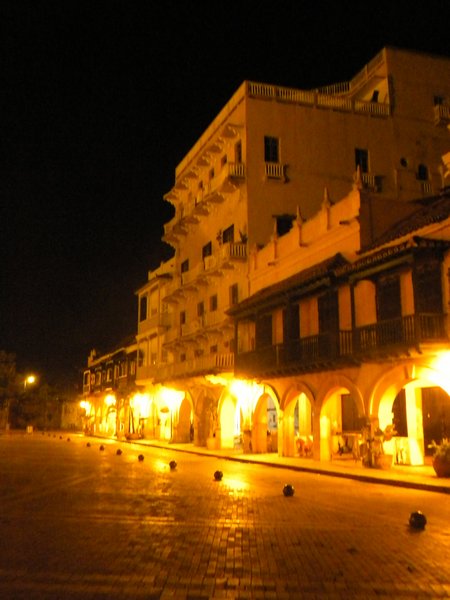 Live music and dancing with random drunks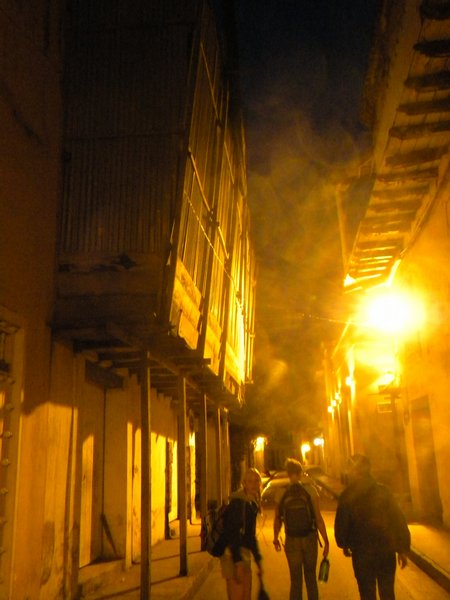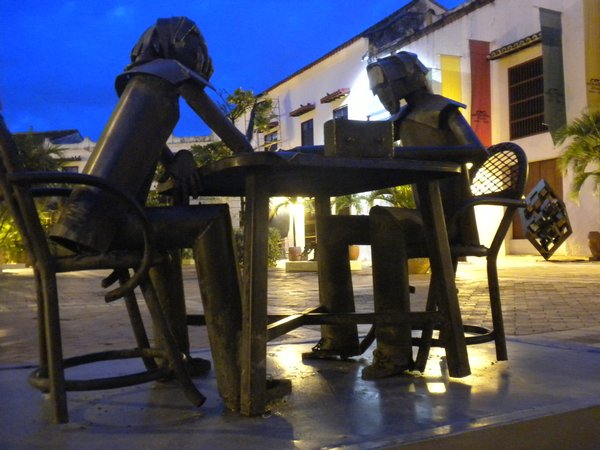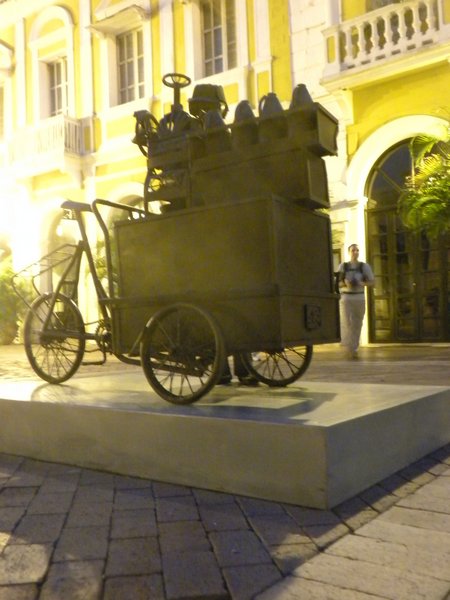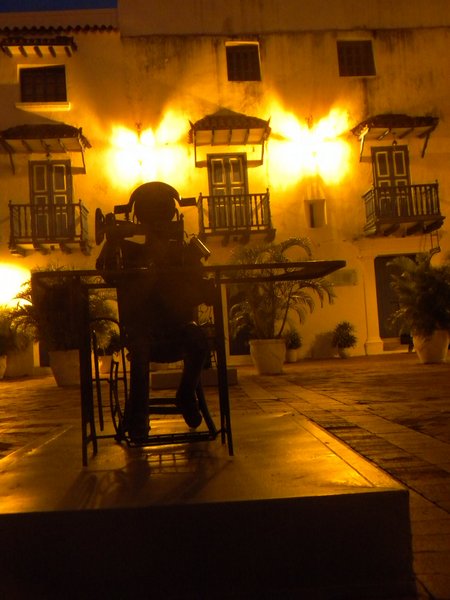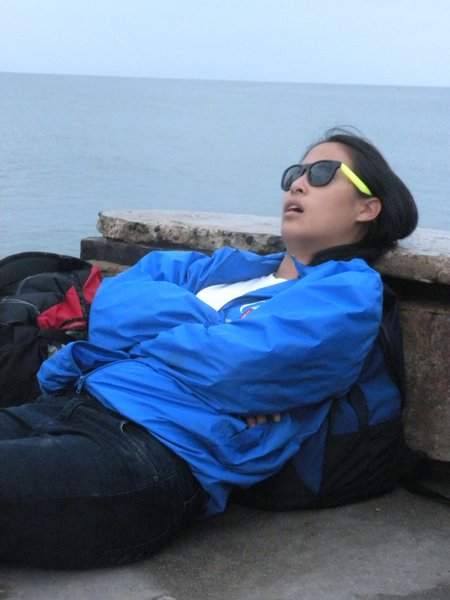 Cat collecting seagull poop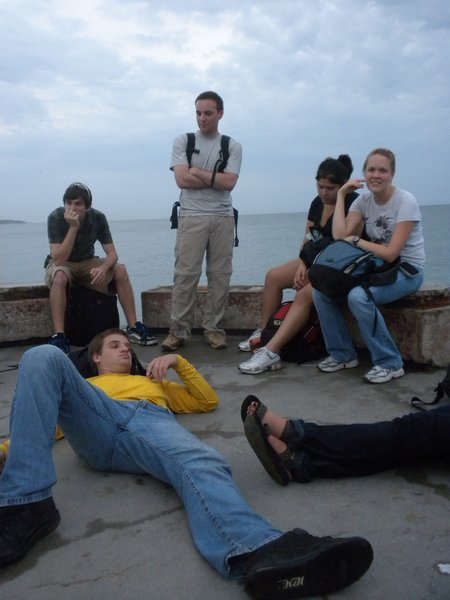 City's famed naked Indian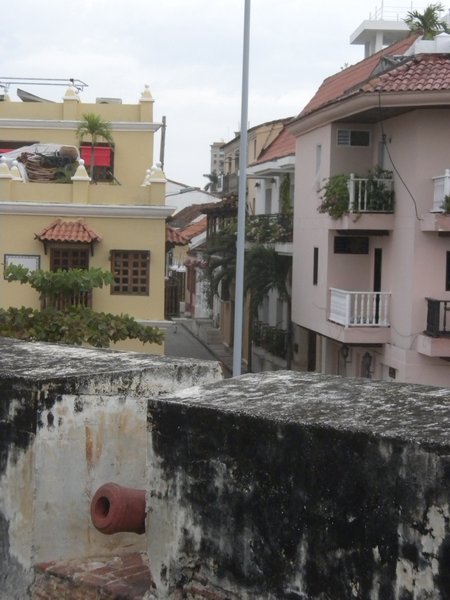 T-42 hours: Storming the castle walls
We went to the townís "castle" first. Even the half-price student admission was a very steep 7000 pesos. We spent an hour lazily traipsing along the ramparts and exploring a couple of uninspiring tunnels, stopping every so often to sit and contemplate just how tired we were. As we were leaving, we ran across the remainder of the group lined up at the ticket windows; a couple of them tried to join us, but we dissuaded them with greatly embellished tales of the castleís grandeur. Only James was persistent enough to make the shift, but we would soon learn that she, given her vastly superior Spanish skills, was a valuable acquisition indeed.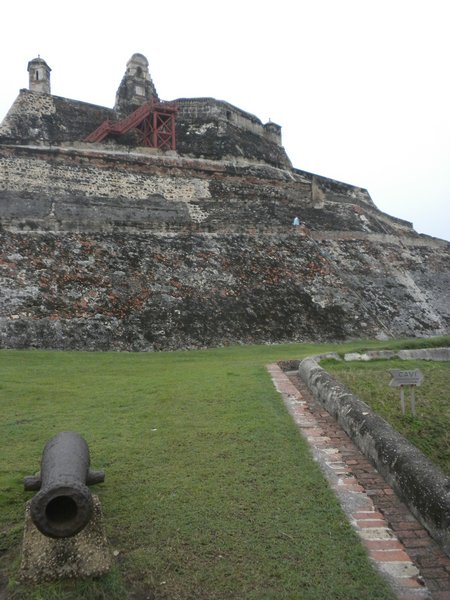 Castle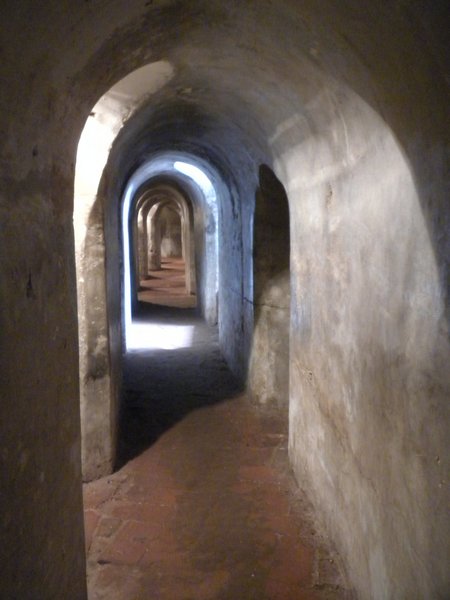 Underground tunnels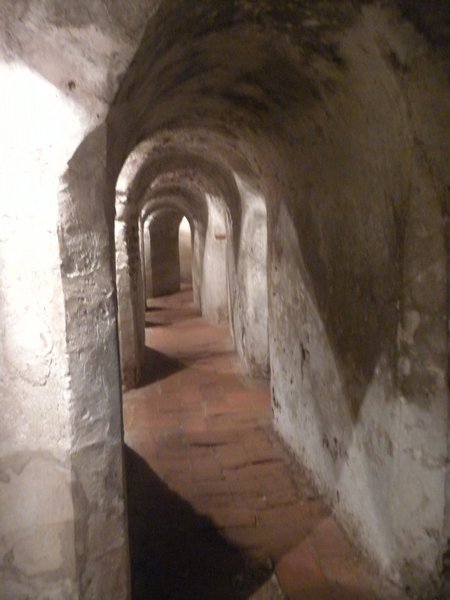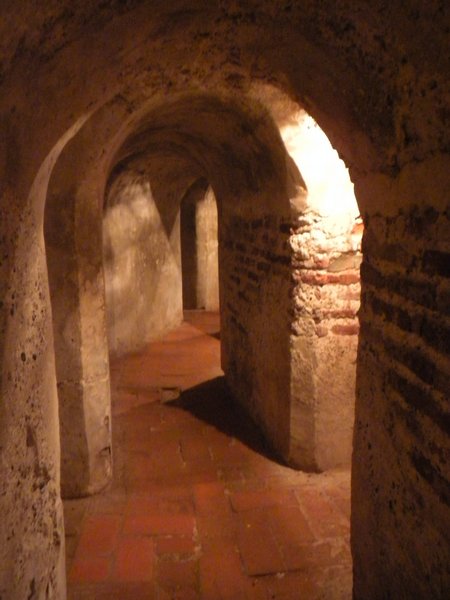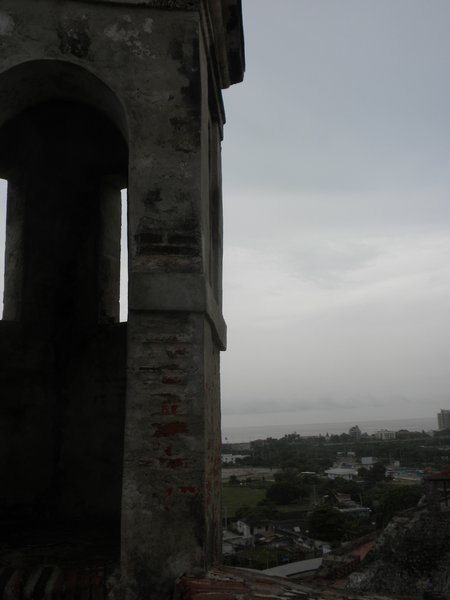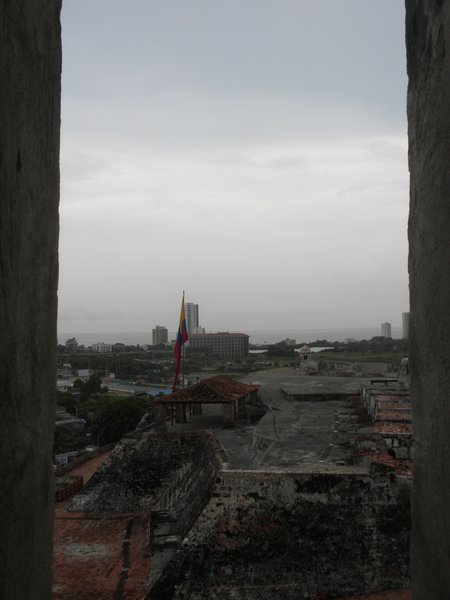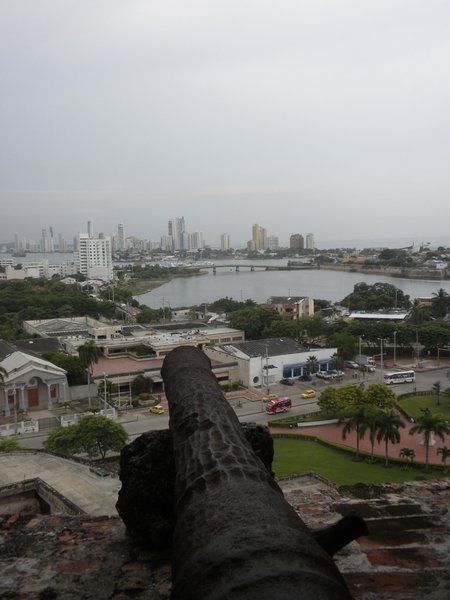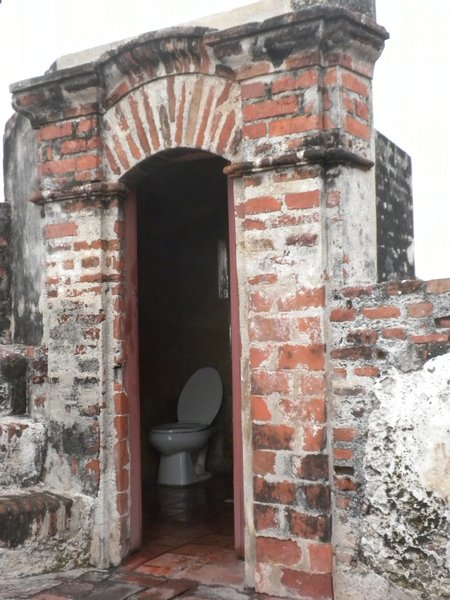 T-40 hours: Mud in places you've never had it before
We tracked down a bus to the townís central station and there found that the next hourly bus to Galerazamba, access point for the famed Volcan de Lodo El Totumo, was leaving immediately. After a scenic hour and a half along some very poorly maintained roads, we arrived at a junction and there found a horde of mototaxis willing to take us the remaining 3.5km for 3000 pesos; fortunately a small jeep-like vehicle was also on hand, and, squeezing in with the two operators and three Europeans, we got a ride to the volcano for 1500 a head.
It was pouring when we arrived, so we leaped across a few sprawling puddles and found our way to one of a string of touristy restaurants. We all ordered fried fish, plantains, salad and coco rice for 8000 and this (quite ironically, given the restaurantís setting) was probably the best thing I ate on either of my trips to the country. We changed into swim trunks, paid our 5000 peso admission fee and scaled the slippery wooden boards on the side of the volcano.
I would like to discourage you from looking up any pictures of this thing because it will doubtlessly discourage you from experiencing what is surely one of the strangest sensations anywhere. The crater (if thatís what it really is - some in our group are of the opinion that the whole thing was fabricated as a tourist trap) has been retrofitted with a square wooden framework and is only about eight feet on a side, and is filled to the brim with a grey, soupy mud; even on a Friday, it was completely packed with people, and looking down from the platform, youíre led to question whether youíll actually fit in (and whether you actually want to). Thereís no room to swim or even tread water, but this isnít really necessary as you can only sink to chest level. No one seems to know the depth - it could be seven feet, it could drop all the way down to the center of the earth - but itís a moot point, because thereís no way youíd ever be able to dive below the surface. I was more awkward than most; I would often myself on my belly and unable to right myself, and would only escape certain death by mud inhalation through a last-minute rescue by someone in the crowd. The girls each got a free massage from some random old guy (a heavenly experience, Iím told), while we guys entertained ourselves by dunking our heads under and thus insuring that we would be picking mud out of our ears for the next 48 hours. As we exited the pool, the massage guy scraped the majority of the mud off our bodies so it could be enjoyed by future visitors. We made our way down a slippery staircase and into a murky lagoon. Reade and Cat elected to be scrubbed clean (and, incidentally, stripped naked) by a couple of women who performed this service in exchange for tips; the rest of us opted to bathe ourselves.
We squeezed back into the jeep (Justin volunteered to hang on to the rear rail) and returned to the junction. The driver informed us that the bus had already left, but was willing to drive us back himself for only 25% over the bus fare. Since the authorities apparently frown on passengers riding on the backs of vehicles, Justin wedged himself in with the rest of us and the driverís friend sat on Jamesí lap. The jeep puttered along well below the speed limit, its engine barely able to cope with a full metric ton worth of passengers; we broke down once, but the driver popped the hood and had us back on the road in minutes.
Back in the city, we stopped in at a bank to try to exchange money for those who hadnít managed to get funds from an ATM; this didnít pan out, but somehow they came up with the pesos they needed to survive for the rest of the weekend. We got some empanadas and wandered around the city for a few hours. The city was hopping; we happened upon some sort of cultural show with crazy costumes and captivating dance moves, then proceeded to join in a small parade which was winding its way through the narrow streets of the old town. Just outside our hostel, a wedding was just letting out and the couple was in the process of jumping into a waiting horse-drawn carriage (oddly, they were accompanied by around six little children).
We found the rest of the group hanging out and drinking in the lobby. They had finished up at the fortress and spent most of the rest of the day bar-hopping, drinking prodigious amounts of alcohol, getting to know other travelers and locals, and generally having a grand old time. It was raining quite hard, so we all went to two different restaurants within fifty feet of our hostel. The menu of the day cost around 8000 and included soup, rice, beans, plantains, salad, lemonade, and the meat of choice. Much of the group was planning to go clubbing around 11 and was hanging out in the lobby until then; I tried my best to be social, but passed out around 10.
By some slight of hand, the entire group got beds in air-conditioned rooms except for me and Evan; we were forced to languish the night away in a 90-degree, mosquito-infested fan room. I woke up just before 7 and tiptoed around to rouse my five travel companions, trying my best to avoid alerting any potential new additions. Aside from me and Evan, all had enjoyed full nights of excellent sleep and were completely refreshed and limber, though Cat had endured an unsettling encounter with the manager, who had apparently gotten really smashed and decided to try to seduce whichever girl happened to be making a trip to the toilet in the middle of the night.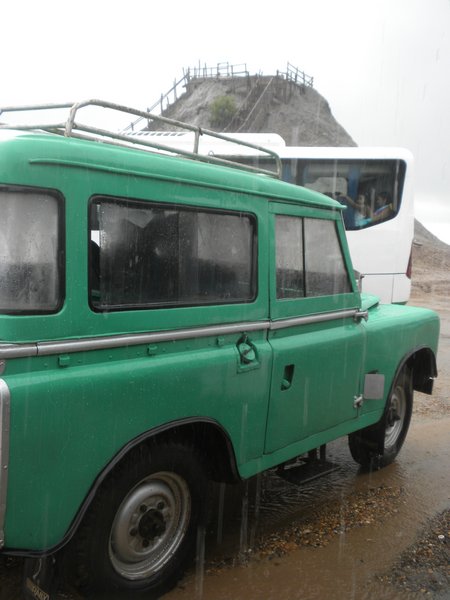 Our trusty taxi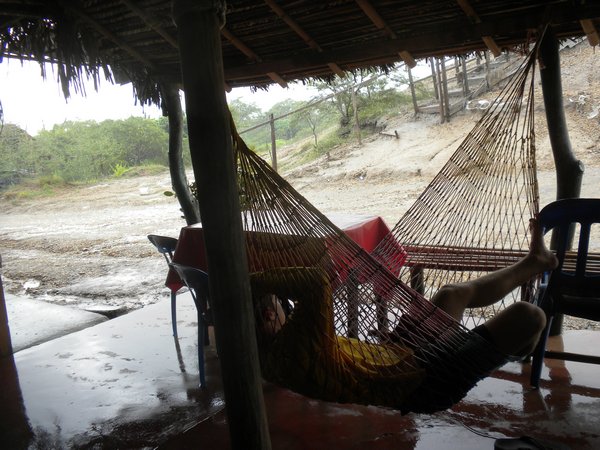 Not getting any less tired as the day goes on...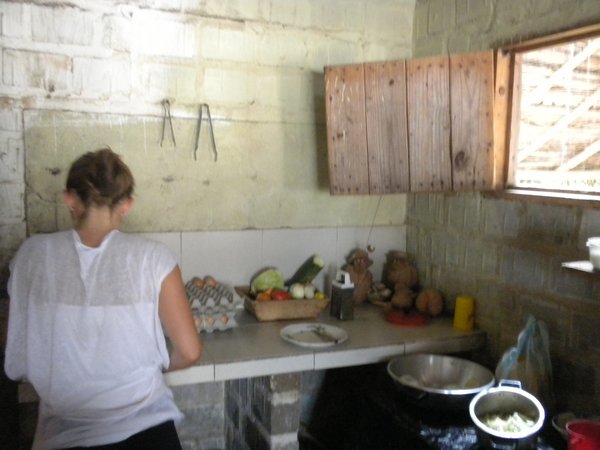 James doing her part in the kitchen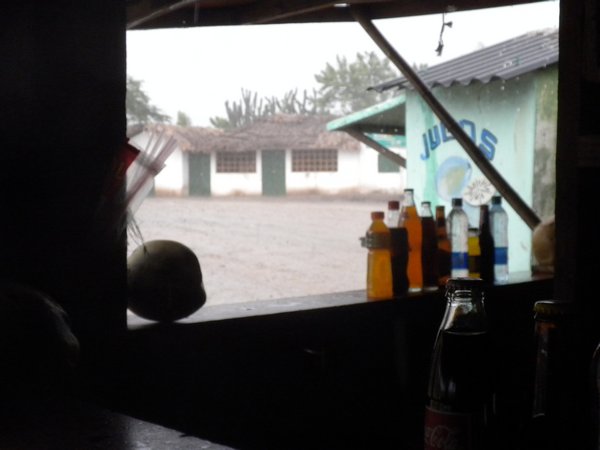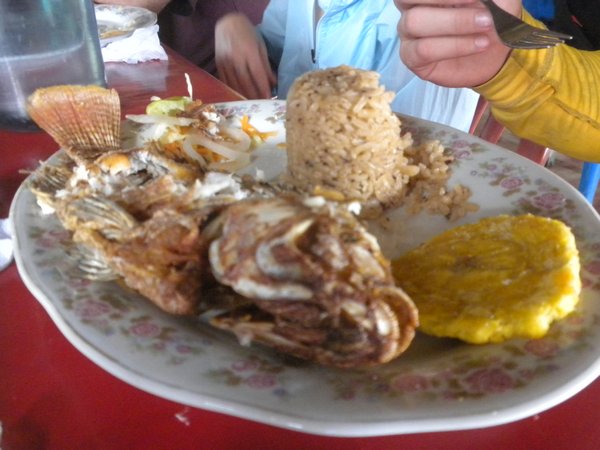 Incredibly delicious fish plate

Children of the mud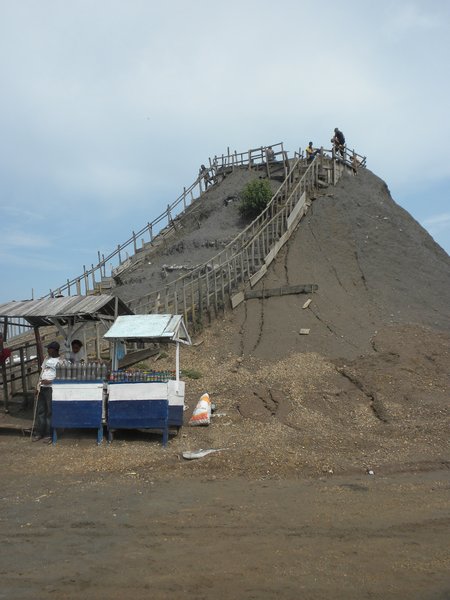 Mud volcano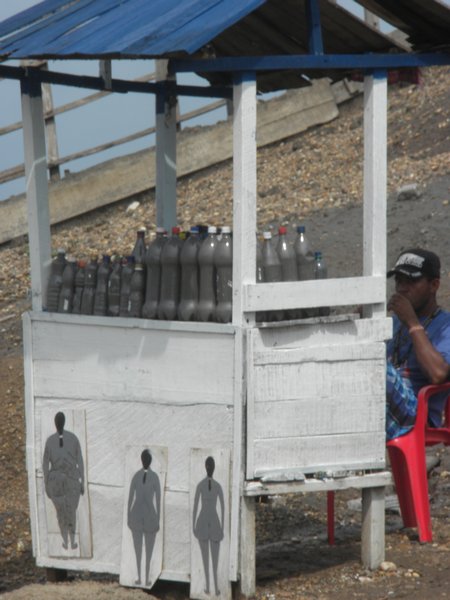 Souvenir mud?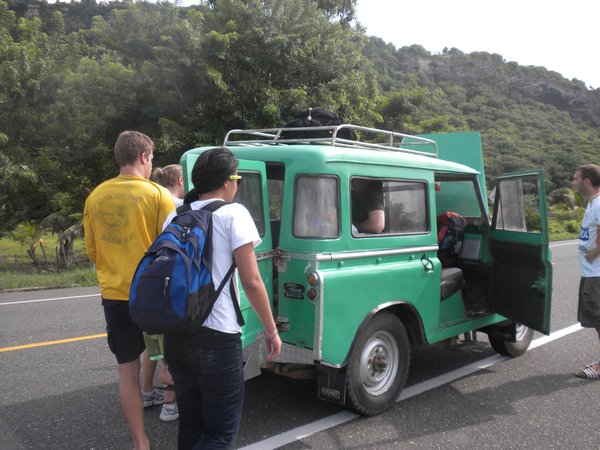 Car trouble

Interesting hostel art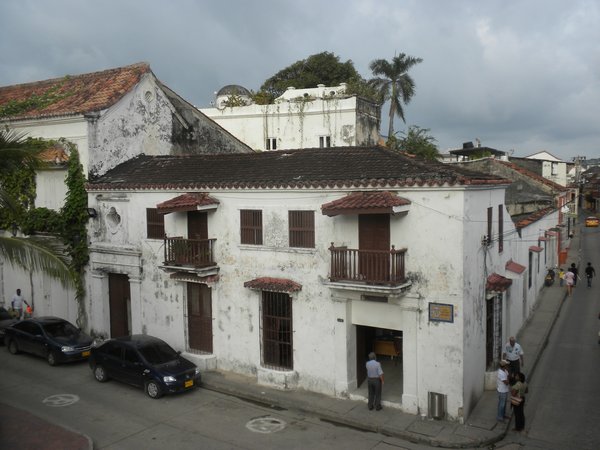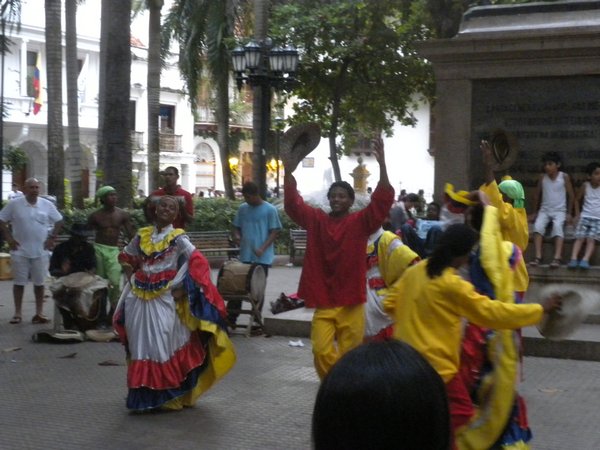 Random cultural performances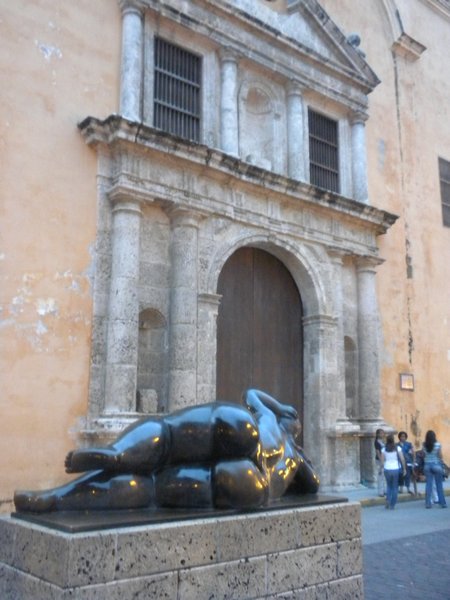 Looks like the work of Botero...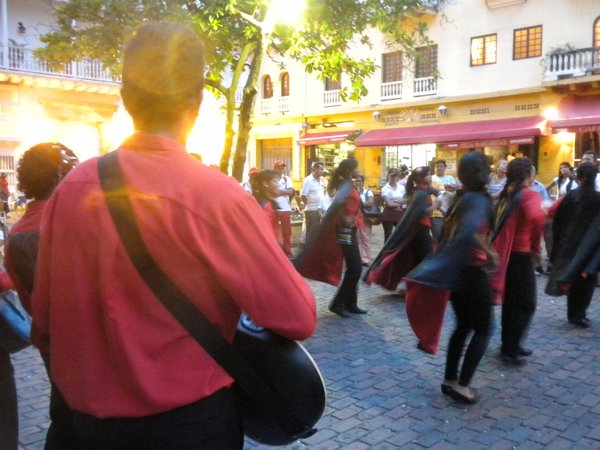 Random parade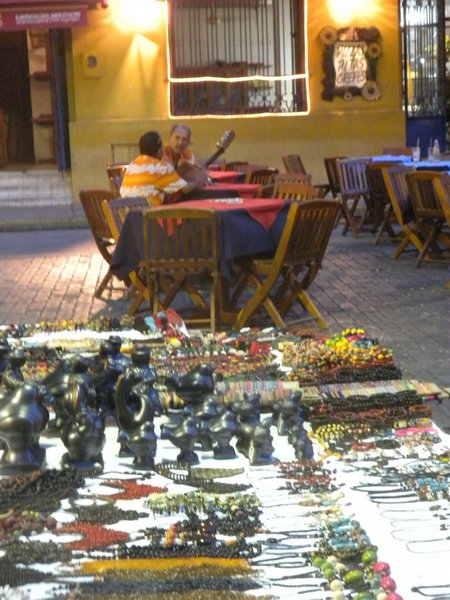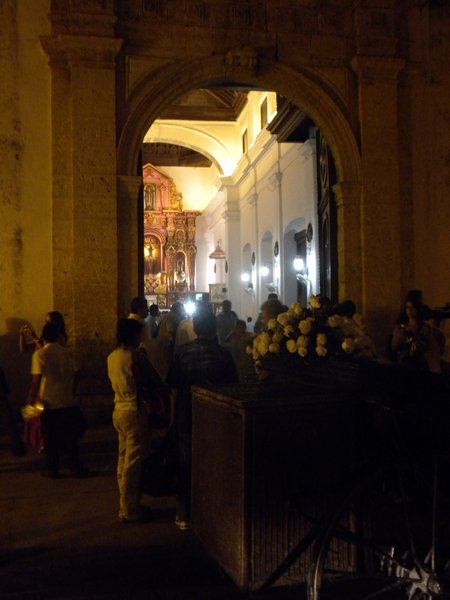 Cat, Reade, and the Broaster Bird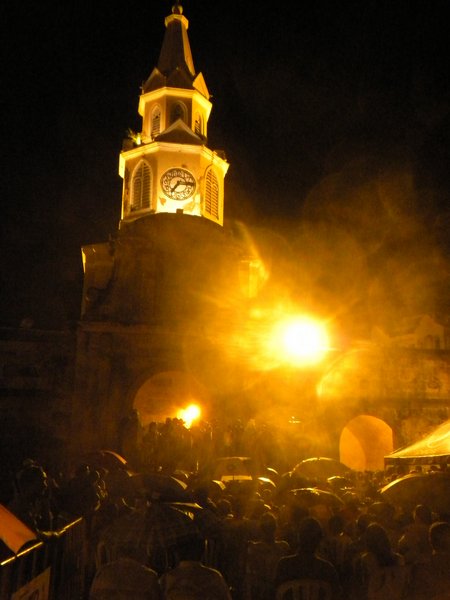 T-18 hours: A little like Florida, but different
We made our way to the naked indian statue and caught a bus to the nearby fishing village of La Boquilla. When we arrived, we found an unattractive, largely flooded, trash heap of a town, and it was not at all clear where we might go to find the boatmen who might give us a ride through the mangroves as suggested in the book. We followed the directions of the townspeople back through a series of very questionable alleyways until we finally reached a beach of grey sludge which is surely one of the least appealing Iíve ever encountered. The beach is covered in thatch-roofed sitting areas and snack bars, and all manners of tourist infrastructure, but it was completely deserted, and there seemed to be no reason for it to ever be otherwise.
We came across a guy who offered to take us all out on a boat for 60,000; with no signs of any boats or mangroves, we talked him down to 50,000 and followed him for a long ways along the sand. We came across a large group of fishermen who were working on pulling in a massive net, and stopped to watch as they slowly heaved their catch onto shore.
We finally reached a bay and boarded two waiting dugout canoes. Two guides punted us along through a long series of tunnels, bearing such names as the ďTunnel of LoveĒ and ďTunnel of HappinessĒ, before dumping us on a faraway shore. We continued along a beach until we came to a rocky headland; here, Cat and Justin, attempted to edge around the cliffs to get to the other side, while James tried to negotiate her away over the headland through talks with the landowners. Neither effort was particularly successful. Supposedly, the president of Colombia was at that moment dining in a restaurant just past the rocks, but we would never know for sure.
We followed the same route back and returned to the city. There, we made our way into the neighborhood of Getsemani and found an unnamed restaurant that was all of a meter across which had tasty set meals for 5000 pesos. We were walking along the Muelle Turistico when, with no warning, two men in cowboy hats jumped on the backs of Justin and Evan and started making sounds and motions to show they intended to ride them in an impromptu race. The two would-be horses first imagined that these attackers must be others from our group, but were struck by the foreign voices and soon bucked them. Pulling themselves off the ground and brushing off, the men pointed to a cameraman a hundred feet off, and then abruptly ran away. James was later able to ascertain that the scene was filmed for a reality TV show and would be shown later that week. We went to a nearby smoothie stand to grab some pina coladas and watch the duo assault some more unsuspecting foreigners.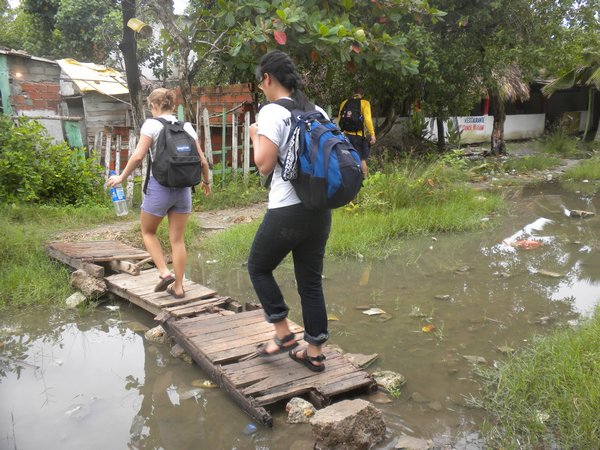 Trail to the beach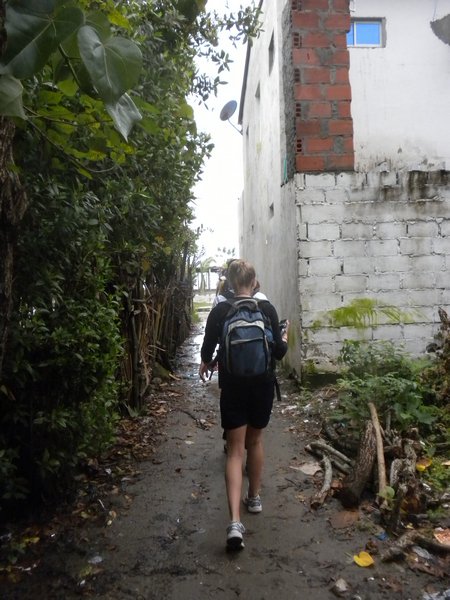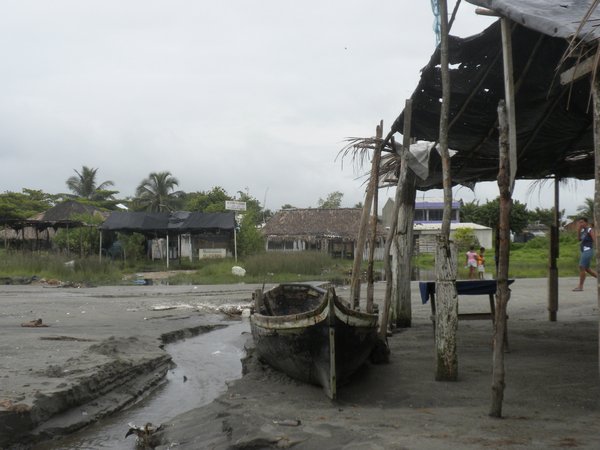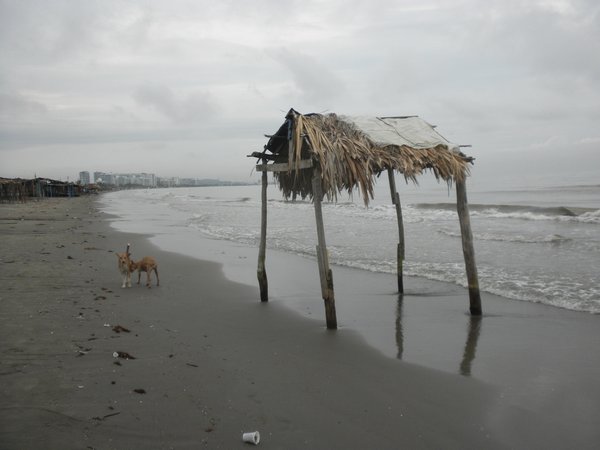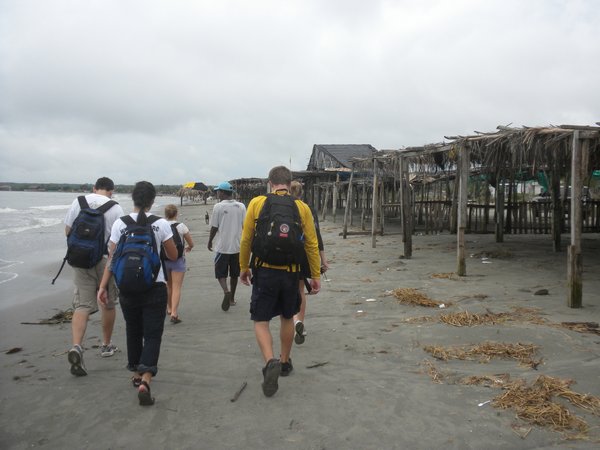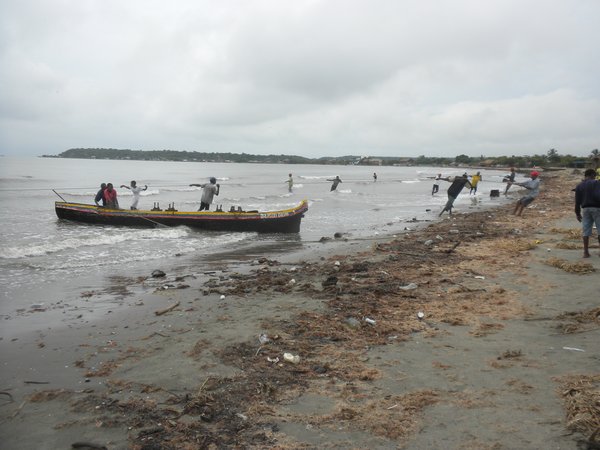 Pulling in the day's catch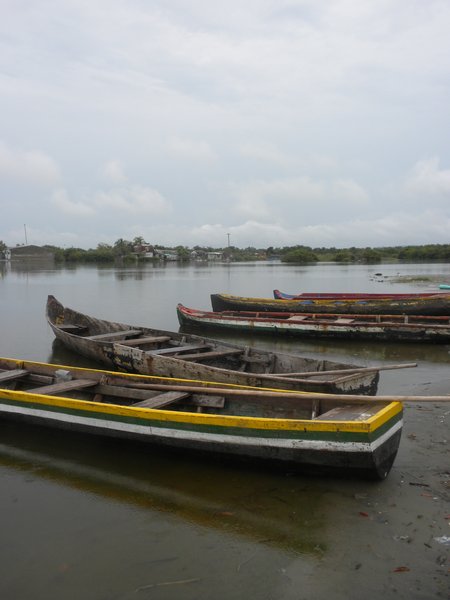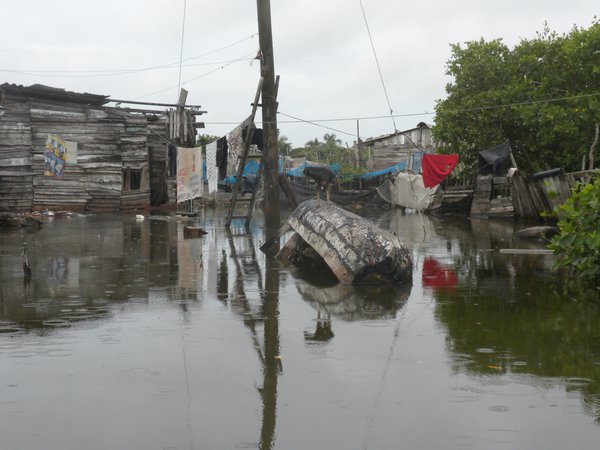 Precariously perched pet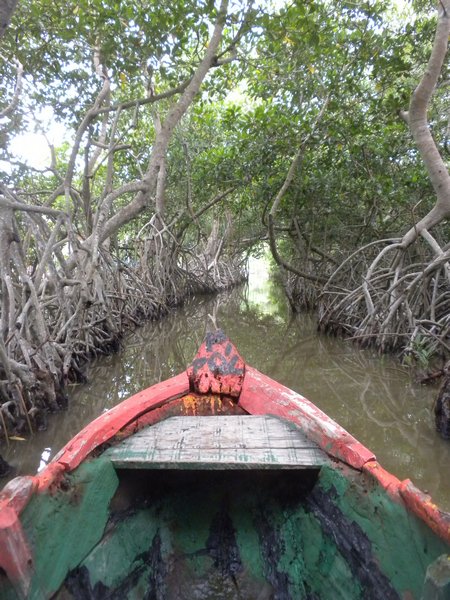 "Tunnel of Love"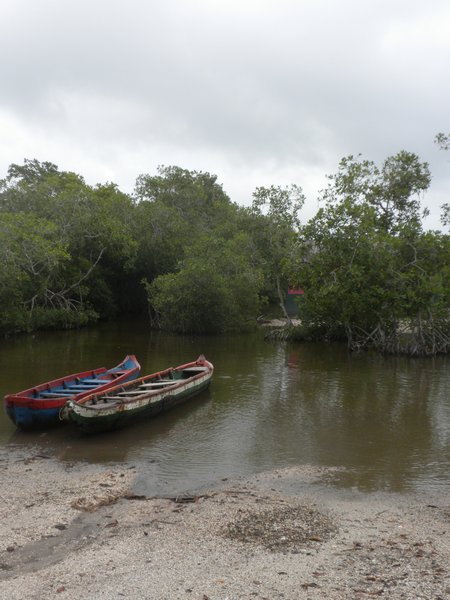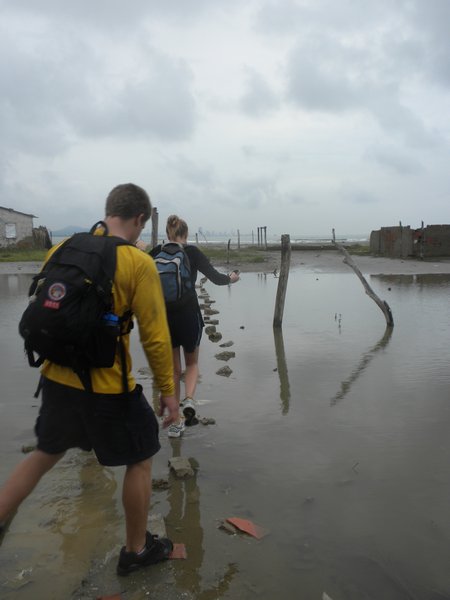 Wet season crossing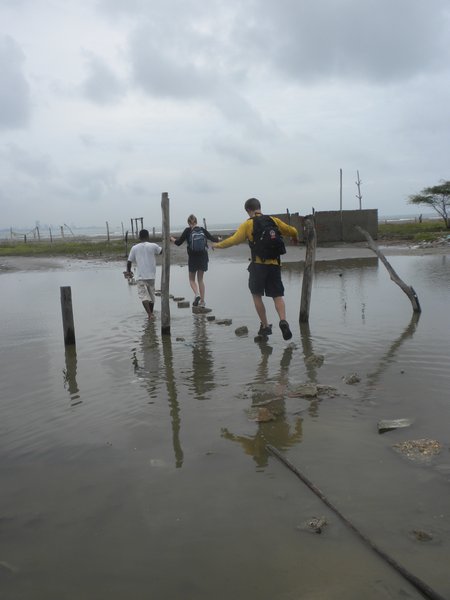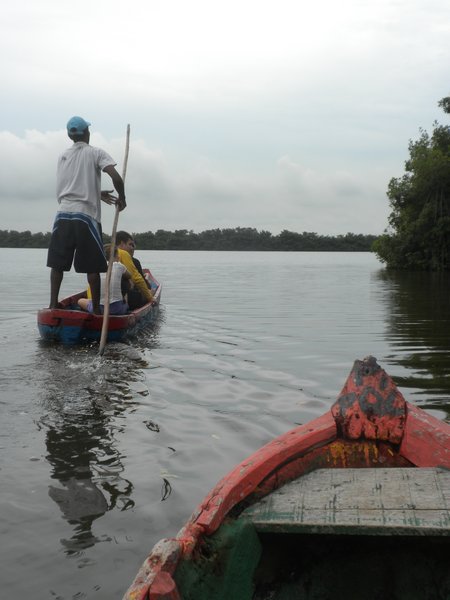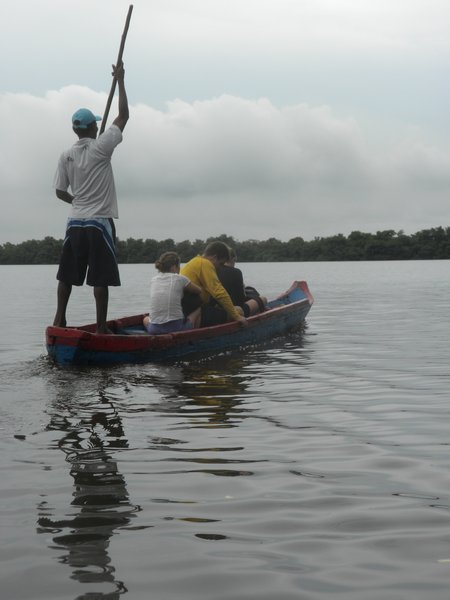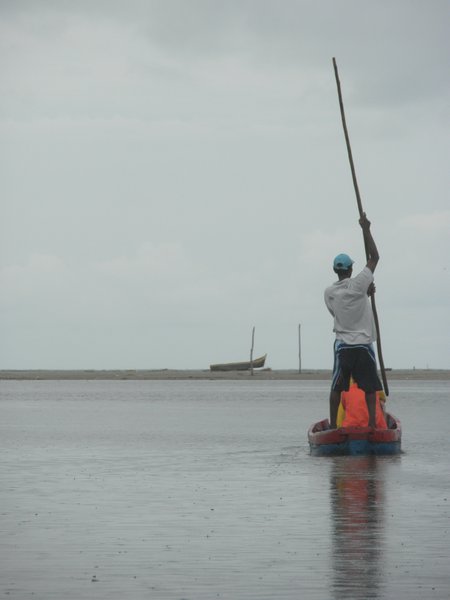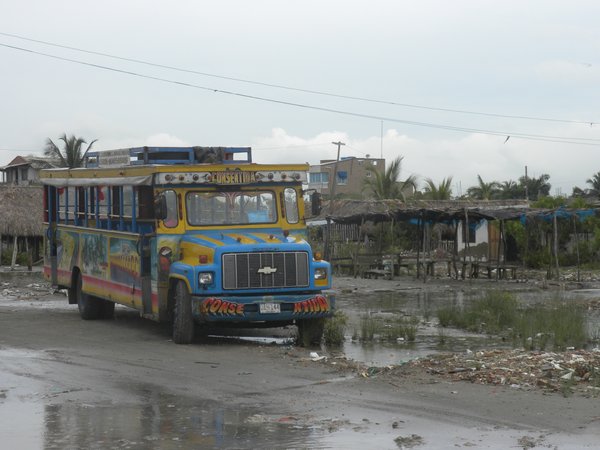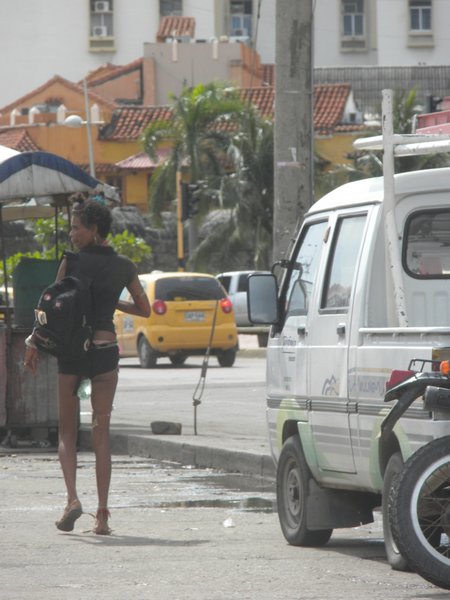 Local entrepreneur
T-11 hours: Soccer hooligans for the day
James had been told of a soccer game (presumably between Cartagena and Medellin) that was set to begin at 3PM and we decided to make our way over to it. A 10-minute bus ride brought us to the stadium and into a chaotic medley of jersey-hawkers, kids begging for money ticket money, and a slew of cops wearing enough armor to withstand tank rounds. We wrestled through a mob of crazed fans to purchase the cheapest available tickets. With those in hand, we trudged through a long line of cops who gave us each thorough pat downs and searched our bags at least three times. Our belts, which apparently constitute deadly weapons, were confiscated; mine was tied to a fence while Justinís and Evanís were checked by some random belt-checking lady.
As we were making our way towards our appointed seats, some guy told us in English that it was dangerous where we were going and we needed to follow him to a different section; thinking him a conman, we ignored him, but he quickly had a cop follow and stop us. They led us to some of the best seats in the house. The section we bought tickets for was full of crazed Cartagena fans that jumped, sang, played drums, set off smoke bombs and threw ticker tape through the entire game; itís not clear whether they were able to actually follow any of the action, especially since a giant, section-wide banner obscured their view for much of it. Our section was significantly more tame, though it did erupt into excited cat calls whenever a big-bosomed woman climbed the stairs.
As much as we wanted to see what the fans would do once their team won or lost, we decided it was probably in our best interest to get far away before the end. It took no small amount of negotiation to get the guysí belts returned to them, but we eventually recovered them and boarded the first bus back to the center. At the naked indian statue, a large xylophone-rich parade was under way. We sat and watched this for a while, then went to find dinner. We ate at another restaurant just outside our hostel; since a few in our group had little more than the bus fare back, some balked at the 7000 peso menu price. The owner beneficently lowered the price to 6000 and comped Justin, who only had 1500 pesos to his name, a full bowl of soup, rice and plantains. Before we left, Justin made sure to extend a bear hug to the owner to express his gratitude.
We got back to the hostel at 7:30, a half hour before our bus was due to pick us up. The other group rolled in shortly thereafter, having watched the sunset from atop a bar on the other side of town, and, after a lengthy ordeal to settle the remainder of the 750,000 pesos we owed for our bus rides, we made a speedy return to the airport. A few in the group had bought several bottles of liquor and had to pay thirty bucks to check a bag, but otherwise, our three hours at the airport and return flight were without much incident.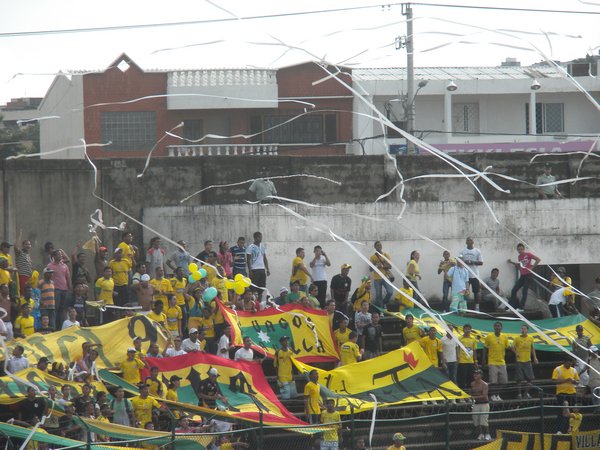 The rowdy section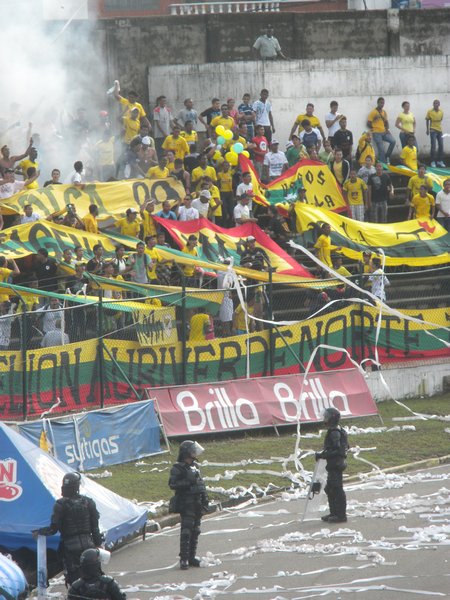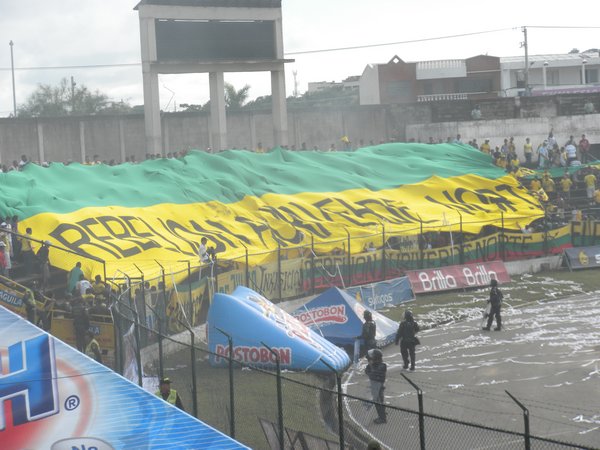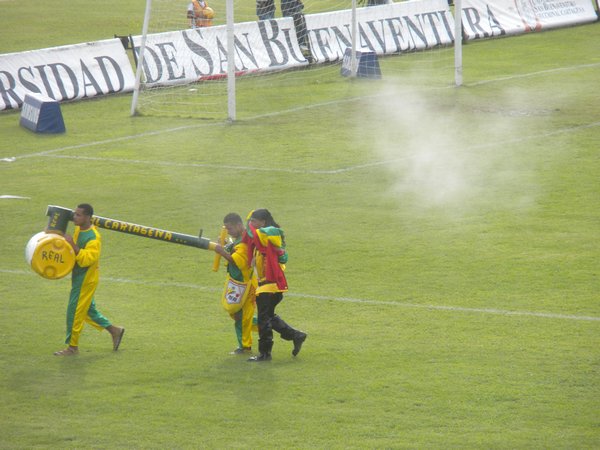 Team insecticide?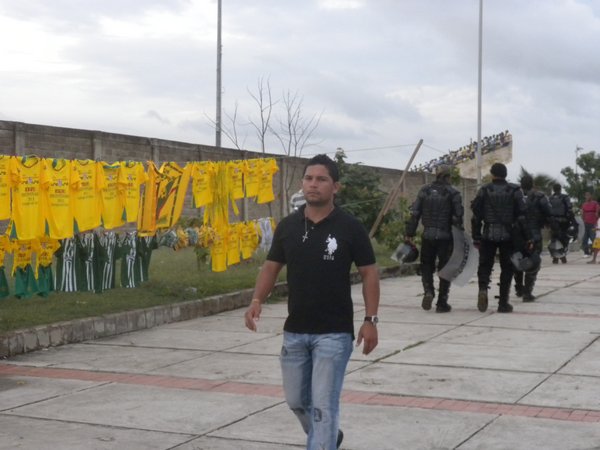 Jerseys, cops and mildly perturbed guy.

Watching the game through a hole in the wall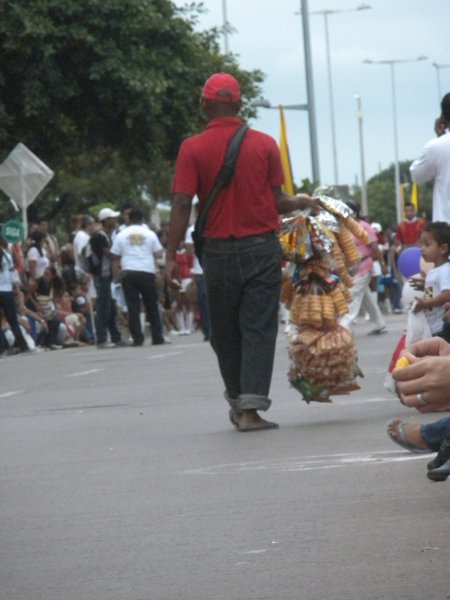 Parade snacks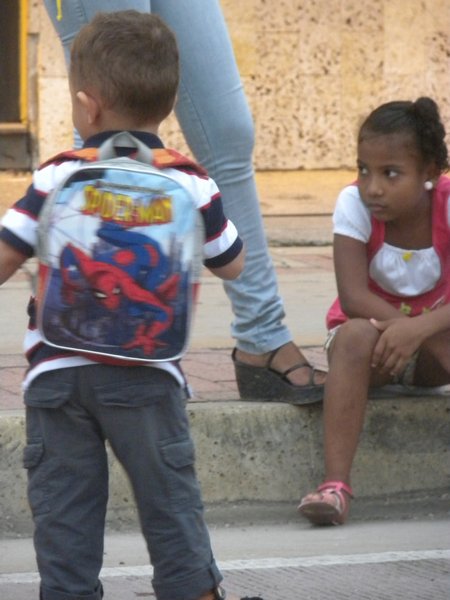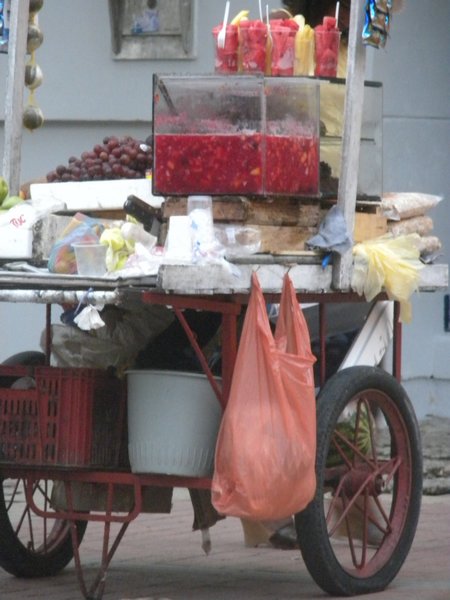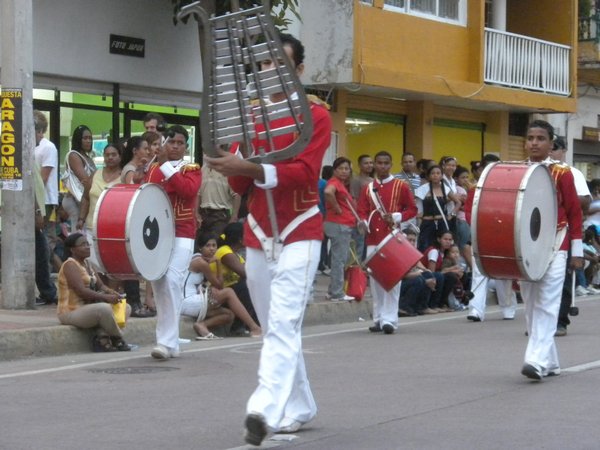 One of hundreds of xylophones

Popsicle sales vehicle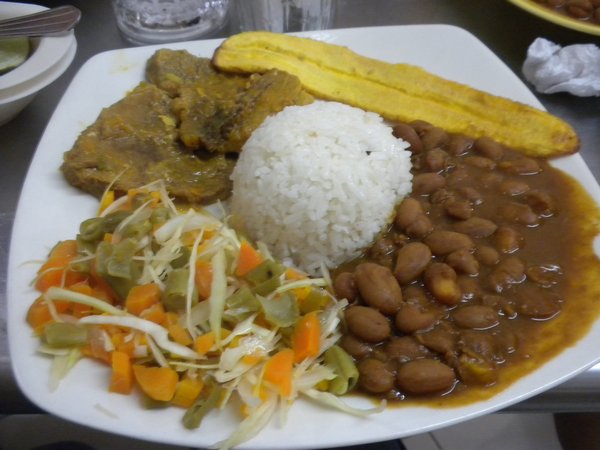 Sensing some common themes in the meals...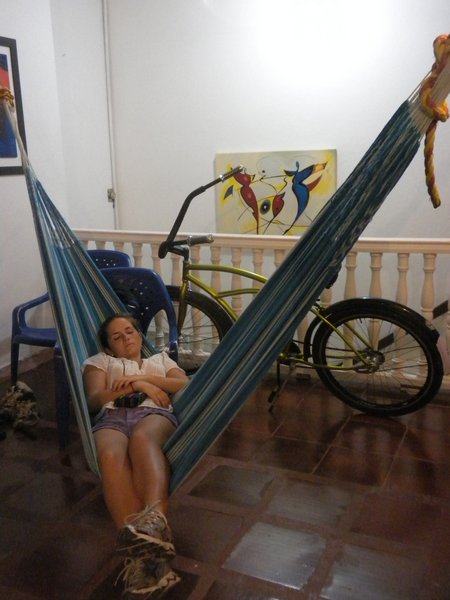 At this point, we were all wishing we had thought to grab this hammock.
T+9 hours: Adventures in the very non-Colombian town of Orlando
We landed around 5am and my car dropped me off at the conference hotel on I-drive a few hours later. I had expected a cushy reception job, but what awaited me was four straight hours of packet stuffing. This was followed by a 2.5 hour bus ride back to my cousinís dorm at UCF; during this time, I resolved to steal my cousinís car for my remaining trips to the conference.
Currencies
Costs
Flight from FLL to Barranquilla (roundtrip) = $150
Gas between airport and Gainesville = $17
Tolls = $2

Bus from airport to Cartagena town center (roundtrip) = 50000 pesos
Bed in hostel = 15000 pesos
Banana smoothie with milk = 2500 pesos
Breakfast of rice, meat, salad and soda = 5500 pesos
Student ticket to castle = 7000 pesos
Bus to intersection near mud volcano = 7500 pesos
Half a seat in jeep to volcano = 1500 pesos
Admission to volcano = 5000 pesos
Delicious lunch of fish, rice, and plantains = 8000 pesos
Tip for lagoon ladies who strip you naked and scrub you = 1000 pesos
Ride back to Cartagena crammed into tiny little jeep = 10000 pesos
Set dinner of chicken, rice, beans and lemonade = 7000 pesos
Bus to La Boquilla = 1300 pesos
Boat ride through the mangroves = 8000 pesos (could probably be negotiated much lower)

Total = $250