Indonesia Motorbike Tour - November 6th - December 4th, 2014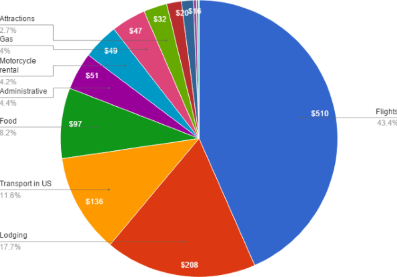 Bali. Purely a fluke. An unlikely set of events had, with little warning, flung me to the far ends of the Earth. As I review in my mind the circumstances that brought me here, I can only confirm my earlier conclusion that things could not have turned out any other way. No sooner could I have remained at home than stopped the passage of the seasons or the shift from day into night.
This realization came as something of a relief. I hardly had it in me to justify a month-long solo trip to Indonesia. There were surely better uses of my time. Maybe I could get a job. Or put some effort into any one of a dozen personal projects that I had thrown to the back-burner years before. Or visit family and friends. Fortunately, none of this was relevant. The universe had ordained that I immediately depart to the world's largest archipelago, and I was but jetsam to be carried off by an implacable tide.
My suspicion was that I needed to be shaken. That, left to my own devices, I would keep on doing what I was doing, what was easy and comfortable and safe. In order to make real progress, I needed to be scared, to be confused, to be horrendously bored; I had to be soaked to the bone and scraped up and contused and blistered, starved and freezing cold, lost in an alien land with no hope of conveying the simplest sentiments to anyone.
I had been laid off a month before. I worked for a consulting firm that no one was bothering to consult and was being paid for work that no one was paying for me to do. I had been something of an enigma around the office. My boss made a Twitter account to report on my proclamations about eating out of dumpsters and the carrying capacity of emus. He reasoned that, out of all of his underlings, I was the least attached to the notion of a steady income and dependable schedule. And he was undoubtedly right.
Over the next month, I made a halfhearted attempt at getting a job. I replied to emails from a few recruiters and scheduled an assortment of interviews. I found myself sitting on the net and waiting for things to happen, looking into how one might build a yurt or tipi or geodesic dome. I was divided between my previous life in Atlanta and whatever was next and was not really committing to either. Then I saw a fare for a roundtrip flight from Philadelphia to Denpasar for $510 leaving the next day.
I loved my house in Atlanta. It was giant and sat on a beautiful leafy street in an eminently bikeable part of town, and it had great roommates and a projector and a stand-up bass, and it cost about half as much as a comparable property in another neighborhood. But I had two hours to pack up and leave it behind forever. And so I did.
Atlanta is not Philadelphia. But neither is it Las Vegas. Or San Francisco. Or Portland. I was only a 5-hour drive from a house where I could store everything I owned. And that was only an 8-hour bus ride from a 3-hour bus ride from a 30-minute train ride from the Philadelphia airport.
In my high school AP Lit class, we would regularly be given some obscenely short amount of time to craft an essay that tackled an issue fully but succinctly, making perfect word choice, never straying from the topic at-hand, convincing even the staunchest of critics that any attempt to find the slightest fault within the hastily crafted masterpiece would be entirely futile. I wish I had done that same exercise every morning until now. I can spend an hour writing a paragraph and deem the result worthy of a mere 4.5 out of a possible 6. I can spend six months and write nothing at all.
Travel planning is the same. Months of my life have been spent planning trips that never happened. Months have dwindled away while I shopped for lighter gear, or figured out visas and vaccinations, or looked into cheaper flights and buses and trains.
It's refreshing to learn that, with near 100% certainty, you will be boarding a plane within 24 hours to a place you don't know the first thing about. You will be taking whatever you pack in the next 20 minutes. Your insurance and healthcare and phone plans and credit cards and bank accounts and forwarding addresses will be in whatever state you're able to put them in using only a mobile browser on a spotty 3G connection. You will know whatever you manage to look up before putting up your tray table and shutting off all your electronic devices.
Let's hope Bali doesn't have malaria.
One Night in Seoul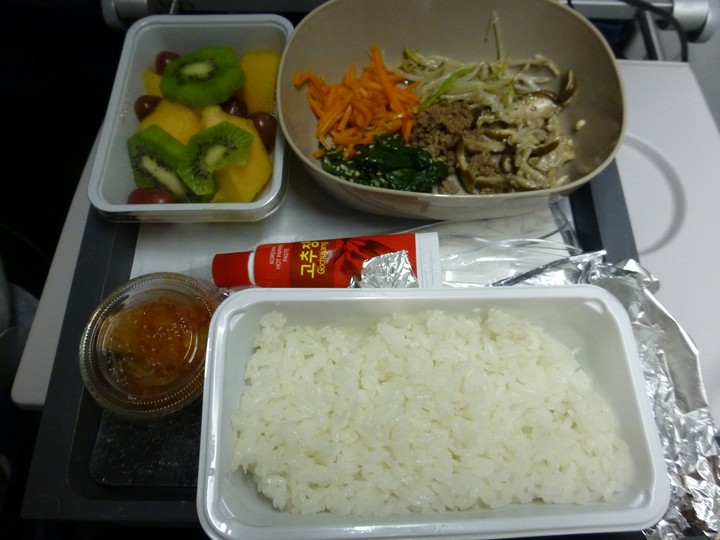 Bimbimbap has a strange translation to the domain of airplane food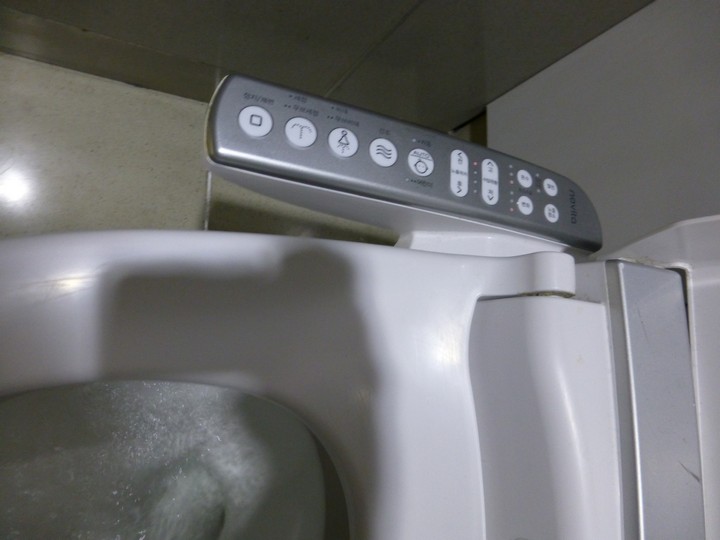 The world's most intimidating toilet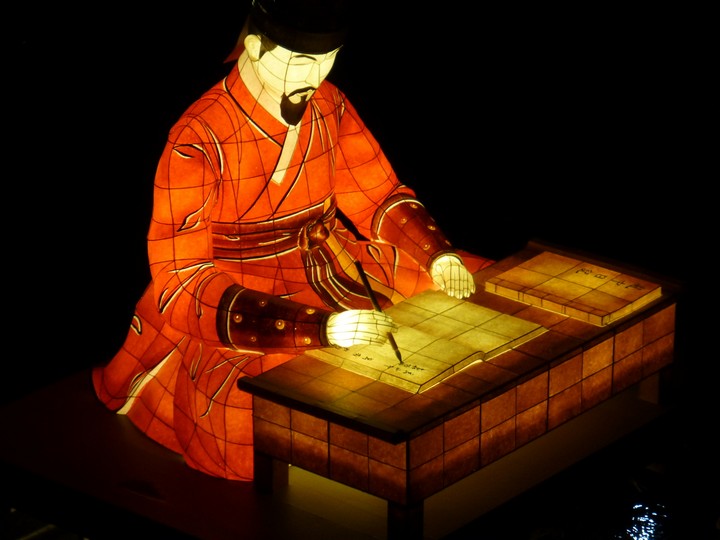 Arrived just in time for the start of the Seoul Lantern Parade!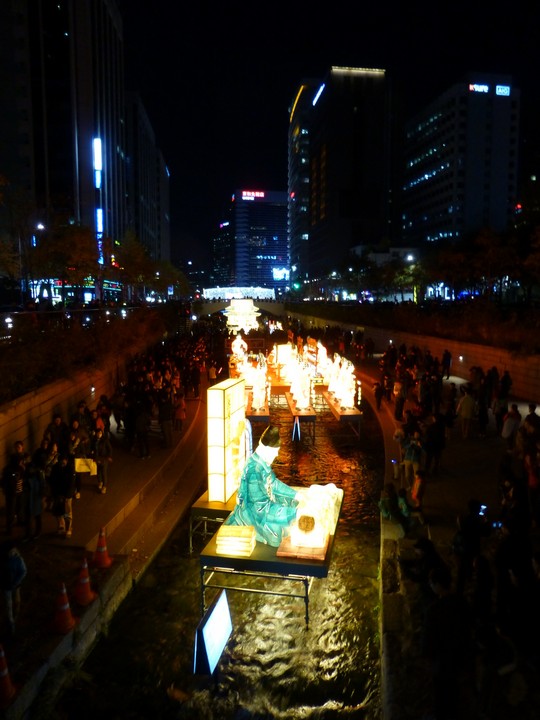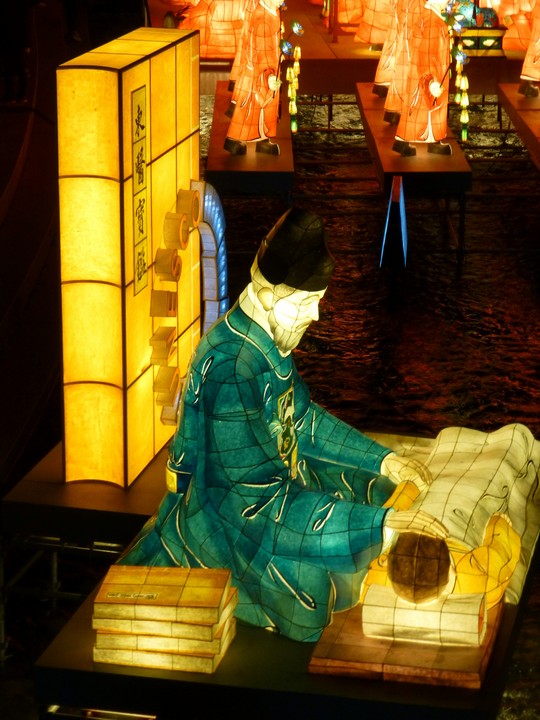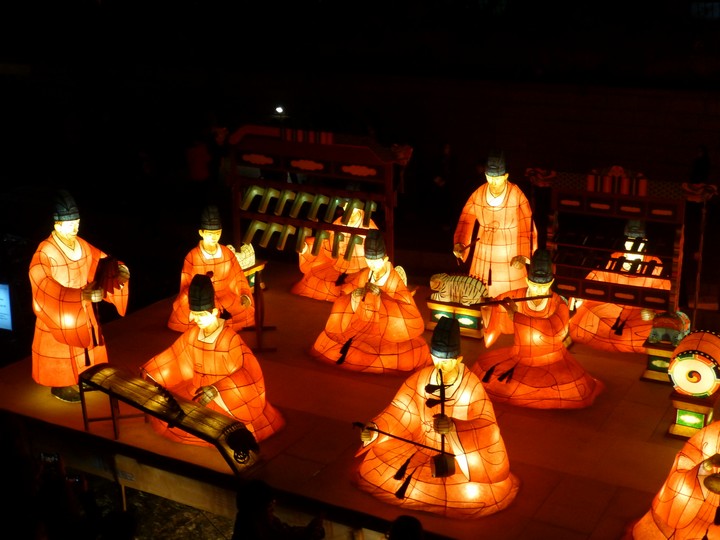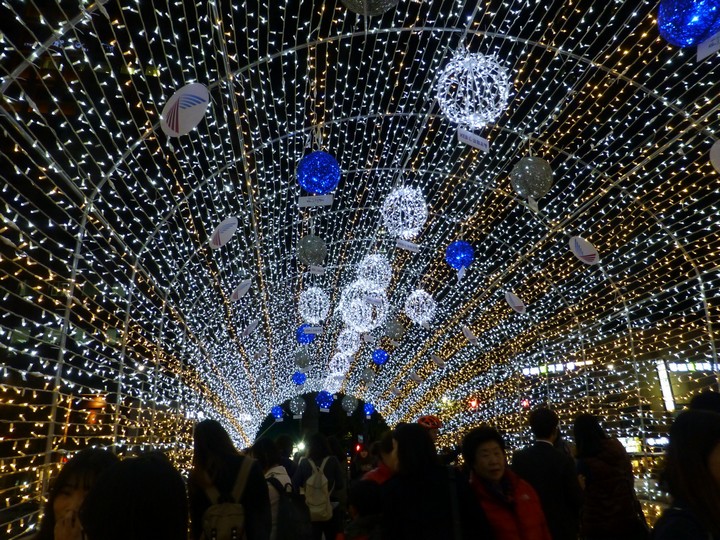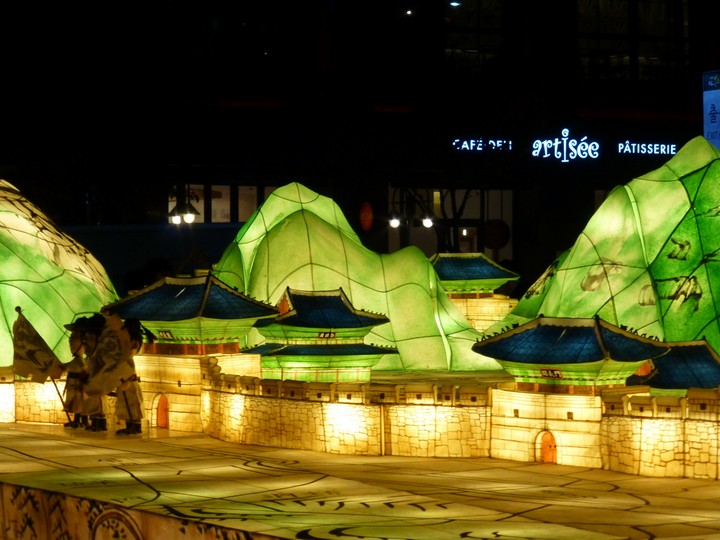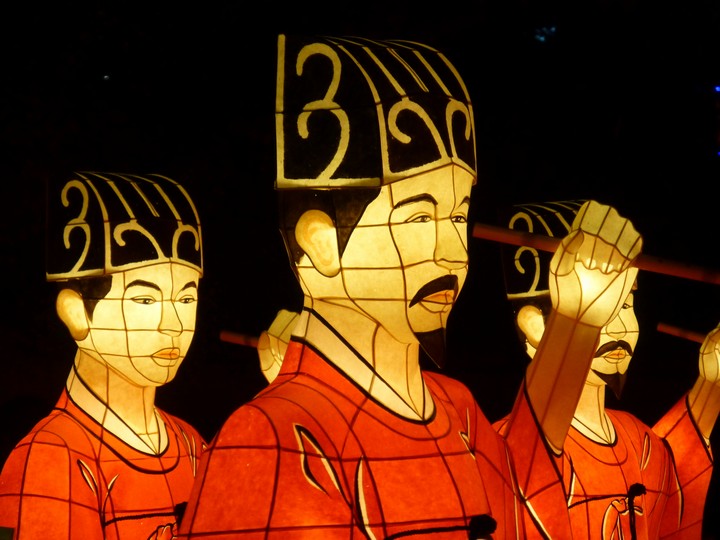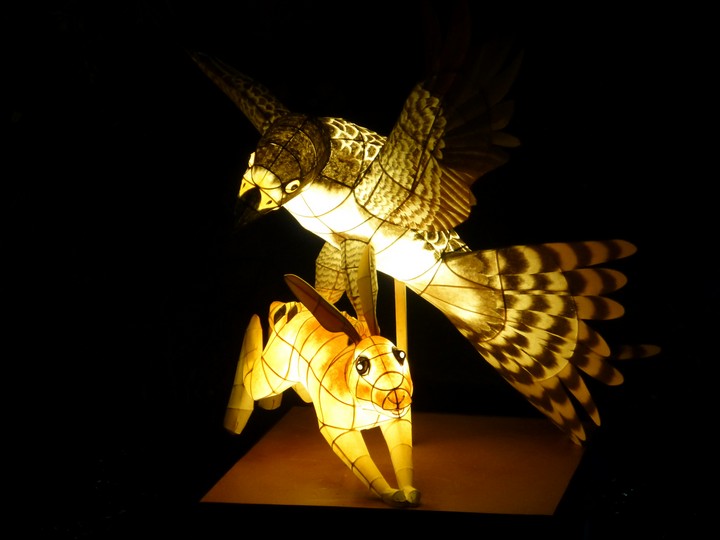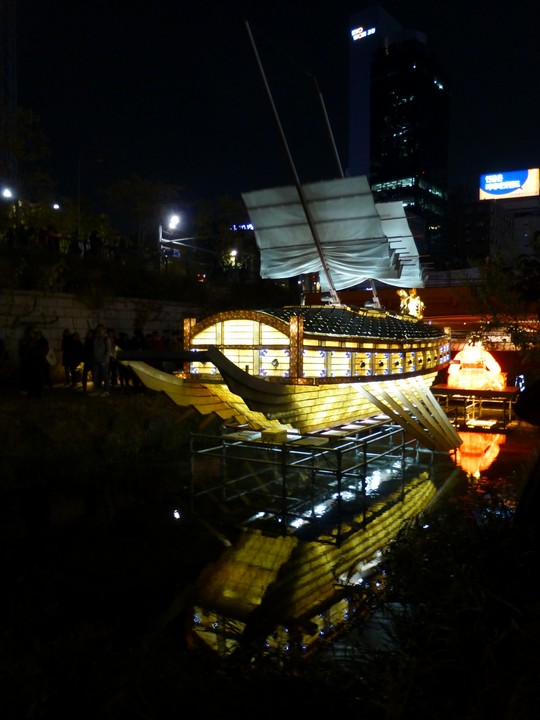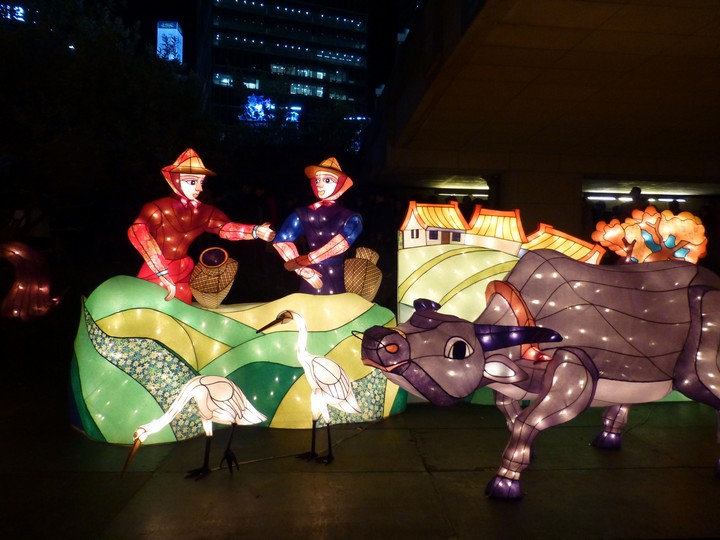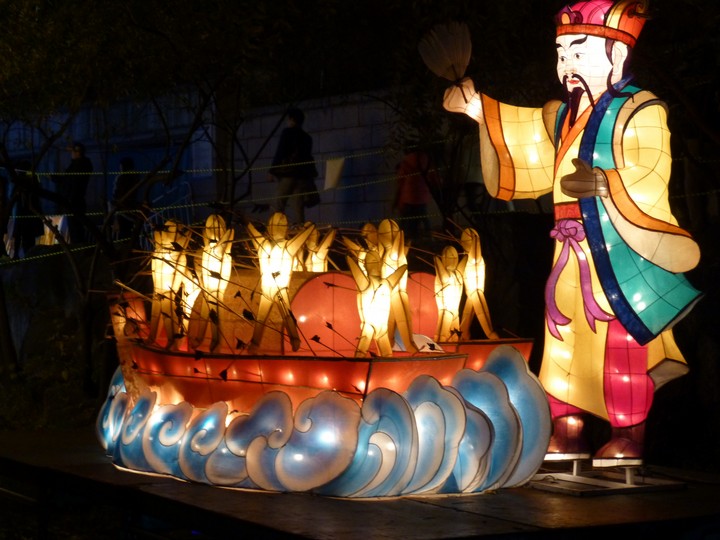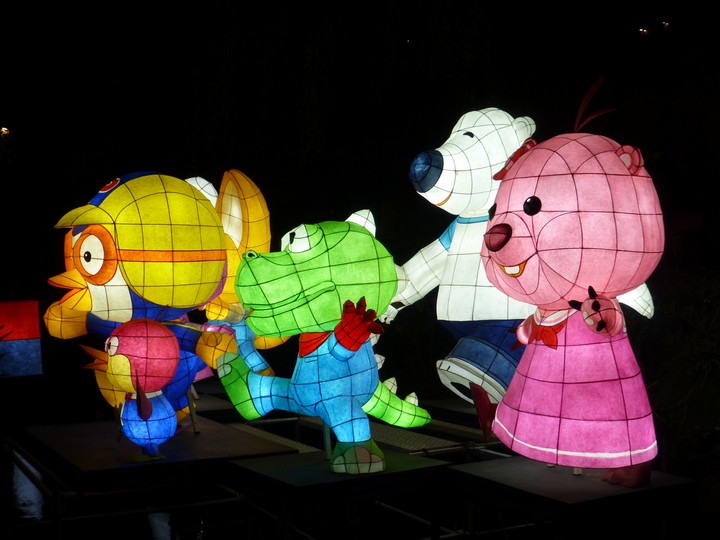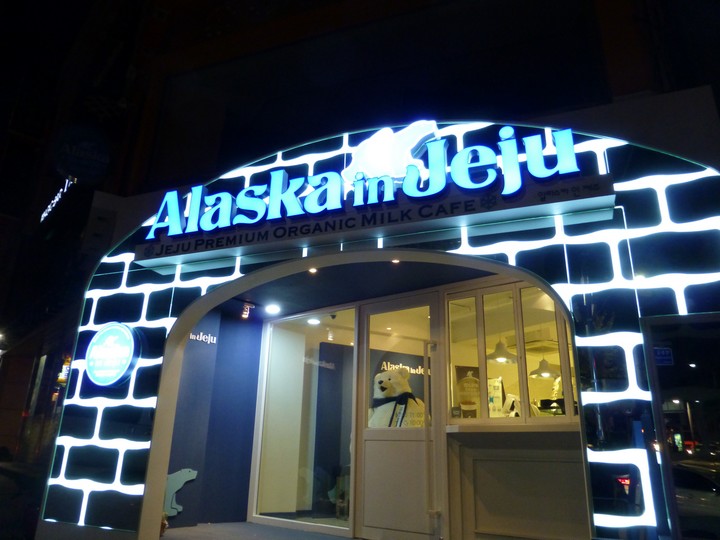 Sadly, this was closed when I arrived and my 3am organic milk cravings were left unsatisfied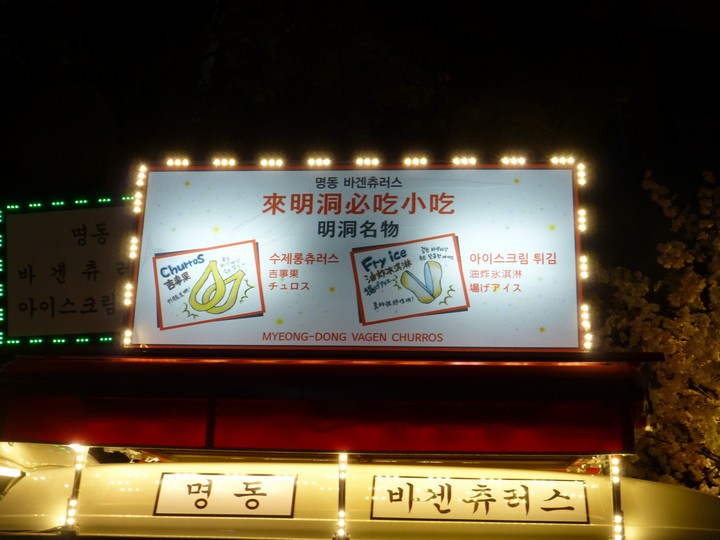 Even the Florida State Fair didn't think to fry ice!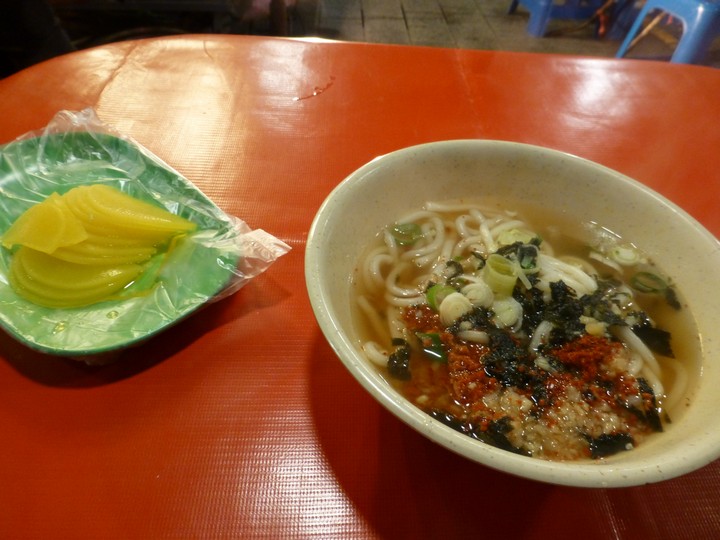 $3 udon noodle bowl and a pickled vegetable

Seoul Tower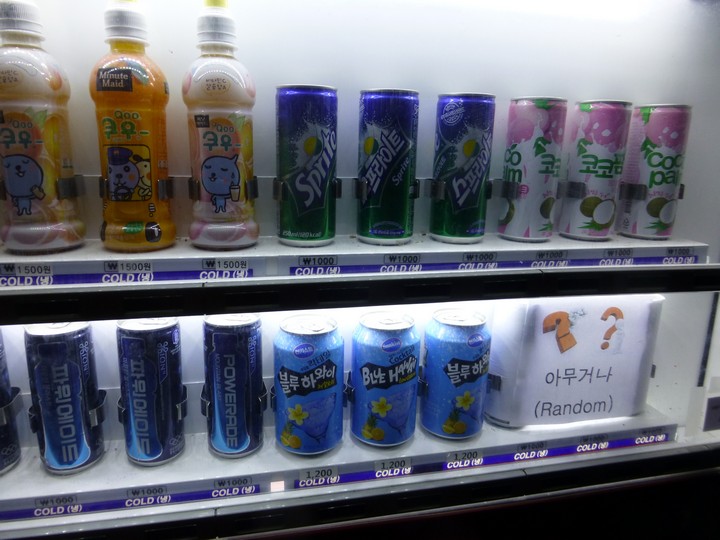 So tempted to choose Random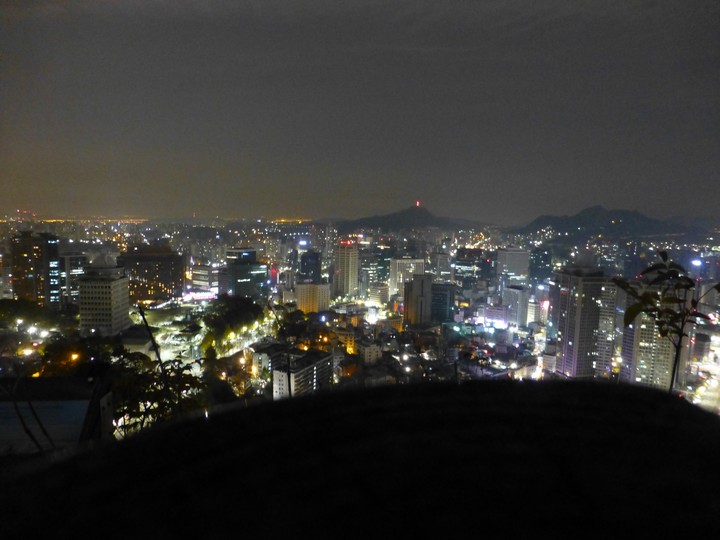 Seoul skyline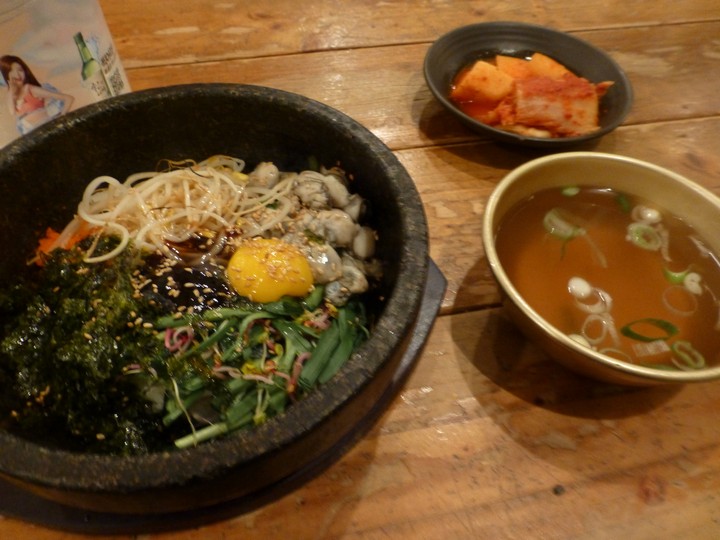 $6 bimbimbap-esque dish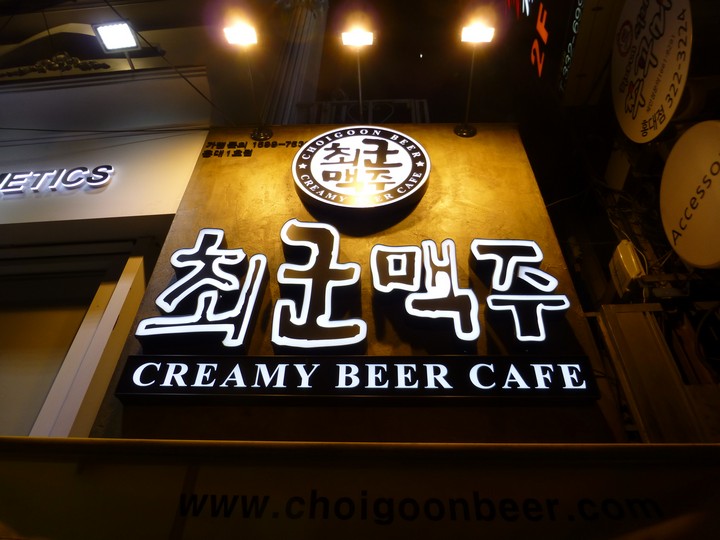 There was a string of creamy beer restaurants near the university
Saturday, November 8th - Arrival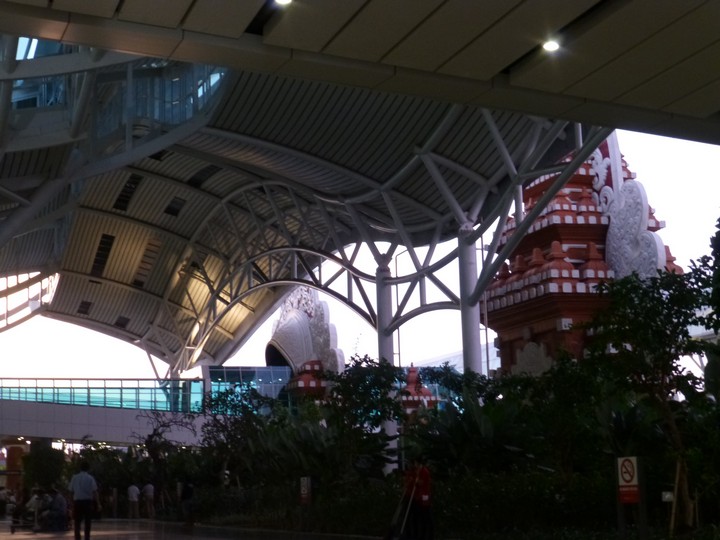 Ornate temple airport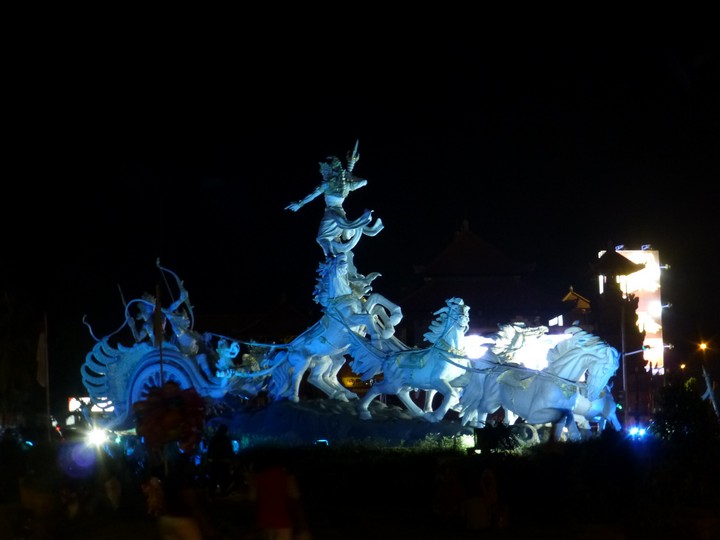 Giant roundabout ornamentation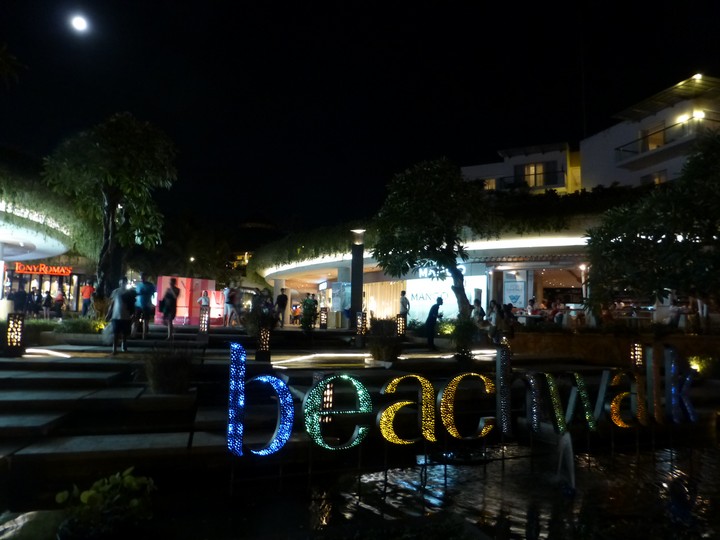 Kuta mall
Sunday, November 9th - Onward to Ubud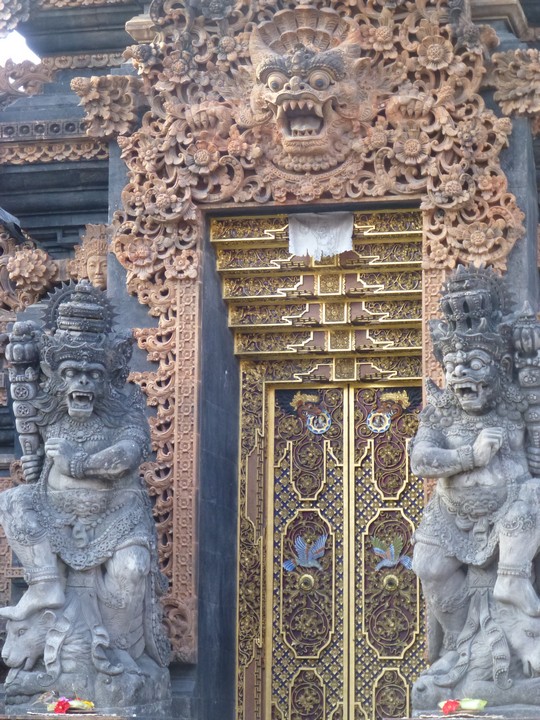 Probably someone's front door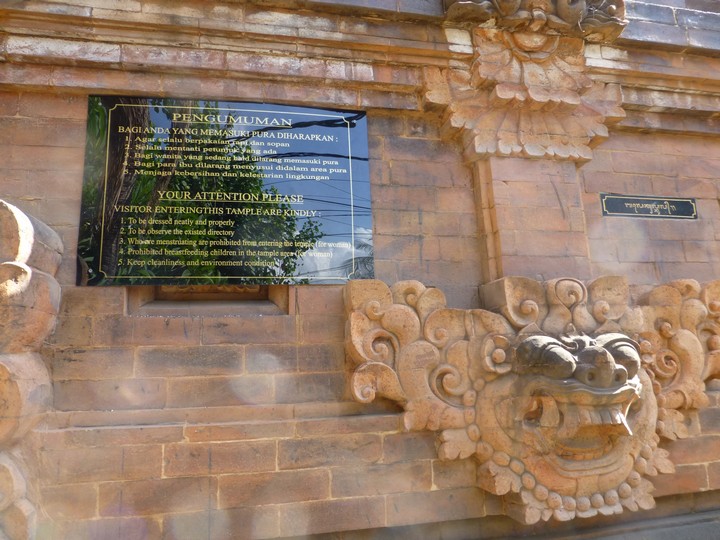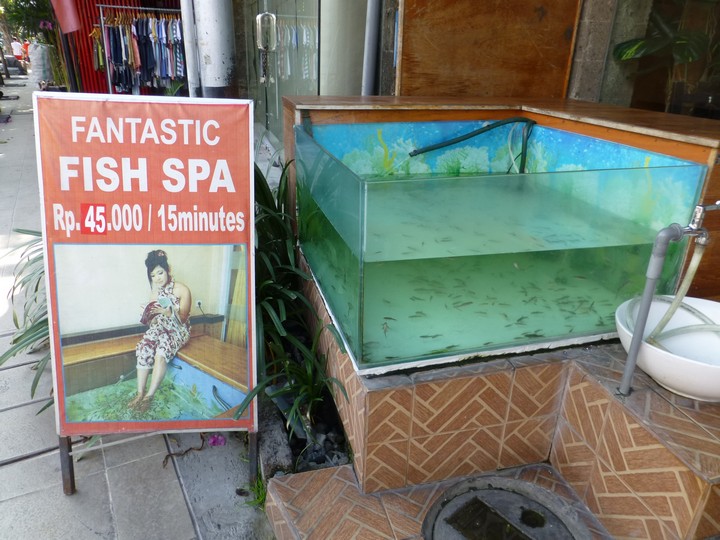 Ever felt the need to have your feet munched on by hundreds of little fish?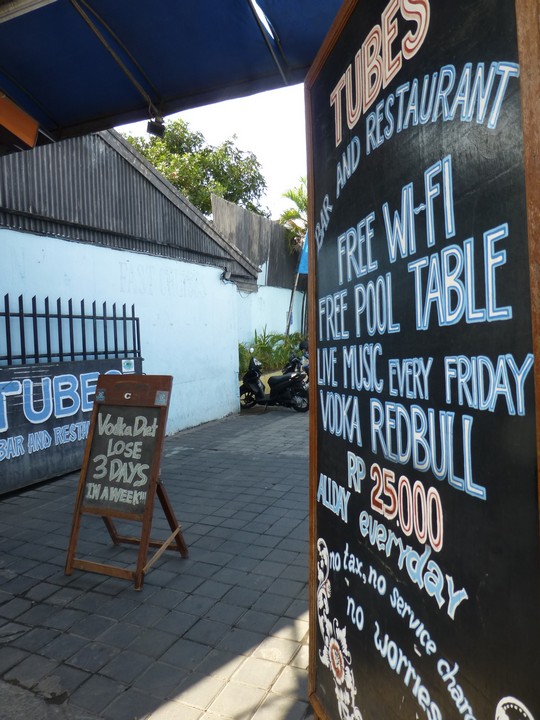 This basically sums up Kuta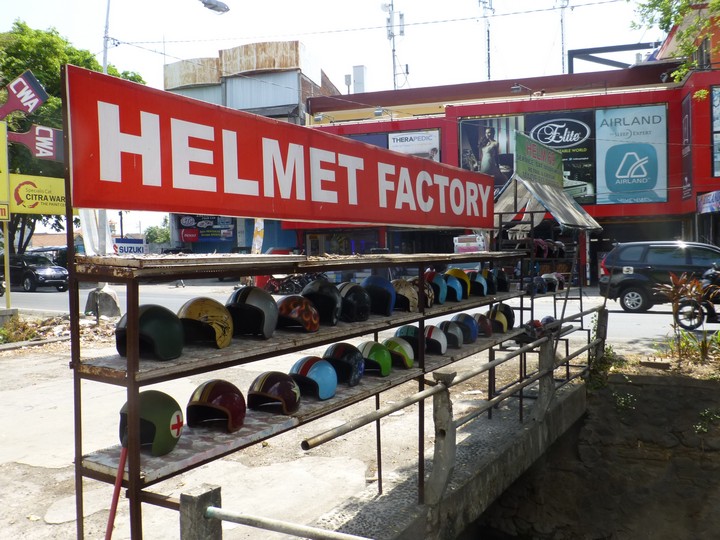 Could this be the solution to all my helmet sizing woes?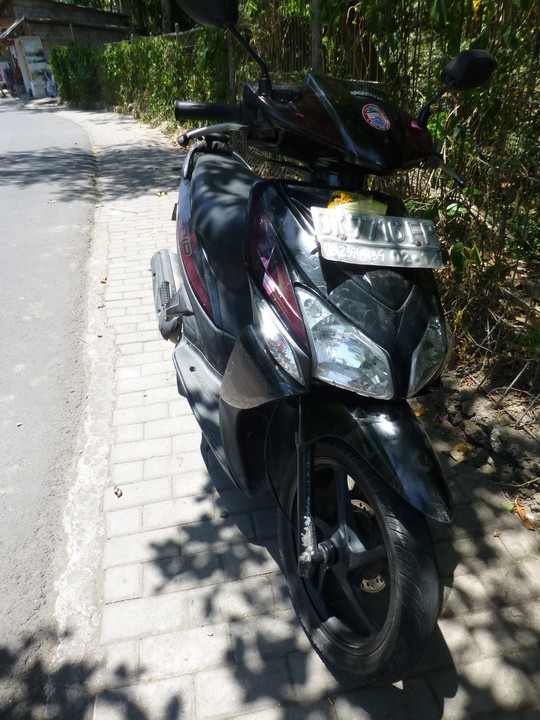 It's no Motomia Enzo, but with 90mpg and a top speed of 60mph for $50/month, it'll suffice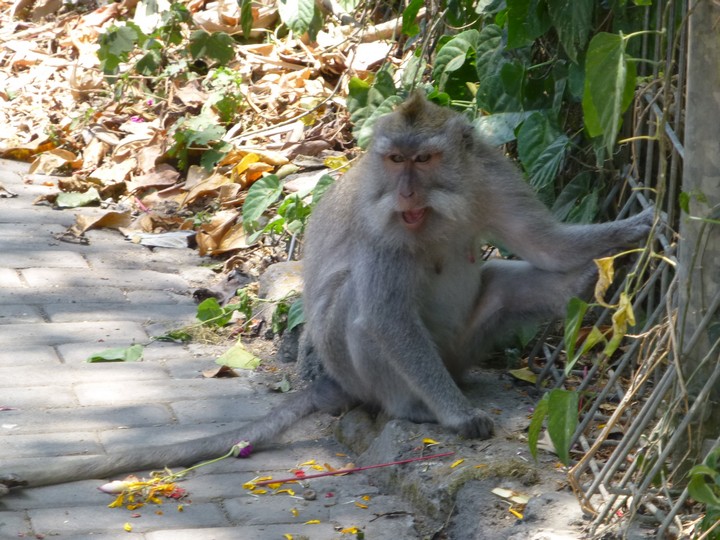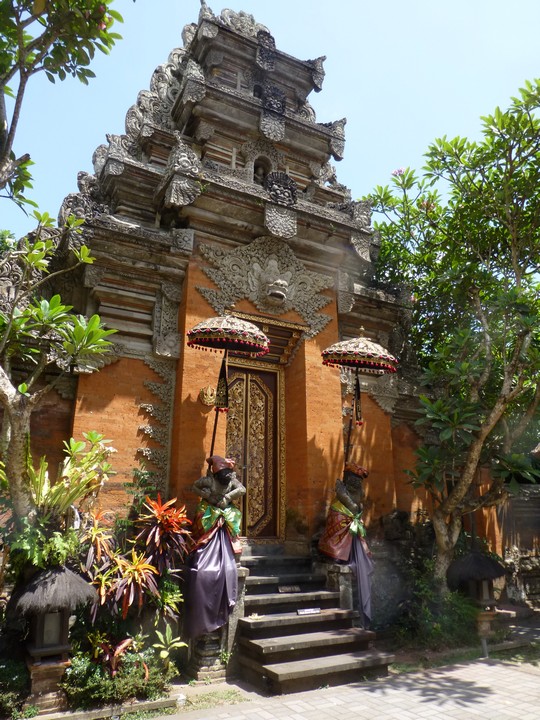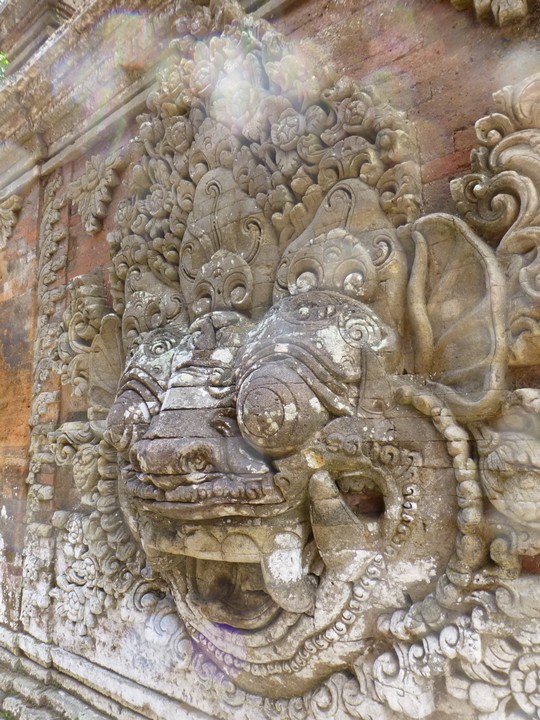 Elephant Cave Temple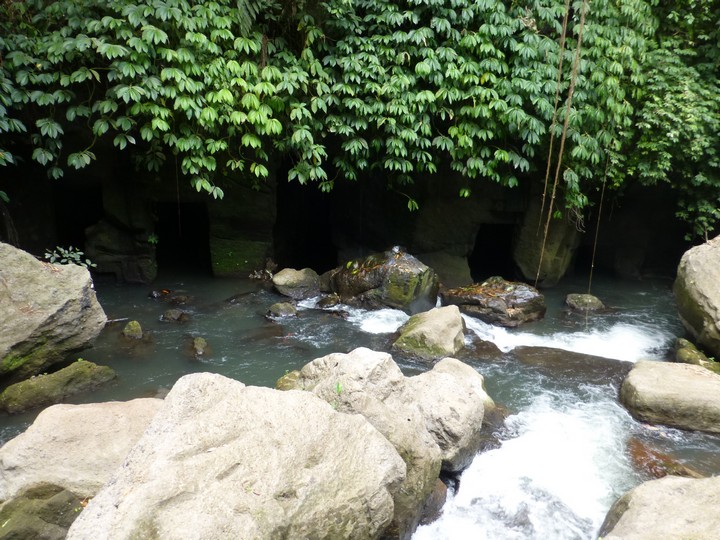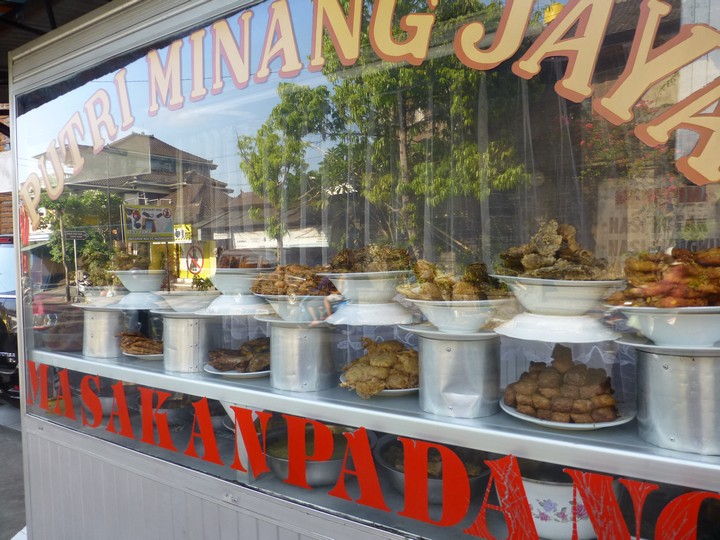 Standard corner buffet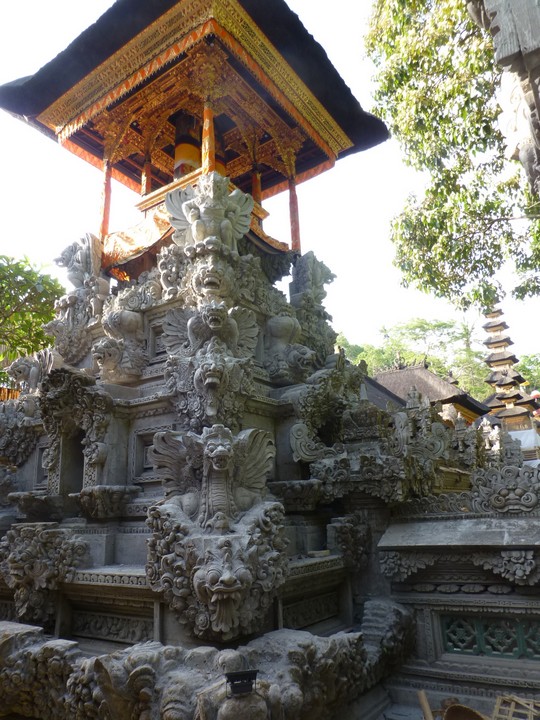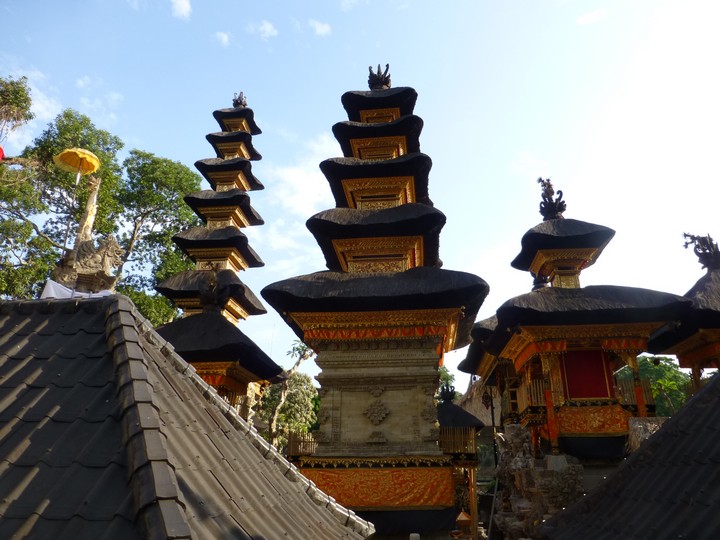 Temple they didn't even bother to list on the map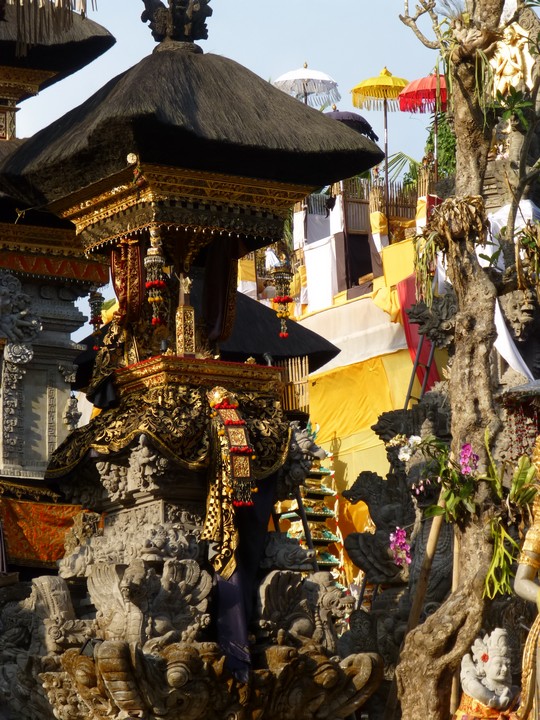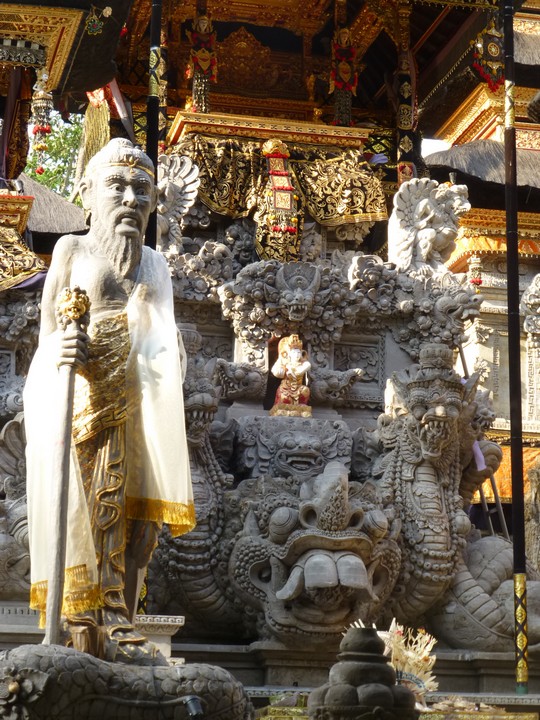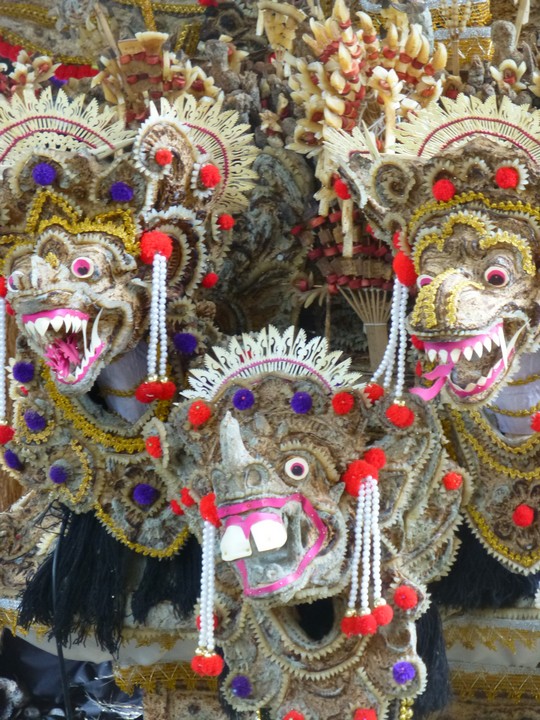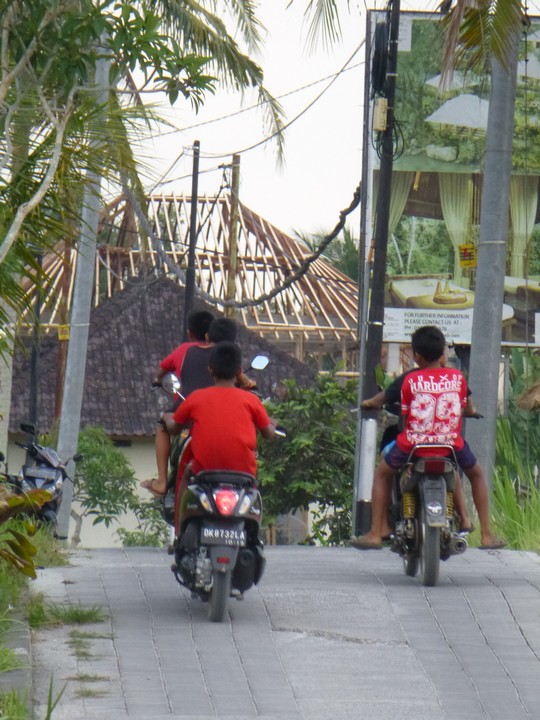 Minimum driving age seems to be around 6
Monday, November 10th - Poop Coffee, Lakes, and Rice Fields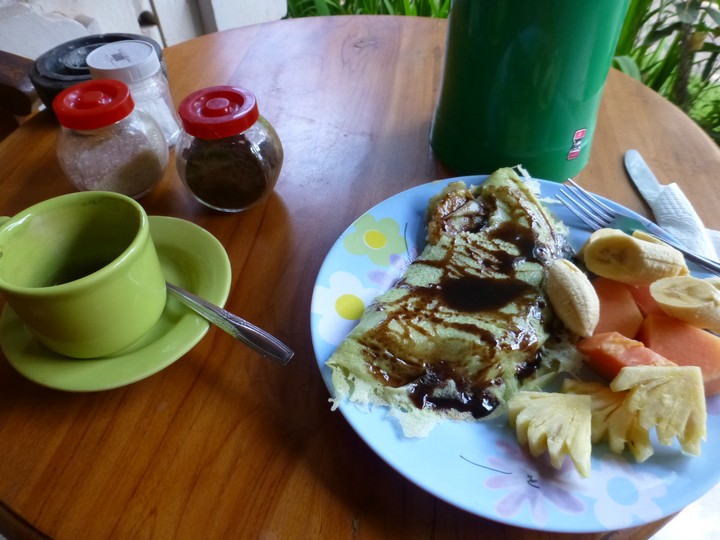 Standard free breakfast of banana pancakes drizzled in chocolate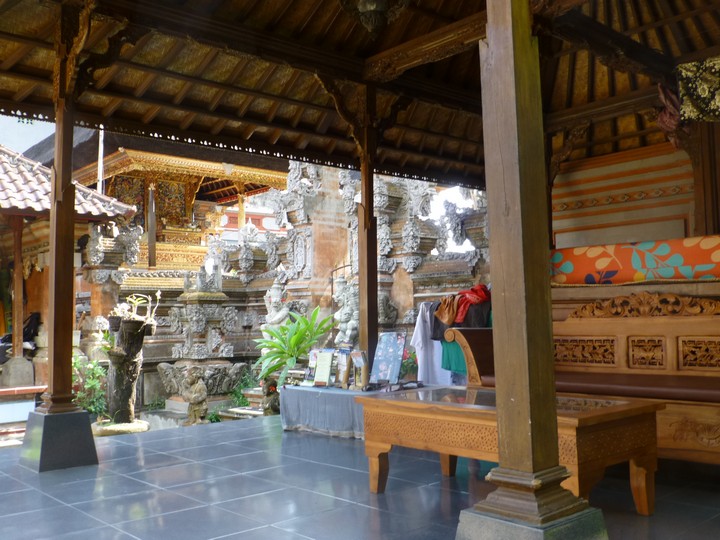 $10 homestay which is, naturally, also a temple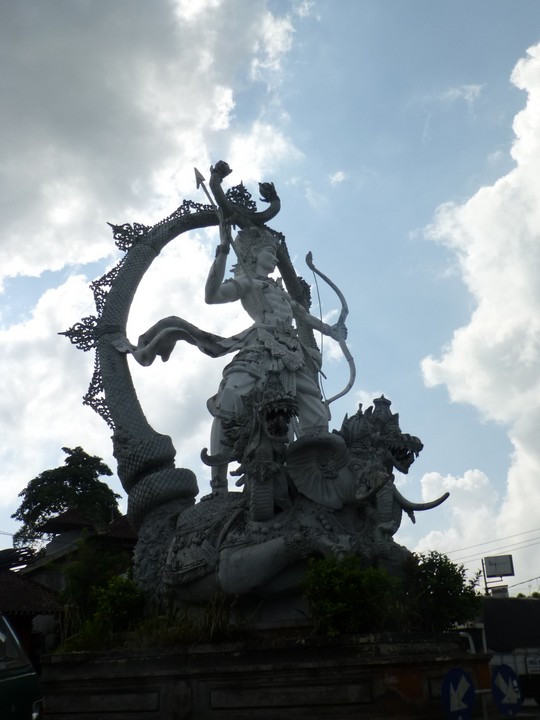 40ft-tall roundabout art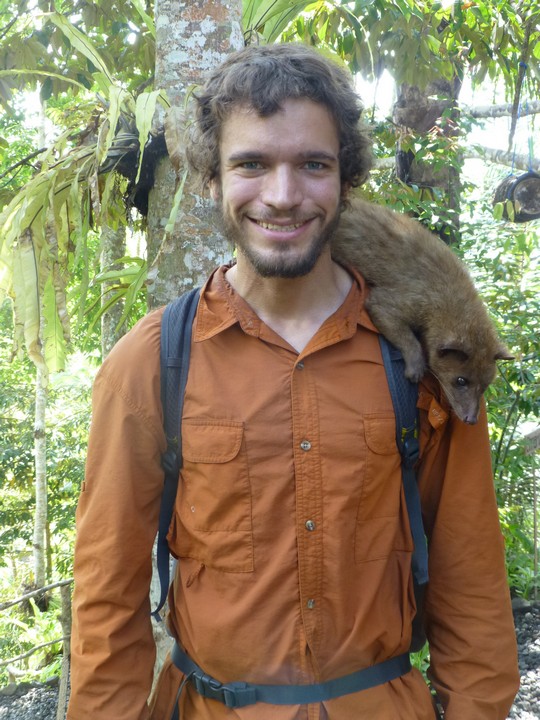 Me and the luwak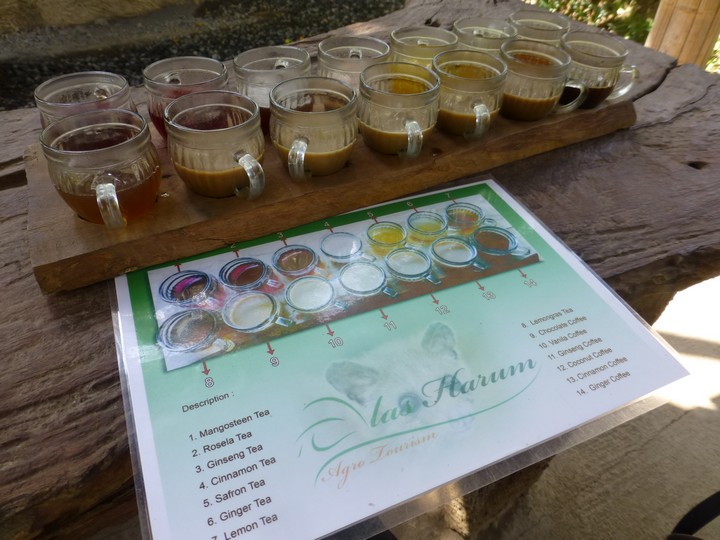 Free tasting tray of 14 different teas and coffees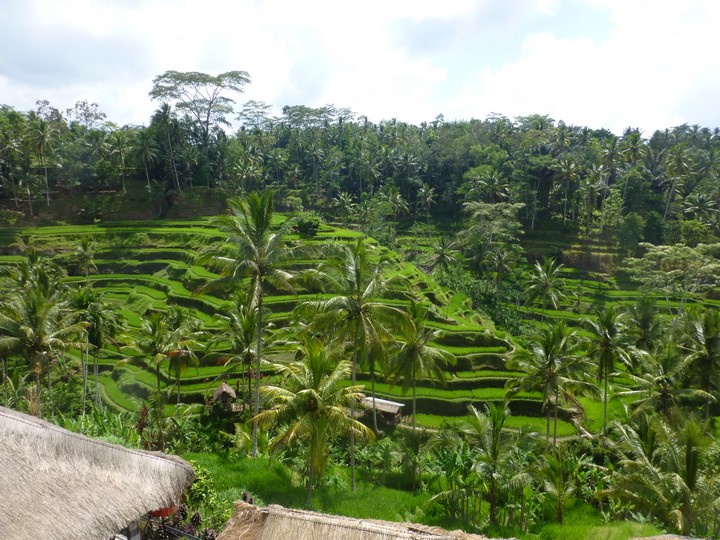 Random roadside rice terraces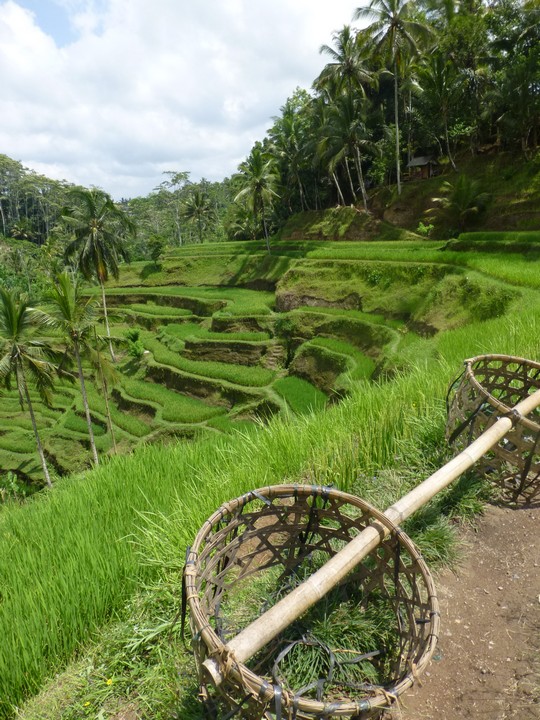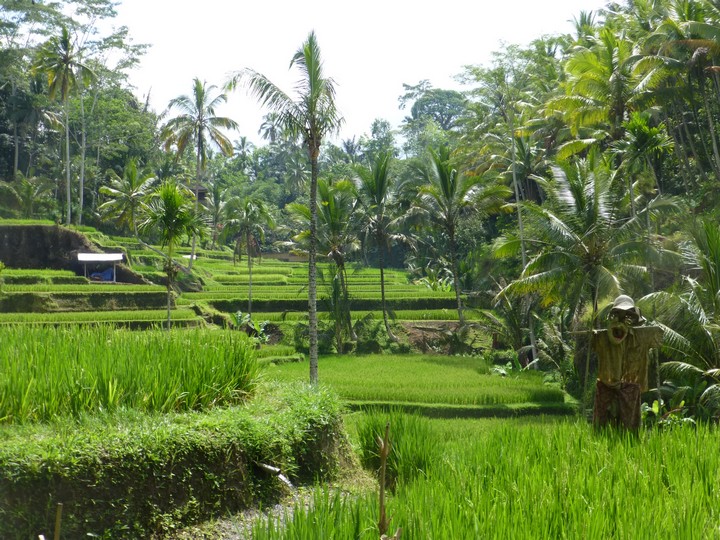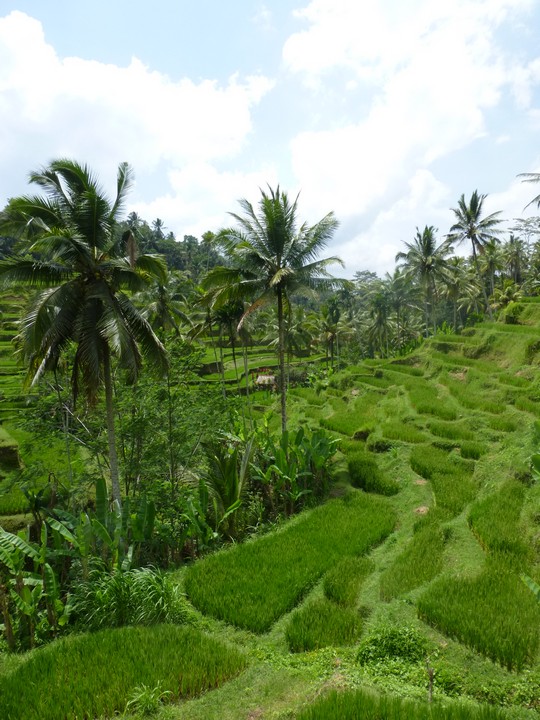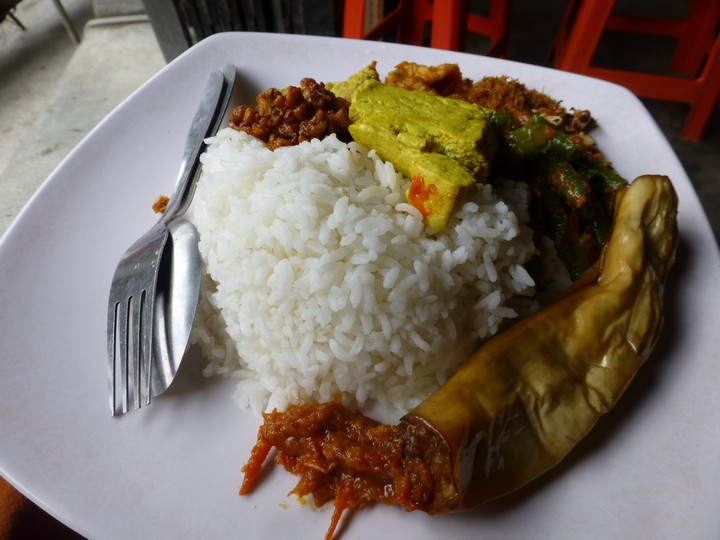 Typical 5000 rupiah plate of rice, veggies and tempeh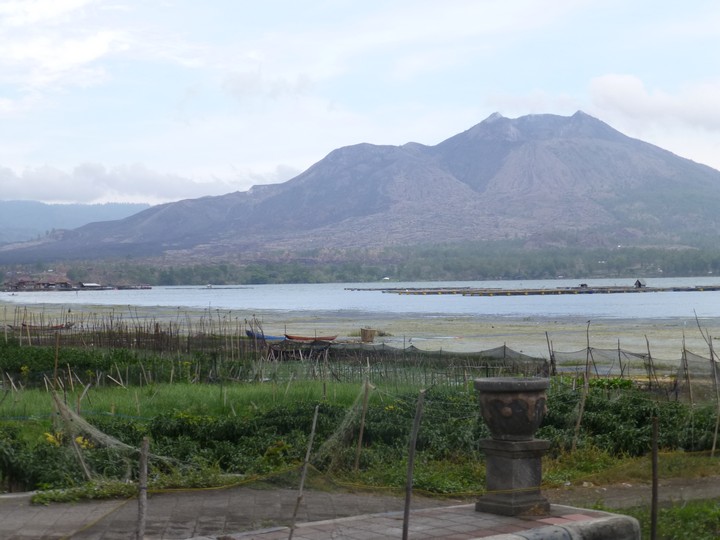 Gunung Batur (gunung is "mountain" in Indonesian)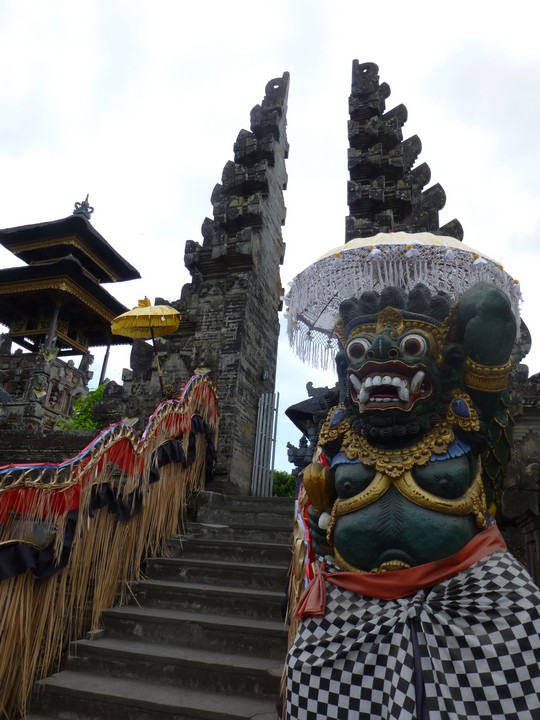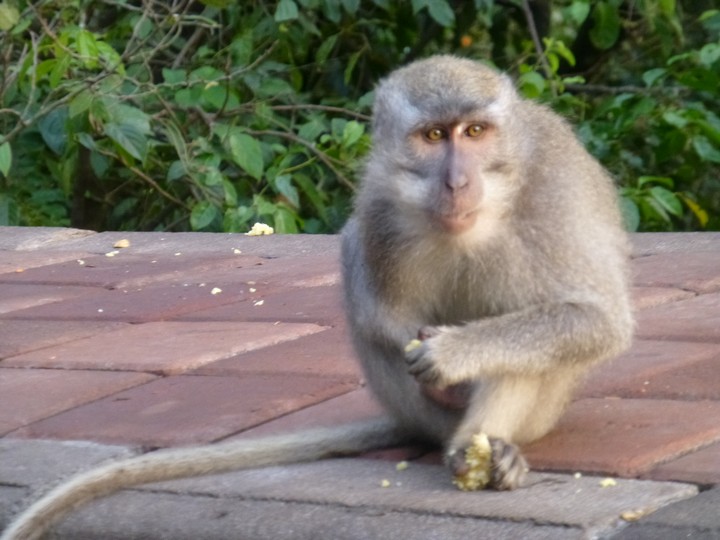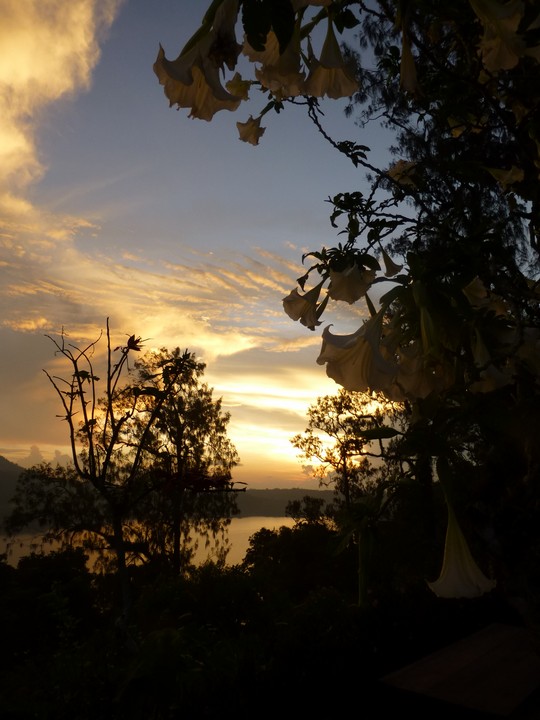 Danau Bratan (danau is "lake")
Tuesday, November 11th - The Waterfalls of Munduk

Bed in $9 hotel room

Scarecrow flying a skeleton kite - pretty much the most frightening thing you can imagine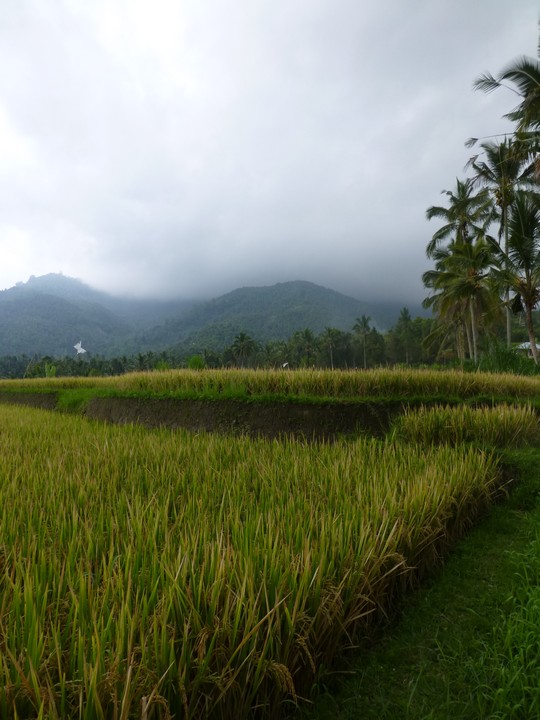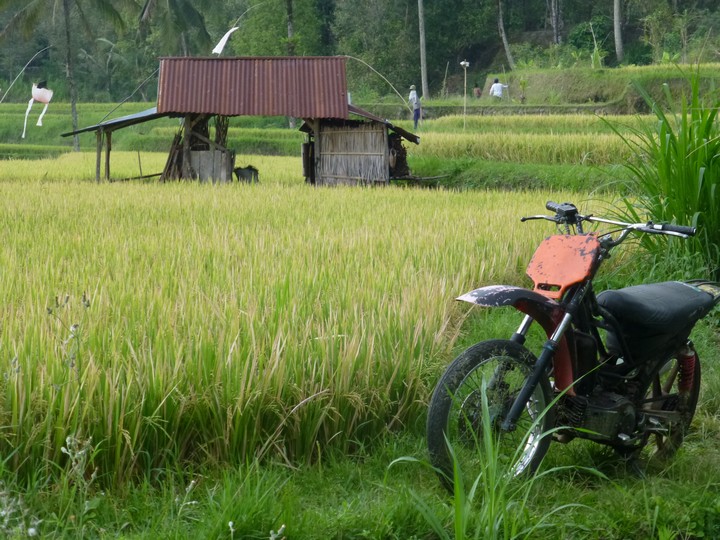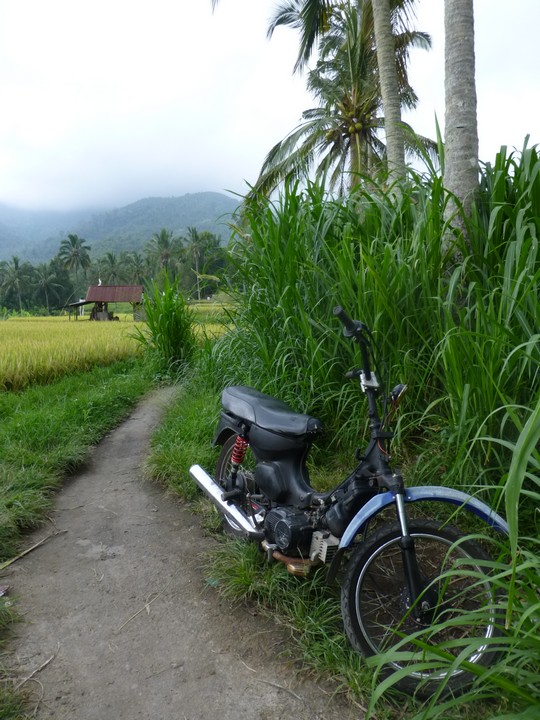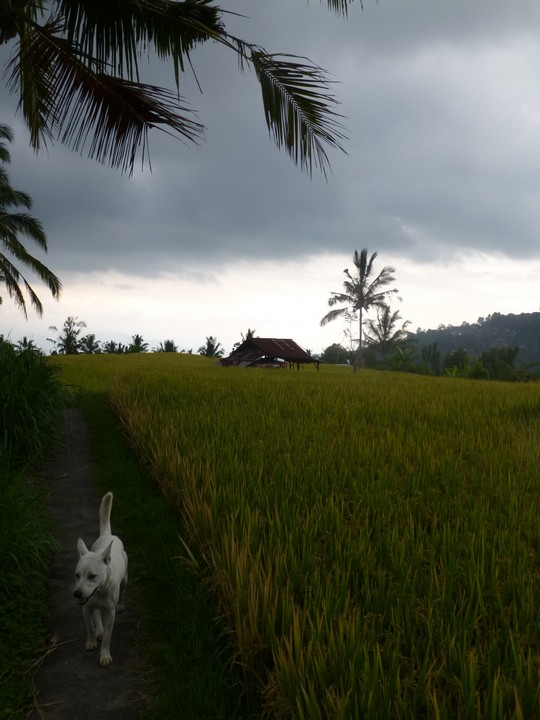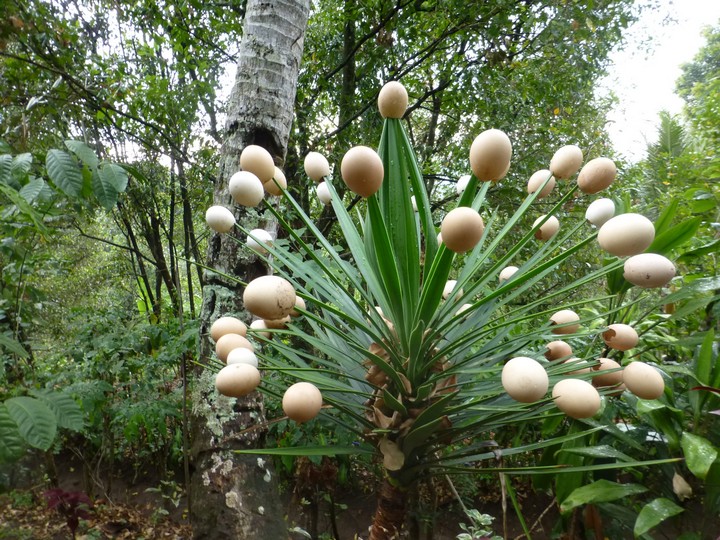 So this is how eggs are grown
Wednesday, November 12th - To Java!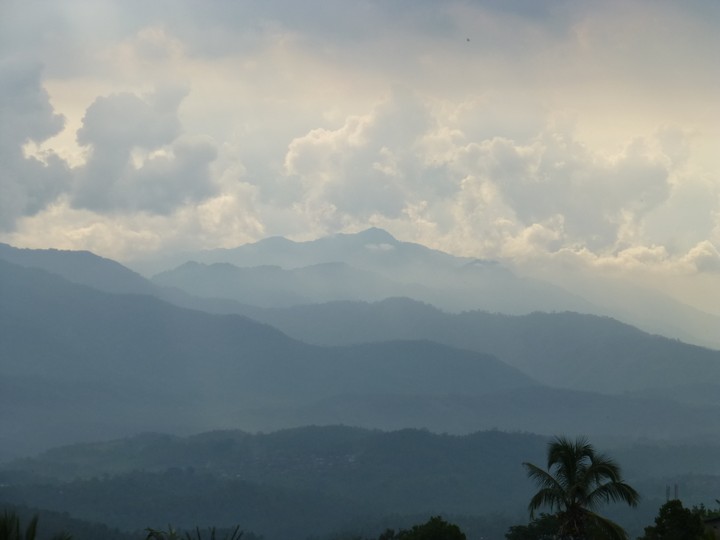 Beyond mountains, there are more mountains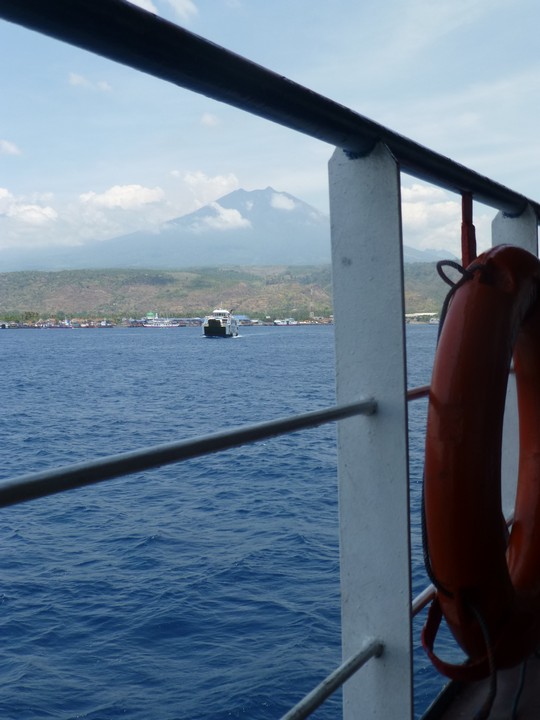 This is Java. Their coffee is essentially molten sugar.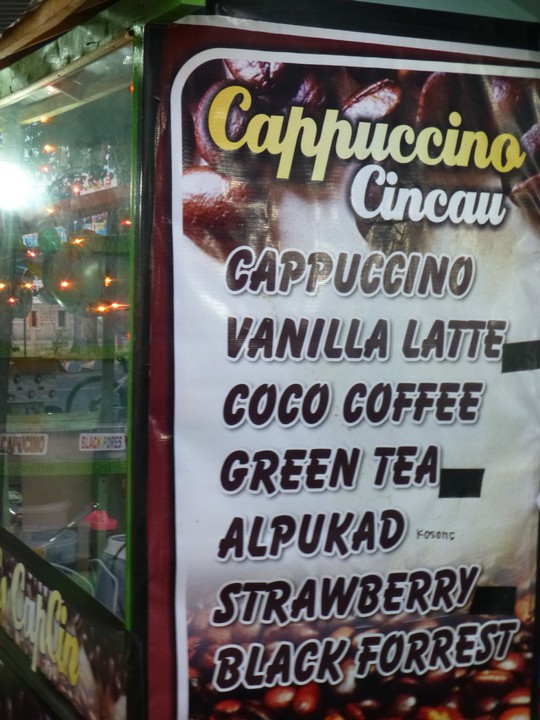 Essentially like the QT coffee slush machines but with more interesting flavors - like avocado!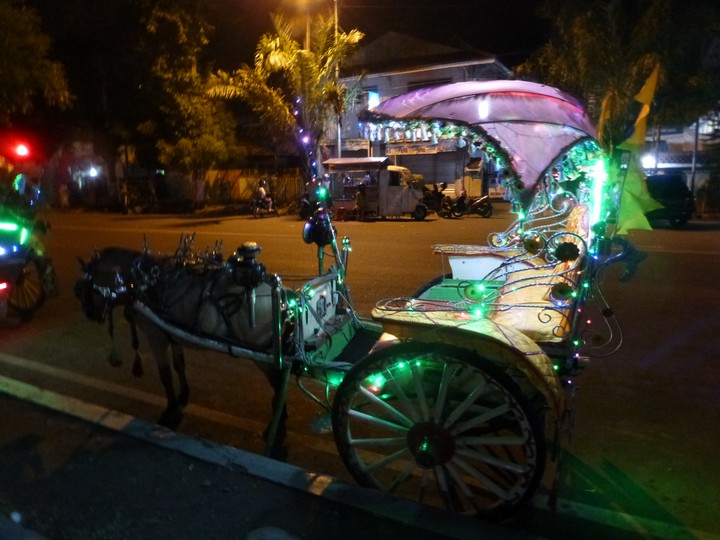 Tour the town in style!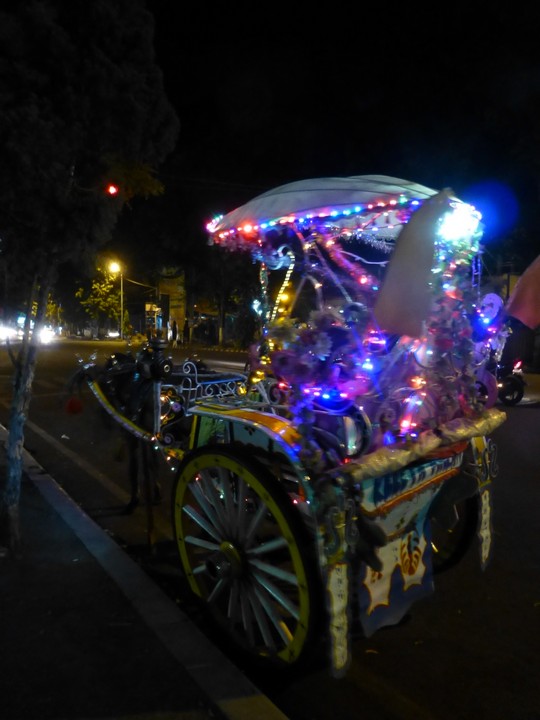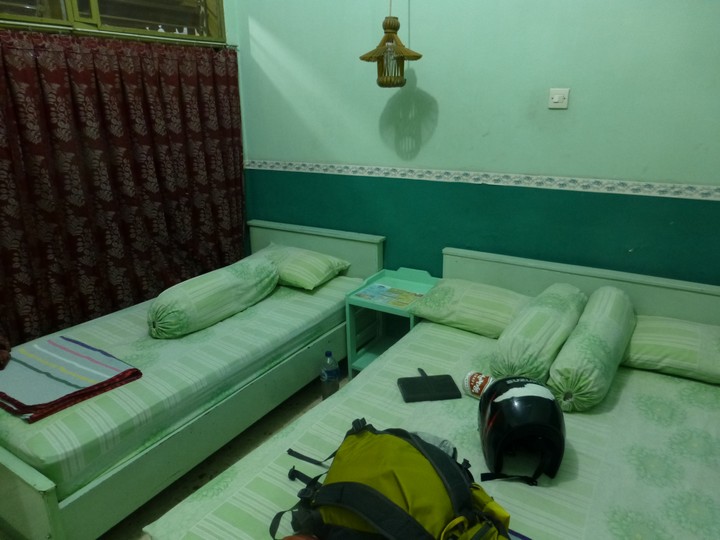 Business hotel with strange cucumber pillows
Thurday, November 13th - Ijen Plateau

80 kilos of sulfur from the depths of a volcanic crater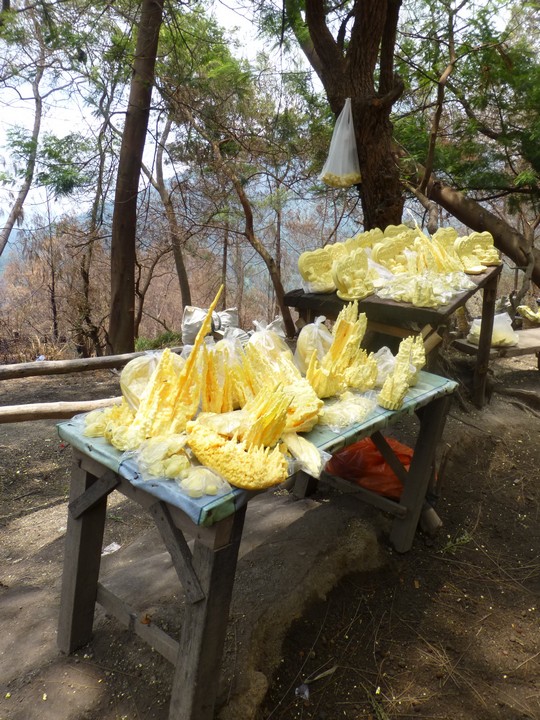 Cutesy sulfur carvings for your loved ones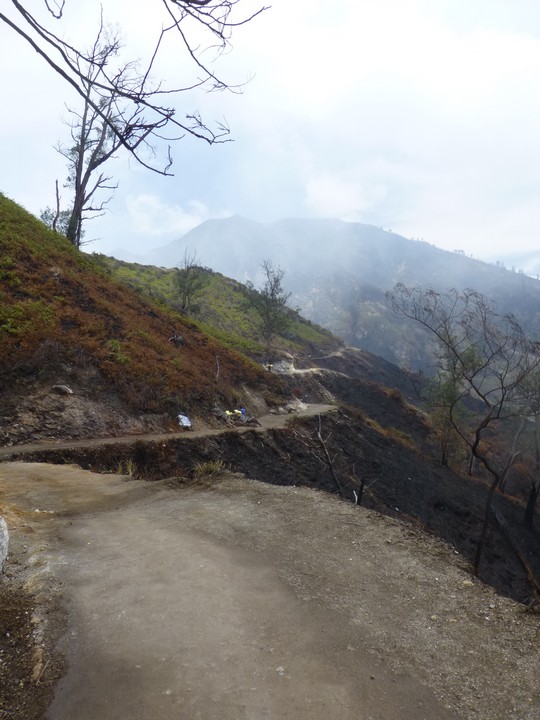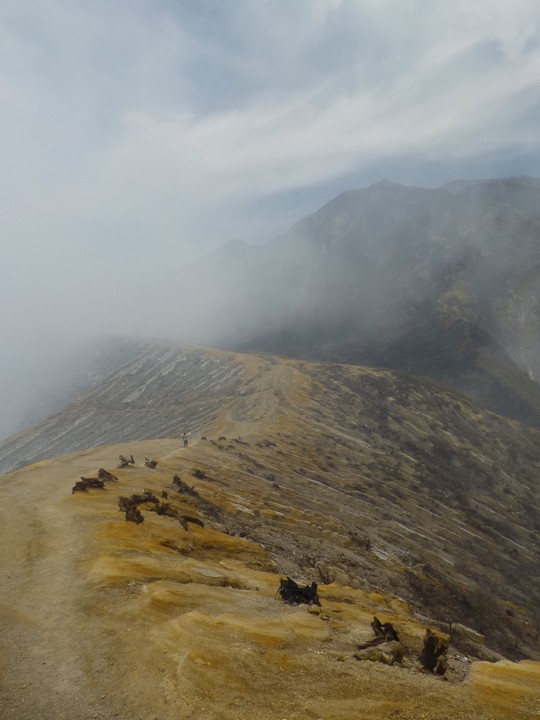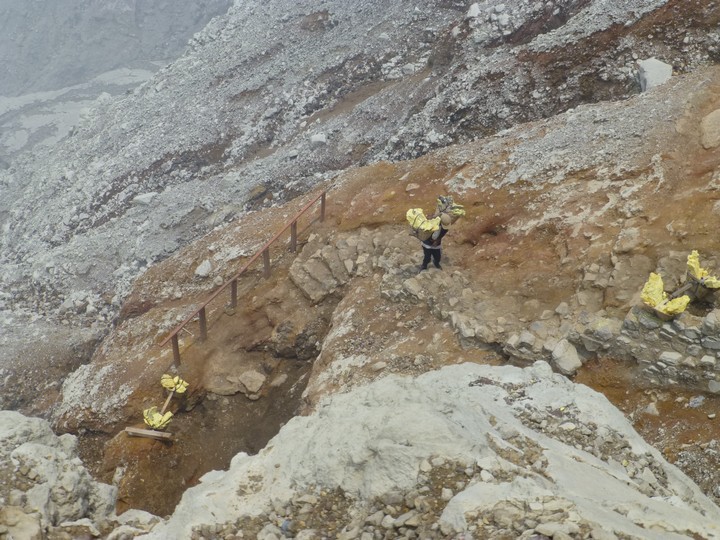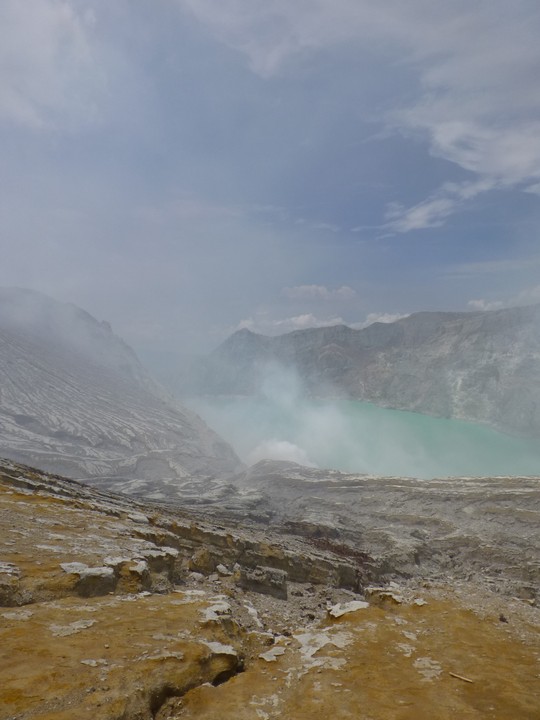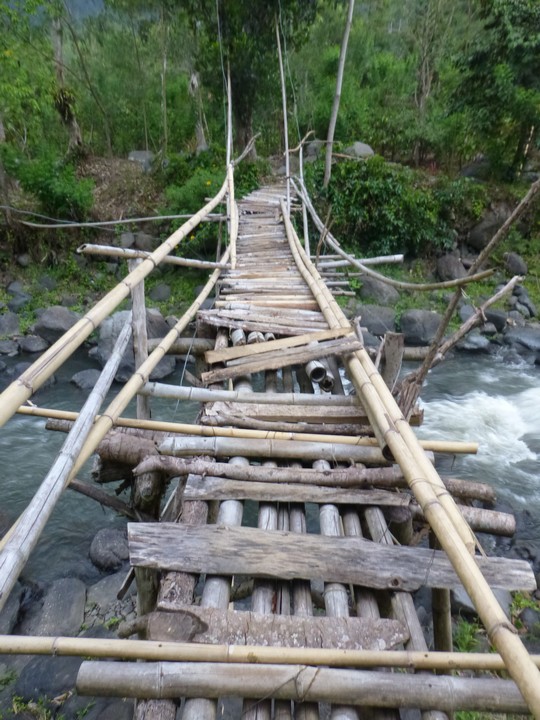 Friday, November 14th - Mt. Bromo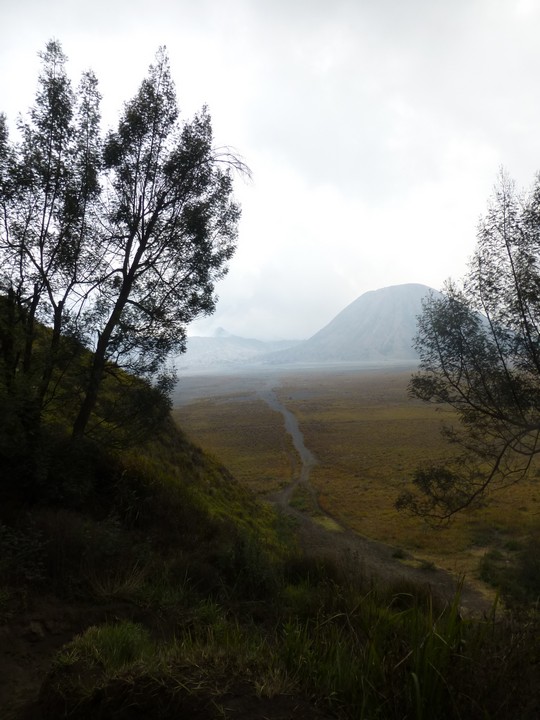 Mount Bromo lays beyond the Sea of Sands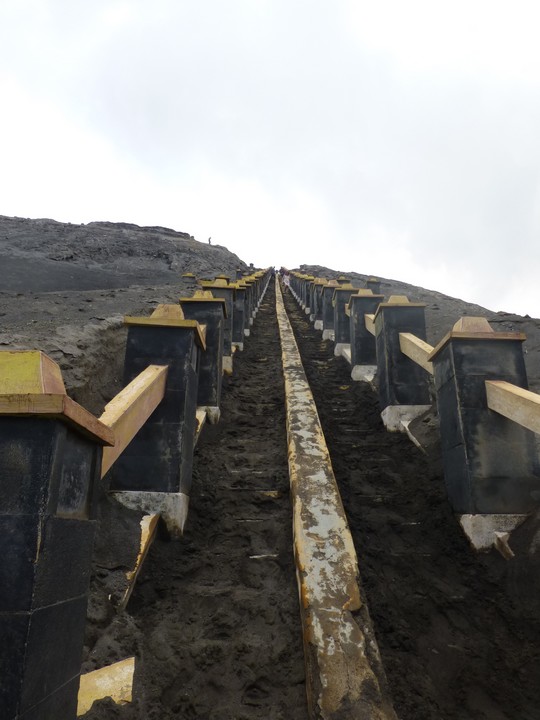 Stairs to crater rim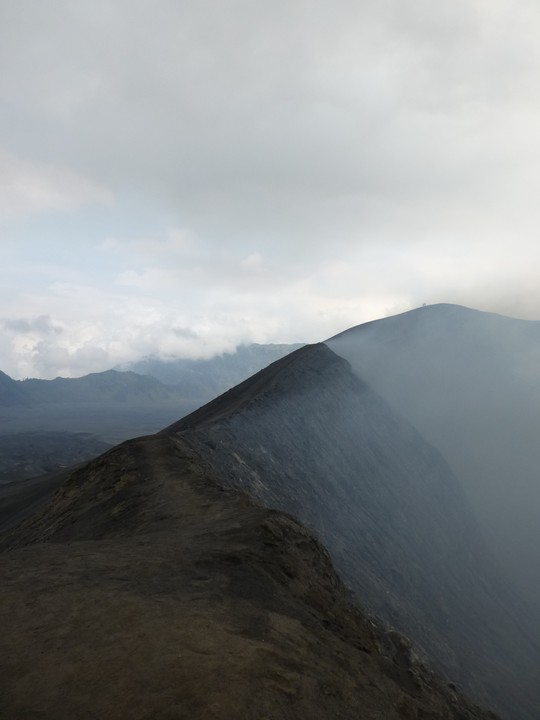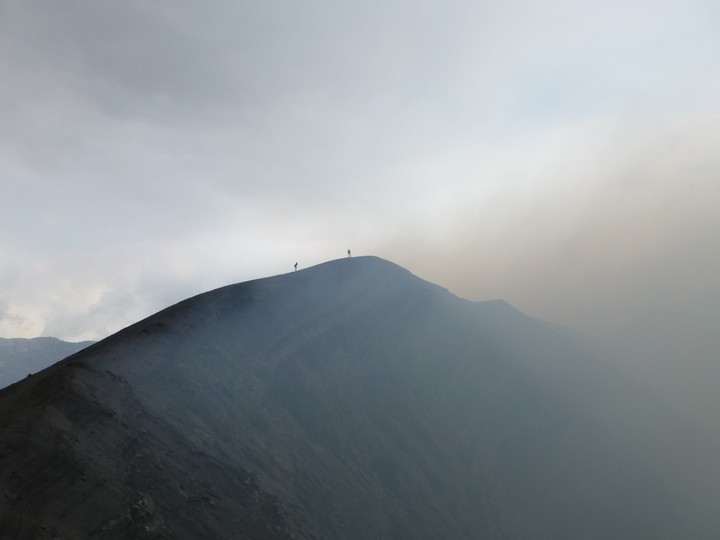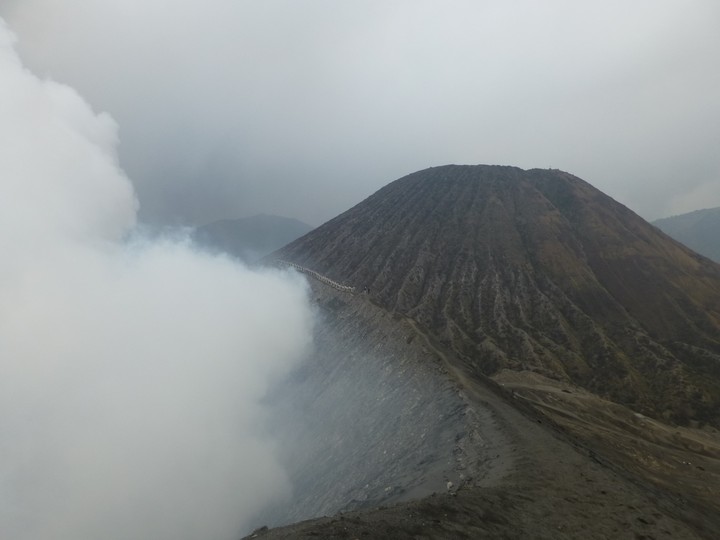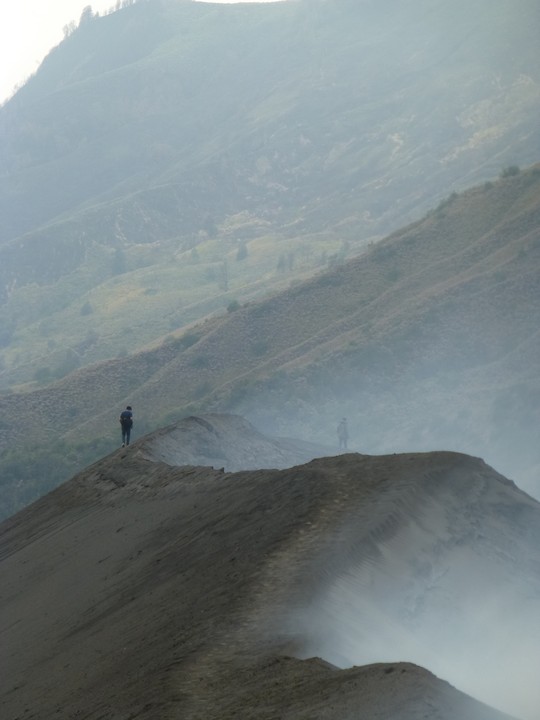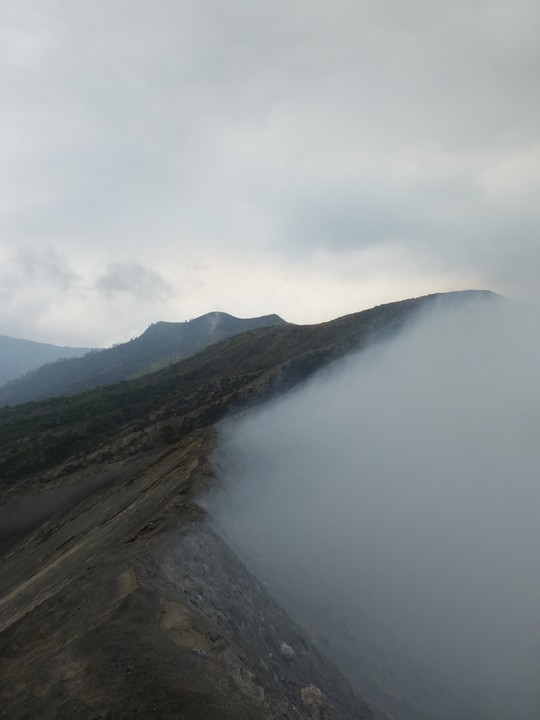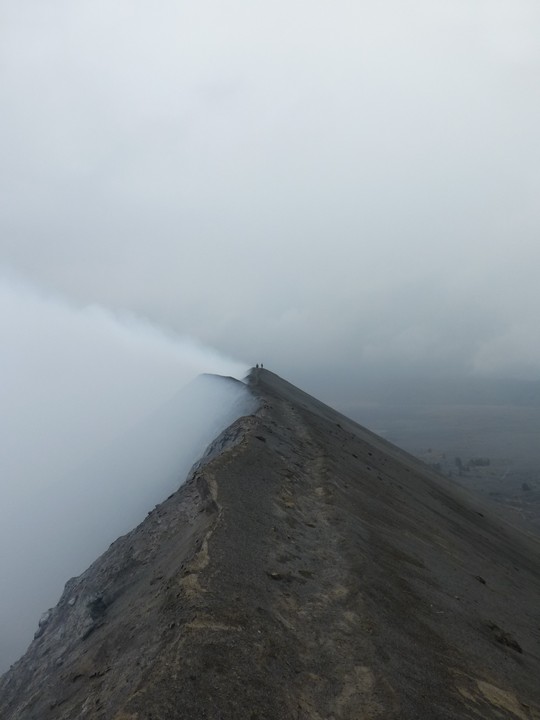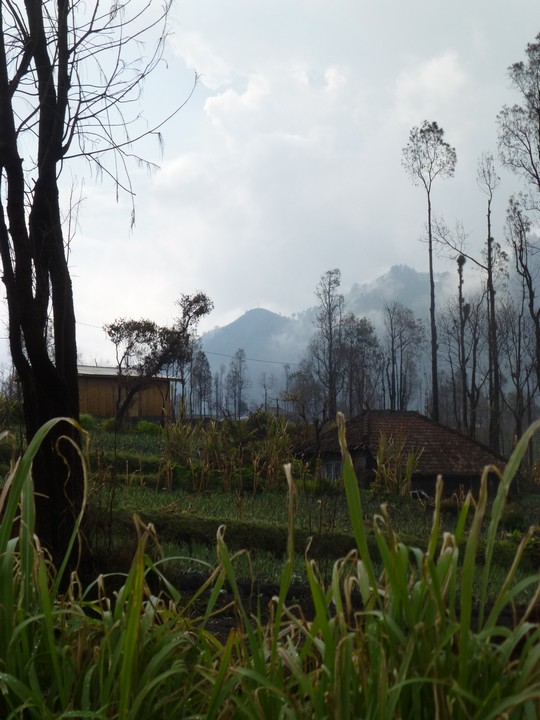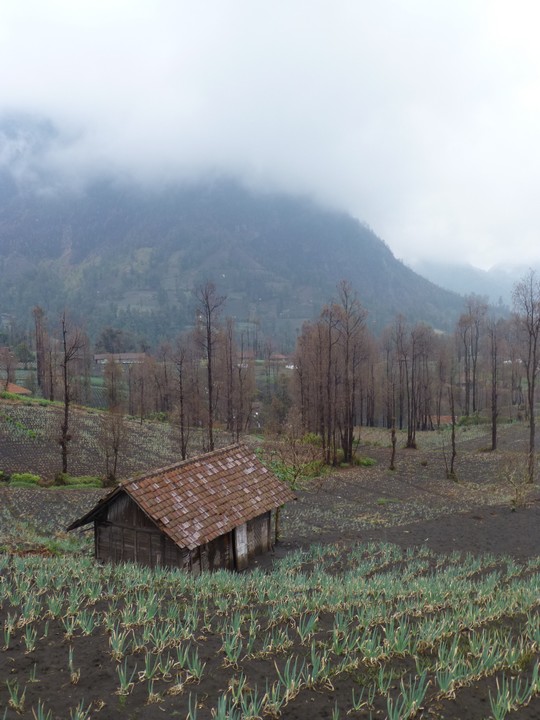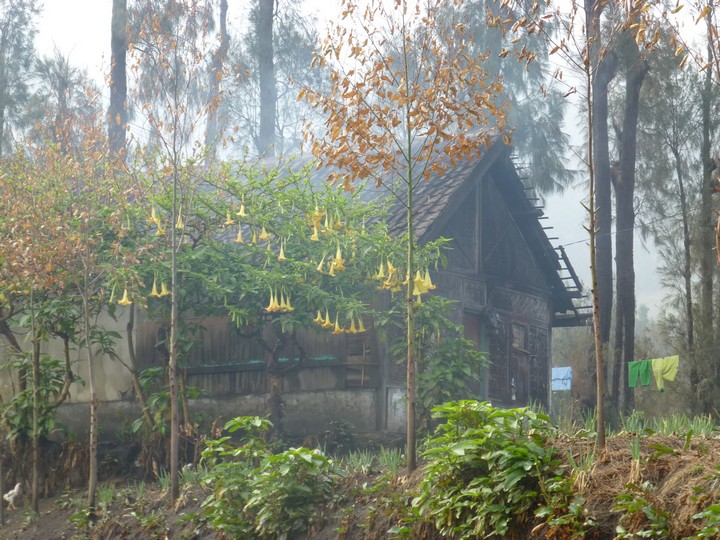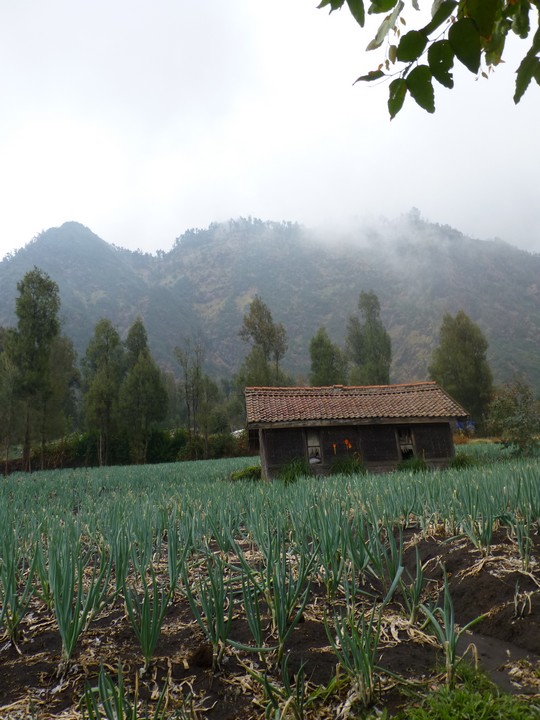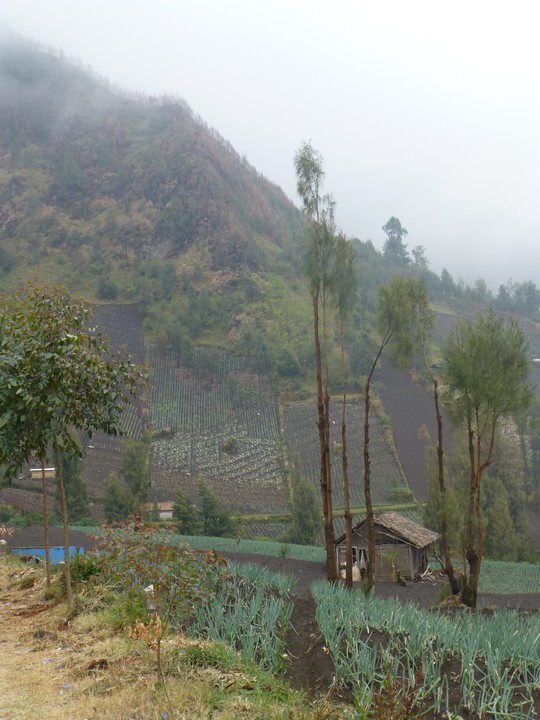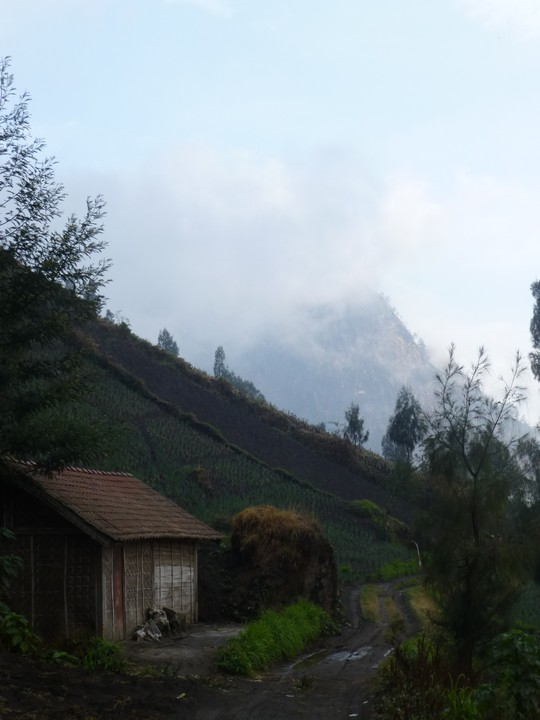 Tenggere farmhouses are the coolest!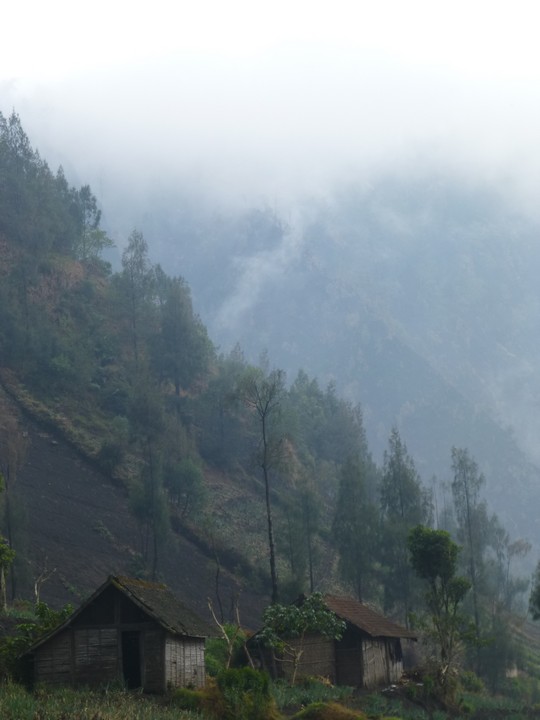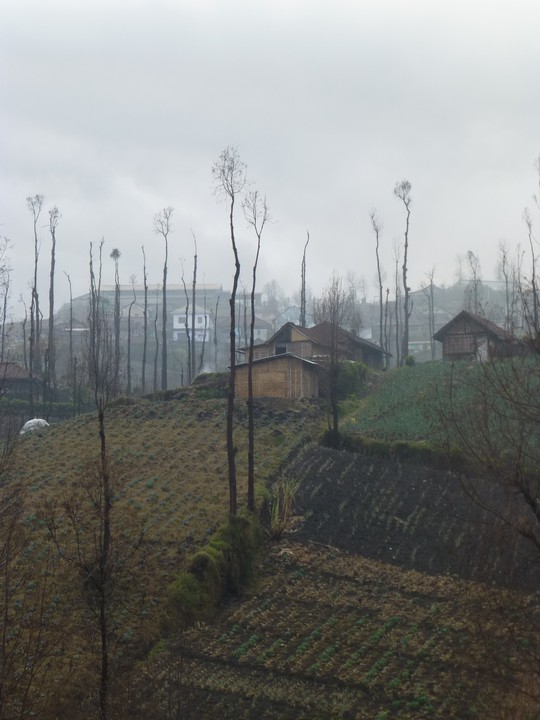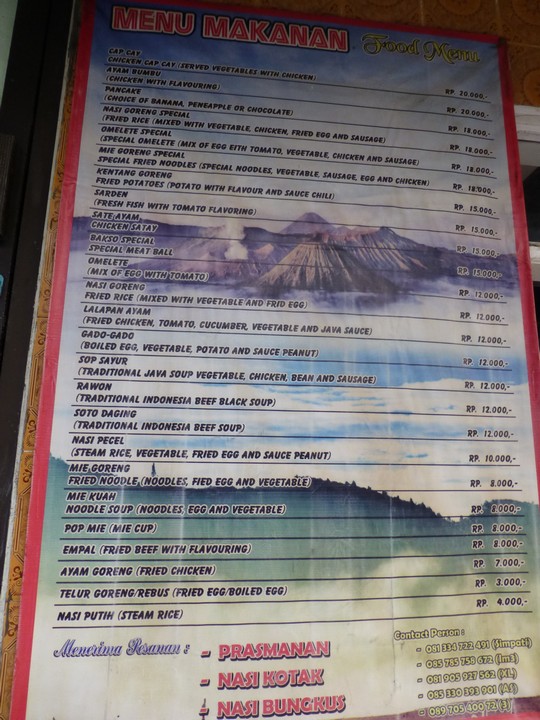 Menu 20ft from the entrance to one of the biggest tourist spots in the country - still around $1/meal
"Malang"? I asked, pointing indiscriminately into the milky void that hung thick over the bed of nearly featureless gray sand where the main highway was supposed to be. "Malang", the ojek driver agreed, a sly smile spreading across his lips. Several of the other men chuckled as I picked my feet up onto the rails and puttered blindly into the fog.
Then there was nothing. The ojeks were gone. The road was gone.
From time to time, I would catch a hint of a tire track, but it would always swerve abruptly into the surrounding dunes. I flicked on my phone and saw that the arrow had strayed a centimeter to the left of the solid blue line marking the route. I adjusted my heading and pushed the marker across where the line should have been. There was no line.
The sands undulated unpredictably, plunging me down into deep ravines and launching me over ramps. In parts, it was loose and deep, and my scooter wobbled to and fro, hoping to buck its senseless rider so it might plot a more rational course. The gas needle clung firmly to the E peg. Should I turn around? I put down my kickstand and twisted my head around to survey the return route. The faintest rivulet extended back from my tire, surviving for nearly three feet before being swallowed up by the cloud. Could I turn around?
Abruptly, a low folding table emerged. It held several thermoses, some tea cups, and an array of instant coffee packets. A small middle-aged Tengerre woman sat on a stool, waiting patiently for her first customer to arrive. How long had she waited?
"Why are you here?", I asked. She looked at me, impassively. She blinked. Minutes passed. Was this a dream? Perhaps everything up until then had been a dream. Perhaps all of reality lived in this cold, dark cloud. My eyes pleaded with her, grasping for some shred of empathy as I watched all of existence: every tree, every smile, every beam of sunshine, fade into a clammy gray. Nothing.
She asked something in Indonesian, from which I could only pick out a word.
Hanging my helmet on a handlebar, I sat down on one of the stools opposite hers. "Kopi", I replied.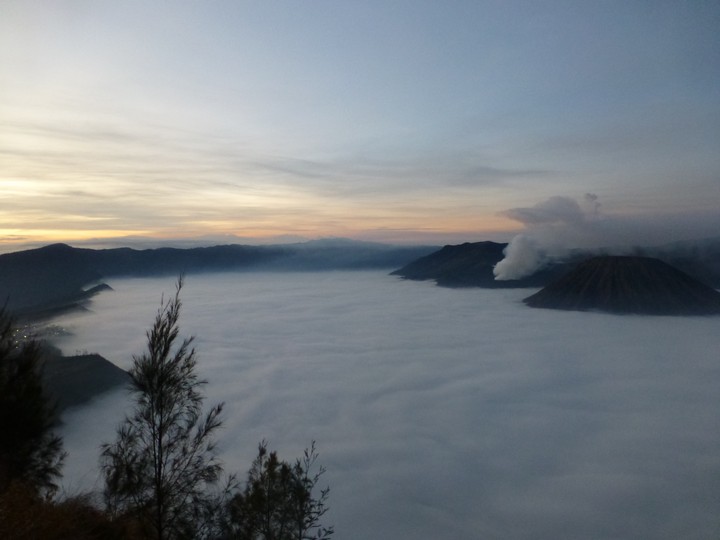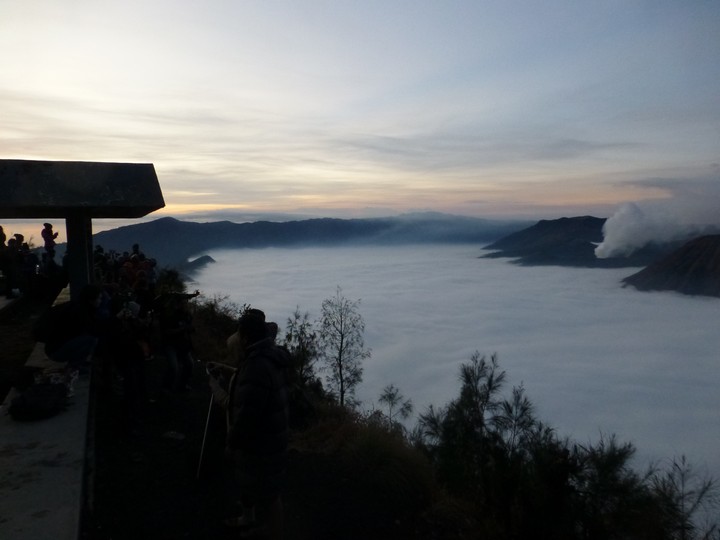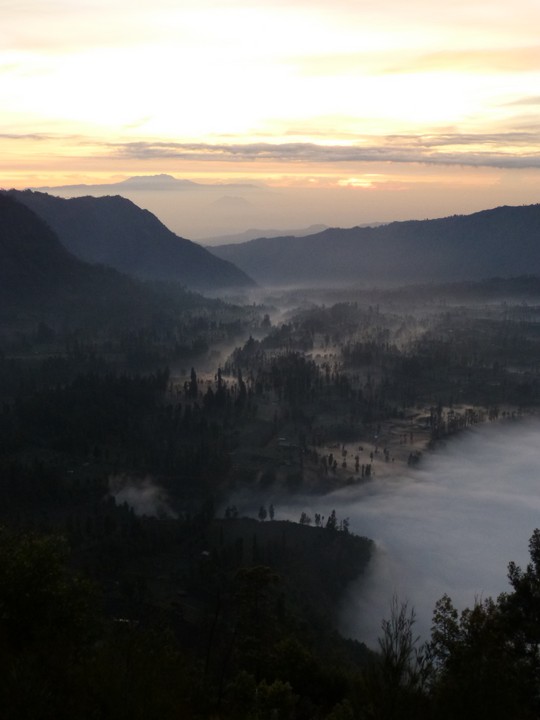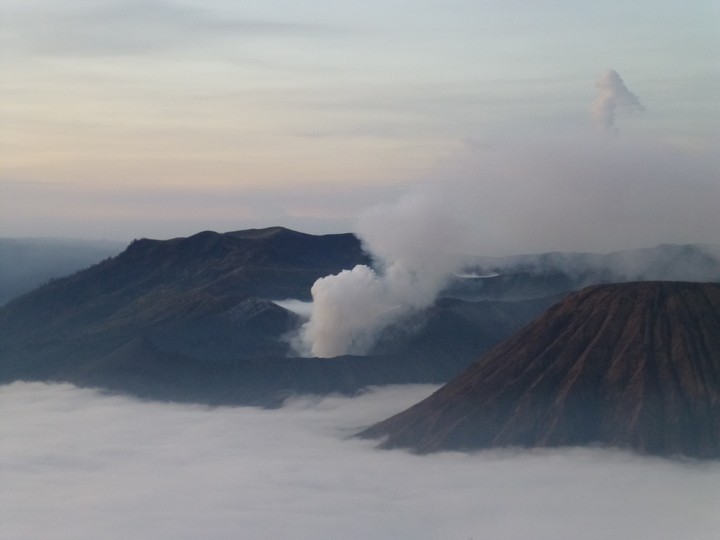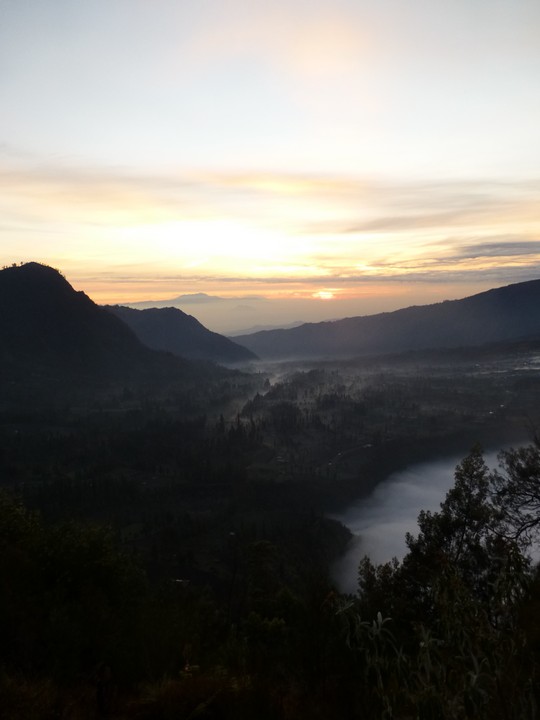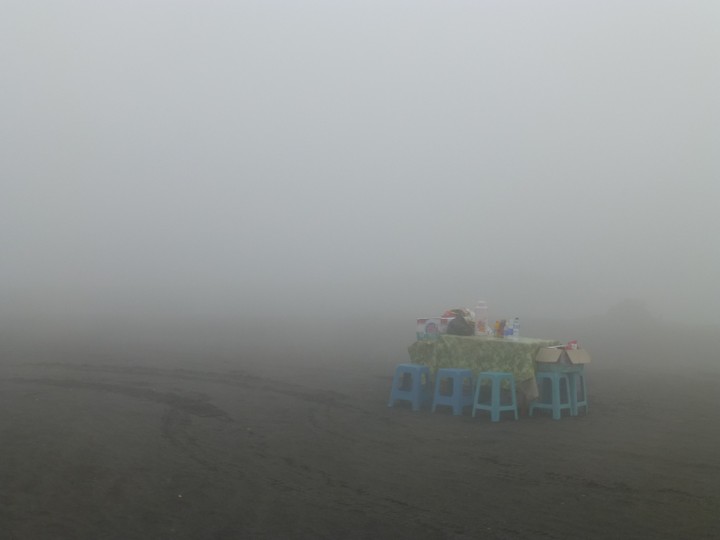 A spot of tea at the end of the universe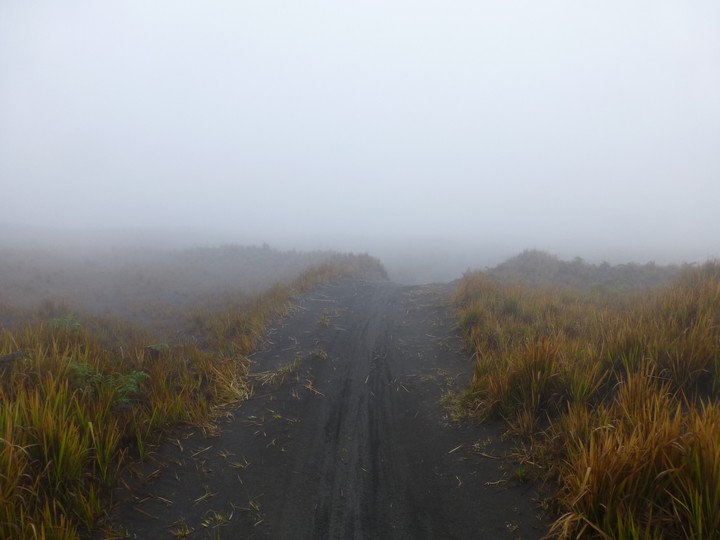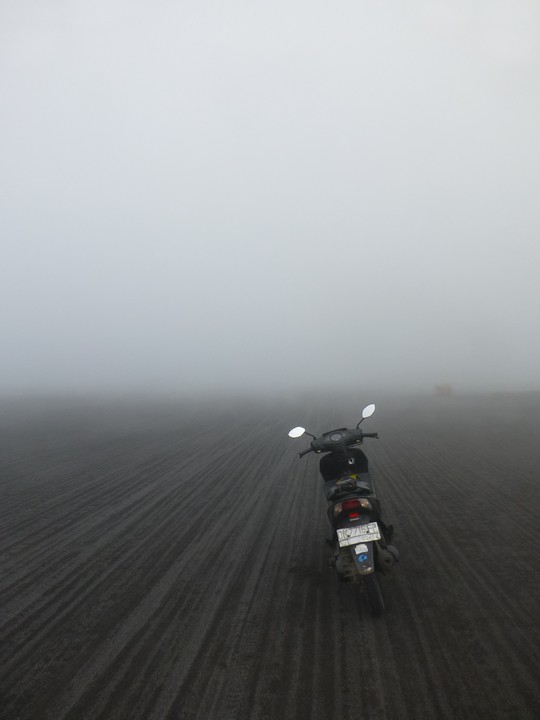 The "road" to Malang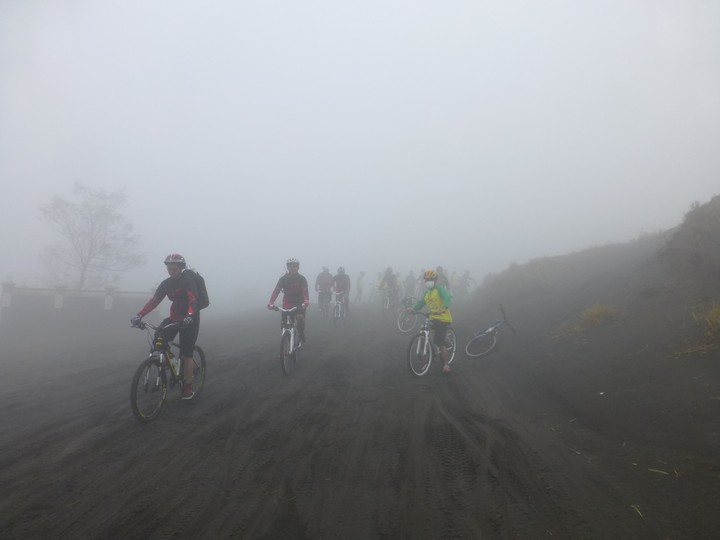 I saw no teletubbies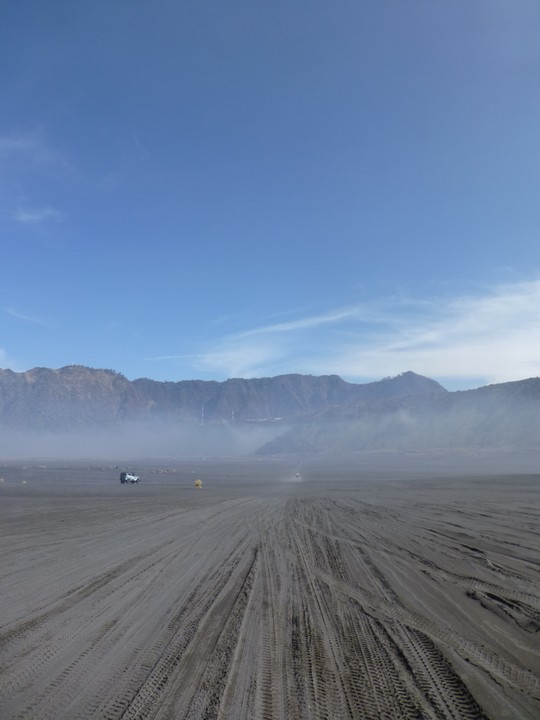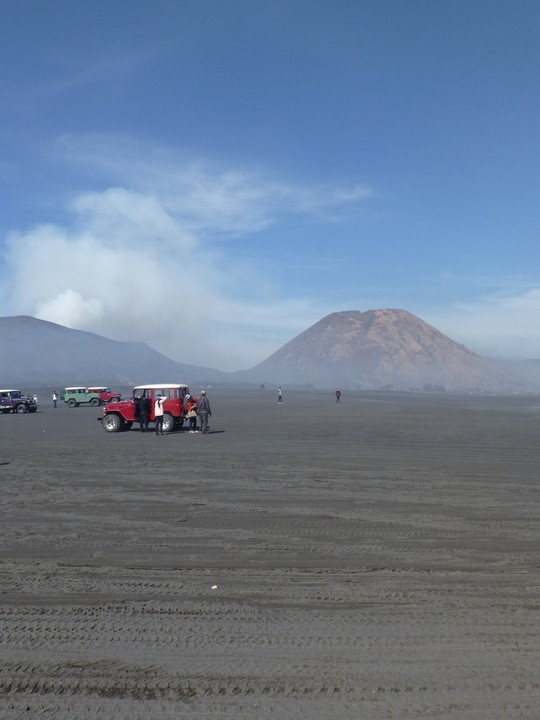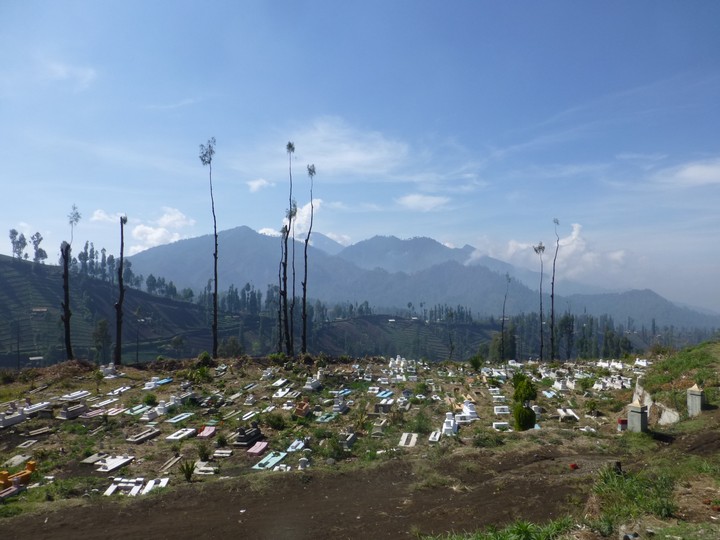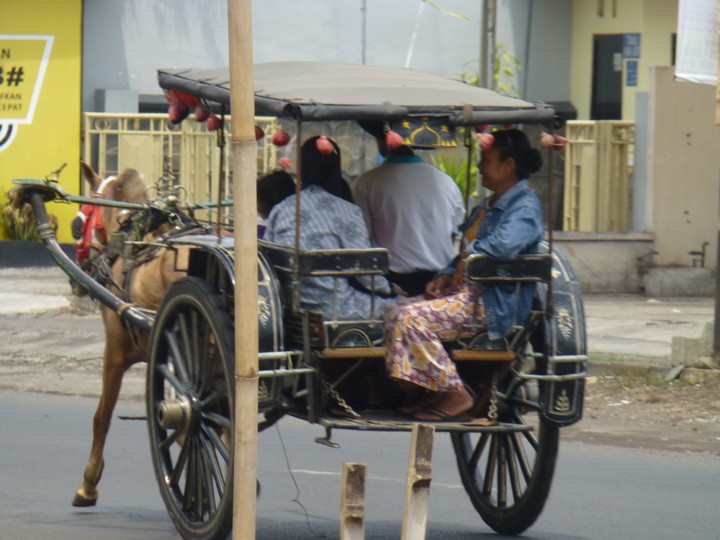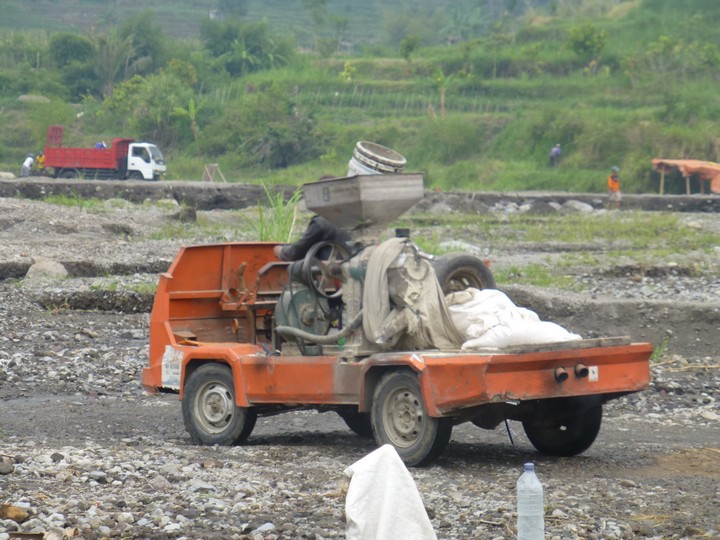 No idea what these do, but they're everywhere, and the fronts are painted to look like cars
Sunday, November 16th - No Cars in Blitar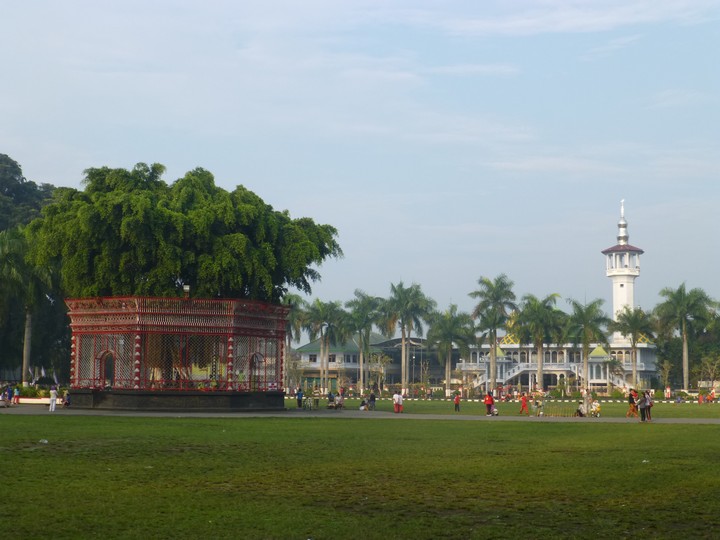 Blitar central park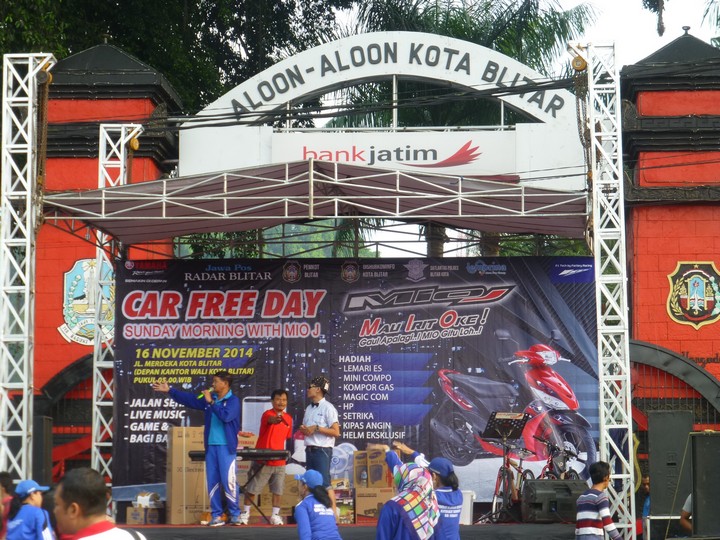 Open streets event in Indonesia!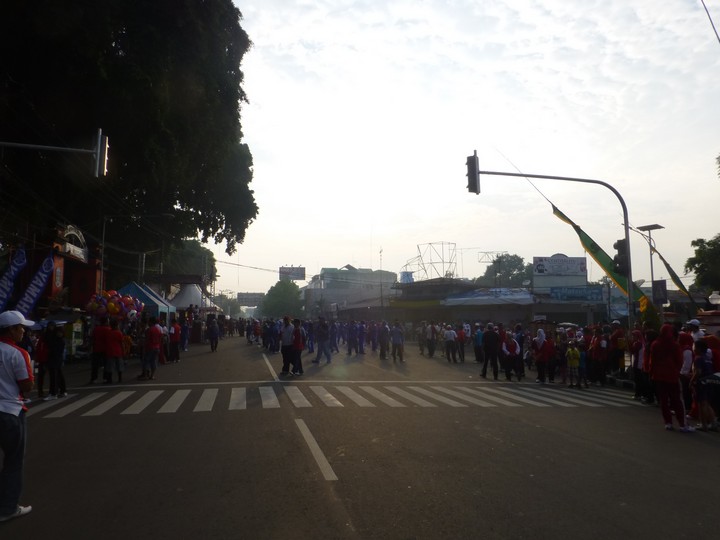 Line dancing in one of the busiest intersections in town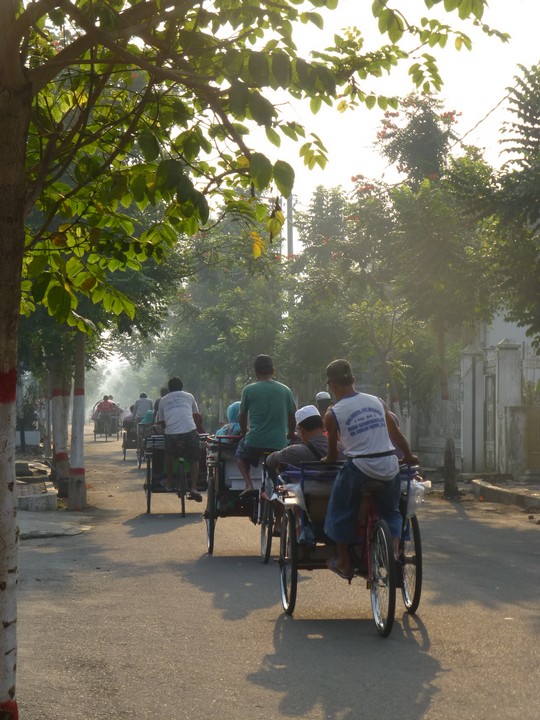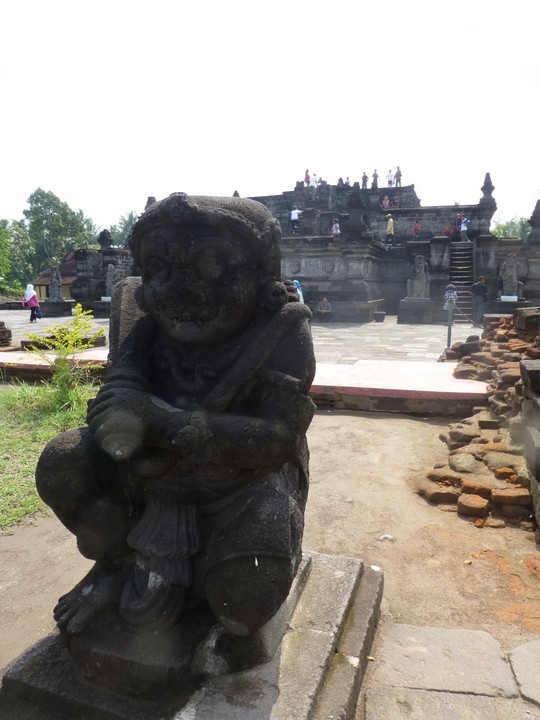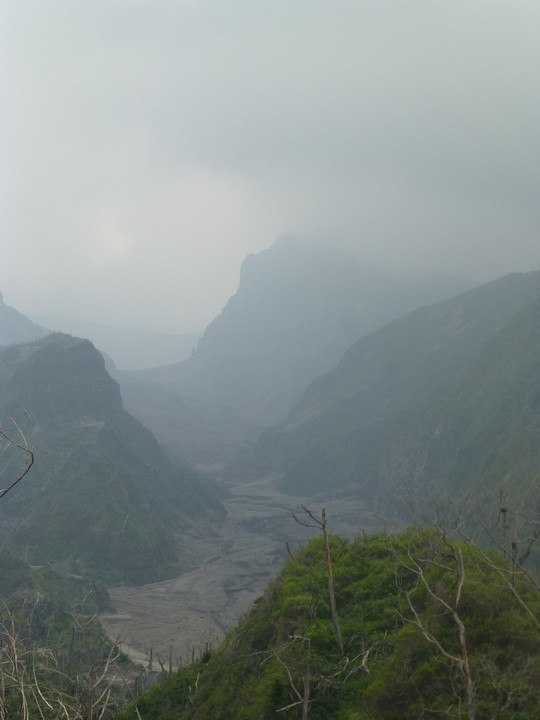 View from the slopes of Gunung Kelud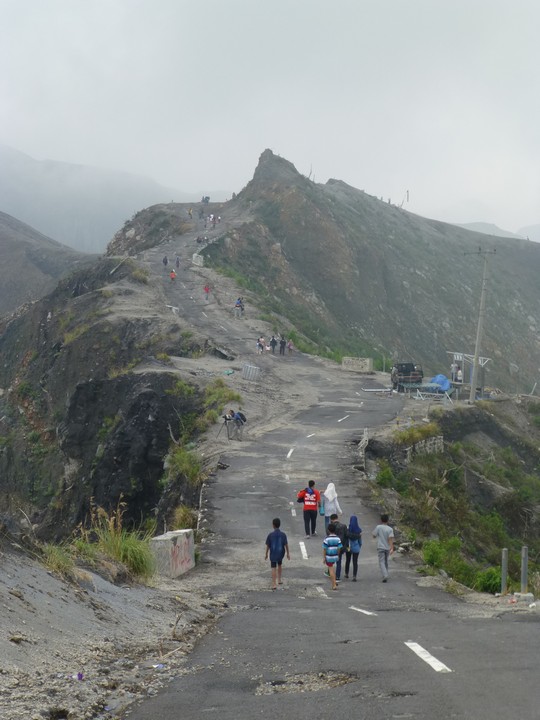 The road was destroyed in an eruption the month before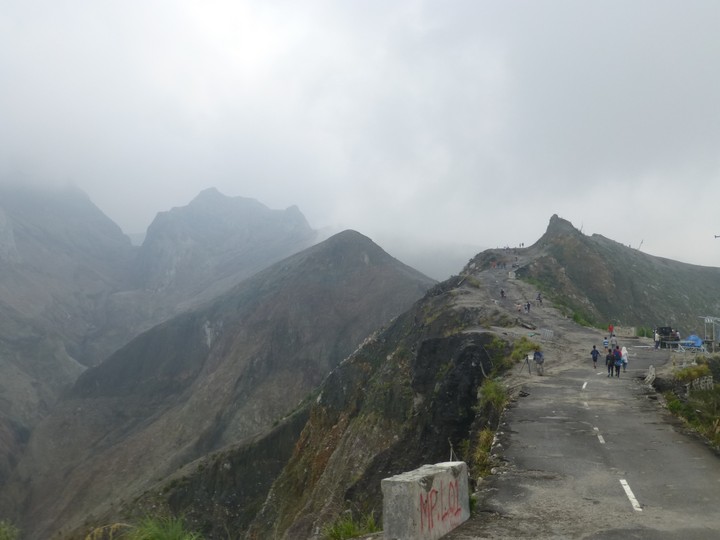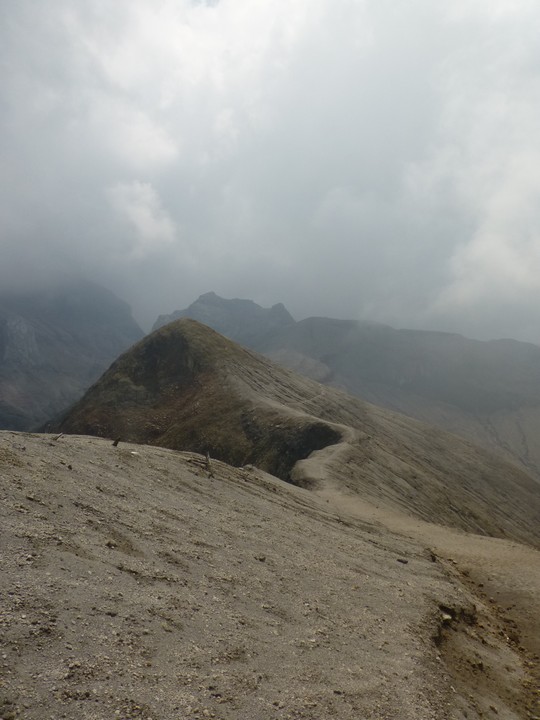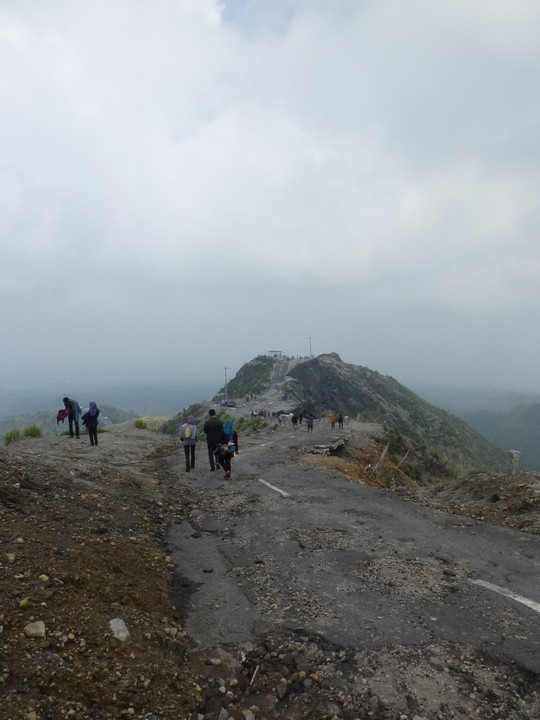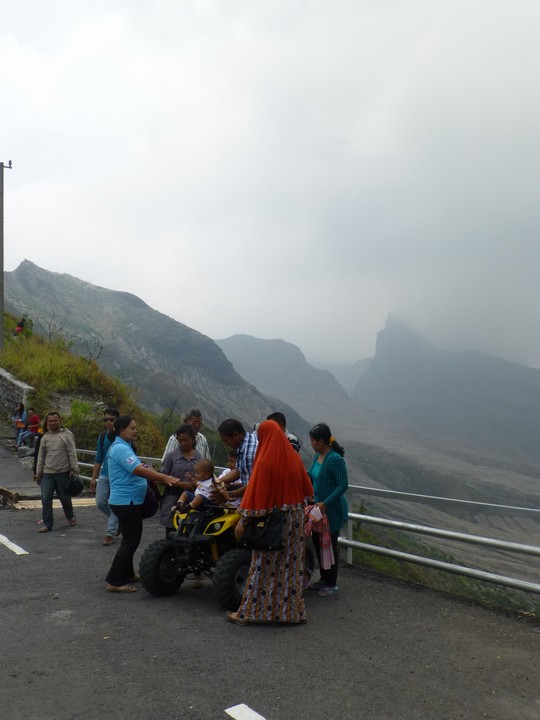 You can pay a few thousand rupiah to take a picture of your whole family on a 4-wheeler!
Monday, November 17th - Spelunking around Pacitan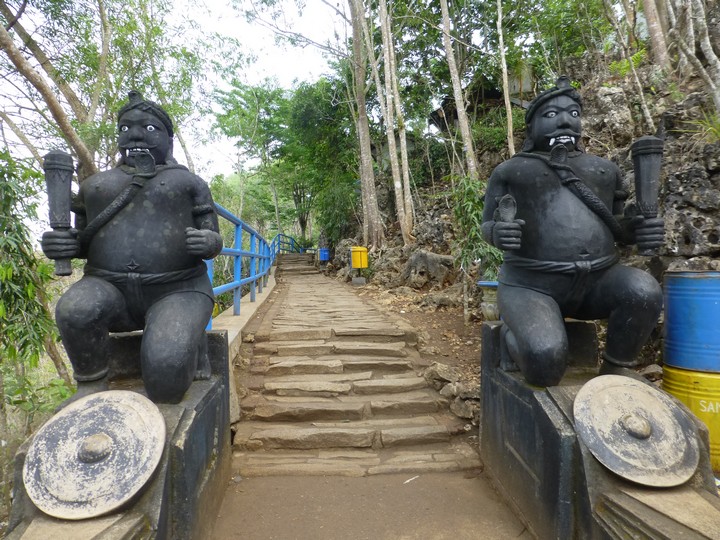 Guardians of Gong Cave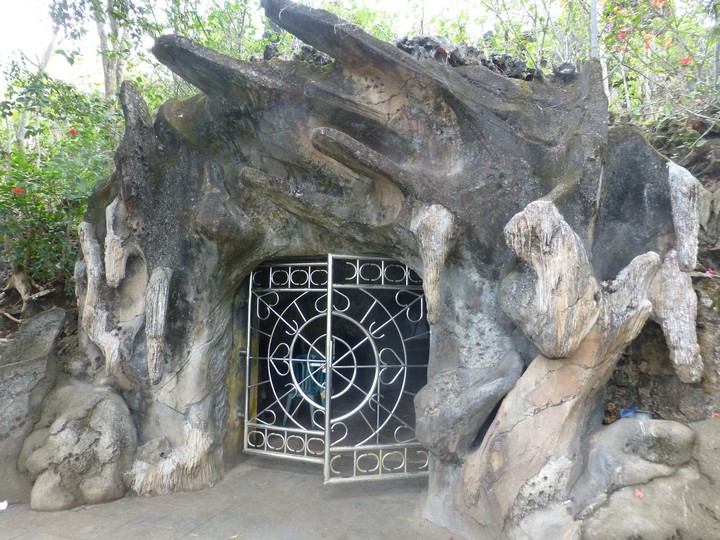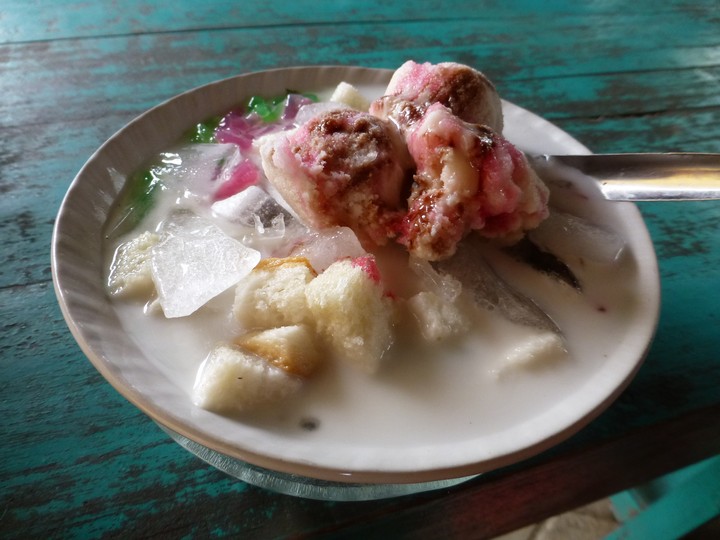 Tapioca pearls, passion fruit seeds and sweetbread, topped with three scoops of strawberry ice cream - probably the best 5000 rupiah you could ever spend

Surprise karst museum!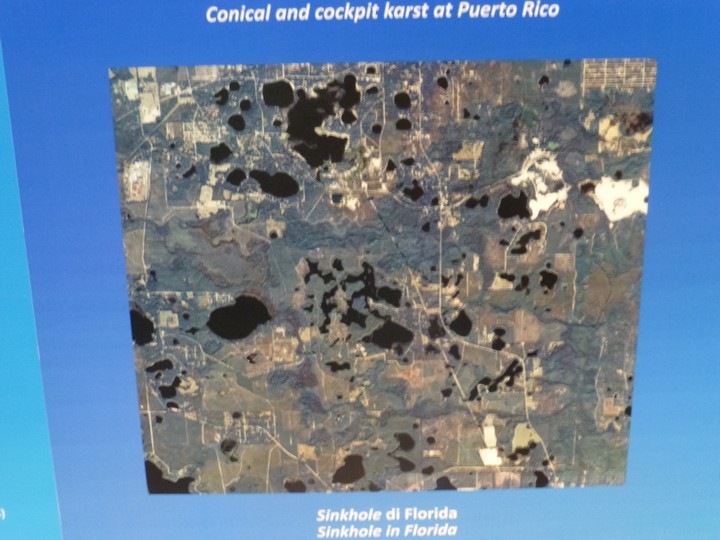 I still haven't figured out where in Florida this is.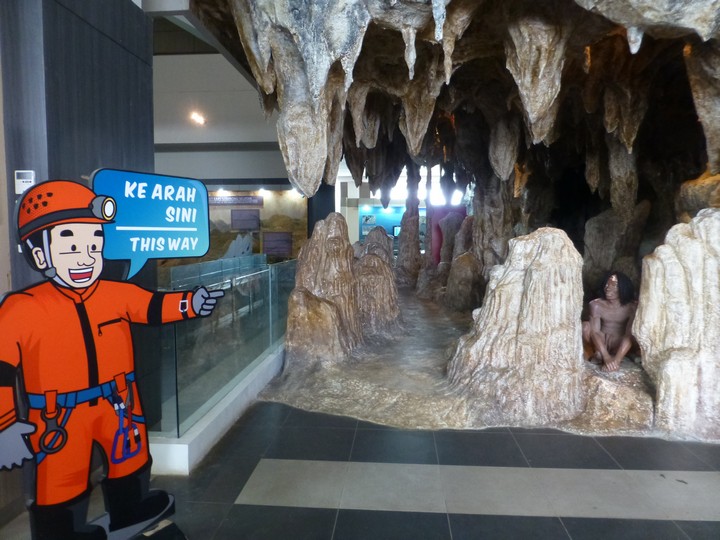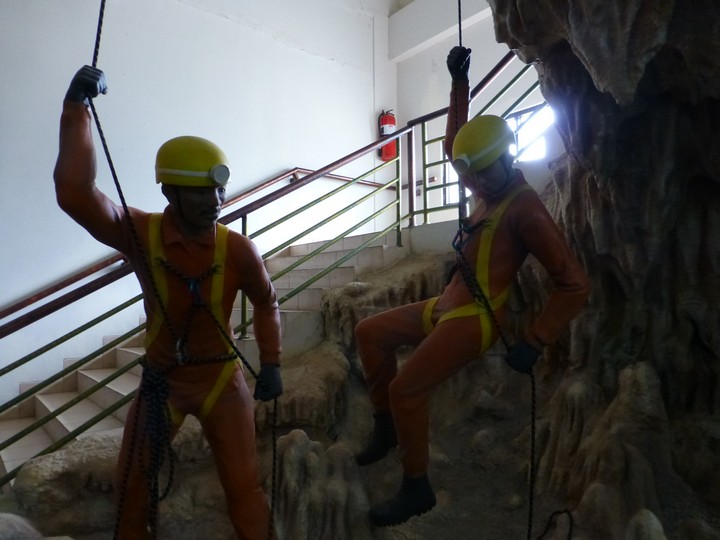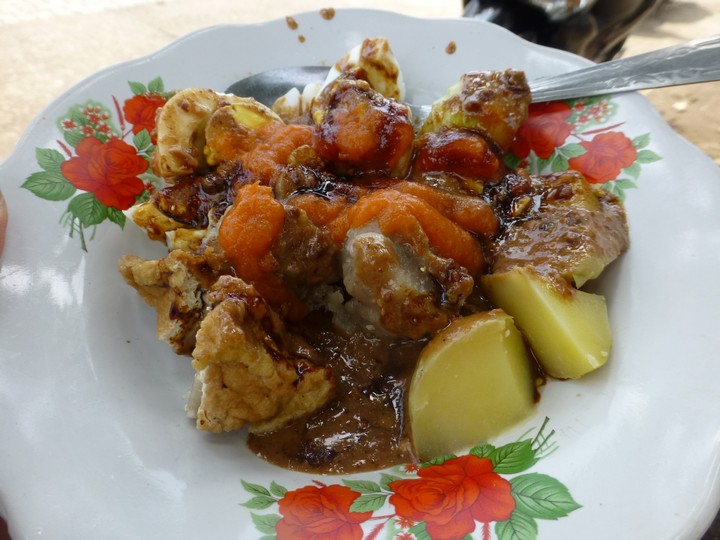 Free lunch from my new cave museum friends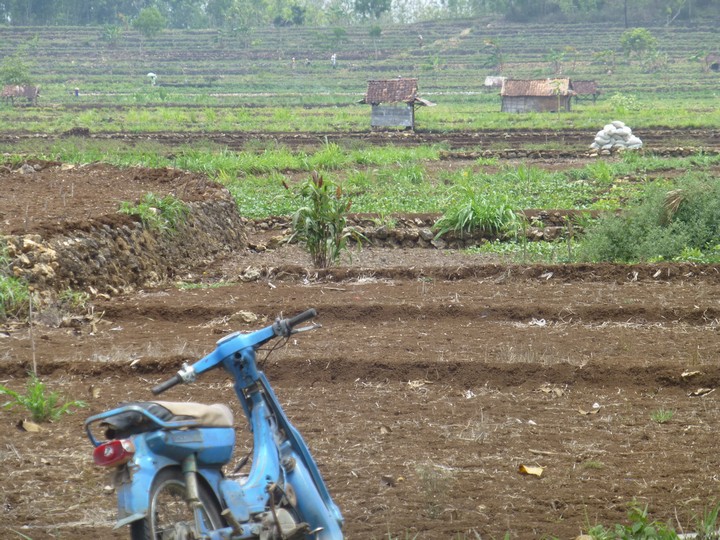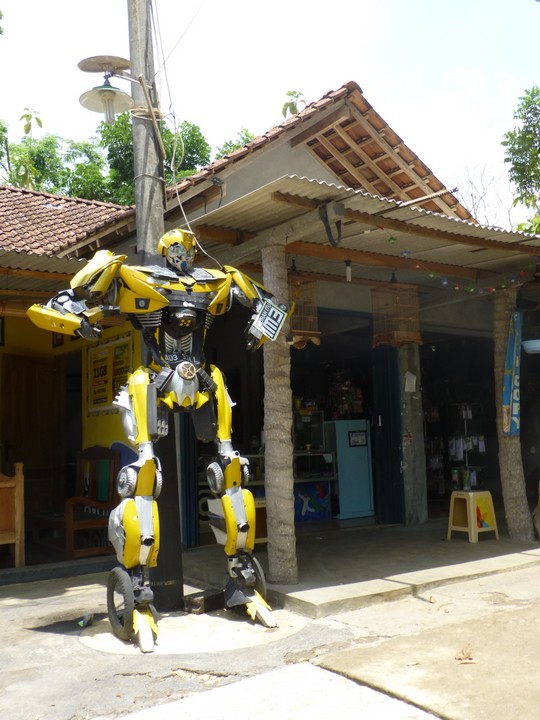 Bumblebee eventually settled down in an obscure Javanese village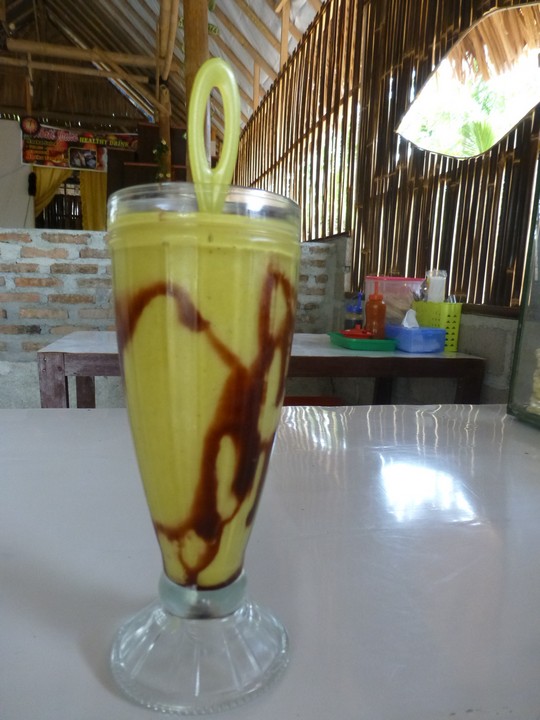 Avocado milkshake with ribbons of chocolate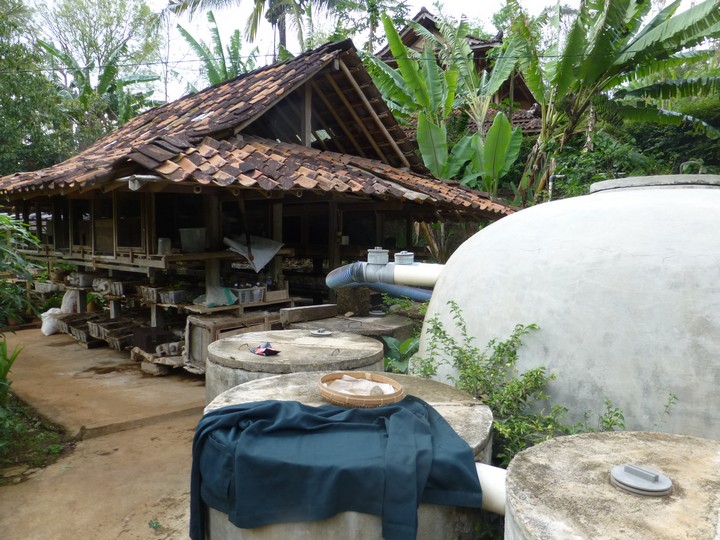 Rabbit poop-fueled digester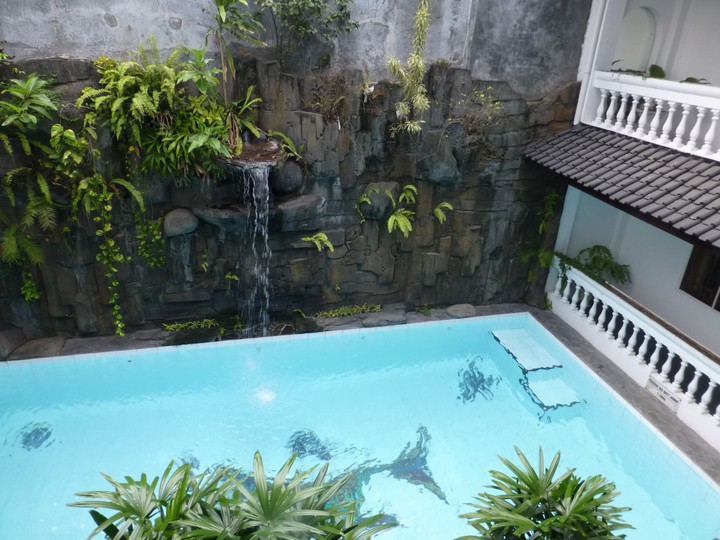 Pool under my $9 hotel room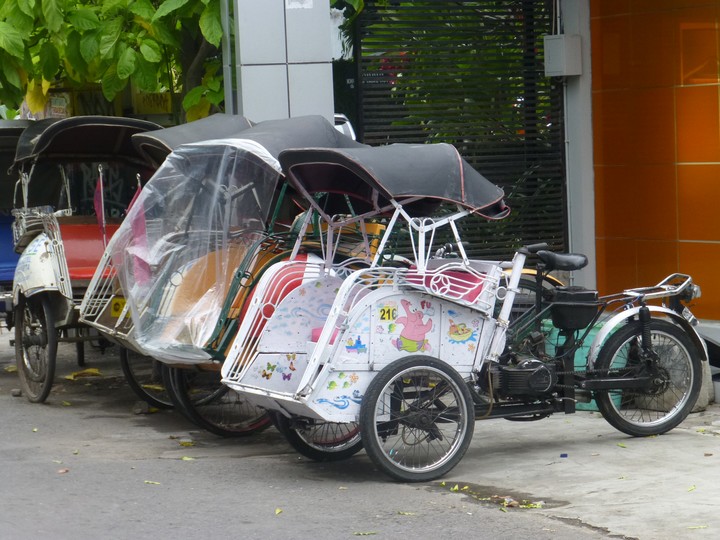 Auto-becak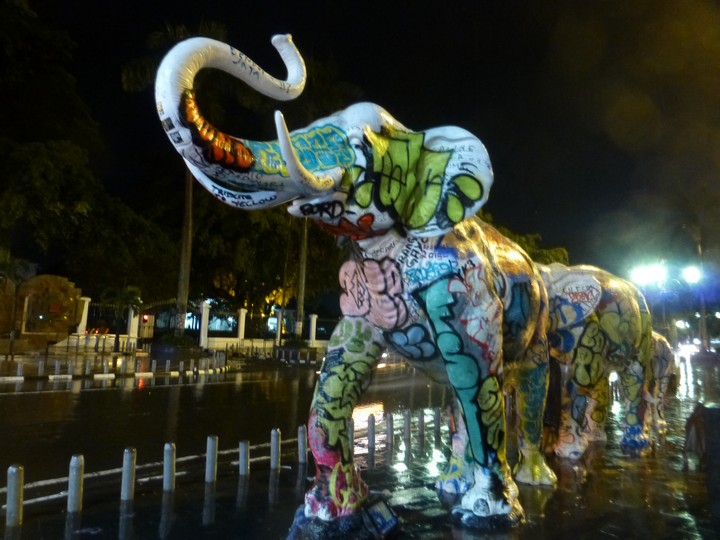 Street art

Bike culture is surprisingly big in Jogja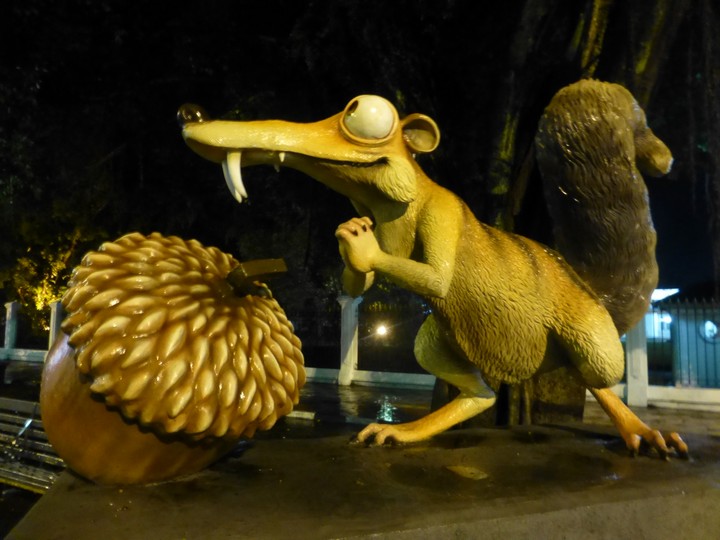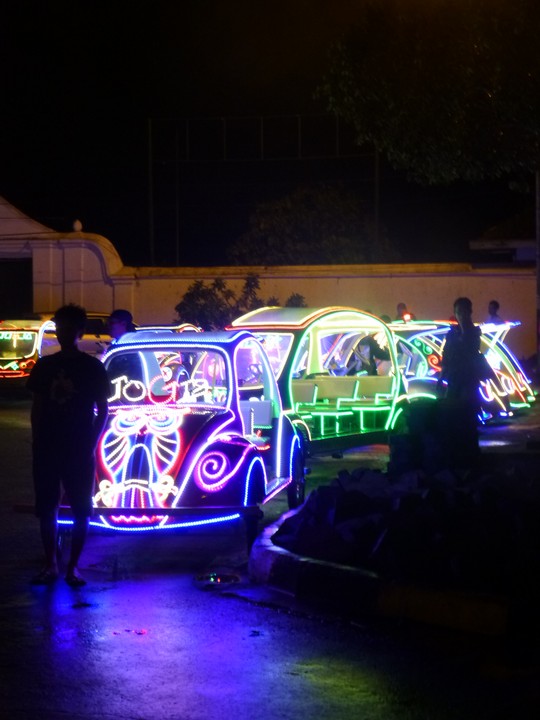 You can take your sweetheart for a spin in a light-up car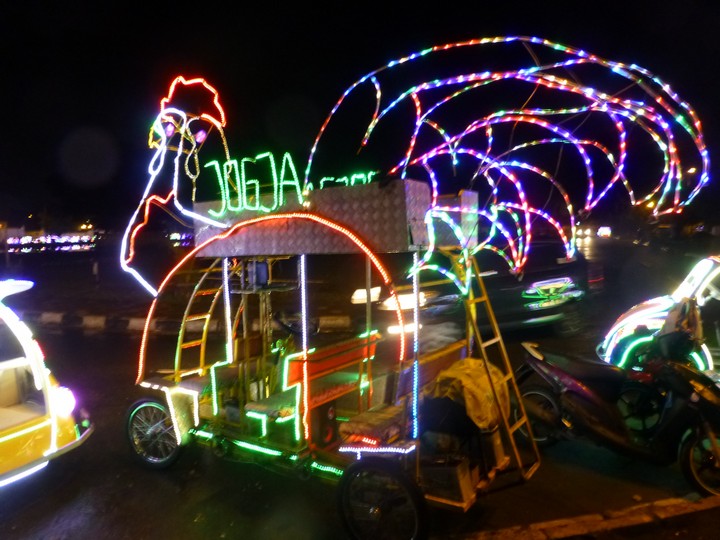 Tuesday, November 18th - Art and Critters in Jogja

Random street hippo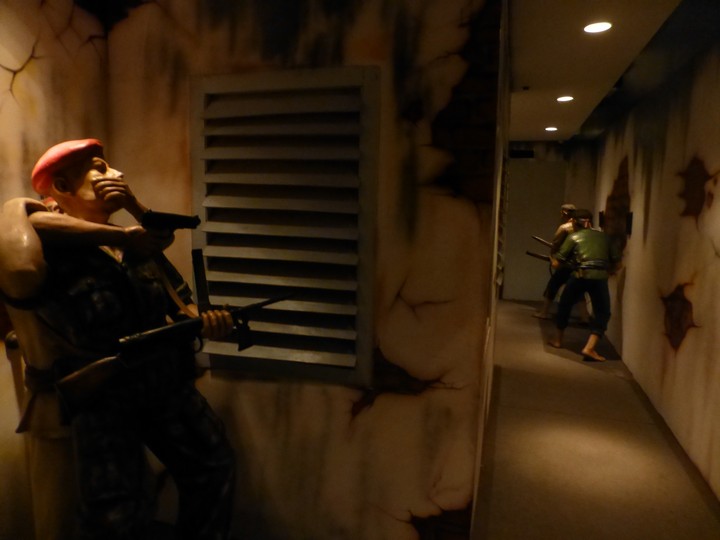 Interactive guerilla warfare against the Dutch

Souvenir rodents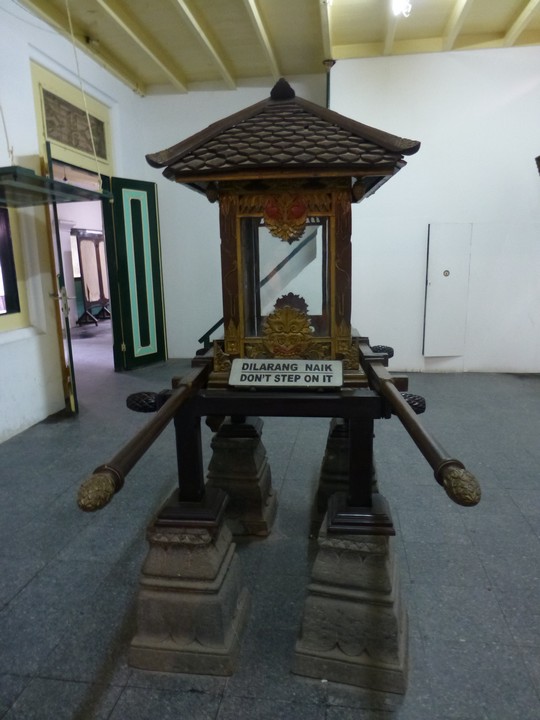 I doubt I could step on this if I tried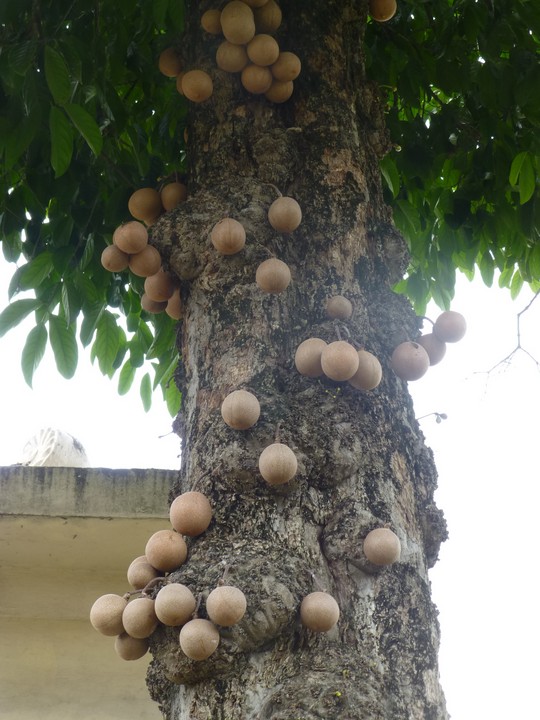 What is it?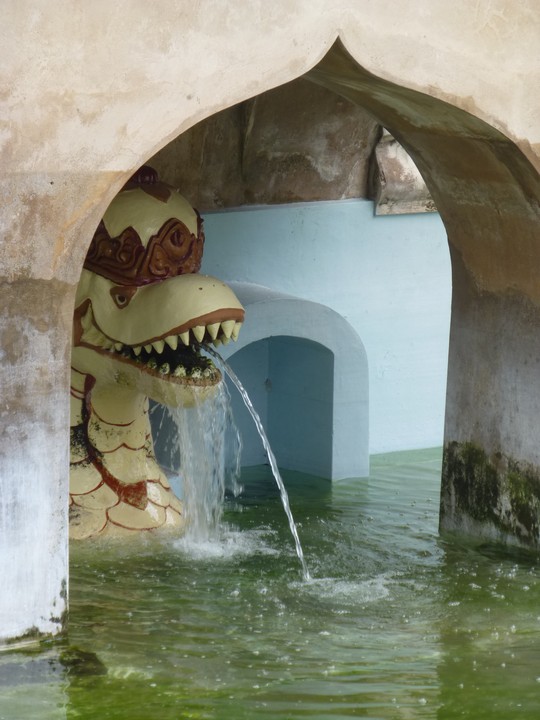 Water temple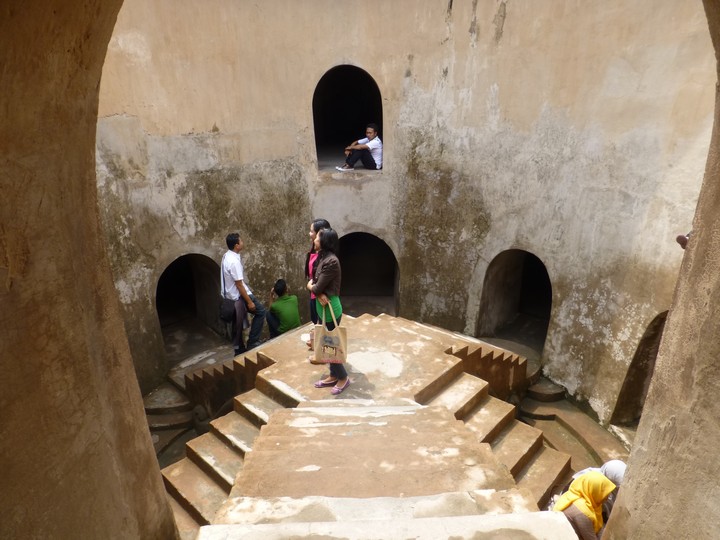 Underground Tatooine mosque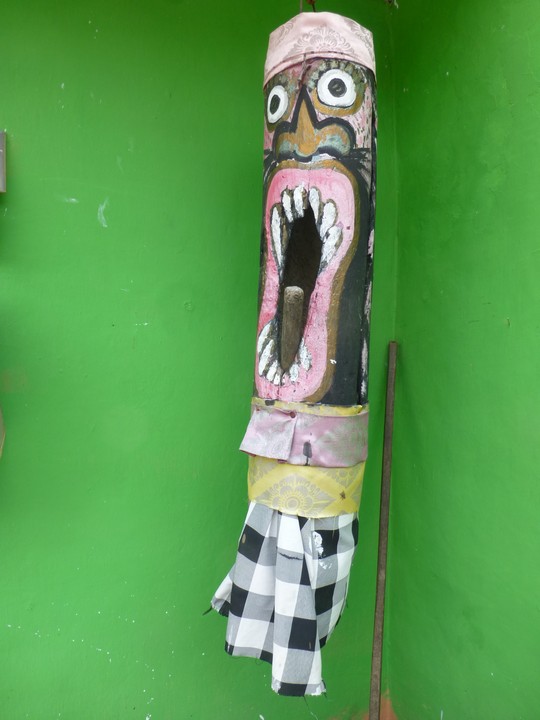 Gong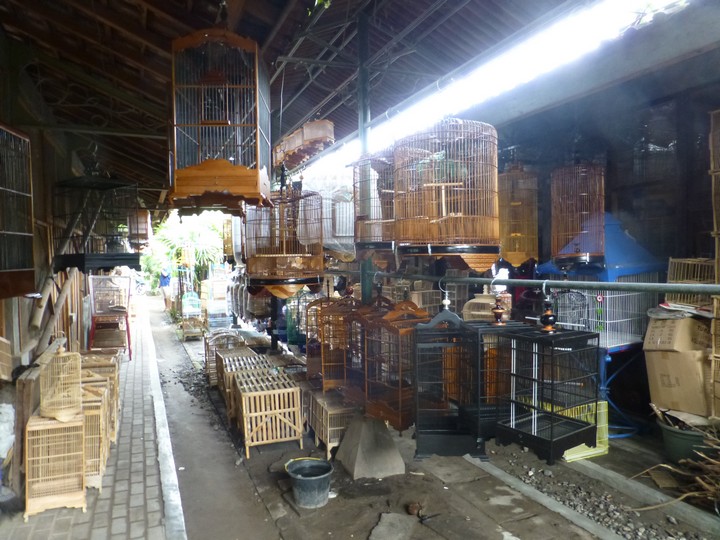 Bird market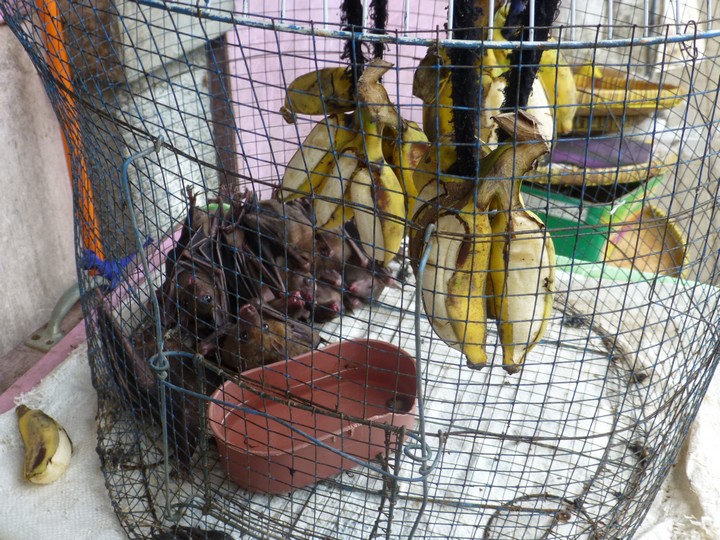 If you make a tea from their skin, it supposedly heals arthritis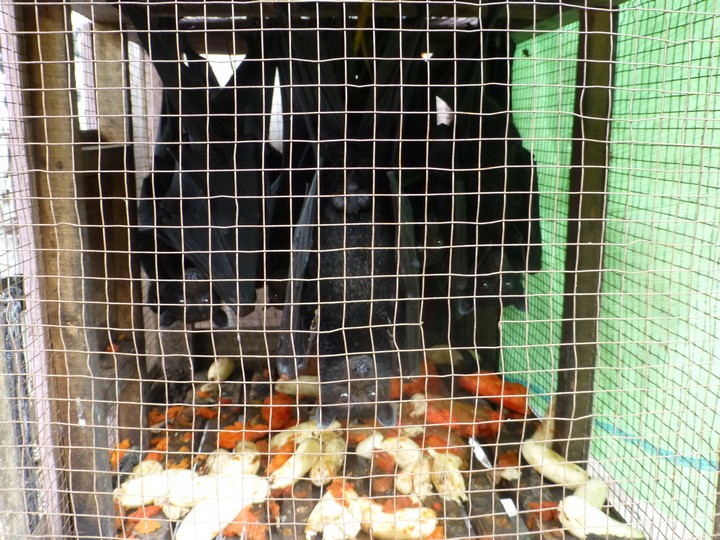 Drinking these guys heals asthma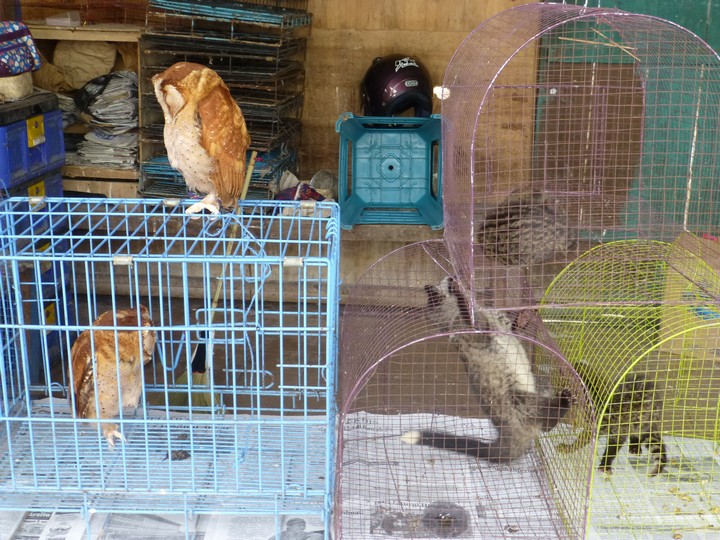 Not sure what eating these will do for you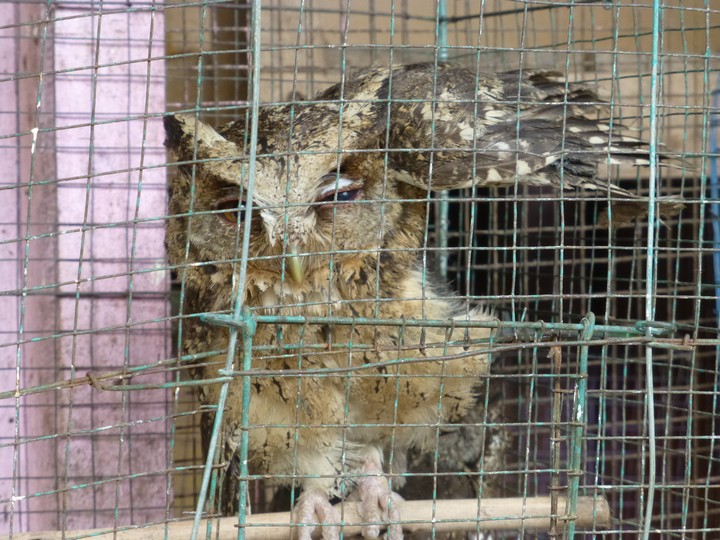 Buying an owl and releasing it gives you wisdom (no need to eat)

"+/-4000 buffet" - fill your plate and pay roughly 4000 rupiah

Modern art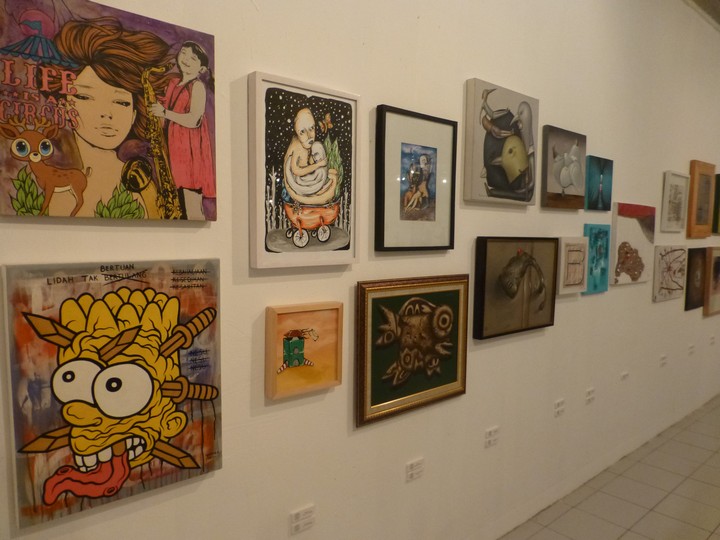 Wednesday, November 19th - Kaliurang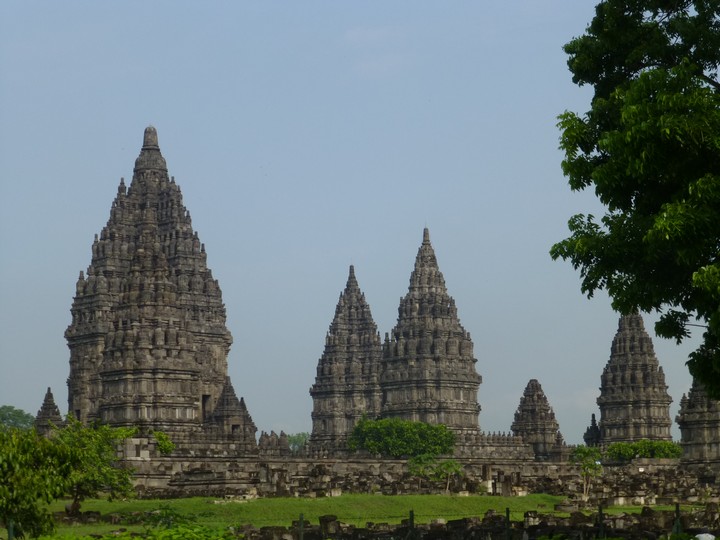 One of those wonder of the world sort of temples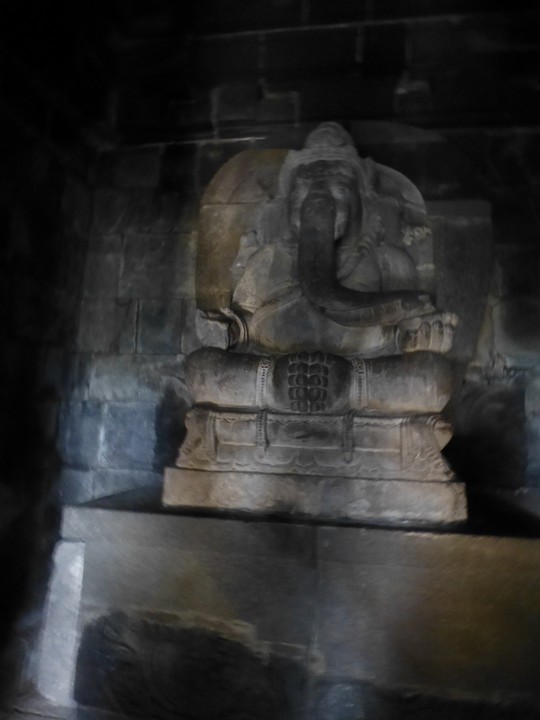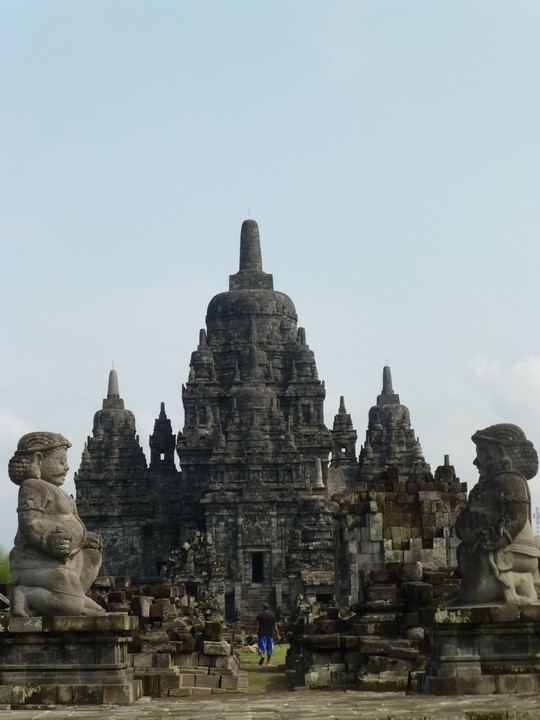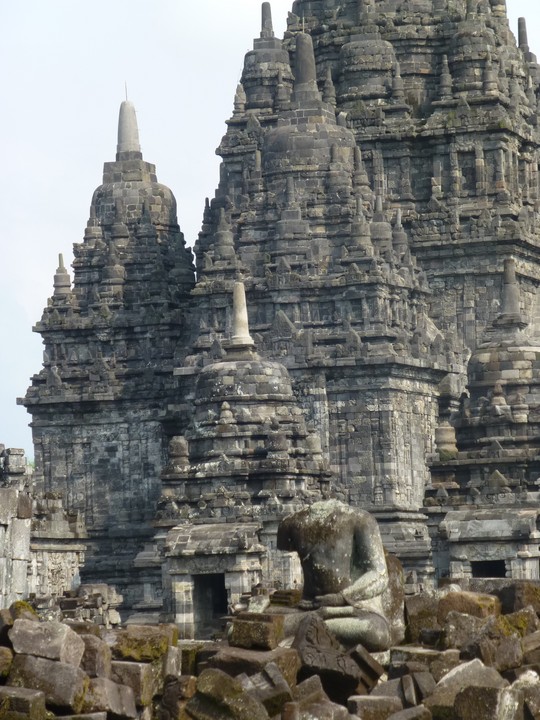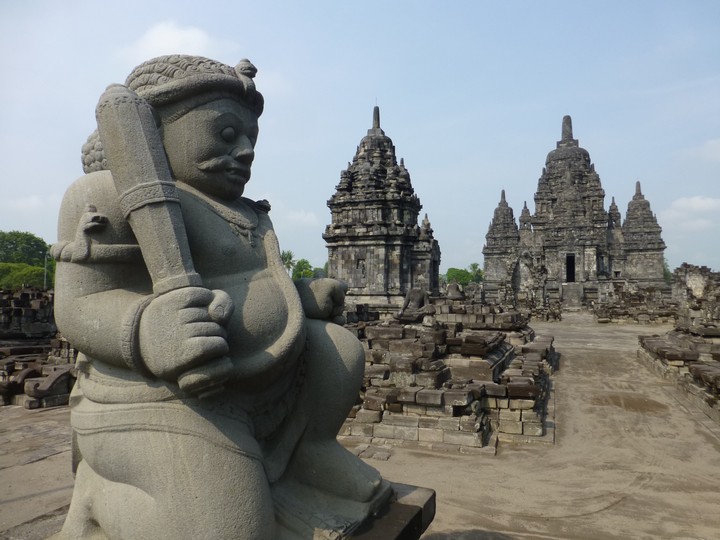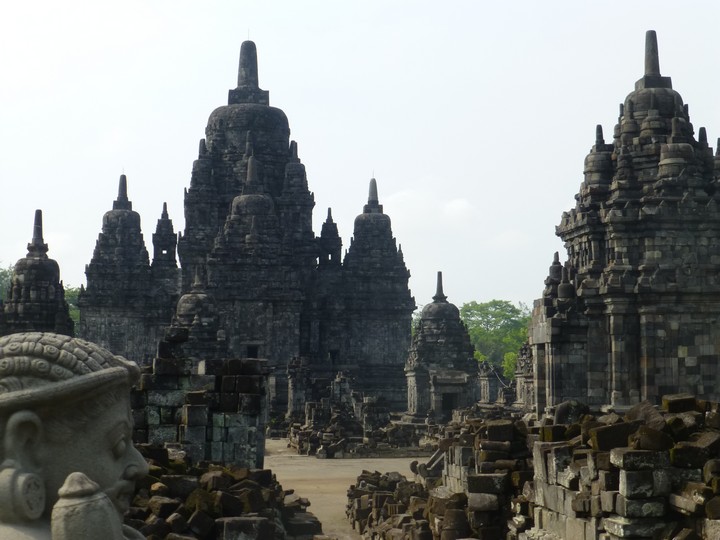 Dragonfruit trees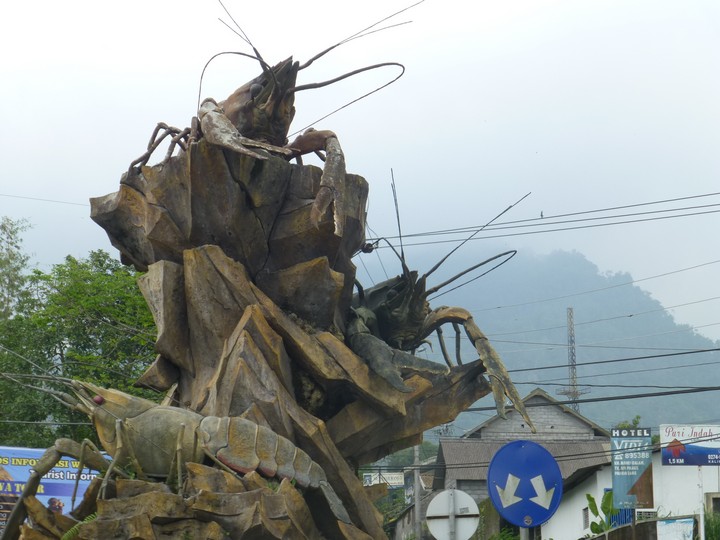 I never saw any dishes featuring crayfish in this town, but they felt the need to honor them with a towering monument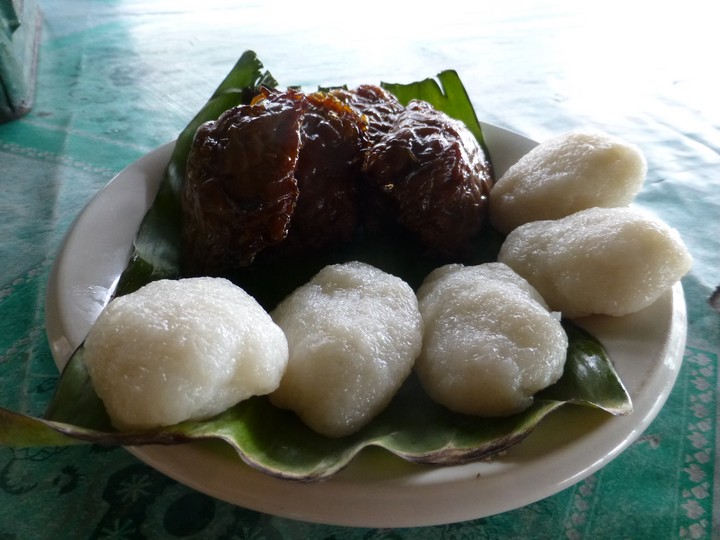 Globs of coconut and slabs of tempeh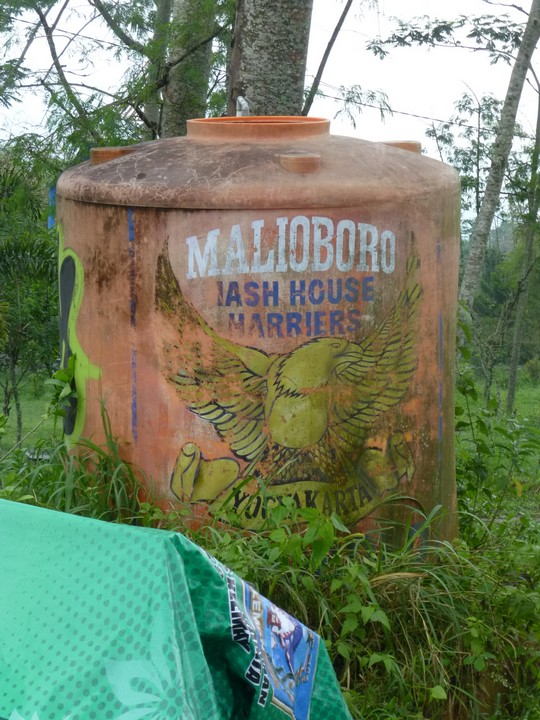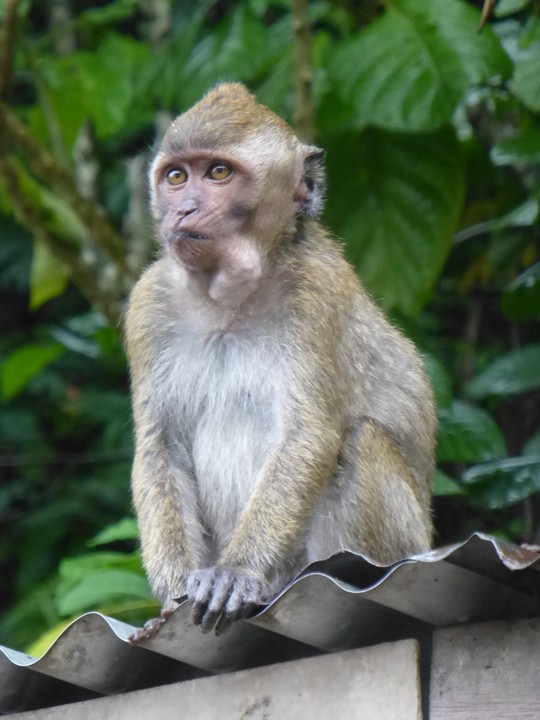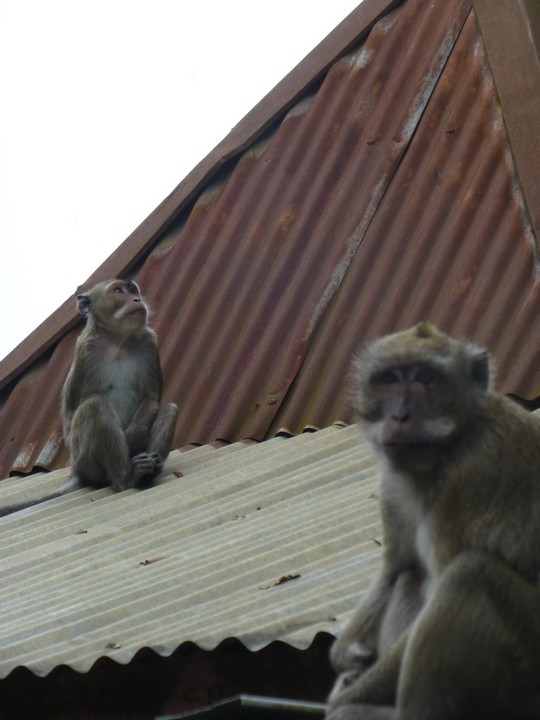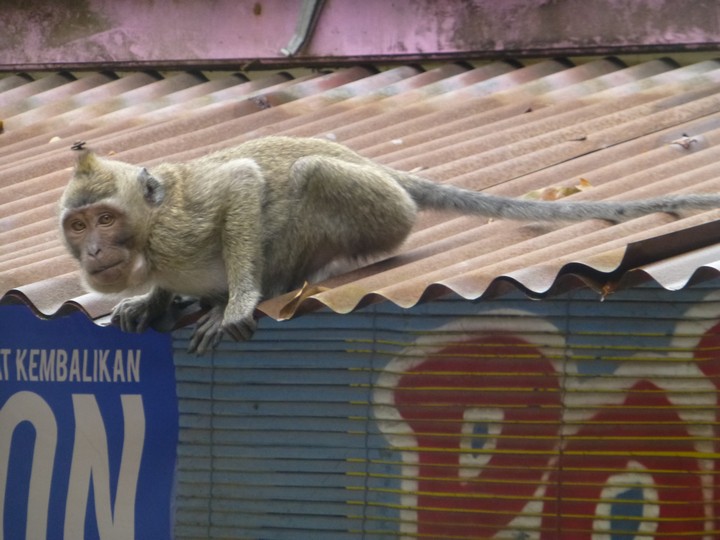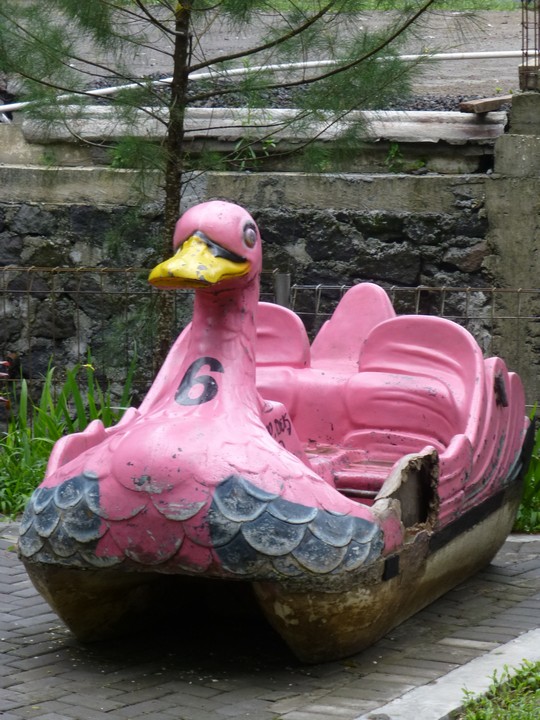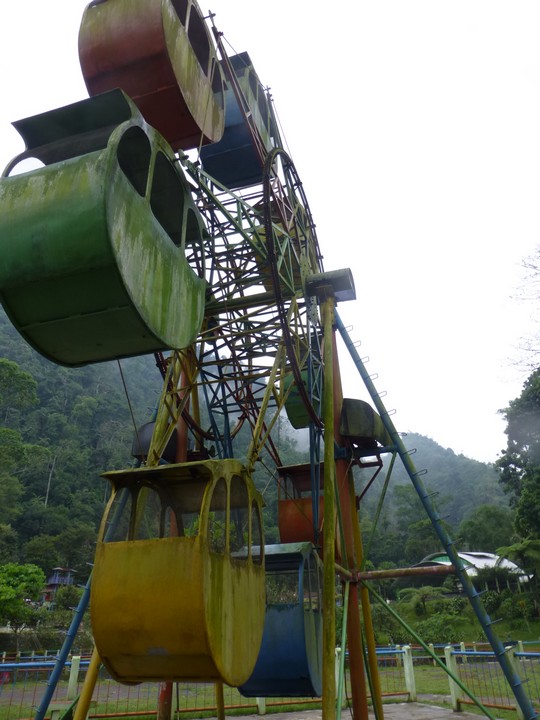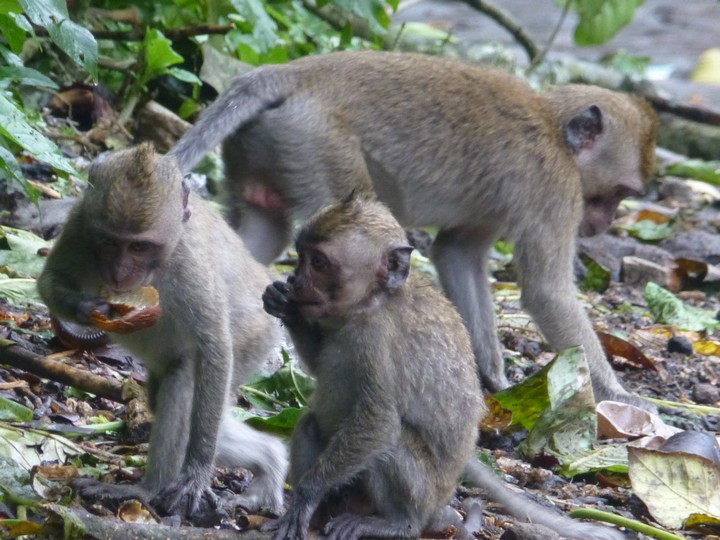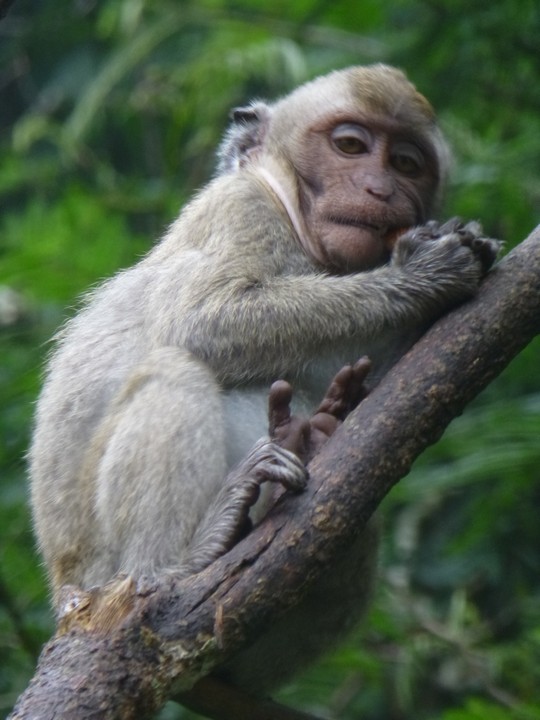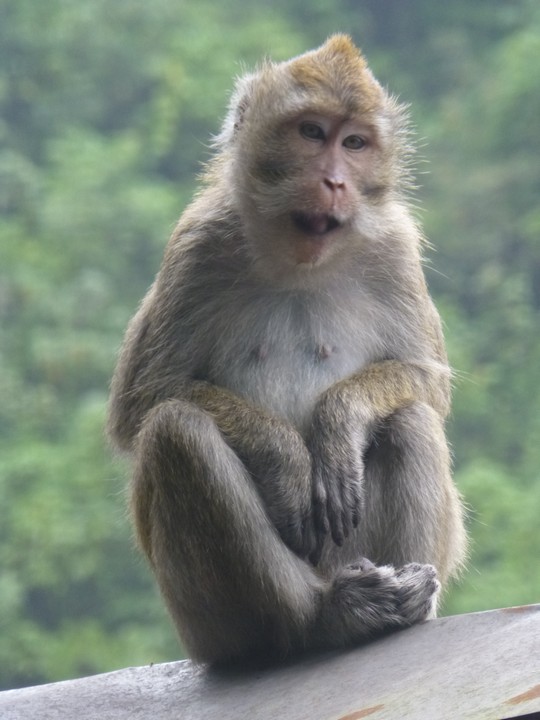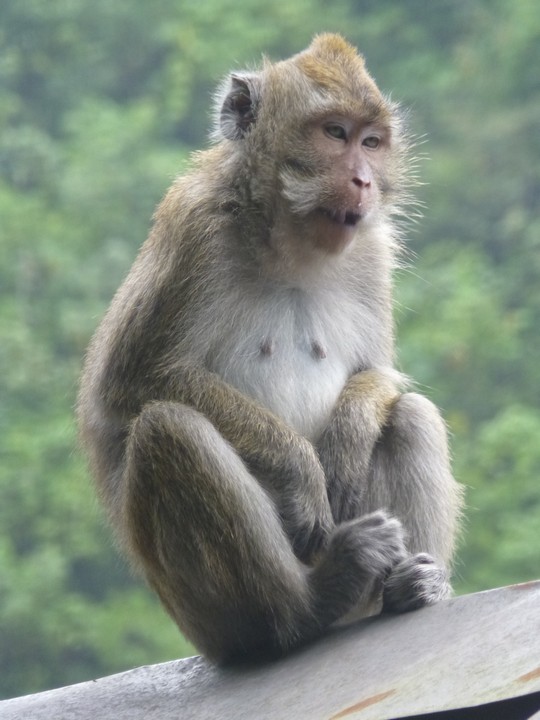 Thurday, November 20th - Lava Beds and Boroburder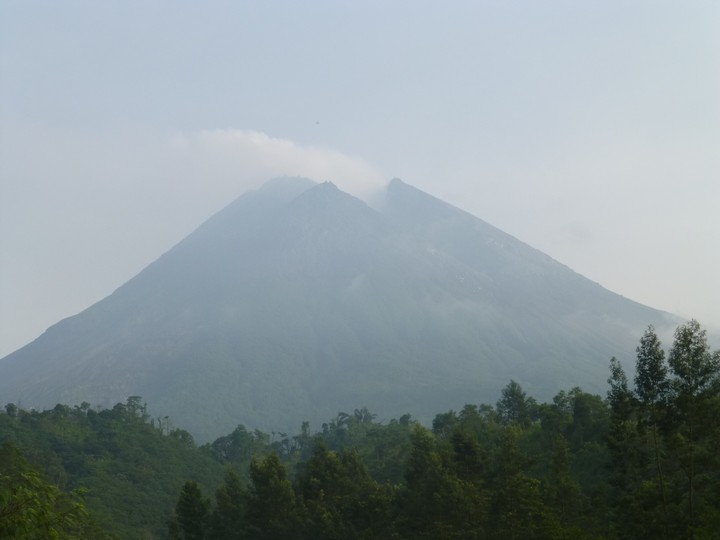 Mt. Merapi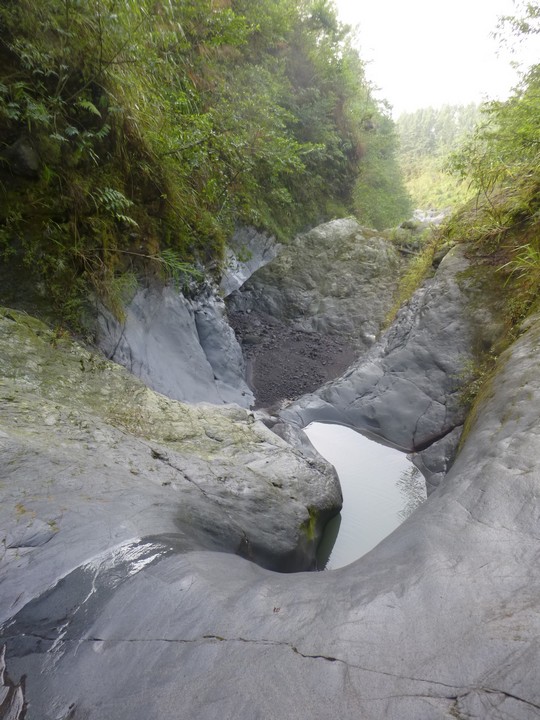 Canyoneering down the lava beds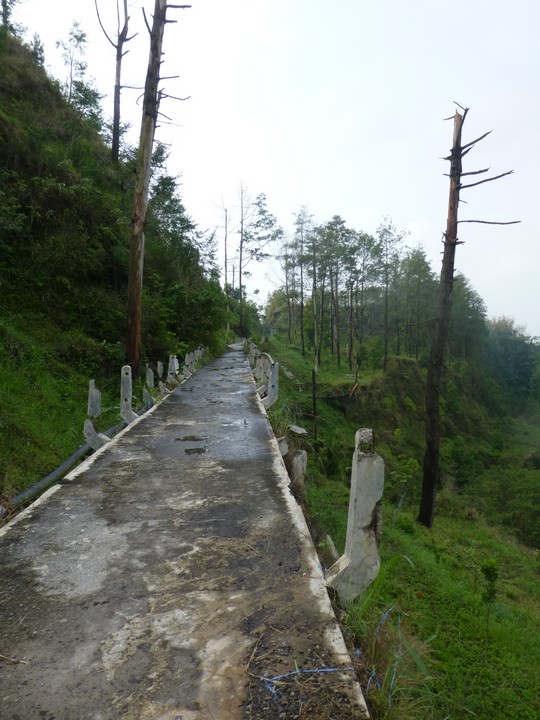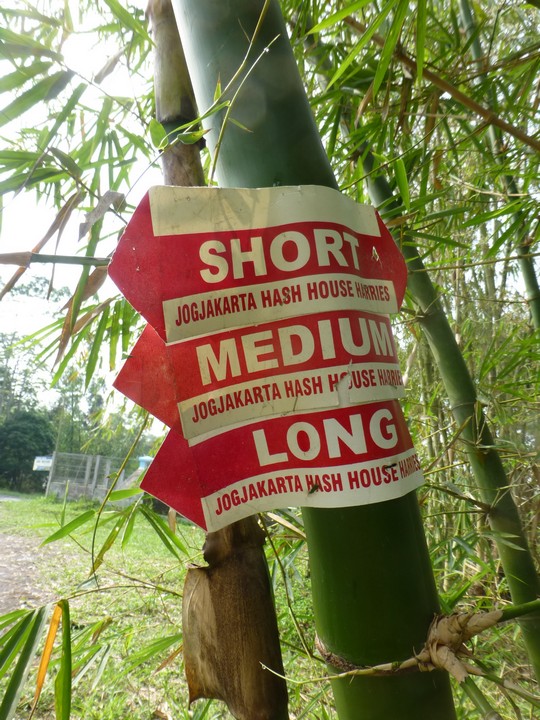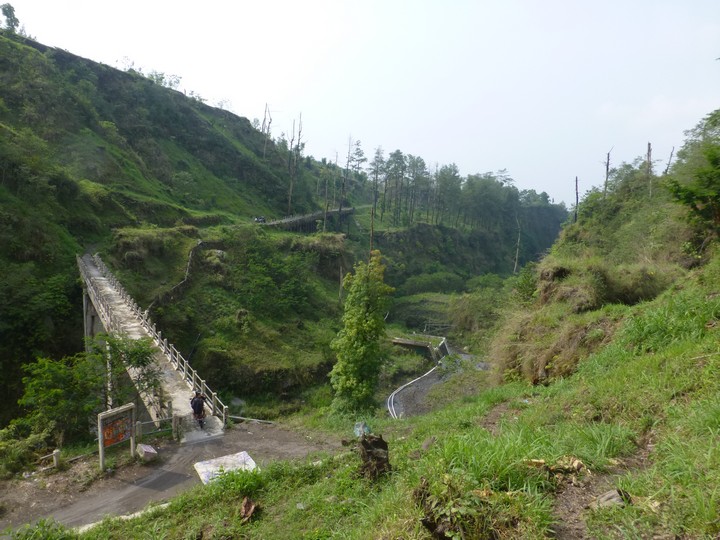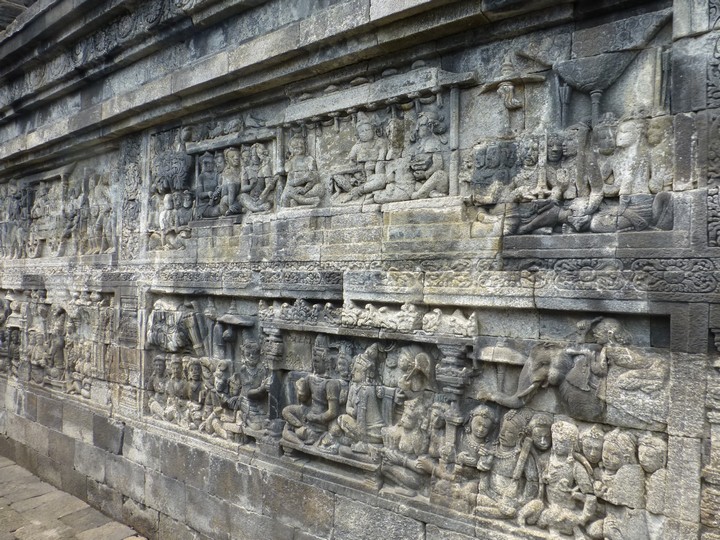 Carvings of Boroburder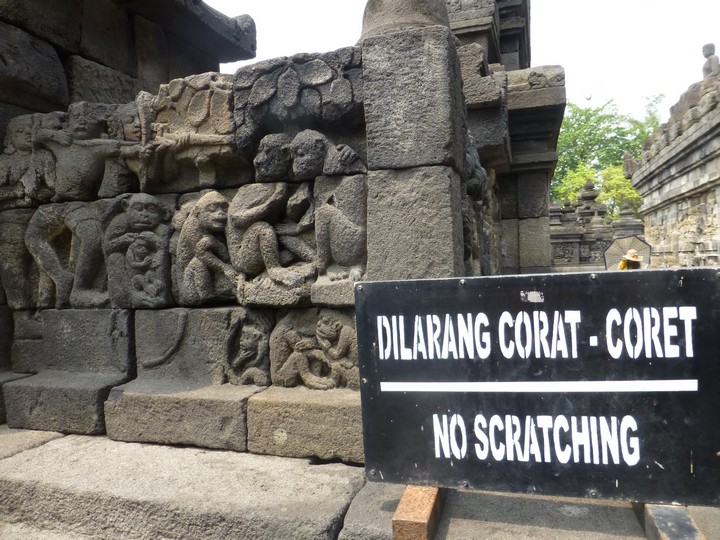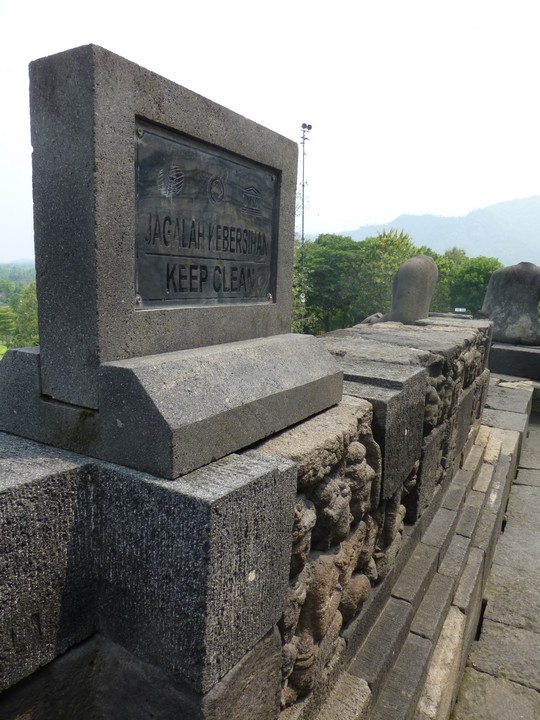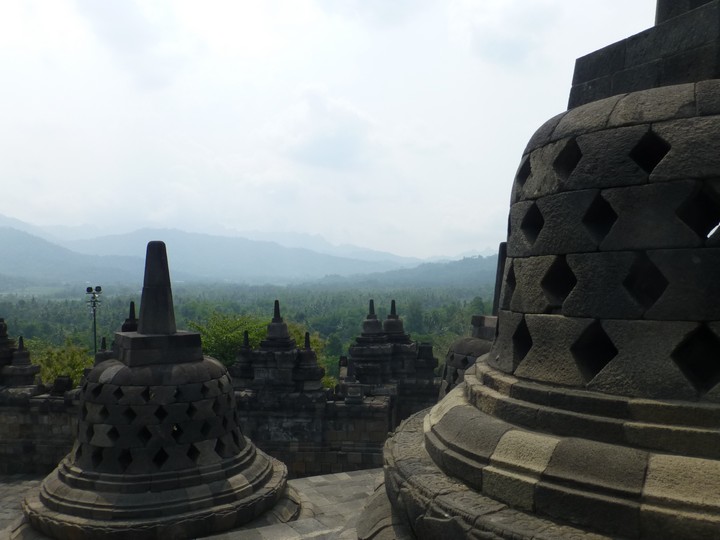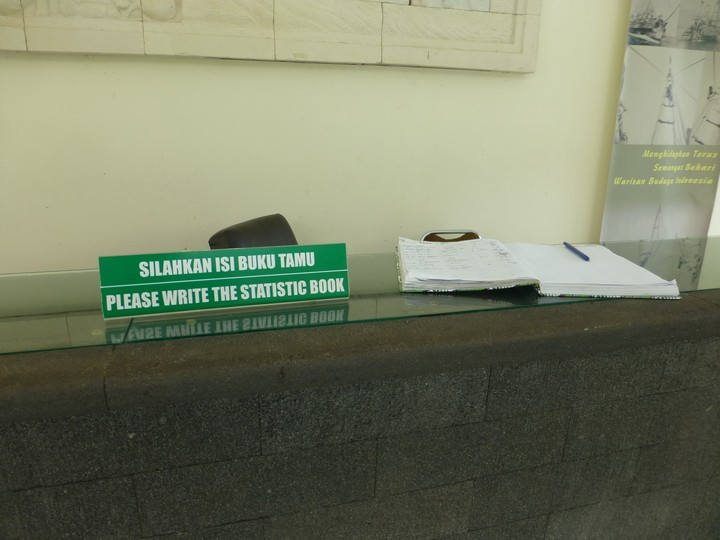 Entry to the museum is free, but first you must complete a small task...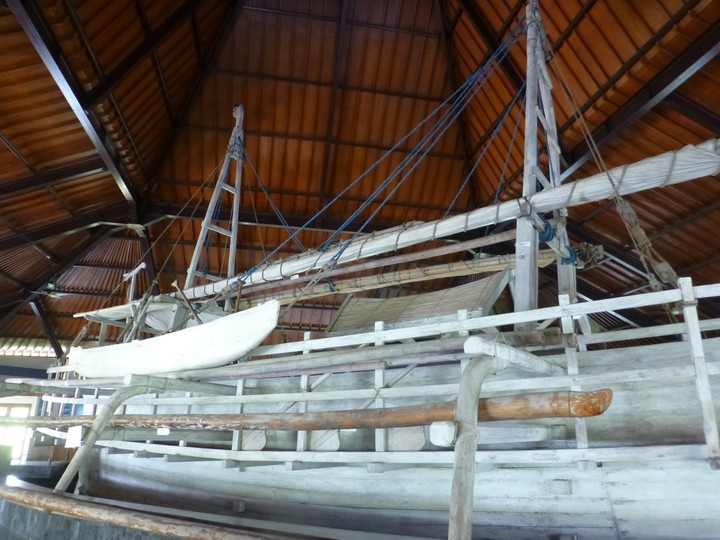 An Australian built this boat based on the temple carvings and sailed it to Ghana

Curio museum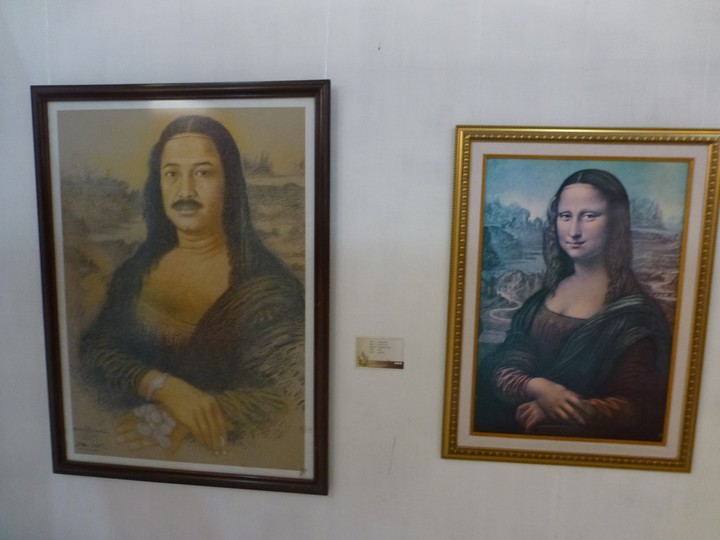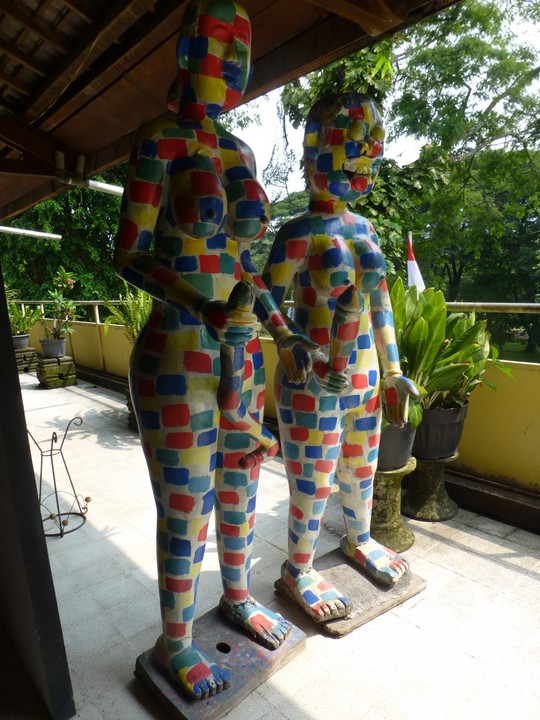 Certainly curious

Another $10 temple
Friday, November 21st - Dieng Plateau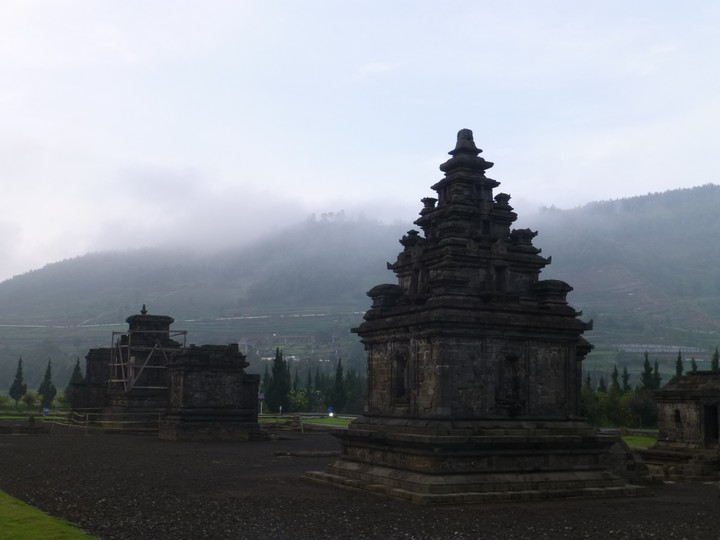 Temples of the Dieng Plateau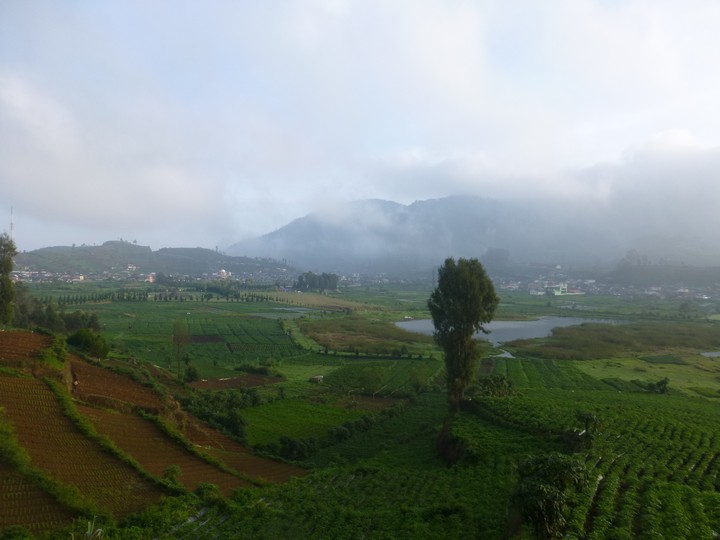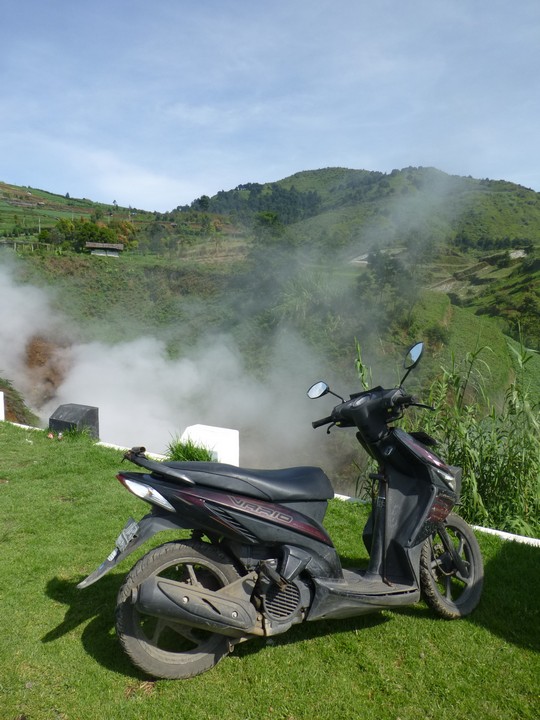 Sulfur clouds from bubbling vents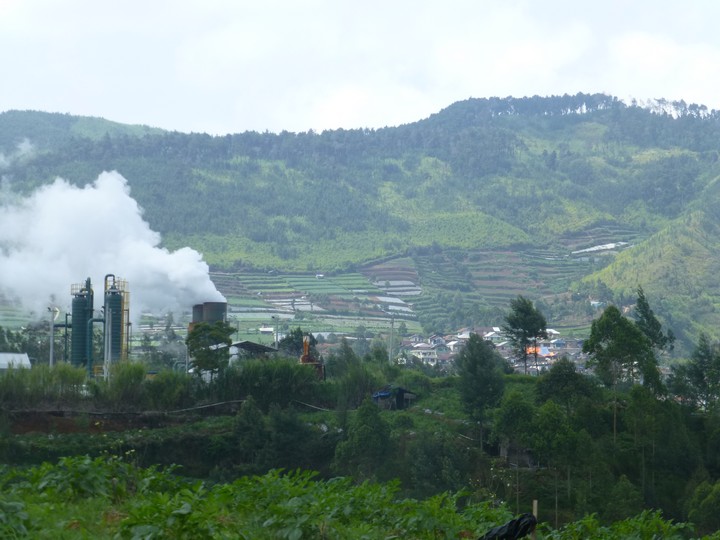 Geothermal plant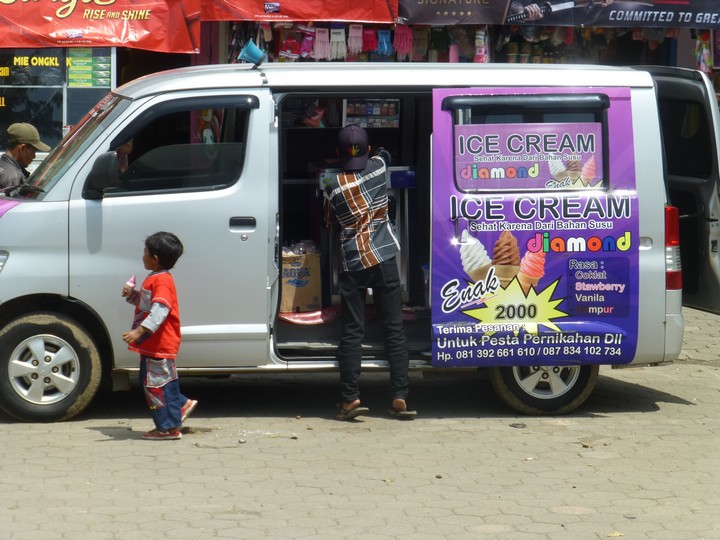 This truck plays a song that goes something like "Ice cream, ice cream, ice cream... ice cream"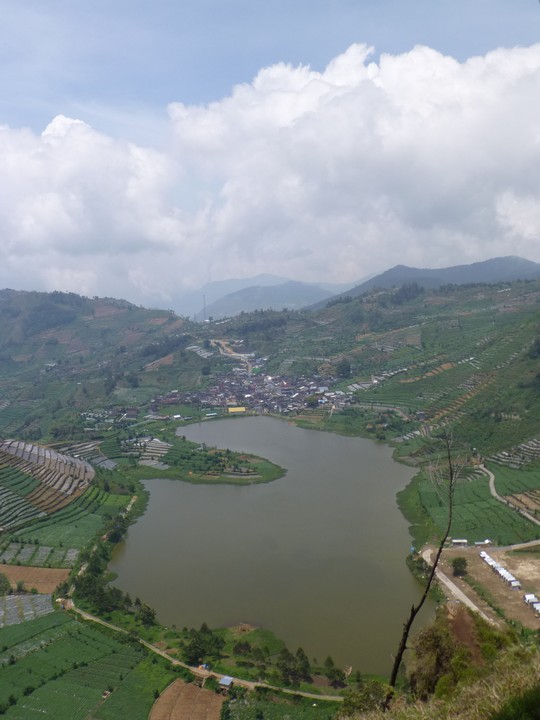 Carica fruit - basically the central focus of the area's tourism industry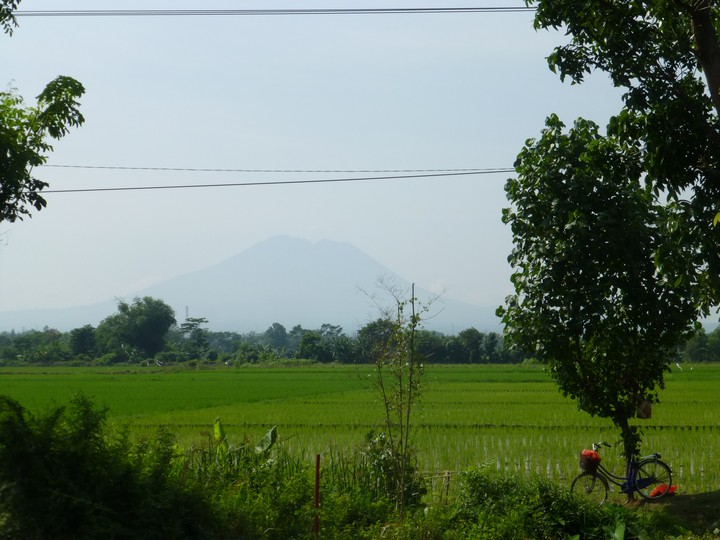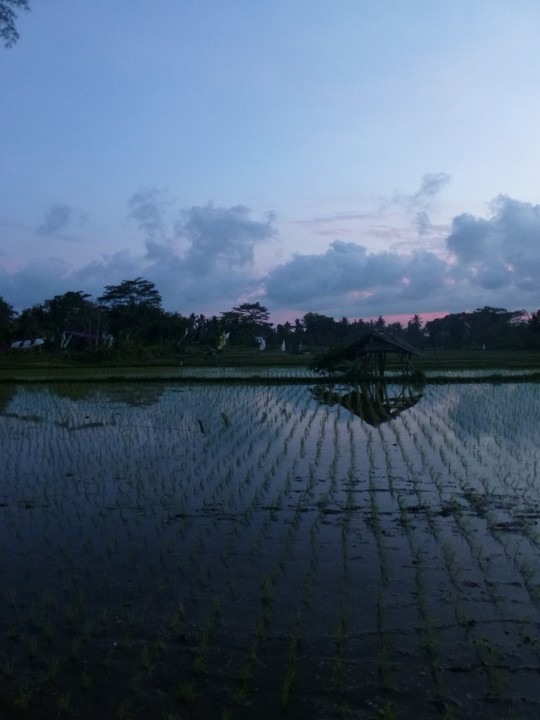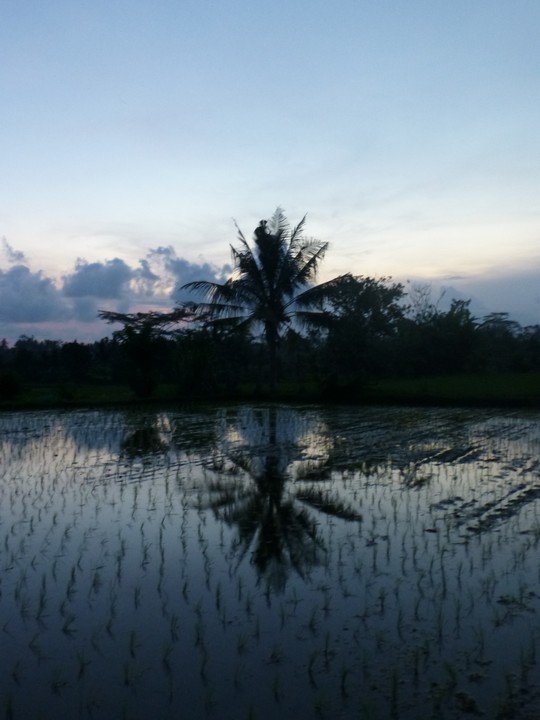 Saturday, November 22nd - Wednesday, December 3rd - Sustainable Technologies in Ubud

The result of 22 hours of riding
Costs (US$1=12220 Indonesian Rupiah, 1102 Korean Won, 30.94 Taiwanese Dollar)
Delta flights from Philly to Seoul (overnight layover) to Denpasar to Taiwan (overnight layover) to New York: $510
Greyhound to Washington DC: $52.50
Megabus from DC to Philly: $9.50
Philly subway to the airport: $6.50
Seoul subway from the airport: 3,950 won
Udon noodle bowl: 3,000 won
Bimbimbap: 7,500 won
Guesthouse in Kuta with fridge/wifi/breakfast: 120,000 rupiah
Rice with veggies and tempeh (nasi sayur): 5,000 rupiah
One month motorbike rental: 600,000 rupiah
One liter of gas: 6,500 rupiah (changed to 8500 halfway through the trip)
Ice and mixture of awesome sweet things (es campur): 3,000 rupiah
To-go packet of rice and tempeh (nasi pecel): 1,500 rupiah
Avocado smoothie: 5,000 rupiah
Internet (20 minutes): 1,000 rupiah
Boroburder admission (half with a student ID): 240,000 rupiah
National park admission: 140,000
Highway motel: 60,000 rupiah
Homestay on outskirts of Ubud with food showing up randomly throughout the day: 60,000 rupiah
Palatial room in central Ubud with attached bathroom, porch and kitchenette, massive banana pancake, egg, and fruit salad for breakfast, and coffee throughout the day: 100,000 rupiah