Patagonia - December 27th - January 27th, 2017
New Years has never been a particularly convenient holiday. It's in the middle of the night in one of the coldest months of the year. Often you're expected to stand amidst a dense sea of people, or jump in a frigid body of water, or climb a mountain. While you might have the perfectly natural inclination to find the nearest pile of blankets and pass out, attempting to do so will doubtlessly draw the ire of friends, family, and any random barfly you happen to talk to over the next few weeks.
Last year there was an impromptu mass gathering back in Gainesville. This involved an 18-hour drive from Pittsburgh, which seemed rather inconvenient at the time. But it was rewarded with midnight cave swims, cruising in pickup beds, and non-stop potlucks.
This year, a 23-hour drive to Miami was only the beginning. From there, an overnight flight took me to Santiago, but not quite quickly enough to catch my connection to Punta Arenas. The airline gifted me a new ticket for 24 hours later and I arrived just a few hours before Frank and Kerry. We had planned to hitchhike northward at breakneck speed to reach Mike and Chelsea in El Chalten, but the drivers of Patagonia were oddly unamenable to picking up our group of three scraggly backpackers and we eventually opted to head towards Torres del Paine instead.
After paying our $33 entrance fee and learning that we were required to obtain permits months in advance in order to do anything in the park, we each shelled out another $12 to sleep in a plastic bag in a campground that wasn't within walking distance of much of anything. On New Year's Eve, we hiked to a cozy lodge up the road and tried to order their cheapest bottle of wine, but discovered that everything under $70 was sold out. We lamented not buying one of the plentiful $2 bottles in the stores back in Puerto Natales. The next stop was a much swankier hotel full of beautiful, impeccably clean rich people. We waited for the staff to hand us our free glasses of champagne and party favors, but our unshaven faces and ragged clothing gave us away and they escorted us out of the building with just 15 minutes remaining till midnight. Feeling defeated, we trudged back to our campsite and celebrated quietly in the chilly darkness before retiring to our emergency bivvies.
I had realized sometime back from a random sampling of Denverites that Patagonia was fast becoming the next Costa Rica. But I had not imagined the degree to which the world had descended on these lonely pampas at the end of the world. My flight down had been reasonably cheap, but my daily searches for a route back yielded nothing under $1200. It would be a full month before the first affordable flight would depart Lima, 6000km away. I would spend the next month slowly making my way north, by foot, thumb, ferry, and luxury bus, to Uruguay, from whence I had secured a discount flight to the Peruvian capital.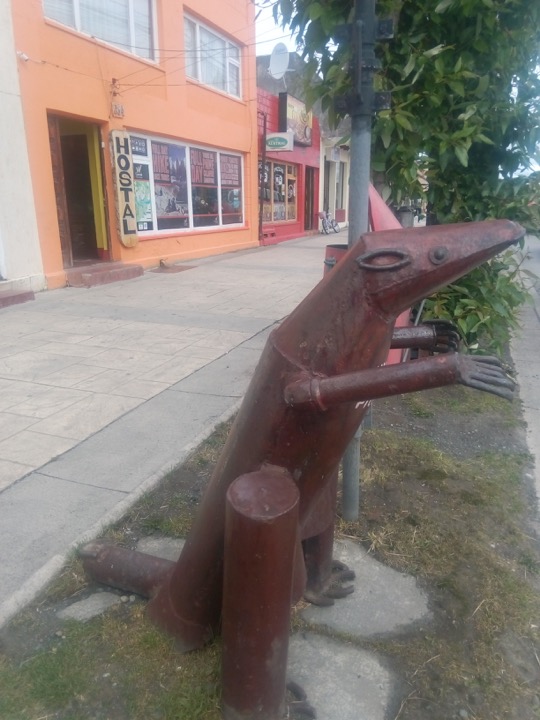 Milodon trash can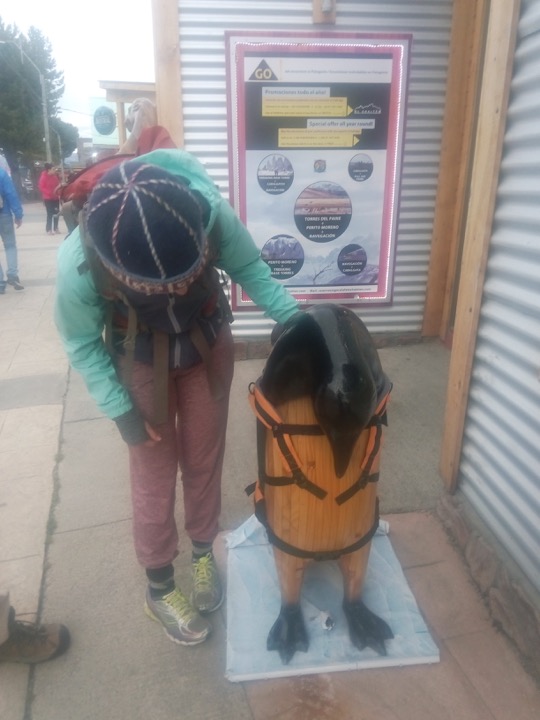 Kerry consoling a sad penguin trash can wearing a full body harness
Cute cuddly lambs
Town pier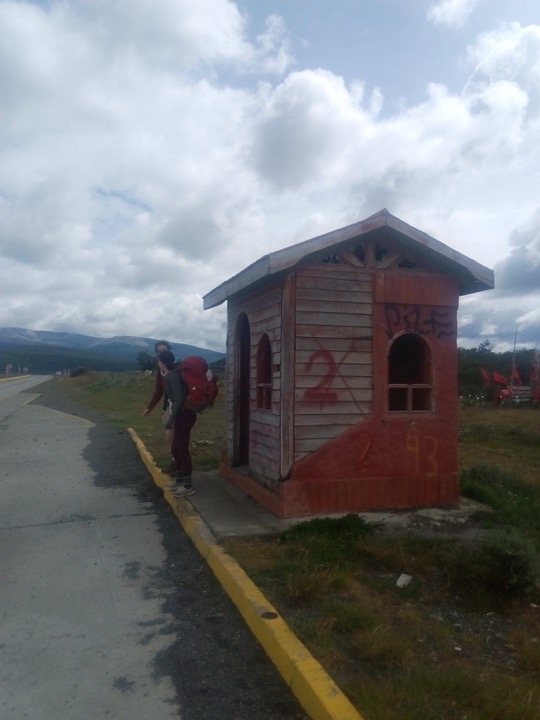 Apparently a terrible spot for hitchhiking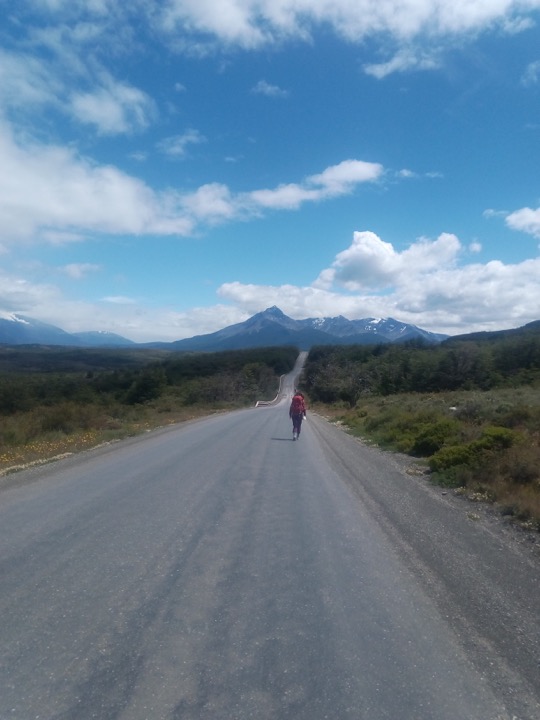 Giving up and walking the 400 miles to El Chalten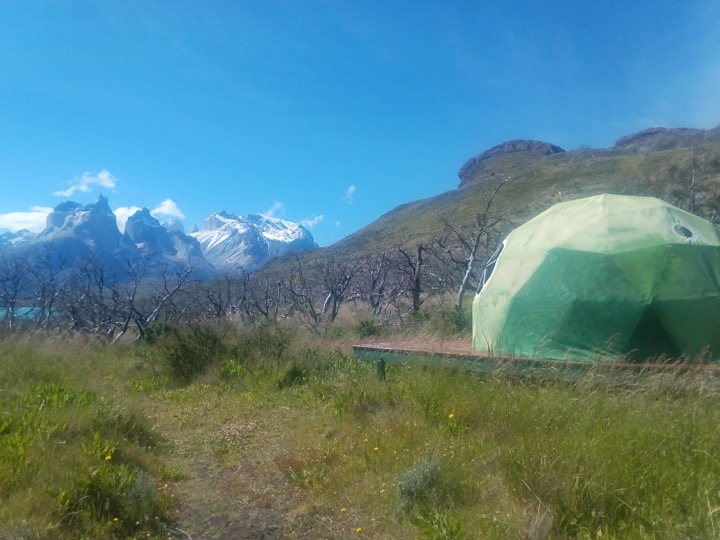 Backup geodesic dome just in case my emergency sleeping bag didn't keep me warm enough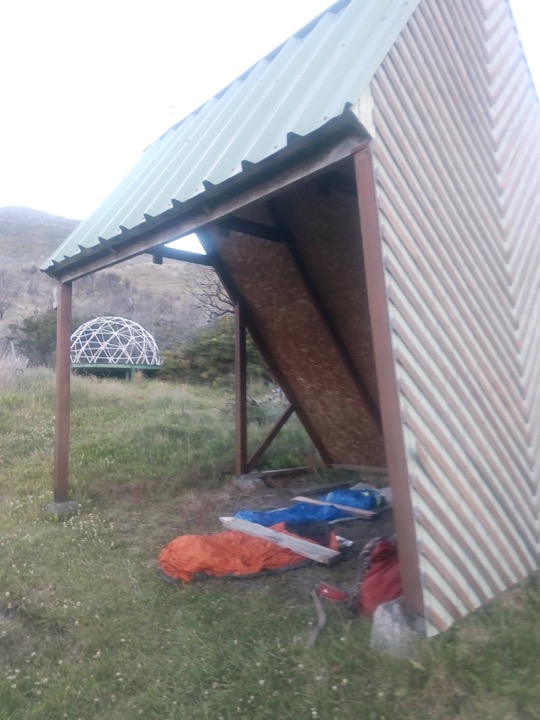 Frank and Kerry's sleep systems, anchored against the wind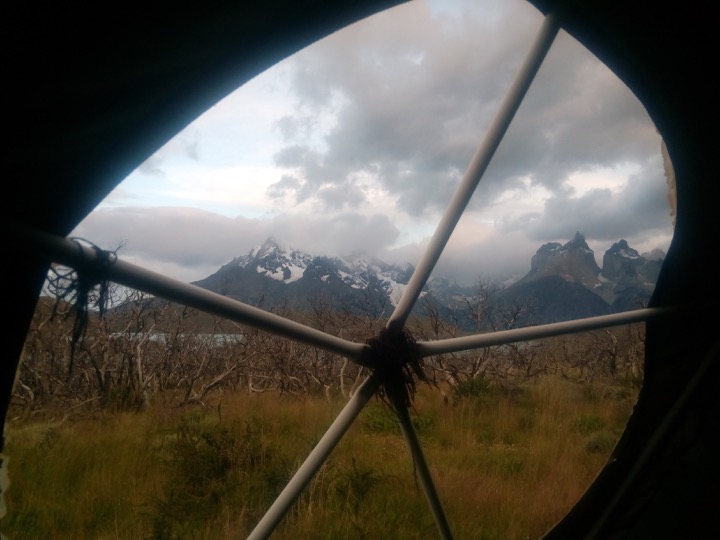 Inside the dome
A Good Day of Hitching
Since the permitting system in Torres del Paine was brand new, and none of the current visitors to the park had actually managed to secure permits for their backpacking trips, enforcement was still quite lax. Our plan was to go and hike the multi-day W trek un-permitted, sleeping in our plastic sacks at one or more of the free campsites along the route. I had been wildly successful with hitching in the park thus far; the previous night, I had been picked up as soon as I left the campground by a guy from Denver who had worked for 20 years with the US Antarctica program. After a quick jog around some lookouts and waterfalls, a couple from California, who had seen me on the trail, soon drove me straight back.

We got an early start on New Year's Day, which might have been a great idea had we had our own transport, but as we did not, we waited for half an hour without seeing a single car. This was enough to bring Frank and Kerry to despair and they resolved that the hike was not meant to be and that they would probably just return to Punto Natales and catch a bus up to El Chalten. No sooner had they come to this resolution and stepped away from the curb than a car stopped and took me directly to the trailhead. My driver was a New Yorker, who made record time in spite of the rough road and his decrepit 80s compact that he had rented from a shop in Ushuaia, which was now riding on a rapidly deflating spare.

Since I was not nearly as gung ho as the other two about sleeping in my emergency sack, I opted for a day hike to the Torres viewpoint. It was a trail reminiscent of every 14er in Colorado, with hundreds of people crawling around each other on a long, drab, uphill slog. As is often the case, the upper halves of the towers were enshrouded in clouds.

Since I finished after the overnighters and well before the daytrippers, I had a long wait before the first car came along. My ride was an older Turkish couple that hadn't set foot on the W trails, but had come to do some birding. The man stopped half a dozen times to snap photos of every guanaco herd we came across; my previous driver had nearly plowed through several of these in his impatience to reach the hike. They gifted me dried fruits, for which I was quite grateful, since I had opted not to buy the $10 granola bars on sale in the gift shop.

I was dropped off at the intersection where I could catch a ride to the east entrance of the park. A park ranger jeep stood nearby as I stood in the cold drizzle and attempted to flag down cars. Apparently a bit bored with whatever their current task might have been, the rangers circled around and volunteered to drive me to the far extent of the park, where I could catch a bus to the Argentinian border. Along the ride, I spotted what appeared to be a cougar snacking on something in a roadside bush. I mentioned this to the driver and he did a u-turn, and inched along a few feet at a time, asking at each patch of foliage if we had reached the point where I had seen the cat. Sadly, we never managed to confirm the sighting.

At a small hut on the edge of a vast ranch, seemingly all but inaccessible to foot traffic, the rangers waited for me to catch my bus. It was only a few minutes before the expected bus pulled up, probably the only one to ply that route all day. I rode for twenty minutes, never fielding any request for a fare, and was dropped off at a lonely border post in the decaying village of Cerro Castillo. I checked out of Chile and began walking through the miles of no man's land separating the two posts. After a few cars passed, callously leaving me to my fate in the vast nothingness, a man in a tourist minibus stopped and picked me up. Apparently he made $1000 on the daily westward run, but wasn't allowed to take fares from Chile; he also wasn't permitted to transport me, and so I had to get out and walk the final fifty feet to the post, declare myself as a pedestrian, then meet him a hundred feet down the road.

We only made one stop for mate and made excellent time on the empty 300km stretch to the turnoff for Chalten. A buzzer would sound whenever the van exceeded 120kph, which happened pretty often. He dropped me off at the junction around 10pm and reassured me with the suggestion that I could sleep in a roadside gutter if no one came along. But after only ten minutes, a dirtbag van pulled over and invited me along for the final 2-hour stretch. The driver put down his spliff so he could shake my hand, and introduce me to his dog, who immediately let loose a mighty torrent of drool onto my pants.

We arrived in El Chalten just after midnight and he dropped me at his friend's hostel where I secured the last available bed. I had made it the equivalent of a ten-hour drive in just eight hours, spent zero money, learned tons of Spanish, and got free snacks; this would certainly find a place in the upper echelons of hitchhiking success stories, and would stand in stark contrast to every other attempt I would make in Patagonia. Kerry and Frank, traveling by the first available bus, would not arrive until late the following afternoon.
Not quite a llama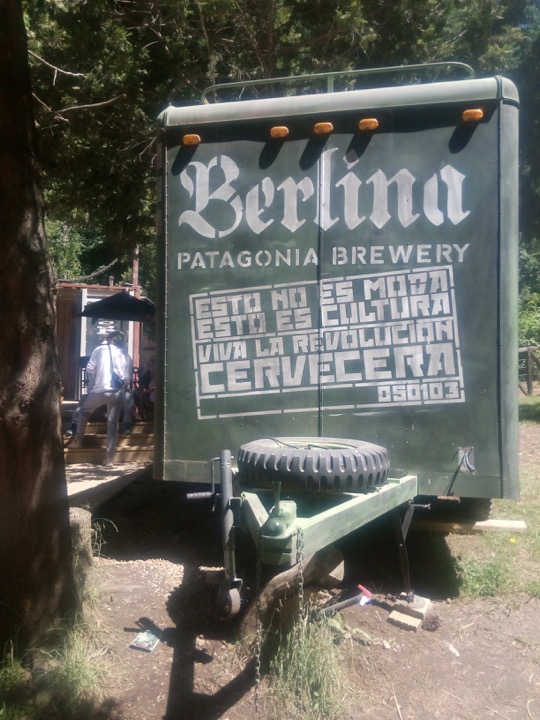 The craft brewery revolution has taken Patagonia by storm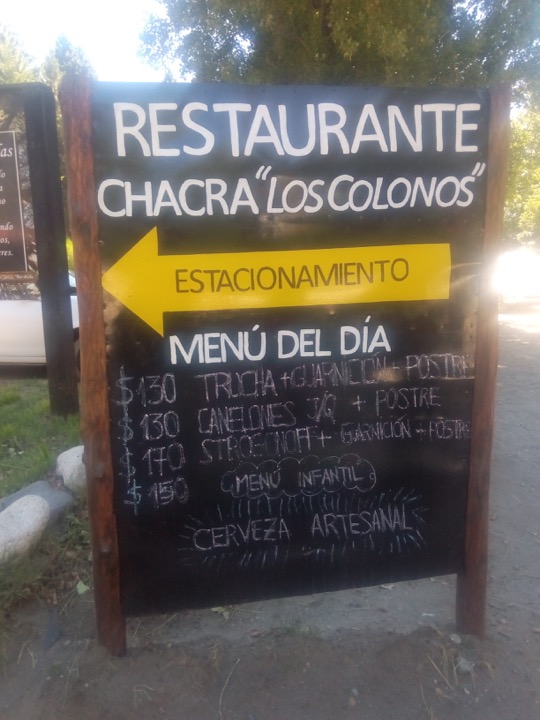 Why is the children's menu just beer?
A Moonlit Stroll
Much like the Alps, New Zealand, and Colorado, Argentina has its own comprehensive system of mountain huts. But out of all the huts that sprinkle the peaks and valleys around Bariloche, only Refugio Frey takes reservations. For the remainder, you can theoretically just show up and they will find space for you. And it was this in mind that I set out at 5:30PM to spend the night at Refugio Italia on the banks of Laguna Negra.

It was an easy 2.5 hour hike, punctuated by awkward acrobatic maneuvers around giant scout and meetup groups. Perhaps these should have been a warning sign, since there was really only one place they could have been heading. As I approached Laguna Negra, a tiny hut came into view, and next to it lay a small backpack mountain. Inside, the temperature rose by forty degrees, but this was less due to any heating element and more to the hundreds of bodies tightly squeezed into the space. I met the caretaker, who assured me that if I wanted to stay, a spot could be found, but my calculations suggested that I would likely be standing. I asked him about the next hut on the trail, and he explained that it was four hours away on a difficult trail. "I can't stop you from trying to get there tonight, but I certainly won't recommend it."

I set out on a technical boulder hop with an anticipated midnight arrival at Refugio Lopez. The first part of the trail was akin to a via ferrata route and required descending rock faces on iron pegs and rungs over the deep frigid waters of the lake. A long talus scramble brought me to a ridgeline where a vague trail of cairns indicated a rapid descent down loose scree. At a jog, I descended two thousand vertical feet over the course of two miles, at one point switching from a semi-controlled slide down volcanic sands to a vine swing through a dense forest. If I had checked my map earlier, my night might have turned out differently, but as it was, I intentionally avoided looking at my phone for a full hour so that I could be that much further toward my goal when I finally referenced my location cursor in Maps.ME.

I crossed a creek and pumped a liter of water, and finally took a moment to confirm my progress. The blue dot appeared impossibly far away from my intended trail. I would have to return up the steep, loose slope, to reach the ridgeline I had left an hour before. Even at the comparably low altitudes of Patagonia, the ascent accelerated my heart rate to dangerous levels and it was a full two hours before I approached the final talus scramble. The evening had descended into total darkness and I lost the trail; I picked a route but shortly found myself on difficult fourth class moves, and descended again to find an easier path. Unable to pick out the faint rock markings from more than a few feet away, I swept back and forth, trying to push the blue dot back to the indicated line on my screen. I descended through some sort of marsh, desperately trying to keep my shoes dry while hopping between uncertain sod tufts. Eventually, a deep wood unfolded before me and I unrolled my emergency space blanket sack that would allow me to survive until daylight's return.

It rained at night, depositing an icy pool at my feet, and soaking me through. I had enough layers that I was in no danger of hypothermia, but neither was there any risk of falling asleep. The next day, I would pass a sign that claimed cougars were active in the area and advised against solo hiking. An hour after daybreak, in an unrelenting drizzle, I exited my sodden sack and set off for the summit of Cerro Lopez.

It took no time at all to lose the trail once more and the summit was reached via a fifth class climb up a waterfall. From there, it was an unrelenting hour of down-scrambling to reach the hut. I told the caretakers my story and was rewarded with a free pack of knock-off oreos. These would form the better part of my breakfast and lunch for the day.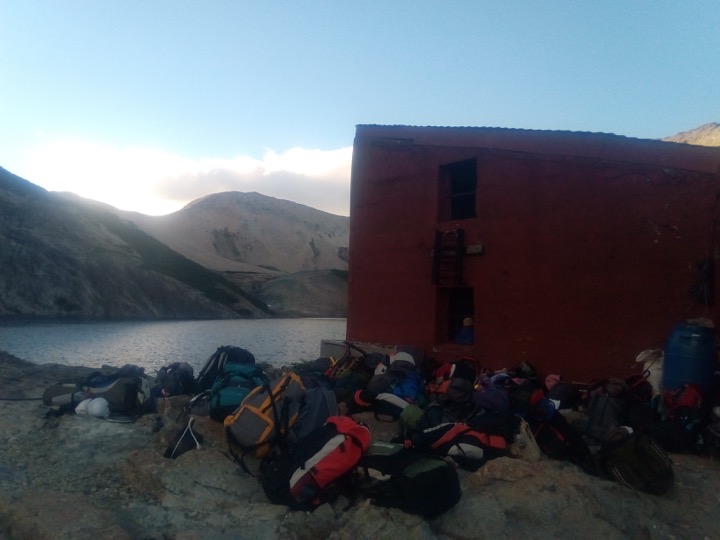 They don't take reservations for the huts around Bariloche, so I arrived at my intended sleep spot to find 200 scouts already staying there.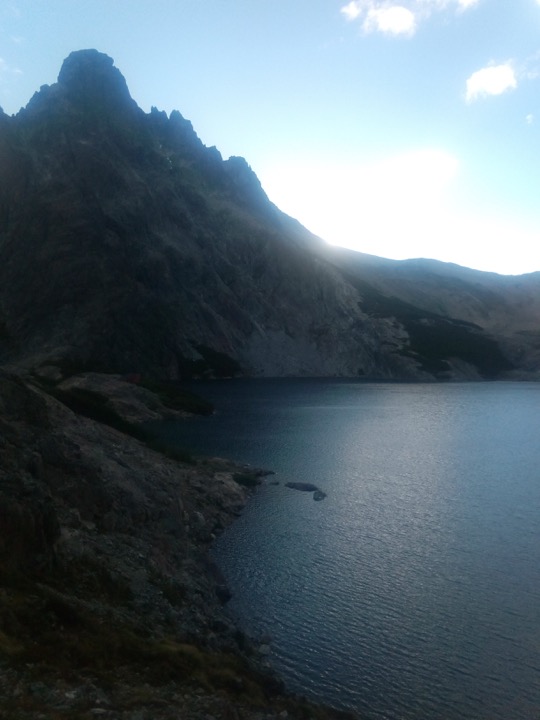 Always happy to start a 4-hour technical via ferrata route at 8pm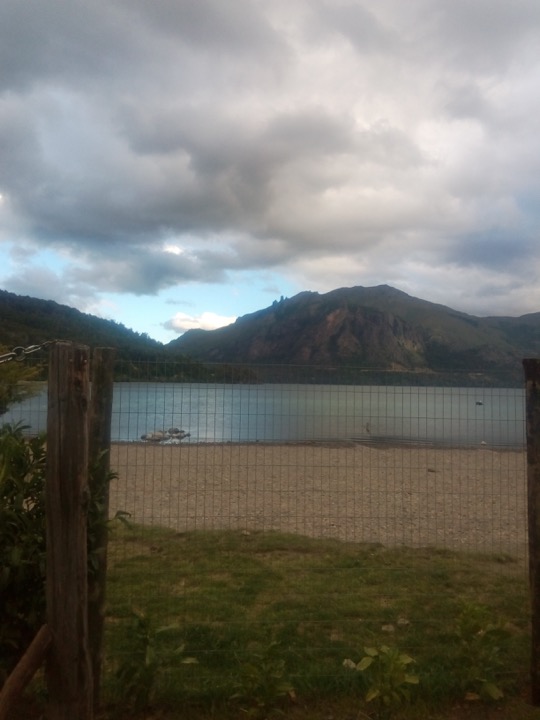 View from my free communal living quarters.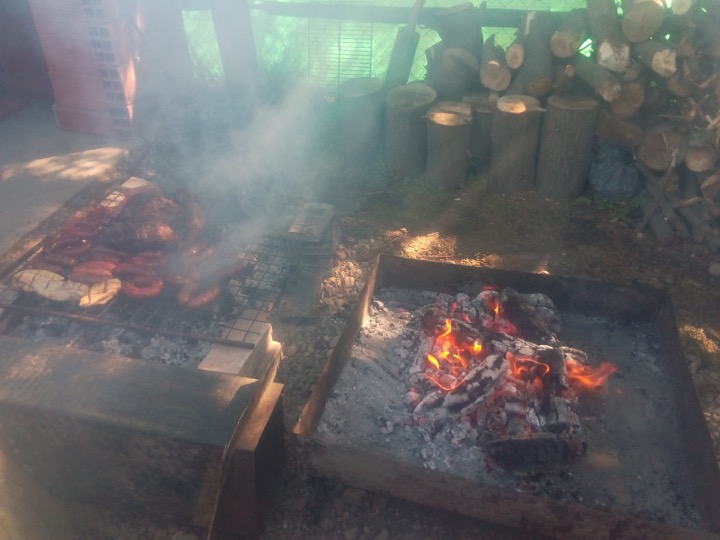 Traditional Argentinian over-the-top meat extravaganza.
A Country Without Crockpots
Recently, I ordered a month's supply of soylent, the revolutionary food replacement beverage. I found it to be extremely tasty and convenient, and finished off my entire supply in the first two weeks, but it never threatened to fully replace food. There was always something lacking, whether that was varied textures or the sensation of chewing, it would always be, at best, a food augmenter.

I have a similar relationship with Argentinian food. Whether you order suprema, milanesa, medalones, pollo en polenta, or any one of a hundred other dishes, you will always get roughly the same thing: a steak. Sometimes it's made of cow, sometimes chicken, sometimes seitan, but it's always a large chunk of protein, usually breaded, never stewed. Often it's accompanied by mashed potatoes or a squash, but never rice or beans. And I inevitably leave the restaurant feeling somewhat empty inside. Argentina is a country that has never learned the value of sauce, or mixed veggies. A quest for a hearty soup or goulash will inevitably continue until you cross a border into one of the state's more enlightened neighbors.

This would have been more of a problem if I ever managed to find an open Argentinian restaurant. Lunch hours are from two to four and dinner seldom starts before 9. The upside to this is a happy hour that extends well into the night, but for those on an American, or even Uruguayan, eating schedule, subsistence is usually found in pizza, empanadas, and quarter-kilo tubs of ice cream.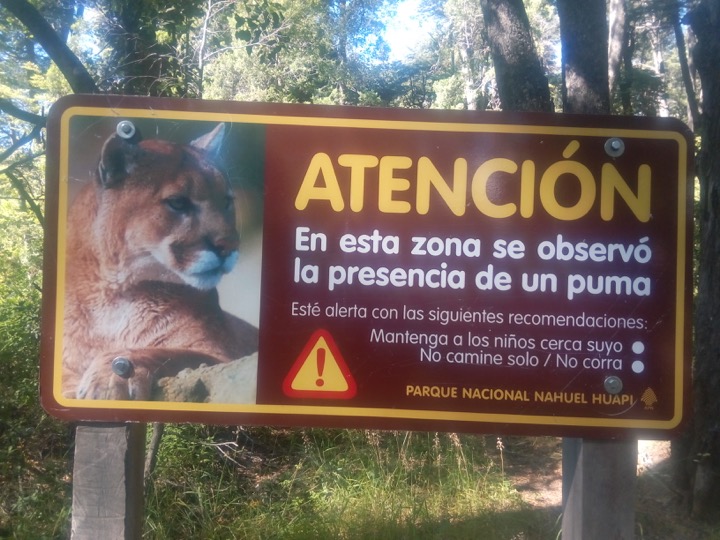 I saw this after I spent the night alone, in a remote mountain valley, in a plastic bag.
This rock has a shelter growing on it.
Bike-friendly BA
I had gone out for happy hour with Juli and her friend in the hip Palermo neighborhood of Buenos Aires. Conveniently, due to Argentina's bizarre meal schedule, happy hour lasts until 10pm, and we made it through several beers before the drink specials gave out. At the end of the night, my two companions debated how I might get back to my hostel, some 8km away. The subways had stopped hours ago, so the convoluted bus system was the only transit option left to me.

"I'm going to take an EcoBici," I announced. EcoBici is a city-sponsored network of free bikes; there are stations all over town, and you have up to an hour to ride a given bike from one to the next. I had gone to an office resembling the DMV and, excitedly grasping my allocated number, waited patiently amidst a sea of people to procure the card that would give me access to this network.

The bikes are not in good repair. When you swipe your card at a station, it will randomly unlock a bike, and it is then up to you to walk over and evaluate it. If it appears functional, you gleefully ride it off into the night, otherwise you push it back in and await another assignment. Often a station is empty or has only a few bikes that, through multiple rejections, the software has concluded are unfit for travel. Sometimes, stations lose contact with the network and enter a state where they can accept but not deliver, and become sinks for every remaining functional bike in town. Frequently a bike has no seat, or has one that's rusted to a child's height; in practice, this is a best case scenario. One time, ten minutes into my ride, the handlebars fell off and awkwardly hung to one side, and I had no choice but to carry the bike half a mile to the next station.

My friends expressed some surprise that I would propose riding so far by myself in a strange city in the middle of the night. But in these situations, I was accustomed to shock, to complete indignance demanding half an hour of urgent pleading, almost to the point of physical restraint. Did my two Argentinian friends care in the slightest about my welfare? Maybe not. Or maybe Buenos Aires was one of the greatest biking cities on earth.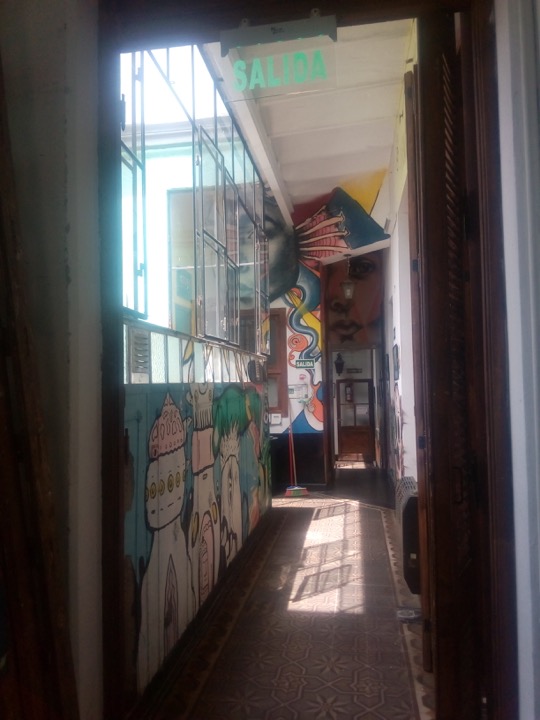 Artsy shot in my artsy hostel
The Sandwich Seller
I was 15km and 8 hours from my flight, and had a pocketful of coins totalling eight soles with which I would buy dinner and get to the airport. Eight soles might buy me an ice cream cone or slice of pizza in Buenos Aires, but on the streets of a Peruvian city, it was a small fortune.

I flagged down yet another bus from the main street in Lince. Like the five before it, this one was decorated with a string of suburb names that meant nothing to me. "Are you going near the airport?" I asked. The driver claimed that he was, naming an intersection not to be found on any map. I opted to take his word for it and handed him a 2-sole coin. An hour later, we stopped just before the junction for the airport. I imagined the bus would soon make the turn, but it instead remained on the same bearing and accelerated to a ludicrous speed. I alerted the driver to my presence and he let me off, a kilometer away from a turnoff that lay 8km south of my destination.

I was two soles down and still a far cry from the plane that would carry me to the next continent. I passed an array of vendors selling all manner of meats on sticks, stuffed potatoes and soups of miscellaneous organs. Most were in the neighborhood of 4 soles and could make a tasty meal, but I vaguely remembered there being a couple of food stands just outside the airport and, not wanting to part with my bus fare prematurely, put all my hope in these. Back at the junction, ticket takers hopped in and out of a jumble of buses, shouting to passersby their destinations as if they were set to depart at any second. I frantically leapt aboard one and then proceeded to sit, whilst the bus made zero forward progress, for several minutes. I hopped off and walked to the front of the traffic jam and jumped onto the first bus that surpassed a strolling pace. An additional sole took me to a stop just outside the international terminal.

In a line of vendors was one woman selling an array of hot drinks and sandwiches. I got a steaming cup of quinoa drink for 1.5 soles and an avocado sandwich for the same. Two soles would be worth nothing to me once I passed through the doors of the terminal so I bought an egg sandwich which only depleted half of my remaining cash. What was the Spanish for "keep the change"? How could I non-awkwardly gift my remaining 33-cent piece to this humble sandwich seller? My language skills failed me and I stashed my last coin to be dropped in the "change for orphans" box.

She probably didn't remember me. I had bought a yam sandwich from her eight years before. And in the intervening years, I had traveled to the far ends of the earth, and she had remained right here, selling her sandwiches day after day. Did she realize similar sandwiches were on sale in the departures lounge for $5 each? Had she ever actually been inside the airport? Her prices had risen at the pace of inflation; I had probably paid half a sole before. How much less than a sole could an egg and a bun possibly cost? How many did she have to sell each day to make rent and feed her family? How many Peruvian families could I support with what I spent on rent, or food, or beer in a single month in Denver? Or with the price of a single ride to the airport?
Costs (US$1=15.54 Argentinian Pesos, 674 Chilean Pesos, 3.28 Peruvian Nuevo Soles, 28.6 Uruguayan Pesos)
Flight from Santiago to Punta Arenas on SKY: $65
Bus to Puerto Natales from Punta Arenas airport: 7000CLP
Menu Diario in Puerto Natales: 4000CLP
Hostel bed in Natales (sin desayuno): 11000CLP
Camping in Torres del Paine (car campground): 10000CLP
Torres del Paine admission (3 days): 21000CLP
Cheapest hostel in Chalten: 150ARS
Blue cheese burger: 130ARS
Two beers for happy hour: 120ARS
Gourmet empanada: 25ARS
Tarta (egg vegetable pie): 55ARS
Quarter kilo of ice cream: 50ARS
Bed bus from Bariloche to Buenos Aires: 1670ARS
Slice of pizza in BA: 22ARS
Boat from BA to Colonia: 650ARS
Amazing grilled veggie meal in Colonia: 120UYU
Bus to Montevideo: 354UYU
Alfajor: 30UYU