My New Life in Africa (June 17th-June 19th, 2013)
My group leader handed me my passport as I walked over to join the check-in line. I hadn't seen it before that moment. I felt a bit like a spy. I flipped it open to check that it was in fact my own. Sure enough, there was the selfie I had taken with my Android a few months ago. There was the last name "De Pree" which the passport office had once again managed to mispell - even with my correct passport as reference. This wasn't a new identity issued by a foreign power. This was the free Peace Corps Passport which was valid only for the duration of my assignment; as far as I could tell it didn't afford me any special privileges, though it would have been really nice if it had somehow exempted me from the $150 visa fees that every single tiny little West African country seemed fond of exacting on its trickle of erstwhile tourists. This meant I was carrying two valid American passports, which would be handy if I decided to take another swim with my money belt, or visit Israel - followed by Iran.
But how had I arrived at this point, readying to board the first of a series of transports and trainings to deliver me to a tiny village outpost in the darkest mountain jungles of West Africa, where I would remain for 2.25 years, a world away from the quiet streets of Gainesville which had been my home for the past twelve years? Thirty-two hours earlier I had been sitting in the Sarasota airport. And shortly before that, I had loaded those few belongings I had failed to sell or throw away into Aunt Barb's convertible so I could leave them in her closet for a time. I didn't know the first thing about Sierra Leone. It seemed few did. Apparently they spoke English and not French. And the war had ended some years ago. My friends threw an African potluck and masquerade for me. Most of the dishes were Indian. And most of the guests wore Mardi Gras masks. Close enough.
#1 on list of things never overhead at a Peace Corps volunteer's post: "I feel like I accomplished a lot today". <insert more background on decision to join Peace Corps here...>
My luggage finally rounded the bend of the carousel. I had been standing there for twenty minutes. I hoisted my 48lb pack onto my shoulders and felt something tear. This is why I had travelled with only a carry-on all these years. I would have done it this time – had it not been for the dodgeballs. The Lady Liberty Shuttles representative arrived and asked me to follow. I shoved my giant pack into what little remained of the 12-passenger van's trunk space. There were only 5 people onboard. Four were going to Sierra Leone. The other was headed for Liberia. Each of them had packed every single one of her worldly possessions into two checked duffels, a carry-on, and an oversized personal item. Ten minutes later, we arrived at the Sonesta Hotel. I checked into a plush room complete with coffee maker and Thai coconut bath soaps, which I shared with one other volunteer. It would have made a lot more sense if we had packed ten people into a hut in the Everglades.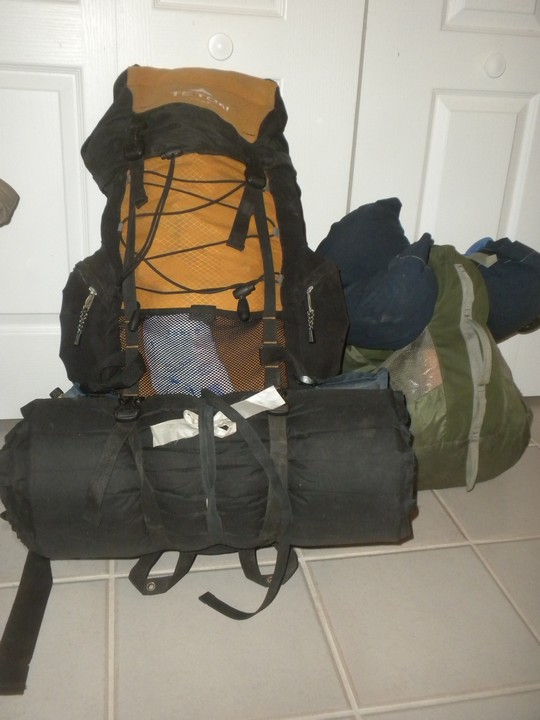 2 years - I guess I should check one bag...

Jefftodd -- had Peace Corps outsourced their travel booking to an Indian call center?
I arrived at the conference room to find the first icebreaker well underway. We had a list of properties and had to weave through the 40-some-odd assembled volunteers and find someone that satisfied each. I quickly became "that guy with the Masters degree".
BJ Weinstein is extremely well-cast. His job is to reaffirm your decision to give up all that is good in life and take up residence in a malarial swamp. At this, he excels. We would also meet the Sierra Leone ambassador to the US who had driven himself up from Washington for the sole purpose of expressing his gratitude. We were assured that this did not happen often.
We were given a $120 living allowance to cover the cost of our transport and food while in Philly. Of this, I would spend $10 to pay for the airport shuttle and another $5 on a veggie cheesesteak. Ironically, our allowance for that one day of staging was more than what we would be given for the entire 10 weeks of pre-service training.
Our flight left JFK at 5:15PM, and we boarded our bus in Philly at 8:30AM. We got to the airport two hours before check-in started, which, in turn, was four hours before boarding. Getting to Africa is never quick; it was a seven hour flight to Brussels, followed by a 5-hour layover, a 6-hour segment to Dakar, and, after everyone outside of our group had deplaned, a 2-hour hop to Freetown. Luckily they stuffed us full of tasty cheeses and ice cream and gave us a selection of all the latest blockbusters; these were just a few of the things we would likely not see again until we boarded a similar flight in two years' time.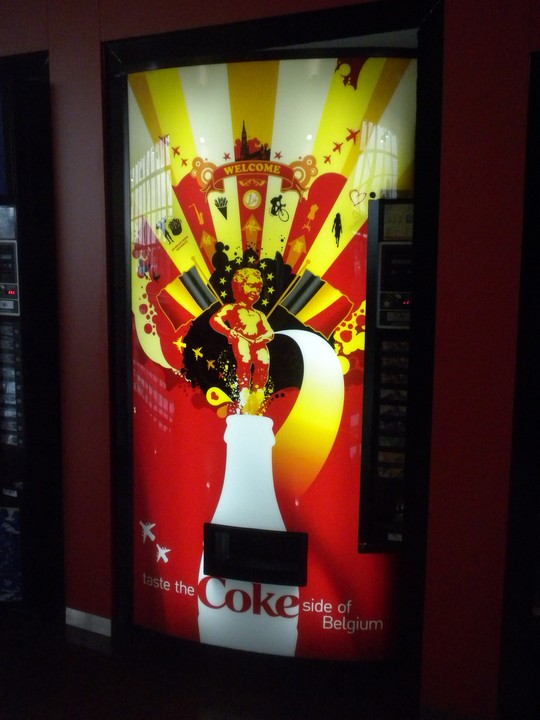 Gotta love Brussels

Vending machine waffles!!
At Lungi International, we offloaded 43 people onto the tarmac and stood there awkwardly until someone came and told us to move. In the tiny, cramped immigration/customs/baggage claim, a number of officials argued in a typically African way, and eventually escorted us to the VIP hut to scan our fingerprints and put the first stamp in our shiny new passports. We had all attached pink ribbons to our packs (a PC tradition) so that we would know which ones to pull from the belt, but this was unnecessary, as every single other passenger had been privy to intelligence we had not and had wrapped their luggage in several layers of plastic. The belt was too narrow for the angles of its curves and several handlers had been positioned to shove each bag back on as the carousel attempted to buck it off. A dog walked in place on the belt as if it were a treadmill, hurdling each bag as it approached.
I pulled together $2 in American money to buy an Airtel simcard from a lady sitting next to the terminal doors. If the US postal service hadn't lost my 3G USB modem, I might have immediately plugged this in and had instant internet access; as it happened, it would be another two weeks before I sent my first email to let any among my friends and family know I was still alive. I put the simcard in my South African phone and was pieced into the network, but my collection of Sierra Leoneon contacts was limited.
We boarded two large air-conditioned buses and drove through the night to the ferry docks. Here, we drove onto our own private ferry; in the process, my bus bottomed out, destroying a critical component in the AC system. We went upstairs and the staff handed out anti-malarials to all assembled. Most got mefloquine but a few were given doxy; mefloquine is not appropriate for those with a history of mental illness; the crazies didn't even realize they had just been outed. Also in our medical brown bags were dramamine, headache pills, and condoms; the latter suggested that some volunteers' networking skills were vastly superior to mine. We were handed lunch bags with hard boiled eggs, lemon cookies, and peanuts, and were forbidden from eating any street food in Freetown; this wasn't too great a limitation, since we were also forbidden from ever leaving our hostel.
When we arrived at the St. Edward's compound, we formed a line stretching from the parking area to the lobby to move everyone's luggage. Each bag was a unique and uniquely unwieldly shape and weighed around 50lbs, and it would've been far more sensible to have each person take his or her own bag and carry it directly to his or her assigned room. But I could not imagine a more perfect image to sum up pre-service training, the Sierra Leone education system, and Africa as a whole...