Chapter 2: LA
<< Back to Round the World Log

One of the main reasons I booked at the hostel I did was the free airport transfer they advertised; however, upon calling them, I discovered that what they really meant by "free" was 13 dollars, so I took a shuttle to the lightrail. As I stood alone (and by alone I mean accompanied by a half-dozen homeless crackheads) on the Compton train platform for a half hour in the middle of the night, I reflected on how much I had enjoyed using London's exceptional transit network; trains and busses in LA don't have any posted schedules and it really is a mystery when and if they'll show up (except when you need to transfer from one to another - in that case the connecting train reliably pulls away 10 seconds after yours arrives). When I arrived in Hollywood 2.5 hours after leaving the airport, the holiday trimmings were all up - lights lined the boulevard and a vast array of bums urged everyone to adopt the holiday spirit. The west coast New Years was somewhat pitiful - there was no concentrated party (most likely because no one would want to go anywhere near downtown LA in the middle of the night) and all the private $100 get-togethers just advertised watching the video-taped Times Square ball drop on the big screen (the local TV makes no mention of this event at 9, but flips on the footage an hour before midnight with a "Live" logo pinned at the top of the screen. Having not slept in around 50 hours, I went back to the hostel and crashed around 10; 30 minutes til midnight, one of my roommates woke me up and dragged me upstairs to the bar where a group had been celebrating every hour with jello shots and champagne since Moscow's party. Everyone spent the last few minutes watching Dick Clarke's "Rockin' New Years Eve", dancing, drinking, singing out the words to "Born in the USA" when it was clear that not a single one of them was. The next morning, still somewhat jetlagged, I woke up at 6am. Another big selling point of this hostel was its "free pancake breakfast;" as it turned out, the staff simply supplied the batter and the guest was left the actual "pancake" part of the task. As usual, the art of flipping the batter escaped me and I ended up with a scrambled yellow mess - an Aussie girl, claiming to be an expert, offered to make me one, but the American batter consistency was apparently new to her and another mass of shapeless dough was added to the pile. After a delicious, though none too pretty breakfast, I headed over to Pasadena. Never one to simply sit and watch a parade, I started walking the 5.5 mile stretch... but due to a planning oversight, I started at the beginning and so was just keeping pace with a single float. I stayed with one shaped like a giant robot that played the song "Rocket Man" repeatedly, but it eventually outran me (it was wearing a jetpack after all) and so I dropped back with the UT marching band. At one point, I tried to buy a ticket to the game from a Texas student, but he seemed pretty intent on getting the $125 face value and wouldn't accept my offer of 5 dinar. After walking 6 miles through a few million people, I waited for a bus to take me back to the metro - since this never came, I trudged back on foot. Starving from the long hike, I stopped at "Big Mama's Rib Shack"; this however turned out to be an upscale Cajun restaurant and I quietly snuck out after finding no lunch under $10. I took the metro for a while until I was enticed to get off by the intricate decorations of the Chinatown stop. Here I jumped into a place that had an unintelligible sign but which I gathered to be a restaurant by all the people sitting inside eating. Upon sitting down, a waiter immediately questioned "what you like?" after some negotiation, I got a menu which was partially in English and ordered something called "rare well-done brisket" – this turned out to be a steaming bowl of noodles and beef fat, but on the upside, it was only 4 bucks. Undeterred with this brush with the language barrier, I went next door to the barber shop and learned how to reduce the instructions for a haircut to 4 simple hand gestures. After exploring the maze of pagoda-ized gift shops, restaurants and groceries, I crossed over Cesar Chavez Rd. and was instantly transported to Little Mexico. Inside of a block, egg rolls and moon pies were replaced by quesadillas and sugar-covered corn-on-the-cob. In half-a-mile more, I was in little Tokyo; here everyone in town was lined up to buy a dessert that was described to me as pancakes covered in beans; as appealing as this sounded, the sun had just set and I was dead-center of downtown LA, so I made a mad dash back to the station and returned to the relatively safe streets of Hollywood. Somehow I managed to sleep from 9 that night til 9 the next morning - probably a lifetime record for me; I took the bus to Griffith Park, the largest municipal park in the US. With no map to guide me, I took off on the 53-mile network of trails, hoping that I would emerge sometime in the next 4 hours and thus not miss my flight. At the entrance to the trail sat a large sign reading "Danger: Mountain Lions." Remembering a graphic description from an uncle about the huge cats leaping from cliffs and burying their teeth in people's skulls, I picked up a good-sized bashing rock and cast frequent wary glances at the rock wall beside me. I never made it to the Hollywood sign or the observatory that were supposedly somewhere in the park, but miraculously, I did find my way back to the entrance with time to spare and my skull still fully intact. Returning to LAX, I got checked in and while I sat the gate, Ozzie Osbourne and his family, as well as the prime minister of New Zealand exited from neighbouring planes.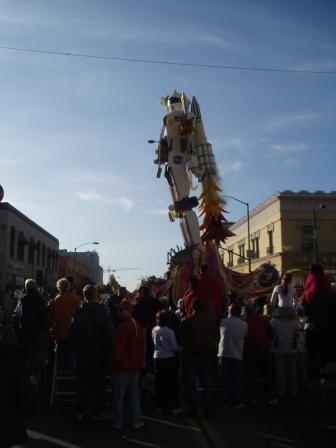 Keeping pace and singing along with Rocketman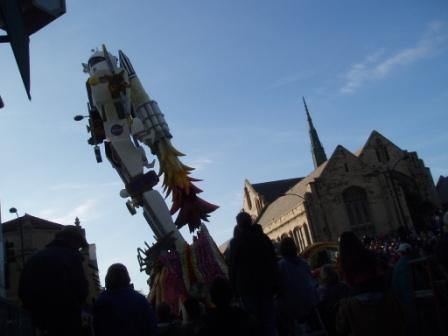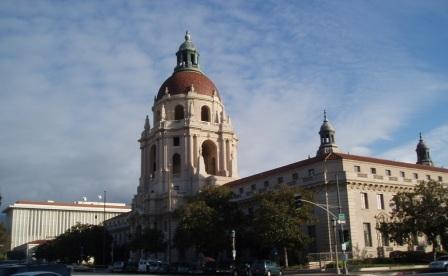 Some random building in Pasadena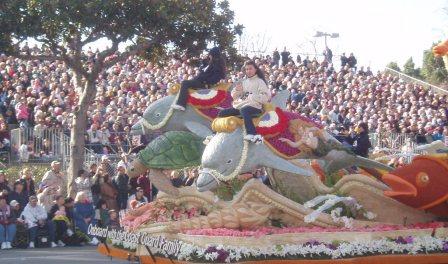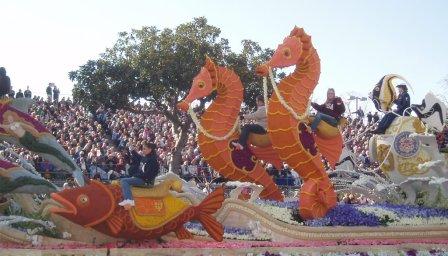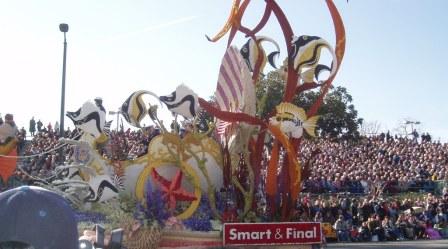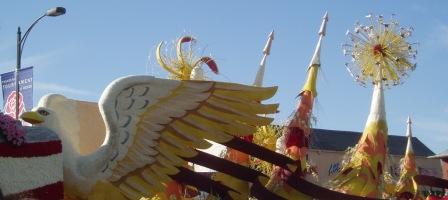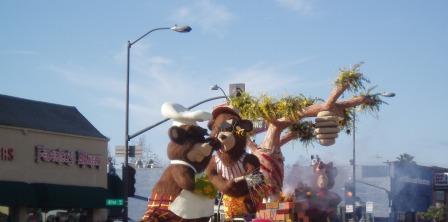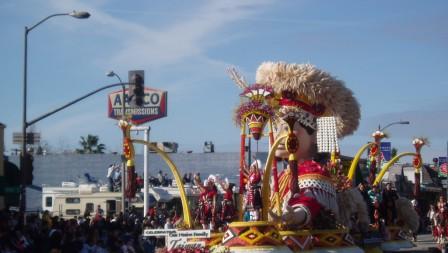 This float came all the way from Taiwan - I wonder if this was within the baggage restriction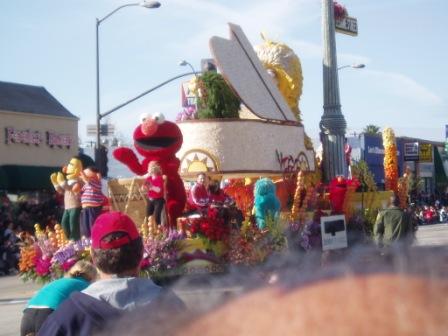 I never really perfected the skill of shooting over the crowd - this appears to be the scalp of a tall, balding man.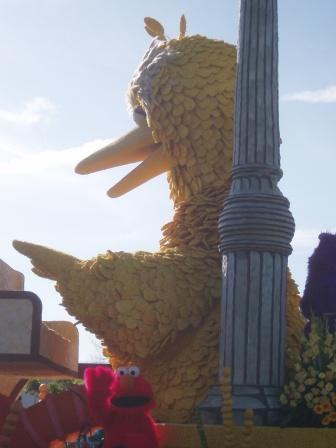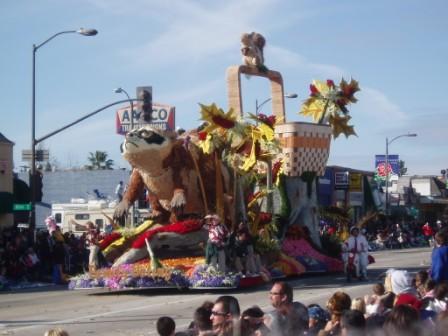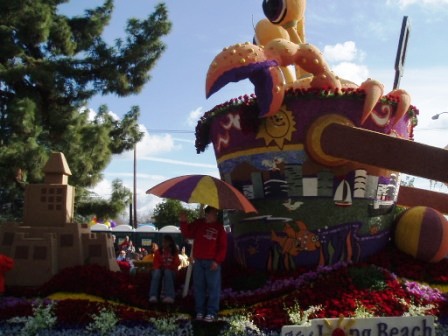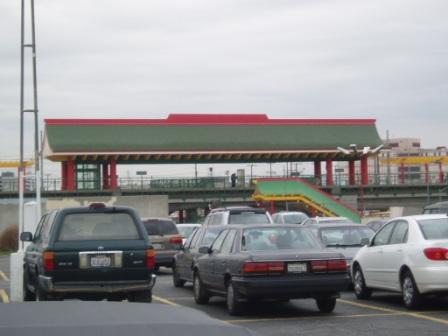 The train station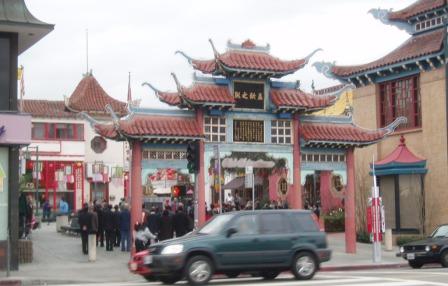 Welcome to Chinatown

...and 100 yards down the road, Japantown!


View from Griffith Park