Chapter 5: Fiji
<< Back to Round the World Log

It was a bit of a shock to arrive at the Nadi airport and see multiple gates and a modern enclosed terminal; I was finally in a legitimate country rather than an island built solely for honeymooners. I couldn't find a real tourist office but the airport (and the town beyond it) were packed with companies trying to sell you packages for every conceivable itinerary - the general consensus was that it was utterly impossible to see the sights on your own; I was going to try anyway. The flight was deceptively long, and although I had left Rarotonga early Saturday morning, I arrived in Fiji at 6am Sunday. I found a coupon in one of the guidebooks for a hotel near town – 1 dollar for a dorm bed and they sent a complimentary laundry truck to drive me the 10km into town. After getting settled into my room (which surprisingly had AC, a working bathroom and other amenities you wouldn't expect for 1 dollar), I headed up the road to church; as luck would have it, I arrived in time for the morning's only English Mass - it was fundamentally like services in the States, except that all the men wore dresses (I was no doubt committing some grave sacrilege with my cargo shorts) and everyone actually sang all the hymns (in rounds). On the long walk back to town, a girl stopped and picked me up – she explained that there was no reason to go into the city because everything would be closed on Sunday, so she would take me home. Her place was a tin shack (with a state-of-the-art entertainment system) on a dirt road at the top of a hill with an amazing view of something that resembled an African plain and the mountains beyond. Her husband didn't seem entirely thrilled to see me at first, but after we exchanged travel stories, and affirmed that I had no interest in his wife, we became fast friends. They cooked an excellent meal of chicken curry and naan and we sat down to watch an Indian movie where Ali Baba fought off a band of thieves and dinosaurs to rescue some girl, uncover the treasure (with the words "Open Sesame") and intermittently break into song and dance (often alongside the thieves and dinosaurs). After 5 hours and 300 plot twists, the movie ended, leaving me with no clearer notion of what it was about than when it started. We went to visit some of the girl's friends; these were Fijans (rather than Indians or "Indo-Fijans") and were in the middle of what Fijans are always in the middle of - a kava ceremony. Kava is a root that probably accounts for about half the Fijan economy – in every market, the majority of the space is allocated for its sale and on every block there's at least one 24-hour kava shack. The root is ground and mixed with water, scooped into bowls and taken like a shot - it's a mild narcotic and has mellowing and hallucinogenic effects. Fijans do little besides sit around and drink the stuff, which explains why everything that needs to be done must be done at the pace of "Fijan time", and also, perhaps, why one of them believed herself to be the great-grandaughter of President Abraham Lincoln. One of the friends was a former guide for tourists and dive master - he explained that he could take me diving for lobster, hiking to the top of the highest mountain, and exploring the Manueca and Yasawa islands – if only I were staying around for a few more months. Next we went driving on the beach - not quite as pristine as the Florida variety, it seemed every person in town had come out to swim, play volleyball, and most of all, drink kava. From there, it was on to New Town beach which (delicious irony for you Sarasota folks) is where all the white people hang out. We finished the day with 50 rounds of pool and a spinach curry/roti dish. I explored town in the morning - most of it was just for ripping off tourists in one way or another, but there was a neat Hindu temple - I had to take off my shoes to walk on the grounds; they wouldn't let me inside because I had meat in my belly; I think I may have offended them when I asked if I could buy for breakfast a banana-coconut thing that they apparently burned to honor their gods. From Nadi, I louaged (I'm going to use that word forever) over to Sigatoka where I hiked through a bunch of big grey sand dunes; as I finished the tour, it started raining and I was trapped in the visitor's center. One of the maintenance guys offered to let me spend the night at his house, but I opted instead to louage to the next major town - Pacific Harbour. This was supposed to be a great place to go for innumerable outdoor adventures, but as the driver was about to leave me on the side of an empty expanse of road with no hostels in sight, I opted to move on to the capital city of Suva. It was around nine when I arrived and most everything was closed, but I did find a fancy Chinese restaurant that served enormous portions for under $3. The place I stayed was nice enough (exorbitantly priced at $6); though the door to my room stayed open all night long, there was a guy sitting next to it who may have been security or just a member of the homeless community who had found a free couch. The next morning I got up early and explored the downtown; nothing was open at seven so I asked some guy following me (these are never in short supply in the 3rd world) where I could find breakfast; he directed me to an iron cage that smelled strongly of gas and had no indications of any kind to show that they might sell food. They gave me a huge portion of lamb's neck curry and cassava root; this along with a giant piece of a cake-like thing and a liter of mango juice came out to around $2.50. After breakfast it was on to the crafts market, where I could get everything from a cannibal fork to a skull-cracking club. For the most part, these bargaining skills couldn't hold a candle to those of the North Africans, but one guy went above and beyond by throwing his daughters into the deal ("I'll give you the mask, the drum, and the not-so-pretty one for $25"). Walking back to the hotel, some random guy gave me an impromptu tour of the sights - where the first trans-pacific flight landed and where the 2000 coup overthrew the government - then he offered the "gift" of a set of hand carved knives and mask; he then proceeded to carve my name into them, thinking that this would oblige me to buy it for whatever exorbitant price he might ask - more accurately, it obliged him to sell it, but he refused my generous offer of 50 cents, so he was left to find another purchaser named "Jeff DePree." I headed to the bus stop, grabbed a few more snacks (travelling here is quite dangerous because I can buy just about any food I come across and spend approximately nothing) and took a bus up the mountain to a backpackers lodge on the edge of the rainforest. Here I set out on a hiking trail under a dense canopy to picturesque pools and waterfalls. In one of the great ironies of our day, it rained while I was in the forest and the walk became considerably more challenging as the stone-lined walkways became raging rivers. I had to return and hide out in the dorm for a while, but the hotel offered free mountain bikes, so once it cleared up I decided to head to the nearest village - what I failed to realize was that my hotel was on the top of a mountain, so the course to the village was a very scenic and pleasant ride; the way back up - not so much. The lodge offered the only food in the area at exorbitant prices but they did claim to cook anything you caught in their lake for free, so I set out on their two-canoes-tied-together-with-a-board contraption equipped with a piece of line tied to a coke bottle and bread for bait. The problem (one of many) was that the minnows took the bait before the bigger fish could get to it, so in the end I returned empty-handed. Bussing back to Suva in the morning, I hit up the same early morning food shack (where they now knew me by name and gave me an even bigger serving of beef stew and cassava) then took an express bus up the east coast of the island. At one point, the bus stopped in a town for 10 minutes to give us a chance to get whatever supplies we needed before we lost sight of civilization - immediately afterward, the paved highway degraded into a one-way dirt road frequented by bulls and monitor lizards and rickety bridges I would be afraid to walk across. There were a number of people who tried to wave the bus down as we passed through the different settlements, but since it was an express, it had to whiz uncaring past. At one spot, all the children of the village were sent out into the road to stand in front of the bus while a family with all their possessions slowly boarded. The bus dropped me off approximately in the middle of nowhere and I had to walk a few kilometers to Ellington wharf to hop on a boat to Nananu-i-ra (+/- 1 ra) Island. This place was fairly boring - it was settled entirely by Europeans and had no culture of any kind. It had no roads – all transport was by boat or walking along the beach (only at low tide), power was by generator and drinking water was collected from the rain. It did, however, have good snorkeling and an abundance of Scottish girls, and this in part made up for its many deficiencies. The snorkeling sights included hundreds of strange tentacles that extended out from under rocks; I had the strangest urge to grab one, but stories about huge creatures drowning lobster fisherman deterred me from doing so; I also saw a fast-moving, multi-colored ray and a number of jellyfish that would materialize just inches from my face. The scariest moment of the night, however, was not underwater but when one of my roommates discovered that she had forgotten to turn off the gas in the room where I had been sitting for the last two hours. Returning from the island the next morning, I hitched to the nearest village and took a bus to Ba where I grabbed another one to the picturesque mountain town of Navala - this latter bus ride took about an hour and a half to go around 5 miles along gravel mountain roads before delivering me to the only village on the island that was still entirely made up of the traditional bures (thatch houses). I had to visit the chief (who was lying half-naked on the floor of his house, fanning himself) and pay the entrance fee of 8 dollars before returning to the house of a woman I had met on the bus who had agreed to put me up for the night. Her son gave me the grand tour – we visited the local church (the entire village is Roman Catholic and the houses are arranged in such a way as to form a giant cross), we climbed to the top of a nearby mountain to take it all in with one gaze, I met about three-hundred people and discovered that I had remarkably little to say to any of them. At one point, a group of them grabbed me and subjected me to what they claimed to be a New Year's tradition of dousing me in water. About 100 of the villagers started one massive rugby game; I was invited to join in but couldn't quite grasp the idea behind the sport where everyone just seemed to randomly run around in circles; instead, I returned to the hut for another favorite Fijan past time - lying on the floor, eating mangoes, and fanning off the swarm of flies that mistook me for a dead animal. After sundown, they decided I needed to be subjected to a kava ceremony and so they went through the traditional process of crushing the root in a metal pot by hitting with a big metal pole while wearing a dress (blenders are tabu), and then they dumped the dust into water and made me drink the concoction that tastes roughly like dirt mixed with water. Next we had a grand feast; they had gotten the impression that I was a vegetarian, so no animals were slaughtered on my behalf; my host had prepared egglant curry, spinach, noodles, rice and enough cassava to feed a small army, and for some reason, wanted me to eat all of it; this was a task too great for even my well-trained belly. I woke up at 6 the next morning to catch the early bus and headed to the island's second largest city of Latouka. Here I visited the market, which offered highlights such as plates of raw seaweed and bundles of live crabs, and walked around the various shops and restaurants to gorge myself on the cheap food. When I'd exhausted any will to eat, I went to the tourist office and asked what there was to do in town - they advised me to see a movie. So I went to the 10am premier of "Elaan" which appeared to be an Indian knock-off of the Bond movies. As I began to watch it however, it soon became apparent that the film was entirely in Hindi with no subtitles, and so, a few minutes into it, I moved over to Blade Trinity - this didn't really have much in the way of cultural lessons, but it was really entertaining. Eventually I took a bus to the airport and arrived 12 hours before my flight. While I waited I enjoyed an excellent curry dish for $2.50 - they thought they were ripping me off like airports are supposed to do, but even though it was 50% higher than the equivalent in town, my superior currency prevailed.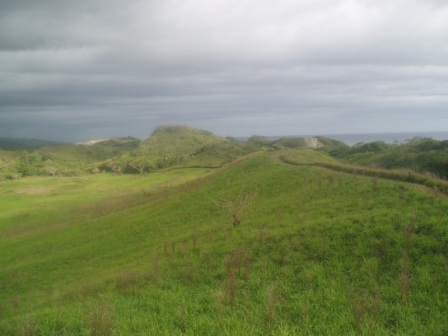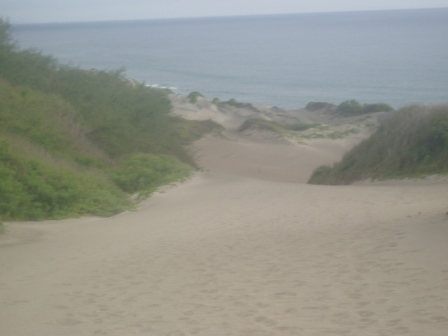 Sigatoka sand dunes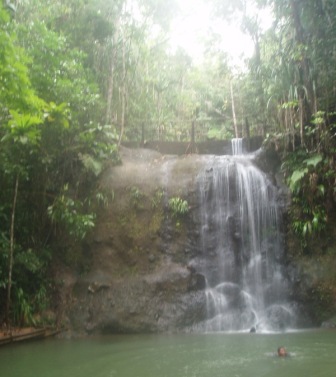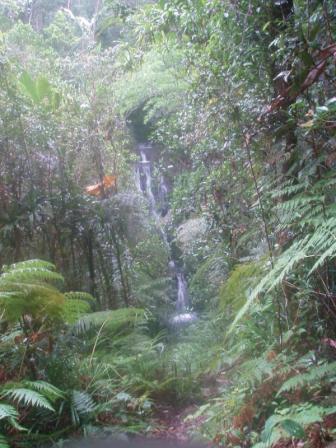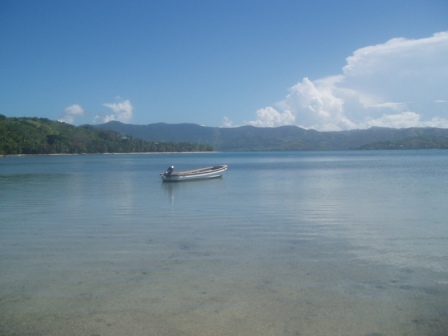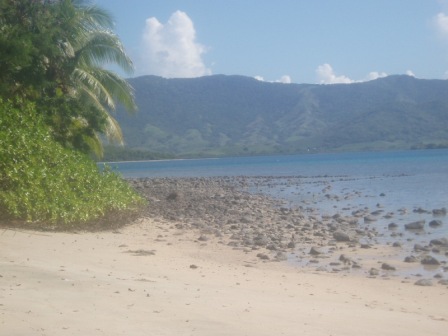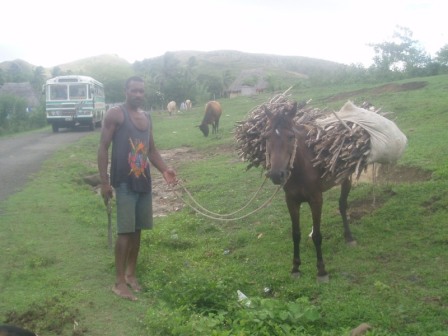 Everyone in this village wielded a large machete, which they inevitably swung to and fro as they spoke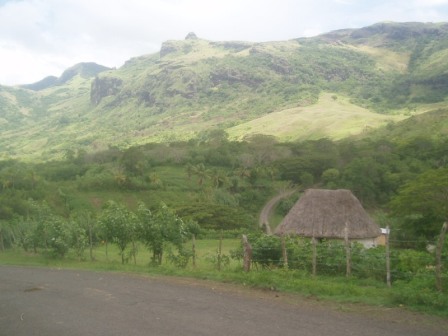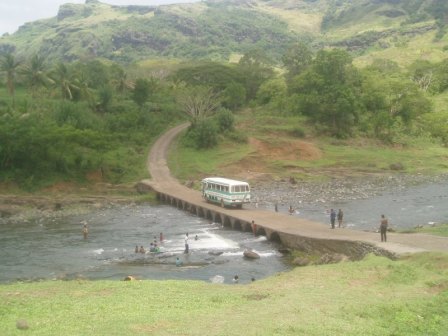 There goes my last chance for escape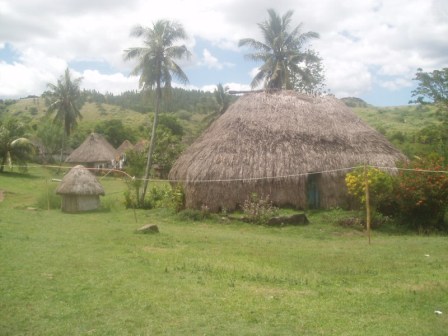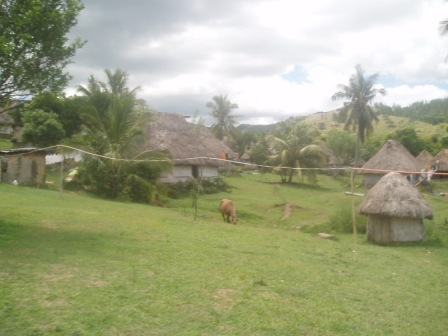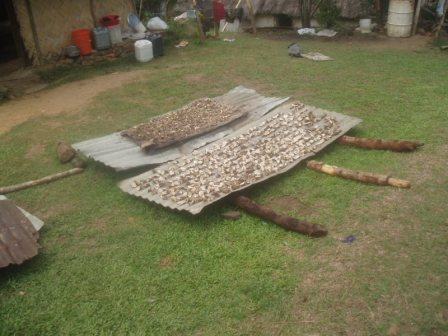 Kava root drying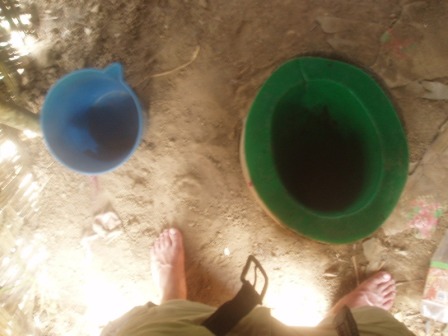 There are times when I'd like to cast aside the conventions of modern civilization... this was not one of those times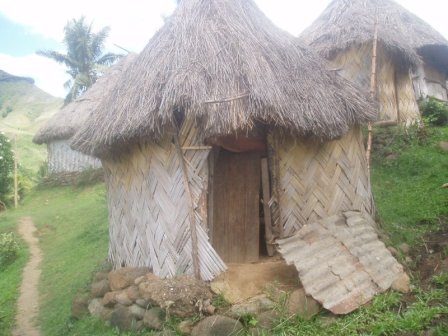 Master bathroom

Crushing the kava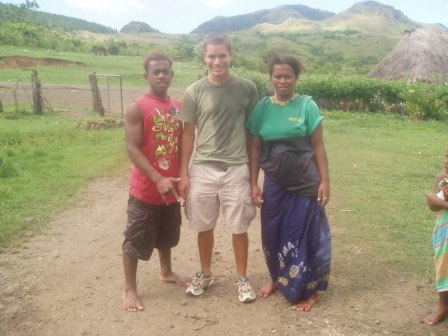 Enjoying the New Year's tradition of getting a bucket of water dumped on me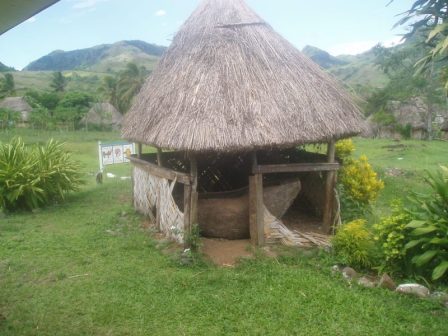 The church's bell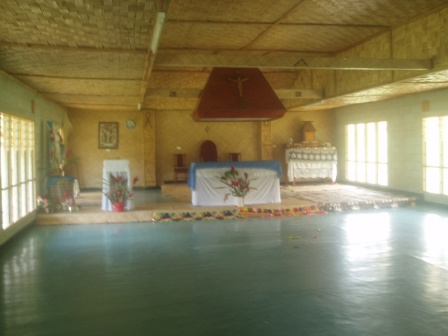 Something seems to be missing from this church...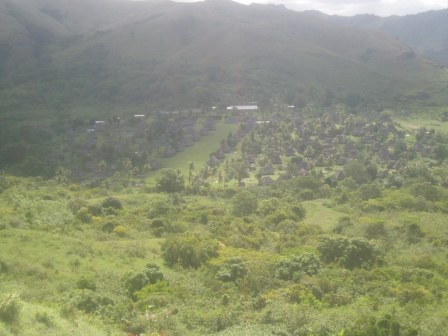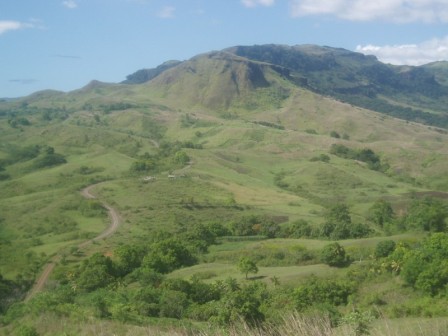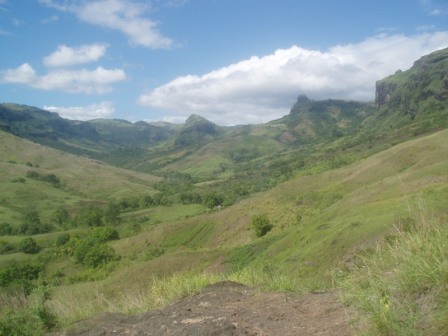 Life in a hut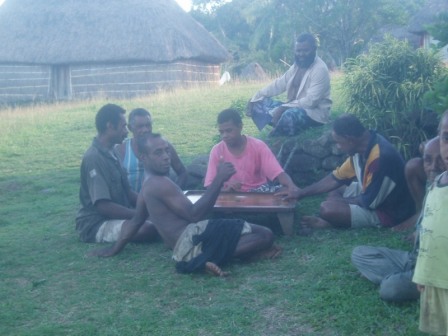 Local game

They didn't know I was going to take this...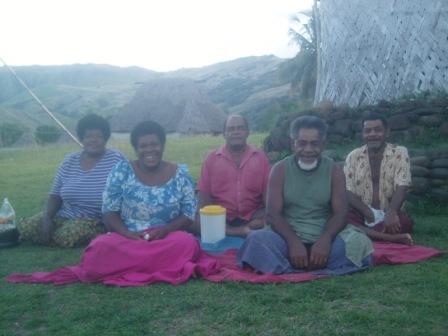 Now they're ready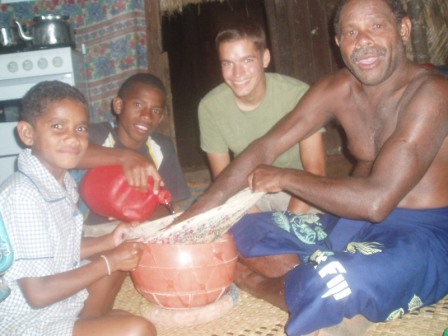 Mixing the kava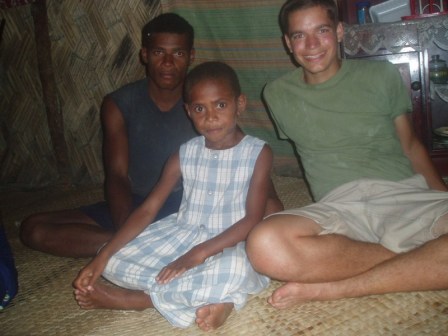 Hanging out with the family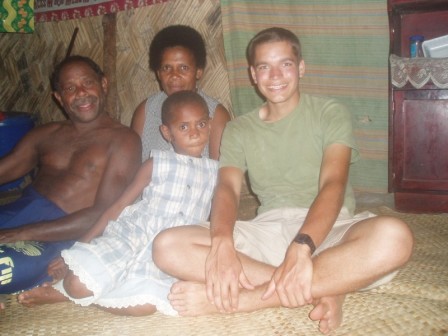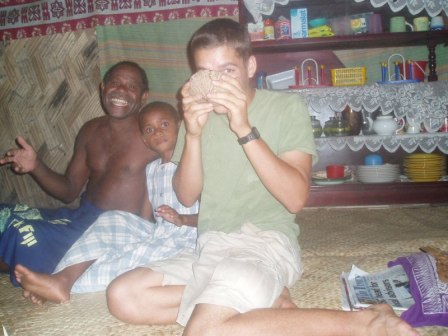 Enjoying a cool bowl of dirty water